Do you have the curiosity to know about the White Mechanical Gaming Keyboard to buy in 2022? 🤔
We got you covered in this buyer's guide.
So without further ado, Let's dive right in. 🎭
As a gamer, putting up the perfect gaming gadget to enable you to reach the top of your game in the gaming world is a must, while the changes in the keyboard have come a long way, gamers still appreciate the comfort, style, ease of use and color combination that gaming keyboards come with.
Are you on the market for the best white gaming keyboard, then we have a pretty impressive list for you? No hype, just true review to the best of our abilities, and from people who have used it. Read on, and hopefully, you find one that suits your style all-around.
Best White Mechanical Gaming Keyboard 👌👌
1. Redragon K550 Yama White Gaming Keyboard
The Yama Redragon K500 has been the best gaming keyboard for a while and for obvious reasons. Asides from the unbelievably inexpensive price, you can customize the settings and appearance to suit your gaming purpose.
Furthermore, the keyboard is built to handle long hours of play without compromising on comfort and efficiency. 
The design on this device is dope, a brush aluminum finish, soft to the hand, and appealing to the eyes. It also features a brush volume key button on the top right-hand corner of the keyboard, 12 programmable keys on the top left corner, and a custom brown switch in the center for rapid actuation when gaming.
This USB corded keyboard is very easy to set up and gives you the ability to adjust or change the color of your keyboard with seven color schemes, six lighting modes, five backlight brightness levels, and backlight breathing speed.
The keyboard comes with an elevated hand rest pad that enables you to place your hands to increase comfort during gaming. 
Overall, the lighting and comfort on the keyboard are excellent. Using the app from your laptop or computer, you can control all the features on the keyboard to suit your style of play day or night.
Although the keypad is not the most silent key on the market, they have good bounce, return, and responsiveness making typing and gaming super comfortable.
The Redragon K500 is a full-size keyboard with a total of 131 keys, including 104 anti-ghosting keys, 12 programmable keys, and others on the keyboard.
Below are some of the Pros and Cons of The Redragon K550 White Gaming Keyboard that earned it a spot in our list of Best White Mechanical Gaming Keyboard to get in 2022.
Pros:-
The price range – below 70 dollars which is pretty amazing

The 12 programmable keys with Customizable mechanical switches

The volume sound wheel which is better than the button control

Record button and other control buttons that control the width of the device

2 USB cables and is compatible with Windows 10, 8, 7 and works with most computer brands

Full numeric keys

High precision keyboard

The keyboard is easily popped up in case you spill your drink on it

Flexible and removable wrist rest
Cons:-
Overall, a very reliable gaming keyboard that types right for the money. The aircraft aluminum build makes this keyboard durable, sturdy and will withstand long playing hours with little wear and tear. It is also very comfortable too, which we love tremendously.
2. Havit Magic Series White Gaming Keyboard 
When you are looking for a gaming keyboard, you usually won't jump for a name like Havit, but this product is the best keyboard and mouse gaming keyboard you can find on the market for an insanely cheap price.
The technology on this device is excellent and Havit has gone all out to ensure that it is built to take the beating of long-time gaming and typing with less damage to the keys from been consistently depressed.
The Havit magic keyboard ergonomic keyboard and mouse combo are actually recommended by Amazon as one of the products to watch out for and a great buy for gaming, typing, and for people that work long hours on their keyboard.
And though the packaging and price don't look like the big names in the keyboard industry, it delivers on everything you want from a keyboard and all for just above $$.
Now to the keyboard, the keys feel good, it is not your overly mechanical touch, but the keys are great for typing, feel good to touch, have less travel, and are super responsive.
This full-size keyboard has 104 regular keys with 19 anti-ghosting keys that enable a seamless key function combo with 8 multimedia shortcut keys that are enabled or disabled for gaming or other functions.
The Havit keyboard has seven rainbows backlit LED colors with the ability to switch between colors, breathing modes, and the off button. It also comes with a wrist rest that is removable if you don't want it.
The mouse is decent, but for a gaming mouse, it doesn't deliver excellent results. It is excellent for regular keyboard activities like typing.
Below are some of the Pros and Cons of The Havit Magic Series White Gaming Keyboard that earned it a spot in our list of Best White Mechanical Gaming Keyboard to get in 2022.
Pros:-
Adjustable lighting on the mouse and the keyboard

there is no need to download the software, just plug and play

Customizable to suit your desires by tapping the FN key with other buttons enabling you to create the color effect of your choice

The mouse comes with 7 breathing colors and 4 DPI levels

Compatible with Windows version and comes with a 2-year warranty and excellent customer care support
Cons:-
The mouse is big and heavy
Overall, the Havit keyboard and mouse combo is an absolute dream for anyone looking to get a great gadget that won't break the bank to set up their gaming or streaming station.
This gadget might not have all the fancy looks and pizzazz that most keyboards have, but it works and will deliver excellent results for the purpose it was bought.
Havit Gaming Keyboard and Mouse Combo Set with Adjustable LED Backlight
3. Eagletec KG011 White Gaming Keyboard
Looking for a keyboard that will serve as a work and gaming keyboard, then be ready to be wowed by the ergonomic design of Eagletec KG011 with a blue LED backlight suited for both worlds.
Eaglet isn't your average keyboard; this fully mechanical keyboard is uniquely designed to handle the stress of constant typing for a gamer or a writer.
Yes, you heard right, this is one of the best keyboards for writers who are looking for easy, smart key travel and comfort with an impeccable response at the tap of a key.
Moving on, the KG011 has some amazing features that single it out on why you should have it now. This is a blue switch aluminum-made keyboard, the overall look is impressive and an editor's choice by Amazon.
For a gaming keyboard, this 104 white keyboard is also great for everyday activities like office, browsing as it is compatible with Windows and Mac operating systems.
This gaming keyboard is your standard 104 anti-ghosting conflict-free keys with 12 multimedia keys and WIN and WASD keys for controlling all actions on the board.
The Eagletec KG011 is a white and silver aluminum, ergonomically keyboard that comes in a variety of colors, including white and black. In this section, we will be reviewing the white keyboard, which also comes in a non-backlit version.
The built quality on this material is durable and the keyboard is made of aluminum and ABS plastics, which is excellent. It employs ultimate blue switches which pop really nice with the silver panel on the base of the product.
Furthermore, the button comes off individually for maintenance purposes, and though it is for typing, the clicking sound on this keyboard is loud and could throw you off. Eagletec claims it has over 50 million keystroke test performed for quality and durability.
Taking the backlight into consideration, the Eagletec presents an astonishing rainbow color light that is super bright even with direct light falling on it and even unusual in a medium to a dark room.
Below are some of the Pros and Cons of The Eagletec KG011 White Gaming Keyboard that earned it a spot in our list of Best White Mechanical Gaming Keyboard to get in 2022.
Pros:-
Anti-ghosting features with user-adjustable light brightness levels

Very comfortable keyboard with less travel and errors during typing

Full dedicate numeric key

Easy to change keys

Customizable RGB color selection when you press the Ins + home page +up delete key to get the following effects including zigzag, twirl, multicolor, rainbow, color cycle, breathing, wave, rain, static ripple, fade and left/right and explosion

F1 to F8 media control, calculator, and other function keys

An anti-slip pad that stables the keyboard on any surface
Cons:-
The secondary command are printed on and are liable to fading with long use

The keys are poorly made and could do with an insert to make them less noisy when typing
Overall, the name might not compare to keyboards like Redragon, but it is a great gadget and sturdy unit that will connect to your device with the cable. Furthermore, for a fully mechanical gaming keyboard for the price, it is okay.
Check Price on Amazon
At the time of our research on Best White Mechanical Gaming Keyboard, we found a video about "What If You Played Video Games for 1 Day Non-Stop" which is worth watching. 🤴🏆
What If You Played Video Games for 1 Day Non-Stop
4. Redragon K552W Mechanical gaming keyboard white
Another exceptional keyboard arrangement by Redragon but with a huge difference in the number of keys on the keypad, the K552W is without a dedicated numeric keypad making it a tenkeyless keyboard. This key reduction makes it an 87 compact keyboard.
The K552W has retained the signature built material used by Redragon which is aluminum and plastic but with a premium feel and a great finish. This makes it durable, lightweight and as the company claims, it is splash-proof too.
The keyboard is pretty detailed with the 12 programmable keys located at the top of the keyboard which is controlled by tapping the FN key and any of the function keys to change the effect of the keyboard.
In addition to the key function, the K552W allows you to turn your WASD key around by pressing the FN key with the letter W key and vice versa. For gaming, you can lockdown 
Although the K553W is a backlit keyboard, it is not a full RGB keyboard and only has a red color. This backlight brightness can be adjusted through nine different levels by pressing the FN key with the minus or plus key as required or turn it off completely.
Furthermore, you can enjoy breathing mode on the keyboard and adjust the breathing speed accordingly.
Underneath is a flip put keypad stand with anti-slip based to keep the keyboard in place when typing, this flip can also be closed and the keyboard will remain stable due to a smaller anti-slip pad under the board.
The K552W is a complete anti-ghosting keyboard that allows you to tap multiple keys without the board freezing on you.
The K552W uses the Redragon mechanical switches that are similar to Cherry MX switches that enable you to get a good feel on the keyboard, less clicking and noise, and are very comfortable to type with.
Below are some of the Pros and Cons of The Redragon K552W keyboard white that earned it a spot in our list of Best White Mechanical Gaming Keyboard to get in 2022.
Pros:-
Durable and solid designed keyboard

Switches are

No braided 1.8m cable

Customizable keycaps are available if you want to change the design and feel whether you are typing or gaming

Solid and anti-scratch keep caps that won't rub off after a while

It is affordable

Compatible with Mac and Windows operating systems
Cons:-
Not the best for typing in public places because it is loud

No number keypad
Overall, the K552W is specifically built for gaming and gamers who will not miss the tenkeyless pads on the board. It is sleek and though not a full size, it has a great key journey.
5. E-Element Z 88 Mechanical Gaming Keyboard
If you are constantly on your keyboard for work or playing your favorite games, you need a keyboard that will deliver on comfort and price but will withstand accidents like spillages.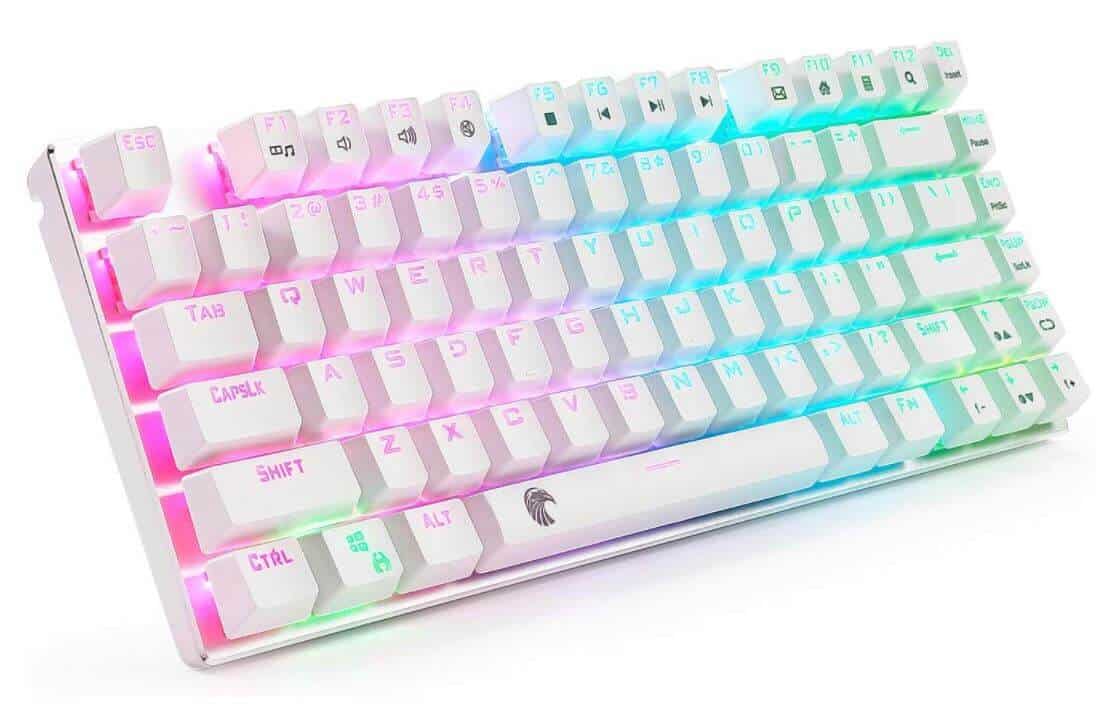 The Z 88 is a compact well—designed keyboard with just 81 keys; just like the K552W is also tenkeyless, but this is a 60 percent RGB gaming board with an incredible feel on the keyboard.
This water-resistant, LED-backlit keyboard has all 81 anti-ghosting keys and key rollovers with amazing key combinations and less freezing during play. The keyboard is very quiet and soft to the touch allowing you to enjoy typing as writers with less clicking sound and for gaming.
The Z 88 key is designed for durability, responsiveness, and fast return on tap; each key acts individually which are exceptional for gaming, and the anti-ghosting allows multiple keys to work simultaneously at high speed without interfering with the performance of the laptop.
The keys made with top-quality ABS material comes with 10 mode RGB backlighting with color flashing speed, and clear backlit, and durability. It has a matte finish texture and a gold-plated USB connected with an anti-interference electromagnetic loop.
To keep the keyboard stable, you can lay it flat on the rubber feet or elevate it with the flip stand with plastic anti-slip tips.
When plugged in, the default color is red, but the buttons turn green when pressed down. Using the FN and minus or plus button, you can customize the colors on the keyboard.
To switch mode, you press the FN and up or down button, the breathing mode is just for one color, but the speed can be adjusted as required. Overall, the transition phase for changing color is seamless and really nice.
As a gaming keyboard, control key 3 allows the WASD, and arrow keys to come on and remain so during gaming until you change it.
Below are some of the Pros and Cons of The E-Element Z 88 Mechanical Gaming Keyboard that earned it a spot in our list of Best White Mechanical Gaming Keyboard to get in 2022.
Pros:-
Sturdy and robust keyboard with no drivers needed

5 brightness levels with great light effect

Neon mode for fast color switch

10 backlit color mode with speed adjustment

Compatible with Windows, computer, and Mac systems

Small and light gaming keyboard with 3 drain holes for spillages

One year company warranty

3.5mm micro USB connection that is compatible with most USB that is also detachable
Cons:-
The secondary command are printed on and are liable to fading with long use

The keys are poorly made and could do with an insert to make them less noisy when typing
Overall, if you are used to a full-size keyboard, this will feel small and kind of missing something, but this size is portable and great for traveling. It is super responsive and delivers excellently on gaming or regular typing.
6. Razer Huntsman gaming Keyboard
There is no doubt that Razer makes some of the best electronic gadgets around, their take on the mechanical gaming keyboard is exceptional with some pretty amazing features which are not surprising for the brand.
The Razer Huntsman is the ultimate in gaming keyboard with optomechanical switches that are faster than your conventional keyboard and even better they have an unbelievable time journey between keys making typing a breeze on this device.
The optical technology employed by Razer enables for faster actuation of 1.5mm which means the keys are 30 percent more responsive that you don't have to literary press down to get a response. The company claims extreme durability on the keys with longevity to the tune of 100 million keystrokes.
In addition to the speed of the keys, the Razer keys are well-balanced keys with a stabilizer bar that offer consistency but also offer a softer, quieter touch when tapped making it super silent for gamers and typists
The Razer huntsman has been around for a while, their Mercury white edition is a new product that incorporates all the features and technicalities of the Huntsman and more.
The design on this keyboard is excellent –Razer combines aluminum and ABS plastic in the most amazing way to create an eye-catching keyboard that reflects beautifully in the light but that is not all.
It is a sleek, smooth, and anti-slip stopper to keep it steady on any surface. It also has two flip-out leg raisers that allow you to lift it up for a more comfortable feel during gaming.
Below are some of the Pros and Cons of The Razer Huntsman gaming Keyboard that earned it a spot in our list of Best White Mechanical Gaming Keyboard to get in 2022.
Pros:-
Customize your settings to suit your mood with the ability to light parts of the keyboard better

8 color modes with the ability to choose the direction of movement on some of them like the ripple, wave, ripple, etc

A 30 percent short actuation keypad is less than a regular mechanical keyboard which increases more key presses and less wear and tears for the keys

10 simultaneous key presses with anti-ghosting enables you to press this much number with no change or lag in the performance

A gaming mode button that keeps you in-game mode lockdown and prevents accidental pressing of the button during a game

16 million Chroma color and the ability to determine what kind of color combo you want from the synapse applications

Comes with a hybrid on-board memory and cloud storage that enable you to access your customized keyboard settings anywhere in the world

Typing on the Razer huntsman is super fast due to the break-in laser transmission signal from the keyboard to the computer and vice versa
Cons:-
No USB port

It is expensive

Doesn't come with a wrist rest

No cable run like you will find in other keyboards
Overall, the Razer Huntsman white mechanical gaming keyboard is a beautiful, technology-driven device that will deliver excellent results and remain durable for a long time.
Although the price is above the 100 USD mark, the keyboard is an investment worth every penny spent and you will enjoy using it.
Razer Huntsman Elite Gaming Keyboard Review!
7. Corsair K70 MK.2 SE RapidFire Gaming Keyboard
On the list of the dopiest gaming keyboard, you can't miss products by CORSAIR; this company has been consistent in rolling out amazing devices that are compatible with most operating systems but also delivers great effects and usability.
The K70 MK.2 is a 100 percent RGB full-size keyboard with high-quality material built to last through whatever game is been played.
Its silver aluminum frame and white and grey color combination give the keyboard that aesthetic and ergonomic feel unlike any keyboard on the market.
With Cherry MX switches, PBT double-shot keycaps, and an elegant backlight, the Corsair has more than enough to keep you attracted.
Although the RapidFire advantage is one quality that allows for speed typing, it is especially for an advanced gamer.
This feature means the actuation on the K70 is 1.2mm meaning you only need to press the key a distance of 1.2mm for it to register on the computer which is pretty fast considering that the Razer Huntsman is 1.5mm.
The entire keys on this keyboard are 100 percent anti-ghosting and rollover meaning if you tap the entire keys simultaneously, it will register with little or no lag on the performance
The feel on the keyboard is amazing, the travel is nice and typing on this gadget is great although it does feel as though the character on each key is not smooth because you can feel it on your fingertips.
Furthermore, it is pretty quiet for a keyboard; you don't necessarily have that loud clicking sound like you get in other keyboards which makes it great for typing in an office environment.
Below are some of the Pros and Cons of The Corsair K70 MK.2 SE Gaming Keyboard that earned it a spot in our list of Best White Mechanical Gaming Keyboard to get in 2022.
Pros:-
Compatible with Windows 10, 8, and 7 version 

A beautiful good keyboard with a thicker keypad for durability than most keypads with double PBT 

Fast and responsive key making typing smooth and fast

The small onboard storage of 8MB limits you to register three profiles and colors customization with no outside software interference

Ability to customize the colors in the keyboard with individual keys due to the dynamic RGC backlighting

A dedicated brush volume control key with the multimedia key located on the top right corner of the keyboard

Excellent color clarity and appeal with vivid lighting

Comes with a detachable wrist rest
Cons:-
Overall, a great gaming keyboard with a good feeling that delivers excellent results when in use.
What's NEW? Corsair K70 mk.2 Gaming Keyboard Review
8. Rottay 16.8 Million Wired Mechanical Gaming Keyboard
Gamers that desire a full-size keyboard with paying the huge amount that comes with top quality keyboard from top brands. The gaming keyboard comes with 104 keys anti-ghosting brown switches with multiple functions that will enable your game easily.
This 13-programmable layouts keyboard boasts of 8 color modes, a breathing mode with various speeds making it an eye-popping device on your desk. The brown switches on this device are silent and solid making typing smooth and easy for gaming and typing.
The 104 key anti-ghosting features allow you to punch as many keys as possible at the same time and have all of them registered by the system. Furthermore, the key is built for durability with a 2mm travel and low actuation force making them super responsive.
Well, accidents do happen, so the guys who manufactured the Rottay are one step ahead of you with a spill-resistant design that will accommodate average spills without affecting the performance of the keyboard.
The keyboard comes with two anti-slip stands to increase the height of the body making it more comfortable on your hand when typing or gaming.
Below are some of the Pros and Cons of The Rottay 16.8 Mechanical Gaming Keyboard that earned it a spot in our list of Best White Mechanical Gaming Keyboard to get in 2022.
Pros:-
Remappable keys with macros assist when you need it

13 preloaded RGB backlights that you can easily personalize to suit your style

Excellent build quality with a light shiny aluminum panel and solid ABS keys

Great price for the keyboard 

Windows key lock button to lock down the system when gaming to prevent pressing any key accidentally
Cons:-
Doesn't possess the Cherry MX switch
Overall, the Rottay white gaming keyboard might not have all the fancy technicalities of the top brand, it has all the programmable modes and a good typing keyboard you will enjoy tapping away for a long time without stress.
Check Price on Amazon
9. Cooler Master SK630 White Gaming Keyboard
The SK630 is a low profile white gaming ten-keyless keyboard which is the TKL version of Cooler Master SK650. The SK630 was originally made in black but the limited white gaming keyboard was introduced later in 2020.
Let's talk design, the SK630 without a dedicated numeric keypad is built on a solid aluminum and plastic base. This framework gives it a solid build with little flex and targets the minimalist keyboard design using the cherry MX red low profile with chiclet-style keycaps.
This chiclet design has a 3.2mm travel distance and 1.2mm actuation point and weighs less than 600grams making it really light and portable with a USB Type-C with a golden tip 3.5mm cable. To stay put on your desk, the SK630 portrays four snit-slip rubber extrusions on the four corners to keep the keyboard on your desk with little movement.
With the use of Cooler master software, the keyboard comes with a preloaded RGB color that is ready to go at the touch of a key. In combination with the F-keys and FN key, you can change the color and breathing speed of the device.
Below are some of the Pros and Cons of The Cooler Master SK630 Keyboard that earned it a spot in our list of Best White Mechanical Gaming Keyboard to get in 2022.
Pros:-
RGB LED backlight is great

It is a plug and plays unit that eliminated the need for a system portal or downloading of an app. However, by downloading their app, you get access to more RGB functions

A 32-bits cortex M3 processor to save all your macros 

Precisions and speed accuracy with fewer errors on typing
Cons:-
No flip-out feet for that elevated keyboard experience

The red switches take some getting used too

It has a severe learning curve with the typing due to their high travel distance
Overall, Cooler Master did their best to provide a fabulous gaming keyboard, but if you are looking for a keyboard for productivity with career paths like content creators or is one that types all the time, this keyboard is not the best. However, as a gaming keyboard, this is excellent.
Check Price on Amazon
10. The Redragon Indrah K555 Gaming Keyboard
This full-size gaming keyboard with macro recording and blue switches is another excellent product by yours truly Redragon. As a full gaming keyboard, it features some amazing specs that will keep you playing away for a long. 
With so many Redragon gaming keyboards on the market, why are these keyboards the obvious choice for a lot of gamers?
The answer, is they know what gamers are looking for and their keyboards are relatively affordable. This 100 percent anti-ghosting RGB backlight white keyboard using USB 2.0 connectivity and is pretty lightweight at 2.6 pounds.
Also, it possesses green mechanical switches with 7 colors and 6 lighting modes easily customized to suit your requirements. 
The keyboard is built on a solid aluminum panel mixed with ABS plastic for that light, but durable feel to it. It has gold-plated USB-connected and tactile, medium sound keys that enable smooth typing.
It is a 104 standard conflict-free key with a dedicated numeric keypad, 5 programmable macro keys, 6 multimedia keys and it is spill-proof.
Although it doesn't come with the usual cherry blue MX switches, its green replica works just great and gives the keyboard a good appeal in static mode.
Below are some of the Pros and Cons of The Redragon Indrah K555 Gaming Keyboard that earned it a spot in our list of Best White Mechanical Gaming Keyboard to get in 2022.
Pros:-
Solid, durable, elegant brushed aluminum finish super responsive keyboard

Comes with a 6 foot non-braided USB gold tip cable with Velcro exterior

Rubberized base to stable the unit to avoid slipping

It is affordable with amazing features for gaming keyboard in this category
Overall, the Redragon Indrah K555 is a top gaming keyboard with unbeatable specs and features that will keep you gaming in a bright color for a long.
Check Price on Amazon
11. Huo Ji E-Element Z-77 Mechanical Gaming Keyboard
The Z-77 is a good example of small but mighty, this mechanical gaming keyboard uses Blue switches and also features a multicolor backlight for each individual key on the board.
This is another ten-keyless board with an 87 keys anti-ghosting without any drivers. This simple plug-and-play unit is compatible with Mac and Windows operating system offers an incredible typing and gaming experience for users.
The keyboard is of aluminum and plastic base with a solid and premium look to it giving it that sheen that makes the color pop off the white surface. The keyboard is your standard 12 F-key on the top row with the multimedia button on the top right and the arrow key down below it.
The keyboard comes with an inbuilt cable unlike the regular USB found in most keyboards, the base consist of rubberized flipped feet that can be popped to increase the height and comfort of the keyboard when typing.
When plugged in the lighting dances around the keys and finally settles on the last key that was tapped and color before lighting up in a rainbow pattern, the key is very bright and especially useful in a low light condition.
To reduce and increase the brightness of the light, you tap the FN and down or up arrow key until your required brightness level is attained.
The keyboard allows you to customize which part of the keyboard keys to lit, for example by pressing the FN9 key, you can keep only the alphabet keys lit or the other keys one with the FN0 key combo.
Below are some of the Pros and Cons of The Huo Ji E-Element Z-77 Gaming Keyboard that earned it a spot in our list of Best White Mechanical Gaming Keyboard to get in 2022.
Pros:-
Has a memory effect lighting that remembers the last key you pressed before fading out

Comes with a preset color scheme for the keys that can't be changed although it does have programmable lighting and color that are customizable

Fairly compact 87 keyboards without a dedicated number pad

Blue switches for longevity and quick typing response

The keycap design is okay and feels good on the finger with a moderate clicking sound

9 color light modes and control features
Cons:-
It can be loud in a quiet environment
Overall, the Z-77 is a decent keyboard that will serve gaming and typing purpose. In addition to this, the Blue switch mechanical keyboard is the ability to remove them and wash them to restore their appeal and look.
Check Price on Amazon
12. MageGee GK710 white Gaming Keyboard
If you are looking for a behind the scene gaming keyboard that will cater to all your needs you have just hit the jackpot on an affordable, durable, solid mechanical keyboard with a dedicated number and excellent features that will stand out for gaming and regular use.
The MageGee GK710 comes with a beautiful mouse combo in the setup. This super-sensitive mouse is a super precise pointing ability. Precision movements and responses are quick and fast on most surfaces making it a great piece for gamers.
Although it looks big, it has a nice feel under your palm does exactly what it was meant to do, helps you win games.
Furthermore, the design on the mouse allows you to choose how fast or slow you want the performance, how noisy from the consistent clicks hence allowing you to work amicably with others in an office environment or other quieter places.
The GK710 keyboard is a well-deign ergonomic panel, pretty solid with 104 standard keys, a dedicated keypad, 19 non-conflict anti-ghosting keys, and 10 multimedia keys.
The keyboard is a full RGB color keyboard that goes to sleep at 10 minutes of dormancy, it will wake up with a tap on any buttons and comes with a large, comfortable wrist rest for people that spend a long time playing or working on their laptops.
The keyboard feels like a regular keyboard but it does feel great for typing even though it has a very rubbery feeling to it.
Below are some of the Pros and Cons of The MageGee GK710 white Gaming Keyboard that earned it a spot in our list of Best White Mechanical Gaming Keyboard to get in 2022.
Pros:-
The optical mouse has seven breathing lights

Spill-resistant keeps your board safe from liquid accidents

No driver is required, it is a simple plug and play device

10 multimedia keys that enable you to create your own shortcuts ditching the long process

Braided mouse cable with a non-braided keyboard cable

Comes with a seven-color choice for the backlit keyboard including a rainbow color option, breathing backlit is also available on the mouse

Compatible with both Windows and Mac operating system
Cons:-
Doesn't employ the cherry MX feature

The keyboard is too rubbery
Overall, it is a good keyboard for the price and has a great typing feel. It offers just what most gamers will need for a keyboard and is very quiet too.
Check Price on Amazon
13. Anivia MK1 Gaming Keyboard White
The MK1 by Anivia is another great white gaming keyboard with double-shot injection molded keys with an equivalent blue light switched built on a solid aluminum frame for gaming and typing.
This mechanical gaming keyboard is super affordable but compact with only 87 keys making up for an extra room on your desk to put other stuff.
This blue LED backlit keyboard is well constructed; the characters on each key are imprinted for durability and less susceptibility to wear and tear.
The overall design of the board is pretty legit with a mix of aluminum and ABS material to withstand the tough gaming conditions that these keyboards go through.
Typing on this keyboard is loud because it is gaming but it feels good and responds fast to clicks. The keys are well rounded to give that comfy feel when typing and are very precise with fewer errors and travel.
Furthermore, all 87 keys on the MK1 are non-conflict; anti-ghosting keys that enable you to tap plenty of keys without affecting the performance of the keyboard in any way.
Below are some of the Pros and Cons of The Anivia MK1 Gaming Keyboard White that earned it a spot in our list of Best White Mechanical Gaming Keyboard to get in 2022.
Pros:-
Great performance and comfort during gaming or typing

Flip out feet to elevate the keyboard when needed

Ultimate gaming keyboard with 12 multimedia keys

Ergonomic, tactile, and a water-resistant keyboard

Gold plated USB cable eliminates the possibility of erosion

Compatible with Windows versions and a little bit with Mac operating systems
Overall, this is a great entry-level gaming keyboard and if you are just starting out with a mechanical keyboard, this will give you a feel of how the boards are. Although it is not a standard 104 keys board, it does perform super well and pops with the blue lights under the white keys.
Check Price on Amazon
There are certainly others on the markets that could suffice as a great white gaming keyboard, but having a little bit of knowledge on how gaming keyboards will allow you to pick up your next keyboard without help.
What are gaming Keyboard Sizes
The keyboard comes in various sizes depending on the brand and how many shortcut buttons cover-up for the lack of other functions. We have three known keyboard sizes namely
Full-size keyboard
It is a normal size keyboard with the entire button on the board; it includes the alphabet key, number keys, arrow keys, function keys. The number pad can appear on the top and the left side. Been a gaming keyboard, it will have extra keys like multimedia buttons, programmable macro buttons, and so on.
Ten-Keyless Keyboard
The tenkeyless as the name implies means this keyboard is short of ten function keys which are usually the number pad.
That also signifies that the keypad is smaller and compact with a button or two set aside to handle your math or number problem, however, because it is a gaming keyboard, it doesn't really matter because all other important keys are on.
If you do use your keyboard for complex math problems or basic calculations, then this is not the keyboard for you.
The 60 Percent Keyboard
This is the ultimate in gaming keyboard; this board is really small and consists of alphanumeric keys and the modifier key all squash together.
You will also notice that these boards lack your number pad, function, and arrow keys. However, it does come with shortcut buttons that work in combination with others to perform a particular function.
How to choose a gaming Keyboard – Buyer's Guide
If you are a seasoned gamer, choosing a gaming keyboard is an easy task but if you are new to gaming keyboards you will have a pretty tough time between the expensive brands and the newcomers with affordable price tags.
However, your gaming experience and the type of game should determine what you are looking for in a gaming keyboard.
Why is a gaming keyboard different from a regular keyboard?
Off the bat, they look alike but their construction, durability, and designs set them apart. Gaming keyboards are also known as mechanical keyboards and the best should have a cherry MX which is the standard for a gaming keyboard. The cherry keys differ in color and act differently too.
The cherry brown keys are softer, quieter, and super responsive to taps with some resistance

The cherry blue keys are tough and need more pressure to tap on the key thereby making more noise when using them

The cherry reds are really soft, very quiet, and really respond to touch
Your kind of game should determine the resistance you want on your keyboard but whatever keyboard color you choose is a great feel and will deliver just the right amount of resistance for you to win the games.
Looks
The aesthetics of the keyboard is crucial, the RGB lights and the effect is also a major player in choosing the keyboard. Furthermore, the arrangement, the size and if it has a wrist rest, for a white gaming keyboard, colors are everything.
Switches
The way the keyboard feels when you type on the buttons is the switch, while cherry MX is the standard switch for most gaming keyboards. The market is littered with a host of look-alike that compares with the Cherry MX and in some cases delivers the best feel on your keyboard.
Personalization
Gamers like to do their thing and the ability to customize your keyboard is one of them. You will not get the ability to change all your want but a little can go a long way.
The build material and quality
For a gaming keyboard, durability, sturdiness, and less flex should be a priority. Most brands on the market rely on aluminum alloys and ABS plastic to create strong keyboards that are durable and will stand consistent tapping. While some keyboards are priced cheap, the build and material will determine the longevity.
The clicking sound of the Keyboard
Gaming keyboards make lots of noise because of the key build. Although some are pretty silent from the start, they will increase in sound with continuous use.
Overall, gaming keyboards are noisy, but it is all part of the effects when you are playing from your keyboard. Keys can also be swapped so if you don't like the way yours is sounding, just change it.
Anti-ghosting and Key Rollover
This is the most useful feature that gamers need to watch out for. Anti-ghosting and key rollovers enable gamers to press multiple keys that will not register as an error or will hinder the performance on the keyboard and game you are playing. While some keyboard comes with all anti-ghosting keys, some have a limited number listed as it.
Warranty
The gaming keyboard needs a long warranty. Although the warranty is determined by the manufacturer, most gaming keyboards will get at least 365 days on the warranty in addition to other features like water-resistant, spill-proof, or splash-proof.
The addition of cherry MX switches has made most gaming keyboards durable that users beat the warranty dates and still have a functional keyboard with little or no damage.
Conclusion
In conclusion, a gaming keyboard is not all that different in look from a regular keyboard but the response rate, color spectrum, and display with the ability to control more than one function via tapping multiple buttons certainly distinguishes it from a regular keyboard.
Although the keyboard comes with color codes and other terms that one needs to get accustomed to, they are all to make the keyboard functional and more comfortable.
The anti-ghosting features are a must on a good gaming keyboard because it allows gamers to tap multiple keys to register a command without affecting their gaming or keyboard performance.
As listed in the buying guide, a good gaming board should be mechanical; this allows the keyboard to perform better than a regular board with increased response and less need to strike twice.
Most keyboards have an actuation rate of 2mm; this is the distance you have to actually press the key before it is registered on your computer. However, with continuous improvement in the gaming world, we have seen keyboards like the Razer with a 1.5mm and the Corsair with actuation of 1.2mm