Are you tired of watching mysteries, emotional dramas, and other tiresome anime? Well, the best way to feel good is to watch a lighthearted and wholesome anime.
They can quickly refresh your mood and make you enjoy the show without having to go through emotional turmoil. Sit back, relax, and pick a wholesome anime to watch.
We present you with a list of the best wholesome anime out there. These anime will put you in a great mood and make you laugh. Watching an anime from this list will help you recover from the hardcore anime genres that leave a toll on your heart and mind.  
Best Wholesome Anime: Our Top Picks  👌👌   
1. Yahari Ore no Seishun Love Comedy Wa Machigatteiru
Alternative Name:- My Teen Romantic Comedy Snafu Too
My teen romantic comedy snafu Too (Visit Here), is one of the widely popular Slice Of Life titles on the list. It is the cutest and one of the most wholesome anime series you will ever watch.
It is the second continuation series of Yahari Ore no Seishun Love Comedy Wa. The story begins with zoku picking up where he left the events in the first season. It continues the adventures of the volunteer service club.
The club contains Hachiman Hikigaya the dispassionate, Yui Yuigahama the cheerful, and Yukino Yukinoshita the competitive. They together devote the club's time to helping any or all students with issues they might be facing. 
Hachiman has a remarkable ability to quickly realize other people's problems, which often works against him as a double-edged sword. This unique ability has also started widening the rift between their group.
He quickly learns that it is not essential; the best solution is always the right solution. The story contains comedy, romance, and is overall a treat to watch. You will surely enjoy this wholesome anime series, and it can become your favorite pastime.
2. Love Live! School Idol Project: Sunshine!!  
Alternative Name:- Love Live! Sunshine!!
The show is a must-watch lighthearted and wholesome anime series on this list (Visit Here). This show is about a group of girls trying to achieve something. The anime begins with a self-proclaimed normal girl named Chika Takami, who has never shown any interest in any of the clubs due to a lack of notable ability or talent.
After visiting Tokyo and introducing themself to the world of school idols, her eyes open up to a new world where even an ordinary girl like her could get a chance to shine. Chika goes to Uranohoshi Girl's High School in her seaside hometown.
After she visits Tokyo, she is inspired by the superstar school idol group known as u's. She is now determined to start her own school idols club at her school.  
However, she has to face her greatest obstacle, the school council president, Dia Kurosawa, even before gathering any club members. The school council resident firmly denies the creation of the new school idol club.
With no hope left, she soon meets a new transfer student named Riko Sakurauchi, who is apparently from the same school as the u's, Otonokizaka high school. Riko is a shy person to some extent, but she is an extremely talented piano player.
Chika sees her as a potential member to join her new club. However, it is no easy feat to convince her to join the club. Despite that, Chika decides to persuade her and overcome all the obstacles that stand in her way of creating a new school idol club. You will thoroughly enjoy watching this anime in your free time. 
3. Gotoubun no Hanayome
Alternative Name:- The Quintessential Quintuplets
The Quintessential Quintuplets is one of the most heartwarming and cutest series on this list. Anime begins with an ace High school student leading a tough life named Fuutarou Uesugi.
He has a unique standalone personality and a reclusive nature that renders him no friends left. His family is barely scraping by due to his father's overwhelming debts.
One day Uesugi gets into an argument with a female transferred student during the lunch break when she claimed his seat. This caused them to dislike each other.
On the same day, he is offered a tutoring job for a wealthy family's daughter, which is also presented as a golden opportunity for him to clear his family's debt. They give him five times the wage in the market for a similar gig.  
As he accepts the proposal due to his family's circumstances, he soon comes to find out the horrific truth. The girl he needs to tutor is Itsuki Nakano, the same girl he got in a fight with earlier.
Abruptly he tries different ways to get on her right side but fails to do so. His problems get further multiplied when he finds out he has to teach her sisters, as Itsuki is a quintuplet. Her sisters, named Ichika, Yotsuba, Nino, and Miku, are flunking their classes.
However, they do not want to do anything with a tutor. Due to his family's situation and their livelihood on the line, Uesugi carries on with the tutoring. You will love the story as he tries to tutor these sisters and successfully lead them to graduation. 
4. Kaguya Sama Wa Kokurasetai: Tensai-tachi no Rentai Zunousen
Alternative Name:- Kaguya-Sama: Love is war  
Kaguya-Sama Love Is War is a popular title in this list, portraying a beautiful romantic comedy masterpiece. The story begins by telling us about two characters who go to the well known Shuchiin Academy.
Kaguya Shinomiya and Miyuki Shirogane are some of the top representatives of the school's student body. Miyuki is te student council president who is well known for being the top student in the whole nation and is respected by both students and teachers.
Whereas alongside him is Kaguya serving as the vice president of the student council who exceeds every field you can imagine and comes from a very wealthy family, the Shinomiya family. 
The whole student body pictures them as the perfect couple and envies them as well. Interestingly both have developed feelings for each other. But despite that, none of them wants to admit it to the other.
They believe that the first to confess will lose, be looked down upon, and be considered the lesser. Both of them, determined to win this game of love tries different tactics to get the other one to confess.
You will love this fantastic romantic comedy where both Kaguya and Miyuki put their pride and honor on the line. The story is very well developed throughout the first season and has gained a special place in viewers' hearts. There are two seasons of this anime so go ahead give it a shot. 
5. Gochuumon Wa Usagi Desu Ko? 
Alternative Name:- Is the order a rabbit?
Is the order a rabbit? is a cute, cuddly, and heartwarming anime series with a fantastically written storyline. The plot is flimsy, where a girl moves into a boarding house to attend her high school.
Kokoa Hoto takes just three seconds to become friends with anyone, all thanks to her positive and energetic attitude. In order to attend High school, she moves in with the Kafuu family.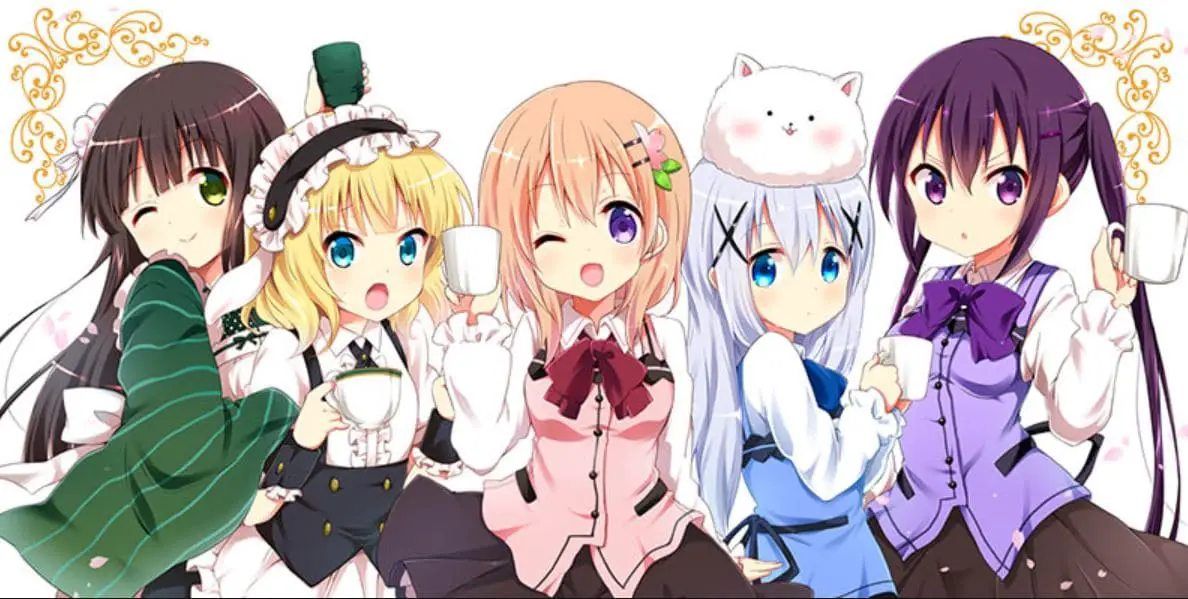 There she quickly becomes friends with the granddaughter of Rabbit House cafe's founder, who is shy and bright. She is named Chino Kafuu and can be often seen with a talking rabbit on her head called tippy. She starts working as a waitress in the cafe, and while working, she also becomes friends with Rize Tedeza, a part-timer at the cafe. 
Rize has a military upbringing and hence possesses exceeding physical capabilities, but she has an unusual behavior probably also influenced by how she was brought up.
She also befriends a waitress from a rival cafe named Chiya Ujimatsu, another waitress from the other cafe called Sharo Kirima.
Kirima has the vibe of someone who comes from a noble family. With coffee and all the fluffy silliness, it is a fun, heartfelt anime to watch during your free time. You will surely enjoy this wholesome anime with the adventures of these five waitresses in their hometown. 
At the time of our research on Best Wholesome Anime, we found a video about "What's Your Anime Name?" which is worth watching.
6. Amaama to Inazuma   
Alternative Name:- Sweetness & Lightning
Sweetness & Lightning is a heartfelt story of a Father and his little daughter. The main character of our story Kouhei Inuzaka has to take care of his young little daughter Tsumugi all by himself after his wife's death.
He has been taking care of Tsumugi to the best of his abilities. Inuzaka works as a teacher, which is a busy job, and he also lacks cooking skills making it hard for him to feed his daughter.
Hence, he must rely on the ready-made meals from the convenience store nearby to provide for his little daughter. He is frustrated due to his incapability to feed his daughter a nutritious and fresh meal.
His student named Kotori Lida invites him to come and have dinner in her family's restaurant. With his increasing frustration and incapability, Inuzaka takes up the offer. 
During his first visit to the restaurant, he and his daughter discover that the restaurant often remains closed due to Kotori's mother being away for work. They also find out that Kotori usually has to eat alone.
After several requests from his student, Inazuka, to continue coming to the restaurant to cook and sare delicious recipes with Kotori. This lovely and heartwarming story of a father given it all to take care of his little daughter will render you feeling happy.
You will indeed be left wanting more at the end. Explore the meaningful values of cooking, family, and home-cooked meals. It is a very popular wholesome anime amongst this genre.               
7. Himoutou! Umaru-Chan
Alternative Name:- My Two-faced Little Sister
My Two-faced Little Sister is a heartwarming story of two siblings. It is jam-packed with lots of comedy and has great storytelling. It will also make you revisit your childhood memories with your siblings.
The story is based on the fact that people are not sometimes who they appear to be. That is the case with Taihei's younger sister Umaru Doma. Umaru is your perfect high school student girl who is an overachiever until she gets home.
Once she is back home, she completely transforms from an overachiever excellent high school student into a fun-loving, lazy, junk food-eating otaku leaving all her household responsibilities on her older brother. She wears her hamster hoodie after getting home and begins to have fun. 
She also enjoys hanging out with her friends Kirie Motoba and Nana Ebina. Syphinford Tachibana is her self-proclaimed rival. Umaru knows the way to kick back, relax, and have some fun.
My two-faced little sister has great storytelling that captivates viewers to keep watching. You will love the cute story of a brother and his naughty little sister.
The story teaches us the meaning of the bonds of a family and siblings. How they fight amongst each other, care for each other, put up with each other, and at the end of the day love each other as well. It is one of the best wholesome anime to watch.
8. Ore Monogatari!!     
Alternative Name:- My Love Story!!
Do not go with the Name of this anime (Visit Here), as if you expect it to be a love story, you would be left wanting more. However, this anime is in no way terrible. You will quickly fall in love with the amusing characters in the show.
Characters surely make up for the lack of romance. Takeo Gouda has a tall stature and a muscular build; he does not appear to be your ordinary high school freshman. Although he has an intimidating appearance, Takeo has a heart of gold. He is famous amongst other boys for his chivalry and limitless courage.
Interestingly all these qualities do no help when it comes to his love life. His tough looks do a good enough job to scare all the girls away. In addition to that, Makato Sunakawa Takeo's best friend and all-time companion steals all the girls away from that Takeo ever liked. 
Due to Makato's cool personality and handsome looks, all the female students fall for him, whereas Takeo gets left alone. Once upon a time, Takeo saves Rinko Yamato gallantly, an angelic and cute girl, from being molested.
As he does that, he falls in love with her instantly. However, he has suspicions that Rinko likes his best friend, Sunakawa.
Despite his growing love for Yamato, Takeo decides to unselfishly act as her friend and companion even though he wants it to turn into his own love story.
It is a unique take on a romantic comedy that will leave you wanting more towards the end. If you haven't watched it yet, then prepare yourself for a fun time with his wholesome anime series.   
9. Hanayamata 
Hanayamata is a great anime story about a shy girl who happens to join the dance club. You will get to know all the real-life magic possible if you believe in certain things. This series is a great pass time and wholesome anime to enjoy.
The protagonist of this story is Naru Sekiya, who is your average 14-year-old girl. She possesses average talents, average athleticism, and average intelligence.
Once, she had hopes of everything changing once she went to high school. Unfortunately, when the reality kicks in, she soon realizes that the truth was further away from what she had already thought.
She often wondered why real life could not be like fairy tales where a handsome prince picks up the poor girl and transforms her life into a dazzling princess? She soon meets a blonde girl dancing on top of the shrine, and from that moment on, her average life as a student changes. 
At first, Naru assumed that girl to be a fairy but soon discovers that she was just an ordinary girl. The girl was a transfer student from America named Hana, who fell in love with a type of dance form called Yosakoi.
For love for this dance form brought her to Japan, where she wanted to start her club. Hana is excited to know that the girl she met was her classmate and wanted her to join the new dance group as its first member. She forms the Yosakai club.
As we know, Naru is shy, and it terrifies her to dance in front of a group of people. Will Hana be able to convince Naru to join her club? Is there any chance Naru will like Yosakai dance form? Find out all the answers while watching this heart throbbing anime.    
10. Dana ga Nani wo Itteiru Ka Wakaranai Ken         
Alternative Name:- I Can't Understand What My Husband Is Saying
I can't understand what my husband is saying is a short but wholesome anime series. The characters are so perfectly depicted, and the comedy is just hilarious. You will surely be left wanting more once you finish this one.
Our two main characters are severely different from each other. However, that did not get in the way of them falling in love with each other. Hajime Tsunashi is a passionate otaku who writes blogs for a living and mostly stays indoors at his home.
At the same time, his wife Kaoru is your ordinary hard-working office lady who likes to do some crazy drinking from time to time. They could not be more different from each other. Soon after their marriage, our unlikely couple realizes that marriage is not just some one-time thing like a first kiss or a wedding.
As the couple begins to live their years afterward there unfold fun and joyful challenges of being in a marriage. They together go with challenges and joys alike.
You will love the baffling and ridiculously funny situations that the couple Hajime and Karou find themselves in. It may be due to their unique personalities or the various peculiar people surrounding their life.
Despite all the challenges and struggles, their love for each other keeps them moving forward. They together strive to become a better person for themselves and the joy of their partner. This anime is a short and sweet story that you will love to watch and enjoy. 
11. Isekai Quartet
Isekai Quartet is one of the recent additions to this wholesome anime list. It is a unique approach to a comedy that brings some of the most loved characters from other anime like an overlord and many more together.
If you are an otaku or watch many animes for fun, you will likely find your favorite anime character in this anime.
The anime begins with a normal day where demon expansionists like Ainz Oal Gown, demon sisters Rem and Ram, 16-year-old Isekai protagonist Satou Kazuma and a deranged military girl Tanya Degurechaff are just living their normal life.
All of a sudden, a red button appears before them, captivating them to press it. The curiosity overcomes our characters, and they push that button, which transfers all of them to a new and unfamiliar world. The characters cant find a way to escape this world.
Now they must lead a normal school life and get to know each other. You will never get bored watching this amazing take that brings some of the anime's most loved characters. Who wouldn't want to see them living together under one roof?
12. Sora Yori mo Tooi Basho
Alternative Name:- A Place Further Than the Universe
A place further than the universe is a complete wholesome anime package with just pure goodness with lots of adventures. Mari Tamaki is a curious person filled with an overwhelming sense of wonder for the world around them.
She has always dreamt of what lies at the farthest reaches of the universe. Despite her vast aspirations, she also has feelings of anxiety and fear of knowing her limitations, and the unknown limits her from pursuing her dreams.
In her second year of High school, Tamaki is ever more determined not to let her youth waste. Still, her fear prevents her from taking a step forward. You will enjoy this cast of four girls who are searching for something out of this world. 
Conclusion              
Having a wholesome anime to watch is the best way to pass the time. We hope you found at least one anime on this list to watch in your free time.
There are still tons of wholesome anime out there. The search for them continues for all of us. Finding and sharing such beautiful anime is what keeps this community going. We will continue to bring you the best from the anime world.