Bluetooth is one of the most commonly used methods of connecting other devices with your computer wirelessly. You can listen to music saved on your laptop with a speaker or headphone connected to your computer via Bluetooth.
You can transfer different files to and from your computer via Bluetooth. When faced with a Windows 10 Bluetooth Missing issue on your computer, it can be distressing.
This article helps you solve the problem of Bluetooth missing in your windows 10. It also gives the different methods of enabling or disabling Bluetooth.
How to Enable/Disable Bluetooth
To be able to connect your computer to another computer via Bluetooth, or to connect your computer to another device such as a speaker or headphone, you need to enable the Bluetooth.
Also, you can disable Bluetooth after use. You should disable when not in use to conserve the battery. Having your Bluetooth turned off when not in use will reduce the risk of any corrupted, harmful files being transferred to your computer.
On your Windows 10, there are several ways to enable or disable Bluetooth. It should also be noted that if the Bluetooth toggle is missing when you have used one of these methods, you should try using another method to confirm if there is indeed a problem.
At the time of our research on Windows 10 Bluetooth Missing Issue, we found a video about "How Bluetooth Works" which is worth watching. 😎
Using Bluetooth Settings:-
The first method to enable or disable the Bluetooth is through the device Bluetooth settings.
In the search menu, search for settings. Alternatively, press the Windows key + I as a shortcut for the settings. Under settings, go to devices.
Then Bluetooth and other devices.
At the right side, you'll see the toggle to turn on or turn off the Bluetooth.
Using Airplane Mode:-
Another method to enable or disable Bluetooth is to do it in airplane mode. The airplane mode is also found in settings. Press Windows key + I, then select "Network and Internet" under settings.
Next select airplane mode. In the right pane, you can toggle the button for Bluetooth, under wireless devices.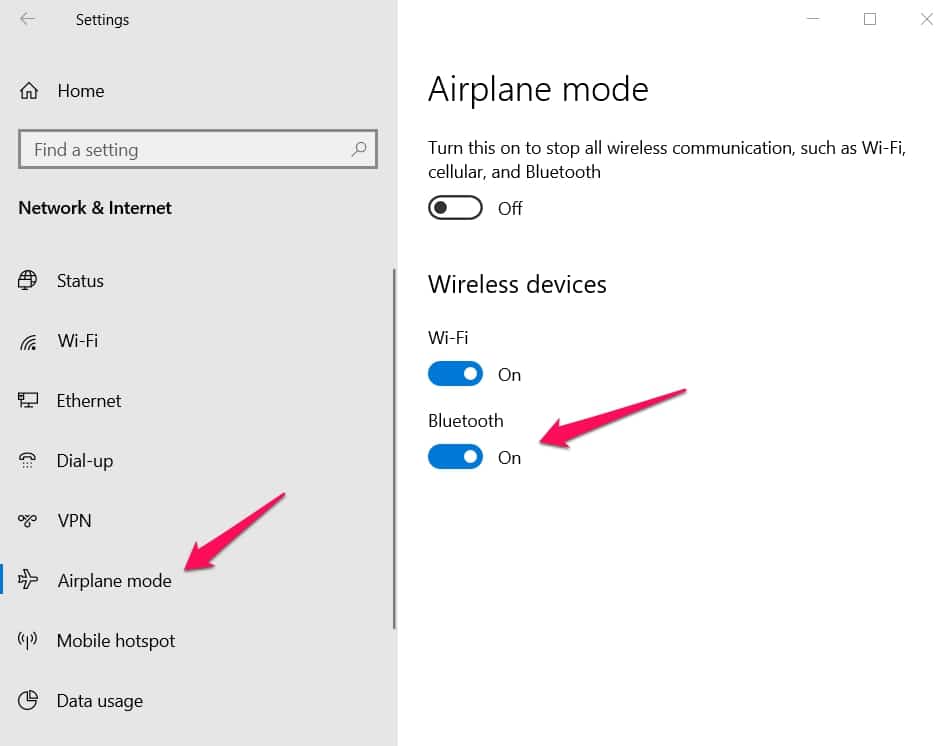 Using The Action Center:-
You can also turn on or turn off the Bluetooth in the action center. Click the action center icon at the bottom right corner of the taskbar.
You can also use the short cut Windows key + A to open the action center. Once the action center is open, click on the Bluetooth button to enable or disable it.
Using Device Manager:-
The last method for enabling or disabling Bluetooth is through the device manager. Once you've opened the device manager, expand the Bluetooth option.
Right-click on your Bluetooth device and select either "Enable Device" or "Disable Device" depending on what you want to do.
The main advantage of knowing these different methods is so you have different ways of confirming if you notice the Bluetooth toggle is missing.
Windows 10 Bluetooth Missing Possible problems
It is obvious that the Bluetooth feature is an important component of your computer. Apart from sharing files, you can connect to other hardware such as speakers, headphones and microphones with it. Hence, when the Bluetooth toggle is missing, it can be very distressing.
For some who have never used their device Bluetooth its difficult to know if the feature was ever enabled on their computer, if the missing Bluetooth toggle is a recent occurrence, or if it is a temporary bug or change on settings that is the cause of the problem. A good part of solving a problem is identifying the source of the problem.
For others, the Bluetooth may have been used in the past—maybe even recently—and so the missing Bluetooth toggle may come as a surprise.
The possible reasons for the Bluetooth missing on your device are many. They vary from faulty updates to outdated drivers.
It is possible for the Bluetooth toggle to go missing after an update. There might have been a problem with the update. A faulty update can cause different problems in your computer. Alternatively, sometimes a new update may be needed for the Bluetooth problem to be fixed.
Another reason why Bluetooth may be missing is that the Bluetooth drivers have not been installed or need to be updated. The Bluetooth drivers control the operation of the device's Bluetooth.
Bluetooth missing on Windows 10 can also be caused by other problems in your computer such as viruses. Also, its possible that you may have accidentally changed the settings in your computer, making the Bluetooth appear invincible.
Possible Solutions: Windows 10 Bluetooth Missing
There are several steps you can take if the Bluetooth toggle is missing. Luckily, fixing the problem is not complicated. The steps given below don't require you to be an expert.
1. Restart Computer
This is troubleshooting 101. Restarting your computer sometimes seems to have a magical effect. Problems that seem so serious often correct themselves once you have restarted your computer.
This is because the problems can sometimes be caused by other programs running in the background that may be interfering with the normal operation of your computer or settings you mistakenly changed.
Restarting your computer will force those background programs to close, and temporary settings to return to the default.
2. Update Windows
You have tried to turn on your computer's Bluetooth, but the option to do so is not available. You checked your device manager and there is no Bluetooth option, this may be a good time to update your operating system.
Press the Windows key + I, to open the device settings. Next select "Update and Security". If there are updates, download the update, and once the installation is complete, restart your computer.
Updates usually resolve many issues that are in the computer. In addition to improving the performance and enhancing features in your computer, an update acts as a reset.
Sometimes, the problem of Bluetooth missing occurs after an update. If you recently updated to Windows 10, and you noticed the Bluetooth toggle was missing after the update, it is possible that your computer is not compatible with the Windows 10 update or it may have some bugs.
The former is especially true for older computers. Check if your computer supports Windows 10. If it doesn't, you will have to use an older version of Windows.
3. Show Hidden Devices
It is possible that the problem isn't that the Bluetooth is missing. It could be that the Bluetooth is only hidden. When this is the case, you'll not be able to enable Bluetooth unless you know where yo look.
Open the device manager, then click on view options. Next, select "Show hidden devices".
If the Bluetooth is hidden, you'll find it there. When there are several applications, the device manager may create a nested list of categories.
Alternatively, you can find Bluetooth by expanding "Network Adapters".
4. Troubleshoot
Windows 10 has good troubleshoot tools that helps the computer solve its own problems. The troubleshooter helps to find out the possible causes of the problem, then possible solutions.
It's a tool that will come handy whenever your computer has a problem. The troubleshooter is especially useful for built-in features and applications.
In the search menu, search troubleshoot Bluetooth. Select "Find and fix problems with Bluetooth devices" Follow all the prompts, and click "Next" whenever applicable. Following the prompts will help you resolve the issues with the Bluetooth.
5. Update Drivers
As has been mentioned earlier, the Bluetooth toggle missing on your Windows may be caused by problems with your device drivers.
If the Bluetooth drivers need to be updated, that may be the problem. Using out of date drivers can cause the Bluetooth device to malfunction temporarily. If the Bluetooth drivers have been corrupted, you also have to fix the problem. Sometimes the issue is that the Bluetooth drivers have not even been installed.
You may be wondering how you'll update drivers for a device you cannot find in the device manager. A good option could be to update all drivers.
If you can fond your Bluetooth driver, then try disabling it and enabling it. If this doesn't work, try updating it. (The process to do this is mentioned above)
6. Restart Bluetooth Support Service
To restart Bluetooth support service, open the run prompt by pressing the Windows key+ R. Once the run prompt is open, type services.msc and hit enter.
Once that is done, find the Bluetooth Support Service in the resulting window and right-click on it to start it. If it is running already click restart.
Once you have successfully restarted it, click properties, and choose automatic under the general tab.
Use Bluetooth Adapter:
If all the steps given above have been unsuccessful, you can use a Bluetooth adapter. Bluetooth adapters are not expensive, they can be bought online on sites like amazon, or in computer hardware stores. The disadvantage of this option is that you will have to sacrifice a USB slot for it.
Conclusion
Bluetooth is useful for transferring files. Although there are faster means of file transfer, the applications of Bluetooth makes it necessary.
You can connect your computer to phones, other computers, other hardware like microphones, speakers and headphones.
When there is a problem with your Bluetooth, fixing it is easier with this guide.