Short Forms, keywords, tags have become the new trend of today's world. People are always in a hurry and want to reach out to the things they need in an as fast way as they can.
That's where tags come into the world of words and contents. There is a lot of content available online while we are searching for a particular thing.
It becomes easier only because of the keywords that have been used in the file or the content. It makes things easier to search and thus reduces time and labor.
Wordle alternative is a new way of visual representation of a textual data that is basically used to depict keywords on a website. It is even used to visualize the free form of text.
These are basically single words that are shown on font size or color so that it will be useful for you in perceiving the prominent terms that you frequently use. The major part of a content is its keywords because that is what helps us to get through it and read it.
Within seconds it will show you the most used terms and thus is very quick in nature. When this is used as website navigation, the prominent terms are hyperlinked to those items which are associated with the term.
This is how you read content while you search for it through online pages. This is how important keywords are in an online platform with a considerable amount of data and content. 
Types Of Wordle Alternatives
There are basically three main types of wordle alternatives applications: social software, which is differentiated mostly by their meaning rather than their appearance.  
The first type denotes those terms which are frequently used in a content or a text. 

The second type includes the global tags whose frequencies are aggregated by the users. 

Finally, the third type consists of those words which have a lot of sub-categories.
It is one of the best tools that has been used time and again to create a word cloud. Word cloud is basically a cloud consisting of different words and phrases. These word clouds make things more comfortable while you are searching for a specific type of content online.
The primary way in which it does make things easier is by making a cloud of important terms that have been overused in the content, thus emphasizing on it. There are different patterns and designs in which these clouds are formed.
It is up to you to use your creativity to give a proper design to the clouds. The words which appear on the cloud vary in sizes from big to small to medium. The sizes depend on the frequency of their usage in your content.
So the words which you use for a maximum number of times in your content are the biggest in size, and those that are used least are smallest in size. This is how through different sizes, you can know that the content is based on what specific thing in particular.
Wordle is one of the fantastic tools that help perform superior tasks without any help from artistic applications and even graphic designing. Previously this tool was available only at online platforms, and it even required javascript.
Still, this tool has been launched nowadays, which has a desktop application, thus making it easier for you to use. Wordle is a tool that is not only used by students but even teachers and other people who work on similar tools.
So that when the frequently used keywords are displayed, it would be easier for the students as well as the teachers to know the topic on which the content is based. You can try different patterns for the words, use different font styles, and customizing options.
It depends solely and entirely on you on how you want your cloud to be designed. Through the word cloud, you can also check the frequency in which you are using a particular word in your content.
Thus it will help you to restrict the use of a specific word repeatedly and make your content seem monotonous. This article mentions some of the best word clouds which are similar to that of wordle along with other apps, sites, and generators that are similar to wordle.
All these apps are online, and thus you can use them through your devices like iPhone, Mac, Android, etc.
Strong Points On Wordle Alternative
Key Words:-
This tool helps you to find out the keywords in content, thus allowing you to know the primary focus of the content. It becomes easier to find content online with the use of such tools, with basic keywords.
Word Cloud:-
The tool helps you to create a cloud of words and phrases that you have continuously used in your content. This helps you to check those words which have been overused.
Numerous Patterns:-
There are numerous ways in which you can give shape, style, and design to the word cloud along with the font size, style, and patterns.
No Arts And Graphics:-
There is no art and graphics that are required in order to create these word clouds.
Desktop Application:-
 Previously, this tool was only available online and required javascript, while nowadays, the tool has a desktop application, which makes it easier to use.
Checks Frequency:-
This tool helps you to know the frequency in which each word has been used in the content. Thus it keeps the over usage of a certain word in check and keeps the content from sounding monotonous. 
Wordle Alternatives For Creating a Word Cloud
This is a word cloud generator that is basically used by the kids and children, and it works completely on an online platform. This cloud generator has some amazing cartoons and animations that will no doubt attract the children.
It has an easy application as you just have to paste the text's content in the blank space provided by the generator and click create to make a word cloud.
After doing this generator will show you its generated design, which you can further customize by using and changing word limits, shape, color, along with the font of the text. 
The content can even be easily edited, the texts and phrases can be added as well as removed. Using this tool is very easy, and it even gives you the desired result. This generator even allows you to select random shapes for every cloud that you create.
Thus you can provide a form to the cloud according to your wish. It even allows you to apply a filter to the words so that children could use it. Finally, after you have created your word cloud, you can save it to your PC as an image or print from the web page. 
Important features:-
The kids basically use this cloud generator in an online platform.

It has cartoons and animations that attract children in order to use this tool.

It has a very easy application to it in which you just have to paste the content and then, through a click, create a word cloud.

You can customize the shape, size, color, and font of the text in the cloud.
2. TagCrowd
TagCrowd allows you to create simple word clouds that will help you to determine the words that are continuously used in your written content. Thus you can at least change those words that are too repetitive and are overused.
This will make the content less monotonous and more interesting for the readers to read. It will be more attractive if there is not much repetition. It is very easy to input as well as upload your file by using URL, write, and paste.
After the input, the tool will create a cloud in which it will portray the specific words that have been used maximum in the content. If you have used certain words frequently, then the size of the word would be bigger than the rest.  
This tool even allows you to use a different language for your text and even set the maximum number of word limits that should be shown.
Moreover, you can even select the frequency range as well as a group similar words together and could even change the letter into upper case and neglect certain words from considering.
Important features:-
It helps you to find out those words that are continuously and repetitively used in the content.

You can upload the content using URL, write, and paste. 

The frequently used words will appear more significant than the rest of the words in the cloud.

It even allows you to use a different language for your content and further set word limits to it.
3. WordArt
Wordart is another generator that helps you in keeping phrases and words together in the form of a cloud by forming a pattern or design.
Once you enter this WordArt website, you have to be creative enough to start creating your own word clouds using all its features.
On the creating page, you will see two sections. The left side is for adding text, deciding their size, color, angles, and fonts.
You can even choose their shapes, styles, and layout, whereas the right-hand side section will give you the resultant cloud that you have created through customization options after you have clicked on visualize. 
On the right side of the content page, you can add animation to the text so that it will have a different look that will make things look more interesting and attractive.
Later on, you can print the cloud on the word page, save it on word art, as well as download it in numerous formats and qualities to your PC. Although downloading is free, you may have to buy their premium plans if you want to have a high-quality download.
Important features:-
This generator keeps the words as well as phrases in the cloud that you can design as well as a pattern according to your creative ideas.

There are two sections on the creating page one is where you enter content, and the other is where you get the result.

You can even add animation to this generator, which makes things more interesting.
4. WordItOut
Worditout is one of the best tools that you can use in place of wordle as it allows you to create clouds in three different modes which will be giving you newer features.
The first mode is through normal text In which you have to paste your document as well as text, and then this tool will automatically find out the words that have been frequently used and further select them for creation.
The second one is the No filter, which creates a word cloud with the exact words and phrases that you have in the content that you have pasted. The final mode is the table where you can paste any spreadsheet or make a table and then use this table so as to get a word cloud.
Each of these modes is quite similar and even have similar kind of editing option where you can customize the shape of the cloud, along with the sizes, colors, and layout.
This tool will also allow you to see the word list about the information on various words and phrases that have been used to create the content. You can save the final image of the cloud that you get on your PC  or send it to others through your email easily.
Important features:-
It has three different modes in which you can prepare word clouds that are normal text, no filter, and tablet form.
5. Tagxedo
Tagxedo is a bit different from the rest of the tools on the Wordle Alternatives list. With this tool, you can not only create a word cloud just by pasting the text but can even create them from other blogs and articles that you find online, along with tweets, news, and even tags.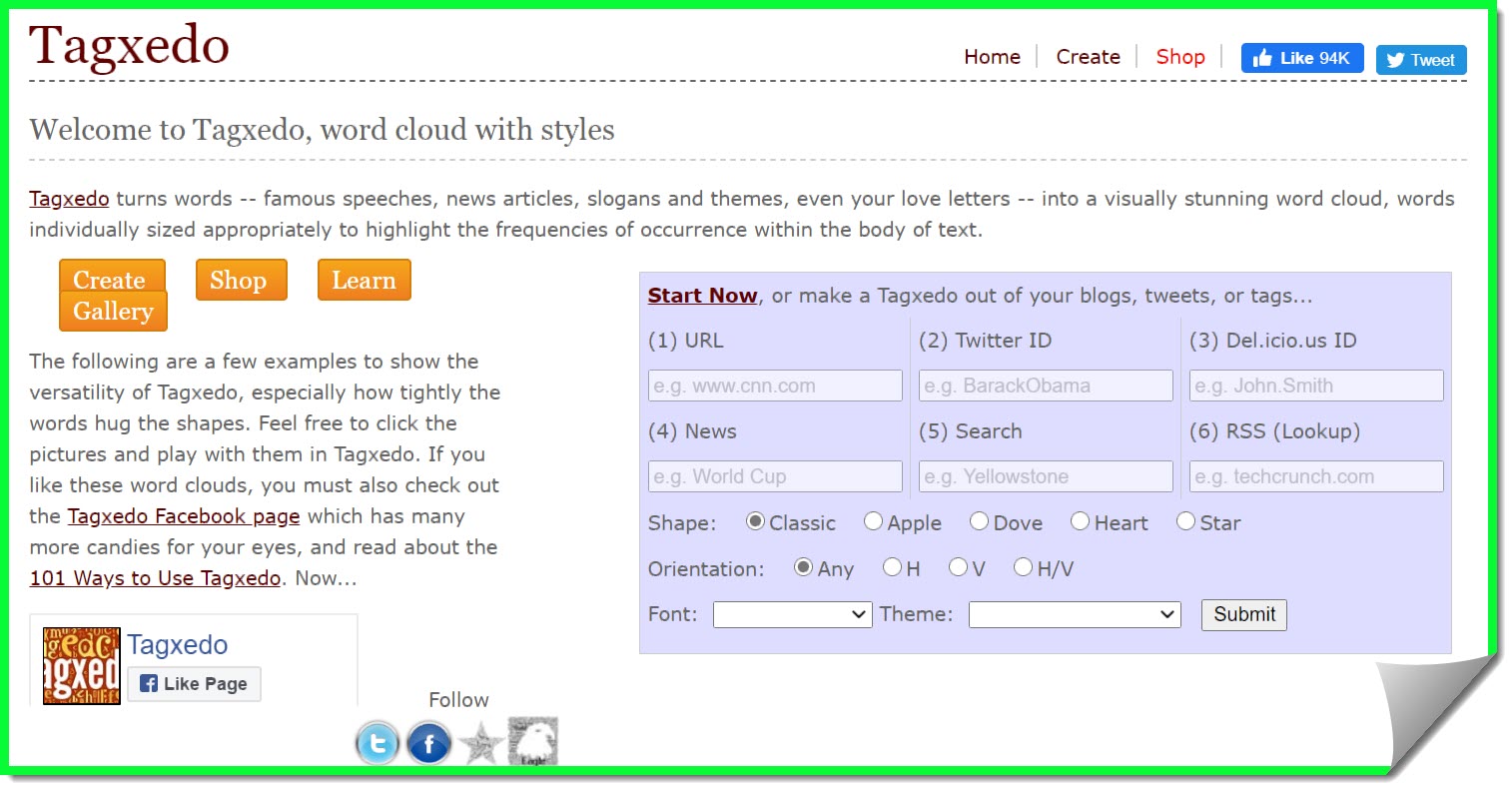 The only thing you would need to do is an URL of those particular blogs which you would like to make into a cloud.  This is very easy as you can gather up words just with a click with nothing much difficulty.
By this tool, you can select a particular shape for your cloud, along with style, font themes, and orientation that you want to see as a result after you submit them.
Moreover, you can just use the text to create the word cloud as you did for the other tools apart from the URL. You must keep in mind that this tool may not work with all the browsers which are available.
This requires the Microsoft Silverlight internet application for its working and without it, it is not possible for it to work.
Important features:-
This tool allows you to create a word cloud using other blogs, articles, tweets, news, and tags.

It requires a Microsoft Silverlight internet application for its work, and without it, it won't work.
6. Word cloud
Word Cloud is a much-advanced tool in comparison to other tools mentioned in this Wordle Alternatives list. With the help of this advanced tool, you can add content through a different kind of input. This input includes the pasting of the content as well as typing of the content.
You can even paste text files and URL and  Ms office along with pdf documents. Moreover, you can even select the size of the output images as well as set custom resolution, style and design for them according to your creativity and needs.
You can completely invert the word cloud with the help of this tool and even set gap size. In this tool, you will see that the shape of the word cloud will be blank, and the words will appear on the outside of it.  
One of the advanced and the best features of this tool is that you can select from a variety of options and categories. These categories include letters and their sizes, numbers, and even colors that you can add to it.
You can even add your own custom shapes to the list. Thus you can create your own shape and style according to the way you desire.
Finally, this tool allows you to save all the clouds that you have created in PNG, JPG, and pdf format. You can even share this word cloud online on various social media platforms through the mail.
Important features:-
This is a much-advanced more tool than the rest of the tools as it allows you to add input not just through pasting but even through typing, text file, URL, etc.

You can set gap size as well as completely invert the word cloud using this tool.

You can add your own customization to this tool and thus be creative.

You can save the final cloud version in PNG, JPG, and PDF format.
7. Trickler 
Trickler is quite extraordinary and different from the rest of the tools, but it is essential for you to keep in mind that this tool is especially for the people who are trying to create a word cloud regarding the news and do not have the right content for it.
However, this tool can even benefit the students as well as teachers. All you have to do in this tool is to select a relevant date on which you want to get the specific news.
Then you can add a location to it, and after that, you will be all set to receive it on that particular day in a specific location. The news will be selected accordingly and will be posted just in time.
After doing all this, you can enter a particular keyword that will be related to the news so that you can directly reach the content of it. Once it is all done, you can create a cloud just with a click.  
The final result of the cloud will be shown where you can make changes to its shapes, sizes, and design. You can even change the fonts, color of the text in the cloud, and background of it.
Sometimes the clouds have shapes that resemble a country map, certain words and certain letters which you can select from the list. You can be creative with the design and style of the word cloud that you are using.
Important features:-
This tool is basically for those people who are dealing with the news and are gathering content for it.

Just by adding a date and location, you can set the news flashing time.
Conclusion
The tools, as mentioned earlier, were some of the best alternatives for wordle that you can prefer to use. Though wordle is a very good option it would require javascript for using it.
Thus it is better to use the alternatives that have desktop versions and applications. Basically, all these tools help out to find the frequently used terms, words, phrases in your content.
This helps you at different levels as you know the frequency of each word that you are using in your input data file. Furthermore, it gives you an opportunity to minimize the usage of a particular word, which can make your content look monotonous and boring.
But on the other hand, the word cloud can show those words that are keywords in the content. This will help you to find out what the content is truly about. Thus much of your time and labor is saved as you get the specific information about a specific content with the help of the keywords that are used.  
The basic working of these tools is to show the words that have been used the maximum times in bigger and more prominent font style and size while those words which are used less are smaller in size.
Some of the tools even give you a platform to choose your way to customize the word clouds by giving it numerous different shapes like that of a map, country, bird, etc.
some of the tools are basically made for the children where they can even add animation to the cloud to make it look even more interesting and attractive.
After you have done with making your word cloud, you can easily save it just with a click. There are even options that allow you to share it online through the mail.
These beautiful and creative tools have made it easier to find content online with specific keywords, hyperlinks, and tags. It has even given you a platform in which you can improve your content by not using a certain word repetitively.
Thus this is a basic tool that you must try in order to increase your creativity and content writing skills. It is words that have been induced with various meanings and expressions, which makes things look beautiful and attractive.
So be ready to make your own word clouds using any of these tools mentioned above along with the addition of your own creativity. Style up and pattern your word clouds the way you wish to with the advanced customization.