If you want to make better decisions for the future, the best place to start is by evaluating past events and their outcomes. This is especially important in business settings, as one poor decision can cost you the entire capital you put in. It doesn't matter if it's a start-up or an established business. You need to learn the trends and predict the possible outcomes with data analytics.
You can use your own past events or learn from other businesses within your niche. Fortunately, you don't need to worry about the intricacies of data, its extraction, measurement, and use. With the help of data analytics services and experts, you can walk this journey and become a better decision-maker.
What does Analytics mean?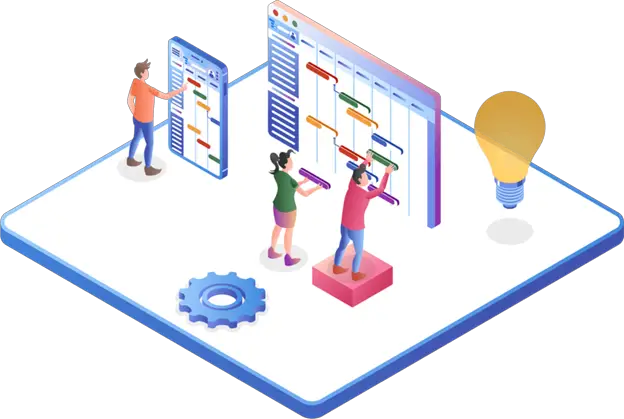 This is the process of sifting through data to reveal insights from past events, helping you evaluate and understand your business growth patterns better. Analytics, in simple terms, means using data to discover meaningful patterns, insights, and trends. It's turning raw data into valuable insights that help you understand and act upon the issues in your sector or business.
Now that you know a bit about analytics and what it does for your business, here are the five main types of analytics. Each of these analytics types brings its own unique impact to the data utilization process. Think of them as different lenses through which you can view and understand your data.
Descriptive Analytics
You can call descriptive analytics the foundational layer of data analysis. This is because it best use is reading data from previous events. It's the process of summarizing historical data to gain a better understanding of past events and trends. Your businesses can employ descriptive analytics to create a comprehensive picture of your historical performance.
When you have a clear picture of what's going on in your business behind the scenes, it gives a better understanding of how to carry on current and future projects. In a way, the results of descriptive analytics act barrier and signpost at the same time. It keeps you from going in the wrong direction as well as pointing you in the right direction.
It has several best uses.  In retail, descriptive analytics can reveal which products sold the most over the past year, helping businesses stock inventory efficiently and plan marketing campaigns effectively. Being able to keep up with the inventory and making the most of your marketing campaigns is an important aspect of keeping your business afloat.
Diagnostic Analytics
This type of analytics takes us a step deeper by aiming to uncover the reasons behind certain events or trends identified in the descriptive phase. While the previous type only seeks to learn patterns, you also need to know the reasons behind them. This helps you keep away from taking the same steps that could be hurting your business over and over.
When you know or uncover the exact reasons behind the patterns and trends you discover, you're more empowered to make educated choices for your business. Take it as uncovering the things that are causing your business problems, such as stagnation, slow growth, or losses.
There are several ways diagnostic analytics helps your business. For instance, examining market demand, understanding or explaining shifts in customer behavior, company culture improvement, or technology issue identification.
Predictive Analytics
Do you want to have a clear view of the possibilities for your business in the near or distant future?  You'll need predictive analytics. It employs the use of past data and statistical algorithms to forecast future changes and trends, enabling your business to prepare for potential outcomes. Predictive uses technologies like machine learning (ML), artificial intelligence (AI) and statistical data tools.
This can be a prediction for the near future, such as machinery breakdowns or in the distant future, like how your business cash flow in the coming years will look like.
One of its best uses is in financial services. Predictive analytics can help predict market trends, allowing investment firms to make informed decisions on asset allocation and managing client portfolios. Closer home, you can use it to fine-tune your marketing campaigns through behavior targeting. If you're in the manufacturing industry, it can help you predict and prevent malfunctions or breakdowns.
Prescriptive Analytics
This one takes data analysis a step further by not only predicting future results but also providing actionable recommendations for decision-makers. It is the advisor that tells you what to do next based on the predictions made. It helps you answer the question, 'How do I get to point B?'
Simply, it's the type of analytics that will use the past performance of your business and help you determine what you need to do in the future to achieve your goals. It sifts through the clutter of uncertainty by simulating the probable outcomes. This helps you see the different scenarios where you can evaluate your risks and choose the most desirable path.
Within the manufacturing sector, you can use prescriptive analytics to optimize production schedules and recommend adjustments in real time to minimize downtime and maximize efficiency.
Advanced Analytics
Advanced analytics goes beyond the scope of traditional business intelligence methods like reporting and using queries. It's a combination of quantitative techniques, blending descriptive and predictive data analytics, statistical data, optimizations, and simulations to unveil insights that might otherwise remain hidden in traditional analytics methods.
It encompasses a range of cutting-edge techniques, including machine learning, artificial intelligence, and big data analytics. These techniques push the boundaries of what's possible with data analysis, allowing your organization to gain deep insights and make data-driven decisions.
One of the best use cases is in cybersecurity. Advanced analytics can detect and respond to sophisticated cyber threats by analyzing vast datasets and identifying patterns of malicious activity.
Conclusion
These five types of analytics form a comprehensive toolkit for businesses for better decisions based on actual data. Regardless of your industry, you can use analytics to gain insights that will help you improve efficiency in your operations, enhance customer experiences, and become more competitive in your field. By understanding the unique characteristics and best use cases of each type, your business can navigate the complex terrain of data analytics with confidence, making informed decisions that drive success in today's data-centric world.