Calculating how much money YouTubers make on YouTube is not an easy task. For calculating the earning of YouTube you have to do a lot of Guesswork like you have to visit many websites like Social Blade then you are able to provide arrange in which your favorite personalities earn.
YouTube creator's popularity rising more and more nowadays. In the past 10 to 15 years the YouTube industry is developed in such a way that there are many popular YouTube creators who have Quit the job and start earning money from YouTube.
If you are a beginner or you did not know anything about YouTube then this article will be surprising for you because in this article you will know how much money your favorite YouTubers earn from YouTube.
Youtubers actually work from their homes and they make the whole money just by producing and publishing content on YouTube. This is the dream of millions of people around the world but also, on the other hand, it is so challenging or you can call it a steady way to earn your Living.
At the time of our research on "How much money do YouTubers make", we found a video about "15 Sarcastic Tips to Become a Successful YouTuber" which is worth watching.
How to Earn Money on YouTube: 6 Tips for Beginners
If someone is earning his living by doing freelancing, freelancing is not an easy task.  Same as freelancing in YouTube you have to write you are own video outlines. You have to make such content that your audience love to watch.
If you want to earn money online from YouTube and you are going to start a YouTube career then read this whole article because it will really inspire you.
How do YouTubers get paid?
So here I am going to list the best ways with the help of which YouTubers get paid.
Put AdSense Ads
Every user will watch at least 10 or 20 seconds of your video. And if the user watches your video for more than 30 seconds then he will see an ad and in this way, you will make money. Note that you will only make money from Youtube if the user is not using Ad-block.
If you want ads on your videos then you need to monetize your YouTube channel. For this purpose, you need to create an AdSense account to start your earning.
First of all, you need to create a YouTube channel, then you need to put some videos on your channel and when you are videos of watched by 10000 users then you are able to monetize your YouTube channel. This is the new future of YouTube.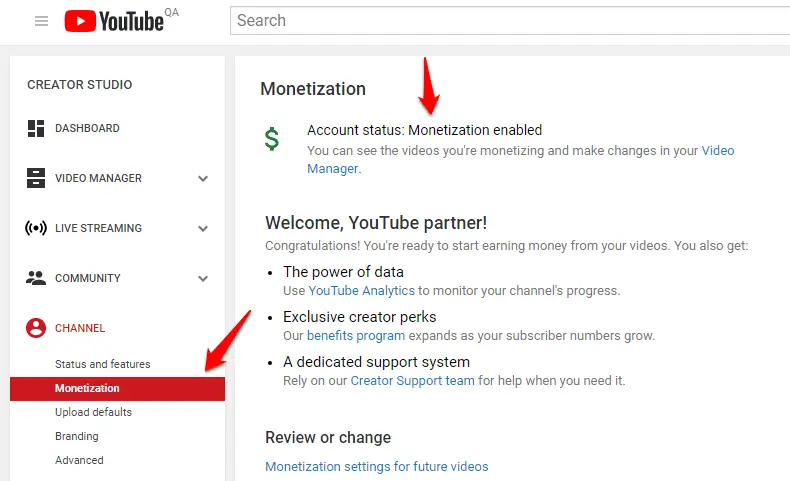 Eligibility & program threshold
All YouTube creators can apply to join as long as the program is available in your country. Once a channel reaches 4,000 watch hours in the previous 12 months and 1,000 subscribers it will be reviewed to join the program.
You can easily view your Channel Watch Time in Analytics under Youtube Creators Studio.
This Is How Much YouTube Paid Me For My 1,000,000 Viewed Video (not clickbait)
Video monetization criteria
Your channel must meet the YouTube Partner Program threshold and your videos must meet these minimum requirements in order to be monetized:
Your content is advertiser-friendly.
You created the content or have permission to use it commercially.
You are able to provide documentation proving your own commercial rights to all audio and video content.
Your content complies with YouTube Partner Program policies, YouTube's Terms of Service, and Community Guidelines. YouTube reserves the right to disable monetization for accounts that do not follow our guidelines.
Source:- Youtube Support
Sponsored Videos
You can only get your video sponsored if you have a big audience. But if you are lucky then you can still get your videos Sponsored if you have a small channel. In this way, the owner of the product will pay you when you make a video about the product or service and publish it on your YouTube channel.
If you do this then it is must for you to add the text in the description that this video sponsor by an advertiser. Here you can put the name of the advertiser. Using this method you are able to make a lot more money as compared to regular AdSense ads.
You may be curious about how YouTubers are getting sponsored, First thing is if your channel is popular, companies will directly contact you and second is Youtuber have own sponsorship program through https://famebit.com/
To signup to Famebit, You required 5000 Subscribers to signup.
After signup, you need to choose your category and select your product and send the proposal to a particular sponsor provider company.
As you see in the below screenshots, it's providing up to $5.0K USD per promotion. If you are thinking YouTubers are only getting their revenue through Google Adsense, think again 🙂
Affiliate Marketing
Affiliate marketing is one of the best ways with the help of which you can earn a lot of money on your YouTube channel. Just you need to sign up for an affiliate site where you will get an affiliate link of any product, then you need to put this link in the description of your YouTube video.
In our case, We are promoting Amazon Affiliate products, which means when you click on the provided links the descriptions and buy anything within 24 hours, we will get paid.
Here is our Amazon affiliate example.
That's it you are done. When anyone clicks on this link and buys a product from the company then you will get some Commission. If you're selling digital products via affiliate marketing then you will get more than 70% Commission. On the other hand, commissions are less in the case of physical things.
How do YouTubers withdrawal their money?
Well if you log into your AdSense account then you will see there is no withdrawal option available then how you can get all your money from AdSense.
Actually when you have more than $100 in your AdSense account then your payment is directly transferred to your bank account on a monthly basis.
There are few countries in which direct deposit option is not available but this option is available in most of the countries.
Top 5 Highest Paid YouTubers
So here are the top 5 highest-paid YouTubers in the world.
PewDiePie ( Channel)
PewDiePie is one of the richest YouTubers out there. There are only a few YouTubers who focus on creating videos for the gaming channels and PewDiePie is one of the most famous YouTubers who made their videos on gaming.
PewDiePie has earned millions of dollars from his YouTube channel just for posting gaming videos. He is now earning six figures a year from YouTube.
Michelle Phan ( Channel)
She is a 29-year-old good-looking girl with millions of subscribers. she started his channel on which makeup tutorials in 2006 while he was working in a restaurant.
She teaches peoples about trending fashion, and styles to resemble celebrities. she started working on his channel professionally in 2012 when one of his videos went viral in 2010.
Smosh ( Channel) 
Smosh is one of the funniest YouTubers in the world. This channel is created by Lan Andrew and Anthony Padilla.  He has started his channel in 2003 when Padilla is creating animated videos later on this channel is joint by Andrew. They worked really hard on this channel and in 2016 their channel has more than  25 million subscribers.
Markiplier ( Channel)
He is 26 years old and he has started his channel in 2012. Now he has more than 10 million subscribers. He just plays video games and then creates a video and after all publish it on his YouTube channel.
He is also a kind man so that's why he is involved in charity and-and he is now a member of charities like Bipolar sports Alliance and animal society.
Currently, he is very popular for his gameplay.  One of the best parts of his gameplays is unique commentary which involved crying, cursing, yelling and screaming. He also uploads lots of comedy videos and blogs on his YouTube channel.
Grace Helbig ( channel)
She's from Jersey and he started his YouTube channel in 2007. She just started his YouTube channel to keep him busy by recording daily vlogs while she's sitting along with her family at her house or anywhere else.
She's so talented so he has started a new channel which is called my Damn channel where she hosts Daily Grace which is one of the most popular comedy shows. Due to her YouTube channel is also featured in a number of TV commercials and even on talk shows.
World's Richest YouTubers…
How much Money Your Favorite Youtubers is making
Suppose you want to identify how much your favorite Youtuber's is making is easy with https://socialblade.com/
What you required is to enter the "username " of your favorite youtube's here only. Like in my case I took my own Youtube user "Technical ustad"
it will show you my estimated earnings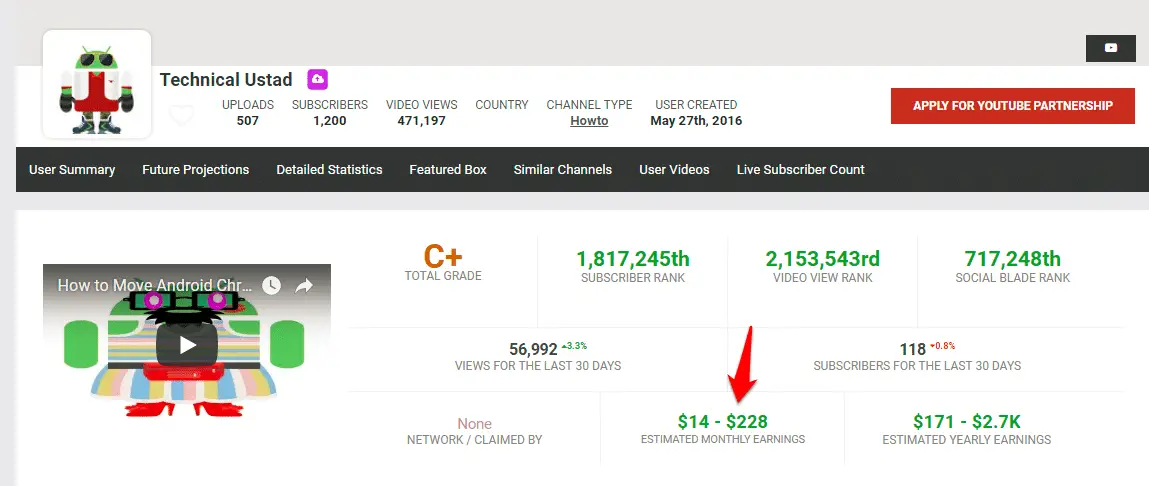 Most of the time, actual earning of Youtube's is in between this figure. like in my case my this month earning is 85 USD. I checked with my other Youtuber's friend, their income is also always in between what Social Blade is showing.
Conclusion
It's not really easy to answer the How Much Money do YouTubers Make because there is no way to get the information of affiliate incomes and sponsored videos, A Youtuber will get the sponsored video based on the subscribers and popularities.