Translating documents in PDF format is the daily bread of translators and translation agencies. But what exactly is a PDF file? PDF stands for Portable Document Format. It opens easily across devices and is a standard file for sharing business documents.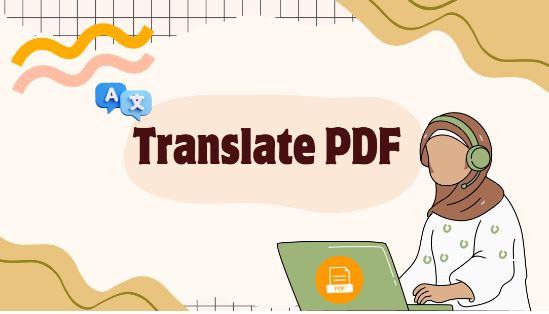 Translating with a PDF editor means you'll likely have to make major text formatting changes because the translation will have a different character count. There may also be graphics, images, and tables containing text that will need to be reformatted to accommodate the new text layout. 
Do you need to provide the translation in a format identical to a PDF file?

 
There is a chance that the client does not need a file of the same format. You may simply want to receive the translation in a Word document and entrust the PDF formatting of the translated text to, for example, your employee. Don't assume that he wants you to format just because the document he sent you is a PDF file. Better make sure what exactly the customer needs. 
What do you need to do when a client has decided they want you to format?

 
Is it a simple file created from a Word document, or was it created using graphic design software such as InDesign? Or maybe it's a scanned document? If it was created from a Word document, the conversion will be quite simple.  
Choose the best method to translate PDF files

 
Direct translation

 
If the PDF file is not a scanned document, it is possible to translate it directly in a PDF editor (e.g. SwifDoo PDF) by overwriting the text. As mentioned above, the word count in the translated version will be different, which means that some formatting aspects will need to be corrected. When translating directly, this can be a challenge because the formatting options in PDF editors are limited. 
Rewriting

 
This is basically the only option for scanned documents that are of poor quality after conversion using OCR software, because the text cannot be edited using a PDF editor. If the quality of the converted text allows you to continue working on it, you should use this option. Otherwise, rewriting would potentially add several hours to the time needed to complete the translation. 
OCR software

 
OCR (Optical Character Recognition) programs are not free, but they are ideal for solving formatting problems. They allow you to convert PDF files into editable ones. Please note that in most cases you will need to correct the formatting after converting and exporting PDF files to Word.  
You should learn the basics of the OCR software you use. You can choose how the document blocks are read by the OCR software. For example, you can select to have the program read the block as an image, table, or text. 
PDF readers and editors

 
A PDF reader and editor such as SwifDoo PDF allows you to copy text to the clipboard or copy and paste text manually. And its paid programs allow you to convert and export files. A dedicated PDF editor is ideal for translating PDFs. 
Convert PDF to Word 

 
Converting a PDF file to Word format is one of the easiest methods to conveniently translate text. Once you have converted your document to the DOC or DOCX format, you can use the features built into Microsoft Word for automatic translation or, if necessary, translate the text manually. In this case, SwifDoo PDF, a comprehensive PDF program, offers various tools to facilitate working with text, including PDF converting and translating. 
The rates applied for translating PDF files

 
If you received a PDF file in a complex format, ask your client if they can provide you with the source file. If he cannot and wants you to provide the translation in an identical format, then in order to calculate the price for the client you should consider how long it will take to reformat the translated text file and whether you will need to use the services of another person (e.g. a graphic designer) to do this perform correctly. 
The mentioned SwifDoo PDF will help you quickly open a PDF file, also composed of scanned images - with this program, you can purchase a value-added feature – PDF Translator based on a PDF file and achieve the translation in just a few minutes, even without having to install an extension in the program! If you are translating many PDF files, schedule this process will help you save a lot of valuable time. 
In closing

 
PDF translation requires appropriate preparation. Especially when dealing with the so-called an "uneditable file", which usually happens in the case of a scan of a document or its photo. It is worth noting, however, that translating PDF documents requires appropriate preparation.  
Tools that help in processing such documents come to the rescue. It's best to simply use a reliable PDF translator such as SwifDoo PDF, which is abundant on the Internet. They enable instant translation and provide conversion to and from supported file formats.