If you have gone through the internet, you may discover there is very little offering explanation to the  Microsoft Network Adapter Multiplexor Protocol. 
My first challenge with this protocol was after I did an upgrade from Windows 8.1 to 10. I had no connectivity and noticed that all my protocols were unchecked. To regain connectivity I turned them back all on.
If you have ever been in my shoes, you should know turning them back all on will never be possible. all I got was that my selection will cause Microsoft Network Adapter Multiplexor Protocol to be disabled.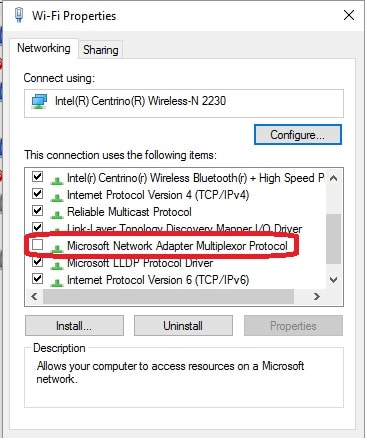 To save you this trouble in the future, I will just say turn every other thing on and live the multiplexor protocol. Your connection will work just fine.
What is the Microsoft network adapter multiplexor protocol
It is basically a kernel-mode driver used for Network Interface Card (NIC) bonding.  By default, the protocol is installed as part of the physical network adapter initialization.
The one essence of this protocol is for NIC teaming. NIC Teaming often referred to as Load Balancing/Failover (LBFO), allows you to install additional physical Ethernet network adapters (NICs) into your server and "team" or combine them together to make one virtual NIC that provides better performance and fault tolerance.
I will recommend you to watch the Below mentioned YouTube Video on NIC Teaming.
NIC Teaming Demonstration
Uses of the Microsoft network adapter multiplexor protocol
The one time the Microsoft Network Adapter Multiplexor protocol is checked is in the teamed network adapter while it remains unchecked in the physical network adapters that are part of the NIC Teaming.
For example, if there are two physical network adapters in a team, the Microsoft Network Adapter Multiplexor protocol will be disabled for these two physical network adapters and checked in the teamed adapter.
This driver is used for two scenarios in teaming. Both of these scenarios require at least two connected network adapters on a single PC.
Scenario 1 (Adapter teaming): This is using two or more adapters at the same time. Doing this allows one to send and receive more packets than a single adapter could.
Scenario 2 (Adapter failover/high availability): This simply means there is a standby adapter that takes over the network connection if the primary fails.
If you only have one adapter on your PC hooked up as is the likely case with your client OS enabling this protocol will result in Windows disabling it automatically as soon as it figures out you can't team multiple adapters to work together on your PC.
Conclusion
This capability was introduced with Windows Server 2012 and remains more a server-side protocol than client-based. It may not be needed even in windows 10.