Everyone has the right to create that content that satisfies him and lives up to the expectations of his audience. Sadly, there are pretty few people who know how to make engaging and creative content, as the rest of the people struggle to find a way to create appropriate content.  
The success of video content is directly proportional to the video editor you select to modify the video. 
Unfortunately, most video editing tools edit your video for its sake, as these video editors won't do justice to your video. 
However, TunesKit AceMovi Video Editor emerges as one of the most reliable video editors, and we'll review this video editor later in this article. 
Overview
If you're to opt for AceMovi Video Editor to modify your content for personal or commercial use, you need to know the value of these brilliant tools.   
It offers some of the most flawless features and functions, followed by an effortless user interface to simplify the user's job.   
On top of that, this video editor has the reputation of not compromising the resolution quality after editing the video. You can talk about the good things about this tool the whole day, but your words won't come short when praising this astonishing video editor. 
Importantly, AceMovi Video Editor comes with incredible features that we will discuss next. 
Features:-
Platform Support:-
Whether a Windows user or a Mac user, the video editing tool helps you create breathtaking content on both devices with minimal effort. 
Basic Operations:- 
The basic functionality of AceMovi Video Editor is surely worth talking about as it enables you to perform basic editing operations with ease. You can crop, cut, rotate, and adjust the videos using this spectacular tool.  
Moreover, one can also perform the functions of exporting, dragging, sharing music, and videos, recording your screen, importing media, and adding transitions. 
Advanced Recording and Operations:- 
Apart from doing basic tasks, AceMovi Video Editor is pretty good at performing some breathtaking advanced operations. It helps you record video calls, software, PPT, and websites. 
On top of that, you can also perform some other operations, including adding audio, behaviors, text, animations, filters, and transitions to your content. 
 Stock Library:-
Unlike many renowned video editors, TunesKit AceMovi Video Editor pays enormous attention to the stock library. For instance, it can help you access templates, videos, music tracks, and images from the library. In addition, you can also add the stock library project directly without any issue. 
Real-Time Preview:-
Of all the features that AceMovi Video Editor comes up with, allowing you to preview the video after making the changes to it and saving it on your PC is one of the most reliable features you'll ever find in a video editor. This feature allows you to correct the mistakes made during editing the video. 
Social Media Sharing:-
AceMovi Video Editor supports various social media platforms, meaning you can export the videos to multiple social media platforms, including Facebook, Vimeo, Twitter, Instagram, etc., after editing them. 
Video Tutorials:-
If you don't know about using the tool and are looking for some help, the TunesKit AceMovi YouTube channel is always there to help you. After visiting the official YouTube channel, you can learn the art of editing your videos. 
Text Editor:-
The presence of a text editor on AceMovi Video can make your editing pretty flexible. You can quickly implement text and animated elements to your videos using this feature. 
 Filters:-
If you want to enhance the beauty of a video, filters can play a pivotal role in this gig. Luckily, AceMovi Video Editor comes with filters and overlays that can make your content watchable. 
Keyframing:-
Keyframing a video is also pretty important as it assists you in customizing video attributes. Luckily, AceMovi Video Editor helps you set the orientation, position, opacity, and scale of your video. This process can make your video amazing. 
Split Screen:-
You'll get a split-screen feature using AceMovi Video Editor, as it helps you show multiple screens simultaneously. It allows you to convey a long message quickly.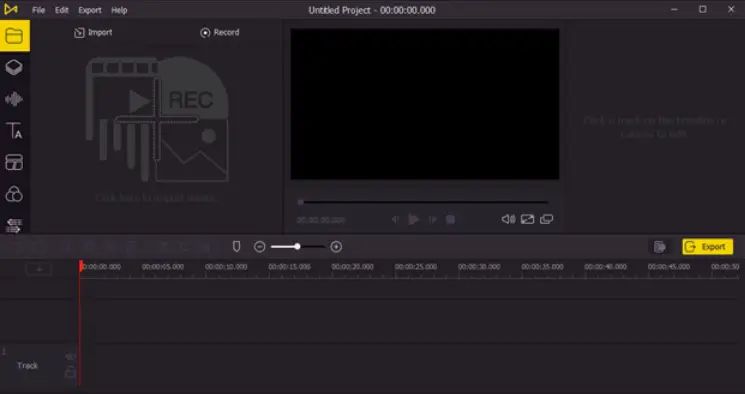 Pros:-
It comes user-friendly, making the video editing look effortless.

 

AceMovi Video Editor supports almost all audio and video formats.

 

The stock library it comes up with is really impressive and surprises anyone.

 

You can use this tool on Windows and Mac.

 

It also comes with a free version before locking a premium package.

 

The premium package is available at a cheap rate
Cons:-

 
It doesn't support the Linux version.
TunesKit AceMovi - Best Video Editing Software for Beginners
How to edit a video on TunesKit AceMovi Video Editor?

 
Here's the step-by-step guide to editing a video on AceMovi Video Editor. 
Step 1: Install AceMovi Video Editor 
In the first step, you need to install AceMovi Video Editor from the official website and launch it afterward. After launching the software, you'll only need to hit the "Import" icon to start uploading the file you'd like to edit in the editing tool.  
Step 2:  Drag the clip to timeline 
After importing the video, you'll need to transfer it to the tool's timeline. Next up, you'll need to look at your right side and hit " Edit Window" there. 
Step 3: Editing Window 
After visiting the " Edit Window", you can edit your video and make it according to your preference. 
When the editing procedure gets completed, you'll need to tap " Export" to get the video downloaded on your device. 
Conclusion 
A quality video editor can be a making or breaking factor of your video content, as modifying the video appropriately can do many good things for your cause. 
Luckily, you've got an incredible tool in the shape of TunesKit AceMovi Video Editor that tends to make your flawless video courtesy of the advanced and professional features. 
This tool has everything you'd like to see in an editing tool, and guess what? You don't need to get the prior knowledge to start editing the videos.  
Instead, you can edit your videos quickly, courtesy of a simple interface. We highly recommend AceMovi Video Editor, and you should try it at least once.