Chess is a game of sheer mastery of skills and techniques. With over 180 countries playing this game, one can be assured of the Google play store and Apple store flooded with various chess-playing apps, each claiming to be the Best Chess Apps.
The fact states that chess is played over smartphones more than desktop and laptops combined. The evolving mobile landscape is transforming millions of lives with its irreplaceability and convenience factors.
The game of chess is played by the masses in general across the globe and has the potential to sharpen cognitive abilities, memory, retaining ability, problem-solving, and deciphering skills. It teaches an individual to plan and foresee major occurrences and boosts their self-confidence at the same time. 
In the fast pacing world, which we are a part of, finding time is a big limitation to learning new skills. Smartphones are an indispensable part of us now.
Today, smartphones, which have been designed and crafted so skillfully after taking into consideration the dynamic demand cycle, are able to provide a one-stop solution to all our needs.
Ranging from news, entertainment, music, games, notes, online shopping, transport cum medical aid – they can match our demand by providing a corresponding supply, which is simply a click away.
Invest in downloading the free chess apps, to begin with, and benefit from engaging in this productive pastime and notice how it improves your brain functioning. As claimed by scientists, chess improves the working of the brain, memory, and concentration. 
Chess without a physical opponent?
In the past, chess players had to hunt for an opponent who can play with them. With the technical advancement, they got a chess player as a computer desktop.
Today, chess training is not only being conducted in schools but it is also a vital co-curricular activity for people of all age groups.
What has increased the rate of acceptance of chess? The fact that today you don't have to depend on a person or computer to be available instead, you can simply use the apps available for android and apple smartphone users. 
The correlation between chess skill and intelligence is being discussed in literature and psychology since times in memorial. For all the chess lovers and prospective players, listed below are the details of the 15 Best Chess Apps available on your mobile handset with corresponding links to download these chess apps. 
Best Chess Apps To Download: Our Top Pick 👌
1. Play Magnus – Play Chess for Free
This app is developed to offer good training for all Chess enthusiasts. Magnus Carlsen, the most talented player of all time owns this app. Play Magnus is centered around the motto of improvising on the techniques and skillsets of the players.
Lessons are devised and categorized into Easy, Medium, and Hard levels respectively. This popular chess app has a custom engine that permits you to play with the champion himself, Magnus Carlsen. 
Below are some of the Pros and Cons of The Play Magnus – Play Chess for Free app that earned it a spot in our list of Best Chess Apps To Download.
Pros:-
Magnus Trainer makes the process of learning chess fun and interactive.

One gets a chance to play with him in person at a higher stage of app

Both free and premium versions as available.

Games are regularly updated and new features are added

Available to both Android and Apple users
Cons:-
Graphics needs to be improved

Dashboard shall have more options and features

Doesn't seem very engaging until you play with a real player as an opponent
2. Chess – Play & Learn 
Chess – Play and learn offers a globally interactive user interface and brings to the user unlimited free-of-cost games, puzzles and allows you to sharpen your chess-playing potential.
You have the option of chatting with your friends and playing competitive daily challenges, which improve your game while on the go. This app gives you all the necessary means to analyze your errors and learn from the videos and lessons provided by the champions of the game.
Chess.com: Play, Learn, And Share
The free services allow restricted access but in order to explore the larger world of chess, one can subscribe to elite services being offered in the Diamond, Platinum, and Gold plans.
This app is meant for all those chess lovers who want to play chess on their own time and also make friends while playing. 
Below are some of the Pros and Cons of The Chess – Play & Learn app that earned it a spot in our list of Best Chess Apps To Download.
Pros:-
Chess lovers can easily access the game with support on Android and iOS platforms

Tutorials that facilitate learning are supremely helpful with a clean user interface

Games are regularly updated and new bonus features are added

One can earn various badges to showcase on a profile to show expertise
Cons:-
Puzzles and tactic solvers are limited to only 5 per day in the free version

In order to play with a friend, one has to create an account or download the app

The opponent leaves the game in between making another player wait till the flag-down moment.
If you are beginners to play chess then I will recommend you watch out the below-mentioned video.
How to Play Chess: The Complete Guide for Beginners
3. Stockfish Chess
Featured among the best chess apps, Stockfish chess is much stronger in comparison to most commercial iPhone applications. Chess fanatics who are looking to play some aggressive and fast-paced chess should readily access the free app Stockfish Chess.
It supports various play styles like solid, passive, active, aggressive or suicidal with customizable playing strength. It also displays engine analysis and movements, evaluations, and main lines.
The complete source code is available under the General Public License. Stockfish is one of the most popular chess engines to calculate and analyze games.
Below are some of the Pros and Cons of The Stockfish Chess app that earned it a spot in our list of Best Chess Apps To Download.
Pros:-
Several graphical interfaces are available to use

You have the scope to save and load games in PGN notation. You can also revisit your gameplay and track your movements in various situations in order to learn from your mistakes. 
Cons:-
The scoring of advantage calculation is not accurate at times. Deep-level calculations and analysis produce errors sometimes.

One tends to lose the game if the internet connection gets interrupted in between. You cannot resume the game as in other apps.
4. Chess Tactics Pro
Chess Tactics Pro enables you to improve on your chess tactics by making various puzzles available to explore and learn from. Ranging across varying difficulty levels, they have a number of daily online and offline puzzles with a unique solution for each.
The puzzles are devised with a lot of research and are of superior quality. Among the other bonus features, the app offers – powerful engine, a record of the play history at each level, several themes for board designs, and the optimized solution by making it available on smartphone devices.
This app is totally worth exploring. The simple and nice user interface with no disruptions absolutely makes it all the more attractive. 
Below are some of the Pros and Cons of The Chess Tactics Pro app that earned it a spot in our list of Best Chess Apps for android To Download.
Pros:-
The app is available to iOS and Android users making it more accessible among groups of friends.

Performance improvements and bug fixes are regularly taken care of. 

Very simple and easy-to-use interface
Cons:-
Navigation is not quite fluid and has considerable scope for improvement

Not all puzzles contain the forced move feature
5. Real chess 
This app gives the classic chess game a new look altogether. The advanced graphics and the sheer beauty of playing the game with a virtual chess set make it a very famous and free-to-use chess app.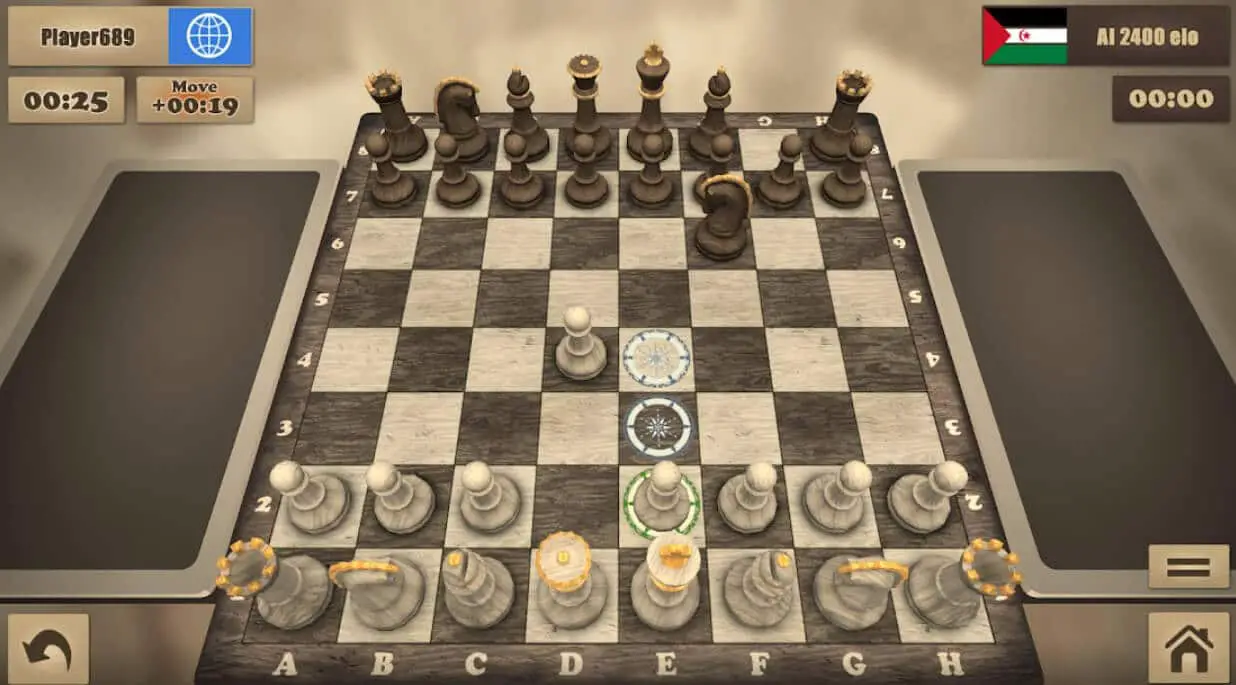 The app has 1 million registered users from all around the world and aids the first-time player by providing hints of possible moves. They have made 2D and 3D board sets with landscape and portrait screen modes.
For a beginner and prospective chess enthusiast, this app has 2400 levels or learning experiences put together with ascending difficulty levels. 
Below are some of the Pros and Cons of The Real chess app that earned it a spot in our list of Best Chess Apps To Download.
Pros:-
The advanced Graphics adopted in the design are spectacular and breathtaking. They provide you with an experience of playing on the chessboard itself but virtually. 

Excellent gameplay experience dedicated to all the chess lovers 

Very simple and trusted application 
Cons:-
The game might suddenly stop in between which leads to a loss of points 

You might not be able to save the contact of the friend you are playing with.
6. Arkon: Chess Opening Explorer 
Developed and adopted by tapping on the variations, wisdom of the champion players, and power of the engine to explore all chess openings and unlock the full scope of the app.
This app helps to come up with an impressive repertoire. Arkon is a chess iOS app facilitating discovering opening lines and is regarded as a strong chess engine. It does not use cellular data and is freely downloadable. 
Below are some of the Pros and Cons of The Arkon: Chess Opening Explorer app that earned it a spot in our list of best chess apps for iphone To Download.
Pros:-
The advanced chess opening explorer is suitably designed for iPhone and iPad users.

Excellent gameplay experience with regular updates and bug fixes 

A very simple and trusted application where each game can be saved and shared via email
Cons:-
Unlocking the full potential is not very easy

Distractions while playing the game keep occurring.
7. Chess Genius
Richard Lang's app Chess Genius has a history of being recalled for the strong and powerful written programs, which have been acclaimed at the World Computer Chess Championship on 10 grand occasions.
It is an excellent app for training and developing chess lovers of all age groups. A distinguishing feature of this app is that it displays the pattern of thinking and working of the brain.
It reflects who is winning and how what is the forecasted move as per the app Chess Genius and helps in strategizing for the future.
Chess Genius makes the player alert by warning them in advance before a poor move is played and gives them the opportunity to take back the less rationalized move.
All functions can work in portrait and landscape format. The hundreds of gameplay levels make the player very well versed in the game. 
Below are some of the Pros and Cons of The Chess Genius app that earned it a spot in our list of Best Chess Apps To Download.
Pros:-
Simple and very elegant user interface

Works at a powerful, compact, and fast rate

Save and load games in PNG extension

Unlimited take back and step forward moves are permissible

A powerful gameplay experience completely worth the price you pay for it
Cons:-
The occurrence of distractions is common 

Less option for selecting the board styles
8. Real Chess 3D
The game of chess provides ample mental exercise and improves your cognitive skills. Recent studies have shown the increasing number of people playing over smartphones instead of laptops or desktops. Chess can enhance your memory, intuition, problem resolving capacity, etc. 
Smartphones have become a crucial part of our daily lives, and their use has become a necessity. Everything is just a click away from games, online shopping, entertainment, and news. Download the Read Chess 3D game for free and make your pastime productive. 
The 3D features make the game even more exciting and add a real-life feeling. You can immerse in 3D graphics and challenge your friends or play against AI players.
This is one of the most realistic chess games available on your mobile phone. Android users and IOS users can download this Real Chess 3D game for free. 
The app allows you to customize your chessboard, piece type, table, checkers, etc., just as you would in real life. It would help if you tapped on the piece you want to move and then tapped on the desired location. The realistic 3D graphics give you the feel of an actual chessboard. 
You can choose to play against the AI with four difficulty levels. Get your human friend in if you do not intend to play with an AI opponent.
There is relaxing music in the background to make stressful situations easy. Turn off the sound if you feel it is coming between you and your concentration. 
Real Chess 3D - iPhone, iPad & Android Gameplay Video
Pros –  
The 3D graphics offer a real-life experience.

Get to play with both AI and human opponents.

You can customize your chessboard and table.

Relaxing music between the game.

Easy to hard difficulty levels.
Cons –
Users have requested a 'lock camera angle' option.

The difficulty levels are too hard for beginner-level players.
The graphics are the highlights of the Real Chess 3D game. The app also highlights the moves, which can be a learning experience for amateurs. The board can be expanded or contracted as per choice and gives immense flexibility.
This is one of the best 3D chess boards on the virtual platform and has super convenient controls; if you want to learn to play chess or enhance your existing skills, BINGO! Chess enthusiasts would find the game more exciting due to the custom options and difficulty levels. Escalate your game skills with Real Chess 3D. 
Download the App on Google Play Store
Download the App on Apple App Store
At the time of our research on the Best Chess Apps App, we found a video about "6 Secret Tips to Always Win At Most Common Games" which is worth watching. 🤴😎
6 Secret Tips to Always Win At Most Common Games
9. Chess for Kids – Best apps to learn chess
To experience the art of mastering the game of Chess in the most fun and enjoyable manner possible, Chess for Kids comes to your rescue. It is the ultimate app you can count on to learn the basics and also the most advanced strategies possible.
This app is very secure and completely safe for kids to use. To make the process of learning the game even more memorable for young kids they have great video tutorials. This ensures the child is not distracted and bored easily.
ChessKid Lessons: The Magic Of Chess
Chess for Kids is free to use and can be played with kids from across the globe thereby creating a healthy and competitive platform. 
Below are some of the Pros and Cons of The Chess for Kids – Play & Learn app that earned it a spot in our list of Best Chess Apps To Download.
Pros:-
Perfectly suitable for all age groups and skill levels

No better app to sharpen and revise your skills 

Unlimited puzzles and videos for gold members

Parents have complete control over kid's accounts
Cons:-
For unlimited usage and puzzles, you have to opt for the gold membership plan

Limited options to analyze the played game
10. Lichess – Free Online Chess
Open source and cost-free for all, Lichess has seen 150000 users daily and it steadily increasing. It has many chess game variations such as Bullet, Classical, Correspondence, and Blitz chess. This is the best app where you can practice till you master the game.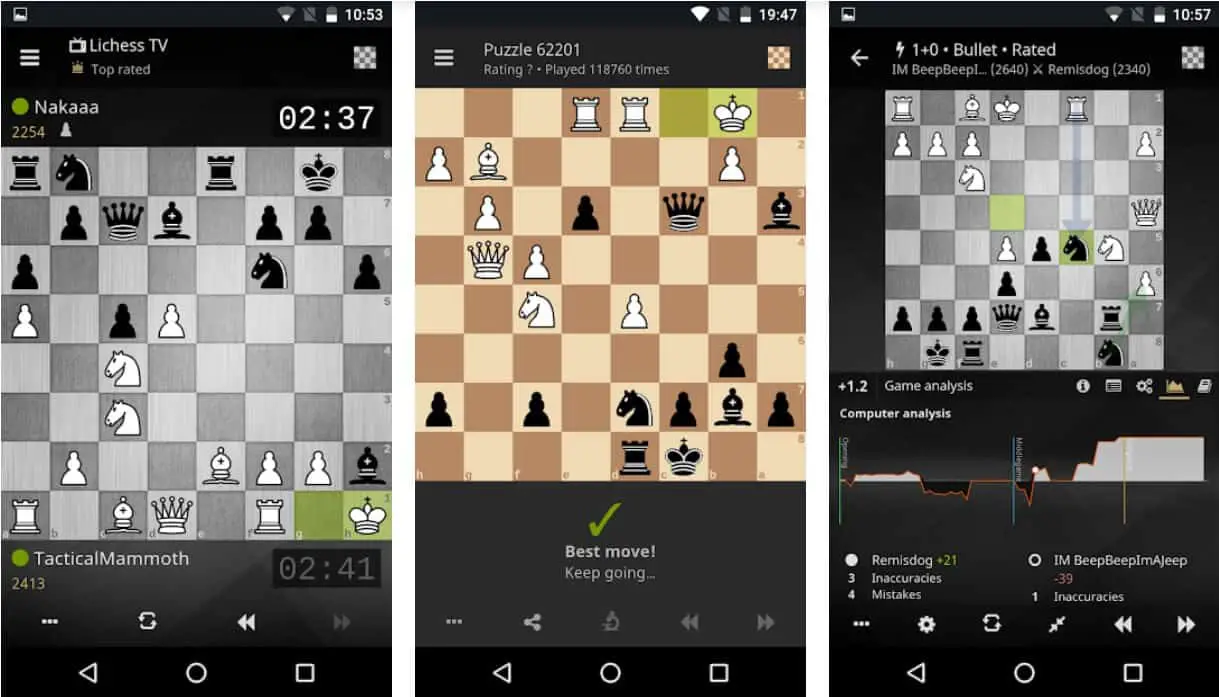 It is a very quick place to search for potential opponents and training sessions to make your base strong. The in-built chess clock has manifold features.
This app is designed for phones and tablets alike and also supports the landscape mode. Lichess supports 80 different languages and can be accessed offline. 
Below are some of the Pros and Cons of The Lichess – Free Online Chess app that earned it a spot in our list of Best Chess Apps To Download.
Pros:-
Continuously upgrade the application with newer and better features

Improvements and bug fixes occur often

You can find, follow and challenge players 

Game analysis with assistance from the local computer evaluation
Cons:-
Others can follow your live games and can see your strategy

The graphics layout is monotonous and boring
11. Chess.com
For players interested in playing along with learning the game of chess can use this app. Chess.com is composed of puzzles in large numbers and real opponents to play the game with.
Available on Android and iOS, here you can read the informative articles written on the game. The beautiful, live, and clean user-friendly interface makes it all the more recommended.
Players often use this app offline and the chess clock app is a free game timer. Time controls often include base minutes per player and per move delays.
It is developed in such a manner that it can support multi-stage time controls frequently as we get to see in chess tournaments. 
Pros:-
Keeps track of your day to day progress in order to master the game

Vast numbers of possibilities to play and learn the game of chess

Real-time opponents to play with
Cons:-
No sound way to detect cheating

Pairing is slow at times
12. Learn Chess with Dr. Wolf
Are you looking for a personal chess coach who can make you aware of your strengths and weaknesses and provide you with feedback? This is a highly acclaimed app, which makes chess learning a remarkable journey.
The coach is meant to help you play better and particularly caters to beginners and intermediate players.
While playing under Dr. Wolf's assistance you are taught strategies that help you to not make or repeat mistakes. 25 lessons with in-depth data supporting each concept and supervised practice. This gentle, supportive, friendly and sometimes witty coach is the best coach. 
Below are some of the Pros and Cons of The Learn Chess with Dr. Wolf app that earned it a spot in our list of Best Chess Apps To Download.
Pros:-
Helps beginners and intermediate players and increases their confidence

Feedback and explanation is supported with each move

Interactive learning experience ends up boosting cognitive skills
Cons:-
Can be a little distracting initially
13. Perfect Chess Trainer
You have to look no further for chess training software. Perfect Chess trainer allows you to play the game of the immortal chess hero and see how well you perform in the PNG format with the integrated PNG viewer.
Here you can predict moves in advance and foresee the mistakes and thereby strategize. Training is properly documented and is well supported by study courses online. 
Pros:-
Facilitates the process of studying and revisiting your moves and overall performance

Assures that the user imbibes sound chess playing skills 

Interactive learning experience
Cons:-
Errors and app slowdown might occur which might make the user annoyed. 
14. DroidFish Chess
An amazing free chess program, Droidfishis powered by a stockfish engine. It is very flexible and adjustable with an extensive menu option. Here it is possible to not only save games but also review and annotate them.
This app lends support to all those players who wish to uplift their skill set by taking them to another new level altogether. They have adjustable playing strength, one-touch moves, import, analysis, two-player mode, and many more exciting features. 
Below are some of the Pros and Cons of The DroidFish Chess app that earned it a spot in our list of Best Chess Apps To Download.
Pros:-
Position analysis feature

Comprehensive menu settings

Free of cost and simple user interface

Steady stockfish chess engine with flexible playing strength and the ability to load/save/transport PNG games
Cons:-
No support for move delay

The menu might be difficult to navigate initially
15. Hiarcs Chess
Hiarcs chess has a human-like style of playing chess and in the process, it teaches you how to play with an opponent by making lesser mistakes. The renowned set of coaching features help players to boost their chess skills.
Hiarcs has a set of weaker opponents and poor playing styles but the integrated coaching, assessments, and alerts, help the player to become better in the game. It is regarded as the strongest chess program on the iPhone and iPod touch. The game navigation is very smooth and adjustable. 
Below are some of the Pros and Cons of The Hiarcs Chess app that earned it a spot in our list of Best Chess Apps To Download.
Pros:-
Intuitive and friendly user interface

A comprehensive and genuinely strong chess program

Multiple playing modes

Suitable for all players from beginners to grandmasters

The open library feature allows you to consult the theory as you play
Cons:-
The menu is a bit complex and can be made a simpler one

Low usage of graphics makes it look dull
16. Chess – tChess Pro 
Superior in quality and critically appreciated app tChess Pro is perfectly suited for iOS users. The unique algorithms support human opponents. The Analysis mode of this app is equal to possessing a pocket-friendly chess master where it is easy to decipher the best sequence of moves and predict which side is likely to win the game. 
Pros:-
Regular updates are made in the app

"Learn chess" ebook app is comprehensively integrated 

Free of cost and simple interface equipped with bug fixing feature

Flexible playing strength and the ability to load/save/transport PNG games
Cons:-
The menu bar might be difficult to navigate initially
Excel in the art of playing Chess, strategically
A good game of chess reflects a person's passion and clarity of mind. Chess is an age-old strategy-building and sharpening game, which channelizes sheer logic and helps to develop skill sets.
Chess helps in improving vision, problem-solving, concept-building, and memory-enhancing games. Chess apps come in varying stages of difficulty and with a coach.
Playing the game in apps gives the feel of a virtual competition or tournament. Technology has undergone a revolution in itself.
With the aid of advanced graphics, sound effects, coach assistance, the possibility to save the game for future reference, and the blessing of portability, this game has become popular like never before. 
We live in a time where apps are of prime importance. Hundreds of chess apps are there and are powerful enough to be used by world champions too. Human-to-human board gameplay has seen a huge decline as everyone wants to play in his or her sweet free time.
Chess being available at your fingertips only increases horizons for all. No matter if you are a professional, amateur, or keen learner of many skills – opportunities galore wait to be explored. Digital chess gives the user the option to retrace their steps and gameplay.
The bird's eye view, clean and simple-to-operate user interface, fun videos, and ebooks make the learning process more memorable. 
📗FAQ
Which is best app for chess?
Play Magnus, Chess – Play & Learn, and Stockfish Chess are among the best applications to have comprehensive chess playing experience.
What app do pro chess players use?
Play Magnus is one of the most preferred applications used by chess players. The app is named after the world chess champion, Magnus Carlsen, and offers a wonderful chess playing environment in a sophisticated user interface.
Is there an app to teach chess?
Learn Chess with Dr. Wolf is easily available on the App Store and Google Play store, and helps aspiring chess players to hone their skills, and become better players.
What chess app do grandmasters use?
ChessBase is very commonly used by chess grandmasters, and comes with a wide range of amazing features along with an easy to navigate user interface.
Is lichess better than chess com?
Yes, Lichess is a lot better if you want to play higher levels of chess. However, if you are interested in lower levels, chess.com automatically becomes a decent.
How long does it take to become a grandmaster in chess?
It completely depends on your level of intelligence and IQ. There are so many teenagers who have shocked some of the most experience professional chess players. However, according to different sources, it takes around 8 to 12 years minimum for a focused individual to meet the standard requirements of earning a Grand Master title. Of course, everything depends on your interest and enthusiasm for the game, skill and hard work, as well as level of commitment.
How many hours should I play chess?
It of course depends on how interested you are in chess! However, spending 30 minutes per day with consistency is considered as a very good start. And, you can easily make it to 1700 with this start.
Is chess good for your brain?
Yes, chess can be the best, probably incredibly beneficial pastime, because it challenges your brain to remain active throughout the gameplay. Playing chess constantly is also related to improved memory and strategy thinking, cognitive abilities, and attention improvement.
Who is the youngest GM?
Magnus Carlsen is known as the youngest grandmaster till date, and he became the GM at the age of 13 years, 4 months, and 27 days.
Why did Fischer go insane?
Fischer all of a sudden gone insane due to dabbling in serious blindfold-chess training. According to various documented reports, three to four blindfolded games per week, with a high level of concentration, can cause mental strain powerful enough to cause anxiety attacks, paranoia, hallucinations, and the individual can have cascade effect from there.
What is Carlsen IQ?
If you want to estimate the IQ level of Magnus Carlsen, an average figure of 190 would be a very good estimation.
Where is chess most popular?
Iceland, Monaco, Addorra, and Armenia are the countries where chess is the most popular board game.
Conclusion on Best apps to play chess
The list of apps mentioned above is a great way to enhance your mental capacity and intelligence. The unique selling point of these apps is that it is free. Accessibility, Convenience, Transparency, and Simplicity make it all the more attractive.
A chess lover shall install multiple popular chess apps to learn from all. Few apps have a great collection of videos, while other has a powerful analyzing engine.
Some have a tutorial on building game plans; while others let you share your games. Overall, the above comprehensive list of the best chess apps will help you pursue your dream of becoming the next chess champion.