The "printer not responding" error happens quite often to a lot of folks using Windows 10 OS. It can be really annoying and so unpredictable. The causes are also quite many so you can't always anticipate it happening.
There are a few potential fixes I would suggest below and most of them are straightforward steps. 
You can use any of the tips below even though they are in a particularly suggestive order. If you suspect a cause, then just glance through the fixes to look for the tip that fixes the cause first. 
Printer Not Responding: Potential Fixes 👌👌
Before you try to dive deep into potential solutions, first remove your printer from the wall socket so that it goes off. Then plug it back in after a few minutes of waiting.
You should then try out the printer to see if it works. This tip might seem like it isn't effective but sometimes it's the easiest way that works. 
If it didn't work, then don't worry. You've got lots of options to try down here.
1. Checking All Your Printer Connections
This is the first tip I'll recommend to you because it helps you narrow down the problem. Many of the causes of the "printer not responding" error comes from faulty connections.
First, check the cables connecting your system to the printer (if you're using a USB cable). You might want to check for wear and tear. You should also switch USB ports and even switch cables if necessary.
If you're using a WiFi connection, you will have to check if the connection is confirmed, if the printer is connected to the right network and if you're within the range of the WiFi connection.
2. Using The Printer Troubleshooting Tool
This is a good option to consider next if the first tip did not solve the "printer not responding" error. 
You won't be required to do much here. All you have to do is run the troubleshooting tool and the tool will find and fix the issue that's causing the error to occur. 
Here's how to run the printer troubleshooting tool.
Navigate to Settings by using the shortcut keys Windows + I.
Then select the option Update & Security in the Settings menu.
You'll see a pane on the left-hand side of your screen, choose Troubleshoot.
Then on the right-hand side of your screen, search for and click on Printer.
The option to Run The Troubleshooter will be available on your screen. Click on that option to start the process. 
Following on-screen instructions will ensure the process is completed successfully and all the errors the tool finds (as long as the error is within the tool's ability) will be fixed.
3. Checking Antivirus And Firewall Compatibility
When you're using a WiFi or network-connected printer and you get the "printer not responding" error, it could be because of a non-compatibility issue with your Antivirus software and your printer.
This issue is common across the board with other errors too often occurring because of Antivirus software that doesn't really gel with the system.
So if you're experiencing this error and you're using a network-connected printer, you could first disable your antivirus program. Then try out the printer. 
If it still doesn't work and the error still shows, completely delete your antivirus software and then check to see if it works.
You should then look into getting an antivirus software that won't hamper system processes or cause errors.
This tip should work if the problem is your Antivirus software. You should also use it first if you've been experiencing issues with other programs and apps.
4. Checking To See Whether Your Default Printer Is The Printer You're Trying To Use Now
Errors may occur if the default printer on your system is different from the printer you're now working with. 
This tip is highly recommended if you've switched printers a few times recently. 
Please note that Windows manages your default printer settings (if you allow it) by making the last printer you used in your current location as your default printer.
This has its advantages but sometimes it can mess processes up. 
So, if you used your system with another printer some time ago and you're now trying to use a different printer, errors may occur.
Here's what you need to do.
Changing Default Printer Settings
Use the Cortana search box (input – default printer and press enter) to get to where you can change the default printer settings.
In the search results, click on the Change Default Printer.
In the window that opens, search for the section that reads Let Windows Manage My Default Printer.
It will probably be enabled, toggle it off to disable it.
Choosing Your Default Printer
Follow this navigation – Control Panel > All Control Panel Items > Devices and Printers.
When you're in the Devices and Printers menu, you'll see a green tick on the printer that's designated as the default printer. 
If it isn't the one you currently want to use, find the one you want to use and right-click on it to open up the option to Set As Default Printer. 
When you set it as the default printer, this should get rid of the error disturbing you.
5. Checking For Updates Of The Printer's Device Driver
Outdated drivers cause errors a lot in most system processes and the Printer process is not different. Outdated drivers could also be liable for the "printer not responding" error.
Fixing it is straightforward though. You just have to find updates and apply them. This tip is suggested more when your drivers are outdated. 
To check and update, follow the steps below.
You will have to use the Windows + X shortcut keys to open up a list of options. 
Then choose Device Manager from that list of options.
When the Device Manager menu opens, find your Printer on the list of devices and right-click on it. 
You'll see the option to Update Driver in a pop-up menu. Click on it.
Then in the Update Driver menu, click on the Search Automatically For Updated Driver Software option to find the latest updates for the driver.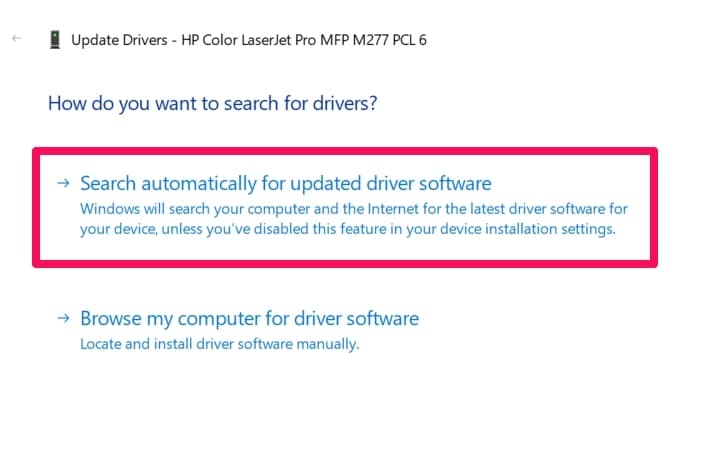 Note: You might need to download the updates directly from the manufacturer's website If the automatic search does not pull up any updates. 
6. Checking For Windows Updates
Seeing as we're on the updates track, sometimes some system errors can be fixed by Windows updates. So it is practicable to just find out if there are updates, download and install them.
Here's how to do that.
Navigate to your Settings menu. Find the Updates & Security section and open it.
Search for and click on the Check For Updates option.
If there are updates, your system will find, download, and install them.
If the problem was due to some Windows process glitch and the fix was in the new updates you just made, then the error should be fixed and your printer should be working normally.
7. Checking Windows 10 Compatibility With Your Printer
If you've been using the printer before without any issues and you recently updated your Windows version to Windows 10, then the problem might be compatibility.
The only way to know for sure is to check your printer's manufacturer website. 
Older printers are less likely to be compatible so if you're using an old printer, you're more likely to experience this error because your printer isn't compatible with the Windows 10 OS version. 
Even though most new printers are compatible with Windows 10, there might be some dissenters. So you could still just check to confirm.
I'm going to give an example of what I'm explaining using Canon. 
Follow the highlighted link and you'll be able to see the models of Canon printers compatible with Windows 10. 
Whatever your search results tell you will determine whether incompatibility is what's causing the "printer not responding" error to occur.
8. Checking The Configuration Settings Of Your Printer
Wrong configuration settings can cause issues when you're trying to use your printer. This tip suggests you go through your configuration settings and find out if the settings are properly done.
Here's how. 
Navigate to your Control Panel (you could use your search box).
In the Control Panel menu, find and open the Devices and Printers menu.
Find the printer that's displaying the error (the one you're currently trying to use) and right-click on it to get a list of options.
In the list of options, search for and click on Printer Properties.
Then click on the Ports tab and check if the settings are correct.
What you're looking for is if the checkbox is not the printer you're currently using. 
If it isn't, then look for the printer and the port you're currently using. Then check the box beside it. Then click on Apply first before clicking on OK to make sure the changes you made are enforced.
But if the port and printer settings are already correct, just go down and click on Apply then OK. 
Conclusion 
The "printer not responding" error isn't an insurmountable error as shown by the easy to follow tips explained above. 
Even though there are some tips that work specifically in some situations, chances are at least one of the tips above will solve your printer error. 
I'll advise you to first use the fix that most likely deals with your suspicions (or symptoms/situation) about what might be causing the error.