In our system's task manager, there are a lot of processes that we will always see running when we open the manager. The Desktop Window Manager process is one such process.
In this article, I will explain what it is, what it does, and other important tips you should know about it. I will also be explaining how to find out whether the process is harmful to your system.
What Is The Desktop Window Manager (process)?
The tech description is that it is a compositing process that makes many effects in other processes (live taskbar thumbnails, transparent windows, and others) possible.
In other words, without the process running, your system will lose the capacity to show composite views of the different applications you opened.
To simplify it, when you open a few applications on your system and you can view what is open by simply dragging your cursor to that app on your taskbar, it is because of the process above.
When visual effects on your desktop appear, it is because of this process. Other processes it affects are high-resolution support, managing glass window frames amongst others.
You can see how important the process is to your system.
Desktop Window Manager's executable is – dwm.exe and that's what I'll be using to represent the process often as I explain more about it.
Turning Off Or Stopping The Desktop Window Manager Process
The dwm.exe process can't be stopped because it is an integral part of your system processes. 
In earlier versions of Windows like the Vista years, you could probably turn it off and get rid of all the effects of your system. 
Now you can't possibly do that in the latest versions of Windows OS. With it's increased importance in helping with the graphical user interface, the dwm.exe process is too vital to be turned off or stopped.
Users may want to stop the process due to issues like high CPU usage but below, I will explain what to do instead to solve the issue. 
It is important to point out though that strides have been made in ensuring that the issue (high CPU usage) doesn't crop up often so you won't ever need to stop the process.
How To Find Out That The dwm.exe Process Isn't A Virus
Malware sometimes masquerades as legit processes and that's why most users are skeptical about any process on the task manager they don't really know about. 
I think you should continue being skeptical because that's the only way you'll be able to keep your system safe from harmful processes and software. 
You should however be sure of what the processes are and whether they are actually benefiting your system or whether they're harmful. 
If you see the dwm.exe process and you're wondering if it's the legit process or not, you can find out by going to its file path. This will tell you whether your system is safe or infected.
Checking The File Path
The simple explanation is that when you check the file path of the dwm.exe process running on your task manager and it matches the file path I'll give below, that process is legit.
If the file path does not match, you should immediately use a solid Antivirus program to get rid of all malware and other harmful programs that may have infected your system. 
Here's How To Check The File Path
You will have to first open your task manager. You can do that by either using shortcut keys or navigating to the Windows taskbar.
Use ( Ctrl + Shift + ESC) to open your taskbar.
Or 
Navigate to the Windows taskbar and right-click on it. Select Task Manager from the list that will appear.
Now that you know how to open your task manager, search for the dwm.exe process you're not sure if it's a virus or not. 
Note: This idea works for all processes, all you need to find out is the correct file path and then use the idea I am explaining here to find out if the process is legit or not.
The process will be named Desktop Window Manager, right-click on it and a list of options will open. 
In that list, search for and click on Open File Location. Where the files of that process should be stored is – Windows\System32 
If what you see is the same folder as the above, you can rest easy that the process is a legit one and you probably shouldn't worry.
But if the folder is different, then it is highly possible that adware, spyware, or malware is imitating a legit process and you need to immediately scan your system for threats using a solid Antivirus software. 
What To Do If The Desktop Window Manager Is Exhibiting High CPU Usage Issues
Windows has done well in ensuring issues like high CPU usage doesn't occur often, but sadly it still occurs. 
There are a few tips you can use to ensure that the process's CPU usage stays normal. But it is important that you first find out if the process is legit or not. Because more often than not, malware masquerading as legit processes tend to use more CPU than the legit process will. 
This is a known telltale sign too. When you see processes exhibiting this issue, chances are it could be malware. 
If you now check and it's a legit process, use any of the tips below (individually or combined) to ensure that the normal CPU usage is restored.
Note: Normal CPU usage is about 1% CPU and 70 RAM. Should be lesser than that but I am trying to be conservative with the figures. 
Even if you see higher figures, give it a few hours and close some apps, then check to see if the figures are still high. This is because sometimes spikes will just happen but it won't last long. 
Tips On Solving High CPU Usage By The dmw.exe Process

 
My advice is to use simple ideas first and then if it doesn't work, go on to the other ideas.
1. Changing Your Theme Or Your Wallpaper
This sounds really easy, right? And it doesn't even sound like a fix. It is something you do normally. 
Well, it works and that's because some themes and wallpapers can cause the dwm.exe process to use more resources. 
Changing these themes can easily solve your high CPU usage issue.
To change your theme, use the shortcut keys ( Windows + I ) to get to your Settings menu.
Then select the Personalization option in the settings menu you just opened. 
What I usually suggest to folks is that they use a theme that they have used before, a theme that didn't cause the high CPU usage when it was used.
Click on Theme>change theme
If the issue is resolved when you change your theme, then you know what the problem is and you've solved it. 
If the issue still continues, follow the other suggested tips below.
2. Removing Screensavers (If Active)
Many users have complained that it was an active screensaver that caused the high CPU usage issue. When they removed the screensaver, the issue went with it.
So, the idea here is to just disable your screensaver if you have one active. 
You should also note that you might not know you have an active screensaver because the default screensaver might just show a dark screen. 
So, just follow the steps below and disable any screensaver found.
You will have to first launch the search bar. Use the shortcut keys (Windows + S) to do that.
In the bar that appears, input this text – Lock Screen Settings and then search for it.
Choose the Lock Screen Settings option that will appear first on your search results list. This will open the Lock Screen Settings menu.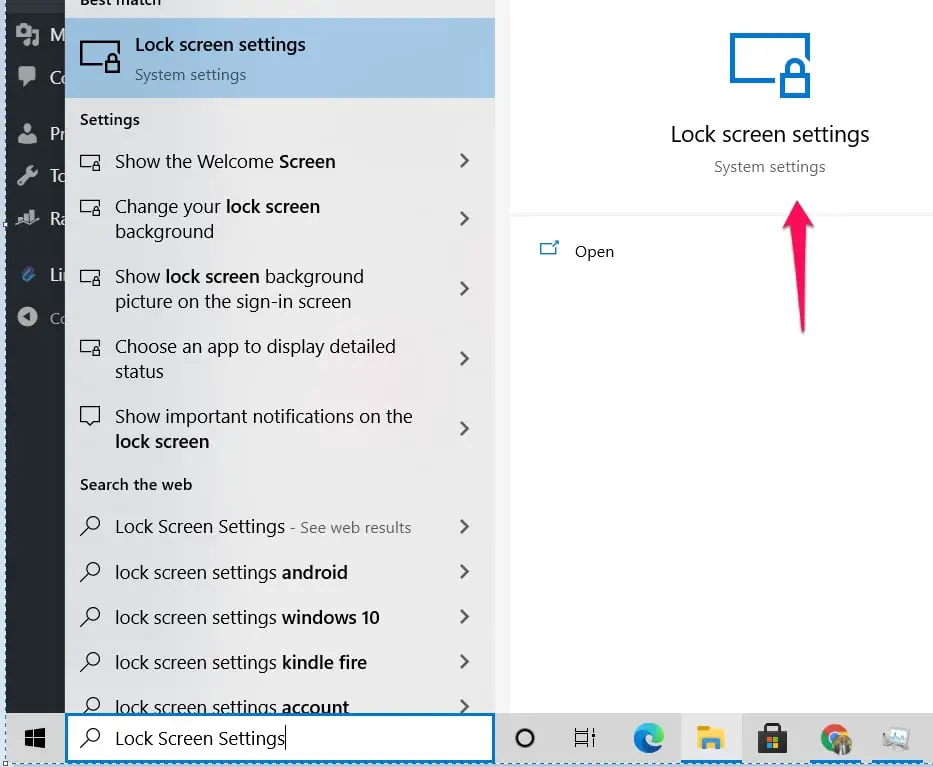 You will find the Screensaver Settings at the bottom of the menu you just opened.
Click on it and disable your screensaver.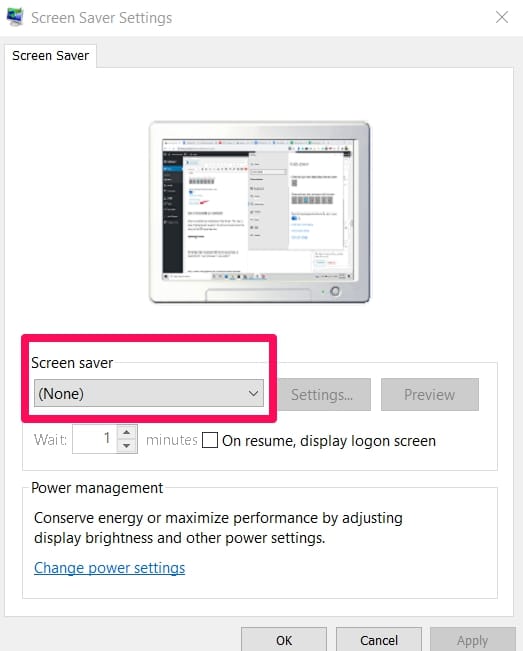 When you disable your screensaver, check to see if the issue is gone. If Screensavers caused it, the dwm.exe process should be using normal CPU resources now.
3. Updating Drivers
Remember when I explained that the dwm.exe process is responsible for visual processes in your system?
Well, it works with graphics card drivers and other hardware drivers to ensure that visual processes run smoothly. 
When drivers become outdated or corrupted by bugs, this can have a negative (high CPU usage) impact on the dwm.exe process due to their close relationship. 
What you will need to do is locate updates for your drivers.
How To Update Drivers
Navigate to the Device Manager by searching for it using the search box on the taskbar. 
Open the Device Manager when your search results come out. It should be the first option on the list.
When the Device Manager is open, select Display Adapters.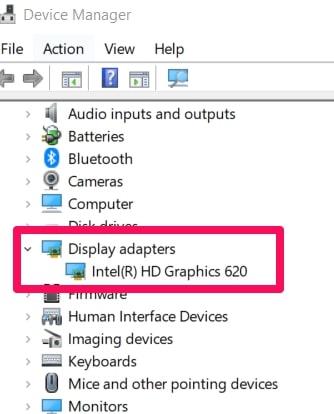 Then right-click on your Graphics card when you find it. Click on Properties in the list of options that will appear. 
In the Properties menu, go to the Driver tab. This is where you will find the Update Driver option. Click on it.
Then click on Search Automatically For Updated Driver Software. 
You can now follow the on-screen instructions to install the updates if any is found. Then afterward, check if the issue is gone.
4. Scanning Your System For Malware (Or Turning Off Your Antivirus)
Even if the process is legit, there might still be harmful processes on your system causing the high CPU usage issue to occur. 
Scan your system using any dependable antivirus software you prefer to get your system free of harmful, intrusive files.
You can also disable your antivirus program and then check to see if the issue is still occurring. 
Sometimes, our antivirus software might not be compatible with some system processes. So this is something we must note and try out especially if we have tried out everything above. 
Conclusion
The Desktop Window Manager is key to many of the system processes we take for granted and that is why it is exempted from being stopped or disabled.
The only viable reason for users to want it stopped or disabled is if it displays high CPU usage. Microsoft has assured us that they have made sure to reduce the chances of that happening.
However, if it still happens, you can use any of the tips above to reduce the CPU usage, especially after you've checked and it's a legit process and not malware. 
What are your thoughts about the dwm.exe process? Please share using the comments section below. Thanks for reading.