Are You Looking For a Best Clone Apps to run multiple accounts of the same app on your phone? 🤔 This Definitive List is For You Only.
Without any further delay, let's find out. 👓
As the saying goes, "a wise man finds profit in everything he does." Well, the internet, since its invention, has had a lot of positive influence on the way we live and think. It has also impacted our ability to earn money. 
Social network alone has opened up so many opportunities for people. Thanks to it, we now hear about concepts like freelance, online job opportunities, and teleworking. Even real companies are beginning to go online. 
You will find that almost every businessperson has one or more functional social accounts from where business correspondence happens. But think about the possibilities of managing different personal and business accounts on the same device.
The idea of trying to separate your personal space from your workspace can often come with a headache. 
You don't have to sweat it out – not when there are tons of applications out there designed to allow you simultaneously sign into several accounts on one account. Well, you probably know about cloning apps already, but how do you know which is best for your needs and device.
After all, the availability of too many options to choose from can be overwhelming itself. To help, we have selected the best of them and will highlight how each works as well as their distinct features. Take a look:
Best Clone Apps: Our Top Pick 👌👌👌
1. Parallel Space 
If you are active on social media, then there is a huge possibility that you have several accounts across different platforms.
Managing all the accounts at the same time can sometimes seem overwhelming; hence, the need for an app that can help you automate the process.
Thankfully, LBE Tech has created the now-famous "Parallel Space App" to help Android users have control over multiple accounts in almost all types of app. 
The app comes as a free-to-download app for Android users, although you will have to bear with a few ads. No need to be afraid of the advertisements, because so far, reviewers are testifying that it is not so much of a pain. 
How App Works:-
The working process of the app is pretty straightforward and easy to grasp. It operates by creating a clone of any app you indicate. You will then be able to access the cloned copy on the Parallel Space app. 
This means that you will be able to have two copies of the same social media app running, each with a separate login.
Yes, several social media platforms already allow the possibility of having multiple accounts on one device, but with Parallel Space, you are really able to separate them. 
How to Run Multiple Accounts on Your Android Device Using Parallel Space (No Root)
One area that most users consider this app useful in gaming. Most Mobile games will require you to create an account before you are able to access them.
They would often not allow you to have multiple accounts on the same platform, however. With Parallel space, you will just need to clone the app, and you will be good to go. 
The ability for Parallel space to integrate with so many apps is why it has gained so much popularity. The app also has a simple interface; hence, it will be easy for you to get around it, even as a first-time user. 
Below are some of the features of The Parallel Space that earned it a spot in our list of Best Clone Apps.
Features:-
Support for several applications 

Easy app interface

Works on Android devices only. 
Overall, there will be several times when this app would prove very beneficial for you, especially if you are a social media personality. You should be aware, however, that the ability of the app to clone other apps may lead to more memory and battery usage.
Note:-
I have written a post for people looking for the 
Best Drinking Game Apps
?, do read it If you are interested.
2. Super Clone
Super Clone holds a record as the first and most stable app clone with the right structure to handle multiple accounts across different social media accounts, including Instagram, Facebook, WhatsApp, and others.
The app also supports login into each clone app with different Google accounts. Hence, if you have a problem managing different WhatsApp or Facebook accounts, then this is the right app to look to.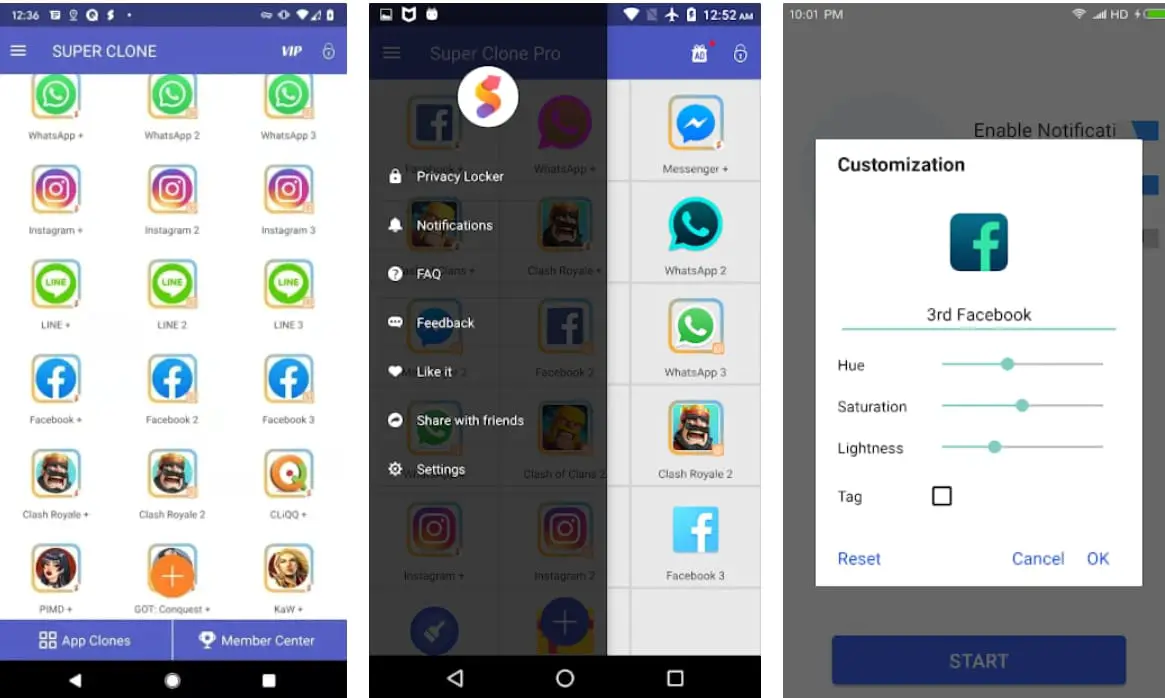 It also supports the creation of multiple roles in one game, giving you multiple experiences simultaneously. 
With its rank as one of the best clone apps that exist, this technology that is empowered by Polestar Applea has achieved millions of downloads around the world.
With the level of functionality that Super Clone offers, it is not a surprise that it has taken over the world of clone apps.
It is the foremost clone app to support parallel cloning in up to 99 social media and gaming accounts. The app empowers you to stay online across multiple spaces using one device.
This is an app that is specially designed for users that may want to switch between several different games and social media accounts because of the nature of their jobs or businesses.
One fantastic feature of this app compared to most others is that you can customize the label of each clone for easy identification. You can also switch quickly between different accounts with just a single click. 
Below are some of the features of The Super Clone that earned it a spot in our list of Best Clone Apps.
Features:-
Simultaneously runs different social media and game app accounts

Unique privacy locker for protecting cloned accounts

Customization of app labels and icons. 

One tap switches between different accounts.
If you want a clone app that will be compatible with most instant messaging apps, as well as games and social apps, the Super Clone is probably a sure bet for you.
3. App Cloner 
App Cloner is another unique cloning app that's worth talking about. For most people that have tried the app before, it will not be a surprise that the app is on our list, considering the amazing level of functionality that it can offer always.
It is designed for the Android operating system; hence, android users that are looking to operate different accounts on one social media platform simultaneously would be able to do so.
This application gives you the freedom to install the same app several times in one device, using different accounts for each.
For the few that are dying to have the experience of using two different social media accounts in one device, this is redemption for them. Interestingly, the app features a very simple-to-use interface, so you will not find the process of duplicating an app any difficult. 
With this app, you can be working on an app on your device, and when they need to run a new account comes, you will be able to incorporate it and run it simultaneously on the device.
The beauty of this app is in the multiple features that it can offer users. For instance, while some other clone apps are made specifically to support one application, App Cloner is able to support different applications across different genres.
The app is also editable, so you can customize by changing the display color, language, and lots of other things.
This feature allows you to give a personal touch to the look and operation of the app. Also, the app allows for several privacy options, so you can rest assured that your cloned apps will be secured from unauthorized intrusion. 
One of the reasons why this app has gotten so popular is because of its ease of usage. Usually, you will just need to download the app, allow a few permission, sign up, and you are good to go. The app's interface is intuitive, so you will be able to start your first cloning with little practice. 
The only aspect of this app that many users may consider to be a downside is that it has a free and premium version, and the most desirable features can only be accessible on the premium version. That apart, this app is a beauty to behold and operate. 
Below are some of the features of The App Cloner that earned it a spot in our list of Best Clone Apps.
Features:-
The language option is customizable 

Comes with several privacy options 

Free and premium versions are available 

Easy to maneuver. 
Overall, this is an app that's worth downloading. It is excellent for gamers and social media enthusiasts because it gives them the liberty to be as flexible as they want to be with different accounts.
Note:-
I have written a post for people looking for the
Best Stretching Apps
?, do read it If you are interested.
4. Social Duplicator 
From the name of this app, you can already tell what it is built for. Although relatively new in the game, Social Duplicator has already done enough to show that it is a clone app worth watching out for.
Several reviewers are happy about the way the app handles migration across different accounts. Beyond that aspect, however, the app offers a lot of other useful features.
It is a new Android and iOS application that is particularly useful for social media managers who would often need to switch between different accounts on one platform because of the nature of their job. 
From the name, you probably can already tell that it is an app that can clone social applications, making the cloned copy have the exact look and functionality as the original copy.
The cloned copy can work independently; hence, you can log different accounts in and run them at the same time as the original. For example, you can create two Facebook accounts and have simultaneous access to the two on the same device.
Not just Facebook, you can also duplicate apples like Skype, Instagram, WhatsApp, Dropbox, and many others. One significant advantage that this app clone promises compared to most others in its category is speed and ease of usage.
As expected for an app of its level, the app can offer some top-notch functionality without any unnecessary complications. 
On the features of this app, its developers claim that it can clone nearly all popular social media and available apps. So if you are looking for a clone app that can go a notch higher, then this is the right one.
Unlike in most other cloning apps, the cloned app here can be updated. You can run updates on the cloned app when new versions are available without fear of losing useful data. 
It is worth mentioning, however, that it is a premium app, and you will need to pay some token before having access to the full features of the app. But it is worth every penny that you will invest in it.
Below are some of the features of The Social Duplicator that earned it a spot in our list of Best Clone Apps.
Features:-
Can incorporate almost all social media available 

The app will need to jailbreak the device before starting 

It is easy to use

Free and premium versions.
5. Slices 
Slices is another clone app that is worth being on our list of best clone apps in 2022. This app offers a lot in quality and functionality to take it to its present level.
Although it only works on the iOS 9 operating system, this app does enough to earn it a worldwide reputation that is difficult to break.
If you are looking for a top-of-the-line clone app that cam duplicate different social media like Snapchat, Instagram, Facebook, WhatsApp, and Twitter, then this can easily pass as one of the best you will get in the app market.
It also works well on popular game apps like Candy Crush. As a top-level app, Slices is designed with several fascinating features. It is also relatively easy to use, so you will not find its working process difficult.
How it works:-
Like most other apps on this list, using this app is pretty straightforward. All that is needed is a few simple steps, and you are good to go. 
To start, go to the apple store and download the app. Follow the prompts to set up an account with the application. Usually, you will be required to jailbreak your device before you are able to use the app cloner on your iPhone effectively. 
From this point, you will be shown the different apps available on your phone from where you can select the app you want to clone. 
The features of this app are similar to the ones that we've mentioned on the other apps on this list.  the big difference is the fact that it is only compatible with the iOS 9 operating system and above.
Overall, this is an app that promises to help business people manage their different social media accounts with ease. Its simple interface makes the whole process of starting and using great. Its basic version is free, so you can get it to see what the app offers. If you desire more functionalities, however, then you will need to go for the premium version.
https://repo.hackyouriphone.org/
6. Go Multiple 
This is a useful clone app available for Android users. It is an application that allows you to have a duplicate copy of your desired app so that you can use it with two or more different accounts on the same app.
The main reason why this app is useful to most Android users is that they would often need to access various social media platforms using different accounts.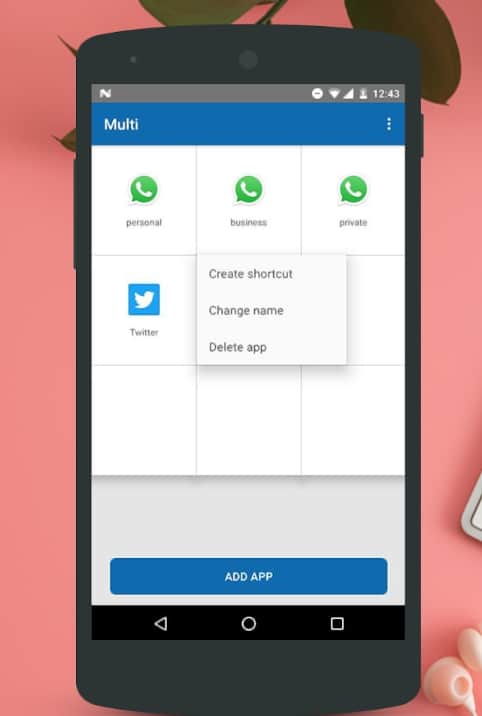 If you are regular on social media, then you would have encountered situations where you would need to create two or more accounts on the same platform for different reasons.
In such cases, logging into one of the accounts would have to be at the expense of the other because Android phones are not configured to launch two same apps at the same time.
This doesn't have to worry you anymore, as the invention of the Go Multiple apps now means that you can have two or more functional versions of the same app on one device. Of course, this translates into running two or more accounts simultaneously.
For the operation of this app, you would need to choose the desired app that you want to duplicate, and Go Multiple will reconfigure it as if it were the original one.
You will be able to see the new icon generated in the home screen, although it will appear in a white box, and its name will appear after the Greek letter beta. 
On the features of this app, reviewers are already testifying that it features a lot more positives than the makers signify. From being able to work on a computer to have different storage with the original app, everything about this clone app comes together to make usage more comfortable and better.
The app also features an interestingly easy-to-use interface and compared to most other similar apps, you will be able to walk your way around this one without much guidance.
Below are some of the features of The Go Multiple apps that earned it a spot in our list of Best Clone Apps.
Features:-
Unique security and privacy protocol

Easy to use 

Different storage for original and cloned apps
Overall, this is an app that can be recommended for any Android user that desires to work more with social media. The app doesn't consume much space, but you must note that the cloned space can add up to fill up limited spaces quickly.
7. 2Account 
This is one popular application that allows any user to run two different versions of the same application at the same time. This app will be most handy for users that are looking to replicate their gaming experience across different games. 
What do we mean by that? Once you have a game that you love and enjoy so much downloaded on your device, you can go ahead to install two accounts on the same device. Hence, you will be able to reinstall the same application easily. 
With this feature of the app, you will be able to boost your gaming experience with more ease than you ordinarily would have. Apart from boosting your gaming experience, you can also enjoy the advantage of being able to double your score at half the usual time.
Of course, the app is not designed for gaming alone. You can as well use it for your works on social media, but there is a catch to it. You will only be guaranteed total privacy in the VIP version of the app, which is premium.
This means that if you want your activities online to be completely private, then you will need to pay a certain amount for it. That's a significant disadvantage for people that do not intend to spend so much on app maintenance. 
Another downside that we noticed in this app is that users might not be able to see notifications when the application is closed.
Hence, to receive notifications from 2Accounts, you will need to keep it running in extra space on your smartphone. Of course, several other similar apps have this problem, but we thought it wise to warn you.
8. Dual Apps 
Dual Apps, like most of the other apps featured on this list, allows you to reinstall your favorite social media apps and game, notwithstanding that the application is probably already in your device's memory. 
This app will take a tiny portion of your device space but will help expand your gaming, work, and communication capabilities.
One distinct advantage of Dual Apps is that once an app is downloaded again, the widget would only work to reinstall the specific part of it that you need.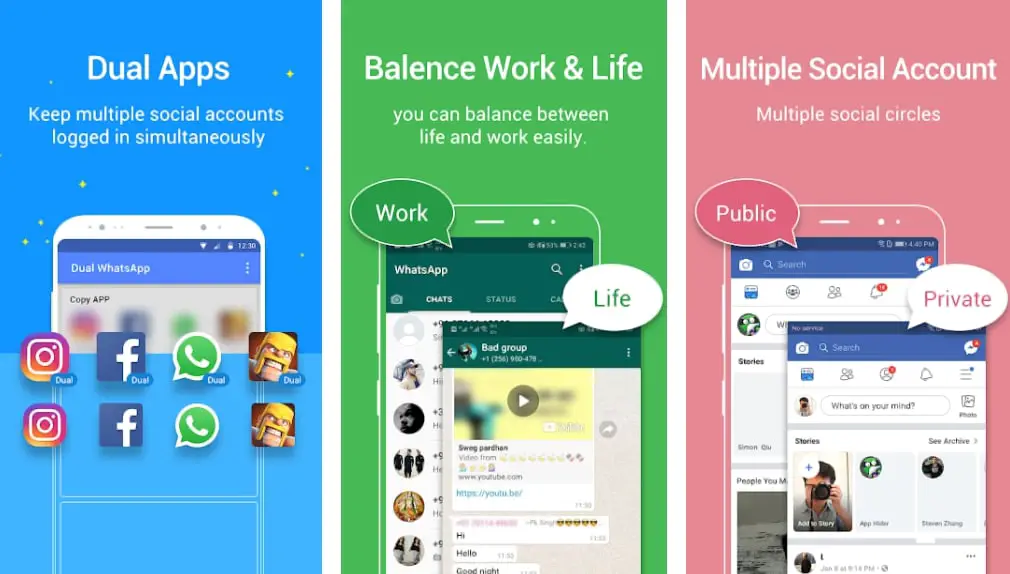 What this means is that the memory of your device doesn't get filled up with all kinds of unnecessary trash. Unlike the other app mentioned above, Dual Apps allow you to either turn on notifications on your device or block them from occupying additional space in your device.
That is, if you desire to receive notifications of activities from two or more of your social networks, then you can activate it on the app. Once activated, it doesn't matter whether the app is open or closed; you will continue to receive notifications until you turn it off again.
Apart from the notification and privacy features, we noticed that Dual Apps offer similar features and functionalities to most other clone apps that are featured on this list.
Most reviewers are satisfied with the level of ease that the app provides. Still, the availability of some features only in the premium version is a significant turn-off for some people. 
There you have it, 8 of the best clone apps available today. Each of these apps comes with features that make them perfect for specific needs. With a detailed explanation of each above, you should be able to make an ideal choice that will suit your needs.