If you are planning to purchase a Samsung galaxy watch or already own one, you must be a fortunate person. Unlike some of us, these wearable devices have the benefits of making our daily lives much simpler. 
They come with massive internal storage that enables you to track your running, keep a note of where you parked your car, provide you with tons of music, and so on. 
Not surprisingly, wearable is dominating the current electronic market. Even makers like Apple are close behind. You need to download the apps to make them a force to reckon with. Based on our research, we have created a collection of the best apps in the market. 
Growing up, you admired spy heroes like James Bond and others. These gadgets are used to intrigue you. One day, you thought you would get these futuristic gadgets. 
The smartwatch, earlier known as Samsung gear, brings you closer to making them a reality. In case you did know, they come powered by high-end hardware. As we read, you can perform several tasks using the wearable. 
However, you can do a lot more using this device. That is why many apps are available in the market. Maybe you can feel like a secret agent once you have installed these apps onto your device. 
You can install them on your wearable by searching them on the store and clicking on the install. The kind of galaxy watch that you own does not matter. These galaxy watch apps are compatible with most of them. 
However, they work with the latest wearable. We are highly impressed with the performance and usefulness of the Samsung galaxy watch. But, discovering the apps can sometimes be challenging for you to find out. 
You will be surprised to know that hundreds of galaxy watch apps are available. For your convenience, we have provided you with the links at the end of each app. This list we have compiled for you; contains some of the most popular apps in the market.
Best Samsung Galaxy Watch Apps – Our Pick
1. Spotify
First on our list of must-have galaxy watch apps is Spotify (Download Here). It would not be justifiable if we did not include it or, for that matter, place it higher in the order.
For those unaware, Spotify is perhaps one of the first apps that Samsung partnered with successfully. 
Their partnership is only going stronger by leaps and bounds. Garmin joins them. Of course, nobody needs much of an introduction to Spotify. You can use the app to check your music list and some of the songs on the charts. 
You have the option of having your library where you can view custom playlists. But we would recommend that you make use of their paid version.
They provide offline playback support, where you do not have to be connected. Spotify is one of the best music streaming apps you have in the market. 
You can use the discovery features that come with the Discover Weekly playlist. It also comes with the Facebook integration feature, enabling you to spot it without hassle.
You can track or send an album and communicate with friends on Facebook if you like similar music. 
There is a new group session where you can connect with more than one user to add playlists. As you can see, there are too many features to ignore. Not to mention, the free version is highly spoken about.
The app is user-friendly and is often updated with several features. You can follow your favorite artists when they release new albums. Apart from that, you can keep track of new shows or music. 
Unfortunately, we noticed a few flaws that the makers would want to note. Some of the advertisements can be intrusive at times. Some songs cannot be listened to in the free version, and you need to use the paid version. 
Spotify is an excellent, reputed app with highly personalized custom playlists. You can connect wireless speakers as well as AV receivers. You can also work using both the free and paid versions. 
2. Uber
Second, on our list of some cool galaxy watch apps on your Samsung wearable device is Uber (Download Now). You would have used Uber by now and would know all about it.
However, for those of you, who have not heard about Uber for some reason or are not aware of it, we will take a look at it. 
What is Uber? It is a ride-sharing app. In America, car-pooling was a common trend for office goers to the same locality or building. Each of them needed to use their vehicle, and consuming gas was not required.
Not to mention, you saved time and money. A designated person will drop in at your door at the right time and pick you up. Similar to that concept, Uber was formed. The only difference is that you are riding in a shared taxi. 
Most of your passengers are traveling to the same destination or may get down on the way. Users can now book an Uber from their wrist with the help of the Samsung galaxy watch. Now you are ready to pick up and go to your destination. 
Using the app is quite simple. You do not have to struggle to drag the map and choose the pickup spot and destination. Handling it is a breeze. You can use the rotating bezel for zooming on the map to better view your Samsung galaxy watch.
To begin with, you need to create your account. For that, your phone number and email address are sufficient. Now you can choose the ride from the Uber app. Once you have opened the app on your Samsung galaxy watch, you must enter where you want to go.
Users must tap on the confirm button for the pickup location and again tap confirm. You are not set. Your driver will contact you once he/she arrives near your location or pickup spot. Of course, you can track your driver on the app. 
You must ensure you are seated on the right Uber ride. You can check or verify the driver's name, license plate, car model, and photo. Users must not enter cars marked as Uber if they have not booked them through the app. 
You can make the payment using the options you want. Now, sit back and relax during your trip. Once you reach your destination, you can let the rating of the ride. Based on our research, users have commended the ride-sharing app. 
It is convenient to use and secure to make payments. Not to mention, you can cancel the ride anytime you want if you feel uncomfortable.
An exciting feature of the app is when you are booking it, the app itself will suggest the closest destination for you for pickup. 
It goes without saying that if you are yet to use or have Uber, you might not understand what you are missing out on, especially if you are planning to relocate to a city. According to transportation statistics, ride-sharing apps like Uber are cities' lifelines. 
3. Voice Memo
The Voice Memo (Download Here) is next on our list of galaxy watch apps on your Samsung device. So, why this app? 🤔
Why do you want to have it downloaded on your Samsung galaxy watch? In one sentence, this app lets you record a voice message of 5 minutes in length. 
You can then decide what you want to do with it. This voice memo app from Samsung may seem obsolete for some of you, but you will be happy to know it is beneficial even today. 
The app does not come installed in your wearable. But, you can download it and then use it. However, it is easy to download and use. Once you have downloaded the app, you must use the record button, and you can begin recording the voice message. 
After 5 minutes, you can receive the transcription of the audio file that is synced with your smartphone. Because after 5 minutes, the voice message is automatically stopped. Then you collect the data on your device. 
This helps you to take notes during travel or when you are on the move. As you know, smartwatches come with a microphone in them. Supposing you want to add your feelings or views, you can record your message using the Samsung galaxy watch. 
Using sticky notes on your laptop or household items can be frustrating. Not to mention, they can become lost too. You do not want that to happen when you have something very important. 
The voice gear memo is a versatile method to keep track of your message and work. Using a gear voice memo downloaded on your Samsung galaxy watch, you are empowered with a powerful voice recorder present on your hands. 
Another interesting feature we noted during our usage of the voice gear memo is that these wearables come with internal storage. You can use them when it is not connected to your smartphone. 
When you save the recordings, you can reconnect them to your smartphone. Then this helps you to transfer your voice message files on it. As you can see, this is a handy app to have downloaded on your wearable.
4. SmartThings
There is no denying that Samsung comes with a barrage of the ecosystem of devices. SmartThings (Download here) has compatible devices that let you control what you want to do inside your home. 
For example, you can use the app to check out the status of your devices. For example, you can control your television, switch on the light, close the window, and do other things of significance. Each of us has our smart things in our own homes. 
For example, there are smart doorbells, smart locks, smart lights, and so on. These devices make our lives easier—the need to do some of these things by ourselves when we cannot come in handy. 
Supposing you are not well or have met with an accident and are living yourself. Then the need for somebody to physically help you unlock the door, switch on the light, open the windows, and play the music, is not there. 
All these crucial tasks can be done by yourself. However, when you want to get them to work together, it is also a massive challenge. It is challenging because you need a platform that can help you do it with ease. 
Hence, when you require a smart home hub and mesh router simultaneously, the Samsung SmartThings Wi-Fi Mesh router is one of the best routers. The current device comes the same as the previous model but has a smoother size. 
The hub can be connected through Wi-Fi to your router and an Ethernet port. You can connect to Z-Wave devices even at a distance of more than 90 feet. Of course, the location of your home is also dependent on that. 
It comes with a USB port at the back, but it cannot be used to perform any chore. Not to mention, it also does not come with the backup of the battery, but when the power is lost, you might not be able to use other devices in your home. 
We were highly impressed with the interface of the device. Even new users can make use of it without feeling lost. The tab on the dashboard comes with three sections that help you work on your apps at home. 
What I wish I knew when I started with SmartThings
You can choose the devices and get to another screen using additional control options. We were impressed with the fact that the device can connect several products. If you plan to connect a new device, it automatically discovers it. 
When it cannot, then you can add it manually. The SmartThings has automation that can help you monitor and control your home. Unlike some apps, they come with a few drawbacks. 
Here, you can control all smart home devices with a link together. When your smart speaker camera detects motion, it acts.
Users can create automation during the time of day, the status of the device, or find out the family member's location. 
This app comes with automation when your window is open or when there is rainwater. You can either open or close the window or turn off your thermostat.
We were delighted that the app's automation is much better and faster than those found on Google Home and Alexa. 
You can find a few smart home devices that can create action. You may be unable to turn on lights when you enter the room or home. Even when you use Google Home, you may be able to initiate through spoken command. 
You can use IFTTT using SmartThings. When you want to link several products in your home or office, you will want to consider using the Samsung SmatThings. Sadly, the same old issues keep propping up over the years.
That can be a put-off for some existing users. You will notice that you may not be able to upgrade from the previous version.
Apart from that, you will see some key elements missing partner integrations. It is undoubtedly the best smart home system, but they could have done better. 
5. Speedometer
The speedometer (Download Here) is another galaxy watch apps that we felt would be useful to have on your wearable. It is a fun app to have on your device.
At times, when you are riding around your cycle or motorbike, you just want to know your speed. How fast are you traveling in the area or locality?
The reason may not be valid or important; however, you want to know your speed for its sake. The need for your health metrics is not required. The app is the perfect gear that you can have to know your speed. 
It works with the help of your GPS. With the help of GPS, the data is recorded on the device. Besides, you can also see your distance traveled, know your time, save your journeys, and map the speed of the map. 
You can be a cyclist or somebody training on your speed durations during the run. It need not be only your cycle or bike; you can even go for a run and know your current speed, just for the fun of it. 
The Samsung Speedometer is a useful app on your device as it can calculate your speed using the data on your GPS. This is a fun app to have, and you can challenge your friends when you are on the run. 
6. Flipboard News Summary
Flipboard News Summary (Download Here) is one of the best news experiences to have planted on your wrist. We know it can sound weird, glancing at your wrists several times. The app is simple to use, and readers can receive updated news instantly. 
We feel that there is no better way to find out the news. Why do you want the app that is highly rated on Google Play Newsstand? The latest news, photos, videos, and images are on your wrist. 
The print-style page is slick and enjoyable. They have a partnership with major publishers and content writers. The app comes with reputed social networking features and fast page swiping. At the same time, you cannot save stories without using a third-party app.
Unsurprisingly, this galaxy watch app is used globally by android users. How the news is placed there for you to read is a pleasant surprise. You can aggregate news, social media, and articles. 
It is a feature-rich personalized digital magazine. You will be delighted to use the newly designed app that is updated and comes with several beautiful designs. The signup process is quite simple and easy. 
You can create the account using your Google and Facebook details. It should not take long. Once you are logged in, you can choose the categories of interest. It is beautiful if you are keen to receive news in all areas. 
Navigation is one of the smartest design features in this app. It is arranged neatly in the vertical panels. You can also make use of hashtags and other bundles. News keeps continually evolving, depending on the market conditions. 
You have magazines like Hypebeast, Vogue, and a few style outlets. The articles are displayed neatly for you to read with just the content and some images. Most of them were quite inviting for you to go through. 
We were astounded by the fact that it was much better than Google Play Newsstand, which is normally sound. You do not often get to find something better than a product released by Google. 
Overall, it makes news-reading a straightforward and enjoyable affair. We were highly impressed with the app's navigation because we did not encounter one flaw. Most of the apps come with imperfections and slowdown during constant navigation.
However, we did not like the new stories similar to the one you are reading. You are bombarded with them. It takes your focus and attention on the news article you want to read. 
There is nothing wrong with it; perhaps, you may not be perturbed by it. For serious news readers, it can become an issue. Would we recommend users download and use Flipboard News Briefing?
Flipboard for your Android device is an excellent choice for browsing sites, browsing Twitter feeds, and checking out RSS feed readers. While some of the articles need you to log in, most of them do not, and the app is an excellent Android news-reading app.
7. Find My Car
Are you somebody who keeps forgetting where you parked your car? If you have problems recollecting where you left your car in the parking lot, we can help you.
With Find My Car (Download Here) galaxy watch apps you no longer have to wander around the massive parking lot wondering where your prized possession is kept. 
These things happen. You have many things to remember; the last thing anybody wants to remember is where they parked their car. With the help of Find My Car, you can save the parking location on the map.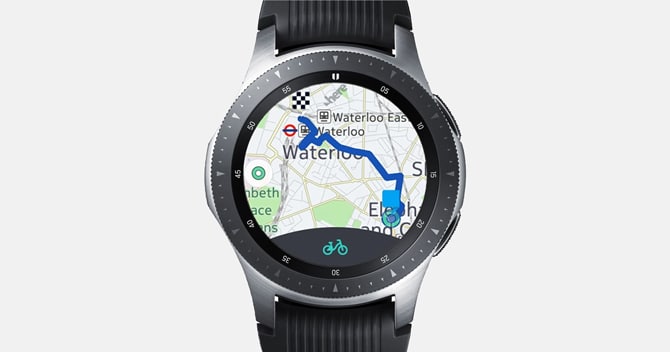 What is the point of having technology in your hands when you cannot use them? It provides you with a secure way to keep tabs on your vehicles. We felt this app would be extremely useful when you own a Samsung galaxy watch. 
This app can take you in the right direction where you park your car. The app also has a feature where you can give a voice memo of the parking area details. Here is how it works. 
Now you can close the app and carry on with your work. Once you finish your work and want to leave, you can open the app and notice a red arrow pointing towards your car. 
You need to follow that arrow toward your parking spot. Of course, you can alter the display when you want a more detailed map of your parking spot. Find My Car is a very straightforward app for car users. 
Users can take a photo or image of the parking location if they want to. The work is simple, and people of all ages can use it to find your car quickly. The need to worry about your parking area anymore is not required with the help of this app. 
8. Camera One
Camera One (Download Here) is next on our galaxy watch apps list. There is nothing much special about this app. However, we felt that an app that does not feature a camera would be incomplete on the list. Hence we decided to put in this app so that you may download it on your smartwatch. 
It comes with a live preview of your camera. You can zoom in on what you want to view and then decide on the controls. Users can take images, record, set flash, and zoom in depending on the timer. 
There are options where you can edit the quality of the video and images. The app can function through another app that is installed on your smartphone. You need to get the required permission to do that. 
You do not have to keep your camera app active. Because of the feature, you can use the surveillance remotely, accessing the camera wherever you want. This is a useful app to have downloaded on your wearable. 
9. Run with Map My Run
Owning a smartwatch is good, especially if you want to stay fit. Hence, we decided to have an exercise app on our list of best Samsung galaxy watch 4 apps.
Let us introduce you to Run with Map My Run (Download Here). Samsung is in partnership with several leading manufacturers and producers of different apps. 
Likewise, they have partnered with Under Armour, leading them to produce one of the most successful fitness apps in the market. The fitness app is an effective GPS tracker to help you track your speed and distance and perform other fitness activities. 
We felt that the app is suitable for pre-determined running routes. Your run is broken into smaller runs and then compared to each other. That allows you to analyze and see how you have performed when running. 
At times, during some phases, you run quickly, and at some point, you run slowly. The design is good; however, the advertisement bars can get in your way and spoil the whole purpose of having the app in the first place. 
If you own a pair of Under Armour smart shoes, you can sync them easily and carry on your fitness activities. An account is advantageous because you can visit their website and plan your run. 
You can use a feature, route genius, where you can map your run if you provide data of your specific mileage. The paid version is not expensive, coming at $5.99 a month. The app comes with both free and membership methods. 
The basic version of this app is the most talked about in the world. Nothing special or unique about it, just that it comes with all its basic elements.
At the end of the workout, you can find out the total distance you run and break it down by your speed, burnt calories, and average speed overall. 
How to Create a Map Using MapMyRun.com
Whether preparing to run for a competition or just for fun, MayMyRun is fun and exciting. Sadly, few users have had an issue with the GPS. Sometimes it is not spot on and the data collected are not right. 
We can recommend you use the basic version of the app. It has useful features, and you can track your time, route, and splits. 
✅FAQ
What apps work with Galaxy Watch?
You can use any app with your Galaxy Watch. You need to download the Galaxy Wearable app that connects your smartwatch to your smartphone.
However, you should ensure compatibility before buying a Galaxy Watch. You can use the app to monitor your downloaded apps from the Playstore.
Can I add apps to my Galaxy Watch? 
The Galaxy Watch 4 and the Galaxy Watch 5 contain Google software. Therefore, you can add all the apps from the Google Play Store to your Galaxy Watch. After you install the app on your smartphone, it will automatically be installed on your watch.
What cool things can my Samsung watch do?
Your Samsung Galaxy Smartwatch contains many tips and tricks. You can customize watch faces, take screenshots, reorder widgets, add offline music, add images, avoid swipes and taps while working out, count your calories, track your workouts, modify the background, and personalize your watch experience.
Can you watch Netflix on Galaxy Watch?
No. You cannot watch Netflix on your Galaxy Watch; however, you can control the app. The latest update allows you to control the functions via Android Wear and enjoy other features of Netflix.
What apps can I download on Galaxy Watch4?
There are several features you can enjoy on your Galaxy Watch4 through apps. You can get fitness tracking and smartphone notifications through various apps. The best apps for Galaxy Watch4 are Google Pay, Facer, Messages, Google Keep, SmartThings, YouTube Music, Spotify, and Calm. 
How do I install 3rd party apps on my Galaxy Watch?
Press the power button on your Watch to see the list of apps. Sign in with your Google account on the Play Store to look at the apps on your phone. You can tap on install to download the app to your Galaxy Watch.
In conclusion 
Owning a Samsung galaxy watch can mean so much to you. As a user, you can now download these galaxy watch apps on your smartwatch and do a lot with them. The amazing thing about the smartwatch is that you can do plenty with it. 
We do not have any favorites up there on our list of galaxy watch apps. Most of the apps will come in handy for your regular life. We were highly amazed at how well the apps blended with the wearable. 
It makes us respect the Samsung galaxy watch tremendously. 
So, what are you waiting for?