Do you have the curiosity to know about the Best Wireless Doorbell to buy in 2020? 🤔You can easily Find out now in this definitive list with our detailed review.
Without any further delay let's find out. 👓👓
Doorbells have left the era of just being notifiers that there is a guest waiting for you at the door. The evolution of this device has seen a drastic change in the way we are being notified about the presence of a visitor in our homes.
Centuries ago, the elites had doormen whose only job was to stand at the door and inquiry from the visitor who they wished to see. This cost a lot of money and manpower just manning thousands of doors in certain localities.
Now, the use of doorbells has become very rampant with a lot of people installing them in their homes. This technology has seen tremendous advancement in the past years and has built up a growing industry that is getting its own grounds.
A lot of companies saw this opportunity and decided to buy into the idea which is already become a rave, adding several qualities to distinguish them from other contemporaries.
To get a better understanding of these devices, we have to know what doorbells are and look beyond the name it is given.
To look at the definition of doorbells, we have to look beyond the name placement of the device and understand its real workings. Doorbells are a device that is installed near a door that is being triggered by a guest to notify the host or occupants of the building of their presence.
The doorbells give out signaling sounds to alert the occupants that a guest is present on their premises. Generally, doorbells take different shapes and designs depending on the taste and capability of the buyer and they range from mechanical to electronic versions.
Doorbells have now been incorporated with several technological advancements that improve the doorbell experience. The addition of cameras and voice exchange has made doorbells more acceptable in this ever-moving generation
Well, this guide would put you through on which product to buy depending on what you want. There are hundreds of wireless doorbells out there in the market, this guide will help streamline the best and why they deserve that spot.
Best Wireless Doorbell: Our Top Picks 👌👌
1. AVANTEK D-3W Waterproof wireless doorbell kit
When it comes to doorbells, what is best to look out for is the loudness of the doorbell. A lot of doorbells are not really loud but you can't say that about the Avantek D-3W waterproof wireless doorbell.
This device is an all-round doorbell with has a high range length and produces high powered chimes of up to 115dB. The fact that it is inexpensive is an added bonus to it as it gives great quality at an affordable price. It is also waterproof and quite durable.
It also has a huge library of close to 52 chimes which can be personalized by the user. Setup is also quite easy to do, as it comes with a setup kit on the user manual.
Below are some of the features of The AVANTEK D-3W Waterproof wireless doorbell kit that earned it a spot in our list of Best Wireless Doorbell to get in 2020.
📗Features:-
Huge Chime Library:- The Avantek D-3W waterproof wireless doorbell is one of the melodious doorbells you would find out there in the market. This doorbell comes with an array of over 52 chimes that could be used depending on your mood or the nature of your environment.
The chimes range from the conventional tone which is being installed on the old doorbell to more chrome oriented tones. These tones are produced in such high quality that it can be heard with very crisp and clear quality.
Water Resistant:- Every doorbell is meant to come with water-resistant capabilities due to the fact that it is mostly placed outside. Leaving it out there furthermore gives the call for it to come durability that allows it withstand several weather conditions.
The Avantek D-3W waterproof doorbell is resistant to all sort of weather like condition with a casing that is well sealed to keep out fluids from penetrating into the engine of the device which later hampers the performance of the doorbell or causes damage.
Long-range wireless transmission:– The Avantek D-3W waterproof wireless doorbell has a long-range of transmission, which is up to 650 feet. This allows for optimal performance no matter where the receiver is being placed.
This is usually a problem for some wireless doorbell as their range is not long and could limit the use of the device if such a device is placed in a very large house.
Eradicate the range issue is one of the problems this brand has fixed and this makes it an affordable choice for most customers who just need it for either their kids or elderly ones.
Below are some of the Pros and Cons of The AVANTEK D-3W Waterproof wireless doorbell kit that earned it a spot in our list of Best Wireless Doorbell to get in 2020.
Pros
It possesses a LED flash
It is waterproof
It uses AC power
It is made of a durable casing
Cons
The design is not quite modern
It has the brand name on the front.
The Avantek D-3W waterproof wireless doorbell is an affordable doorbell that churns out great quality. It has quite nice features which will work well to meet your basic doorbell needs. Its cost is not overboard which makes it easily accessible.
The fact that a lot of customers complain about the placing of the brand name is quite a drawback for most people as they would want to have their names written on it. Though it is not tastefully designed, you are sure to get your money's worth from this product.
Check Price on Amazon
2. Honeywell premium portable wireless doorbell
One wireless doorbell any salesperson would refer you to is the Honey premium portable wireless doorbell. These doorbells are the best you can get at an affordable price.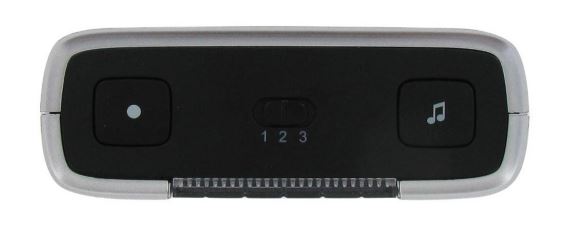 It boasts of a sublime design that can match any other design in the market right now. Its sleek design and wireless capabilities are quite a top-notch for a product at an affordable price. Most doorbells feature the waterproof capability to resist all sort of weather conditions which it may face.
Below are some of the features of The Honeywell premium portable wireless doorbell that earned it a spot in our list of Best Wireless Doorbell to get in 2020.
📗Features:-
Portability:- Honeywell's portable design is a major reason why a lot of people choose it. This device allows a user to move with the receiver anywhere in the building, allowing users not to miss visitors or calls.
The receiver can fit in the pocket, so if you probably in the kitchen, you can have full access to your doorbell without leaving what you were initially doing. Its range of over 600 feet gives you coverage no matter how far you are, be it in the bunker or washroom.
Sensor compatibility:- The Honeywell premium portable wireless doorbell also features a unique ability. The sensor compatibility of this doorbell, work with other Honeywell sensors to determine the condition of your home.
It helps you monitor the happenings in your homes such as the status of a door or window, giving you the ability to know if it's opened or locked.
This feature is quite useful especially when you have kids and the elderly in your building. It gives you that sense of security as it can be linked to your receiver.
Security light:- The fact that it has a security light does not mean it can replace security systems. This feature allows users to know if there is a notification that the user has not seen.
It does this by flashing a quiet light which can only be seen if you go close to the device. Using this feature is optional, and it can be set by using the doorbell simple to use the ability.
Volume Control:- The Honeywell Premium portable doorbell gives you the ability to adjust the volume of the doorbell ringtone. Most users prefer a loud tone rendering as opposed to those who would rather have a quiet and noiseless doorbell system.
Below are some of the Pros and Cons of The Honeywell premium portable wireless doorbell that earned it a spot in our list of Best Wireless Doorbell to get in 2020.
Pros
Long-range
It comes with a security light
It is compatible with sensoring
It's affordable
It is portable
Cons
If you probably do not want to spend as extravagantly as you would spend on other doorbells then this is the doorbell to buy. Its portability is one of the reasons why you should get it. The soft light alert is also a plus as you would not miss notifications even when you are not there.
The fact that this doorbell is not waterproof is not really nice, but the range is a substitute for that shortcoming. Its series of ringtones and chimes give the user the opportunity to work to their taste and designs. Overall it is a good buy for an affordable doorbell.
Check Price on Amazon
3.

Ring Wireless Video Doorbell Pro
The Ring Pro Wireless doorbell is by far the best wireless doorbell you can get anywhere. They come with exceptional features that most doorbells do not possess. This doorbell has a wireless video connection that is sleek in design and has smart capabilities.
The video quality of this doorbell is top-notch as it does not lag in its display. It goes at an affordable price of $249 that churns out clear and crisp images of 1080p resolution.
Motion sensors and detectors help boost most of the doorbell experience for new consumers, and it records most of its view even when the doorbell is not rung.
The battery life of the doorbell is not really long as it would not be long-lasting, but the battery is rechargeable which is a bonus. Alexa voice commands and Internet connectivity makes you leave the command prompt.
Its ability to work with mobile devices makes it a plus for tech enthusiasts who can operate their doorbells right from wherever they are. Motion sensors can also be monitored on the doorbell and features can be adjusted to suit the detection limit.
Below are some of the features of The Ring Wireless Video Doorbell Pro that earned it a spot in our list of Best Wireless Doorbell to get in 2020.
📗Features:-
Video quality:- The absolutely exceptional video quality of the Ring Wireless doorbell is the best you can get with the video resolution being 1080p. It delivers a view of 180 degrees which captures the whole view of the camera sight.
Most critics argue that the Ring Wireless doorbell could have put more effort into other components of the doorbell than video quality it displays.
Night Vision:- This doorbell has an added advantage over other doorbells with the presence of Night Vision as one of its features. This feature allows you to record videos even at night without rendering un-usable images.
The Night Vision covers up to like 30 feet of the camera's view for excellent clarity at any time of the night. Objects beyond this range most times tend to be distorted with a little bit of noise in the images
Sleek design:- The design of the Ring Pro Wireless doorbell is slim and comes with interchangeable plates. These plates come in different colors such as black, bronze, white and brown which can complement the color of your building.
The design is also wire powered which powers up the bell chime. The button on the doorbell has LED light which gives it shine at night. It has a couple of buttons for functionality.
Below are some of the Pros and Cons of The Ring Wireless Video Doorbell Pro that earned it a spot in our list of Best Wireless Doorbell to get in 2020.
Pros
Mobile device compatible
WiFienabled
Exceptional video quality
Allow the use of cloud storage
Cons
Everything you could want in a doorbell can be found in the Ring Pro Wireless doorbell as it carries all the functionality that is possible.
The camera and motion sensor of this doorbell is sharp and clear, thereby not allowing glitches like the previous version. Consumers also have the ability to view what happened in the camera view before the motion sensor was being deployed.
Check Price on Amazon
4. Remobell Wifi Wireless Video doorbell
A new rave in wireless doorbell designs is not the introduction of a camera into doorbells. The RemoBellWiFi Wireless Video doorbell is just one of the many doorbells that now have this feature.
This is a feature that takes the capabilities of a conventional doorbell and incorporates it with the use of the Internet thereby giving you images and voice-enabled doorbells.
So now you can have a sneak peek of who is at the door without leaving the comfort of your apartment and yes, turning down visitors you do not want to see. Motion detectors are also a part of its ability, which lets you know when someone is close to the doorbell.
It uses the WiFi connection of your home to display videos feeds to your smart devices. It also runs on a rechargeable battery which keeps the doorbell running at all times. Audio interchange is also available on this product which allows you to talk to the person on the other side.
Below are some of the features of The Remobell Wifi Wireless Video doorbell that earned it a spot in our list of Best Wireless Doorbell to get in 2020.
📗Features:-
WiFi-enabled:- The RemoBell allows users to connect to a home network, this allows the images from the camera of the doorbell to be relayed to the user's phone. It has the ability to connect to a maximum of 5 users on their smartphone.
The network connection of the doorbell lets you get in time notifications at a very fast speed. The fact that it is connected to a WiFi connection does not mean that you get the live feed of what the camera is seeing, but once the doorbell is being depressed, the camera starts recording images and sends it to your phone. Most of the saved logs are being kept on the doorbell's app.
Rechargeable batteries:- The doorbell's rechargeable batteries can last up to 3months, this is quite long-lasting when compared to most video-enabled doorbells. Most doorbells use AC currents to power their devices but this comes with a twist.
It uses 6 AA batteries which adds to the enormous size of the RemoBell doorbell. Whenever the battery needs to be charged, you will be notified of the doorbell's app. Charging has to be done in House as you would have to remove the doorbell from its position.
Device App:- The Remo Bell Wireless video doorbell uses an app that will be installed when you are fitting the doorbell. The app allows you to view video feeds and notifications as they come in. The receiver also has a video feed but this feature allows you to move around with your doorbell receiver in your hands.
This app receives all the notification that the doorbell dispenses and allows you to decline and accept notifications. The app also links up the RemoBell doorbell to the cloud storage to keep all data being recorded. iOS and Android compatibility is a plus as it can be used on both the operating system and the layout for the app is quite simple and alluring.
Infrared Sensors:- Infrared sensors are sort of the way the doorbell detects motion. These infrared sensors are being strategically placed in the camera to notify you when anyone comes near the doorbell.
Users are given the ability to tweak the level of sensitivity with which the sensors work with the three options being the Frequent, Standard or Light motion detection. The sensors capture any heat-emitting objects that come close to the doorbell and sends out a notification. These sensors do not capture car heats though.
Below are some of the Pros and Cons of The Remobell Wifi Wireless Video doorbell that earned it a spot in our list of Best Wireless Doorbell to get in 2020.
Pros
The RemoBell is portable
It integrates a motion sensor
Cons
The App does not allow a live video feed
The doorbell does not chime inside the house
The RemoBell is an excellent wireless video doorbell but it lags back in its video capability, as it delivers a maximum of 1280 x 720 display with 720p resolution which is not the benchmark for video quality nowadays. It also captures most of its images in landscape mode which does not give users the 180-degree view.
The fact that it can be hooked up to smartphone devices is a plus, and its app does not crash. Overall, the RemoBell is a doorbell which first-time users of Video doorbells can use.
Check Price on Amazon
5. MagicFly Wireless Doorbell Kit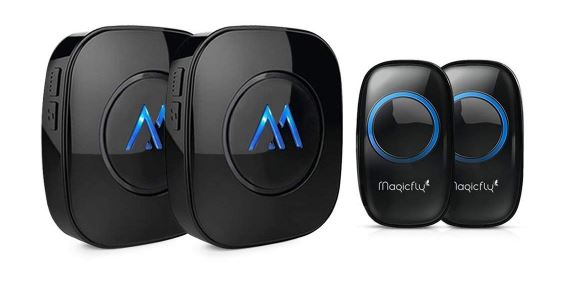 The MagicFly wireless doorbell is one of the best you would find in the market. The MagicFly maybe not in the smart doorbell class, but it produces excellent performance.
It has a stylish design and an outstanding array of feature and capability which seem to be a make it give out top quality display. The MagicFly range is optimal with its 1000 feet range, which does not interfere with the sound quality.
Below are some of the features of The MagicFly Wireless Doorbell Kit that earned it a spot in our list of Best Wireless Doorbell to get in 2020.
📗Features:-
Two Receivers:- The two receivers which the MagicFly doorbell bears gives it ease of use for the consumers. The receivers could be placed strategically so that you could have access to it from any area of the house you are quick. Although the wireless doorbell does not allow it to be used with a smartphone, the receivers ease that issue.
Interference and heat resistant:- The doorbell comes with a feature that eradicates the excessive dispersal of heat. The design also allows for signals to be exchanged seamlessly without any interference which would give you a good performance.
Sleek design:- The sleek design of the MagicFly Wireless doorbell, has this stylish design with an ergonomically curve with is quite simple and smart. The brand's name is being boldly stamped on the doorbell's front which most people do not like.
Below are some of the Pros and Cons of The MagicFly Wireless Doorbell Kit that earned it a spot in our list of Best Wireless Doorbell to get in 2020.
Pros
Easy Installation

High dispersal range
50 chime tones
Cons
The instruction manual is written poorly
Overall, the MagicFly wireless doorbell is easy to use, as being said by a previous user and how tests. They produce a high sound pitch for a portable wireless receiver. The battery of the doorbell is a 23-volt battery that which adds to the weight of the doorbell a mere 10g. It is affordable and one of the best you would find out there.
Check Price on Amazon
Factors to Consider When Buying a Best Wireless Doorbell
When buying a wireless doorbell, there are a lot of things to consider so as not to make wrong choices that would not suit your needs. In this short guide, you would get to understand the necessary things to look out for.
🎏 Range:-
A range is an important factor when you are considering or buying a wireless doorbell. Due to the fact that wireless doorbells were not designed to use wires just like previously wired doorbells. A range has to be considered because of the absence of wires which will hamper connectivity, especially in a huge building.
The best range to consider should be around 700 feet to 1000 feet as this would give you a wide spectrum when it comes to connectivity without break in communication. A range is furthermore divided into two categories, these categories which are the Full range and Working range all have their own functions.
The Full range is mostly about the distance the device can work without interference from walls and other wave disturbance. The Working range is the range in which the device can work with the availability of impediments.
🔋 Power Source:-
As much as there are wireless doorbells, so also do we have different power sources. Most devices tend to use rechargeable batteries while others implement AC power input. Making a choice on which to buy can be very dicey as a lot of people tend to prefer batteries as their power pack.
Rechargeable batteries are the only option that should be considered, getting anything other than that can spell trouble later as you would get a chore of changing batteries thereby leading to you spend some extra cash.
A few also spot solar panels that recharge the batteries so produce a long-lasting usage time. Meanwhile, using AC powered doorbells could prove extremely reliable, it also eradicates the idea of a wireless doorbell. This kind of doorbells tends to be very hard to install which would have to require the use of a professional.
🎭 Mobile Integration:-
Mobile integration is now a norm when it comes to technological advances with consumers having the ability to pair up their mobile devices with their electronic devices. Wireless doorbells also now bear this advancement.
Consumers now have a choice of deciding if they want their device to be compatible with their phones. It is actually best to get doorbells that have applications with which you can control the features of your doorbell devices.
For example, some wireless doorbells have apps that notify users when there is someone at the door, others can control the volume of the tones be produced by the doorbells. So going while to get a wireless doorbell, make sure to check if it has mobile integration.
🎃 Waterproof:-
Nobody wants a product that would get ruined after just a couple of months due to the fact that it does not have any water resistance ability. Doorbells are mostly placed outside of the house or on the porch where weather conditions could get to it.
These factors such as dew, rain, and snow could find its way into the doorbell if it's not waterproof and could lead to damage. A lot of brands add these features to their products, so that should not be a problem when purchasing a doorbell. It is advisable to consult a professional to help with deciding the best waterproof wireless doorbell to get.
6. AVANTEK Wireless Doorbell Kit
AVANTEK Wireless Doorbell Kit is the absolute best wireless doorbell in the market. We found that the unit is easy to install and is waterproof. It works flawlessly in any environment. This faultless wireless doorbell is a good option for homes or apartments.
As it is waterproof, you can install it outdoors without concern. It comes with two plug-in receivers that can be placed inside your home. It has a vast range of over 1,000 feet for your property and chimes more than 50 tunes.
The five-volume levels can be adjusted to your convenience. Its battery life is exceptional, with more than three years of experience. The working temperatures are more than 140-degree Fahrenheit.
The chances of missing visitors are non-existent as it comes with a range of more than 1000feet. The chimes are music to your ears with more than 50 options to choose from. Besides, it also comes with more than 4 volume settings.
The product has been approved by FCC, CE, and RoHS. A lifetime customer service is offered by the manufacturer. The wireless unit is priced less than $40, which is cheap. It comes in 2 colors, white and black.
Pros:-
The doorbell comes with a 1300 feet range.

It is waterproof, dustproof, and can withstand 140degree Fahrenheit.

It comes with more than 50 chimes along with five adjustable volume.

Simple to set up the impeccable unit.

The manufacturer provides lifetime customer service.

Approved by FCC, CE, and RoHS.
Cons:-
Few users have complained that the battery life is short.
AVANTEK Wireless Doorbell Kit is a supreme unit that you must strongly think about installing on your property. It works at more than 1000feet range, comes with three-year battery life, and is approved by FCC, CE, and RoHS.
7. SadoTech Model C Wireless Doorbell
SadoTech Model C Wireless Doorbell is another on-target product. Unlike most of the best wireless doorbells, this is affordable. For those of you who are particular about the design and color, would love this doorbell.
It comes in 14 attractive colors for you to choose from. The unit can work flawlessly more than 480 feet, which is reasonable for an average American home. Like the previous AVANTEK model, it comes with more than 50 tunes to choose from.
Users can decide on the volume based on the four options that they have. The unit is waterproof, meaning it can be installed outdoors and work sublimely. We found that the doorbell is relatively easy to install and operate.
The battery life is first-rate, and the design is elegant to last long. The package comes with everything that you will need to set up the doorbell in minutes. This is a multi-purpose doorbell that can be used in homes as well as offices.
You can pair it with more than 20 receivers and configure it according to your requirements. This unblemished unit is priced less than $20, which makes it one of the cheapest units on the list.
Pros:-
The irreproachable unit has sublime features.

It can work up to a range of 500 feet.

It is a waterproof and dustproof unit.

The device comes with more than 50 chimes.

You can use it at home, offices, and warehouses.

It is a flexible product that can be set up quickly.
Cons:-
The battery, at times, can be a cause of worry.
SadoTech Model C Wireless Doorbell is the best wireless doorbell that comes with elegant design and colors. Besides, the features are good like it can work effectively in homes, offices, and other work areas that have more than 50 chimes and work at a range of 500 feet.
8. Remo+ RemoBell Wi-Fi Video Doorbell
Remo+ RemoBell Wi-Fi Video Doorbell is another excellent and efficient product on our list of the best wireless doorbells. When you are willing to spend some more, then what you get is a top-notch product for that.
The unit comes with push notifications that you receive if somebody is ringing the doorbell. Besides, it comes with a camera allowing you to see who is at the door. This is ideal for homes or properties with elderly people and small kids.
The camera is powerful, coming with a 720-pixel video stream viewed on your smartphone. Users will find the activity log of the rings on their property along with the 2-way talking capability.
It comes with infrared night vision and low battery reminders. You can then do what is necessary. Thanks to the motion sensor, it can detect if leaves are moving or a human is present. RemoBell requires 6 AA batteries for working seamlessly.
It is priced at less than $155, which can be expensive for many. Some users also felt that the set up was a bit difficult.
Pros:-
It is easy to set up as you need just to screw the mounting bracket.

The product is weather-resistant.

It comes with an astonishing battery working life.

The unit has a motion sensor.

There is also a camera for viewing the activity that is happening on your property.
Cons:-
The device can be quite expensive.
Remo+ RemoBell unit is one of the most expensive of the lot. The product comes with the ability to tick all the boxes effortlessly. But, when you want this sublime product, then you must be willing to pay the price.
9. Ring All-new Video Doorbell 3
Ring All-new Video Doorbell 3 is ranked fourth on our list of the best wireless doorbells. With the advent of smart home technology showing signs everywhere, this smart unit is a must for the modern homeowner.
It comes with a video and motion sensor. This enables you to monitor the happenings on your property, and alerts are sent on your smartphone. Users have commended the installation process of the unit, and the camera fitted offers you with 1080 stream videos.
If you like to use Alexa, then you would love using this unit. The unit works seamlessly on most of the smartphones and alerts instantly. You can use your smartphone, tablet, or even your laptop to keep an eye on your property.
Its rechargeable battery works seamlessly on many devices. Using the package, you can easily set up the unit. You can talk to the person standing in front of your door using the Alexa voice command.
Does the unit come with any drawbacks? Sadly, it does. It is priced at less than $200, which is expensive for the lot on our list. When you want a wireless doorbell that comes with opulent features and capabilities, then you ought to be prepared to pay likewise.
Pros:-
The doorbell is compatible with the latest devices.

The unit works flawlessly on Alexa, and you are provided with instant results.

It comes with a sublime HD video camera offering 1080 pixels images.

It has a rechargeable battery that can be connected with many devices.

It instantly notifies you when somebody presses the doorbell.
Cons:-
It is very expensive and comes with no weather-resistant capability.
Ring All-new unit is a must-have for the new home or apartment. Using the smart technology instilled in the product, you can now ensure that your property is protected and get notifications about who is at the front door.
📗 FAQ's on Best Wireless Doorbell
Below are the couple of queries that everyone is expecting to answer and I did include the same for my readers.
Are wired doorbells better than wireless?
It is easy to install and does not need wiring. The top reason why many homeowners replace their wired doorbell with a wireless doorbell.
How long do wireless doorbells last?
Most wireless doorbells will operate for up to 2 years before battery replacement is needed.
Do wireless doorbells need wifi?
Wireless doorbells, on the other hand, require a radio signal that gets transmitted when the button is pushed.
What frequency do wireless doorbells use?
The doorbell comprises of a transmitter that sends the radio signal over the electromagnetic frequency no sooner you press the bell button. The radio frequency signal normally ranges between 400MHz to 500 MHz.
Wireless Doorbell: A Brief History
To know the history of doorbells, we have to go to England which is the birthplace of doorbells. Doorbells originally were invented by a Scottish scientist who goes by the name William Murdoch in 1817.
He designed and built several designs of his invention to ease the stress of having to knock on bulky wooden doors which barely notified the occupant of a building of the fact that someone was knocking. His designs used an air compression technique whereby, compressed air was being pumped through a pipe into the doorbell to give a loud bellowing sound.
Ultimately, that design was not going to last long due to the technique it was using. Then a certain Joseph Henry invented the electric doorbell which could be placed at any distance and could be rung due to the use of electrical wiring that was being connected to the bell.
This invention was a rave in the late 1800s as a lot of people took up the new "invention". By the turn of the century, having electric doorbells had become a norm in major societies and innovations were being made on it constantly.
Nowadays, most homes and buildings now own doorbells as it has become a norm which is more preferable than brass knockers. So you may be having difficulty deciding on which type of doorbell you want to buy or you probably have specifications on what you want.
How To Maintain Your Wireless Doorbell
Maintaining your wireless doorbell is quite paramount so as to increase the durability of your device. Follow this simple guide on how to maintain your wireless doorbell.
Always replace the battery whenever it notifies you
Always keep it neat
It is best to keep under shade to keep away from water
Read the manual before use
Purchasing guide for wireless doorbells:-
The doorbell comes of two kinds wired and wireless. In this post, we will be reading about wireless doorbells. Like we read above, the wireless doorbell comes with modern features embedded in them.
Range of the wireless doorbell:-
The first thing that you will want to look for is the range of the doorbell. It depends on the size of your property. The individual property may require a device with a more extensive range of more than 100feet than an apartment of 50feet or a medium-sized home based in a city.
However, when you are residing in a large property, it will benefit your cause when choosing a doorbell that comes with a powerful range. This way, nobody can enter your property without you not knowing it.
Type of the wireless doorbells:-
The kind of wireless doorbells matters too. You would be stunned to know that there are various kinds of wireless doorbells. We feel that wireless video radio doorbells are best. They come with everything that you require.
Using the wireless doorbell, you can guard your property safely. You can monitor the movements of animals, criminals, or intruders lurking, and it sets of automatic alarm to the security services.
The durability of the wireless doorbell:-
The durability of the wireless doorbell is also crucial. A quality device can work under any condition. Poor quality doorbells can stop working when the temperature is too high or low. Besides, when it rains, or there is flooding, then it may stop working altogether.
Hence, you must ensure that the device works despite the climatic conditions in your area. You will do favor ensuring that the outer switch is weatherproof. Few devices come with exceptional features that enable it to alert the owners instantly of any danger.
Settings of the wireless doorbell:-
The settings are the tone of the ring and the music you want to hear. Most of the wireless doorbells come with smartphone compatibility. You can just about do anything from your device.
You can even live stream what is happening on your property at the exact moment. This is suitable for those who frequently travel out of the station or have an elderly home. During our research, we came across some sublime products that pack a punch.
Quality of the wireless doorbell:-
The quality of the doorbell decides everything. In a sense, it should strictly tell you when there are movements on your property. The sound, image quality, and range are the main factors that encompass the product's quality.
Most of the wireless doorbells have night vision in them. It enables you to get images during night-time or in the dark. It helps you notice if somebody is on your property or not. You will want to choose devices that come with top-notch microphone audits.
Types of wireless doorbells:-
You can find more than five kinds of wireless doorbells in the market that can be accessible based on their highlights. We have discussed them briefly below:
Standard wireless doorbell:-
The standard wireless doorbell is more or less similar to the wired doorbell. The traditional wireless doorbell comes with a toolbox and a doorbell transmitter that enables it to send a signal to you.
This is possible when the transmitter button is pressed; it can send a radio signal. This kind of doorbell is relatively cheap and affordable. It is suitable and ideal for apartments or gated communities where security is generally flawless.
Wireless video doorbell:-
The wireless video doorbell is another legitimate doorbell found in America. It comes with the speaker and camcorder that are embedded in it. When somebody enters the property, they can press the button, and you can view their face and hear them speak.
You can set the features on your smartphone and view it from the device itself. When you are not present on the property, then you can talk to them effortlessly from your smartphone. The data gets stored on a memory card or cloud.
Wireless video doorbell and detection of movement:-
Like the above doorbell, this one can detect movement on your property. Besides, the owner knows somebody is at the property. The detection of activity is due to the motion sensors that are present in the system.
This kind of motion sensor has to be set on your property. It then enables you to find out these details on your smartphone itself. When you have a large storage space on your device, then you can record them and store data safely on the cloud too.
Wireless video and radio doorbell:-
A wireless video and radio doorbell is for those of you who do not like to be disturbed often. Using this system, you can directly talk to the person who is at the door. You can either speak to them using the unit or your smartphone.
Only, if you feel deemed necessary, you can allow them entry. It is a safe system also for homes with small kids and the elderly. You can educate them on how to use this simple doorbell for their own safety.
Wireless doorbell flashing strobe light:-
Lastly, you have the wireless doorbell with the flashing strobe light. This is suitable for homes with the elderly or those who are hard of hearing. The strobe light begins to flash when somebody is ringing the doorbell.
Though the person cannot hear the doorbell, the light starts to flash. They are alerted that somebody is ringing the doorbell. It can be useful for noisy warehouses or workplaces where a visual display is required for informing workers that somebody is at the front door.
Conclusion
This is it. We have read about the best wireless doorbells in the market today. As you can see, they are simple to use and easy to install. Besides, they come with several features that make them a better option than your existing doorbell.
Those of you not sure about installing them in your home or office can always take the help of a friend or an online tutorial. We encourage you to spend some time in research and find the best solution for your requirements.
You never know what you can find online. There is an abundance of these items in the market. But we can assure you that there is something for you in the products mentioned above. Each of them comes with its unique feature.
Have you already tried any of the products at home before? Maybe you found something else that caught your eye. Do share your experience with us; we would love to know your thoughts and feelings about the best wireless doorbells.
In conclusion, getting a wireless doorbell should not be a herculean task. Technological advancements have brought doorbells from its plain-looking design to sophisticated designs that are stunning.
Video and Audio interchange makes it easier to communicate with the visitor with any actual physical contact. So, it is best to get one that would suit your satisfaction and want.