This is the ultimate buyer's guide to Best Modems For Spectrum in 2022.
All the modems mentioned in this list are authorized to connect to the Spectrum network.
Let's get started. 📗
The Internet has become an essential part of our lives. We can't live without it. It's like food. If we can't consume it daily, we feel like missing something in our daily routine.
To access the Internet, there are several ways. You can use the Internet on your mobile phone, which has several apps.
On the other hand, if you want to work on some of your files stored on the cloud, you can use an internet connection on your laptop and get access to edit those online.
Moreover, entertainment is another thing for which the internet6 is used, and more and more data is consumed just to watch movies, cooking shows, and music videos. Now our TVs are coming with internet services such as Netflix, Amazon Prime, And Youtube.
These applications have changed how we used to watch movies back in the early 2000s. When we have to wait for the film to be released on the DVD to purchase it for ourselves, now, with the help of the Internet, you can easily play and pause the movie when you want without having to buy a physical copy of it.
Just pay the monthly subscription, and you do not need to store chunky DVDs and CDs of your favorite movies. 
But to use one internet connection on all these devices simultaneously, you need a modem that can easily handle such a high network load. Even finding a modem for your home and work is now comfortable with E-commerce.
But to find the best modem for your requirement that's a challenge in itself. So you first need to ask yourself what kind of modem you need and why? Today we will show you some of the best modems for Spectrum that you can buy for your home and office.
That can easily handle a load of multiple connections simultaneously without dipping your Internet speed in any of your connected devices. 
After intense research, we have curated this list of best modems for Spectrum so you can trust our words with them, as we will not hide the cons related to each device. 
What Is Modem?
Before we go any further and start with our best modems for spectrum internet list, we need to ensure that you know a modem's basics. Thus, we are here with the true definition of a modem.
A modem is a short form of Modulator- Demodulator. It is hardware that helps your computer and other devices connect to the Internet.
Now the modems coming in 2022 are so advanced that you don't need a wifi router separately to use the Internet via a WIFI connection. The term modulator means converting digital signals into analog signals and sending them over the wired lines.
There are two types of modems that you can find in your everyday life.
Internal modems – the ones which are inbuilt and are inside the computing system. They are mostly the expansion card sorted on the motherboard.
External modem – these modems are connected to your computing device via cable or wireless to provide internet services. A wired connection is possible by using an ethernet cable. 
Morden day modems for Spectrum come with an inbuilt WIFI system. Thus, saving your money from buying a WIFI router separately for the distribution of the internet service.
Best Modems For Spectrum – Our Top Pick👌
1. NETGEAR Cable Modem CM500
Netgear is one of the most trusted companies that manufacture network devices. You can find devices made from NetGear, from small places such as your favorite coffee shop to big companies. That in-house has thousands of employees.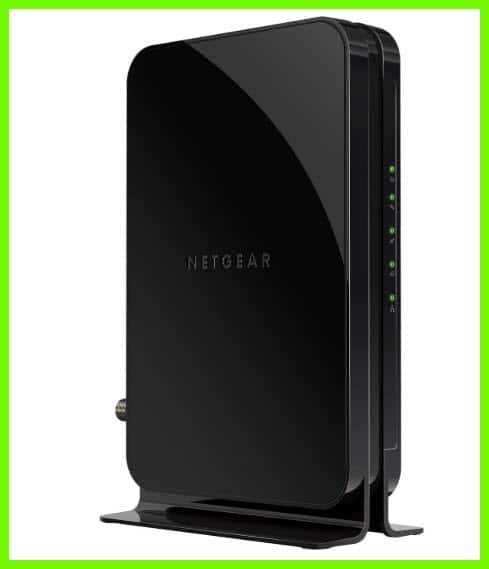 All of these businesses rely on the efficiency and load capacity of Netgear. Thus, putting this CM500 made from Netgear on our list of best modems for Spectrum was fair.
You don't need to pay for the monthly rental when you use it. This cable modem is certified for DOCSIS 3.0. As a result, you can use this modem to get internet service from some of the best internet providers worldwide.
That includes Comcast XFINITY, and time warner cables as well. It's a third-party modem that you can buy online or from your local computer hardware store. 
Having your modem has now become more and more accessible to people. And people love the benefits which the cable modem CM500 provides to them.
With this modem's help, you can choose the modem according to your requirements. And won't be stuck with the necessary modem provided by your ISP. Moreover, it gives you more control over your ISP connection and functionality. 
In addition, the CM500 comes with 16 down streams and four upstream channels. Thus, giving you reliable network performance on your ISP provider.
In a retail store, you can get this modem for $100. But it is on sale most of the time, so that you can get it at a much lower price. 
Below are some of the Pros and Cons of The NETGEAR Cable Modem CM500 that earned it a spot in our Best Modems For Spectrum list.
Pros:-
The modem's design and build quality are excellent, and you can mount it upright.

As a result, it gives you the freedom to put this device virtually anywhere at your home and in the office. 

Also, the footprint of the hardware is quite small. So you can place it in tight places without worrying about space issues. 

Moreover, the design of the modem is to give heat away generated in the modem, keeping it cool.

As a result, you can use it all day without overheating issues. 

In the box, you are getting a cable for the physical ethernet connection to your device and an adapter to give power to the modem. 

The setup is easy to install, and you can put the modem into working with just a few clicks on the Netgear genie.
Cons:-
The interface you get from Netgear's genie doesn't provide you with network stats.  

Likewise, the interface is relatively limited, and there is no modern-day feature you can expect from the software. 
2. NETGEAR N600 (8×4) WiFi DOCSIS 3.0 Cable Modem Router
You might think we have too much love for Netgear, but that's not the case here. The modem for a spectrum lineup of Netgear has so many features that we can't hold ourselves from putting its N600 just behind the pole position.
Our first modem was missing a WIFI router connection. But this Netgear N600 comes with WIFI ability; thus, you don't need an extra router to make a wireless internet connection.
We can truly say without second thoughts that this device is the Alpha in its class. The main strength of this device lies in its ease of use. That makes it stand out from the rest of the modems in this line-up.
Also, it gives you so many features and configurations to toggle with that you get complete administrative control over features. 
Many people think modems come with a slow-speed WIFI connection. But that's not the case with this modem. Many competitive gamers rely on this device to play online mobile shooter games.
To keep their scorestreak active for a long duration. The company has made the hardware keep its useability to provide steady and robust Wifi signals flowing throughout its usage. 
In a single line of words, we can say Netgear N600 is one of the most excellent dual-band modems for Spectrum for your home and office.
The design is sleek and straightforward, with no extra lines and intricate designs. On the other hand, it gives you data transfer up to 300 Mbps, all because of its dual-band technology. 
Below are some of the Pros and Cons of The NETGEAR N600 that earned it a spot in our Best Modems For Spectrum list.
Pros:-
First, it provides you with dual-band connectivity simultaneously. Thus, reducing the interference and hindrances that can cause the lowering of the internet speed connection.

With Netgear's in-house software for network management, it is easy to set up this modem in a few easy steps.

Also, if some of your friends or family members are staying with you for a few days, you can make a guest network with just a few clicks and give them access according to your needs. 

The WIFI connection comes with protected access of WPA/WPA2 and WEP security and Dos attack prevention.

Moreover, 802.11n dual-band technology to run WIFI without any problem.

On the other hand, the router supports both NTFS and FAT32 files format. 

This gives you the freedom to use the network created by this modem. To send the data across the devices that are connected to the system. 
Cons:-
If this modem comes with the offering of a Gigabit Ethernet connection, it would be at the top of our list. 

The network storage performance is a bonus to its notable features. But its performance is a bit of an issue when sharing files over the network. 
3. Medialink AC1200
Media links AC 1200 is another excellent modem for Spectrum ISP. If you can afford a 1Gbps internet connection, then Medialink AC1200 is one of the best modems.
In addition, it gives you excellent signal connectivity that ensures your connection won't even drop from a single MB. 
Moreover, you are also getting wireless security encryption and an excellent firewall to protect your home network if you are a bit tech-savvy and want to configure your modem with your custom permissions.
You can do that too. While on the other hand, if you don't want to see the bright lights coming from your router at night. You can lower its intensity. Thus, you have complete control of the modem in every way possible. 
Likewise, it has an inbuilt range extender mode that, when you use it, increases the range of the router automatically.
Thus, you are not required to buy extenders to spread the connection in your big home. It has two separate antennas to provide excellent signal strength throughout the premises. 
Below are some of the Pros and Cons of The Medialink AC1200 that earned it a spot in our Best Modems For Spectrum list.
Pros:-
First, the design of the modem is straightforward and pleasing to the eyes. The monotone black color helps it hide in clear sight. 

Now with this router, you can watch movies and stream your favorite Netflix shows in 4K Ultra HD without any buffering. 

The firewall is incorporated within the software of the modem. So you are getting a safe and secure connection on your multiple devices.

In addition, the two highly effective antennas use beamforming to provide a network in a large area without breaking the connection.

If you want, you can turn off your router's lights when you are going to sleep. Thus, they will not affect your sleep in any way.

On the other hand, if you are not from a technical background, you will still be able to set up your connection with the help of its easy-to-read manuals.

Likewise, if many people stay in your home, you can create a guest network and assign the bandwidth to the system. 

The Medialink is faster than any of the modems available in this price range.
Cons:-
The customer service of MediaLink is closed on the weekend. 

Thus, if you have any problem, you must wait for the weekday. To be able to contact them. 
4. MOTOROLA MG7550 16×4 Cable Modem Plus
Suppose you love to spend your time watching movies and binge-watching Netflix shows. Then it would be best if you had this Motorola MG7550. It provides you high-speed cable modem and a router.
These two are packed together to give you most of the features a combo of these two networking products can offer in one box. This modem gives you 16 downstream channels and super speed for downloading files from the Internet.
At the rate of 686 Mbps. On the other hand, if you are a YouTuber or a twitch streamer, you won't have any problem uploading your videos and conducting live gameplay sessions. MG7550 comes with four upstream channels that can provide 123 Mbps uploading speed. 
In addition to this, it includes a full-band digital tuner. That helps you find the best channel for the network that has the least traffic all by itself.
As a result, you get to have a fast and reliable connection during your internet usage.
It works on the 3×3 gigabit router. Meaning it has three receivers as well as three sender channels. It will be best for you if you have a home with 3 – 4 rooms as it efficiently delivers WIFI signals from small to mid-size homes. 
Talking about the physical connection to the MG7550, you have four-gigabit ethernet connections at the back. These ports can give your consoles and desktop system a direct-wired connection.
With the router. Likewise, when it comes to supporting this modem is supported by the four biggest internet providers, mainly Comcast, Charter Spectrum, Time Warner, and Cox. all these companies provide you their modem at a rental fee of an average 120$.
That is less likely efficient than this modem. So when buying the MG7550 for your home and office, it will pay for itself long before its two-year warranty expires. Don't worry, even after two years. It is going to work. 
Below are some of the Pros and Cons of The MOTOROLA MG7550 that earned it a spot in our Best Modems For Spectrum list.
Pros:-
First, it comes with Motorola's two-year manufacturing warranty from the day you purchased the item. 

This is one of the best modems for Spectrum, and it will help you get the full potential of Spectrum's network. 

Even if you install it in the basement of your home, its connection is so powerful that it can deliver a WIFI connection to all your rooms without any problem. 

The WIFI connection runs on both 2.4 GHz and 5 GHz bandwidth for maximum performance.

Also, the integrating process of this modem router combo is easy to set up. 
Cons:-
The plastic body of the modem feels a bit cheap.

Moreover, the body is a finger magnet, and you can quickly get it scratched when using it.
5. ARRIS Surfboard SB6183 DOCSIS 3.0
The name of ARRIS's best modem for Spectrum may look a bit funny. But in reality, it will provide you with the best of the features and performance at the given price point.
The surfboard SB6183 is excellent when it comes to performance. It can satisfy most home-based customers who don't need gigabit transfers from their internet service provider in seconds.
On the other hand, a 2-year warranty also makes it an excellent choice for people with kids at home who love to break things while playing inside. 
Below are some of the Pros and Cons of The ARRIS Surfboard SB6183 DOCSIS 3.0 that earned it a spot in our Best Modems For Spectrum list.
Pros:-
First, it is so small and lightweight that you can tug it with your router anywhere you want. 

Also, you can put it on the wall, which will stay there forever without causing any trouble or accidental falls.

In addition to this, the single row of lights is easy to understand during the setup.

Furthermore, the product has been in the market for quite a while. Thus, it has been tested and has been updated to remove any of its flaws.

The downloading speed can go up to 686 Mbps.

On the other hand, the uploading speed can reach 131 Mbps.

Lastly, it uses the Broadcom chipset that provides a reliable connection to your ISP provider without any lags and delays.
Cons:-
The yellow light of the modem is a bit of a problem for everyone. If you have this modem at your bedside, you might not be able to sleep due to the brightness of the yellow color eyes.

This modem can sometimes become warm during usage, which lowers its efficiency. 
6. Asus Modem Router Combo – All-in-One
At number five, we have the Asus modem router combo; this modem provides excellent performance to the spectrum network.
It has Intel's chipset inside combined with DOCSIS 3.0. It gives you full coverage and bandwidth without paying for the monthly rental.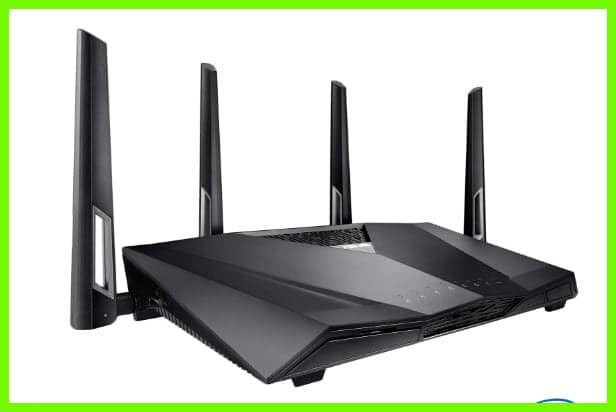 It is one of the all-in-one combos which allows a top-tier cable modem to meet the ultimate WIFI connection. Thus, you can use multiple devices simultaneously to use its internet services. The WIFI connection allows you to process data at 1.3 Gbps.
It might look straight out from some Star Wars movies as four transmitters and receivers are on the top of the product. As a result, it provides you with unparalleled connectivity.
Furthermore, it uses multi-user MIMO technology, which improves the WIFI speed when multiple devices are connected. In addition to this, you don't need to set up the WIFI wherever you are going to use it.
This is because it comes pre-configured with a unique network name. So you don't have any problem identifying it. 
Below are some of the Pros and Cons of The Asus Modem Router Combo – All-in-One that earned it a spot in our Best Modems For Spectrum.
Pros:-
First, it is best for gamers. It doesn't look edgy as other modems from the Asus look.

It gives you a constant high-speed connection when you are playing games. 

As a result, you can take those shots you so ever wanted without any internet delays.

In addition, there will be no issues with the heating of this device. 

You can use it for days, and it will remain cool. All credit goes to its design, which allows airflow to pass through it.

The setup of this device will not take more than 5 minutes as it's that simple. You need to log in to your ISP provider's site and wait for it. It will be automatically set up after the ISP provider completes its configuration for the modem. 

Lastly, the GUI is excellent and easy to navigate, making the setup a piece of cake. 
Cons:-
The manual which comes with the device is hard to understand. 

It does not allow you to have open NAT even if you permit port forwarding. 

Moreover, the firmware updates are quite a few and sometimes take more than six months to be updated. 
Asus CM-32 AC2600 High-Performance Router and Cable Modem - Abt CES 2016
7. TP-Link TC-W7960 DOCSIS3.0 300Mbps
This modem is another two-in-one combo setup of modem and router. As a result, you don't need to buy an extra router for making wireless connectivity.
The 8×4 channel bonding will deliver powerful WIFI speed throughout your home without lag. TP-link is an old-school name when it comes to networking. You might have seen it in your earlier days when you were in school.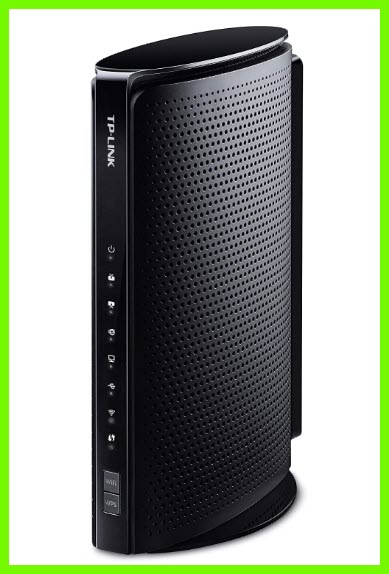 TP-link provides a large variety of modems and routers to its customers. You can choose which one you want according to your needs. In short, TP-link has a modem for everyone and every internet connection.
The company's origin country is China, which was formed in 1996. But with its high performance in networking, the company has made its name all over the globe, from India to America. Everyone is using the TP-link network accessory in one way or the other. 
This TP-link modem for Spectrum ISP providers can easily handle up to 300 Mbps internet plans. Likewise, the uploading speed can reach 143 Mbps in a single transfer without any problem or packet loss.
Also, the technology used in TP-link modems has come a long way since 1996. The company puts a lot of effort and finances into coming to the top of networking products. As a result, people all around the world are using their products.
Below are some of the Pros and Cons of The TP-Link TC-W7960 that earned it a spot in our Best Modems For Spectrum list.
Pros:-
The WIFI connection on which this modem transfer internet connection is 2.4 GHz. 

It has one USB port at the back, which allows you to share files using the network. 

In addition, it gives you parental control over your ISP connection. Thus, you don't need to put parental changes on each account and system.

You can make a guest network for family members coming for a weekend and staying for three to four days.

Moreover, this modem is CableLabs certified for DOCSIS 3.0

Besides, you are getting eight downstream and 4 upstream channels in this modem.

It is ready to use straight from the box without any setup for Comcast/Xfinity.
Cons:-
There is no way possible for the owner to set up a static IP address for their connection.

Also, you are not allowed to fine-tune the firewall setting. It provides you with only four options: high, medium, low, and off options. 
At the time of our research on Best Modems For Spectrum, we found a video about "8 Proven Ways to Speed Up Wi-Fi at Home" worth watching.
8 Proven Ways to Speed Up Wi-Fi at Home
Benefits Of Using A Modem Router Combo
First, when using a modem connection, you are not buying any other device to create a network at your home. One Modem can work as a router for your internet connection and transmit WIFI signals to all devices.
Also, a combo box is more comfortable to set up firsthand if you are a person not from a technical background. Having a modem router combo is a great option. It will save you time, and you don't have to do much work to set up a connection successfully.
Likewise, when using the modem with a router combo, you may get special features that might not be possible to attain when you are not choosing this option.
In addition to this, modems are now available in several configurations. You can decide how much speed you want in Mbps from your modem. And on that, you can select the best one out for yourself. There are lots of modems that have the same model number but come with different connection speeds. 
Lastly, most of the modems you can purchase now on the Internet are always on sale, so you can get them at a much lower price and save yourself a few bucks.
Difference between Modem And Router
A lot of people get confused about modems and routers. So we will clear that confusion and shed some light on networking knowledge. 
A modem connects to the Internet directly with help from your ISP and your home network. On the other hand, a router is a device that connects to your modem first and then takes the internet connectivity to establish a private network at your home or in your office.
Modem vs Router - What's the difference?
Whether you use Chromecast, a smart TV, or gaming consoles, you can connect straight to the Internet by making an ethernet connection to the device with your modem.
When it comes to the router, they can provide you with both physical and WIFI connections, which you can use to surf the web pages. 
Routers can't work alone; they need a modem to decode the signal from the ISP. at the same time, modern-day modems come with WIFI ability; you can use them even for wireless connection. And you won't have any trouble using the Internet on your mobile device.
📗FAQ
What modem do Spectrum give you in 2022?
Spectrum offers the Technicolor E31T2VI for Ultra (400 Mbps) speeds or faster.
Which Spectrum modem is the best?
The Arris Surfboard SB8200 is considered to be the best modem for Spectrum.
What type of modem is compatible with Spectrum?
The Arris G34, Arris Gateway G36, Arris SB8200v2, Arris SB8200 Rev 4, and Arris SB8200 Rev 6 are popular modems compatible with Spectrum.
What is the best modem-router combo for Spectrum?
The ARRIS SURFboard SB8200 cable modem is the best modem-router combo, ideal for most Spectrum plans.
Will Spectrum give me a new modem?
You can request a replacement modem from Spectrum if you need a new modem or router to optimize your Spectrum plan. Further, you can also opt to lease out a Spectrum device.
Does Spectrum have a good modem?
The ARRIS Surfboard SB8200 is Specturm's recommended modem for their plans.
How often should you replace your modem?
You must replace or upgrade your cable model every 2 to 4 years.
Does my Spectrum modem have a built-in router?
Yes, the Spectrum Advanced WiFi is a wireless router.
Is it better to have a modem router combo?
A modem-router combo is ideal for high performance and greater convenience since they're easy to set up and take less space.
Conclusion on the best cable modems for spectrum list
So as you can see, this is our list of the top 10 best modems for Spectrum. You can use any of them to establish an excellent high-speed internet connection at your home. The Spectrum verifies all of these modems.
And can easily take the load of multiple systems connected simultaneously. You don't need any other networking device to establish a connection with your internet provider when you buy one of these modems for yourself.
So go now and purchase one according to your requirement and enjoy the high-speed internet connection at your fingertips. Happy Surfing!!