Windows 7 lets you add floating widgets – clocks, calendars, photos, news feeds, and system monitors – to your Desktop but they were dropped from Windows 8 due to "serious vulnerabilities". Win10 Widgets safely brings them back to the latest version of Microsoft's operating system.
Built using the Rainmeter customization tool, which is included in the download, it lets you add customizable widgets to your Desktop.
The widgets are designed to suit any wallpaper and screen resolution, and automatically adapt to your Windows 10 accent color.
Win10 Widgets comes with a good selection of widgets to get you started and there are more planned for the future.
In this tutorial, we will explore the Windows10 widgets option along with other options to add widgets to Windows 10 PC.
How To Add Widgets To Windows 10 Desktop
1. Use Win10 Widgets
Win10 Widgets program is the best easy program to add widgets in your PC, just follow the below steps.
Step1:- Download and run the program, selecting the Standard Installation option. The default widgets are displayed on your Desktop.
These include a clock, battery meter, drive-space monitor, Wi-Fi, volume control, system monitor, and weather. Click and drag to move them
Click and drag to move them around the screen.
Step2:- Close the Welcome widget by clicking the 'X' in the top-right corner. To close any of the other widgets, right-click one and select 'Unload skin'.
The right-click context menu is used to customize the different widgets and add new ones. You can change a widget's size under Variants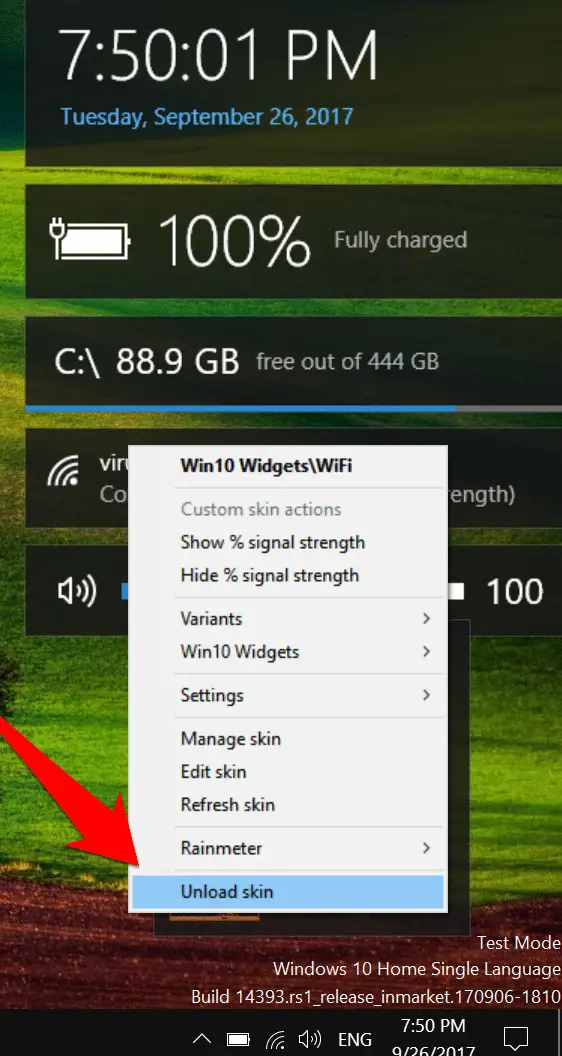 Step3:- To add a new widget, right-click an existing one and go to Win10 Widgets. Choose a widget from the list and select the size you require.
There are some additional widgets that aren't loaded by default, such as the Spotify one. You need Spotify installed for it to work, though.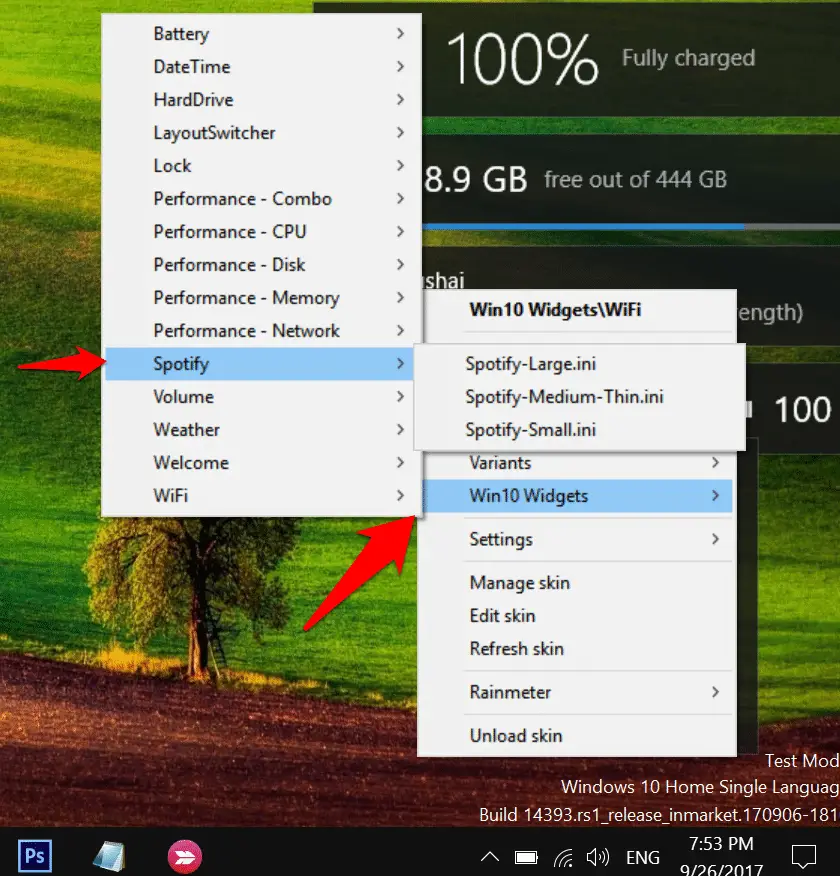 Step4:- The Settings menu lets you customize the look and behavior of the widgets. You can adjust the position and transparency (in 10% steps) and have the widget disappear when you move your mouse over it.
This is handy if you don't want widgets getting in the way of your Desktop.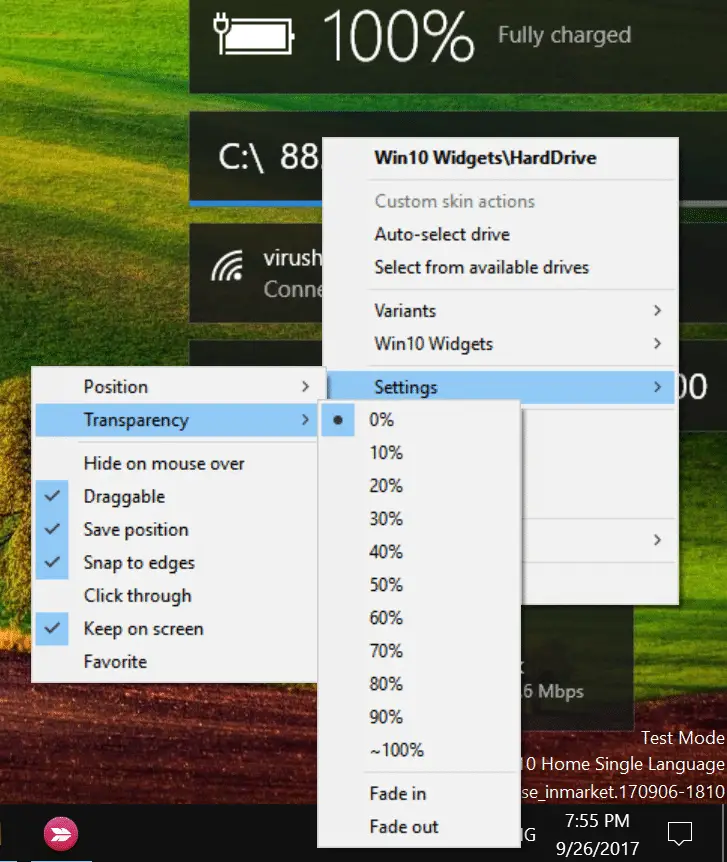 2. Add widgets to windows 10 desktop With Rainmeter
Rainmeter is a utility that does the same thing for Windows desktops, offering a choice of widgets – called gadgets – that show useful information and link to actions, such as opening programs.
Download Rainmeter from www.rainmeter.net and run it.
This adds an icon to the notification area, which opens the main Rainmeter window. A selection of desktop gadgets will appear, showing information such as time, drive usage, CPU, RAM, swap file use, network activity and more.
Expand the 'illustro' skin, then expand Disk, and you'll see two variations of the disk information widget: '1 Disk.ini' and '2 Disk.ini'. Select one and click the Load button to show it on the desktop.
Expand every section in the theme and select each item, then load or unload items to determine whether or not they appear on the desktop. If you have a choice, try out each option to see which you like best.
Each gadget has a number of settings, such as its coordinates on the screen, what happens when the mouse hovers over it, transparency and so on. Experiment with the settings to see what works best.
Gadgets are bundled into skins. Rainmeter comes with one skin, but there are much more available –
for example, go to https://www.deviantart.com/rainmeter , select the Gallery tab and click Skins on the left. There are 17 categories of skins on offer, such as 'Time and Date', Weather, System Monitoring, 'Notes and Quotes', VU Meters and many more.
Find a theme you like and click the Download button, then open the Downloads folder and double-click the '.rmskin' the file you downloaded.
This installs and activates the skin, and the desktop gadgets appear. Right-click any gadget to access a menu that lets you unload the skin or customize it without opening the main Rainmeter window.
3. Use Inbuild Widget Program
It may look surprising to you windows 10 have an inbuild widgets program, but many of us don't know about it, you just need to know how to enable and use it.
There is no direct application available in windows 10 for widgets but additionally, you can use the XBOX game bar for this use.
Just search for the "XBOX Game bar" in the Start menu and open it.
here Click on the 4 Dot Icon screen, it will show you the widgets for the Audio, Capture, Gallery, Performance, and Spotify.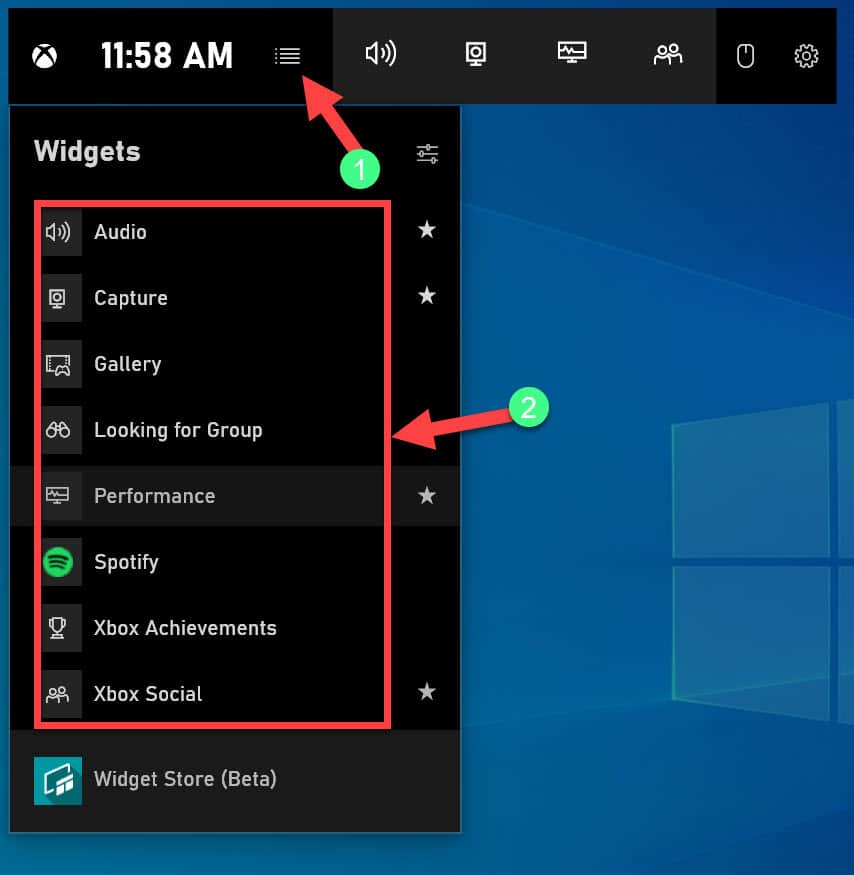 Here just select the widgets that you want to use, Like in my case I want to use the performance monitor so I selected the performance option.
After selecting your option, click on the Three-line option to configure the additional settings related to the widgets.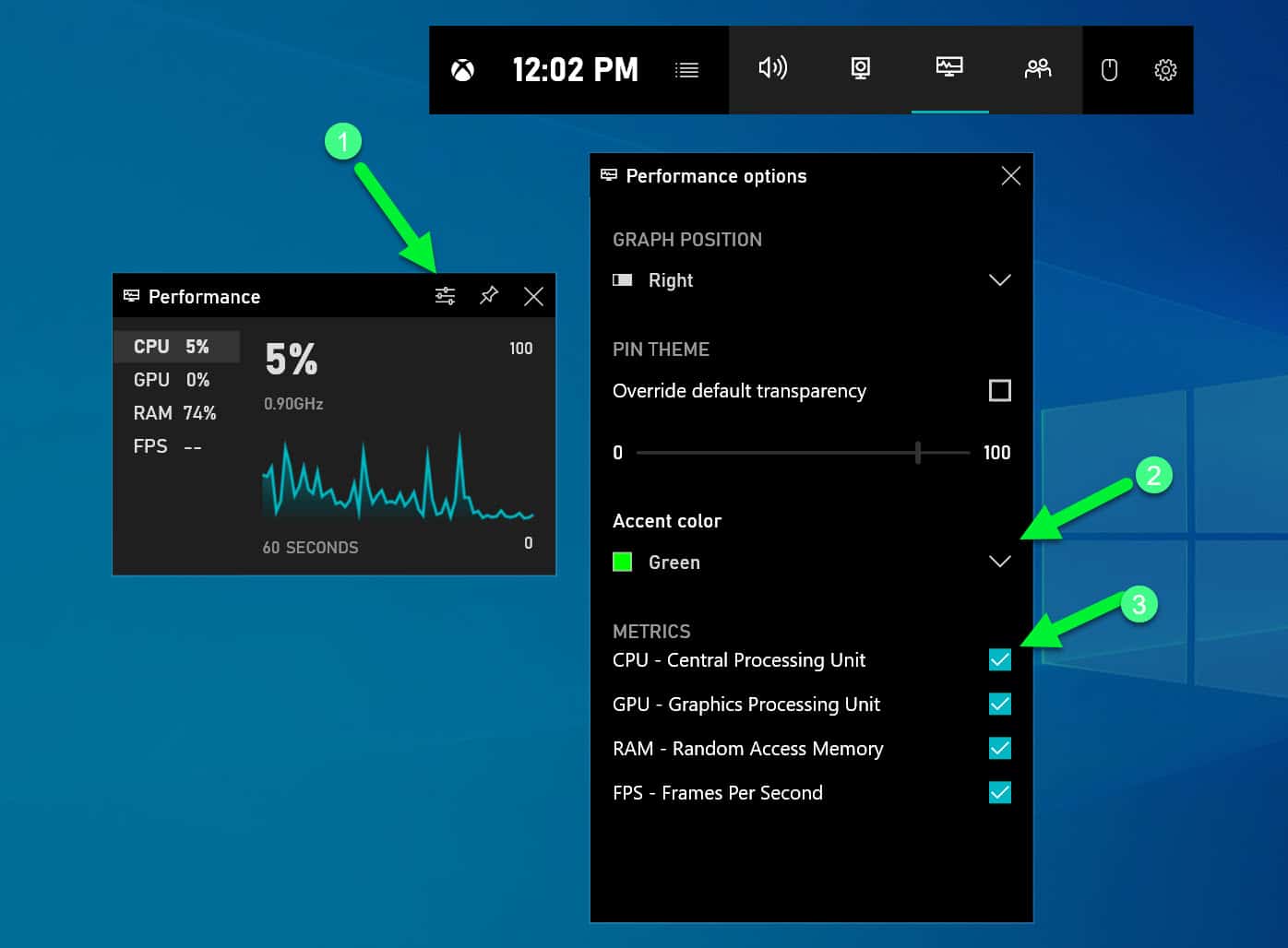 Click on the Pin option, if you want to pin this widget on your desktop.
You might notice there is an option of "Widget Store (Beta)" under the XBOX widget menu bar. Click on it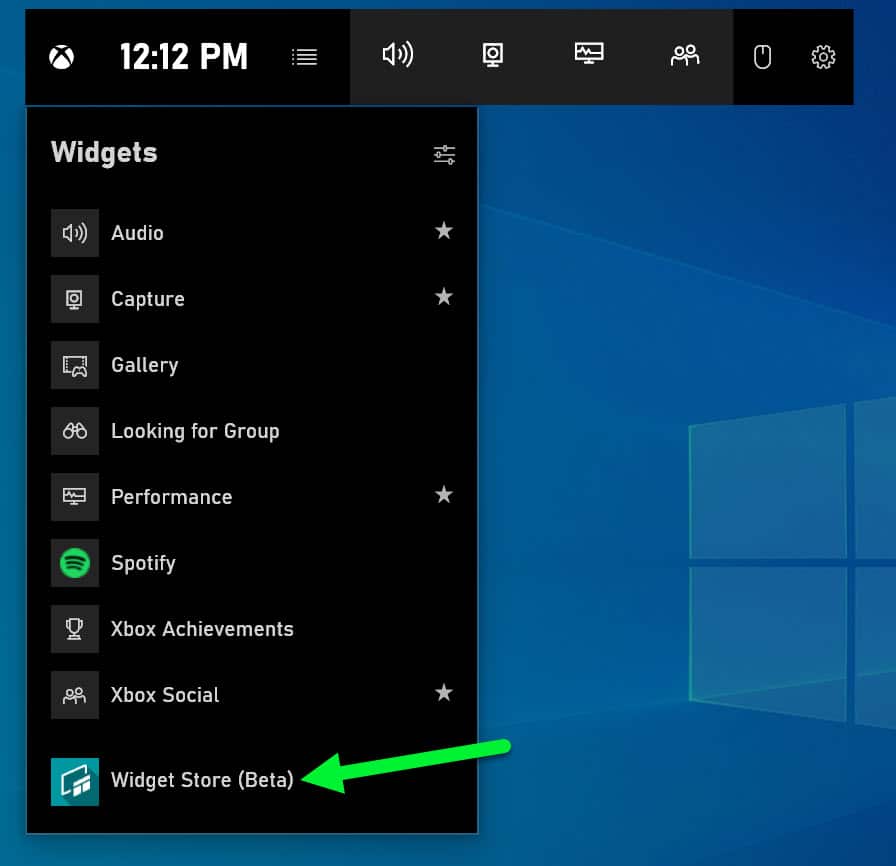 Here you have the option to download multiple widgets, Just select the widgets that you want to install and click on the install option to install it.
Note:- If you pin the widget then only by unpinning it will remove from the desktop.
4. 8GadgetPack
8GadgetPack (Download Here) is another best tool to bring the gadgets option in your windows 10 operating system, actually, this program was released at the time of windows 8 only and now it's supporting windows 10 also.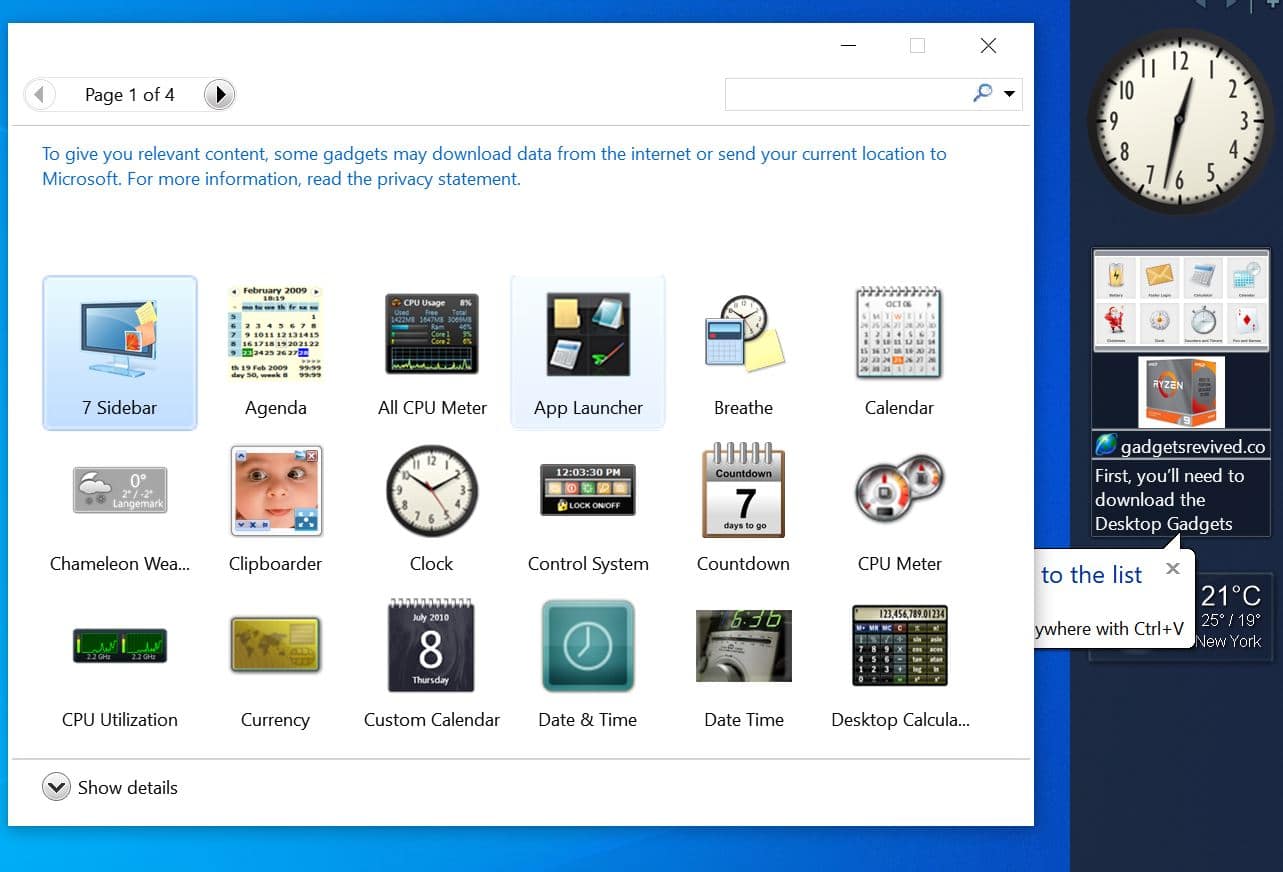 Like other widgets program, this program is also completely free. This tool will help you to improve your productivity with the help of Clipboard-Manager, Clock, Setting up the volume widgets.
5. Gadgets Revived
This tool is quite different then other gadgets utility actually it's helping you to get other widgets. First, download the gadgets reviewed on your desktop
First, you'll need to download the Desktop Gadgets installer, and then you can pick the gadgets you want to install on your desktop.
6. Gadgetarian
If you are looking for a lightweight application to bring back your windows 7 gadgets to your Windows 10 PC then Gadgetarian (Download Here) is a perfect tool for you.
Enable Desktop Gadgets on Windows 10 or 11
This program is just enabling the functionality of the widget in your PC to access your favorite program through widgets.
7. Get macOS Type App Dock
Have you ever used or seen the macOS interface, it came with an APP dock in the bottom screen that is helping mac users to access their program quite effectively.
You might be thinking why I am talking about the macOS app dock in the Windows 10 article? 🤔 because there is a small program named Aqua Dock (Download Here) available to bring the app dock feature in your windows 10 OS.
After installation, launch the aqua app and you will see the aqua screen on your taskbar.
You can easily customize this dock by just-right click on it.
8. Winstep Nexus
You'd be forgiven for dismissing Winstep Nexus (Download Here) as an outdated remnant of Windows 7 when you first launch it.
But don't be put off by the widgets and the transparent Aero theme, because you can easily change almost everything about Nexus's appearance to give it a flatter look that's better suited to Windows 10.
The software places a toolbar, aligned centrally, across the top of the screen. This houses a handful of icons offering shortcuts to the Start menu and Recycle Bin, along with various widgets such as a clock, a weather forecast, and CPU and RAM meters.
The dock can be placed anywhere on the screen, either hugging one of the edges or, if you prefer, floating and available for dragging around with your mouse, so you can position it wherever you like.
Click the Nexus button and you can configure the dock to suit your preferences. As well as changing its appearance, Nexus can be set to replace the taskbar, automatically displaying icons for the programs you're currently running and even adding the icons from the system tray.
We were impressed with the level of customization available, from the size of the icons to the way the dock is displayed. Nexus also offers a wealth of predesigned themes, which you can further tweak to suit your preferences, and the option to cluster several widgets together to save space.
There's little that the software can't do, or be configured to do from its settings, and it's this powerful versatility that makes to add in our windows 10 widgets list.
There are a few free widgets included but most of them are already installed. You can click a button to get more in the settings but this takes you to the paid-for Pro version, which costs £15. This also buys you more themes, though there are plenty in the free version.
A good dock should be easy to control and configure – you want just the right collection of shortcuts to your most used items, neatly arranged and ready to launch. 
Winstep Nexus provides this with flair and flexibility. Programs can be dragged into place from desktop shortcuts and you can configure it to look and work in exactly the way you want it to.
9. Rocket Dock
RocketDock (Download Here) installs at the top of your screen, where hovering over an icon enlarges it, so it looks like it's leaping out of the dock, ready for action. You can change its appearance by applying different themes, but it's not as flexible as Winstep Nexus.
Drag a shortcut to the dock to add its icon, or remove it by dragging it off the dock again (it vanishes in a little puff of smoke). This works well with program icons, such as desktop shortcuts you've already made, but isn't as intuitive with built-in Windows apps, such as the Settings app. 
To get around this, you can add Settings to the dock in the same way as you'd create a desktop shortcut. However, this replaces the flat Windows 10 icon with a less attractive alternative that can't be customized as easily as with Winstep Nexus.
RocketDock is a useful way to gather program icons into a handy toolbar, and it does the job well. However, its own icons are horribly old-fashioned, and it doesn't offer the level of customization and control you get from Winstep Nexus.
10. TaskbarX
TaskbarX (Download Here) isn't really a dock – it's a taskbar tweaker with some tools to make your existing Windows 10 taskbar look more like a dock. It's ideal if you just want to make a few subtle, minimalist changes.
We tested the free portable version of TaskbarX, but you can also download and install it from the Windows Store for 89p, which then updates automatically.
The simple interface lets you perform some clever tweaks, such as making the taskbar transparent to give your icons the appearance of a floating dock and moving elements of the taskbar around multiple screens, if you use more than one monitor.
TaskbarX | 13.04.2020 1.5.0.0 (Center taskbar icons in Windows 10!)
If you're not bothered about the widgets and other elements of a proper dock, TaskbarX may be all you need. It lets you perform various tweaks to the existing Windows taskbar, such as centering icons and making the background transparent, to give it a dock-like look.
Conclusion
We know after reading this post, you are not missing your windows 7 widgets in your windows 10 PC. As we explained the seven best ways to use widgets in your windows 10 PC, it's completely up to you which one is looking perfect for you.
But one point I want to add here is widgets are sometimes causing slowness in your PC.
Editor's Note: This post was originally published in September 2017 and has been since completely revamped and updated for freshness, accuracy, and comprehensiveness.