Do you want to customize your Windows desktop environment? 🤔 Awesome! We collected 11 Of The Best Rainmeter Skins for you in this post.
Let's explore this guide. 📗
There are no limits to the different ways in which Windows can be customized. From icon management to taskbar tweaks, there are many things that you can change to make your desktop fully customized and the way you want. 🤷‍♂️
This way, your desktop appears completely your own. Hard-core desktop lovers or enthusiasts should always make it a point to go for Rainmeter, as there is nothing better than this when customizing Windows desktops.
Rainmeter has quickly taken over, offering users a genuinely effective and attractive interface.
If you are looking for the best Rainmeter skins, you must know that the whole procedure will be easy for you because there are many skins available out there. The best Rainmeter skins give desktop enthusiasts great customization options.
One of the best things about Rainmeter is that it not just offers a great experience to the users, but its skins are completely free of cost, so you will not have to worry about spending your hard-earned money.
Windows offers a great interface. But at times, it can get boring. This is why many Windows users decide to resize the icons and change the wallpaper.
Using the best Rainmeter skins helps users customize their desktops and make them appear more visually appealing and vibrant.
Rainmeter skins are open-source and free desktop customization solutions for Windows. The skins generally help transform the appearance of desktop icons, widgets, wallpapers, and toolbar.
They must be installed on the system first to be used smoothly. But before using the skins, you must install Rainmeter on your computer. Regardless of your desktop style, Rainmeter skins are available to match all styles.
These skins also provide several tools, such as system monitors, clocks, program launchers, and calendars. The skins' other customization functions include Wi-Fi status, audio visualization, date and time, audio player skins, news feeds, and different docks and launchers.
The huge variety in this category makes it very difficult for individuals to get hold of the best Rainmeter skins worth the time and effort spent.
But the ones looking for these skins do not need to worry any further, as you will get a list of the best of them here.
The Rainmeter skins mentioned below will help you increase productivity and improve the overall look of your Windows desktop.  
Best Rainmeter Skins To Make Your Desktop Unique👌
1. Illustro Monitor – Best rainmeter skins for windows 11
The first Rainmeter skin is Illustro Monitor, which provides data on RAM usage, CPU temperature, and hard disk space. Important features of this theme include:
The user interface of this Rainmeter skin is quite good.

It offers extensive customization options to the users.
This monitor skin is specifically useful for individuals running top-quality, high-end software programs or ones with overclocked CPUs. 
Click here to download. 
2. Enigma
Enigma is one of the most aboriginal Rainmeter skins. This skin's huge popularity proves its ability to provide users with the most captivating experience.
The skin is perfect for those who love changing the widgets on their desktops and like trying out brand-new stuff every time. The theme has several sub-modules, a system details monitor, and World Clock.
The theme will help you bring all the widgets and info right at the screen center, or you can even spread them throughout the edge of the screen. All in all, there is absolutely no shortage of different options you can try.
Features:-
It works as one of the best and most efficient Rainmeter skins for all Windows desktops.

The skin offers all kinds of information on the screen and can be customized very easily.

The sub-modules can easily be configured and managed individually.

Here the background speaks, and this can be very interesting.

Taskbar skins of this theme resize automatically to adjust the contents. The taskbar skin is a 4K, highly functional skin that can satisfy the fans of screen resolution.

This mysterious skin presents a lot of information on your desktop, most elegantly.

The skin helps you seamlessly check the battery level, date, time, RAM, CPU, network, weather, disk space, and Wi-Fi status.

Other important skin features include a music player, volume control, and recycle bin widgets.

There is a search option, a mite pad, and an email opener.

It even features a launcher that quickly gets all the programs, applications, and functions up and running.
Enigma might appear as a simple Rainmeter skin initially, but it is probably one of the most beneficial skins.
It is aptly suited for fans of minimal designs that can spend hours configuring this technology on their screens.
Its first-of-its-kind, fully customizable Rainmeter skin provides more than 100 customization options in its user-friendly interface.
Click here to download. 
3. EkerLina
EkerLina is a complete beauty in its sense and works best for Windows users looking for straightforward and simple Rainmeter skins.
It boasts a fresh and clean outlook and offers almost all the widgets and customizations expected from a Rainmeter skin.
It offers weather details, RSS feeds, and even media control options. EkerLina can help users organize all the data in the easiest way possible.
Sub-modules of the program can be organized per the users' requirements. The sub-modules appear like tiny widgets having their very own consistent designs.
Other forms of data displayed by EkerLina include date and time and drive and system folder shortcuts.
Features:-
The skin has been designed, keeping creativity and innovativeness in consideration.

There are shortcuts available for drives and documents.

Different elements can be customized according to requirements.

Clock skins for rainmeter
EkerLina works best for individuals who habitually use their machines for a long time. It even matches the likes of people who love Rainmeter skins with a minimal and clean outlook.
Click here to download. 
4. Elegance 2
There is nothing like Elegance 2 when you speak of the best Rainmeter skins. It is all elegant and rightly stands by its name.
This light suite is perfect for individuals who are just starting on the journey of using Rainmeter skins.
The skin offers all important information such as weather details, emails, media player, and CPU and RAM usage. The fonts of this theme are clean and blend very well with the cool wallpaper offered.
Apart from the clock, you will find options displaying the date, monitoring the system, and showing the music on the machine.
One of the best things about this theme is that all its skins are available in vertical and horizontal versions. This means the users can choose skins matching their specific desktops.
Features:-
Users can change the highlight hue of every skin that comes with Elegance 2. So, you can have the white color for the main skins and some other highlight color according to your preference.

Lightweight and elegant Rainmeter skin that blends effortlessly with the background image of the original desktop.

Legibly designed fonts present information about media playback, time, date, recycle bin elements, and RAM and CPU usage.

The skin has a clean and smooth appearance with minimum but easily understandable details.

Since it is light in weight, it does not have much effect on the system resources. Also, it perfectly pairs with default backgrounds.

rainmeter skins calendar
If you are one of those individuals who like keeping things straightforward, then this Rainmeter skin is for you.
Click here to download. 
5. NXT OS
If you crave a new experience using your computer, then NXT OS is for you. The futuristic design of this Rainmeter skin is inspired by the fictional computer Rainmeter widgets.
With an integrated music player and clock right in the middle, the skin even features a game drawer that helps users access all their favorite games simultaneously and without trouble.
It even features a kind of scrollable dock for keeping the most-used items right at the fingertips of the users.
Features:-
This skin's extraordinary features will change how you use your desktop.

The dock helps users in adding an unlimited number of icons. Once there are three icons in the dock, users can easily scroll through them.

The Center Clock of this skin is not just a clock but even a music controller. Once the users start playing music, this clock automatically transforms into a playback controller. This music controller even shows details of the songs being played along with controls and album art for the player.

NXT OS has several skins or tools that the users can access using the hotkeys. The different tools you get will complete your work in a few seconds.

Then there is the game drawer that helps in finding games at a very fast pace. The game drawer works automatically with the game launchers on the systems for retrieving the games in an automated manner.

There is a skin called Clipboard History that helps the users view the last ten activities in their clipboard. Users can easily open this skin using the hotkeys and select items from their history. Once an item is clicked, it automatically gets copied to the clipboard.

NXT OS features Scout, which is a keyboard app launcher. It helps users find their applications faster than the results of Windows Search.

rainmeter skins clock
The overlay skin of NXT OS consists of two parts. The widget screen allows users to add their favorite widgets so they can be viewed anytime by using the hotkeys.
The second part of this skin is the launcher screen. A launcher screen is a complete application launcher that automatically finding apps stored on the computer.
Dissimilar to the other Rainmeter skins, NXT OS has an all-inclusive set of menus and settings to help users perfect their desktops.
This super user-friendly Rainmeter skin is nothing short of marvelous, and you should not give it a miss.
Click here to download. 
6. Windows 2019
For the ones who are fond of trying out cool and comprehensive Rainmeter skins that look the same as Windows, Windows 2019 would be a perfect choice. This skin keeps users updated about news and weather and even offers a built-in music player.
This futuristic skin has been specifically designed to keep the future of Windows in consideration. Different icons exist for video, music, system operations, and recycle bins. You will find them at the bottom left of the desktop.
Once the recycle bin is jam-packed, its icon turns red, one of the skin's most interesting features. Windows 2019 also displays details of time, date, weather, and the to-do list of the users.
Features:-
Sub-modules of this suite are available on the screen; thus, the users do not have difficulty getting hold of them.

It is one of the most popular skins mainly because it offers the perfect arrangement for doing up one's desktop.

It offers users easy access to their favorite applications with just one click.

Users can choose customized icons to alter the appearance of the default icons.

Music control, weather update, news feeds, weather, and mail notifications are also available through a proper online connection.

This skin's informational squares and bars make it one of the best-looking Rainmeter skins.

A toggle button opens CD Art, RSS feeds, and even a system meter above the button.
If you have long been looking for a Rainmeter skin with some of the best and the most exclusive features, Windows 2019 is for you.
Click here to download. 
7. Palette
As the name suggests, this skin will make you feel like an artist using the most creative palette for decorating your desktop.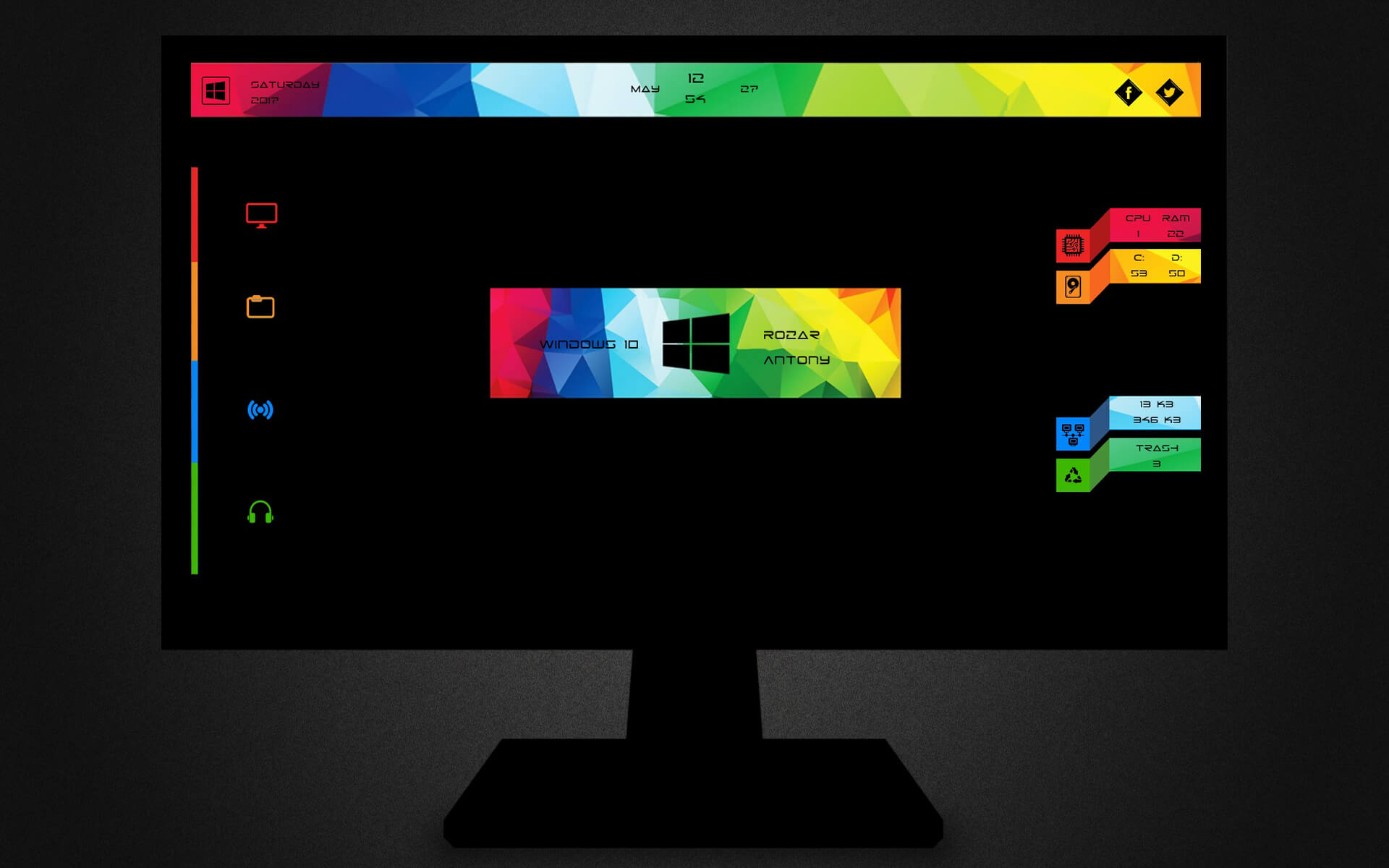 This Rainmeter skin boasts 4K wallpapers and offers users some of the most important stuff, such as network, music player, Twitter, and Facebook details.
Features:-
It has a unique design.

Highly customizable skin allows users to alter font sizes, width, and height.

Features all the basic elements such as music, user information, system details, documents, network details, recycle bin, date, and time.

Users can set vertical or horizontal positions manually.
Palette is one Rainmeter skin that will not only help you make your desktop attractive and appealing but will also give you options to make working on your computer entertaining.
Click here to download. 
8. Rainworks
There can be absolutely no doubt that Rainworks is one of the most customizable Rainmeter suites that comes loaded with more than 30 varied skins and many styling alternatives.
Features:-
can easily be used at the top or the bottom of the screen.

Users can easily middle-click on the active layouts to edit them and even the variables of the skin in a very easy way.

Most of the skins available with this suite are upgraded or basic.

The dropbox and width of all the skins vary.

Altering the settings and editing the skin layouts are easy and simple procedures. 
Rainworks Rainmeter skin is for users who do not want to go through a lot of hassle when changing the appearance of their desktops.
Click here to download. 
9. Glass Shards
For the ones who are simply in love with nature and its beauties, Glass Shards can be the ultimate Rainmeter skin. Nevertheless, this suite is also a favorite among fans of the science fiction genre.
This Rainmeter suite is a complete mix of different hi-tech cracked or fractured glass displays in varied landscapes. Therefore, it is highly appealing to extreme and minimal customizers alike.
Glass Shards is one of the most exclusive Rainmeter skins on the internet. The skin displays a plethora of functionalities like the weather forecast, audio visualization, date, time, efficient Windows shortcuts, battery usage, system monitoring, and several other things.
Features:-
Glass Shards feature themes that appear like original shards in transparent glasses. These blend with almost any desktop background in the perfect manner.

Within the broken glasses, users can view current time, battery level, disk space, CPU usage, weather function, and RAM usage.

There are even volume control and search buttons along with a visualizer.

One of the best things about this Rainmeter suite is that all its features can easily be customized, from the varied shards and sizes to the wallpapers, sounds, and colors. 
With Glass Shards, you can be assured that you will never get bored with your desktop. It comes loaded with some of the most amazing features, and its features make Glass Shards super amazing.
Click here to download. 
10. Titillium
Many desktop users are always looking for Rainmeter skins with a minimalistic design. This is because minimalistic designs make the desktop appear clean and fresh.
There is nothing more elegant and creative than Titillium when finding the best Rainmeter skins.
The skin perfectly matches several wallpapers and displays the details of current weather, system resources, date, and time along with a highly impressive and useful audio visualizer.
Features:-
It shows the recycle bin and hard drive space details.

The skin even displays information and statistics using simplistic and elegant fonts.

Users can choose skin versions with reminders showing the time left till New Year, Christmas, or other significant events.

The launcher you get with this skin will help you access applications and programs like Gmail, Facebook, Google, and YouTube.
For simple settings and minimalistic design lovers, Titillium will be the right Rainmeter skin offering many features without much trouble.
Click here to download. 
11. Sticky Bar
This super-efficient and simple Rainmeter skin will make your desktop amazing and awesome. For those searching for minimal skins with a fresh look, Sticky Bar would be the right choice.
The skin displays the date, time, system resource usage, and weather while offering your computer the shutdown option. It has a download directory where you can find many wallpapers.
Features:-
Gorgeous wallpaper collection to match the preferences of the users.

Simple theme with super-efficient functionalities.

Features power control options along with many useful link shortcuts.

Offers details of HDD, RAM, and CPU usage.
Grab this Rainmeter skin today if you want a new experience using your desktop.
Click here to download. 
12. Mond
Mond is one of the favorite Rainmeter skins of most desktop enthusiasts, mainly because it goes very well with any wallpaper.
On top of that, the skin can be customized very easily, allowing users to add several widgets to their desktops.
Nevertheless, the users must know that separate plug-ins must be installed to make the different integrations work.
Features:-
If you are looking for fancy fonts in themes, then Mond would be the right choice.

Mond is an amazingly stylish and useful desktop skin with an easy-to-use interface.

The theme lets users keep track of the date, time, and day along with music player details and weather reports with visual presentations.

There is even a recycle bin that shows the number of files deleted.

It works exceptionally well for individuals looking to give their desktops a clean and fresh appearance.
Mond is a light and minimalistic Rainmeter skin that does not hog the users' computer resources. It is one of the most advanced and beautiful Rainmeter skins.
Click here to download.
13. FLHUD
This is another superbly awesome and useful Rainmeter skin you will often find people using on their laptops.
The skin makes desktop functionalities much easier, as a top bar icon comes with customizable hyperlinks.
There are even time and date widgets along with a Spotify visualizer. Using this Rainmeter skin on your desktop means you can easily shift to any site within a few seconds, which is very useful.
Besides this amazing feature, FLHUD goes pretty well with any wallpaper and the entire Rainmeter setup. It even allows users to hide the taskbar to add more widgets.
Some of the most exclusive attributes of FLHUD are:-
FLHUD allows users to view system statistics and updates without hassle.

It even helps them organize different desktop functions to make access easier.

It has thin bars, a visualizer, a music player bat with standard functionalities, and a clock panel.

There's a longer bar detailing /RAM, CPU usage, and even desk space, along with many other applications.

The FLHUD launcher activates internet links and programs.

Users can customize or change certain parameters by double-clicking on the clock skin. This will bring in the settings menu.

Users of this Rainmeter skin can choose from many themes available with FLHUD.
FLHUD is a great Rainmeter skin that will polish your experience using your old but favorite desktop.
Click here to download.
14. Ageo
This minimalistic Rainmeter skin offers a material appearance to any desktop. It comes with cool time, date, weather, and music player widgets.
It even features running widgets where one can find motivational quotes. This is one of the most amazing features of this skin. Besides these exclusive features, you also get many other attributes, and they are as follows:-
The users of Ageo get a dock that is the same as the Mac operating system. This dock is completely customizable.

Furthermore, one thing you will surely find interesting about Ageo is that this skin will not slow down your device.

It goes perfectly well with any wallpaper.

The skin shows details like the music player, time, and the date and music bee coordination.

There are even shortcuts available for important files and applications.
Everything about Ageo, right from the start to the end, is minimalistic appearance and well-organized. So, going for this Rainmeter skin will not be a bad decision.
Click here to download.
15. Moderate 
One of the best things about this Rainmeter skin is that it looks like the Android user interface. The skin features a speedy settings toggle, launcher, and music controls.
All skin functionalities are available right on the desktop or home screen. So, there is nothing for you to get worried about when it comes to using the theme on your device.
Features:-
Perfect for touchscreen laptops.

It offers the perfect familiar and aesthetic appearance between the desktop background and the skin.
Overall, you will love this skin for Rainmeter if you try it on your device. It will offer you some of the best functionalities and make it interesting for you to use your computer.
Click here to download.
16. The Gemini Suite
If you are looking for a straightforward Rainmeter skin, then The Gemini Suite will be perfect. It comes with storage, RAM, CPU widgets, and a time and date widget.
Two versions of this suite are available: Pollux sidebars containing time and date widgets and The Castor. All the sidebars have their very own matching wallpapers and color schemes.
Pollux sidebar is bright and colorful and even has a bit of flair. Castor is more muted and helps with focus while doing work-related tasks or working on personal assignments, editing, and coding.
Nevertheless, there are other interesting things to note about this superbly useful and efficient Rainmeter skin.
It allows users to add their applications and games in its left widget.

In addition, users can even integrate their Steam accounts to open and launch different games instantly.
One of the best features of this Rainmeter skin is its Xbox Game Bar which helps users launch several gaming tools with just one click.

Almost any wallpaper can be embedded with this skin, which is also one of the greatest features of The Gemini Suite.
To be explained in simple terms, The Gemini Suite is probably the best Rainmeter skin for gaming enthusiasts.
Click here to download.
17. TECH-A
Minimal but futuristic, this Rainmeter skin is both versatile and amazing. The best thing about this skin is it has the potential to display a plethora of details about RAM utilization, core CPU use, and date and time.
The skin also has shortcuts for system folders like My Documents and Disk compartments. All these features and functionalities have been arranged on a revolving and animated core.
Other important features of TECH-A are:-
One of the best Rainmeter skins for keeping track of all gaming options.

The skin offers 1 to 6 CPU cores on the user's desktop, a download and upload button, and six drives.

There are other buttons as well that can easily be customized.

A weather widget is available for the users to get the same details.

System monitoring and CPU temperature details are also available with this suite.
This skin will serve as a visual candy for any desktop. You must go for TECH-A if you like science fiction and high-tech Rainmeter suites.
Click here to download.
18. IronMan-Jarvis
You don't need to be the great Tony Stark to have your Jarvis-powered machine. Get the IronMan-Jarvis Rainmeter skin, and you are good to go.
This skin will work perfectly fine for any PC desktop because of its customizable nature.
It comes with several modules and sub-modules that can be repositioned very easily. The suite includes hard disk potential, temperature, date or clock, and RSS feeds. Of course, there are shortcuts available for system files and folders.
Other noteworthy features of the skin are:-
It offers all information associated with the user's system and details about programs and functions on the desktop in a captivating and elaborate manner. 

Its 3 Jarvis rotators, Old, Holo, and Big, are the most exclusive features of IronMan Jarvis Rainmeter skin.

The skin even features an image of IronMan sitting boldly in the middle of the desktop screen.

The graphics quality is top-notch.

There are smooth animations that further make the skin appealing.

Skins detail battery level, music player, CPU usage, network status, RAM usage, volume control, recycle bin, disk space, and weather.

The users can also find special effects, launchers, and wallpaper with IronMan-Jarvis.
If you are an avid fan of the IronMan series, this is one Rainmeter skin for your desktop that you should not miss out on.
Click here to download.
19. Avengers Shield OS
If you are a fan of MCU or Marvel Cinematic Universe and love the Avenger series, then the Avengers Shield OS Rainmeter skin is for you.
Similar to the massive Avengers ship, this skin will help you control the different functions on your Windows desktop.
The skin comes loaded with some of the greatest widgets, and its icon pack looks cool.
Although assembling and coordinating your very own Avengers team in real life can be a little challenging, with Avengers Shield OS skin, you can easily be in the character of Nick Fury simply by sitting in front of your computer. The skin comes in varied resolutions.
It even features shortcuts for accessing applications such as Media Player and Browser.
Some other notable attributes of this exclusive Rainmeter skin for Windows are as follows:-
The design of this skin is lifted directly from Helicarrier computers in the Avengers series.

With this skin on your desktop, you can instantly check the latest updates and even focus on important system statistics.

This Rainmeter suite features some of the most exclusive desktop skins such as CPU monitor, clock, volume control, control bar or Media playback, RAM usage display, web, and program launchers, restart and shutdown buttons, recycle bin, and HDD space.

The skin even features an options menu that helps users quickly edit the launchers' names, icons, and paths.
If you want to convert the screen of your desktop into a science-fiction-themed, functional powerhouse, then Avengers Shield OS Rainmeter skin would be your best bet.
If you are into the hi-tech world, you will surely love this Rainmeter skin. This stylish skin offers functionalities that completely differentiate it from the other Rainmeter skin on this list.
Click here to download.
20. Senja Suite
Senja Suite would be the perfect Rainmeter skin for minimalism and simplicity fans. Clean and lightweight, this skin takes good care of everything basics and even does them in the best way possible.
And yes, it does not throw a lot of stuff in the face of the users. Details displayed by the skin include user profile, time, and an expandable bar showing the shortcuts for the system folder.
Users will also find a slideshow of their favorite images, restart/shutdown and log-off buttons, and media details with specific control buttons.
Other exclusive features of the skin are:-
The sophisticated appearance of this Rainmeter skin will make working on your computer fun and entertaining.

The power button is available in the center of the skin, making it easier for the users to click on it to turn off their computers.

The color scheme and wallpapers of this skin are visually impressive and attractive.

It will keep your desktop screen minimal but stylish as well.

An expandable bar shows shortcuts to My Document, Media, and My Computer, and even a highly useful search bar.
If you have long been looking for a fast, efficient, lightweight Rainmeter skin, you should try Senja Suite. It is a small but exclusive skin with an easy-to-use interface and powerful features.
Click here to download.
21. ALIENS
This is one Rainmeter skin that perfectly demonstrates the importance of background wallpapers in the customization procedure. ALIENS is a superbly amazing and brilliantly designed skin.
One thing that makes this skin different is it makes sense only when paired with Aliens wallpaper companion that the users will find along with the skin.
Well, various other important features make ALIENS the go-to Rainmeter skin for many desktop enthusiasts, and they are:
Configurable modules include almost everything starting from power status and desk compartmentalization shortcuts to the system date and time and Network download and upload speeds.

The skin provides details of RAM and CPU usage along with shortcuts for media files, social media apps, and documents.

The best thing about this skin is it can be customized very easily.
This Rainmeter skin, specifically designed for the fans of ALIENS, creates a kind of illusion that makes it illustrative for the users.
Click here to download.
22. Win 10 Widgets
Everything about the Win 10 Widgets Rainmeter skin is unique and useful. If you do not love flashy screen customizations, then Win 10 Widgets is for you.
This modern, attractive skin will allow you to place different widgets throughout your desktop screen. Users of this skin can add different widgets to their home screens to display information about CPU usage, battery, time, date, and Wi-Fi.
The skin even features an exclusive lock desktop button along with volume sliders. It works pretty well on screens of all sizes, and this is one of the greatest plus points for Windows users.
Other important features of Win 10 Widgets are as follows:-
It will launch your device into the future, converting it from a powerhouse of folders and files to a location where you can get all the information you need.

The widgets of this skin blend perfectly in the background and even make information the users want.

The skin has been designed with a focus on simplicity and function.

It works with almost any wallpaper and screen of any size.

The skin uses your exclusive Windows accent color to adapt to the customized experience you might have already created.

Users do not require any programming skills to use this skin. Everything on the skin works perfectly fine.

There is an auto-location feature for the weather, a volume slider, and hard drives that are easily selectable.
Win 10 Widgets is one of the latest Rainmeter skins for your Windows. It is not just easy to use but highly functional and feature-rich.
Click here to download.
23. Before Dawn
Before Dawn is easy to set up skin for Windows, it requires minimal or no tweaking. The only thing that the users need to do is run this Rainmeter skin on their desktops.
It will appear as a stunning, amazing, information-laced bar covering the entire home screen. The best thing about this Rainmeter skin is it presents details most legibly.
The content displayed by the skin includes date and time, subscribed RSS feeds, location, CPU temperature, RAM usage, and shortcuts for frequently accessed websites and programs.
Other exclusive features of the skin are:-
It offers exciting and useful views of sites and programs through shortcut icons on the home screen.

It showcases the local disk drives, CPU, and RAM working.

There is even a launcher that makes it easy for users to get to Photoshop programs, images, and music.

Users can also visit Gmail, Google, and Facebook from the long horizontal bar of the skin.
Before Dawn is the perfect Rainmeter skin if you want an entertaining and feature-rich desktop. It comes loaded with features that will improve your desktop-using experience.
Click here to download.
24. Razer
Boasting of frosted glass special effects and complete transparency, Razer is one Rainmeter skin that you should not miss out on. The visual presence of this skin is a sight you must behold.
But one thing you need to understand about Razer is that your choice of wallpaper for your desktop will determine whether it is good or bad for your home screen.
This is because your wallpaper choice will dramatically affect how the skin appears on your desktop and the overall appearance of your desktop.
If you are going for Razer, the best thing you can do is choose a minimalistic wallpaper.
Some notable features of this amazing Rainmeter skin are:-
It details time, date, weather, power status, and network strength.

It features shortcuts for system libraries and comes with a customizable clock.

Other important skin features are the volume control bar and the search button.

A widget showcases RAM and CPU usage and the remaining space in the C drive.

The launcher available with this skin makes it easy for the users to open several folders and programs, including music, videos, images, Photoshop, documents, and MS Office.

Viewing and controlling your computer's different parts and features will get easier with this skin installed on your desktop.

The three varied skins, dark, glass, and light, will bring a Mac-style appearance to your computer or laptop screen.

It features a glass-like, translucent user interface.
This all-inclusive and vibrant Rainmeter skin features several elaborate widgets, and thus it makes one of the best skins for Windows desktops.
Click here to download.
25. Speed
Speed is very similar mainly because of its transparency and frosted glass effects. The skin looks stunning when perfectly matched with minimal or muted wallpapers.
The sub-modules of this Rainmeter skin look consistent and can easily be reorganized to suit varied screen sizes and resolutions.
Speed displays details of date, time, RSS feeds, unread emails, network status, RAM, CPU usage, and temperature with a forecast of three days.
Other important features of the skin are:-
Backlit LED effects that make the skin even more impressive.

This feature-rich, beautiful skin will easily convert any boring workspace into a lively environment.

Users of this skin will feel like they are living in a digital matrix.

This skin's curved and smooth surfaces make it appear clean and simple.

Different features or elements of Speed can easily be moved across the screen and even positioned as per the users' choice.

There are shortcuts available for files and folders.
This awesome-looking Rainmeter skin will transform how you think of and use skins on your desktop or laptop.
Click here to download.
📚FAQ
Does Rainmeter use a lot of RAM?
Rainmeter is extremely light to be used on a computer or laptop. Rainmeter version 3.3 is only 1.166 KB. As a result, not much memory is required. It also uses only 2 to 4% of your CPU.
What are the best skins in Rainmeter?
The best Rainmeter skins for Windows are Laro, Dresses, Elegance 2, Enigma, Textime, Valorant Rainmeter, Mond, Big Sur, etc.
Does Rainmeter slow down PC?
Rainmeter does not slow down your device in an amount that gets noticed. The application has been around for several years and can work across several devices.
Does Rainmeter affect FPS?
Rainmeter affects the FPS in a way that any other program would affect it. However, most depend on the way the system is used.
Does the Rainmeter drain the battery?
Chromebook can be used for numerous tasks like playing games, watching movies, and using the internet. You can do it either from the browser or install applications from the play store.
Can you print from a Chromebook?
Rainmeter can easily run on your device without draining the battery. It is not that there will be zero impact. However, certain skins might affect battery life due to increased performance.
Are Rainmeter Skins free?
Rainmeter offers customization and is a free desktop program. You can entirely transform the look of your desktop by using the program.
Does Rainmeter cost money?
No, its costs no money. It is an open-source and free customization program.
Conclusion
Your computer is the digital extension of your personality and the being that you are. Therefore, it always makes sense to make it uniquely appealing so that the onlookers can get a clear idea of your personality by looking at your system.
But the problem is that basic customization techniques cannot achieve this effect. The above-detailed Rainmeter skins can help you with this, provided you use them most efficiently.
So, there is nothing for you to wait for. Go ahead and choose any one of these skins to jazz up the appearance of your regular Windows computer.