Windows 10 is not the top-most ranked in terms of visual customization. Linx, for example, seems to have more options for this. Yet Windows 10 still has some decent themes that make your user experience a bit more lively.
In this article, I will make your search for a Windows theme easier as I consider my top 29 best Windows 10 themes. My list will consider both official and unofficial themes.
Best Windows 10 Themes For Every Desktop 👌
Game Themes Category
1. LawBreakers Theme

If you have ever played the Lawbreakers game, then you will understand how the 17 high-definition wallpapers that are on a slideshow mode bring this game to live. For someone that has never played the game, it is simply just beautiful and gives a robust feel to the OS.
The graphics for this theme are out of the world while the artistic works are on a completely different level. this is a theme to give a try.
2. Girls' Frontline Theme

This theme fits well in this category of my best windows 10 themes. The theme is made up of great HD Girls' Frontline wallpapers in a slideshow that changes every 30 mins along with a Windows color scheme change.
All the wallpapers of this theme are of 1920×1080 resolution or more and will fit both 4:3 and 16:9 aspect ratios.
3. Paragon
Paragon was a great free-to-play MOBA (multiplayer online battle arena) game. Noted for its great graphics and the gameplay thrilling, the theme isn't far off the nark.
With the game being canceled in March 2018, the spirit lives on with this high-quality theme. With this theme, one can view all the impressive characters in the game and read into the game's storyline, through its impressive 26 full HD wallpapers.
4. Angry Birds
Those enraged yet cute birds in the famous Angry Birds game grabbed everybody's attention. The Windows 10 theme based on that same game will create a similar impression for your desktop too.
Whether you are the game addict or simply love those vibrant birds, give them space on your monitor by installing this theme for free. 
It is amongst the best options available for Windows 10 users. Kids, especially teenagers, prefer to use it on their personal computers. The pack comes with 14 different wallpapers. 
The highlight of this theme is that it is a sound theme. It means you'll not just get the colorful picture but will even enjoy the Angry Birds' background music.
Best Windows 10 Themes: Music Themes Category
1. BTS Theme
This theme is centered around the 7 man South-Korean boy band. After their debut in 2013 with 'No More Dream', they went ahead to make albums like Dark & Wild, The Most Beautiful Moment in Life: Part 2 and Young Forever, which made them a household name.
With 13 HD wallpapers, one of which talks about the band members' real names, their date of birth and their roles in the band, this theme brings an upbeat touch to your user experience.
2. Rita Ora 
This theme does not just signify the great British-born singer but is a great theme for any fashion lover. Her unique and creative fashion style is well depicted in the 15 HD images found in the theme.
You'll find various images representing the style of her various singles and collaborations over the years, this is a dazzling theme and you do not need to be a Rita Ora fan to love it.
Best Windows 10 Themes: Sports Themes Category
1. Capoeira Theme
This vibrant upbeat theme is inspired by Brazilian art that combines dance, acrobatics, and music into one great fight art.  The art was developed in the 16th century in Brazil, and it is known for its multiple and quick maneuvers, predominantly using speed, power, and leverage across a variety of spins, kicks, and other techniques.
The theme can serve as an inspiration to learn the art or just a beautiful way to bring color to your daily computer use.
2. San Francisco Giants
Inspired by the American pro baseball team based in San Francisco, California, the San Francisco Giants. It consists of various images of the team's players and of course, represents the team's orange and black colors and their iconic logo and insignia.
This theme depicts passion and is always a cool spirit to ave when you turn on your computer.
Best Windows 10 Themes: Automobile Category
1. Ford F-150 Raptor Xbox One X Edition
If you are an automobile lover, the Ford F-150 Raptor Xbox One X Edition will truly win your heart. It is a robust theme with a touch of an orange hue that features 10 images to install on the Windows 10 desktop. You don't need to spend a long time on installing this theme on your computer.
The upgraded theme of Xbox One X, the F-150 Raptor version, offers a solid look to any desktop. Thus, even Xbox One X fans will love to put it on their computer screen. 
2. McLaren Senna Track Day
Another best Windows 10 car theme on our list is McLaren Senna Track Day. It is free to download theme available on the Microsoft Store. The black car taking a turn on the racing track offers a smart look to your monitor. This fantastic theme impresses every supercar enthusiast. 
The automobile theme for Windows 10 comes with a set of 10 HD wallpapers. You can even use it on Windows 8 (8.1) and Windows 7 versions. The theme will install within a few minutes.
Best Windows 10 Themes: 3D Themes Category
1. 3D Theme
Give your desktop a unique feel by installing this one of the top-rated Windows 10 themes. Time to remodel the feel as well as the look of your Windows computer.
You will find HD wallpapers in 3D graphics on downloading this pack of Windows 10 themes. The crisp 3D graphical images will pop up on your screen, satisfying your 3D wallpapers' desire. It is free to download and use. Also, it is easy to install on the system. 
2. Paint 3D Creatures
One more 3D Windows theme you can consider if you are searching in this category. The 3D creatures portrayed on this theme pack always seem to be fun-loving animated movies that will keep you jovial. 
Its 3D models are created using Paint 3D. You get 11 images that are all adorable looking which makes it an ideal pick if you want your desktop to grab everyone's eyes. Show your cool and funky side by installing this free theme. 
The vivid creatures in this theme will keep your monitor lively forever!
Best Windows 10 Themes: Nature Category
1. Panoramic Landscapes
Are you one of those who love to spend time near nature? Your computer can also display beautiful mountains, beaches, and forest scenes on downloading this Panoramic Landscapes Windows 10 theme. You will receive ten mesmerizing images to use on your desktop comprising regions like Mt. Everest, Alaska, Thailand, etc.
So, get close to nature by downloading this surreal theme for your computer. Every time you will see your desktop, you'll get a serene feel. However, it is not a free theme pack, as you have to spend $0.99 to buy the bundle.
2. Autumn Colors
Give your desktop a vibrant appearance of the autumn season through this theme available on the Microsoft store. It is another great choice for nature lovers to use on their monitors.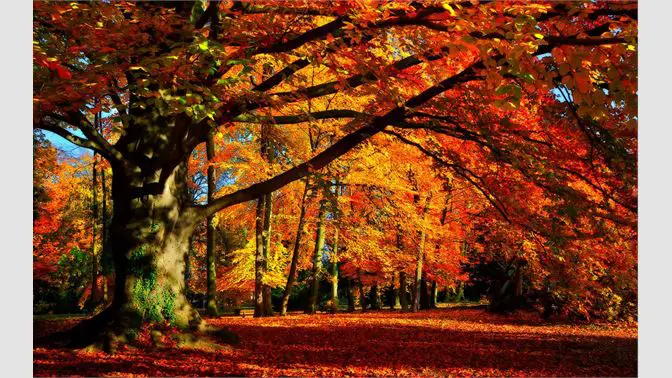 The lovely autumn leaves from golden birches, colorful country, and beautiful fall foliage will create a perfect autumn scene on your desktop. The theme set includes 17 eye-pleasing HD-quality images to serve you with the best. All wallpapers boast great detailing to offer a real-like feel. 
The theme is free to use with just 23.56 MB size for Windows 10 desktops.
Best Windows 10 Themes: Dark Mode Category
1. Diversityx VS
A user who wants to work and run computer programs in a relatively more relaxed environment will love this theme. Usually, while working long hours on computer systems, many people suffer from eyesight and headache issues. Are you also experiencing eye strain? It is your best bet. 
Diversityx VS is one of the best themes because it will give your computer an interesting look through its glassy transparent UI. Get this theme for free and give less pressure to your eyes. 
2. GreyEveTheme
The next great option for those looking for the dark mode interface for lesser eye strain is GreyEveTheme. This one is amongst the top-rated Windows 10 themes developed with the default Microsoft theming engine. You will feel the difference with this skin for Windows 10.
Your whole interface transforms into a dark environment due to its high contrast theme. However, there will not be any design or interface changes with this theme. Its key function is to flat out Windows 10 design and suck in all the lights to make the screen easy on the eyes. 
Moreover, the text is not difficult to read on this night mode theme pack because it strikes an ideal balance between letting you manage work and turning on a dark mode on your desktop.
But it is not easy to install. You need advanced Windows administration skills to install and configure this theme. Also, its third-party visual styles can be hazardous for your operating system.
3. Win11 Dark VS
One more option I will like to suggest for people looking for dark PC mode. Since eye strain and headache have become a common health issue for people working on computers these days; hence, dark mode skin is necessary. 
This skin has a transparent black tone, with blending yellow hues that make it more impressive. Along with this, you will notice the theme also switches the icons and wallpaper designs at regular periods. So, make your system less stressful for you by installing the Win11 Dark VS theme.
Movies and Anime Category
1. Avengers: Endgame Theme
This one for all the "Avengers: Endgame" fanatics! The record-breaking superhit movie that makes people want to watch their favorite characters again and again.
Time to see your favorite superhero always full of action on your desktop screen. The Avengers: Endgame theme pack comes with 16 awesome HD wallpapers that turn your screen into a real action ground. Ardent fans of Avengers will definitely fall in love with this Windows 10 theme pack. 
2. Star Wars Ultimate
Here, I have something for Star Wars movie lovers as well. The movie has no less fanbase, so this Ultimate Star Wars theme for your computer is truly one with the Force. 
This theme comes with appealing backgrounds, desktop icons, and animated cursors. Also, a slideshow and the Windows color scheme switch every 30 minutes in this pack.
Install this free custom artwork from Theme Raider that exhibits an array of characters featuring the stars and opponents from all Star Wars saga eras.
The theme pack includes 45 images such as Master Yoda, Chewbacca, Princess Leia, Han Solo, Luke Skywalker, Darth Vader, Storm Troopers, Jedi, Bounty Hunters, Rebels, and much more. So, select your side of the Force and have a pleasant experience.
3. Dragon Ball Super
The top-rated and all-time popular anime series – Dragon Ball Super is also one of the best Windows 10 theme alternatives. This theme pack displays the return of Goku and the gang post the Dragon Ball Z events. It features the storyline of achieving new power levels with Super Saiyan God and encountering new villains. 
The theme includes 20 high-quality Dragon Ball Super images along with changing color patterns. It consists of different famous characters with their strengths and transformations like Vegeta, Black Goku, Hit, and Beerus. Also, it is free and easy to install theme for Windows 10.
Other Operating System Themes
1. Ubuntu SkinPack
Sometimes, you love desktop designs more from other operating systems. But you do not have to change your whole computer system for this now. Wondering how? If you are also one of them and like the Ubuntu theme more than the Windows theme, I have a solution.
Simply download this Ubuntu Skin Pack. Linux developed the Ubuntu operating system that is preferred by robotics and engineering professionals. Now, you can also get the appealing Ubuntu looks without losing the computing power of a PC. 
It implies no need to learn a whole new system at all. But you'll enjoy the same feel along with Windows functionalities. 
The Ubuntu theme is also much easier to download and install far more than actually changing the entire operating system. Without restarting your PC, you will see the new theme installed. However, it is not free to use Windows 10 theme.
2. macDock
As the name suggests, the macDock theme by Devianart is a replica of the renowned macOS operating system dock. It is a perfect choice for individuals craving a Mac look for their desktop. 
You will install a Mac-like dock at the base of your screen with this theme. Your existing taskbar will replace, but the Windows taskbar functions similarly. You can also customize the apps you want to keep on the dock so you can instantly access all your frequently-used apps. 
Moreover, it incorporates a myriad of ready-to-use common Mac apps, such as Widget, Siri, Exposé, Finder, and Launchpad. You will get a drag-and-drop interface and three skins in this macDock theme pack. 
The theme is free to download and installs quickly too. So, without buying a costly Mac, get the feel and looks of the same system. 
Best Windows 10 Themes: Sky Themes Category
1. Meteor Showers
Add a mystical touch to your PC with this magical Windows 10 theme. This theme offers a dynamic appearance to your computer system. If you are an astronomy enthusiast, you can't let this theme go.
Meteor Showers theme is a pack of 18 gorgeous galaxy images. You will see meteoric celestial showering over different scenes and structures, brightening up the whole night sky. Further, the open windows appear to be flawlessly complementing the total aspect due to its blue accent. 
2. The Northern Lights
Those who always dream of seeing The Northern Lights can now get it on their desktop. This theme is a classic choice for desktop wallpapers since it transforms the whole look of the PCs. So, fulfill your dream of watching those magical natural lights by downloading this theme. 
The Northern Lights theme pack by Microsoft Store consists of charming images of Aurora Borealis from different countries worldwide famous for these lights.
There are 15 different choices from a few of the most beautiful areas in the world. Those regions include Norway, Iceland, Death Valley, amongst others. 
Best Windows 10 Themes: Animal Themes Category
1. The Animal Kingdom
Wildlife fans, this fantastic Windows 10 theme is especially for you! 
The theme is a set of 15 different images of magnificent white horses, cute meerkats, tall giraffes, cheerful frogs, etc. – all posing for your amusement and satisfaction.
Now no need to replay animal videos on Youtube again, and again, this theme will serve your purpose well. Bring forest life onto your desktop and turn the dull screen alive with this animal Windows 10 theme pack.
2. Loveable Pugs
Dogs are such a species that bring calmness in life, the reason a lot of people keep them as pets. Obviously, you can't take them with you to your office, or maybe you don't own a pet. So, the Loveable Pugs theme by Microsoft Store can be the solution for both the cases. 
It comes with 15 images of the playful pugs that will make you go aww. After exhausting working hours, bring a sweet smile on your face by staring at these wallpapers. The adorable faces and rolled tails of the pugs in these photos will also catch the attention of anyone who watches your desktop screen.
The theme pack is available to download for free and will take only 10.45 MB of space on your system. 
Best Windows 10 themes: Random Category
1. Windows XP
I do not know if you agree with me that XP has simply been the most beautiful of the Windows OS. Well, this theme takes me back in time and I just like to enjoy its feel and look. It is in a way reliving the XP days.
There are 2 steps involved in getting this theme:
This is a dark but not completely dark theme with light grays sprucing up the interface. This theme makes my list of best windows 10 themes especially because it themes the context menu in a lovely dark gray to complete the look.

This is more or less a pack of windows 10 themes. It uses a subtle variation in grey and white to differentiate different parts of the UI. This theme shrinks the window control buttons and creates a different look.
How to Download Best Themes from Microsoft
Installing new themes lets you customize Windows by changing the way the desktop looks. A theme contains a collection of wallpaper images and sometimes sounds, mouse cursors, and color schemes. Everything is bundled into a file that you download and install to transform Windows.
You'll find a large collection of Windows themes here. Select a category, browse the thumbnails and click Download to select a theme.
Double-click the theme file to install it. If you have Windows 10 installed, open the Store app, click Apps, scroll down to the bottom and click Personalisation.
There are dozens of themes covering almost every topic you can think of. Click the Get button to download and install a theme.
Install non-Microsoft themes
Microsoft collects and distributes themes for Windows, which makes it easier to browse and install them. However, there are some great themes available elsewhere online.
For example, go to www.deviantart.com and search for 'Windows 7 theme' or 'Windows 10 theme'.
To install a non-standard theme from the internet, go to https://www.syssel.net/hoefs/software_uxtheme.php , install UltraUXThemePatcher and restart Windows.
Next, download a theme, unzip it and move the files to C:\Windows\Resources\Themes.
To change themes in Windows 10, open Settings, click Personalisation, Themes and click a theme.
In Windows 7, right-click the desktop, select Personalise and then select a theme.
Use Animated Wallpapers
DesktopHut provides software and videos that let you display fantastic animated desktop wallpaper. Categories include nature scenes, technology, abstract designs and cars, and all the wallpapers are live and animated. The process is a little confusing the first time, but easy once you know how it works.
Go to www.desktophut.com and click Software in the top-right corner, then Windows. Download DesktopHut and run it. This starts an installer, which downloads the real program and extracts it to a folder in Downloads.
It will try to foist some optional extras on you, too, so watch out for those and make sure you decline them. It also installs Opera without asking, but that's never hurt anybody – just don't be surprised to see its icon appear on your desktop.
You can uninstall the browser if you don't want to keep it. Back on the website, select a wallpaper category, then click a thumbnail.
Clicking the Download Now button on the wallpaper page saves an MP4 video to your hard drive. Open the DesktopHut App DesktopHut.exe to start it. Click Select Live Wallpaper and choose the MP4 video you just downloaded. Click Play and minimize the Desktop Hut window. The wallpaper runs in a never-ending video loop.
To open DesktopHut, click the up arrow on the right side of the taskbar and double-click the DesktopHut icon. You can then select new wallpaper, stop the animation or quit the app. Click the Close button to quit.
Best New Windows Apps
BackgroundSwitcher is a simple app that regularly changes the Windows wallpaper or lock screen image on your device. It pulls and cycles content from your PC's default Pictures folder.
Earth Wallpaper Changer downloads current imagery from the Himawari8 weather satellite which is in a geostationary orbit over Australia. It can set these downloaded images as your Desktop or lock screen background automatically.
Conclusion
This has been a personal list of my top ranking Windows 10 themes. You may want to dig in and perhaps you will find my taste in themes very interesting.