This is the ultimate Buyer's Guide For the Best cordless hammer drill in 2022; we reviewed around 25 products and came to the best 9 for our readers.
Without any further delay, let's Get Started. 🕵️‍♀️
At construction sites, needs arise to drill through materials like concrete and often at uncomfortable places, and this can only be done with the right hammer drill at hand reach.
Drilling through different materials, even concrete has become easier with electronics drills in the market. The cordless hammer drills offer efficiency and convenience on a whole new level, which is why every professional handyman wants one.
A professional deserves the best tools to get the job done and do it in as little time as possible with less effort. Hence the need to get the best there is out there.
There are different things to consider before you buy your hammer drill to ensure that you have the right tool, but between working, you may not have all the time to do it properly; hence a useful guide and helpful suggestions.
The importance of getting the right hammer drill has brought the need for a list of the best cordless hammer drills to help out any handyman or a DIY enthusiast looking to buy one.
Best Cordless Hammer Drill – Our Top Picks👌👌
1. Dewalt DCD985B 20V Max
Dewalt never disappoints when it comes to drills giving different amazing tools, and the DCD985B is another one that wows professionals.
If you have used any Dewalt drill in the past, you will be impressed by this improved version and the power and precision of the DCD985B, which has been tested and proven to work effectively with concrete.
Features:-
Half-an-inch metal ratcheting chuck
The battery power of 20 Volts
It uses a Lithium-ion battery type
The battery is 3Ah
450 Watts maximum power
LED light
Tool weight of 3.9 pounds
It has a side handle that can be rotated 360o
Torque strength of 500 in-lbs
A maximum speed of 2000 RPM
It has 34000bpm
535 UWO efficiency
Three-speed settings
Dewalt DCD985B comes with a three-year warranty and one-year free servicing.
It costs $149 on Amazon
Pros:-
It is lightweight and, therefore, convenient to use even with overhead works.
The weight does not cause fatigue
Slim handle to allow a firm grip on the palm
The speed transmissions are very quick and convenient
Convenient for carrying out heavy-duty operations
It is a good tool for professionals
the side handle is an added convenience feature
Cons:-
It often overheats when used over a long time
It is not brushless
Note:- because users have reported overheating, it may be a good idea to take short breaks in between when using this tool and to purchase an extra battery since it only comes with one.
Check Price on Amazon
DeWALT DCD985L2 and DCD785C2 20V MAX Hammer Drills. DeWALT 20V MAX* Lithium Ion Hammer Drills.
Note:-
I have written a post for people looking for the
best Heavy Bag Gloves
?, do read it If you are interested.
2. Mikwaukee 2607-20 M18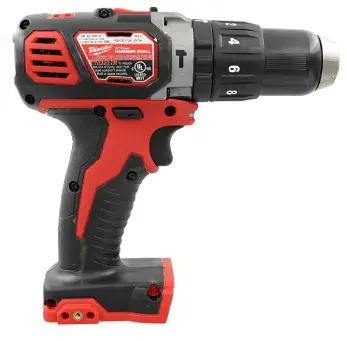 The M18 series is just a small part of the exceptional array of drills produced by the Mikwaukee brand. Still, it includes an impressive collection of tools in performance, convenience, and affordability.
2607-20 is one of the M18 series, and this drill is well worth its money if you plan to drill through hard and dense materials because of its impressive specs and durability.
Features:-
The drill uses a Lithium-ion battery
The battery capacity of 18 Volts
The tool weighs 3 pounds
It has an LED light
The maximum torque strength of 525 in-lbs
A maximum speed of 1800 RPM
Half-inch metal single-sleeve racketing keyless chuck
It has three different drilling modes
Metal material body
Pros:-
The tool is impressively lightweight, making it convenient for repairs over long hours.
Very affordable price
It is suitable for working in dark spaces because of the LED light
It can be used for overhead drillings
It has been tested to drill through hardwood and metal
It can be convenient for work and repairs around the house
The keyless check is easy to change
A powerful tool for DIY and average-duty works
Cons:-
the speed may not be enough for heavy-duty handymen
Note:- This tool does not come with its battery and charger, so be prepared to buy them as separate accessories.
Check Price on Amazon
Milwaukee 2607 M18 1/2 Inch. Compact Hammer Drill Driver
3. Dewalt DCD 996B Baretool
The Dewalt DCD 996B is yet another exceptional drill from the Dewalt brand, and this one is known for its power which gets the job done.
If you are a handyman looking for a tool to compensate for your skill level that delivers on power and efficiency, then you will love this tool.
Features:-
it has a brushless motor
20 Volts battery
It comes with a 3-year warranty
It has an LED light
The motor can be adjusted to three different speeds
The output power of 820 UWO
Keyless Chuck
It allows eleven different clutch setting
Half-inch metal chuck
It has three different speed settings
Drill direction is reversible
It has a side handle that rotates
Presence of a belt hook
Three modes for the LED
Pros:-
The high power makes it an effective tool for heavy-duty jobs
Different light settings for visibility while working
The brushless motor is convenient for usage
Professionals can use it
The drill is durable and therefore suitable to be used for a long time
Metal keyless chuck that matches the drilling power
It has a reversible function for the drill bit
Cons:-
it does not have the longest-lasting battery of the Dewalt hammer drill
Note:- The drill is powerful and can be used for masonry materials; however, don't expect it to have the longest-lasting Dewalt battery out there, so prepare to buy a spare.
Check Price on Amazon
4. Dewalt DCK290L2 20V Max XR
This tool is combo equipment with both a hammer drill and an impact driver, one of those Dewalt tools that get customers excited when they see it.
Features:-
Brushed motor
20 volts battery
Half an inch ratchet chuck
It has 22 different clutch settings
Has LED light with a 2 seconds delay function after it is turned off
It has a three-year warranty, a year-free service contract, and a 90-days, get-your-money-back deal.
Side handle that rotates by 3600
It contains DCF885 and DCD, 985each with their different specs
The DCD 985 is the hammer drill with 535 UWO, a half-inch clutch, and a three-speed control with 2000 RPM as the maximum speed. The hammering speed is 34000 bpm, and it has an LED light.
The DCF985 is an impact driver weighing less than three pounds, with a torque of 2800 RPM at 1400in-lbs which can increase up to 3200 ipm. The impact driver has a quarter-inch chuck and LED lights for visibility while working in dark places.
Pros:-
It comes with a bag to carry the tool and its accessories
The LED light aids visibility while working with it
Interesting warranty
The batteries have a short recharging time
Variation in the speed settings
High torque delivery
Different settings for the clutch
Suitable for heavy-duty operations
Stable chuck to carry the high-power processes
Cons:-
None that we can identify
Note: – that this device is very impressive because not only is it a combo kit it has exceptional efficiency and performance as well.
It comes with a solution for carrying it around. It is a great tool both as a DIY kit and as a professional tool that brings in our best cordless hammer drill list.
Check Price on Amazon
DEWALT 20-VOLT MAX DRILL/IMPACT COMBO- DCK287D1M1 TOOL REVIEW
Note:-
I have written a post for people looking for the
Best Roofing Nailer
To Buy, do read it If you are interested.
5. Dewalt DC970K-2
This DC970K-2 may not have the same power rating as the other Dewalt drills in this article, but there is no denying that it has a lot going on.
At $178, this tool can deliver up to 1500 rpm, although you should only consider buying this if you do not mind a little extra weight at 5.2 pounds since it has its advantages that can make you almost forget about the weight.
Below are some of the features of the Dewalt DC970K-2 that earned it a spot in our list of the best cordless hammer drill to get in 2022.
Features:-
18 volts battery
It uses a NiCAD battery
The delivery of the motor is 380 UWO
The battery is 1.2Ah
The tool has a maximum speed of 1500 RPM
It has the usual three-year warranty, one-year free service, and a 90 days money-back guarantee.
The tool weighs 5.2 pounds
Dual speed setting on the equipment
It has two batteries in the pack one of which is a Lithium-ion battery
Below are some of the Pros and Cons of the Dewalt DC970K-2 that earned it a spot in our list of the best cordless hammer drill to get in 2022.
Pros:-
It can also work with Dewalt lithium batteries
The torque is relatively powerful
It has up to seventeen clutch settings
It comes with a carrier bag
It is a great tool for DIY drillers
Cons:-
It is heavy
It has a plastic chuck which is not as durable as metal chucks
Note that this tool is not necessarily a hammer drill; because of the torque strength, it can also drill through tough materials.
Check Price on Amazon
Note:
– I have written a post for people looking for the
Best Wood Router
To Buy, do read it If you are interested.
6. Bosch HDS 182-02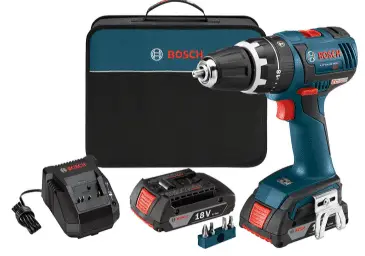 The Bosch HDS 182-02 is a high power and long battery-life hammer drill that is convenient for both DIY drillers and professionals.
Whether doing a few repairs or being a handyman, this drill is a perfect tool for working and drilling through hard materials.
Below are some of the features of the Bosch HDS 182-02 that earned it a spot in our list of the best cordless hammer drill to get in 2022.
Features:-
Brushless motor
Uses Lithium battery
18 volts battery
The plastic keyless chuck size is half of an inch
It has a belt clip
It has 19 clutch settings
The HDS 182-02 weighs 3.75 pounds
Speed of up to 1700 RPM
The battery runtime has a 2.o Ah
It has a torque of up to 442 in-lbs
It has LED lights
It is a compact device
Below are some of the Pros and Cons of the Bosch HDS 182-02 that earned it a spot in our list of the best cordless hammer drill to get in 2022.
Pros:-
The drill is a compact device and can be used when you have to drill in tight spaces.
You can switch between sleeve and hammer mode
It has buttons for controls at easy reach
Ergonomic design aids a good grip
It holds its charge for an impressively long time
The metal body material makes it rugged and able to withstand impact in case of falls.
Enhanced illumination through LED lights
Cons:-
Note:- you must get two batteries when you buy this drill because it takes about 45 minutes to get charged, which may be a long time to wait.
Therefore, the batteries must be charged to switch when one gets low.
Check Price on Amazon
Note:-
I have written a post for people looking for the
Best Cordless Jigsaw
To Buy, do read it If you are interested.
At the time of our review on Best Cordless Hammer Drill, I watched a video on "How to use a cordless drill," which is worth watching.
How to use a cordless drill
7. Makita XPH07M
At $249, this hammer drill is on the high end but has not stopped customers from wanting to get one for themselves because the specs on this drill are amazing. With incredible torque despite the 18V batteries, this drill can be considered a real beast.
Below are some of the features of the Makita XPH07M that earned it a spot in our list of the best cordless hammer drill to get in 2022.
Features:-
It uses a brushless motor
It uses a Lithium-ion battery
The high torque of 1090 in-lbs
Battery run time of 4 Ah
A maximum speed of 2100 rpm
3 years warranty from Makita
It has 19 clutch settings
The tool weighs 5.9 pounds
Below are some of the Pros and Cons of the Makita XPH07M that earned it a spot in our list of the best cordless hammer drill to get in 2022.
Pros:-
High torque
It can drill through concrete, wood, and steel
It is a powerful tool that is suitable for professional usage
Suitable for heavy-duty jobs
Long battery runtime
It comes with a carrying bag
It has a belt clip
Cons:-
Note that the tool is worth the price considering the torque strength and the speed and becomes a perfect companion for any professional that has some work on a construction site, just be prepared for the almost 6 pounds weight.
Check Price on Amazon
8. Rockwell RK2852K2
If you are looking for a reason to buy the Rockwell RK2852K2, the warranty and the speed of this tool will blow your mind; it is one of the highest you will see out there, which says a lot about the confidence of the manufacturer in this tool.
Below are some of the features of the Rockwell RK2852K2 that earned it a spot in our list of the best cordless hammer drill to get in 2022.
Features:-
20 Volts battery
Uses lithium-ion batteries
It costs $284
A maximum speed of 2000 RPM
Dual speed settings
An option of both drilling and driving
Up to 18 different clutch settings
Charge time is one hour
Battery run time is 40 minutes
LED light available
The size of the keyless chuck is half of an inch
The torque power is 531in-lbs
It weighs 3.7 pounds
It has twenty years warranty
Below are some of the Pros and Cons of the Rockwell RK2852K2 that earned it a spot in our list of the best cordless hammer drill to get in 2022.
Pros:-
High-speed drilling can be achieved using this.
The torque power can serve powerful drill needs
The drill can be used for both drilling and driving
Impressive manufacture's customers warranty
The LED aids illumination on the tool
Lightweight
Cons:-
It takes a long time to charge the battery, even longer than the runtime.
Note:- The best features of this tool are the warranty and the speed, the battery, however, leaves something to be desired.
Check Price on Amazon
Cordless Hammer Drills: A Brief Explanation
Cordless drills, corded drills, hammer drills, impact drivers, and so on, it seems like there are endless variations for you the moment you want to buy a drill and without being careful, you may find that you bought the wrong one for the job.
So how do you know that you need a cordless hammer drill? Simply by knowing about a hammer drill, what it is, what it does, and how many types of hammer drills are out there.
A cordless hammer drill is a cordless drill, meaning the power comes from a rechargeable battery rather than from a direct AC electric output. This means you do without the wire but with more bulk from the battery because something has to provide the power. This is basically how all cordless tools work.
A hammer drill is like a regular drill with a little extra action on the bits, i.e., the normal rotational drilling action is combined with a hammer-like pound to give it more force.
Even though a hammer drill can often function as a regular drill, a regular drill cannot be used where a hammer drill is required because a hammer drill means that what is needed isn't just the drilling turns but the hammer's pounding. With a hammer drill, you could easily control the function to turn off the pounding.
A hammer drill is still different from an impact driver, but a rotary hammer drill is very much like a hammer drill. It could help to think of it as a technological improvement of the hammer drill.
The rotary hammer drill also combines a pounding force with a drilling rotation, the difference is how this pounding force is generated.
With a hammer drill, two discs make an up-and-down movement at a fast rate while the bit rotates, causing a combination of drill and hammer.
On the other hand, the rotary drill has air pressure generated in a cylinder that drives the hammering motion while it rotates.
TOOL BASICS: Cordless Drills for Dummies
Despite their similarity in action, there may be instances where one will be more efficient than the other because the rotary hammer drill is equipped to generate more force than just the hammer drill.
So, while both are made to drive into hard compact materials like concrete if more blows are needed, a rotary hammer drill might be more appropriate.
Since a hammer drill includes a pounding effect, the specs to look out for is the power of this pound which is indicated by a unit of BPM which means bows per minute.
Generally, rotary hammer drills are stronger with more BPM than ordinary hammer drills. They are more suitable for larger work scopes which means they are better for professionals than for personal usage. Rotary hammer drills are also more expensive than the two.
Now that you are sure that you need a hammer drill how do you go about choosing the right one for you?
Best Cordless Hammer Drill: What To Consider
The guides to buying the right hammer drill for you were considered when selecting the best hammer drills in the market as well as some other factors to make sure any of the drills listed will impress you if you choose them.
However, when buying a cordless hammer drill there are certain things to consider and the following is a guide to buying the right cordless hammer drill, one that you will not lock away in a dark cupboard but rather a drill you will be proud of.
Useful guides to buying the right cordless drills are as follows:
Pay attention to the specs:-
it is important to pay close attention to the specs of any drill you purchase; things like the speed, the torque strength, battery specs, and so on of a hammer drill are useful to know that it will serve the purpose you want. You want a strong enough drill to perform the functions you intend to use it for.
The battery:-
Since it is a cordless tool, it will run on batteries when you use it. Some batteries last longer than others, and some take a longer time to charge fully, which could even be affected by the charger of the tool. Especially if you will be working with it a lot as a professional, you may not have the time to charge it every hour.
The brand:-
Reputable brands are better to go with but even if brands are not all to consider when buying a hammer drill, it is often more advisable to buy a drill by a manufacturer you can trust especially when you are depending on the specified settings.
Brands listed here are reputable brands that have produced drills in the past that have gained them high respect among others.
A flexible clutch setting:-
when you spend money to buy a tool you plan to use; it is good advice to go with one that provides you with options especially if you are a professional.
More options mean more avenues to use the tool in case of any job you need. The clutch setting allows you to have control and options, making your drill more useful and efficient.
The ergonometric of the drill:-
Things like the shape, the size, material, and so on affect your experience with any tool. Whether a tool is sturdy or not you should test it on your hands and see if it fits your palms, if it is convenient for you to use and if you can reach the controls easily.
The BPM:-
BPM stands for the beats per minute. When it is a hammer drill, the bpm is an important factor because this indicates how many times in one minute that the drill bits perform an up and down movement mimicking the result of a hammer blow. The faster it is the more powerful the tool.
The torque and the speed just like with other types of drills, the torque strength and the rotation speed capacity of the drill is important. It says a lot about how long it will take to drill and what materials you will be able to drill through.
The speed control:-
Whether a professional or a novice, you will need different speeds for different drilling needs. Often depending on the size of the hole, you are trying to drill and a drill that offers multiple speed settings at fingers-reach will be very handy.
The modes of drilling:-
some drills allow you to turn the hammer function on and off so that it could be a normal drill or a hammer drill. Usually controlled by a switch.
The price:-
Your budget is important to know the hammer drill you can buy. All the hammer drills in this list cost below $300 on Amazon so that is a suggestion to what you can set your budget at.
Combination packages:-
Some drills are a combination of different types of drills, this often gives great worth for your money like the Dewalt DCK290L2. In conclusion, a hammer drill is handy and a tool you may be used for a very long time, therefore you should be thinking of getting one of the best.
The Dewalt brand is very impressive with a lot of options with quality and following that is Makita XPH07M, nonetheless, any of the drills in these lists will perform exceptionally by offering effectiveness, efficiency, reliability, and precision.