Congratulations, you have been selected for the MBA program this year in America. The MBA program is one of the most sought-after educational degrees. You might want to ensure that you use the best laptop for MBA students as an MBA student.
Using the right laptop, you can complete your work and meet project deadlines. Besides, you may have some traveling to do during your third or fourth semester for project-related work. 
It means that you will need a reliable and lightweight device. Though MBA students do not have to utilize software or tools that require powerful units, they need a durable and dependable laptop to handle everything thrown at it. 
This is why we have taken it upon ourselves to spend time researching and compiling a list of laptops for you. Besides, as a student, you do not want to choose a unit that will make you shell out a lot. 
Best Laptop For MBA Students – Our Pick 👌
The MBA program usually lasts two years and may not sound like a lot. But you would be stunned to know MBA post-graduates utilize gadgets often. You will come across some top-notch devices in our list of the best laptops for MBA students. 
That is because they need to always be on top of their game. We have done our best to ensure that most of the devices are affordable. But at the same, we did not want to miss out on some exceptional devices like the MacBook and XPS, offering you staggering features. 
Without further ado, let us delve into them. 
1. Apple MacBook Pro – Best laptop for business school
Apple MacBook Pro belongs to the Apple range of the high-end model. They also have the Air that we will be reading about shortly in this review of the best laptop for MBA students. The Pro is one of the ultimate machines known to humanity. 
It is safe to say that to date; no other machine can come close to it. Though other makers like Asus have produced the ROG and Dell XPS 15, which are almost as good as the Pro, the MacBook Pro has its fan following. 
As an MBA student, your requirements are fulfilled with the Pro. The design is fabulous and comes with an ergonomic keyboard. You can type your content flawlessly. The processor in the unit is sublime.
This is the 9th generation Core-i9, the quickest among all MacBooks. Infused with 16GB RAM and 1TB storage space, it offers you a magnificent work experience. We also liked the touch bar that works smoothly. 
A distinct feature of the Pro is the 16″ monitor, which is one of the largest in all the models. The display comes at a resolution of 2072x1920 and a battery that can last you 10 hours. The Pro has been going strong for several years now. 
It is lightweight at just above 4 pounds. This means that you can carry this fabulous device around with you. Sadly, it is priced at less than $2400, which makes it expensive. We could not find any other flaw in this otherwise magnificent laptop. 
Pros:-
The design is elegantly infused with colors. 

Its keyboard is functional and smooth. 

Its performance is staggering. 

The display of 16″ is large and eloquent. 

It comes with 10 hours working battery. 
Cons:-
Unfortunately, it is quite expensive. 
If you are an Apple device user, then it goes without saying that the MacBook Pro is a must. Students will find it lightweight, reliable, durable, and has top-notch performance. When you can afford it, then there is no reason why you shouldn't go for it. 
Check Price on Amazon
2. Dell XPS 15 
Dell XPS 15 is probably the only laptop in the market by Dell's makers to be called the MacBook killer. The product comes with killer specifications that make it stunning. 
We begin with the 15.6″ display with an eloquent 4K UHD OLED screen. The monitor has a resolution of 3840x2160 Non-Touch 100% DCI-P3. You can be assured of quality images from it. 
The processor is second to none with a 9th Generation Intel Core i7-9750h that can provide you with impeccable performance. Its memory and storage space is 16GB and 256GB SSD, sufficient for storing all your data effortlessly. 
Few users thought that the storage space could have been improved. The graphics card comes with an Nvidia GeForce GTX 1650 4GB GDDR5. The Dell XPS 13 is also the right choice for students and professionals. 
This is the perfect unit for studying and completing projects for any MBA student. We found that you can open close to 40 tabs without lag in performance. You would be stunned to know that the image quality is opulent for gaming. 
As you would know, Dell products come with sublime durability. The design of the unit is phenomenal, with a robust chassis. Its connectivity features are also useful. Does it come with any flaws?
Unfortunately, the storage space and battery duration could have been improved. As a student, you can expect more of a top-notch model like the XPS 15 unit. It weighs a little more than 5 pounds which should not make it difficult to move around. 
Pros:-
The product has a robust and durable build. 

It comes with a dedicated GPU. 

It has an OLED screen display providing you with rich visuals.

It comes with extreme performance. 

The keyboard response was sublime.
Cons:-
The storage was a dampener.
Dell XPS 15 is worth your time and money. When you are keen on a performance laptop, the XPS 15 can do the needful. It is the best laptop for MBA students uk because it is powerful, has exceptional features, and is reasonably priced. 
Check Price on Amazon
Dell XPS 15 Review (2020): The ideal 15-inch laptop
3. Asus ZenBook 13
Asus ZenBook 13 is from the maker of Asus. The Taiwanese manufacturer seems to have found the best laptop for MBA students spot on. Their products are affordable, reliable, and affordable. 
This is a 13″, meaning you will carry a compact but powerful device. The unit comes with nano bezels that provide a more comprehensive display. Its monitor is full HD and belongs to the ultra-book category. 
The unit is supported by the 8th gen Intel Core i5 processor. It has a memory of 8GB RAM and comes along using a storage space of 512GB SSD for storing data. As MBA students, you may have to keep a lot of files. 
We felt that the display is bright and offers you excellent images. Besides, the keyboard was smooth as butter. Few users complained about the delete and power key buttons. They were seamlessly working. 
Its battery is stunning because it can work for 14 hours at a stretch. That is fantastic not only for students but also for working professionals. You can travel with it effortlessly because it weighs only 2.5 pounds and is seamlessly used for conferences and meetings. 
The audio quality was exceptional with most of their laptops' Harmon Kardon sound systems. Gamers and students will enjoy the audio power of the product. Thanks to the elegant design, you feel you are holding a premium, built-quality unit. 
The ZenBook is priced at less than $700, making it affordable for MBA students. We felt this is the best laptop for MBA students in the price range. Amazon was quick on the delivery as you can use the next day option. 
Pros:-
The metallic case is sublime and ideal for the laptop. 

It offers IPS high-quality visuals.

The battery life is terrific in this category. 

It offers you a spectacular audio system. 

The product is affordable. 
Cons:-
It does not have thunderbolt 3.
Asus ZenBook 13 is a handy unit that comes with very exceptional features embedded with it. MBA students will be delighted because it has sublime battery life, sufficient storage, and a decent build. 
Check Price on Amazon
Asus ZenBook 13 (UX333) Most Compact 13.3" Laptop
4. HP Spectre x360 
HP Spectre x360 is the best laptop for MBA students. Over the years, HP hasn't failed its fans. They have managed to bring out some outstanding devices. The Spectre is one of them. We liked the Spectre because of its ability to be used as a laptop and tablet. 
The design has a full metal case that ensures it is resistant to accidental falls and scratches. Meanwhile, the interior is capable of supporting features and gives excellent performance. It comes in a few colors, giving it a beautiful look and shape. 
For MBA students, the color and shape make it likable. We now focus on the display of the laptop. It is a 13.3″ monitor with a resolution of 1920x1080. The Bang and Olufsen speakers produce audible audio. 
Its processor is the Intel Core i7 which can give you stunning performance. The unit comes with a decent RAM of 8GB and massive storage of 512GB SSD. However, we were slightly disappointed with the battery duration of 5 hours. 
It could have been improved. It is priced close to $1000, which makes it on the higher side of your budget. On the whole, this is a top-notch laptop for any student.
It weighs around 2.8 pounds, making it incredibly lightweight and ideal for students to walk around the university easily. 
Pros:-
The design is lightweight and straightforward to move with.  

It comes with staggering performance.  

It has a stunning visual capability. 

The unit has a laptop sleeve and an active pen.

It is reasonably priced for premium looks. 
Cons:-
The battery life could have been more. 
HP Spectre x360 is a sleek and beautiful device with a robust design. You know that you are using a top-end model. It is compact and lightweight, has an exact screen resolution, and has multiple backlit keyboard lighting without any heating problems. 
Check Price on Amazon
Laptop GOALS!!! HP Spectre x360 - Powerful and so pretty!
5. Lenovo ThinkPad E 490 
Lenovo ThinkPad E 490 is a budget laptop priced at around $800. When you are particular about your pricing, you will want to consider choosing the unit.
Why the ThinkPad E? We found that the processor and other specifications are quite decent enough for an MBA student. 
Any student can work on it seamlessly, browse through it effortlessly, and just about do anything that they want to. Besides, it is compatible with most of the software on the market. The laptop comes with an 8th Generation Intel Core processor.
Next is the storage at 256GB, which may not be the figure you were looking for. But it is quite ideal given the price. It should do if you want to save your study materials and files. The 14″ monitor is large enough for work and entertainment purposes. 
It comes with a narrow borderless display. Besides, the display resolution is 1920×1080, and the product weighs little more than 4 pounds. So, it should not be that difficult for you to carry it around on a university campus. 
The unit also has sufficient connectivity ports. It also has a battery duration of 8 hours which should be enough for students. You will be happy to know that it takes only 1 hour to load up to 80% of the battery. 
Lenovo is a reliable brand like Apple and Dell. They have been long enough in this business, and you know that your device will last time. It is priced at less than $800, making it a reasonably budgeted product. 
Pros:-
The unit is easy to handle because of its body structure. 

It is consistent and speeds up performance. 

It comes with a fingerprint reader. 

The keypad is simple to type and handle. 

It has a sturdy battery life duration. 
Cons:-
Sadly, there is no 4K display. 
Lenovo ThinkPad E 490 is the best laptop for MBA students. If you are alright working on a device without 4K, then you have nothing else to lose. The design is good, the resolution is opulent, the processor is powerful, and the battery life is quite acceptable. 
Check Price on Amazon
6. Acer Predator Helios 300
Acer Predator Helios 300 is a gaming laptop. So, why did we have Helios on our list? You would be stunned to know that it is a phenomenal device. On the whole, if you are looking for a gaming cum powerful laptop for a reasonable price, then it is this.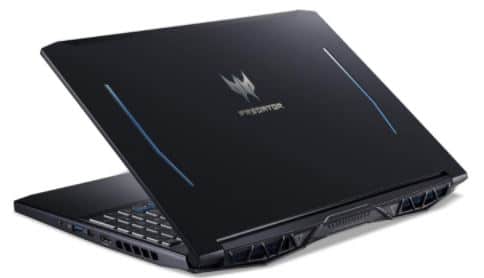 It can effortlessly compete with most of the high-end devices in the market and is the right choice for MBA students. Any laptop must have a matchless processor, the same as the Helios 300. 
We felt the machine could run seamlessly with several open tabs and tools. The processor is a staggering Intel Core i7-9750H. The i7 is the most commonly used among MBA professionals. 
The memory is 16GB RAM, and the storage space is 256GB SSD, storing all your files. It has a 15.6″ monitor with opulent features and a resolution of 1920x1080. Your work and gaming sessions will be fabulous because of the GeForce GTX 1660Ti. 
Does it come with any flaws? The laptop can weigh slightly heavy as it is more than 5 pounds. Besides, the battery life is just 3 hours, which is entirely on the lower side. 
Pros:-
The unit comes with a sturdy design. 

It offers you excellent performance.

The keyboard has a backlight feature. 

Its graphics card feature is sublime.

The product is priced affordably.  
Cons:-
Unlike most laptops in the segment, this is quite heavy. 
Acer Predator Helios 300 is an all-rounder. The features are superb, and so is the pricing. When you are looking for a device that offers you performance and features infused in one, then the Helios 300 is right on top. 
Check Price on Amazon
7. MacBook Air 
MacBook Air is the latest one from Apple. The 2020 model is stunning, to say the least, as it comes with eloquent features. A business student or professional must consider owning one of these. 
We felt it has enough power to handle anything thrown at it effortlessly. The Air is a reliable device, and Apple has thousands of service centers throughout America. 
The updated model comes with a change in the design, display, battery, and performance. The product has a phenomenal Intel 8th Gen Core i5 processor. It has a memory and storage of 16GB RAM and a colossal 1.5TB SSD. 
You will be stunned by the battery life of this model, coming at 12 hours or more. The unit pricing can be a downer, but the Air is undoubtedly your best option in the segment when you want a second-to-none device for your use. 
Pros:-
The laptop has a robust build and elegant appearance. 

It comes with a peerless Intel Core i5 processor.

The product has stunning image production. 

It has exceptional connectivity features. 

The battery duration of 12 hours is second to none. 
Cons:-
It is quite expensive though half the rate of the MacBook Pro. 
MacBook Air may be an expensive option from Apple, but the device is flawless. Except for the pricing, you may not be able to find any other drawback in it. The image quality is opulent, and so is the processor; the battery life is staggering, on par with most market products today. 
Check Price on Amazon
Best Laptop for MBA Students – Buyer's Guide
When buying the best laptop for MBA students, be aware of the criteria like mac or pc for a business school to make your decision better. Below are a few pointers that can make your life simpler. 
Fret not. We have provided you with all the details that you will need. Besides, we have already offered you the sublime options above. Here are some of the main features you should ensure your laptop has to assist you with your MBA course. 
The processor of the laptop:-
The processor of the laptop is the central aspect of it. The better the processor, the more efficient your work will be. In other words, you need to be able to multitask. You certainly do not want to be lagging in any way. 
A good battery working duration:-
Needlessly owning a laptop with a battery of 10 hours or more is a thumbs up. These days you have some units with a battery life of 20 hours on a single charge. Though we do not recommend them, you need at least 8 hours or more. 
Cost:-
You do not want to pay for the sky when choosing a laptop as an MBA student. Yes, we have mentioned some expensive models, because they are worth your time and money. However, we have also put in affordable models too. 
The hard disk and graphics:- 
The MBA course may not require using a graphic processor, but you may have to work on projects or relax with games at times. A colossal hard drive of 1TB or less would be handy for any student.
A lightweight device:-
As a student, you may need to travel around your university. Besides, you may drop in at home once in a while. It can be strenuous carrying around a heavy laptop. Hence, you may want to use a lightweight laptop for your cause and work anytime. 
The brand value of the laptop:-
The best laptop for MBA students is the one that comes with brand value. They ensure your devices have efficient service like the Apple models. You can get them serviced anywhere in the world without hassle. 
📗FAQ on the best laptop for MBA students list
Which laptop is best for business students?
The best laptops for MBA students include Dell XPS 15, Apple MacBook Pro, MacBook Air, Lenovo ThinkPad E 490, HP Spectre x360, and Asus ZenBook 13.
 Is a laptop mandatory for MBA students?
Most B-schools suggest MBA students carry laptops for many reasons. You will need it to do team projects, download assignments, communicate with your professors, research, and attend online classes or workshops.
How much RAM do I need for a business laptop?
If you're looking forward to buying a business laptop, ensure it has at least 8GB of RAM. It will allow you to run multiple applications and complete projects quickly.
Is Lenovo or Dell better?
Choose Dell laptops if you are looking for a moderately priced business laptop. But Lenovo laptops are ideal in terms of specifications, battery life, and innovation.
Even though you may need to shell out more money, Lenovo laptops are value-for-money.
Which Intel processor is best for MBA students?
Generally, a laptop with Intel® Core™ i7 processors is ideal for MBA-pursuing students.
Besides, ensure it has a large amount of RAM and Windows OS to use spreadsheets and business analytics applications seamlessly.
Conclusion on the best laptop for MBA students
This is it. We have ended our review on some of the best laptop for MBA students. If you plan to register for an MBA, we suggest you carefully read our review. It will undoubtedly help you make the right decision regarding your laptop. 
We highly recommend the Apple MacBook Pro and Air. Besides, the Dell XPS is worth too. These devices come with a good reputation and durability. Probably, you can use them for 8-10 years at least, without breaking a sweat. 
Do check it out once.