As a professional PLC programmer, you understand the importance of having the right tools to do the job.
The wrong laptop can turn a simple task into a Herculean effort, causing missed deadlines, frustrated colleagues, and stressed-out managers.
Suppose your laptop can't handle the intensive tasks of PLC programming. In that case, you're not just dealing with slow load times or occasional crashes – you're risking the smooth operation of large industrial processes.
Imagine the grueling hours of work lost to a slow or incompatible laptop. The delays as your system struggles to keep up, the aggravation when your computer freezes in the middle of a complex piece of code, and the embarrassment of explaining these technical issues during a crucial project meeting.
Worse yet, imagine the impact of these issues on the manufacturing processes, where a single minute of downtime can equate to thousands of dollars lost.
But, it doesn't have to be this way. You need a guide to the best laptops for PLC programming – a comprehensive look at the top performers that can easily handle the rigors of PLC programming.
In this article, we will explore a range of options, discussing their features, benefits, and how they stack up against the demands of your profession.
By the end, you'll be equipped with the information you need to make an informed decision and enhance your productivity, ensuring your tools can keep pace with your skills.
Laptop Requirements for PLC Programming:-
In the realm of industrial automation, PLC (Programmable Logic Controller) programming serves as the backbone for efficient and precise control of machinery and processes.
To embark on this technical endeavor, it is crucial to equip oneself with a laptop that meets the specific requirements of PLC programming.
When considering laptop requirements for PLC programming, several key aspects come into play. Firstly, the processor should possess ample processing power to handle complex logic and data processing tasks.
A multicore processor, such as an Intel Core i7 or i9, is highly recommended to ensure smooth operation and swift execution of programming tasks.
Furthermore, substantial RAM is essential for seamless multitasking and handling large PLC programs.
A minimum of 16GB of RAM is typically recommended, although 32GB or higher can further enhance performance when dealing with extensive projects or running simulation software.
Storage capacity is another crucial consideration. Opting for a laptop with a solid-state drive (SSD) rather than a traditional hard disk drive (HDD) can significantly improve the speed at which programs and files are accessed, contributing to a more efficient programming experience.
Moreover, the laptop should offer a reliable and stable operating system, such as Windows 10 Professional, which is widely compatible with most PLC programming software and provides a familiar working environment for programmers.
Additionally, an array of connectivity options is beneficial when working with PLCs.
The laptop should have multiple USB ports, an Ethernet port, and support for Wi-Fi connectivity, enabling seamless communication with PLC hardware.
Best Laptops for PLC Programming – Our Pick👌
1. Dell XPS 15
The Dell XPS 15 is one of the best laptop for PLC programming. It is lightweight and elegant to look at. Dell has designed a masterpiece in the form of the XPS 15.
The model weighs less than 4 pounds, ensuring you can carry it around effortlessly. 
The premium laptop has impressive specifications that can help you complete your work and garner interest in PLC programming. Unsurprisingly, many coders and programmers in America prefer using this model. 
As we said at the beginning of the post, PLC programming is incompatible with the MacBook. MacBook lovers looking for a similar alternative won't be disappointed with this laptop. It is almost on par with the MacBook Air with the 7th Generation Intel Core i7-7700HQ. 
It has a top-notch resolution of 3840 x 2160, offering you an Infinity Edge touch display. You can be assured of eloquent visuals. You know you have a winner when you combine it with a solid memory of 32GB RAM and storage space of 1TB SSD. 
You can view stunning visuals and images using the Nvidia GTX 1050 dedicated GPU. That helps your PLC programming immensely. Besides, you can also watch movies and do your photo designing effortlessly. 
Sadly, it comes with a major flaw. You can find no USB Type-A port. However, you can use the standard USB ports, Thunderbolt 3, and an HDMI port. The XPS offers you a battery life of 8-9 hours, depending on the kind of work you do. 
It is safe to call this unit a MacBook slayer. It is priced under $1600 and cannot be expected to come cheap. When you do not want low graphics, inferior battery life, average display, and poor CPU performance, choose a sublime laptop like the Dell XPS. 
Pros:-
The unit comes with an Infinity Edge display.

It offers you stunning 4K visuals. 

The processor and GPU are outstanding. 

It provides massive storage space and memory for programming tasks. 

The battery life of 8 hours is acceptable. 
Cons:-
For an expensive unit, it has only 2 USB type-A ports.
The Dell XPS 15 (2020) is the best laptop for PLC programming. As with previous XPS laptops, this 15-inch beauty combines a stunning design, excellent build quality, and some of the most potent mobile components you'll find in a laptop.
Check Price on Amazon
Dell XPS 15 Review (2020): The ideal 15-inch laptop
2. Lenovo ThinkPad E590 – Best laptop for Arduino programming
Most readers may be surprised to notice the Lenovo ThinkPad e590 (budget laptop for plc programming) in the second spot.
That is because Lenovo models are ideal for students and PLC programming. Besides, it comes as no surprise seeing the ThinkPad is owned by several coders, especially in America. 
We liked the features of the E590 and feel that the manufacturer has done a decent job with the machine. This is a 15.6" HD monitor that comes with an anti-glare feature on it. The resolution of the unit is a sublime 1920×1080. 
It comes with a decent processor in the form of Intel Quad Core i5-8265U. You will be delighted with the memory and storage space of 16GB RAM and 512GB SSD.
It would be best if you shelled out more when you are particular about the HD model with the Intel Core i7 processor. 
It has the Reader TPM 2.0 chip making it on par with the Apple MacBook in terms of safety. We loved the immense connectivity options available on the machine. It was never-ending, with just about everything on it. 
Users, coders, and gamers have complimented the keyboard because of its ability to type and use it quickly. Since it is an i5 unit, you can face sluggish performance when you want to multitask. 
It is priced at less than $900, and you can get close to $800 during discounts. You might want to keep your eyes open for it. Lenovo units are usually priced aggressively, mainly for students and working professionals. 
Pros:-
The product is exceptionally lightweight and durable. 

It comes with enhanced performance. 

Its connectivity options are stunning. 

Users liked the responsive keyboard and typing capabilities. 

The unit is reasonably priced for PLC programming. 
Cons:-
Sadly, the monitor is only HD. 
When you are alright with spending close to $900, then there is no reason why you should not order one of the units today itself. 
3. Acer Aspire E 15 
Acer Aspire E 15 is one of the best laptops for PLC programming. Undeniably this is one of the best made by Acer.
It comes with sheer power and intense configuration. The i7 unit is aggressively priced, much lesser than the Lenovo machine we just finished reading about above. 
This is a 15.6" HD monitor with a stunning resolution of 1920×1080, offering you eloquent visuals. Besides it also comes with an LED-lit IPS display. Under its hood, you can find a powerful 8th Generation Intel Core i7-8550U that can work wonders for programming.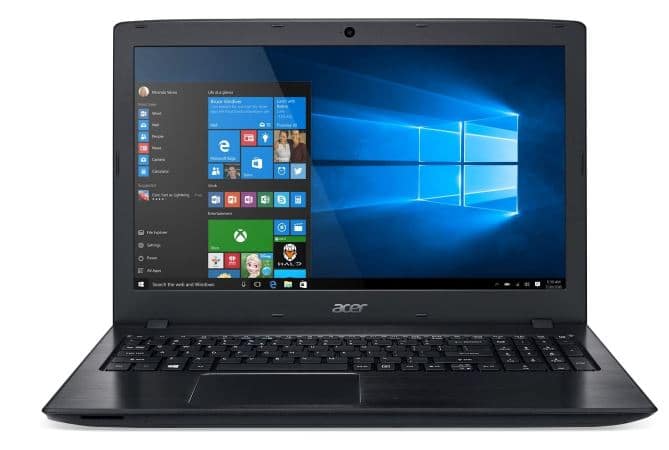 Likewise, the memory of 8GB RAM and storage space of 256GB SSD can provide you with everything you want. We were also delighted to discover that it comes with a GPU with the Nvidia MX150. 
If you want to upgrade your device, you can easily do it, even by yourself. We felt the visuals were much better than the ones displayed in the earlier models. When you want to connect with other devices, then no worries. 
It comprises many connectivity options, including USB 2.0, USB 3.0, USB Type-C, LAN port, and HDMI. It has a stunning battery life of more than 15 hours of coding. 
However, we tested it and found that it runs close to 14 hours of watching videos or listening to music. The battery is a powerhouse in itself for the device. It comes priced at less than $600.
When you are on a tight budget and looking for a top-notch device, then the E 15 comes in handy. 
Pros:-
The unit comes with an impressive full HD IPS display. 

It also comes with several configurations installed. 

It has plenty of connectivity options for you. 

The product offers you 15 hours of battery working. 

The model is priced under $600.
Cons:-
Sadly, it comes heavily to carry around. 
The Acer Aspire E 15 is truly a sublime device with features that can bring a smile to any programmer's face. When you are particular about using it for PLC programming, you may want to purchase it without delay. 
4. ASUS VivoBook Pro 17 
ASUS VivoBook Pro 17 is one of the best laptops for plc programming. The Taiwanese manufacturer is growing by leaps and bounds each year.
Their R & D team is doing a splendid job, and it is pretty apparent in the products released in the electronic market. 
The VivoBook series is one of their most successful models sold in the market. You would be surprised to know that consumers of all ages prefer using them. They are lightweight, come infused with phenomenal specifications, and are reliable. 
This is a massive 17.3" monitor that comes in HD. You get opulent visuals to view during your programming work. Besides, you can also consider using the unit for entertainment purposes too. 
It weighs only less than 5lbs, ensuring that you can carry this massive device wherever you want effortlessly. It is powered by the 8th generation Intel Core i7-8565u providing you with intense powers. 
The laptops come with eloquent image processing abilities and the GPU of NVIDIA GeForce GTX 1050. Besides, the keyboard is backlit to work in dark environments. 
We were quite impressed with the 16GB RAM and 256GB SSD memory. You can be assured that your work and data storage is taken care of. It comes with a barrage of connectivity options enabling you to get your things done effortlessly. 
There is also a fingerprint security reader, ensuring your data is secure. Does it come with any flaws on it? The battery working life on the laptop is relatively minor, only at 4-5 hours. You cannot blame the unit because of its colossal size and beast-like features. 
It was only expected that the battery was going below. The device is priced at less than $2200, offering plenty of features and capabilities.
However, you can always choose other VivoBook series options according to your budget. Perhaps, you can choose 15" or 14", which are priced much lower. 
Pros:-
It offers a massive monitor of 17", providing opulent visuals. 

It has exceptional graphics capability and offers you sturdy performance. 

The memory and storage are stunning for immense speed and power. 

The unit contains plenty of connectivity choices for you. 
Cons:-
Sadly, the working battery life of the laptop is relatively low. 
When you are searching for a machine with a large monitor with a few stunning features, then the ASUS VivoBook Pro 17 is your ideal option.
It will cost you, but you will be highly impressed by it when you look at it overall. 
5. HP Envy 17T 
Like the Pro 17 from Asus that we just finished reading, this model, too, comes with a massive 17.3" monitor. Introducing the HP Envy 17T is a touchscreen display, and most of the specifications are the same as the above product. 
The unit comes infused with the latest 8th generation Qua Core i7 8565U, enabling you to perform your tasks easily.
Besides, it also comes with a GPU of NVIDIA GeForce MX250. You can efficiently perform a wide range of tasks on the model thanks to the memory of 16GB RAM embedded with a storage space of 512GB SSD. 
We found the NVMe SSD storage is quicker and can outpace any laptop on the market. Users also liked the fact that it came with tons of connectivity options. We felt that the installation was easy, and the image quality of the unit was astounding. 
The speakers were good, offering you crisp sound quality. Its keyboard was quick, and the typing speed was phenomenal. It weighs around 6lbs, and some of you might find it slightly heavy to carry around. 
The product will set you back by $1500. So, unless you are comfortable with the price, you may want to look elsewhere. But as we said, this is a stunning laptop infused with features and has capabilities that can put many top-notch models to shame. 
Pros:-
The design of the unit was stunning. 

It provides you with a colossal monitor offering crisp pictures. 

It comes with a powerful Intel Core i7 and NVMe SSD.

The sound quality was outstanding. 

The connectivity options were fantastic. 
Cons:-
The battery life of 5 hours could have been improved.
The HP Envy 17T is the best laptop for PLC programming 2023, without a doubt. Thanks to the large monitor and numerous features embedded in the unit, you can perform a wide range of programming tasks without a problem.   
Check Price on Amazon
HP Envy - 17t Unboxing & Review: Go Big and Stay Home!
6. ASUS ROG Strix 
ASUS ROG Strix is next on our list of the best laptops for PLC programming. The Taiwanese maker can make heads turn with this splendid device. It can be slightly expensive, but it comes with the goods infused in it.  
The kind of software you will use does not matter because the Strix can handle them with aplomb. So, what is a gaming laptop doing in a programming laptop list? You want an intense performance, so we decided to have it on the list. 
It is a 17.3" monitor with an IPS-Type display that offers a stunning display. This comes with an 8th-gen Intel Core i7-8750H processor that gives you extraordinary power.
You have something on your hands when you combine that with a memory of 16GB RAM and storage space of 256GB SSD. 
It comes with a stunning GPU thanks to the NVidia GeForce GTX 1070. Using it, you can play games too.
The product comes with a backlit keyboard that helps you write efficiently. As you can see, the unit allows you with your PLC programming, gaming, and even entertainment purposes. 
It can be called lightweight because it is close to 6.5 lbs. You may find it cumbersome to move around with. As a control engineer, you may not prefer two things; one would be the battery working for 2-3 hours. 
The second would be its weight of it. Apart from that, this is a laptop you may want to purchase for yourself. It will set you back by $1600.
Yes, the Asus model is expensive. But you might want to consider it when you want to excel in your work and meet deadlines. 
Pros:-
It provides you with stunning visuals on the 17" screen. 

The graphics are sublime with the Nvidia 8GB GPU.

Its memory and storage space are potent. 

The connectivity options are exceptional. 

It provides you with a backlit keyboard for a smooth experience. 
Cons:-
Heavy usage can cause the fans to become very noisy. 
ASUS ROG Strix contains all the features to be one of the best laptops for PLC programming. It comes with tremendous power, memory, and storage space.
Unfortunately, the battery life may not be good, but if you are alright with that, make a go. 
7. Lenovo ThinkPad P50 
The Lenovo ThinkPad P50 is the second ThinkPad series unit on our list of the best laptops for PLC programming. This is undoubtedly one of the best devices for programmers and designers. 
That is because you can effortlessly run all your software and applications on it without problems. Under the hood, the Intel Xeon E3-1505M v5 Quad-Core is a new and phenomenal processor. 
Users, coders, and gamers from America have commended the powers of the product. Besides, the model comes with the Nvidia Quadro M2000M for opulent visual quality. You know that you can work effortlessly on several tools. 
The monitor is 156." FHD comes with a resolution of 1920×1080 IPS technology. The memory of 16GB RAM and storage space of 256GB SSD can get you through any amount of work or data. It has additional features like a backlit keyboard to work in a dark environment and a fingerprint reader for security. 
You can upgrade the features if you want. It comes pre-installed with the Windows 7 Professional operating system, but you can upgrade to Windows 10 Pro. We felt that the unit is suitable for programmers because of the intense security in the TPM discrete chip.
It also has an excellent display due to the IPS feature on the monitor. The price of the model is close to $1900. This is quite expensive, but when you look at the features, they are almost on par with some of the best in the market. 
Pros:-
The unit works splendidly with the Intel Xeon processor. 

It comes with the Nvidia Quadro M2000M GPU.

This has a durable and robust design making it durable. 

The keyboard and the Touchpad were exceptional. 

It is a secure laptop with a TPM chip and fingerprint sensor.
Cons:-
It is costly, almost close to $2000. 
Lenovo ThinkPad P50 is an expensive device. But when you look at what comes under the hood, then you would be highly impressed with it.
This durable, reliable, and powerful laptop are very hard to ignore from a programming perspective. 
8. LG gram 17 
LG gram 17 is top-notch from LG. Though LG hasn't made a mark, unlike other manufacturers in the laptop segment, their LG gram model has made a lot of noise in the market. 
This sublime product can be used for several tasks like programming, designing, and gaming. You can find a wide range of users owning this product, and they are quite happy with it. 
A notable feature of the Gram would be the 20 hours of battery working life. That is right. This is the highest-rated battery found in most laptops. Besides, you can always choose from the 14", 15", or 17" if you have budget constraints. 
You may opt for the 15" or 17" because it has powerful specifications. Now you may wonder how you move around a 17" massive unit. When it weighs less than 3 pounds, there should be no problem, should there be?
It has a CPU of Intel 8th Generation Intel Core i7 8565u that offers you incredible power. You have sufficient firepower with a memory of 16GB RAM and a storage space of 512GB SSD. This is sufficient for performing tasks like programming and designing efficiently. 
It comes with several connectivity options from a connectivity perspective in the form of flexible Thunderbolt 3 and HDMI ports. You will no longer be left stranded anywhere henceforth. 
It is priced at less than $1400, making it affordable and ideal for many students. When you compare it to the best laptops for plc programmers mentioned in this review, you will notice that it is quite reasonably priced. 
Pros:-
This is a light unit coming with WQXGA infused screen.

It has a compact design and excellent screen-to-body.

The battery life is one of the best in the market. 

The product has several connectivity options.

You can expect a smashing performance from it. 
Cons:-
For an expensive product, it comes with no dedicated GPU. 
LG gram 17 offers you a lightweight design, crisp monitor, exceptional battery working life, many connectivity options, and excellent performance. As a control engineer, you do not require anything else. The only thing left is to place an order today itself. 
9. MSI GL65 Leopard
MSI GL65 Leopard is our final product on the best laptops for PLC programming. We included this high-performance device on our list because of its functionalities.
When competing with top-notch models in the market, you need to have the best features. 
The GL65 Leopard has a 15.6" FHD monitor that offers stunning images. That is due to the IPS technology embedded in them. You will be delighted with the processor that is quite phenomenal at Intel Core i7-10750H.
It is suitable for performing multitasking with ease. Besides coding, you can also use it for gaming. The memory and storage space of 16GB RAM and 512GB SSD provide incredible performance. 
You do not have to worry about the speed or storage of programming data or games. You can be assured of intense connectivity options with the USB ports and the others. It also features a 720p HD webcam for eloquent audio during online meetings and conferences. 
You are covered there. It is priced at less than $1400, making it slightly higher. But you may consider using this unit when you are looking for stunning features and functionalities. We are quite impressed with the laptop. 
Pros:-
The design of the unit is sublime. 

It provides you with eloquent image quality. 

It has strong memory and storage space functionality. 

The unit comes with a wide range of connectivity options. 

The performance of the laptop is superb. 
Cons:-
It is quite expensive, nearly $1400. 
The MSI GL65 Leopard may not come cheap. However, you are gaining immensely through the GL65. Many users have found the unit helpful in completing their tasks. It is powerful, quick to run, and has a decent keyboard to do your things smoothly. 
📗FAQs
Do I need a powerful laptop for programming?
A laptop with 4GB of RAM is enough for basic programming projects. But as a software or app developer, you may require a system with 8GB of RAM. It will help you run emulators, virtual machines, and IDEs seamlessly. Besides, game developers will need a device with even more space.
What kind of laptop does a programmer need?
Laptops like Dell XPS 15 (9510), HP Envy 17T, Lenovo ThinkPad E590, Acer Aspire E 15, and MSI GL65 Leopard are ideal for programmers.
Is 256GB SSD enough for coding?
Yes. Since high speed is crucial for programming work, 256GB SSD is suitable for most coding projects. You will experience quick loading time and excellent performance during various tasks, such as compiling codes, loading projects, launching an app, etc.
How many cores do I need for programming?
An eight-core CPU is good for programmers. Laptops with octa-core processors are high-performance devices that can easily manage complex application and software development projects.
 Is 16GB RAM enough for programming?
16GB RAM is ideal for programming, especially if you're looking for a budget-friendly laptop. However, a pro programmer will prefer a higher RAM laptop for a much better and smoother experience while running software.
Which laptop is good for PLC?
When selecting a laptop with programmable logic controllers (PLCs), it's crucial to ensure it's up to the job.
In a laptop for PLC work, keep the following qualities in mind:-
Fast processor:– The speed and power required to run PLC programming successfully and troubleshooting software will be provided by a laptop with an Intel Core i5 or i7 CPU.
Adequate memory:– The speed and power required to run PLC programming and troubleshooting software successfully will be provided by a laptop with an Intel Core i5 or i7 CPU.
Solid-state drive:- For PLC operations, a laptop with a solid-state drive (SSD) is usually chosen as it provides faster data transfer rates and greater dependability than a conventional hard disk.
High-resolution display:– You might want to get a laptop with at least a 1080p resolution since it will be simpler to see and use PLC programming software on one.
Durability:- If you want to use the laptop outside, you might want to pick one that is tough and designed to handle severe handling and harsh conditions.
Are the MacBook or Windows OS laptops suitable for PLC programming? 
The MacBook is one of the best laptops for coding and performing various tasks. Sadly, based on our research, it is incompatible with PLC programming. So, you may want to choose Windows operating systems that ensure you can easily set up the PLC programming. 
We have given you several options in the post for working on the PLC programming. There are models from reputed brands like Dell, Asus, Lenovo, and even HP. Depending on your budget and overall need, you can choose the laptop of your choice.
Which laptop is best suited for any IT professional?
Based on our research and consumer feedback, we have concluded that the Lenovo ThinkPad best suits any IT professional. Besides working professionals, even students can consider using them for their work. 
It is lightweight and has enough firepower to take you through your university or degree years. Not to mention it can last beyond that sublimely. However, we also did think that the Dell XPS 15" was a terrific option for IT professionals. 
Can I opt for 8GB RAM for PLC programming?
The minimum memory for PLC programming would be 8GB RAM. You do not want to compromise, or the performance will be sluggish. No, an IT professional or programmer wants a slow device that hangs often. 
That can be dreadful, and you may have to replace your machine quickly. You do not want that to happen. Besides 8GB RAM, you can also consider using a laptop with 16GB RAM or 32GB RAM for opulent performance when coding. 
Do I need to purchase a unit having a dedicated GPU for PLC programming?
As far as PLC programming is concerned, you do not require a dedicated GPU. You may need to have other components or aspects intact in there. There is no harm in having graphics cards to ensure that you can run different kinds of programs. 
Besides the graphics card, you must ensure that the other laptop elements are present. As we said, the memory, ideal storage space, powerful processor, and minimum of 15" monitor for a better view enable you to work seamlessly. 
What are the best laptops for PLC programming? 
The best laptops for PLC programming are the ones that come with a solid processor, sufficient memory, storage space of more than 256GB SSD, and an i5 or i7 Intel Core processor. Besides this feature, you may want to also concentrate on the connectivity options.
Many units come with sublime connectivity options ensuring that you can work flawlessly on your coding needs. With several ports, you are assured of seamless working on any platform or instant connection during conferences or workshops. 
Summing Up 
In conclusion, it's crucial to prioritize performance, reliability, and compatibility when it comes to finding the best laptops for PLC programming.
The laptops mentioned in this article, carefully selected based on their exceptional features and suitability for PLC programming, offer a range of options to meet your specific needs.
By investing in a high-quality laptop with a powerful processor and ample RAM, you can ensure smooth multitasking and efficient execution of complex programs.
Additionally, opting for a laptop with a durable construction and excellent battery life will provide you with the reliability necessary for long programming sessions and on-the-go work.
Furthermore, compatibility with popular PLC software and operating systems is essential to seamlessly integrate your programming environment and achieve optimal productivity.
The laptops recommended in this article have been extensively tested and proven to work seamlessly with PLC programming tools, making them reliable companions for your projects.
Remember, choosing the right laptop for PLC programming is a critical decision that can significantly impact your efficiency and effectiveness.
Considering the factors discussed in this article and selecting one of the recommended laptops, you can confidently embark on your programming journey and take your skills to new heights.
So, whether you're a seasoned professional or just starting with PLC programming, investing in one of the best laptops mentioned here will empower you to unlock your full potential and streamline your programming tasks.
Make an informed decision today and embark on a productive and successful programming journey with the best laptops for PLC programming at your side.