An Internet Protocol (IP) address's reputation can be used to determine how reliable or high-quality it is. The history of the IP address, which includes spamming, phishing, and other harmful behavior, provides the basis for this.
Internet service providers (ISPs) and other security systems may restrict or filter traffic from IP addresses with a negative reputation to prevent spam and other types of criminality. Conversely, an IP address with a high reputation is typically associated with reliable and trustworthy sources.
The Spamhaus Project, the Barracuda Reputation System, and the Cisco Talos Intelligence Group are just a few organizations that keep track of and manage databases of IP reputations.
To identify and categorize IP addresses according to their reputations, these businesses employ a range of methodologies, such as examining email and online activity.
Several variables, such as the type of material housed at the IP address, the frequency of spam and other harmful behavior coming from the IP address, and the general security of the systems and networks connected to the IP address, can all have an impact on a reputation.
Monitoring and preserving a positive IP and domain reputation is crucial to guarantee that your online content is available and reliable.
An IP address earns a negative reputation when an Information security company detects suspicious activity, such as spam or viruses originating from that address.
IP-reputation is top-level protection running on any IPS solution and WAF solution because if they find traffic is coming from a bad IP-reputation address, they need to use a check; it blocks it.
IP Reputation Services To Check The IP Reputation
1. Cisco Talos
Cybersecurity firm Cisco Talos offers various security services and products, such as threat intelligence, vulnerability research, and incident response.
A division of Cisco Systems, a major global provider of networking and communication goods and services, is Talos.
Talos is renowned for its thorough investigation and analysis of security risks, including the finding and evaluation of fresh vulnerabilities and the monitoring of online criminal activities.
Additionally, it offers incident response services, and threat intelligence feeds to assist enterprises in defending themselves against online threats.
Talos employs a sizable staff of security researchers and analysts who try to recognize and assess security problems and make suggestions for reducing them.
The business collaborates closely with law enforcement authorities and other groups to fight cybercrime and defend against online dangers.
Navigate to https://talosintelligence.com/ and enter your IP address to lookup.
It will show you an IP address's SPAM Blacklisting and email reputation.
2. MX toolbox
MX Toolbox is another reputation lookup tool to check IP address reputation, SPAM lookup, Domain health, etc.
Navigate to https://mxtoolbox.com/blacklists.aspx and enter your IP-address that you want to check the reputation.
3. IBM X-Force Threat Intelligence
IBM X-Force Research is one of the world's most renowned commercial security research teams.
These security professionals monitor and analyze security issues from various sources, providing threat intelligence content as the foundation of the IBM Security portfolio.
IBM® X-Force®  produces many thought leadership security research assets to help customers, fellow researchers, and the public better understand the latest security risks and stay ahead of emerging threats.
Navigate to https://exchange.xforce.ibmcloud.com/ and enter your IP address to view the IP-address reputation
4. Barracuda Central
Barracuda Central maintains a history of IP addresses for known spammers and senders with good email practices.
This information contributes to the Barracuda Reputation System, which allows the Barracuda Spam & Virus Firewall to block or allow a message based on the sender's IP address.
5. Symantec IP Reputation Investigation
An IP address earns a negative reputation when Symantec detects suspicious activity, such as spam or viruses originating from that address.
Symantec strongly recommends that you perform a security audit on any of your systems that correspond to an IP address with a negative reputation, as those systems may have been compromised.
Navigate to https://ipremoval.sms.symantec.com/ and enter the IP address you want to check the reputation of an IP address.
6. IPQualityScore
IPQualityScore is another good tool to check the reputation of an IP address. This tool is not only a bad ip reputation-checking website.
It provides a complete set of detection tools for Proxy detection, TOR detection, VPN detection, Email spam scoring Email Spam testing, etc.
To check the reputation of an IP address, visit the https://www.ipqualityscore.com/, click on the Proxy Detection tab, and select the "IP- address Lookup" Service.
And enter your IP-address that you want to test. it will show you the country name along with the ISP, organization, latitude, Longitude, Fraud score, and Proxy/VPN detection information.
if you want to get more lookup details, create a free account.
7. VirusTotal
if you are in the field of IT-Security or you are working in a Security operation center then the virustotal.com is your best friend to check if any file is malicious or no, URL is malicious or no, the particular domain is malicious or not.
If you suspect any file that has a virus in it then just upload it on the virus total.
It will scan the file with 70 available antivirus engines and show you the result.
For this post, I uploaded a file on the virus total, and if you see the result, 13 antivirus engines detected this file as malicious.
Click on the "Details" option, you will get file information like MD5, SHA-1,SHA-256, and File Type information.
Now let's see the option to check the IP-reputation, Click on the Search option.
and the IP address and hit enter. It will show you the reputation of an IP address. In the case of the IP-reputation check, it's primarily checking with the Spamhaus database for Spam and Blocklist to see the status.
Other Best tools that you can try is https://www.ipalyzer.com/
I love to use https://www.abuseipdb.com/ which is providing a much accurate reputation.
Fortiguard IP reputation service:-
Fortinet, a provider of various security goods and services, offers FortiGuard IP services.
Using the FortiGuard IP  service, businesses can recognize and stop threats and malicious activity coming from known malicious IP addresses.
The service tracks the reputation of IP addresses and groups them according to their level of reliability. While IP addresses that are known to be used by trustworthy businesses and people are given a high reputation score, IP addresses that are known to be used by malicious actors or that have previously been associated with malicious conduct are given a low reputation score.
The FortiGuard Reputation service allows businesses to block traffic from IP addresses with a poor reputation score, thereby assisting in defending their networks and computer systems against online threats.
The service frequently works with other security tools like firewalls and intrusion detection systems to offer a complete security solution.
How Organizations are using the IP-Reputation
Most organizations concerned about securing their published applications use the IP-reputation feature to mitigate the risk of traffic from poor IP reputation/malicious IPs.
Once you have enabled the IP-reputation feature in your particular security products, it will check the IP-address reputation before checking the attack signatures.
Once you already know this traffic is bad, there is no meaning in checking that traffic against the attack signatures.
Now I will show you how to use these IP-Reputation features in your Network security devices.
1. F5 ASM
The first product on our list is F5 ASM (Application Security Manager), which most top organizations use to protect their published applications against top OWASAP attacks like SQL Injection, Cross-Site Scripting injection attacks.
F5 ASM comes with an IP-reputation feature, but you need an additional license; once you have a license, you can use it to protect your VIPs with IP reputation.
Open your F5 dashboard, click on the "Security" tab, and click on the Network firewall option; here, you will find the IP-intelligence option.
Now click on the Policies and click on the Create option to create a New IP-intelligence policy.
Now enter the name of the policy; the default action is Block.
If you want to configure a specific blacklist-matching policy, click on the "blacklist Category" option and configure the policy per your organization's requirements.
Your policy will look like the below policy.
Now, apply this policy to the VIP you want to protect.
Click on the "Local Traffic" tab, select your VIP, and click on it to open it.
Click on the Security tab under your VIP; here, you will see the IP intelligence tab, click on it, enable the policy, and attach the policy you recently created.
2. PaloAlto Firewall
Palo Alto is one of the most well-known firewalls organizations use to protect their published applications on their DMZ segment.
Palo Alto also provides an IP protection feature, but you need to call it in your rule.
Open your Palo Alto firewall, click on the Objects tab, and click on the "External Dynamic Lists" option.
Here you have three predefined lists with Bulletproof, High Risk, and Know malicious IP address groups.
Click on the "Add" option, enter the policy's name, select the Type as a "Predefined IP List" under the create list option, and select the source here.
Now you need to call this object in your rule or you can directly call these external block objects in your rule.
Note:- Make your rule like source ( your external dynamic list objects), select your Zone as outside or DMZ, and then under destination, put any and action as deny.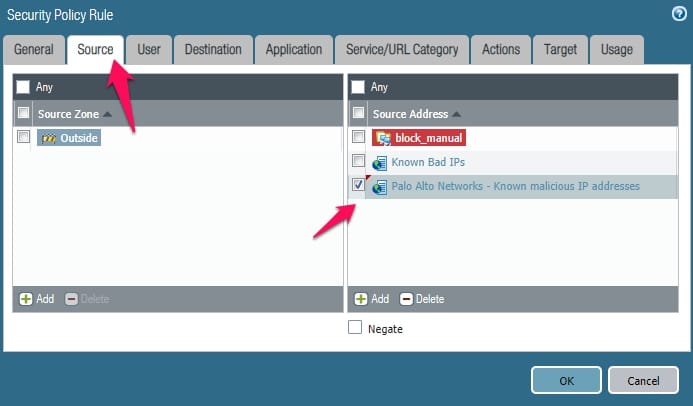 How to configure EDL (External Dynamic List) - Palo Alto Networks
3. Cisco FirePower Firewall
Cisco Firepower is another firewall that organizations use to secure their published applications. Open your firepower dashboard if your organization also uses the Cisco firepower firewall.
Click on the objects tab and click on the Object management tab here. Here you will see the "Security Intelligence" tab and the three feeds for Network, DNS, and URL list.
Just create the object from here and call those objects in the rule.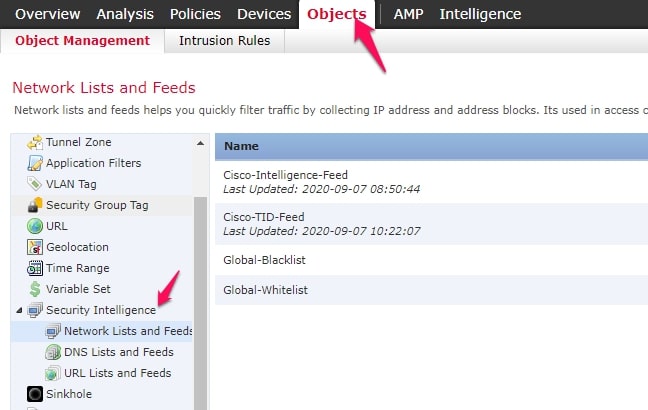 4. Forti WAF
FortiWAF is another top WAF  firewall that organizations use to protect their published applications, especially in the cloud environment.
If you also use Fortiwaf in your organization, ensure the IP reputation option is enabled on your policy.
Note:- Like F5 ASM, you don't need an additional license for fortiwaf to use the IP-reputation features.
With IP-reputation fortifnet is protecting your published application against Botnet, Anonymous proxy, Phishing, Spam, and Tor.
5. Tripping Point IPS
Tripping Point IPS is another powerful IPS that organizations are using to secure their infrastructure. Is also provides a protection feature of ip and domain reputation that you need to enable for your security profile.
Open your SMS application, click on Profiles> Inspection Profiles> select your profile, and click on the "Reputation/Geo" option.
Click on the "New Reputation" option and select your criteria based on your organization's requirements and finally, click on the distribute option to distribute your IP-reputation policy on your profile.
How To Improve IP reputation:-
Here are some steps you can take to improve the reputation of an IP address:
Use a reputable email service provider:- Use a reliable email service provider with a solid track record of providing legitimate emails if you are sending emails from an IP address. The reputation of the IP address will benefit from this.
Follow best practices for sending emails:- Follow best practices for email sending, such as getting recipients' permission before sending them emails, using clear, succinct subject lines, and avoiding utilizing spam trigger words or phrases, to prevent your emails from being classified as spam.
Monitor the IP and domain reputation:- Utilize a program like SenderScore or Return Path's Repute Monitor to frequently examine the IP address's reputation. This will enable you to spot any problems and take appropriate action before your reputation is seriously harmed.
Use a dedicated IP address:- If you send many emails, you might want to use a dedicated IP address rather than a shared one. By doing this, you'll be able to manage better and regulate the IP address's reputation.
Use email authentication protocols:- By making it more difficult for attackers to send spam or phishing emails from your domain, email authentication protocols like SPF, DKIM, and DMARC can enhance the reputation of an IP address.
How to Test Your Web-Security
A few days back I wrote down one article about How good is your internet security against Ransomware; after publishing this article, my many subscribers asked me How to check PC Security? how to check whether the PC firewall is working or not?
so I decided to write one complete article about it, and I am trying to cover approx all expects of this heading.
Check if your accounts have been breached
If you suspect that you may have fallen victim to a hack, visit Have I Been Pwned? (haveibeenpwned.com), which catalogs all the email addresses and other data taken in high-profile breaches.
Enter your email address in the search box, and if it's found in the data dumps, a red warning will appear, revealing what was taken in the hack and recommending you change your password(s) immediately.
You can also sign up for notifications of future breaches. At the time of writing, Have I Been Pwned? featured more than 4.7 million 'pwned' accounts and 232 'pwned' websites, including MySpace, Adobe, and LinkedIn.
Test the strength of your passwords
There are lots of online tools that test the strength of your passwords, but make sure you use one that encrypts what you enter or you could be risking your security.
Our favorite is the Dashlane-sponsored How Secure Is My Password?(howsecureismypassword.net), which tells you how long your password would take a hacker to crack.
If the answer is less than a minute, you should change the password as soon as possible.
Ensure your security software is working
Don't let malware infection be the first sign of a security hole. The AntiMalware Testing Standards Organization (AMTSO, www.amtso.org) offers a Security Features Check that exposes potential weaknesses in your system's defenses.
The check consists of six tests, four of which involve downloading files your PC should identify as malware and block automatically.
These files aren't malicious but designed to be detected as such, so if your anti-malware program lets one through, you need to tighten your security settings.
Test your firewall for weaknesses
Firewalls generally run quietly in the background, so it's important to know they're working properly.
To test yours, try to bypass it using the free online port scanner GRC ShieldsUP (www.grc.com/shieldsup). Ports should be closed.
by default, apart from port 80 (or 443), which is needed for web traffic. You can test Common Ports (only the most vulnerable ports) or All Service Ports (a thorough scan of 1,056 ports). Green or blue results mean that those ports are secure, while red ones show open ports that need to be closed.
Make sure your plugins are up to date.
Security holes in Java, Adobe Reader, and Flash put your data at risk, so ensure your plugins are up to date by using Qualys BrowserCheck (browsercheck.qualys.com).
This scans your browser and its plugins to detect outdated versions and other security problems. Click the Fix It button next to scan results marked as 'insecure version.' or 'update available' to install the required updates. The test works with all major browsers.
📚FAQ
What is IP reputation?
An IP reputation is a measure of the trustworthiness of an IP address based on its history of sending emails or making network connections.
What are IP reputation attacks?
Attacks on an IP address's reputation are attempts to harm that address' standing, frequently to obstruct the delivery of reliable emails or network traffic.
There are several ways that an attacker may try to do this:-
Spamming:- Sending a significant amount of spam emails from a particular IP address is a frequent approach to harm its reputation.
As a result, email service providers or spam filters may block or filter traffic from the IP address after flagging it as a source of spam.
Phishing:- Sending phishing emails from an IP is another way attackers may try to harm its reputation. Malicious links or attachments may jeopardize the recipients' systems' security in these emails.
These emails can harm an IP's reputation if they are frequently sent from that IP, which could be identified as a source of phishing assaults.
Distributed denial of service (DDoS) attacks:- By conducting a DDoS assault against an IP, an attacker may attempt to harm the IP's reputation.
This entails flooding the IP with a lot of traffic, which can make it unavailable or slow it down. As a result, the IP may be marked as a source of malicious traffic, harming its reputation.
Spoofing:- By faking the IP address in emails or network traffic, an attacker may occasionally try to harm the reputation of an IP.
To accomplish this, traffic must be made to look to originate from the target IP even while it originates from another location.
Despite not being the traffic source, the target IP may be marked as a source of spam or other harmful activities if the attacker is successful.
How can I check the reputation of an IP?
There are several ways you can check the reputation of an IP address:-
Check with your Internet Service Provider (ISP):- If your IP address has a bad reputation, is frequently tagged for spam, or has been associated with harmful activities, your ISP should be able to let you know.
Use a reputation checker tool:- Your IP address' reputation can be checked using various online reputation checker programs. MX Toolbox, SenderScore, and IPQualityScore are a few of the most well-known ones. Based on the reputation of your IP address, these programs will often display a score or rating for you.
Check with email providers:- If you send emails using your IP address, you can check with the email provider to see if there are any problems with the reputation of your IP. You can check the Google Postmaster Tools, for instance, if you use Gmail, to see if there are any problems with the reputation of your IP.
Remembering that an IP address's reputation can vary over time is crucial, so it's a good idea to routinely check to ensure that your IP address is still in good standing.
What is an IP reputation security risk?
An IP address's chance of being utilized for hostile or illicit activities is known as its reputation security risk.
Poorly regarded IP addresses are more likely to be used to host harmful websites, send spam or phishing emails, or participate in other forms of online fraud.
Additionally, legitimate emails or websites linked to that IP address may have a harder time being delivered or accessed if their IP reputation is bad.
A website hosted on a bad IP address, for instance, can be prohibited by some browsers or security software. Emails received from a bad IP address might also be marked as spam or rejected by email servers.
It's critical to check that your IP address isn't being used for any nefarious activity and to routinely check its reputation to guard against security threats associated with IP reputation.
If you think your IP address might have a bad reputation, you should consult your ISP or a reputation checker tool to determine the problem and take appropriate action to resolve it.
What is an IP reputation checker?
You may check the reputation of a certain IP address using an IP reputation checker. Based on the reputation of the IP address and any issues or warnings connected, these programs often offer a score or rating.
For spotting any security hazards or problems with an IP address, IP reputation checkers might be helpful.
For instance, you can use an IP reputation checker to ensure that an IP address you are using to send emails is not being reported as a spam or phishing email source.
Similar to the last example, if you are hosting a website on an IP address, you can use an IP reputation checker to make sure that the IP is not being blacklisted by security software or browsers owing to a bad reputation.
MX Toolbox, SenderScore, and IPQualityScore are well-known IP reputation checker software. By entering an IP address into a search area on their website, these tools enable you to check the reputation of an IP address.
TEST YOUR SECURITY KNOWLEDGE
Avoid being the weak link in your PC's protection by keeping your cybersecurity knowledge up to scratch.
Many online quizzes test your ability to spot online threats, including BT's Security Savvy test, the OpenDNS Phishing Quiz, and Silicon's Cybersecurity Quiz.
NOTE:- This tutorial is for Normal users, if you are looking for advanced tutorials on Web-Security, please visit https://technicalustad.com/category/tech/pro/ where I am covering advanced-level tutorials.