The Symantec ProxySG solution is designed for today's cloud generation environment and offers the most advanced, flexible, and powerful platform to build a complete advanced security defense for web traffic.
As part of the ongoing operations of the security defense layer, ProxySG blocks the bulk of the incoming threats to any organization, while providing a powerful policy engine for implementing any regulatory or corporate requirements for web access.
Symantec's Intelligence Services and WebFilter technology allow organizations to block web threats and detect and block when infected client systems are attempting to contact Command and Control (C&C) servers to deliver confidential or proprietary information.
Symantec offers a complete web security solution with a broad eco-system to cover any enterprise web security requirement. While web security is the main focus for threats today, Symantec recognizes every organization may need other technologies, to be fully integrated with the Symantec solution, to provide a complete defense-in-depth.
Symantec offers the most integrated technologies, the most options for authentication, the most flexible policy engine, the leading performance (including SSL proxy), and the most advanced caching and web filtering technologies as part of our Secure Web Gateway solution.
ASG (Advanced Secure Gateway) is the latest on-premise Secure Web Gateway appliance from Symantec. ASG offers an integrated appliance platform with all the Secure Web Gateway features of the ProxySG combined with the advanced threat capabilities of the Content Analysis platform.
ASG offers the performance, flexibility, and granular policy of the ProxySG platform and offers the security choice and integration capabilities of the Content Analysis appliance in a single appliance.
Here is Way to check the website category in BlueCoat
1. Check website category in BlueCoat Device:-
To check the Website category in your Proxy device, log-in to your Proxy device with https://Your_Device_IP:8082/ and navigate to Configuration > Content Filtering > General, now in the "Diagnostics" enter your URL that you want a check and click on "Test".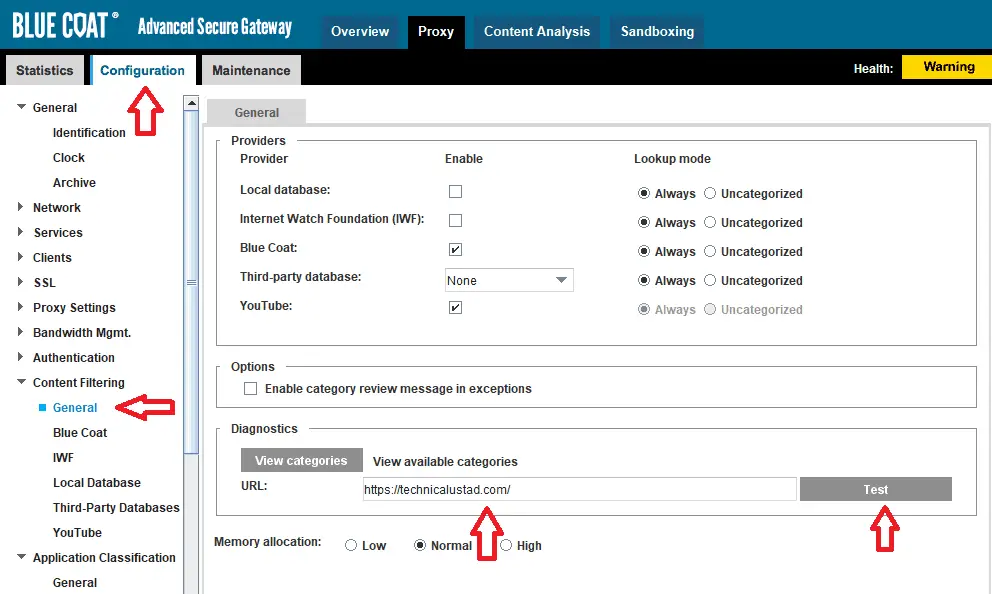 It will prompt you with a Category of this website in the Bluecoat WebFilter database.
You can also check the Threat Risk Level by navigating Configuration > Threat Protection > Threat Risk Levels
Enter your URL and click on the " Lookup" it will show you Threat Risk Level of that website within 1 to 10.
Click on the " View Threat Risk Level" option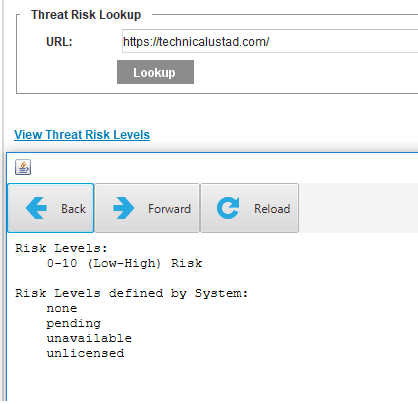 2. Check Website Category through BlueCoat Site Review:–
You can also check Website Category in Bluecoat Website category through https://sitereview.bluecoat.com/sitereview.jsp , you just need to enter your website here.
it will give you information about website category
I would like to add here one thing with my professional experience is if you are troubleshooting website category issue, must check in both place is it same or no. If it does not then update the database of a device.
I will recommend a way to use Google Developer tools when you are troubleshooting any website issue before going for Policy trace.
Like in my case I just want's to check alibaba.com is allowed through Proxy or no. As you seen in below image it's snowing here as "403 Forbidden"
Always remember to click on the "Preserve log" option under "Network " tab.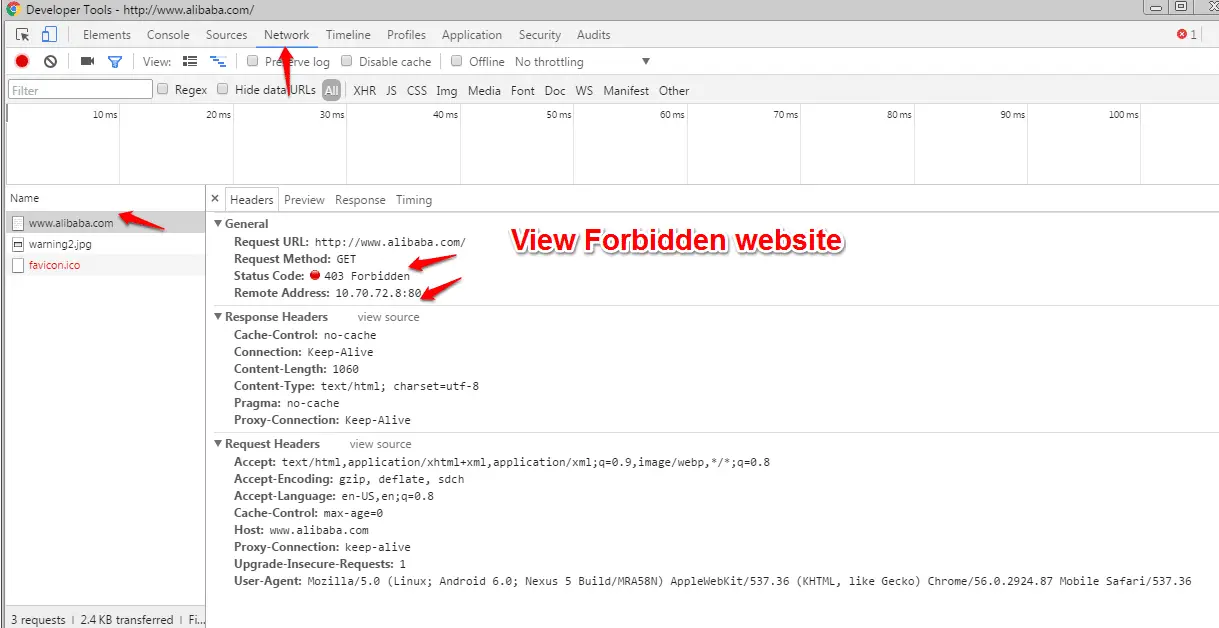 Now click on the "Response" tab to view the Proxy response here.
Personally I a faced lots of operation issue while managing Bluecoat products but Introduction to BlueCoat Web Security, really helped to manage this complex product in fun way.
Also, Check How to Block Uncategorized Websites in Bluecoat
How to check the Reputation of an IP address
Block Exe and other file format download in Checkpoint Firewall
Hope my article "How to check website category in BlueCoat" helps you to identify Website category in Bluecoat web filter. If you have any query on Bluecoat technology, feel free to comment.