No one would like to keep up with what's happening worldwide, whether it be about Cryptocurrency or anything generic.
For this, Reddit is one of the best platforms to discuss and learn more about social news, etc. However, if you are not satisfied with it and are looking for the best Reddit alternatives, check out our curated list here.
Before we head over to the list, you need to learn all the information you can get about Reddit to compare all the alternatives.
Undoubtedly, Reddit is much bigger than any of its competitors or alternatives. However, you can choose between decent and something different you can look forward to.
What is Reddit?🤔
Reddit is a social news aggregation and user-friendly platform meant to help its users be connected with the world in multiple folds.
You can join multiple communities or subreddits, where members share posts, links, images, videos, and much more in the form of information for discussion.
It is addictive, and you can easily spend the entire day on it without ever running out of content and information on any topic.
As per the popular journals, Reddit bags over 52 Million daily users; on average, there are over 450 Million plays monthly users, and have been increasing in the past few months.
Furthermore, per the reports, there are over 138,000 active subreddits, with millions of users participating in the discussions daily. 
If you wish to learn more about the best Reddit alternatives and sites similar to Reddit, head to the list below.
Best Reddit Alternatives – Our Top Pick 👌👌
1. Quora
Quora is one of the best Reddit alternatives with a similar interface to Yahoo. It isn't exactly like Reddit, but you can get all the answers on this site or even give your answers to other users.
Simply register on the platform and start answering questions you think might be the best of your knowledge.
The site allows you to follow experts and other users so that you can always keep in touch with all the content they share on the platform.
Additionally, Quora has a dedicated app for iOS and Android that is highly stable and easy to use.
Another interesting approach here is that even though you can use a search engine to get answers to your questions, they are not always the right way to go; hence people use Quora to get more genuine answers.
Moreover, you can even choose among different answers and solutions which might be the right way to go on this platform.
Millions of users worldwide use Quora to promote their brand or service by answering questions and recommending them while solving any queries. It has over 300 million users and is an exceptional place for marketers.
Reddit vs Quora:-
Here's a detailed table comparing Reddit and Quora:-
| Feature | Reddit | Quora |
| --- | --- | --- |
| Purpose | Online discussion forum for various topics | Knowledge-sharing platform for questions and answers |
| User base | Over 430 million monthly active users worldwide | Over 300 million monthly active users worldwide |
| Content | User-generated content, including text, images, and links | User-generated questions and answers |
| Topics | Wide range of topics, including niche and specific ones | Wide range of topics, including niche and specific ones |
| Moderation | Moderation is community-driven with moderators | Moderation is done by the Quora team and community |
| User anonymity | Users can remain anonymous or use pseudonyms | Users can use their real names or remain anonymous |
| Reputation system | Users can earn "karma" points for good contributions | Users can earn "credits" for good contributions |
| Advertising | Advertising is available but may not be as prominent | Advertising is prominent with sponsored content |
| Search engine ranking | High ranking for niche topics and specific queries | High ranking for general knowledge queries |
| Community engagement | High level of community engagement and discussion | High level of engagement but less discussion |
| User demographics | Predominantly male users in younger age groups | More diverse user base across age and gender groups |
| Mobile app availability | Available on both iOS and Android devices | Available on both iOS and Android devices |
2. Digg
Here we have another alternative for all Reddit users who wish to try something much more lite and easier to understand.
Digg has a clear UI, and the design speaks to all the users who have not been able to cope with the cluttered design on Reddit.
It can be difficult for new Reddit users to understand how things are carried out. Hence, Digg can be a good option to go with.
All you need to do is create an account on the platform and be a part of one of the largest communities around the world. You can join multiple groups or communities such as Bitcoin, Tech, News, etc.
Like what we have seen on Reddit, you can read and comment on the posts to stay connected. If you like an influencer, there are several options to follow.
Not just this, you can go through hundreds of blogs and news based on what you like to keep yourself updated in the long run.
It is free of cost, whether reading blogs or joining the community. Only make an account on this platform and get started. Furthermore, you can add Digg to your Chrome extension for instant connection.
3. Hacker News
You can go for Hacker News if you have been looking for something that has zero complications on their site and is as simple as you think.
First, the platform is available on Y Combinator and has no separate site. Above all, the site is meant mainly for tech enthusiasts, Entrepreneurs, geeks, and others who want to know more about technology.
The home page contains all the top and trending questions that might interest you. It might not be as huge as Reddit, but surely worth spending time on.
Understanding how everything works might take a while if you are new to this. Moving on, the UI is pretty easy to understand and very simple. Also, the site has multiple job opportunities under the Job menu.
A special section lists all the questions asked on the site, making it easier to track down what you seek.
Once you have made an account and logged in, you can navigate the entire site. You can search for answers and give yours to whichever you feel you can contribute.
4. Product Hunt
Product Hunt is another brilliant platform similar to Reddit that helps users to market their products and get real reviews from their potential customers.
If you are a maker or a marketer looking to launch a product very soon, there is no better place than to publish it on Product Hunt. According to the study, the best day for this is Tuesday when you get maximum traffic.
To get started and be a part of the community where you can launch your product, you need to make an account on it. That might take about a week for approval.
Once your product is on the platform, you can get genuine reviews and feedback from potential customers to make necessary changes.
You will find something similar on Reddit, where users post questions or queries, and others tend to solve them.
We love the UI and the entire design of the site. You can easily understand all the options mentioned here and do a lot of activities other than being involved in Q and As.
There are options to post a job and join communities; whether you are a geek or simply a tech enthusiast who wishes to know more about different projects, you can all be a part of Product Hunt.
5. 9Gag – New Reddit alternative
Here we have another platform that is considered to be an exceptionally amazing Reddit alternative. You can download it on your iOS, Android, or Windows-based smartphone.
Moreover, you can also use it on your browsers while working on a laptop. 9GAG allows users to share content on its platform, memes, blogs, promotions, Q&As, etc.
It has become quite popular over special media channels, especially Facebook and Instagram. This platform is everything you might have been missing on Reddit.
Users post tons of content daily and share it on their social channels. It is a great place to promote your brand or product since the site has a massive reach and millions of users. 
You can Sign up either through Facebook or use your Google Account. You can interact with people daily without having to worry about anything else.
The UI is pretty clean and brilliant, too, for both browsers as well as the app. All the categories are well organized, and you can follow whichever feels right.
6. Stack Exchange
Stack Exchange is similar to Reddit; you can easily understand how things work on this platform.
It is a basic Questions and Answers-based website where you will get the topics on almost everything you can think of.
The platform is essentially built up and is perfect for all the programmers willing to learn and grow and for all the professionals in the field.
There are over 173 communities here, with thousands of Q&As from millions of users. Moreover, Stack Overflow is a part of this site and has around 100 Million developers participating in keeping the flow of information continuing.
Unlike Reddit, Stack Exchange has prioritized the quality of its content. To ensure you get the answers to your questions, no user is allowed to have a conversation.
You can directly post an answer and move forward with a different one. If your answer has received the most upvote, it will appear on the top as a priority.
The person asked the question can even mark only a single answer as chosen or accepted.
7. Yahoo Answers
You might have heard of Yahoo or have used it earlier for your emails rather than Gmail. Yahoo Answers is a part of it and very much similar to Reddit and its functionalities.
There are millions of users asking and answering questions that are worth reading and knowing about. It can be about anything; post your content, and within minutes, hundreds of users will be participating in the discussion.
This platform has hundreds of categories to look into, such as Arts, pets, tech, entertainment, and everything else you can think of. It works best once you have signed up on the platform.
You can do a lot apart from simply asking questions or answering them. The person who has asked the question can make any answer that may seem perfect, or else the one with the maximum number of votes is auto-marked as the favorite among all.
Furthermore, you can check out the trending questions and even save them to read later. Genuine people post all the answers and are more legitimate than ever.
It is better than searching it on Google since this platform does not operate on SEO but on people's opinions.
Update:- Yahoo Answers has shut down as of May 4, 2021. 
8. ASKfm – Ask Me Anonymous Questions
ASKfm, or Ask Me Anonymous Question is an out-of-the-box Q&A-based app on your smartphone. You can download it on your iOS or Android devices with a single click.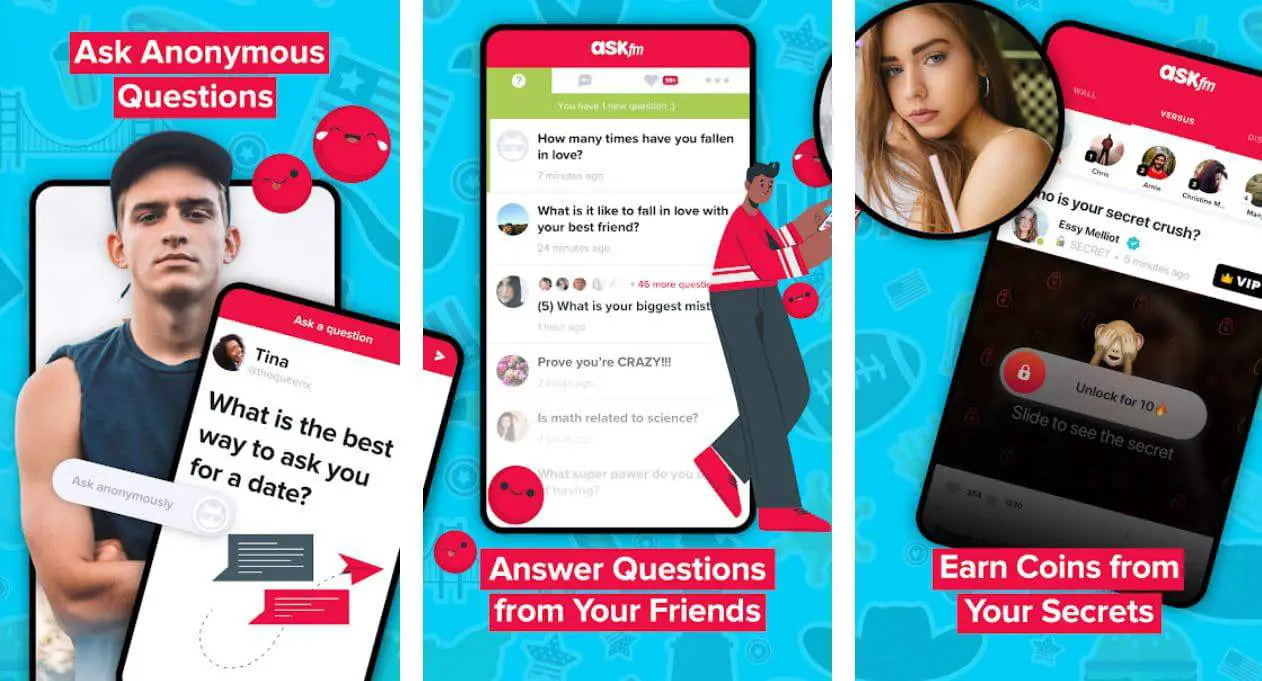 All the services are free of cost; you need to sign up on the platform to get started. You will love the design and UI of the app. Everything seems pretty simple to understand, whether you are a newbie or a professional.
You can ask or answer questions anonymously or reveal your identity, whichever path you wish to take. Many users use the platform to ask for the deepest secrets or reveal secrets as anonymous users.
Currently, over 40 Million users on the platform participate daily. You can even make friends with strangers on the platform.
To add more, you can earn coins while answering the questions and if your followers tip you. There are multiple opportunities to unfold using the coins you might love on the platform.
ASKfm also has a special opportunity for everyone willing to spend money with a VIP program.
9. Gurlic
If you are looking for a site representing the Reddit community or anything close to it, Gurlic is the one you might love the most.
It is a perfect place where people on the internet can share their opinion on any topic they feel worthy of.
The most common ones you will find here are based on Tech, Science, Arts, and much more.
You can tap the Explore Communities option and follow them based on your interest. There are tons of questions and discussions by the members on various topics.
Not only can you learn from it, but you also solve a lot of your queries at the end of the day. The entire site has a pretty clean design and is easy to navigate.
The home page has a section where you can scroll through the timeline with random questions from the public. You can post links, images, and other media content that does not go against community standards.
Furthermore, if you are skilled or have an idea, you can form your community and keep the discussion going.
10. Lemmy – Hive Reddit alternative
Lemmy is yet another one of the best Reddit Alternatives on the internet, with millions of users. To create a post, you must sign up or log in on the platform, which is needed for any site you visit.
This way, you can keep track of all the discussions you participated in and keep yourself updated. It is an open-source platform, so you can give suggestions and feedback to improve it.
The servers are pretty fast and can handle users daily with zero lags. It is not just an alternative to Reddit but an attempt for people to join more communities and create something worthwhile.
Some noticeable features are the mobile-friendly interface, user avatar support, notifications on Q&As directly and via mail, and much more.
Moving on, you can delete all the messages, comments, answers, and more. You can also use themes such as Dark, Light, and Polarized. Furthermore, you can even acquire community support when needed.
11. Slashdot
Slashdot is an ideal Reddit alternative for all tech enthusiasts looking to learn more about technology and join a community with like-minded people.
Like any other site, you can create a profile and log in to the platform to be a part of hundreds of communities. You can keep up with the latest news and get genuine replies from people worldwide.
Moving on, you can submit your posts on the site and create your own stories for other users. It does not have an app, but using the website is as easy as any other app.
Each group or post is assigned to moderators to keep the site's integrity, and no one misuses the platform.
Slashdot claims to have over 3.7 million unique users each month which has increased significantly. The site has won multiple awards for the Best News Site and much more.
Apps like Reddit for Android:-
Looking for Android alternatives to Reddit? Here are some options:
Slide for Reddit (Download Here):– An open-source Reddit app that's ad-free and highly customizable. It offers various browsing options, including image galleries and video playback.
Boost for Reddit:- A popular Reddit client with features like night mode, easy navigation, and filters to help with content discovery. It's also fully customizable, allowing you to tweak its appearance and settings.
Joey for Reddit:- Another open-source Reddit client with a user-friendly interface and features like in-app media previews and comment highlights. Joey is highly customizable, too.
📗FAQ on Reddit alternatives
What is a good alternative to Reddit?
Some of the most popular alternatives include Hacker News and Product Hunt.
Why is Reddit so addictive?
Reddit can be addictive because it offers users a sense of community and the opportunity to interact with like-minded individuals. The site is also designed to keep users engaged by constantly offering new content and providing endless information and entertainment.
What is Reddit mostly used for?
Reddit is mostly used as a platform for discussion and sharing content. Users can create or join communities dedicated to specific topics and interests and share links, images, and other related media.
Who competes with Reddit?
Reddit's biggest competitors are other social media platforms like Facebook, Twitter, and Instagram. However, several smaller communities and forums offer similar features and cater to specific interests.
Why do people love Reddit?
People love Reddit because it offers a sense of community and the opportunity to connect with others with similar interests. The site is also known for its diverse range of content and the ability to discover new and interesting information.
What is the alternative to Reddit streams?
One alternative to Reddit streams is StreamEast. It offers a similar service to Reddit streams, allowing users to watch live events and sports streams for free.
Why is Reddit so anonymous?
Reddit allows users to create accounts and participate in communities anonymously, which can encourage people to share more freely and openly. The site also has strict privacy policies to protect users' personal information.
Does Reddit contain inappropriate content?
Reddit contains a wide range of content, including some that may be considered inappropriate or offensive. However, the site has rules against certain types of content, such as hate speech and harassment, and users can report violations.
What percentage of adults use Reddit?
According to a 2022 survey, about 18% of U.S. adults use Reddit.
What does the R mean on Reddit?
The "R" on Reddit is "subreddit," a community or forum dedicated to a specific topic or interest.
What percentage of Americans use Reddit?
As of 2023, about 18% of U.S. adults use Reddit.
What is the point of karma on Reddit?
Karma on Reddit measures a user's contribution to the site. It is calculated based on the number of upvotes and downvotes their posts and comments received. High karma scores can give users a sense of status and credibility within the community.
What is the most popular Reddit group?
The most popular subreddit on Reddit is r/announcements, which is run by the site's administrators and used to share news and updates about the platform.
How does Reddit make money?
Reddit makes money through advertising and offering premium features to users who pay for a Reddit Gold subscription.
As of 2023, the largest shareholder of Reddit is Advance Publications, Inc.
What are the disadvantages of Reddit?
Some of the disadvantages of Reddit include the potential for harassment and inappropriate content and the fact that the site can be addictive and time-consuming.
Are Reddit users anonymous?
Reddit users can remain anonymous or use pseudonyms when creating an account and participating in communities.
Why did Reddit become so popular?
Reddit became popular because it offers a unique combination of social media, discussion forums, and news aggregation. It also allows users to create and participate in communities focused on specific topics and interests, which has helped it build a strong and dedicated user base.
Does Reddit allow NSFW streams?
Reddit does allow NSFW (not safe for work) content in certain communities, but it has strict rules and guidelines around what is and isn't allowed.
Is it legal to watch Reddit streams?
Watching Reddit streams is legal if the content is not copyrighted or pirated. However, users should be aware that some streams may violate certain terms of service or community guidelines.
What's better than Streameast?
There are several alternatives to Streameast, including other free live streaming services like Twitch and YouTube Live and paid services like Netflix and Hulu. The best option depends on the user's specific needs and preferences.
(Q) How do I browse better on Reddit?
Turn any page on the site into a slide show and browse using the images. You can sort content by featuring the best first. Multiredditing also helps in browsing better on Reddit.
How to Use Reddit - Complete Beginner's Guide
Final Words on free speech Reddit alternative
Here we are with everything you need to know on the list of the Best Reddit alternatives. We have to agree that it was not easy to look for better options than Reddit.
All the sites mentioned are perfect, and you can try them too. But these might not be as big as Reddit, but each is worth mentioning.
The most common feature in all of them is that you must sign up and then move ahead. The sign-up will help you comment on the site and answer your questions.
Other than this, multiple sites focus on a certain group of people, such as geeks, tech enthusiasts, and much more. You can visit them and be a part of your preferred community.