For the sake of people with small faces, this article is a compilation of some of the best ski goggles for small faces.
It is important to dress up for skiing – you go with your skis, boots, helmet, ski poles, and goggles.
Ski goggles are particularly important because you cannot ski if you do not see where you are headed. Ski goggles come in various shapes, sizes, designs, and colors.
Each person's facial features define the design, size, and shape of the goggles that suit them. Everyone deserves to look perfect in their ski goggles; even people with small faces deserve to ski without looking like an alien with googly eyes when they have their ski goggles on.
The subsequent paragraphs contain reviews of 15 ski goggles for small faces, links to an online store, and their pros & cons.
Best Ski Goggles For Small Faces – Our Pick 👌
1.

Oakley Fall Line XM Prizm Snow Ski Snowboard Goggles
The Oakley Goggles Fall Line Xm is a ski goggle with a unique color contrast system. The view while using this goggle is quite alluring too.
The PRIZM lens technology makes for easy color control such that the colors are adjusted to be easily identified, making navigation easier.
The view through the fall line XM is not markedly affected by fog; the anti-fog coating does enough to prevent this. Also, one gets a broader view of the periphery due to the absence of rims and long lenses. The rimless feature also adds perspective to the design of the goggles.
The cold would certainly be extreme while you are skiing, but the dual-pane lenses of the fall line XM help reduce heat loss from inside the goggles through insulation. This also contributes to the reduced fogging experience with the Oakley Goggles Fall Line Xm.
Pros:-
Comfortable to wear

It offers a broad view

Great color control

Great lens sealing
Cons:-
Relatively expensive

Thin straps
Check Price on Amazon
Oakley Fall Line XM Snow Goggle Review | SportRx
2.

Oakley Flight Deck XM Snow Goggles
The Oakley Men's Flight Deck goggle has a unique design that gives it the pilot or skydiver look. The Flight Deck has a rimless design and broad lenses that offer a wide view range – navigating with it is very easy.
It uses PRIZM lens technology; thus, the color is adjusted to make the view alluring and to make objects easily identifiable – features that all contribute to easy navigation.
The face foam makes for a cushion as the goggles press on the face, making it comfortable to wear for a long period. The flight deck also uses an anti-fog coating, so you do not have to be bothered about your view being blurred while you ski with this.
The goggles also accommodate most pairs of glasses, especially prescription glasses. The shape is designed to allow you to wear your glasses beneath the goggles, so your view is not restricted by the absence of your glasses.
The face foam, alongside other padding materials in the flight deck structure, makes for tight sealing and insulation. Cold does not seep in, and heat is not lost from within the glasses.
Pros:-
Tight sealing

Comfortable

Broad view range

Unique design

It can be used with prescription glasses
Cons:-
The design could be sleeker

Relatively expensive 
Check Price on Amazon
3. Scott Muse Goggles: Ski Goggles For Small Faces under 50$
The Scott Muse Goggles are perfect for people with medium to small faces. The design is sleek and rimmed, and the lens is not big or long.
The Scott Muse goggle uses a Cylindrical TruView double lens with amplifier lens technology that improves colors and allows a clear view, thus permitting easy navigation. The lens also offers protection from Ultraviolet light rays.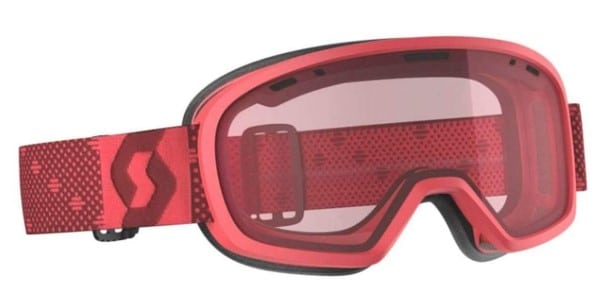 The chances that your vision would be blurred by fog while using the Scott Muse goggle are quite low as they get an anti-fog treatment. The goggle comes with a single-layer face foam and no-slip silicone strap, making it sit comfortably on the face. 
The double lens helps conserve heat within the goggles, and the ACS ventilation system ensures that as heat is conserved, moisture from condensation does not build up inside the goggles and causes fogging. 
Pros:-
Inexpensive

Comfortable

Portable

It can be used with glasses
Cons:-
The rimmed design reduces the peripheral view
4.

Uvex Sports Comanche LGL Winter Snow/Ski Goggles
The Uvex Comanche goggles have a sleek, unique sporty design, and it comes in more than one color option.
The Comanche goggles use two anti-fog systems: the direct frame ventilation system redirects incoming air upwards while the supervision anti-fog coating protects from the fog.
The anti-fog coating is unique in that it protects for a significantly longer period than specified what is specified as standard. The double lens conserves heat on the internal side of the goggles and contributes to anti-fogging.
The design of the Comanche allows you to wear your glasses beneath (Over the Glass technology) comfortably, so you do not have to bother about having restricted vision.
The Laser Gold Lite lenses improve the intensity of colors, so objects are easily identifiable in the hazy snow weather, so navigation is easy and safe.
Pros:-
Sleek and cool design

Double anti-fog system

It can be worn over glasses

Relatively cheap
Cons:-
No non-slip frame

The lens cannot be removed
5. Oakley O Frame 2.0 Goggles
The Oakley O Frame 2.0 has a cool sporty design. The goggle is made from a flexible material that allows them to fit different faces easily.
It uses a Plutonite lens that blocks out ultraviolet light rays and is resistant to scratch and impact. The large lens gives a broad view, although the rims restrict the peripheral view.
The Oakley frame 2.0 uses a ventilation system and an anti-fog coating to prevent blurring caused by fog. The goggle has dual vents that redirect incoming air while the anti-fog coating protects the lens from the fog.
The O frame 2.0 is comfortable to wear too. Asides from the flexible material, the adjustable strap and the triple-layer face foam ensure that the goggle sits comfortably on your face for long periods.
The design also permits using glasses beneath the goggles – you can use your prescription glasses, so your view is not restricted. It also comes with a goggle bag.
Pros:-
Flexible frame

Over-the-glass design

Comfortable

Ultraviolet ray protection

Moderate price

Resistant lens
Cons:-
6.

Anon Women's WM1 Ski/Snowboard Goggle
The Anon WM1 has a cool rimless design. The absence of rims and the big lens make it easy to see wide with this google making navigation easy.
The Anon WM1 has a wall-to-wall feature that adds to the peripheral vision. The relatively thinner foam facilitates wall-to-wall vision. If someone else is coming in behind, even in your blind spot, you can notice them quickly and avoid them.
Even with the thin layer of foam, comfort is not compromised. The triple-layer face foam keeps moisture out and allows the goggles to sit comfortably on the face.
The lens can be removed, facilitated by the Magna-Tech quick lens change feature, which allows swift and comfortable lens swapping.
While the price is relatively high, the Anon WM1 comes with an extra pair of lenses for different lighting. This and other stated features serve as some justification for the price.
Pros:-
Removable lens

Rapid lens swapping

Extra lenses

Broad view
Cons:-
Are there different sizes of ski goggles?
Yes. Ski goggles also come in small, medium, and large sizes. Generally, small-size ski goggles are suitable for children, teens, or adults with small faces. Besides, Medium size is ideal for 12+ skiers.
 How do I know what size ski goggles to get?
To get the properly fitting ski goggles for your face, accurately measure the space between both temples. It will help you know the required width for the snowboard goggle. Further, measure from a little over the eyebrow to the middle of your cheekbone to calculate the depth.
Do all ski goggles fit all helmets?
Generally, ski goggles with large or oversized frames fit all types of helmets. But gaps between the helmet and the frame might make it somewhat challenging to adjust small goggles with helmets.
How are snow goggles supposed to fit?
Make sure a ski goggle is not tight on the face but comfortable. Snow goggles are designed for both small and large faces. So, buy a model that fits your face correctly.
 What does S1 mean in ski goggles?
S1 ski goggles are for flat light, light/medium snow, and foggy days. S2 models are for partly cloudy and variable light conditions. S3 category glasses are designed for mostly sunny days that reduce sun rays. Lastly, the S4 ski goggle is ideal for a day with bright sun and clear skies.
Conclusion
In the introduction, we established the importance of ski goggles – you cannot see without them while skiing in the hazy snow weather.
For a person using prescription glasses, it is important to consider whether the ski goggle supports Over the Glass (OTG) or not. You cannot wear your prescription glasses beneath goggles that do not support OTG, and this can be an issue if your vision is markedly restricted without said glasses.
Also, you should note that rimless goggles with large lenses generally offer broader vision, and of course, you should always consider the price while selecting.
If you cannot pay for it, you cannot have it except if you win it. But then that is only possible if you come across a promo.