Computers usually begin to run slower as they get older. As more software and applications take up space in the device memory and use up limited resources, the overall efficiency of the computer diminishes.
The boot time increases, applications begin to run slower and even stop unexpectedly sometimes. One solution is to search for Windows 10 services to disable. Disabling non-essential Windows 10 services free up and reduce the number of applications competing for the computer's resources.
The key is finding the right Windows 10 services to disable. You don't want to disable a service you need regularly.
For instance, if you regularly print from your Windows computer, disabling the print spooler would not be advisable. On the other hand, if you never print from your computer, then it would be perfectly okay to disable the spooler.
Windows 10 Services: What Are They? 🤔
The first question to ask is, what exactly are Windows 10 services? The computer performs several tasks, many of them in the background without your notice. Windows 10 services come preinstalled with many services.
These Windows 10 services are small programs that provide a particular operating system function. They make all the other apps and operations on the computer run smoothly.
These services run in the background and make it possible for different tools and software to function properly. In addition to this, third party software also adds services of their own.
Many of these Windows 10 services are essential. Disabling them would cause unknown problems of their own. Also, disabling a service that you frequently use will render it impossible for you to perform that specific task.
Some services however are not essential. They can be disabled without harming the general operation of the computer. They in fact free up the RAM and other system resources. This in turn improves the performance of your computer. Disabling those services will lead to obvious improvements.
How To Disable Windows 10 Services
As has been noted, disabling some services can cause more problems than they fix. However, knowing how to go about the disabling of services can help you figure out what services can be safely disabled.
First, search for "services.msc", without the quotation marks, in the search bar, and hit enter. This will take you to the component services window. Next, click on "Services (Local)" to see Windows 10 services.
To see the description of an item, select the item. You can also see the status, startup type, and log on as on the window.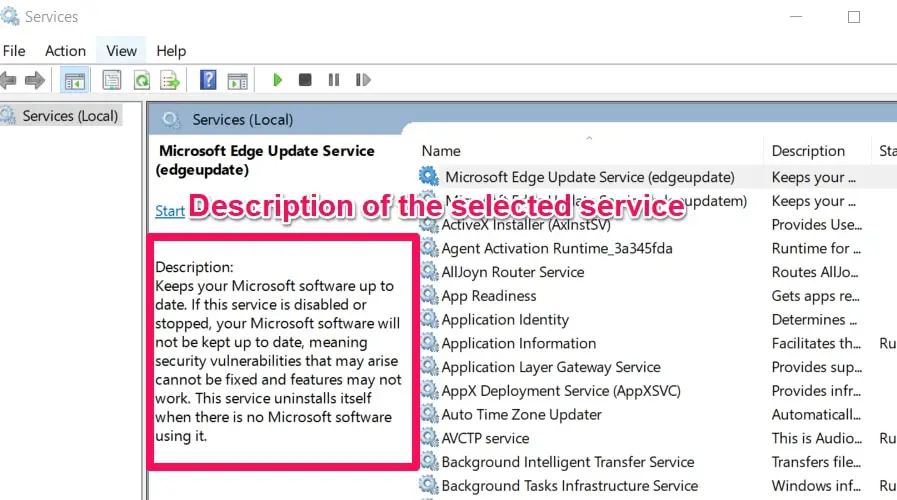 It should be noted that services can be set as manual or automatic. Many services are set as manual, meaning that they are only started when they are needed.
Services set as automatic can start as the system boots. These automatic services can lead to longer boot time for the computer. So, it is preferable to disable the automatic services.
Right-click on the service you want to disable and select "stop". For some services, there is no stop option, so you can't disable them.
Note that before disabling any services, it is advisable for you to create a system restore point and make a note of Windows services you are disabling. This is going to make it easy for you to enable them when needed.
Windows 10 Services to Disable
Choosing what Windows 10 service to disable depends on what use you put your computer to. As has been mentioned earlier, if you print regularly, disabling the spooler is not recommended.
If you transfer files via Bluetooth, disabling the Bluetooth support service is not advisable. Below are a few of the services that you can consider disabling.
1. AVCTP Service
If you use Bluetooth audio devices or wireless headphones, it is not a good idea to disable this service. If on the other hand, you don't routinely use Bluetooth wireless devices, go ahead. You can enable the service when the need arrives.
2. Bitlocker Drive Encryption Service 
You can disable it if you don't use Bitlocker storage encryption.
3. Bluetooth Support Service
If you don't use Bluetooth devices, you can disable this service. Also, if you don't transfer files via Bluetooth feel free to disable.
4. Infrared Monitor Service
If you never transfer files via infrared, it is safe to disable this service.
5. Connected User Experiences and Telemetry 
Disabling this disables feedback, telemetry, and data collection. This service makes it for reliability issues to be identified, collected, and sent to Microsoft. Experts have said that your computer can still function with this service disabled.
6. Diagnostic Tracking Service
This is connected with the connected user experience and telemetry service. Allows for data collection that can be used for system diagnostic purposes.
7. Computer Browser 
Disabling it disables network discovery of systems in the local network. It is not advisable to disable it if you routinely connect to any network, or use the internet.
8. Distributed Link Tracking Client
You can disable this service if you are not connected to a network.
9. Downloaded Maps Manager 
If you don't have maps or map apps on your computer, you would not miss this service. It is the service that manages your Mao apps and allows them to access downloaded maps on your device.
If you're not using a map app such as the Bing maps app, you're safe. If you're not a tourist, geographer, or someone who constantly gets lost, you can disable this service without worries.
10. Windows Defender and Firewall Service:
This is actually a useful service. Without the defender and firewall service, your PC is more vulnerable to attacks from anti-viruses and malware.
The firewall prevents such from gaining access to the computer. The service however sometimes blocks other useful apps and games from working properly.
So, if you want to use another third-party app that is blocked the Windows defender and firewall service can be disabled temporarily. If you have a good third party anti-virus with its own built-in firewall, you can permanently disable the defender and firewall service.
11. Windows Mobile Hotspot Service 
For connections to your mobile phone, this service is needed. It allows you to share your mobile device's internet connection. You can share WiFi, Ethernet, or data connection. This service can be disabled when not in use. 
12. Print Spooler 
The print spooler does all the background tasks that make printing possible. It stores multiple printing jobs in a queue. It transfers jobs that are to be printed to the printer. Even when the printer is offline it holds on to the jobs till the printer is available.
Occasionally an error can lead to the spooler consuming more resources than usual. You can disable the spooler if not in use. If you do not print from your PC, the print spooler can be disabled without worries.
13. Fax 
In the way the spooler controls printing, this service handles faxing. Most people don't send faxes from their computers, so in a sense, it is an outdated service. This service has a tendency to slow down the system and reduce the performance of the computer. It can be disabled without worries.
14. Remote Desktop Configuration and Remote Desktop Services
These services control your PC's connection with other PCs. It can be disabled when no such connection is taking place.
15. Windows Insider Service
This service allows you to get preview versions of future Windows 10 builds before they are released for public use. If you are registered for the Windows insider program and regularly get previews from Windows, you don't need to Disable the service. If however you are not registered for the program, then the Windows insider service can be disabled by you.
16. Touch Keyboard and Handwriting Panel Service
The newly introduced touch keyboard requires this service. If you do not use the touch keyboard, you can disable this service without issues.
17. Offline Files
This service is also known as Win32 or (CscService) service. It only starts when a user, an application, or another service starts it. It runs as a LocalSystem in a shared process of svchost.exe with other services. This service gives the user access to network files even when the computer is not connected to the network.
18. Windows Connect Now 
Laptops and other wireless computers need this service for connecting to wireless networks. Desktops that don't have a wireless card do not need this service.
it's really hectic work for you to choose single services and disable one-by-one. To improve the performance of your Windows 10 PC, there is a tool named Easy service optimizer (Download Here) that will help you in this.
After unzipping, run the program. Easy Service Optimizer will detect your operating system, and show the appropriate Windows services list. You now have 4 choices :
Default (your current list of services)
Safe (a no risk selection)
Tweaked (an optimized selection)
Extreme (a high level of optimization)
NOTE:- These lists include only services capable of optimization (not all of them). Adding a new service and changing its startup type can cause your system to become unstable. Please be careful. We do not accept responsibility for any mistakes.
I will recommend you to first click on the "Safe" and click on the "Apply setting to the marked services" first and then check the performance of your Windows 10 PC.
and if the Safe option didn't work well for you then select "Tweaked " services and click on the "Apply setting to the marked services".If you are a gamer then try the "Extreme" option.
Reset services list:-
If you want to load the default list, just choose 'Services –> Reset Service List'
This article gives suggestions on the Windows 10 services to disable. With it, you can go about disabling unnecessary services.
This Video Tutorial will help you to use this Software.
How to Easily Optimize Windows 10 Services For GAMING
Use FreezeToStock
If you need to perform a processor-intensive task, such as gaming or video editing, FreezeToStock (Download here) can boost your system performance by temporarily pausing non-required processes and services, including open browser tabs. 
To use it, just click the Freeze System button. You can freeze services as well as processes, and choose to completely stop them instead of simply pausing them. Clicking the Unfreeze System will restore everything to how it was.
View Started Services in Windows 10 through Command Line
Open the Run menu by pressing Windows Key + R or either right-click on the Start menu and select "Run" and enter "CMD" without quotes and enter the command " net start".
View Started Services in Windows 10 through Powershell:-
Click on the Start and search for Powershell and enter the below command to view the Windows Started services.
Get-Service | Where Status -eq "Running" | Out-GridView
If you want to filter, click on the "Add Criteria" and select your filter here.
To view Stopped services, enter the below command on Powershell
Get-Service | Where Status -eq "Stopped" | Out-GridView
Display a list of Started Services from the command line in Windows 10
Conclusion
Your computer slows down with time. You may need to disable some Windows 10 services to increase performance. This is especially true if you engage in resource-intensive tasks such as gaming.
Hope my article "windows 10 services to disable to improve performance" helps. If you have any queries, feel free to comment.