YouTube thumbnails are the first thing you notice before clicking on a video on YouTube. I can't count the number of times I have clicked on a video because the thumbnail was catchy.
For this reason, I know how frustrating it can be to navigate through with a YouTube thumbnail not working issue.
While there are only so many characters you can put in your YouTube title before it gets too wordy, the thumbnail allows you to do more. For example, you can place text or images that can draw eyeballs. YouTube thumbnail not working means a fundamental part of your interaction with YouTube content is missing. 
Luckily, there are many easy-to-do steps to ensure this problem is resolved in no time. First, let us explain some of the causes of this problem of YouTube thumbnail not working.
Common Reasons Why YouTube Thumbnail Is Not Working:-
The signs that there is a problem with the YouTube thumbnail are so obvious. You don't have to be a genius to figure it out.
When you open YouTube and notice that the video titles are showing, but the preview image for the videos is not present, then you can be sure there are issues with the YouTube thumbnail.
Usually, there will be a grey box in place of the thumbnail. On some occasions, your screen will show signs that the preview image is loading, but it takes forever to load.
The major causes of YouTube thumbnail not working are:
Internet connection issues

Cache issues

Old cookies problems

Recent added or out-of-date add-ons

Computer bugs

Browser extensions
Furthermore, there may be problems with thumbnail display when you try to share YouTube videos on other websites. Finally, I will explain how to handle each of these issues.
Let us now dive into troubleshooting the problem of the YouTube thumbnail not working.
What should I do When YouTube Thumbnail is Not Showing:-
Now that we know the major reasons YouTube thumbnails may not be displayed, we can discuss the fixes. You'll notice that the effectiveness of any of these fixes will depend on the cause of the problem. 
1. Check Internet Speed
Your internet speed can determine if pages load completely, load at a snail's pace, or not at all. Perhaps the most common reason for the YouTube thumbnail not showing is poor internet speed or outright internet failure. Here are some things you can do:
If you are on a public hotspot connection, check that you have not been disconnected somehow or that too many people are not using the network.
Check your router. Or connect with an Ethernet cable.
Go to "speedtest.net" and hit the enter button, then press go. 
If it turns out that your connection is too slow, you may have to wait it out or connect to a different, faster network.
If your internet connection is not too slow, refresh the page and see. Also, try connecting to YouTube on a different device or using a different browser on the device.
2. Check If the YouTube Server Is Down
If you are experiencing the problem of YouTube thumbnail not working on different devices despite having a fast internet network, if other data-intensive websites are working fine, it may be a case of the YouTube server being down.
To confirm, try using a direct link to a YouTube video.
Additionally, visit the following site:
https://downdetector.com/status/youtube/
It tells you if the YouTube service has been down in the last 24 hours.
If the video doesn't load, it is a possibility that the server is down. Several resources let you know if the servers are down in your location or globally. You can find these resources with a simple internet search.
3. Use A VPN
If you are a resident of a country where YouTube is outlawed, you'll constantly experience the YouTube thumbnail not working error, that is if the website is not blocked outright. DNS server errors can also cause this problem.
A VPN fixes this problem. Get the VPN from the official marketplace to protect yourself from mistakenly downloading malware on your device.
You can also use any of our top browsers with VPNs to navigate this problem.
Some VPNs will allow you to access any site on their free version, though many give you time limits or other limitations that can be surmounted if you use their premium version.
I use the Avast Secure Line VPN, and it works very well to mitigate this error. There are, however many other options.
4. Clear Internet Browser Cache
Almost everyone who uses their devices to access the internet knows how effectively clearing your app cache solves problems.
The cache makes it easier for your device to recognize websites you've visited before; however, they occasionally interfere with the operation of those apps.
You can go to the device settings and find "Apps" on your mobile devices.
Scroll to the browser and click on it.
Next, click on the app Storage and clear the cache.
You can follow these steps to clear the cache on your chrome browser. 
Go to your browser settings by clicking on the ellipses (three dots at the top right-hand side).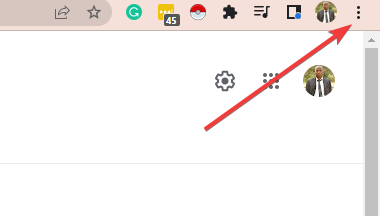 Scroll to more tools and select the " clear browsing data" option.

Once the clear browsing data window opens, confirm that you want to clear browsing data and that you want to clear cache and cookies.

After doing this, close your browser and open it again.
5. Clear YouTube App Watch History
It is not only the browser history that can be cleared; if you use the YouTube app rather than a browser, you should also clear the cache on the app. To do this:
Open the YouTube app on your device, navigate to the icon (your picture) at the top corner of the app and click on it. This will lead you to the app settings.
Click on the Settings option.
Go to History and Privacy and when the pop-up appears, click on clear watch history.
You can also clear the browsing data for the app and its cache as described in the step for removing the browser cache.
Go to your mobile device settings, click on Apps, find the YouTube app, and click on storage. 
And now click the clear cache and clear data options.
Finally, test if it resolves the problem with the YouTube cache.
6. Force Stop YouTube App
If the measures discussed above prove to be ineffective at solving the problem of YouTube thumbnail not working, you may have to attempt something more drastic. For example, force-stopping the YouTube app accomplishes just that.
The aim of force-stopping the app is to make sure all the internal processes within the app are brought to a halt, and whatever is causing the problem can be reset automatically to its functional state. 
Force stopping the app helps refresh the app in ways that refreshing within the app may not accomplish. Here is how you accomplish this.
Go to the app manager on your device.

Locate the YouTube app
Next, open the YouTube app and see if it solves the problem.
7. Remove Incompatible Extensions
Incompatible browser extensions can lead to YouTube thumbnail not working, and unless you remove the extensions, you will experience problems on several websites.
If you usually install various extensions, a good way to start is to uninstall the most recently installed ones. However, if you're having difficulty remembering what extension you installed last, do not worry; there is a simple hack that will help you figure out what extensions are problematic.
Using incognito is a trusted way to remove these incompatible extensions:
Open your browser settings by clicking on the three dots, then select "open incognito tab."

In incognito mode, the incompatible extensions are displayed on the screen. If you do not have any extensions displayed on incognito, like in my case, you can choose a different fix.
Right-click on each of them and select uninstall. After uninstalling, open YouTube while incognito and see if the thumbnails are still not loading.
8. Update Or Reinstall App
Many users have observed that their apps acting up is a sign that they need to update them. However, in my experience, I have noticed that an updated YouTube app usually resolves many of the problems present in older versions.
Bugs get fixed, and performance issues get resolved. If you've tried clearing cache, force stopped the app, and still cannot figure out why the YouTube thumbnail is not working, simply update your app.
What if there are no updates to the app? You can still uninstall the app and reinstall it. This is also an effective fix for solving problems of this nature.
9. Restart Your Device
Restarting your device is one of those troubleshooting tips that are both simple and effective. While restarting your device doesn't seem like an ingenious fix to the problems ailing your device, but it is usually effective.
It makes sure your device comes to rest fully, including background apps. This allows your device to resolve simple issues and be restored to a more conducive setting. If other background apps are interfering with YouTube, they are forced to close.
10. Update Browser
The problem may not be from Facebook or Twitter; it may simply be solved by updating your browser. Most browsers allow you to use Twitter and Facebook, but some of their features may not work perfectly on the specific version.
Go to your computer's control panel and update or update via the browser. For example, on your smartphones, update via the App Store.
Some methods of sharing YouTube videos may be more appropriate for your device. Sharing directly from YouTube rather than using the copy and paste option proves effective for many.
Navigate to the Youtube video to be shared. Click on the share button. Several options would be displayed, such as sharing on Facebook, sharing via email, sharing on Twitter, etc. Click on your preferred choice and hit the enter or share button.
Perhaps using the regular share button on YouTube leads to the YouTube thumbnail not working. You can copy and paste the URL to the website on which you want to share it. There are two ways to do this.
First, you can copy the link address on the address bar of the video. Alternatively, you can click on the Share button of the video and select the share by "copy/paste" option.
After copying the URL, paste it on the tweet or Facebook post you're making.
13. Upload The URL Yourself
Sometimes the problem has nothing to do with YouTube. Perhaps the site you are trying to share your video on has a glitch or some other issue. You may be able to upload the thumbnail and video title manually.
Go to your library, find the URL, paste it on the site, and type the video title. This is the last resort if all the other alternatives do not work.
Other Variations of Thumbnail Not Working on YouTube
1. YouTube Thumbnail Not Working On Other Apps
While YouTube thumbnails may be displaying properly, you may experience the problem of them not being displayed when you share them on other websites.
When you share YouTube links on Twitter or Facebook, or different messenger apps, you may notice that the thumbnail is not loading. If this is your experience, I will give you some pointers on how to solve this problem.
2. YouTube Video Not Fully Processed
Details such as the video title, thumbnail, and description are part of the metadata of the YouTube video. Unfortunately, this metadata is not available until the YouTube video is fully processed.
Sometimes content creators are in a rush to share their videos across different platforms but they do not wait for them to fully be processed. Depending on the length of the video, it may take some time to fully be processed after uploading it.
In this case, it is simply a waiting game before the video along with its thumbnail can be shared on other websites.
For any of the two variations mentioned above, you will want first to try solutions 10 to 13.
Final Thoughts
The problem of the YouTube thumbnail not working can easily be resolved. I have examined the most common reasons for this issue as well as some easy-to-do troubleshooting steps you can take.
I have also looked into the ways you can resolve the problem when the thumbnail is not displayed when YouTube videos are shared on other websites like Facebook or Twitter. Now you know what to do when YouTube thumbnails are not displayed.