Have you ever used Google Sheets Templates for your work? Many users we have come across haven't used the best ones yet.
There are a lot of templates available that you can directly apply to your work or personal sheets and make tasks less tedious.
Also, to make it a little easier, we have listed the best Google Sheets Templates, so you can pick one out for yourself.
Some popular templates are for the To-do list, Assignment Tracker, project management, etc. All of these can be put to the best use, and the layout is already pre-planned.
You need to edit the sheets and make them useful to maintain a proper record of any purpose you would like. It can be related to a business report, assignment report, attendance, etc.
It is not difficult to use these templates; instead, digging into starting from scratch is a lot more difficult.
Before exploring this guide, you need to know all links provided are in read-only mode. You will see the "View Only."
To use these templates, Click on the File, select "Make a Copy," and use it.
Without wasting any more seconds, let us look at the list of best Google Sheets Templates currently listed by Google on the sites.
Best Google Sheets Templates – Our Top Pick👌
For Personal
1. 2020 Calendar
We had to start with the 2020 Calendar template (Get Here). You can either use it for your work or do proper planning. Or it is best used for personal purposes.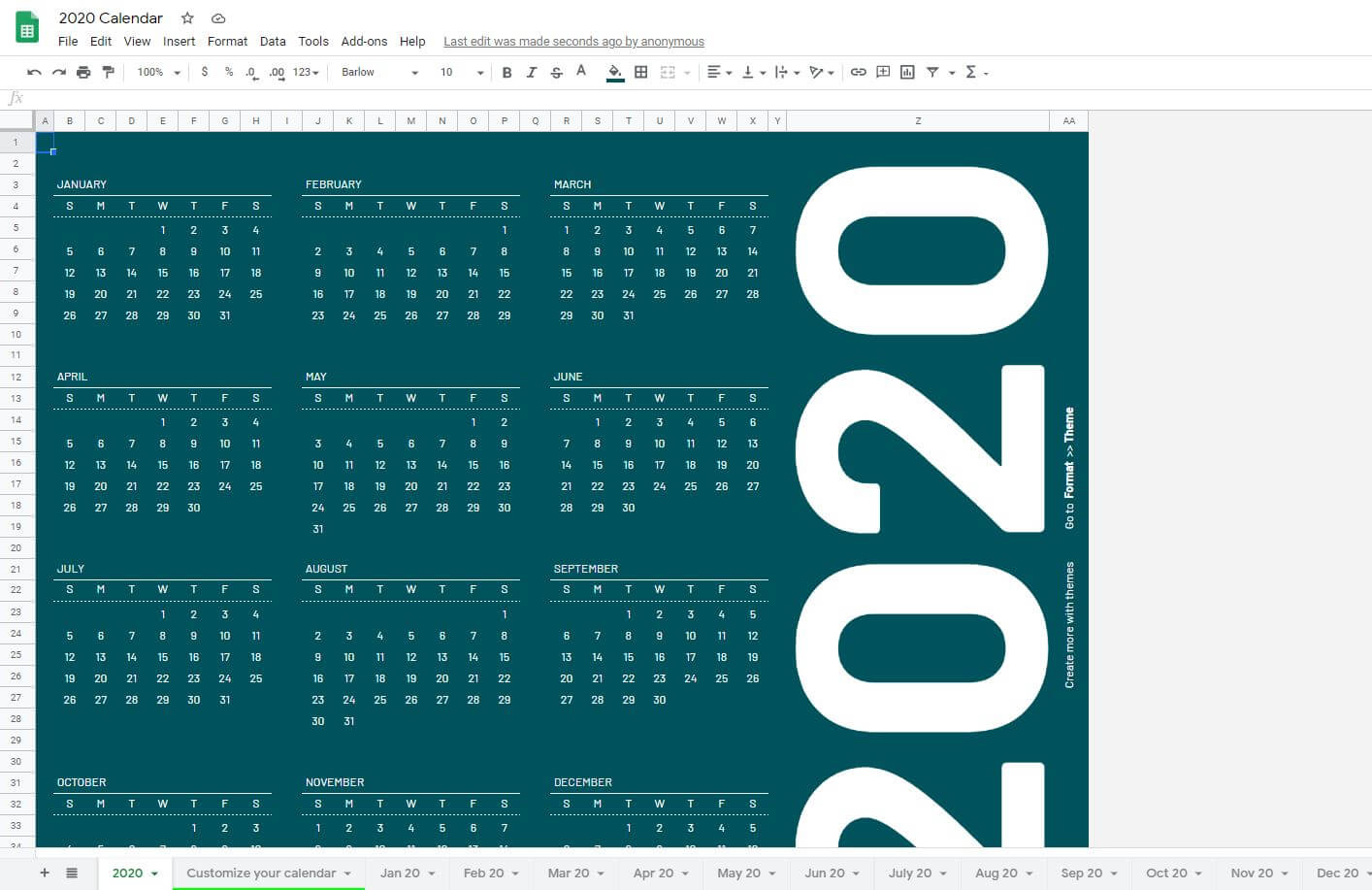 With this template, you can select over 16 themes and choose the color you want. It has different color combinations for all the year's months to look more intriguing. Simply click on Format > Theme.
Now, this is a pretty basic theme as well, available every year. You can add your schedule, add images, and write anything you want.
All of it can be filled in here so that you are always on time and does the work as given.
2. To-Do List
One of the most important aspects anyone should know is that you must have a to-do list (Get Here). It can be regarding anything, whether work-related or your home.
Three parts of the sheet, Task, Date, and mark option, are used for the template. You can either edit it or get going.
When you finish your task, check the box, and the task will automatically strike off.
This is just a simple template that does not need a lot of work to do. So if you are a beginner, you can use these templates under the list of personal categories.
3. Schedule
Few people use the Schedule template (Get Here) anymore since everything has been narrowed down on your smartphone.
However, if you are somewhat like us, you can use this template and put it to good use.
The template has a row for a time during the day based on what you can customize based on your schedule.
Also, it is a weekly based schedule. So, you can add your work or personal life and make the entry on the sheet.
Once you finish a week, add another sheet and repeat the same process. Further below is a small section to add notes based on each week and a to-do list separately.
For Personal Finance
4. Bill Payment Schedule
If you have been struggling to maintain your bills and spending every month, this template (Get Here) is here for your rescue.
Whether you are self-employed or have a job, everyone has bills to pay, and tracking them can be tough.
But if you are organized enough, things will get better, and you will know how much is the incoming vs. outgoing of money you earn.
We have columns for Pay where you fill out the person or service you will be paying the bill. Next, we have columns for every month's due dates and if anything is on the AutoPay mode.
Finally, you can write down the amount you are paying for each of these bills, which will come off the total at the end.
This is how you have every bill in your hands, so you do not miss out on anything.
5. Monthly budget
After we took up the bill payment template, we have another one to help you manage your finances. It has everything you spend your money on, such as Food, gifts, medical, transportation, etc.
This template (Get Here) is very useful for setting a target money spending for each month and what you spend.
Simply make your entries for everything, and then at the end, you can know how to save the extra money and achieve your target.
It is pretty easy to execute, and if you cannot understand anything at all, you can also check out the instructions.
Furthermore, all the cells are not altered, as only the ones that have been highlighted are something for you to edit.
Google Sheets Budget Template Tutorial: How to Create a Budget in Real-Time
For Work
6. Invoice
If you have a Startup or a business, you need a proper invoice (Get Here) that can be used repeatedly.
And no one does create one every time before use. So, you can use these Templates for Invoices and make the changes as you wish.
This is a pretty basic, so editing the details will hardly take time. Whenever anyone asks for an invoice, you can add their company's details, items purchased, cost, etc., and get it printed.
There are options to choose a different theme or add a logo to make it more authentic. You can do many things with this particular template, such as changing colors based on your company, adding images, watermarks, etc.
Furthermore, you need not necessarily print and send the invoice. Save it and send it via email.
7. Annual Business Budget
One of the most important templates for your business or Startup that you will need no matter what is by keeping track of your Annual Business Budget (Get Here).
It is especially needed for small startups so that they can keep track of their expenses and cut down costs in the end. So, here this template has multiple sheets.
You can start by filling out the Income section with details of every sale you made and the money earned. This goes for every month.
Next up, move over to the Expenses section and enter the details about money spent on marketing, salaries, Cost of goods & services, and other expenses as mentioned in the cells. Now, on the very first sheet, enter the starting balance.
This template will provide you analysis of the incoming and outgoing money and money left in the end.
8. Employee Shift Schedule
This sheet works best if you have a large company or an organization. You can use these Google Sheets templates to keep track of your Employee's Shift schedule (Get Here).
Due to a large workforce, it becomes very difficult to make manual entries and looks for every employee and their shifts. Here you can enter the week-by-week schedule of each employee for a month.
You can start by entering the details of the employees that work in your company. Make sure to add their wages, work hours, etc.
Likewise, follow similar instructions every week, which will help you calculate their wages and work hours every month easily.
9. Project Timeline – google sheets CRM templates
A very important Google Sheets Templates for every startup in the initial phase. There are a lot of opportunities in your work where you need to work on multiple projects over time.
So with the help of this template (Get Here), you can plan your work a lot easier and faster too. This sheet has been broken down into multiple segments, and you can bring them into order.
Based on the time allotted to you, schedule each week carefully, and add as per the schedule.
Having a good schedule always makes things go faster and better too. It isn't too big a template that you would need help to make changes; however, you can still do a lot with it.
10. Project Tracking
Well, since we now have a template for any individual project and how one can keep track of every aspect.
Similarly, we have another free template by Google (Get Here) that can help track multiple projects together in a compact form.
You can enter the details of the projects and be ready to make the changes. It has other sections also that tell you how much is spent on the process involved in the steps.
In the task appointed to you, add the status and priority level of them. Further, you can add a description column to mention your task.
And then the percentage of the work and the fixed cost make it even more favorable to use. Furthermore, we spoke about a single project; however, you can add more to it as well.
Other Templates
11. Event Marketing Template
It requires a lot of time and effort to make an event successful. Either be it is work-related or simply for personal reasons, each of them deserves equal hard work.
One of the key components of big events is Marketing to reach more people. You will find several sections on this template to market your event (Get Here).
It can be used to plan your marketing strategy before the event.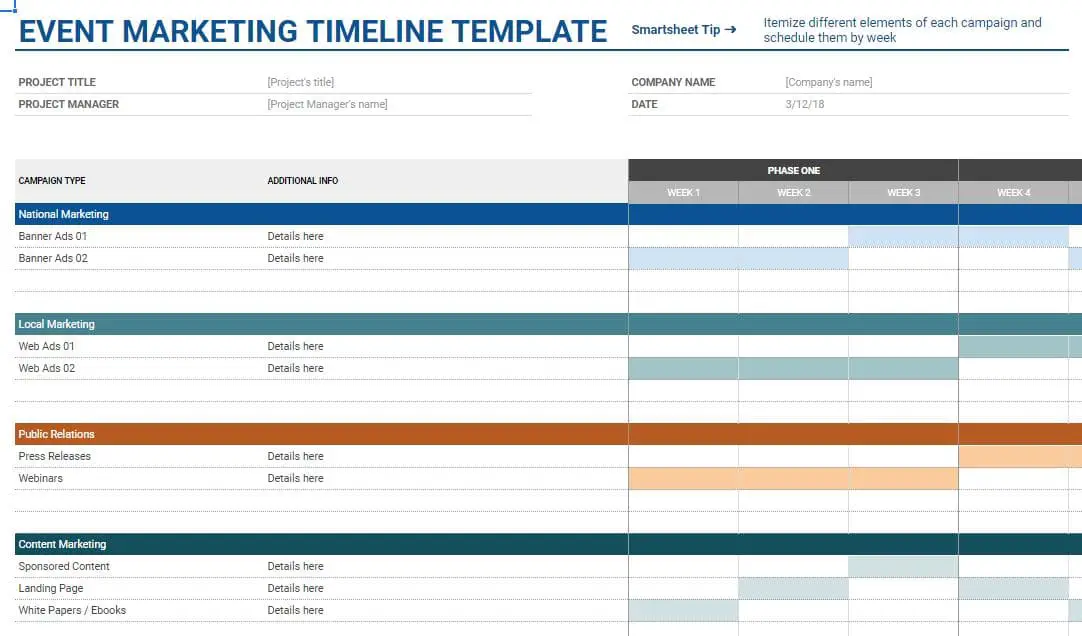 You have sections to write about Banners, web ads, PR, content marketing analysis, Social Media, online reach, Web analysis, Market research data, and Sale campaigns.
The above needs attention, no matter how big the event is. Your event can be divided into as many phases as you would like based on the number of weeks to go, and similarly, you can make entries in the template.
12. Wedding Planner
Is there anything bigger than organizing a Wedding? So, to make your task easier, this Google Sheets Template (Get Here) works your best and covers everything you will need to plan out for any wedding.
All the information starts from deciding the venue, guests, catering, etc.; you can track everything from here. Add more people to it so that everyone else can also know based on the task they are handling.
You can start with the To-do sheet and add every task you can remember daily to strike them out once done.
Another sheet is for coordination to enter all the details and each person's role in this wedding planning.
Other sheets include wedding functions & dates, Budget Estimator, Detailed Budget layout, Guest List, Invitations, Cake, Flowers, Food, and more.
13. Attendance Tracker
The age of manually entering attendance on a notebook is coming to an end soon. After all, we are in the digital age, and it is only fair to upgrade this too.
Using a Google Sheet (Get Here) to take Attendance is pretty easy and quick, and there is no way to erase the data. You can keep a lock on the sheet and make changes only when you like. 
If you have multiple classes, you can add sheets to them and continue with the same template.
Based on the everyday schedule, you can mark them based on the attendance key on the template or as per your institution.
14. Grade Book
We have another template that can be used in schools and colleges to record the student's grades (Get Here). Well, the template is pretty amazing and well-prepared.
You can change the main section per your school's grade card and make the entries for each student.
In the grades sheet, you can name the students and add their grades based on your grading system. It can be based on assignments, periodic tests, projects, etc. All of these can be entered individually.
Once done, you can move over to the next sheet and check out each child's progress or an individual report to show it to every student.
It will help every teacher to keep a track record and accordingly take care of the student's academics in the future.
How to use Google Sheets Templates?
So, if you have never used Google Sheets, figuring everything out can be a little difficult. However, it is not impossible, and there is always a learning scope.
We have added small steps to guide you on using the existing free Google Sheets Templates and editing them for your purpose.
1. Open Google Sheets
You can open it by typing Google Sheets on Google search. Login to your account and open Google Sheets. You can either begin with a new Spreadsheet and start from scratch or choose to go for Template Gallery.
2. Click on Template Gallery
Once you have successfully opened the Gallery, don't be overwhelmed by the number of templates. Ensure you are clear on the purpose you must complete; accordingly, you can select one.
There are several sections in this gallery. From personal to education, multiple templates are available to choose from.
Now, all you need to do is click on anyone that sounds perfectly suited to you. After this, you only need to make the necessary entries and modifications.
3. Make Necessary Changes to the Template
Once you have chosen the template, you mustn't mistakenly edit the formulas that have been added; they are the base of these templates that make them so easy to execute.
For example, if you are taking up a template for a Student's Grade. You may have to change the grading system according to the School or college you belong to. So similarly, every template goes the same way.
On the other hand, the menu options allow you several features such as changing the theme (Format), Use Add-ons for added functions, Downloading the sheet, making copies, and sharing it with anyone you like.
At the time of our research on Best Google Sheets Templates, we found a video about "5 Google Sheets Tips Every User Should Know!" worth watching.
5 Google Sheets Tips Every User Should Know!
📗FAQ
How do I get more templates in Google Sheets?
To access more templates in Google Sheets, follow these steps:-
Step 1:- Open Google Sheets and select "Template Gallery" from the "File" menu.
Step 2:- Browse available templates and choose one that suits your needs.
Step 3:– If you cannot find a suitable template, select "General" to access additional options or "Search templates" to locate templates from the Google Sheets community.
Step 4:– When you find a template you like, choose "Use template" to generate a new sheet based on the template.
Customize the template to meet your requirements and start utilizing it.
Furthermore, creating your templates in Google Sheets is possible. After creating a spreadsheet you wish to use as a template, select "File" then "Make a copy." Rename the new copy and choose "Template" from the dropdown menu. Now, you possess a new template that you can use or share with others.
Where can I get templates for Google Sheets?
Templates for Google Sheets can be found in the Template Gallery, accessible directly from the Google Sheets application.
To access the Template Gallery, follow these steps:
Step 1:-Open Google Sheets.
Step 2:- Click "File" in the screen's top left corner.
Step 3:– In the drop-down menu, select "New" then "Template Gallery."
Step 4:- Browse available templates or use the search bar to find specific templates.
Step 5:– Once you find a suitable template, click "Use template" to create a new sheet based on it.
Additionally, many third-party websites and online communities provide templates for Google Sheets. These can be discovered through an online search and are frequently downloadable and imported directly into Google Sheets.
Are there Google sheet templates?
Google Sheets offers templates that are accessible from the Template Gallery. These templates serve various purposes, such as budgeting, project management, and inventory management.
Users can create their templates in Google Sheets, which are saved for future projects or shared with others.
Additionally, templates for Google Sheets can be downloaded from third-party websites and online communities and imported into the application.
How do I use Google Sheets as a template?
Using Google Sheets as a template is simple. Here are the steps:
Step 1:- Open Google Sheets and create a new spreadsheet.
Step 2:– Enter any text, data, or formatting you want to use as a template.
Step 3:- When finished creating the template, click "File" and then "Make a copy."
Step 4:– Rename the copied sheet and click "OK."
Step 5:- Customize the copied sheet with new data and formatting as needed.
Step 6:– When ready to use the template again, click "File" and "Make a copy" again.
Step 7:– Rename and customize the copied sheet with new data and formatting as needed.
Alternatively, access the Template Gallery from the "File" menu to choose a pre-existing Google Sheets template that suits your needs. Once selected, click "Use template" to create a new sheet based on the template and customize it as needed.
Why would I need Google sheets templates?
Google Sheets templates offer a variety of benefits:-
Time-saving:- Templates reduce the need to start from scratch, which saves time.
Productivity:– Templates increase productivity by helping organize data more efficiently.
Consistency:- Templates maintain formatting, formulas, and layouts, ensuring consistency across sheets and users.
User-friendly:– Templates are easy to use, even for those with limited experience.
Customizable:– Templates can be adjusted to meet specific needs and requirements.
Accessibility:- Templates are accessible from anywhere with an internet connection and can be shared with others.
Cost-effective:- Templates offer a cost-effective way to manage data without expensive software or professional services.
Overall, Google Sheets templates save time, increase productivity, maintain consistency, and provide customization options in a user-friendly and cost-effective way.
Final Verdict
Well, here we are with the list of Best Google Sheets Templates. There were many others, too, than the ones we mentioned on multiple sites. However, the ones here are the most frequently used and super useful.
You can use it for personal purposes, management, finances, work, business, education, etc. Also, we found it to be very easy to use these templates. It saves loads of time and effort, which you would have otherwise wasted starting from scratch.
Furthermore, you will also find multiple Add-ons that will make Google Sheets a lot more fun to use. There are a lot of such add-ons, and we will be covering it as well, so make sure you check out the other section.
Until then, you can end your search here for good Google Sheets Templates and start using them. If you have queries about understanding how to use the sheet, you can let us know in the comment section.