Do you have the curiosity to know about the best turntables under 1000 $ To Buy in 2022? 🤔 You can easily Find out now with this definitive list with our detailed review.
Without any further delay, let's find out. 📗
Somedays, you want to indulge in delightful warm music like an artist is there serenading you because you paid for a private performance (that kind of elite musical experience), and vinyl sounds are just the only way out because vinyl does it like no one else does.
Whether you are a record collector or just inherited some of your parents' old tapes, investing in a good turntable is always worth spending.
A turntable experience is like having a MET gala experience in this millennium, only this time for music and not fashion.
Wouldn't it be a good idea to have an evening dedicated to luxurious vintage audio sound? (vintage but not in any way obsolete).
Having a great turntable isn't about how much you spend; it's about what you have sitting on your table at the end of the day, and the good news is you can have some great turntables for your $1000 budget.
Under that $1000 budget, look no further for ideas on which turntable to get because this list brings you ten of the best turntables under $1000.
Best Turntables Under 1000 $ – Our Top Pick 👌
1. Music Hall MMF 5.3
If you are itching to enjoy the luxury of a turntable and don't want to bother about all the setting up and coupling of components, but at the same time, you still want a slice of the best out there.
You will enjoy the MMF 5.3. from the reputable brand to the great performance, there are different reasons why you would love this one.
Features:-
Belt drive
Dual speed
2M cartridge
Adjustable noise damping
Instruction manual
Dust cover
Speed deviation ±80
The length of the tonearm is 9."
Power consumption is 1W
Pros:-
Easy to assemble
It is upgradeable
Good quality and clear sound
Reputable manufacturers
Good control of external vibration
A counterweight on the tonearm
Comes with warranty
Cons:-
It does not work with 78RPM discs
Music Hall MMF 5.3 w/Ortofon 2M Blue
2. Pioneer DJ Direct Drive DJ Turntable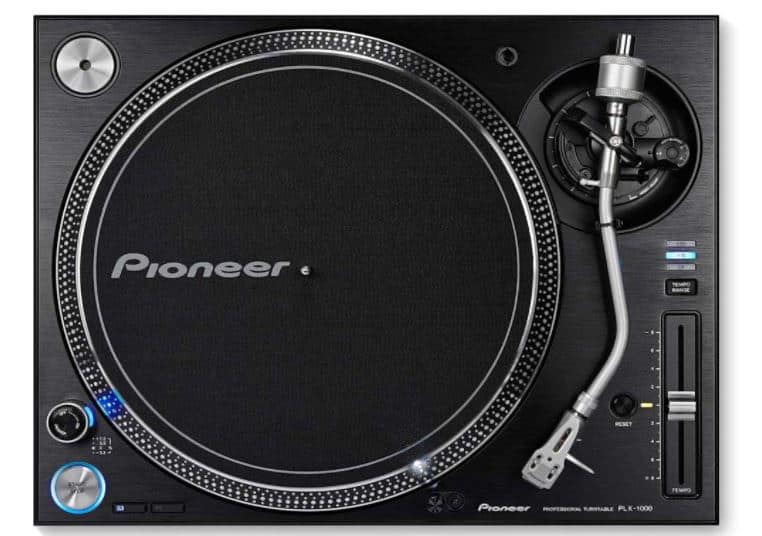 This direct-drive turntable is a favorite among old vinyl lovers because it was built for DJs to give them an upgrade from the vintage variation of turntables and is still performing.
If you are looking for a turntable that will be a great tool for your mixes, is reputable, and able to work with more modern DJ hardware, then this one is great for you, not to mention the fact that it has gained a lot of respect among old DJs.
Features:-
wow, and flutter is 0.1%
A rotation speed of 331/3RPM and 45 RPM adjustable within a range of ±8, ±16, ±50%
upgradable
weighs 24 pounds
Pros:-
It is upgradeable
Adjustable speed
Easy to set up and use
Reputable brand
High customer ratings
A clear and stable sound produced
Cons:-
You need to purchase your cartridge
It does not have an inbuilt phono-preamp
Does not play 78 RPM
Pioneer DJ PLX-500 Official Introduction
Note:-
I have written a post for people looking for the
best turntable under 100
USD To Buy, do read it If you are interested.
3. Fluance High Fidelity RT81
This turntable has an MDF plinth that gives it some vintage vibes, but vintage isn't exactly the only thing that sets it as one of the best.
The low price concerning the sound this turntable offers will leave anyone impressed. Although other turntables in this list may perform better, the Fluance High Fidelity RT81 still beats the odds as one of the best.
You can appreciate what this offers if you are new to using turntables.
Features:-
Power consumption is 1.5W
Wow and flutter 0.2
Belt drive
Dustcover
Record speed of 33 1/3 rpm and 45 rpm
Pros:-
Very affordable
It comes with a dust cover
Two years manufacturer warranty
Easy to set up
Good sound quality
Built-in phono-preamp
Cons:-
It has a plastic tonearm
The sound quality may not be as detailed as the others on this list
Check Price on Amazon
4. Denon VL12 prime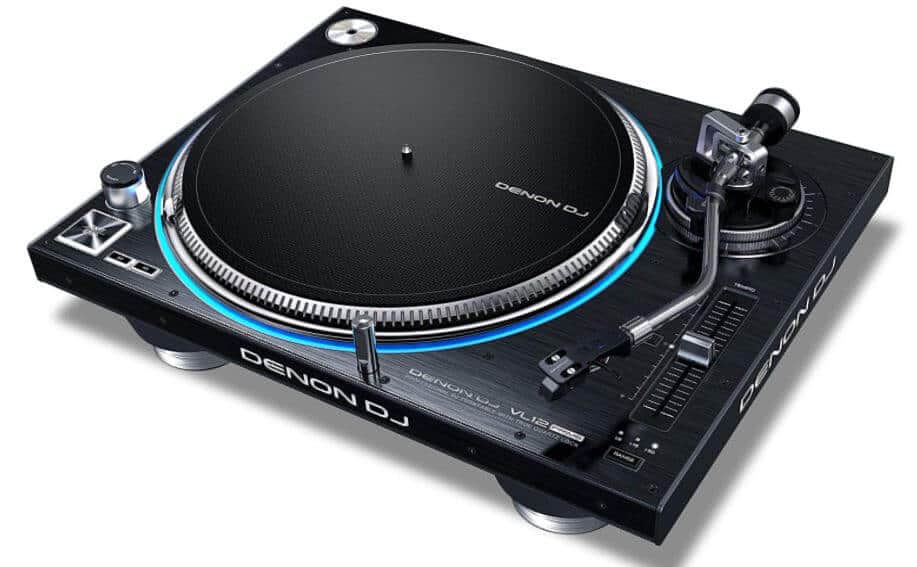 The Denon VL12 Prime is a great turntable for a DJ; it is designed to suit a DJ's needs when working long hours, especially at night. With an LED backlight, recessed connection points, and a sturdy build, this turntable is what every DJ needs to take their experience to the next level.
This turntable has an impressive design and performance, making it one of the best. Unfortunately, its completions are not sleeping on their designs either.
Features:-
LED backlight
Counterweight
Slipmat
belt drive
User manual
Wow, and flutter is less than 0.5%
The platter material is aluminum die-cast
It uses a speed of 33 1/3 and 45 RPM
Pros:-
Heavy for counterweight
Quiet during use
Durable tonearm
Dual speed torque that can be switched easily
Cons:-
No dust cover
High energy consumption
It does not come with a cartridge in the pack
Review: Denon DJ VL12 Prime Turntable | Tips and Tricks
5. Pro-Ject Debut Carbon Espirit SB
The Pro-Ject Debut Carbon Espirit SB turntable is a high-end automatic belt-drive turntable that has gotten a lot of praise. One striking thing about this turntable is the marble plinth finish that gives it a different look from others in the market.
Features:-
Carbon tonearm
2M cartridge
It works with 33 1/3, 45, and 78 record speeds
Belt drive
9 kg of weight
Wow, and flutter is ±19 %
It has a dust cover
Pros:-
Affordable
From a reputable brand
Easily upgradeable
Durable plinth material
Carbon tonearm
High-quality cartridge
High customer rating
Cons:-
Check Price on Amazon
6. TEAC TN-550
The TEAC TN-550 turntable is a high-end automatic belt-drive turntable that has gotten a lot of praise. One striking thing about this turntable is the marble plinth finish that gives it a different look from others in the market.
This turntable is perfect for a good listen, produces great sound, and is best fitted under The best turntables under 1000 $.
Below are some of the features of The TEAC TN-550 that earned it a spot in our list of Best Turntables Under 1000 $.
Features:-
Wow and flutter 0f 0.15
Power consumption of 1.5W
1-year warranty
MM cartridge
Works with 33 1/3 and 45 rpm
Below are some of the Pros and Cons of The TEAC TN-550 that earned it a spot in our list of Best Turntables Under 1000 $.
Pros:-
Durable platter
Good quality cartridge
Good acoustic production
Affordable
Marble finish for counterweight
Cons:-
Check Price on Amazon
7. Pro-Ject Debut Carbon DC
This turntable is amazing for those just getting introduced to the vinyl world but still want to have their pick at the best of them all.
Not only is the minimalist look impressive and calming, but it is also from a brand that has made its mark for years on delivering exquisite turntables. This manual disc drive turntable has a lot to offer, and well suits its price.
Below are some of the features of The Pro-Ject Debut Carbon DC that earned it a spot in our list of Best Turntables Under 1000 $.
Features:-
Carbon tonearm
2M cartridge
It works with 33 1/3, 45 RPM record speeds
Belt drive
9 kg weight
Wow, and flutter is ±70 %
It has a dust cover
Below are some of the Pros and Cons of The Pro-Ject Debut Carbon DC that earned it a spot in our list of Best Turntables Under 1000 $.
Pros:-
It has a dust cover
Sturdy
High-quality cartridge
Reputable brand
Simple design
Good customer reviews
Upgradable
Cons:-
It is manual
It does not play 78 rpm
8. Rega RP3 (Belt drive)
If you know anything about turntables, you will also know the Rega brand and love it because of their phenomenal quality of turntable productions.
Suppose you have an ear for sound and can pick up on high-quality production. In that case, there is no doubt you will appreciate the Rega RP3 because of its high acoustic quality and design that reduces vibration to the minimum.
Below are some features of The Rega RP3 (Belt drive) that earned it a spot in our list of Best Turntables Under 1000 $.
Features:-
33 1/3 and 45 RPM speeds
Elys 2 cartridge
11 pounds weight
Upgradable
Below are some of the Pros and Cons of The Rega RP3 (Belt drive) that earned it a spot in our list of Best Turntables Under 1000 $.
Pros:-
this turntable is upgradable
reputable manufacturer
low disturbance and vibrations
easy to set up
affordable
lightweight
upgraded tonearm
Check Price on Amazon
Best Turntables Under 1000 $: What To Consider
Turntables are not so much of a mystery, but if you are new to the vinyl record category, you might want to sit down and take a few lessons on how to know your way about a turntable or just read this handy summary.
First of all, what is where on a turntable? When asking around for a turntable, you get bamboozled with many terms that can be quite confusing if you don't understand it just yet, and you find yourself asking a lot of questions that you probably won't even understand to. These are the parts of a turntable you should know about.
The cartridge:- The cartridge is carried by the forearm, located at the end of the forearm, and attached to the stylus.
After all mechanical and kinetic work has been done on the record table, the cartridge transmits that and converts it to the sound that comes out.
When you start to use a turntable, it will not take long to figure out that compromise is not a word to be associated with the cartridge if you care about receiving good sound.
The stylus:- The stylus is the tiny needlepoint at the end of the cartridge that has direct contact with the tape.
What this cartridge does is that it picks up the kinetic energy of the spinning tape from the grooves and transfers it to the cartridge, which in turn does its job. The precision of the stylus point is relevant to how accurately it picks up the kinetic energy from the spinning record.
The platter:- The platter is simply a spinning plate on which the record tapes are placed.
Do not think of a platter as just any plate, the material and covering of the platter is important because they affect the number of vibrations transmitted by the cartridge. The platter can spin because the motor drives it.
The tonearm:- The tonearm is a horizontal arm that carries the cartridge and the stylus and is placed on top of a spinning record when it is time to play.
The process of placing the tonearm on a record to pick up sound can either be automatically done or manually; manually means that you have to do it the old-fashioned way and place the tonearm on the record and automatically means that the turntable does it for you when the record is on the right speed.
The plinth: The plinth holds every part of the turntable. Because the turntable's base does not make it irrelevant since a turntable is very sensitive to vibrations, it is important that the build and material of the plinth can avoid as many external vibrations as possible.
The motor is an electronic compartment that drives the platter to spin; it is safe to say that the motor makes the platter go around.
As explained further, this motor can drive the platter by either being a direct drive or a belt drive, which determines the motor's position (beneath the platter or on the side).
When the motor does a smooth job of spinning the platter, the cartridge will interpret a smooth sound.
Types of Turntables:-
There are two types of turntables depending on the motor: the direct drive and the belt drive.
The reason why you should bother about this is that the reason you are buying your turntable in the first place.
For audiophiles who want a premium quality listen, you can go for either, but for DJs, the more obvious choice will be the direct drive.
Direct drives: direct drive turntables have the spinning motor directly underneath the platter.
They make for a smaller turntable in width since the motor, and the platter is on the same vertical plane, but what makes this a preference for DJs is that they can adjust the speed of the plater spinning to any speed they want, even when the motor is off.
Also, the direct-drive motors catch up to a record speed very quickly when put on; this allows DJs to play any sound at any speed they want right from the first second they turn it on.
Belt drives: Belt drives, unlike direct drives, is when a belt controlled by the motor drives the spin of the platter.
Belt drives catch up to speed slower than a direct drive, but this time-lapse is nothing to bother about when you are going for is a good listen because they catch up pretty fast.
DJs may not readily use the bet drives because it takes a level of skill to adjust the speed of the platter to the desired one because of the resistance of the belt, and even then, sometimes, the speed is limited to the factory-allowable speed.
Belt drives tend to transmit a clearer sound because the motor's vibration does not interfere with the sound.
Note: If you do not plan to explore your record mixing and other DJ skills, if all you want is richness in sound when you listen, this may not be a problem.
However, belts in belt drives will need more maintenance than direct drives because when the belt wears out, it will need to be replaced, it takes time for the belt to wear out, and even when it does, it is usually inexpensive to change.
Cartridges: You already got the hint that the cartridge on your turntable is a very important component, but you probably do not know that there are different types.
There are four types of Cartridges out there, but you only hear about two of them most of the time, and with this budget, you only have to worry about these two. They are the moving coil and the moving magnet cartridge.
Moving coil cartridge (MC): MC cartridges (usually called) work with a coil in a magnetic field, picking up vibrations from the stylus and transferring them to a magnet to produce sound at that frequency.
It matters because the cartridge is way up there on a scale of importance, and this type produces the most accurate kind of sound. Unfortunately, they are tedious to maintain as replacing them is a herculean task.
Moving magnet (MM): MM cartridges are easier to handle than the MC variation. This one works with a magnet picking u the vibration and then transferring it to a coil which transfers and interprets the sound it produces. Most turntables work with this and improve it to produce a better quality because they are easier to maintain.
You are likely going to be hearing MM a lot when you go browsing through turntables to buy.
Amplifying your sound: Amplifying sound on a turntable is not as basic as with a digital sound player, most times, you cannot just plug it into the speakers.
The player should be connected to an amplifier before the speakers; however, with most records now, there is an inbuilt amplifier, so you will not have to worry about all the mechanics; you connect to your speakers.
Dealing with vibrations: The reason turntables produce such clarity in their sounds is that it picks up on very few vibrations, including external vibrations.
You can't just place the turntable anywhere. Otherwise, you may be hearing unwanted noise when the record is playing. As a result, there are dedicated tables made to hold turntables that you can buy, but if not it is important to keep them away from sources of vibrations.
Your best bet is to get a suspended platform and keep it at a distance from your speakers.
Leveling the turntable: The turntable has to be leveled to get the best sound quality without breaks.
If the platter is not leveled and the stylus tip does not make good contact with the grooves at any point, you will get a break in reception.
Therefore, when setting up, try to maintain an accurate level in the turntable platform, the plinth, the platter, and the stylus. Some turntables come with the basic level already pre-fixed, making it easier.
Record speed: Speed pops up a lot when talking about turntables, but most of the turntables here can work at 33 and 45 RPM; this is the speed most vinyl records come in lately.
The speed of a record affects how long the record plays for, and the size of the disc; records have their perfect speed. While some records come in 78RPM (old records), you may not need that if you are not into very old tapes.
Best Turntables Under 1000 $: Buying guide
There are things you expect to be on the lookout for when looking for the right turntable to purchase. Even though some of them depend on individual preferences, others are rather fundamental requirements. They are as follows:
The plinth: The plinth is important in a turntable because it can help keep off external vibrations since it is the base of everything.
You want to check that your plinth is made with materials and treatments that protect against external vibrations and are durable.
How upgradeable is it:-
You must have a turntable that you can upgrade, just like anything else; improvements come in, tastes change, and sometimes you want a replacement.
There is no need to buy a turntable that you cannot upgrade to get better quality sound, so when buying a turntable, it is important that you can upgrade the components because chances are that when you get hooked, you will start to demand more (better experience).
Rotation speed:
Most turntables, as mentioned earlier, will work with the speed of modern records, but what is to say that you don't have a priced record that has been passed down from another generation before you?
You may even buy one yourself; if you envision playing older records, you may want to consider having a turntable that can handle their required speed.
What you plan to use it for:
Are you a DJ, or do you love a good listen? The answer to this question will serve as a good consideration for the type of turntable that will be more appropriate for you.
In any instance, direct-drive turntables seem to serve most people's audio tastes and needs.
Manual or automatic:
This is an electronic age, and many people are used to the convenience of clicks and buttons, while to some, it doesn't matter a great deal.
Choosing between manual or automatic turntables is just convenient and preference.
USB supported or not:
Getting a turntable that supports USB connections can come in handy as you may need to be using it with other appliances; if you are new to vinyl records, it may be safer to get one with a USB port because the experience will grow on you and you do not want to go out to get a new one just because of this single feature.
Bluetooth supported:
Some turntable is Bluetooth supported, making it easy to connect them to alternate appliances. While some people do not bother about this feature, it may be worth looking into if you need it.
The specifications:
You must be pretty good at reading and understanding a turntable's specs to follow it as a guide. Nonetheless, you can learn about it and use that to guide your choice.
Your budget:
Your budget will tell on the type of turntable you end up buying. While this article will help you by already selecting the best that fall within your budget of $1000, it is worth noting that your budget will greatly affect your turntable choice.
Higher-end turntables tend to perform better, but this is not to say that lower-end turntables will not offer great performance, and $1000 is a good budget to get a great turntable, so you are well on the right track.
How to set it up:
Setting up a turntable can be tacking, especially when it is your first.
The good news is that some manufacturers already have that covered by making the process easier, some have great customer support, some include explanatory manuals, and some have some things pre-set.
The brand:
Some brands are known for good quality at affordable prices, and some are known to be more expensive, and that is why you can't trust just the brand name to tell you if you are getting the best features. Nonetheless, it is better to go with brands based on their reputation for delivering quality products.
📗FAQ
What is the best turntable for home use?
The Pro-Ject Debut Carbon Evo is the best all-around turntable. The Audio-Technica AT-LP60XBT is a fantastic, budget-friendly, Bluetooth-powered turntable, ideal for home use.
What is the best turntable for under $500?
The Fluance RT85 is the best all-around turntable under $500.
Is there a difference between cheap and expensive turntables?
Yes, the quality of design, composition materials, R&D, and overall build quality affect the price and distinguish cheap turntables from expensive ones.
Does a better turntable sound better?
Investing in high-quality turntables is ideal if you want to avoid groove noises. Cheaper turntables can make sounds scratchy, and have limited bass power and definition, thus, reducing the overall sound quality.
Is vinyl better than digital?
Yes, vinyl records are much better than digital records. Vinyl records avoid audio data loss and can be used to produce superior sounds to mimic the sensual experience as intended by music producers.
What is the difference between a record player and a turntable?
The turntable is a component of a record player that holds and spins the record as it plays. On the contrary, a record player is the entire sound system consisting of a built-in preamp, amplifier, speaker, and a turntable to house the record.
Is it worth buying a turntable?
Investing in a high-quality record player is ideal if you're a music connoisseur. It allows you to recreate a magical experience with unparalleled sounds.
Is the Sony PS LX310BT good?
The Sony PS-LX310BT is a good choice, given its reasonable price point. It is easy to use, produces high-quality sounds, and allows you to connect to a music source wirelessly.
How much does a good record player cost?
You can find a good-quality turntable anywhere in the range of $250 to $500. It is advisable to avoid any turntable below $250 since the sound quality won't be that great, and there's a significant risk of damage to your records.
Do cheap turntables ruin vinyl?
Yes, using cheap turntables will reduce sound quality and potentially damage your records. 
Conclusion
In conclusion, your decision to get the best turntables under 1000 $ is one that you will hardly regret if you have great music tastes and a flair for music, and with a $1000 budget, you are well to the right start.
This selection of top turntables within that budget will leave you anxious to play your first record in it.