Are you curious about the Best Wireless Mouse Under 1000 Rupees to buy in 2022? 🤔
We got you covered in this buyer's guide with a detailed review.
So without further ado, Let's dive right in. 🎭
If you have battled with a wired mouse before, you should be glad at the relief that owning a wireless mouse brings to the table when you are working.
Whether you are a gamer, office worker, writer, or browsing at a café, there is nothing better than knowing that you can freely move your mouse without bothering about your laptop falling off the table.
Most people own a computer – whether a PC or a desktop having a wireless mouse attached to it gives you unprecedented freedom and even allows you to step away from your computer screen while still having full control of the device.
Having a wireless mouse is a clutter-free experience, and if you are ready, we have searched the market to get you the best wireless mouse under 1000 rupees.
Best Wireless Mouse Under 1000 Rupees 👌👌
1. Dell WM123 Wireless Optical Mouse
This beautiful sleek black mouse costs about 800 rupees and comes with the universal Bluetooth chip device in the box. The sleek design makes this mouse great for a clean workspace and it is compatible with Windows 7, Windows 10, and Windows 11.
The mouse comes with a Duracell battery and a manual to give you an idea of how to operate the device. Overall the Dell WM123 is an easy and very detailed design that anyone can use comfortably.
Features:-
A plastic roll in the upper part controls the cursor's movement on your PC screen.
A light indicator at the mouse's underside goes on and off when the battery is inserted or when it is on.
A switch indicator to switch on or off the mouse is also located at the back of the mouse.
A tiny light indicator goes on when the mouse moves after being dormant for a long.
Pros:-
Sleek and comfortable design that fits smoothly into your palms
Smooth underside that works great on any surface
Non-glossy surface and durable
Unique battery space with easy
An excellent mouse doesn't seize except the battery is faulty
It comes with a power-saving feature that is activated after 10 minutes of inactivity
You can browse from any distance as long as the computer is within the environment
It has a one-year warranty tag
The battery has a long life and is not consistently used daily.
Cons:-
Dell's brand of computers is among the best brand on the market, and we expect nothing less from their mouse. This mouse fulfills all the criteria of a mouse and delivers smoothness, ease of use, and durability.
Check Price on Amazon
Dell WM123 Wireless Optical Mouse Review [Hindi]
Note:-
I have written a post for people looking for the
Best FPS Mouse
to buy?, do read it If you are interested.
2. Portronics Por-689 Puck Ergonomic Wireless Mouse
The Portronics Puck vertical mouse has a weird shape, like a transportation device in a futuristic sci-fi movie. The mouse is very attractive, with a unique shape and design that may not be comfortable for everyone.
The mouse is great for people on their computers for long hours as it takes the stiffness away from the wrist due to constant movement compared to a flatter mouse design and all under 500 rupees which makes it perfectly fit in our best wireless mouse under 1000 Rs list.
Features:-
Excellent build quality
Smooth body surface for quick movements
Light indicator when the mouse is on
It used 2 AA batteries
It has a thumb rest allowing you to distribute your palm weight when using the mouse. evenly
It comes with a USB connection to any PC or laptop
Pros:-
Smooth and great for browsing
Scroll button is very soft and free
The ergonomic design takes the stress off your wrist
Compatible with Linux, Window 7, Windows 10 and Windows 11, Mac
Durable battery life
The DPI switch on the puck is three optical sensors with settings at 800, 1200, and 1600 respectively.
Cons:-
Not great for gamers
It needs some getting used too
It is too high for some people
For a mouse freak, the design will blow you away. It has all the makings of a tech gadget and delivers on excellence and durability: a good buy and worth the money spent.
Check Price on Amazon
Note:-
I have written a post for people looking for the
Best silent keyboards
to buy?, do read it If you are interested.
3. Lenovo N100 Wireless Mouse
The Lenovo N100 water drop shape is a comfortable and smooth but not slippery mouse with an excellent quality plastic build and a firm surface that sits beautifully in your palm.
The combat design allows you to stay connected to the computer even at long distances without losing the receiver link due to the strong optical sensor.
Features:-
A steady, reliable, and stable wireless mouse
Compatible with Windows
Weight 150 grams
Beautiful contouring for easily used
Pros:-
Excellent resolution and optical receptor for a small mouse its size
One-year warranty on the product
Durable ABS plastic surface that doesn't show fingerprint marks
Anti-slip surface
A great mouse on any surface allows you to use it everywhere
Cons:-
Constantly removing the top to insert the battery can make it lose
This mouse doesn't work with the Mac operating system
The Lenovo N100 brings the best computer technology accessory to your doorstep. Although Lenovo is known for manufacturing display devices, its delivery of this mouse has proven it can also make the best wireless mouse with great value for money at just 600 rupees.
Check Price on Amazon
Hindi Lenovo N100 Wireless Mouse Unboxing with usability with Smart phones
4. Logitech M275 Wireless Mouse
Although it looks similar to the M330, the M275 is another excellent wireless product that will see to it that you don't miss out on the comfort that technology has to offer, even in the smallest gadgets.
The M275 has an ergonomic and unique shape that is high at the back and slighting toward the front to take the stress off your wrist as you browse away on your computer.
Features:-
The Logitech M275 is compatible with Linux, Windows, and Mac
It has an advanced sensor and functions for a long distance of 10 meters
It uses a single, double AA battery
Plug and forget nanochip
Pros:-
A reliable and efficient mouse
Just the right size that fits your palm
Smooth and silky surface and smooth movement
Wide scrolling wheel with rugged edges to help you work faster
It has a one year warranty
Cons:-
A bit expensive
Not for gamers
The Logitech M275 wireless mouse is India's third-best and most reliable mouse. Although it costs 99 rupees over 1000, people who use this mouse don't mind as it is the best value for money.
Check Price on Amazon
At the time of our research on Best Wireless Mouse Under 1000 Rupees, we found a video about "16 Keyboard Shortcuts That Will Make Your Work Easier," which is worth watching. 🤴🏆
16 Shortcuts That Will Make You Look Pro
5. TeckNet Raptor M268 Gaming Wireless Mouse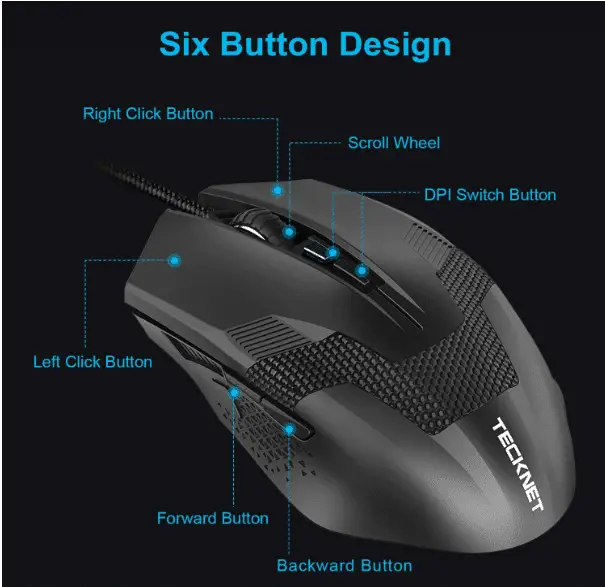 The TeckNet Raptor M26 has a unique design and looks like a mini transformer character from the movie. The mouse looks even better when all the LED lighting is on, revealing the intricate details of the mouse.
Features:-
The Raptor is a blue wave sensor with a 6d optical gaming mouse
An integrated 3200 dpi optical sensor with four settings – 1000, 1600, 2400 and 3200
Has a 4000 frame rate per sec
Pros:-
It comes with a cable and a chip
Superior cursor precision
It comes with an 18 month's warranty
An excellent gaming mouse with a lengthy connection cord
Built for the toughness of playing games
Easy to assemble and fits smoothly into your palm
It costs 700 rupees
Cons:-
Buttons are not programmable
Not a durable gaming mouse for gamers that play constantly
The overall aesthetic of the phone is dope; for a regular gamer, the Raptor works well with most games and is definitely worth the price. The entire construction of the mouse is made with plastic and is weighty; the Raptor is a light mouse that is easily maneuverable.
Check Price on Amazon
6. HP Z3700 Wireless Mouse
Enjoy sitting at your computer with this innovative, sleek, and chic design from HP; they certainly had the user in mind with its curve shape that allows your hand to be as comfortable as can be without stressing the wrist.
The HP Z3700 wireless mouse allows you to click, point, and scroll easily through your pages without hassle.
Features:-
Compatible with Windows 7, Windows 8, and Windows 10; it also works with Mac and Chrome operating systems.
It comes with a 2.4 GHz wireless connection that fits smoothly into your computer
According to the manufacturers, it is powered by a single AA battery and lasts up to 16 months.
A dpi of 1200 with two buttons
Pros:-
It comes with a two years manufacturer's warranty
The Blue LED lights allow your mouse to function on a variety of surfaces
Portable, functional, slim, and sleek design
The large scroll wheel allows you to zip through your document effortlessly
Cons:-
This super lightweight wireless mouse by HP is beautiful and built for durability and endurance. The mouse is almost 1000 rupees, but it is worth it and will withstand all the troubles of excessive browsing and scrolling.
Check Price on Amazon
HP Z3700 Wireless Mouse- A Finest Wireless Mouse Unboxing & Overview
7. Logitech M330 Super Silent Plus Wireless Mouse
What is there not to fall in love with on this mouse? The Logitech M330 is probably the best mouse in its series; looking like the heel of a lady's shoes, the mouse has intricate geometric patterns on both sides that give a firm grip to the mouse to avoid slipping when in use.
Furthermore, it is two-tone colors extend the dimensionality of this mouse.
Features:-
Super quiet click mouse allowing you to work in peace whether is home or in public
Connect to your computer via a Bluetooth chip
A long-range mouse that stays connected to your PC at 33 feet away
The manufacturer's warranty on battery life is 2 years but it all depends on the usage
Smooth tracking with an excellent precision movement of the scroll button
Slides great on any surface
Compatible with Windows, Linux, Chrome, and Mac operating systems
Pros:-
Right hand oriented
The switch on/off button is relatively large and easy to use
A durable and sturdy mouse that can withstand several falls
Comfortable, reliable, and easy to use a mouse
It has a dpi of 1000
Goes into sleep modes after a long period of inactivity
Cons:-
Logitech M330 plus Silent wireless Mouse is designed for right-hand users that is light and easy to use for large or small hands.
The pointer and scroll will ensure you never click on the wrong line during use. It also comes at a great price and its good value for money.
Check Price on Amazon
8. Havit HV-MS976GT Wireless Optical Gaming Mouse
This mouse is sexy and seems to be in motion for gamers; this is a great addition that will complete and enhance your gaming experience with its almost vertical design and shape.
The wireless nature allows you to play your games from a reasonable distance and relax and focus on winning the game.
Features:-
A beautifully crafted wireless mouse with an activity distance of 50 feet
It weighs in at 3.4 ounces with a dimension of 4.7 by 3 by 1.4 inches all around
It has five function buttons
It comes with a 2.4 GHz wireless interface that attaches to your computer
It has the performance of 20 G acceleration with real-time sensor switching of 1000, 1500, and 2000 dpi, respectively
Compatible with Microsoft Windows 2000, Vista, and Windows 7 and 8
Below are some of the Pros and Cons of The Havit HV-MS976GT Gaming Mouse that earned it a spot in our list of Best Wireless Mouse Under 1000 Rs to get in 2022.
Pros:-
Very cheap for all the qualities it possesses
Durable, sturdy, and strong enough to take a good beating during gaming
You can play games at a distance without any breaks
Comfortable in the palm and easy to use
Auto sleep mode to protect the battery life
Cons:-
It doesn't come with batteries
It might be too big for small hands
The Havit HV-MS976GT Wireless Optical Gaming Mouse is light and well-designed mouse that is gentle on the hand and wrist with its height. It has excellent features that any gaming mouse should have and a good value of the cost it's going for on the market.
Check Price on Amazon
9. Logitech B170 Super Sleek Wireless Mouse
A B175 glass figure is a comfortable gadget that makes browsing a breeze whether attached to your computer or PC. The design and build make this the most durable Logitech mouse in its series.
The all-plastic body adds unique robustness and sleekness to the mouse with a firm grip in hand for a smooth glide on any surface.
Below are some of the features of The Logitech B170 Super Sleek Wireless Mouse that earned it a spot in our list of Best Wireless Mouse Under 1000 Rs to get in 2022.
Features:-
The M175 is compatible with Windows and Mac operating systems
Smart power-saving features that allow the mouse to save energy during periods of inactivity
It weighs in at 100 grams with a dimension of 13.4 by 4.2 by 8 cm
Advanced optical tracking with a 10 meters wireless range
Below are some of the Pros and Cons of The Logitech B170 Super Sleek Wireless Mouse that earned it a spot in our list of Best Wireless Mouse Under 1000 Rs to get in 2022.
Pros:-
It is rustproof and will not corrode
Reliable performance with immediate plug and play
Battery life is tagged at 12 months
Compact, comfortable design with a firm grip for any palm size
One year warranty
You will not experience any lag or data loss
Durable, lightweight and built for the road
Has a push-on and off button
Great value for money
Cons:-
Looks physically attractive with great shape and design; for those that have used this mouse, they love it for its durability and the ability to retain its precision and functionality after years of use.
Check Price on Amazon
10. Dell WM 126 Wireless Optical Mouse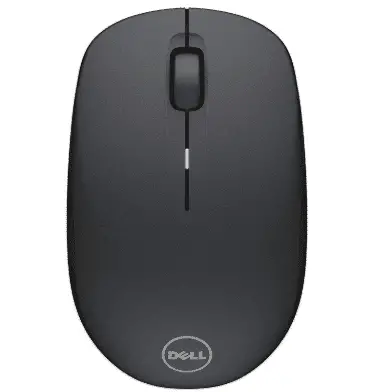 The Dell mouse is tagged as the seventh most popular and used mousse in India, it is funny how this tech giant has been able to offer a beautiful high-performance gadget that delivers on excellence at such a small price.
The shape, design, and ease of use are reasons why this mouse it on our best wireless mouse under 1000 INR list.
Below are some of the features of The Dell WM 126 Wireless Optical Mouse that earned it a spot in our list of Best Wireless Mouse Under 1000 Rs to get in 2022.
Features:-
Compatible with Windows 7 and above, Android devices, Linux, and chrome
Sleek design and is easy to set up or install
It comes with a movement resolution of 1000 dpi
Large scrolling wheel
The mouse weighs 299 gram and measures 8 by 7 by 1 cm
Below are some of the Pros and Cons of The Dell WM 126 Wireless Optical Mouse that earned it a spot in our list of Best Wireless Mouse Under 1000 Rs to get in 2022.
Pros:-
It has excellent battery life but drains faster for people that are always online
It can be used by left and right-handed individual
A small, comfortable rock shape design eases tensions on the wrist
The buttons are well-proportioned on the mouse, allowing you to work less when using it
Precise, durable, and sturdy
One-year warranty on hardware
Cons:-
Some users complain about connectivity issues
The Dell WM 126 has excellent qualities for a small mouse this affordable; the only downside which isn't necessarily a problem is the duration of the batteries is too short at just 4 months. However, the WM 126 is a great mouse and beautiful addition that allows you to browse without hindrance.
Check Price on Amazon
11. HP X3500 Wireless Mouse
The HP brand is the most trusted brand that delivers excellent, high-performance gadgets that make you feel good about sitting at your computer.
It is like any regular mouse with two push buttons and a scroll wheel for easy use. The mouse sits well in your palm, allowing you to enjoy wireless connections with great precision.
Below are some of the features of The HP X3500 Wireless Mouse that earned it a spot in our list of Best Wireless Mouse Under 1000 Rs.
Features:-
It is compatible with Microsoft Windows 7, Windows 8, XP, and Vista
It comes with a nano receiver that connects to the mouse through Bluetooth technology
Battery warranty of one year and a hardware warranty for the same duration
It works on different surfaces due to its adjustable optical sensor
The scroll wheel is precise and unhindered
A small LED light that signifies when the mouse is active
Three sensor resolutions of 1000, 1200, and 1600 dpi
Below are some of the Pros and Cons of The HP X3500 Wireless Mouse that earned it a spot in our list of Best Wireless Mouse Under 1000 Rs to get in 2022.
Pros:-
Smart, attractive design for smooth browsing and comfort
The mouse runs on a single AA battery with a switch
Instant plug-and-play with no data loss
Affordable price at 700 rupees
Excellent height to ease the strength on the wrist
Cons:-
The glossy finish on the top attracts dirt making the mouse look clean
HP, as stated, is a trusted brand pushing wireless technology around the world with little well-designed gadgets like the mouse.
The HP X3500 look, performance, ease of use, and comfort. Whether at home, in your office, or a public café; it is a great mouse to have and use.
https://youtu.be/SSkOMbQ-XNE
12. Redragon M613 Wireless Mouse
So if you are the so many people that spend time gaming, you might want to change your mouse to the Redragon M613 that can go for hours without failing you. The Redragon fierce red dragon symbol gives that cool and calm look that fits into your daily life.
Below are some features of The Redragon M613 Wireless Mouse that earned it a spot in our list of Best Wireless Mouse Under 1000 Rs.
Features:-
4 G wireless mouse with USB receiver
5 adjustable resolution dpi levels – 1800, 1200, 1600, 2000 and 2400
To save battery life, it goes into sleep mode after 8 minutes of inactivity
6 buttons device for MacBooks, Laptops, Computers, Notebook, PCs, and Desktop
Excellent for gaming and browsing
Compatible with Windows 7, 8, 10, XP, Vista 7 and 8, Mac, and Linux operating systems
Below are some of the Pros and Cons of The Redragon M613 Wireless Mouse that earned it a spot in our list of Best Wireless Mouse Under 1000 Rs to get in 2022.
Pros:-
Ergonomically designed body with the contours that keeps the mouse within your palm with stressing your wrist
Ideal mouse for private and public use
More compact than it looks
Cons:-
Batteries are not included in the pack
The buttons get stuck after long term use
Precision needs to be improved
The Redragon delivers on quality, responsiveness, accuracy at the push of a button. For most users that have purchased this mouse, it has been good remarks all around.
Check Price on Amazon
Best wireless mouse under 1000 in India: What To Consider
Using a wireless mouse can be the difference between how you work and your overall health especially your wrist. Wireless mouse is gradually taking over as people desire more freedom and comfort in their little controller. Below are some factors to look for when buying a guide.
The Purpose of the Mouse
What you use it for should be a top priority when getting a mouse. A gaming mouse differs from a browsing mouse in design, functionality, and ease of use.
Optical or Laser Mouse
The main difference is that the optical mouse uses an LED light to monitor and give precise movement, while the laser mouse uses a laser to track the cursor across the screen.
Furthermore, an optical mouse is great for shallow and opaque surface while a laser is more sensitive and work great on any surface.
Dimension and Weight
The gaming mouse is usually heavier than a regular mouse because of the take a beating in the gaming world. Furthermore, they make the mouse be more durable and sturdy too.
The weight also comes into play where your wrist is concerned, as it bears the brunt of constantly moving the device daily.
The Design
A mouse is different in shape and structure; both of which plays a role in how well it sits in your hands and affects the movement and precision
A bit of History
A mouse is an input device that allows you to easily use your PC and computers. In this era of wireless technology, the wireless mouse has found a way into our working spaces and life with its Bluetooth chips and long-lasting battery capacity and less power consumption. There are three types of mouse, namely;
Wired mouse
Wireless mouse
Touchpad mouse
Choosing a mouse
The debate between using a wireless or wired mouse is won, but the choice of mouse depends on the user and purpose of the mouse. Below are some differences between wired and wireless mice.
Advantages of a Wireless Mouse
It is comfortable and hassles free
It is not restrictive or limited
It has excellent range and a good distance
The LED lighting allows you to use the mouse on a different surface
It has great precision and provides good comfort
The disadvantage of Wireless Mouse
There is nothing negative to say about the wireless mouse, but for gamers, the mouse needs to be upgraded in precision and durability
Advantages of Wired Mouse
It doesn't require the use of a battery
It is mostly laser integrated and super sensitive
They are cheaper compared to wireless mouse
Disadvantages of a Wired Mouse
They are not the best as the cables are always in your path to enjoy a flawless browsing system
The wired cause gamers to struggle when playing games
To conclude this article, it is very obvious how the wireless mouse is changing our browsing style and techniques with its designs and shape making them more comfortable and firm in the hand.
Regardless of the function of the mouse; a wireless mouse is making computer users and gamers enjoy their world without stress. The wireless world has to thank Logitech for finding a suitable and posh alternative even though it's an expensive replacement to the wired mouse.
The wireless mice listed above are some of the best brands and designs with features you will adorn in a good mouse. We have our best and reasons for liking it. We will love to know your best wireless mouse.
If your brand is among our list, give us a shout, and if you feel we omitted a mouse that should have been on the list, please write to us telling us why you like the mouse and some features that distinguish it either as a browsing wireless mouse or a gaming mouse.