Do you have the curiosity to know about the best fps mouse to buy in 2022? 🤔 You can easily Find out now in this definitive list with our detailed review.
Without any further delay, let's find out. 👓👓
Avid gamers know that certain computer peripherals must be specially designed to enhance the gaming experience – one such peripheral is the mouse.
While the standard and gaming mouse may have a similar operation mechanism, FPS (first-person shooting) gaming mice have been uniquely designed to provide the gamer with a better experience.
From extra programmable buttons to multiple DPIs, an FPS mouse is a gamer's dream come true. However, the market is saturated with gaming mice.
If you are interested in buying one, you should go into the market armed with the knowledge of the best available products.
To ensure that you have adequate knowledge about the gaming peripherals in the market, we have reviewed the best ten FPS mice available. So let's get started!
Best FPS Mouse – Our Top Picks 👌👌
1. Logitech G502 Proteus Spectrum
The Proteus Spectrum is perhaps one of the best gaming peripherals by Logitech. The company offers the mouse as an update on the Proteus Core, its bestselling gaming mouse.
One of the best features of the Proteus Spectrum is that it comes with as high as 12,000 DPI, allowing quick DPI switches to enhance versatility.
It features 5 DPI settings with 3 profiles, and you can change the scroll wheel settings to be almost frictionless or with a little resistance.
It comes installed with the Logitech Gaming Software, which can scan your computer system for games and automatically create profiles to fit each game.
On the technical side, the mouse features 11 big, programmable buttons that can be configured within the software giving the player the freedom to customize any gaming session to their preference for the ultimate gaming experience.
It features customizable illumination in the form of an RGB lighting system. There is no compromise for functionality in this product as it is as stylish as it is functional.
Coming in at 164g, the mouse has a practical and ergonomic design that is quite comfortable and allows for ease of use. You can add or remove up to 5 weights depending on how lightweight you prefer your mouse to be.
For all its features, the Proteus Spectrum is modestly priced compared to Logitech's flagship gaming mouse, which is offered at almost double the Spectrum price.
Overall, the Proteus Spectrum is designed for gamers who want the best tracking and response they can get from an FPS mouse at a reasonable price, making us put in our best fps mouse list.
Pros:-
Great tracking and sensitivity for accuracy
A broad range of DPI options, from 200 to 12,000 DPI
11 programmable buttons
Ultrafast scroll wheel with dual-mode
Weight tuning system
Excellent ergonomic comfort
Good value for money
Cons:-
Proteus Spectrum is not built for left-handed use
More suitable for gamers with a claw grip
Check Price on Amazon
Logitech G502 Proteus Spectrum RGB Gaming Mouse - Full Review
2. Razer DeathAdder Elite
The Razer DeathAdder Elite has remained a steady best-seller, year after year, and it has that reputation for good reason as well. The DeathAdder comes with perfectly optimized 5G optical sensors, up to 16,000 DPI.
It boasts a tracking speed of 450 per second with an incredible 99.4% resolution accuracy, the most precise gaming mouse in the world.
It has customization options for its LED lighting, among several other customizable options. The gaming mouse has programmable buttons that can be used in DPI sensitivity adjustments and switching profiles.
Even beyond FPS, the DeathAdder is suitable for several gaming genres as it excels in almost everything. Design-wise, the DeathAdder has seven buttons, left and right buttons, a scroll wheel, two thumb buttons, and two buttons beneath the scroll wheel.
It has an amazing palm grip fitting for gamers with large hands who want a firm grip.
About the looks, Razer gave the mouse a beautiful matte finish which is just as great for aesthetics as it is for practicality, as the matte surface will prevent the mouse from getting greasy or slippery with use.
Overall, the mouse has a simple and minimalistic design to enhance ease of use. Essentially, any gamer with a DeathAdder Elite has a competitive edge over other gamers, as this mouse may be the most important weapon in their arsenal.
Pros:-
Up to 16,000 DPI optical sensor
Well suited for palm and claw grippers
Great speed, precision, and acceleration
Very high-resolution accuracy at 99.4%
Versatile in performance
Cons:-
Uses a complicated software
Center buttons are somewhat inactive
Not suitable for gamers with small hands
Check Price on Amazon
Note:-
 I have written a post for people looking for the
best silent keyboards
 to buy?, do read it If you are interested.
At the time of our research on "Best FPS Mouse", we found a video about "15 Amazing Shortcuts You Aren't Using," which is worth watching. 🏆📗
15 Amazing Shortcuts You Aren't Using
3. SteelSeries Sensei 310
From SteelSeries comes the Sensei 310, a fully functional and practical mouse. The Sensei 310 is an ambidextrous mouse meaning both right-handed and left-handed gamers can conveniently use it without having to change the configurations or adjust the settings.
The mouse has eight programmable buttons, including a clickable scroll wheel and compact and sturdy thumb buttons on each side.
Beyond being easy to use, the mouse is also ergonomically designed with a silicone grip beneath the buttons to ensure the fingers are comfortably placed. The scroll is also contoured to prevent slippages when using it.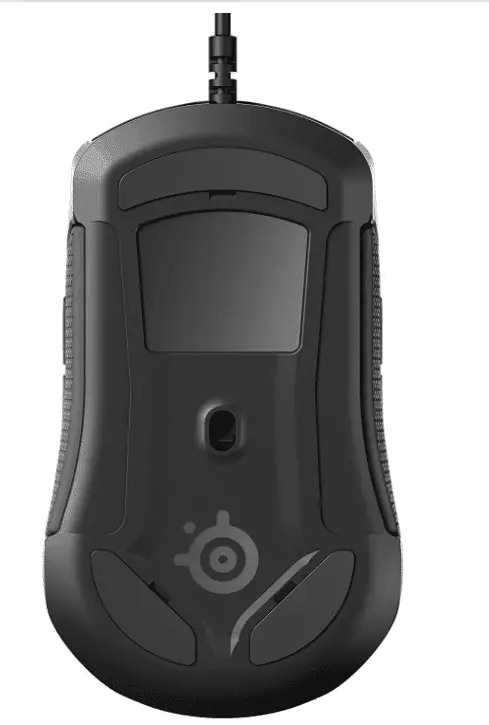 The Sensei 310 responds to movements swiftly and accurately. It runs on the SteelSeries Engine 3 software, with which the gamers can reprogram buttons, control the RGB lighting, and enable game profiles.
The gaming mouse is also ultra-fast and easily customizable; gamers can easily adjust the DPI to enhance precision or program certain moves in the game.
It uses TrueMove 3 optical technology unparalleled in sensitivity and precision with 1-to-1 tracking at 350 IPS.
The Sensei 310 also features full RGB colorful lighting for the scroll wheel and the company logo on the palm rest. The lighting effects can be programmed with reactive illumination designed to respond to effects in the game like low ammo, health, and so on.
You can get up to 50 million clicks from the mechanical switch of this mouse before its lifespan runs out. The gaming mouse is also very versatile with its split trigger button design, which can be used for claw grip and fingertip grip players.
SteelSeries designed the Sensei with a simplistic fingerprint-resistant matte finish surface that is great for aesthetics.
In summary, the Sensei is a classic FPS gaming mouse, and gamers searching for a lightweight, compact and ambidextrous mouse should look no further all features make us put in our best fps mouse lists.
Pros:-
Wide DPI range from 100 – 12000 DPI
Beautiful body design
Features TrueMove 3 sensors
Fully ambidextrous
Stable and good for gamers with large hands
Responsibly priced
Cons:-
Limited range of DPI settings
Check Price on Amazon
SteelSeries Sensei 310 Review (Large, Optical, 96g, Omron Mech)
Note:-
I have written a post for people looking for the 
Best Silent Mouse
to buy?, do read it If you are interested.
4. Corsair M65 Pro RGB
Since its foray into the peripheral gaming industry, Corsair has consistently improved its products to bring the best value to gamers. One such product is the M65 Pro.
As the name gives away, the mouse comes with full RGB lighting, which can be easily configured through Corsair customization software. The mouse also comes with programmable buttons that the gamer can use to tailor every gaming session to their preference.
It features a very sensitive 12,000 DPI sensor that offers precise tracking and can be further configured by the user to provide the exact tracking they want.
About its weight, the M65 Pro has a weight-tuning system that allows users to either add or remove weights to achieve the preferred weight setting.
This weight-tuning system will be very handy for FPS gamers who prefer lightweight mice that can conveniently and swiftly glide around effortlessly.
The Omron switches will last for 20 million clicks so that gamers can get a lot of time from this mouse.
Although it is best suited for FPS games, you can use the M65 Pro for a wide range of games, regardless of the genre. The gaming mouse is still reasonably priced with all the above features and a high-end and excellent body construction.
Essentially, this product is suited for every type of gamer and is very budget-oriented. How much better can it get? 🤔
Pros:-
Excellent build quality
Great value for money
A convenient weight-tuning system
The flexible and intuitive CUE software
Sniper button to adjust the DPI on the fly
Easily customizable buttons and lights
Gorgeous aluminum structure
12,000 DPI high-accuracy sensor
Cons:-
It May not be comfortable for a fingertip grip player
Check Price on Amazon
5. Logitech G903 Lightspeed
The gaming community loves Logitech, and love is well deserved as its products are usually engineered to meet the needs of gamers.
The second Logitech gaming mouse on this list, the G903 Lightspeed, comes fitted with a handy set of features to provide gamers with a more rewarding gaming experience.
The standout feature of the G903 Lightspeed is that it is wireless. Being wireless means, it comes with lightning-fast 2.4GHz wireless connectivity with a one-millisecond report rate for performance and connectivity.
The mouse is built with Logitech's PMW-3366, the company's most accurate and precise optical sensor yet. It has an ultra-sensitive optical sensor that goes up to the 12,000 DPI range with tracking sensors over 400 IPS.
The G903 lightspeed has an ambidextrous design with replaceable thumb buttons on both sides of the mouse.
The FPS gaming mouse also features 11 programmable buttons and comes fitted with onboard memory where your settings and configurations are saved such that you can go anywhere with your gaming mouse.
At 107g, it is also relatively lightweight, so carrying it around would not be inconvenient. It is rechargeable, and you can power it wirelessly using Logitech's PowerPlay Charging System via a mouse pad.
There is also a provision for wired charging via an included micro USB if you would rather not use it wirelessly. When fully charged, you can get up to 24 hours of battery life (up to 32 hours with the LED lights turned off) from it before it requires recharging.
Pros:-
Solid and lightweight body build
Ultrafast connectivity
Reliable wireless connectivity
Features a built-in onboard memory
DPI range of 200 – 12,000 DPI at speeds of about 400 IPS
11 programmable buttons
Ambidextrous design
Cons:-
It might be a bit expensive for some people
Check Price on Amazon
6. Roccat Kone AIMO – best budget fps mouse
If you want a great FPS gaming mouse packed to the brim with customizable options and features, look no further than the Roccat Kone Aimo.
It goes as high as 12,000 DPI with OWL EYE optical sensors for unmatched sensitivity and precision.
About its design, on the surface, this gaming mouse may probably look like a hardcore pointing device thanks to the myriad of buttons on the body.
However, the Roccat Kone Aimo is ergonomically designed to provide every gamer with the most comfortable and satisfying gaming experience.
This way, you can play games all day long without feeling any discomfort on your fingers.
However, the most impressive feature of the AIMO is the Easy-shift Technology that enables the user to increase the number of programmable buttons at just the press of a button.
It also features the RGB lighting system, which is a common feature in most gaming peripherals. It also comes with ten programmable buttons to allow gamers to adjust and configure the mouse to suit their preferences easily.
This FPS gaming mouse would make an excellent choice for any gamer looking to purchase a comfortable and well-made mouse.
Pros:-
Makes use of the Easy-shift technology
Ergonomically designed features
Ten programmable buttons
12,000 DPI OWL-EYE sensor
Cons:-
Check Price on Amazon
Roccat Kone Aimo Gaming Mouse Review After 3 Weeks
7. Razer Naga Trinity
As an online gamer, nothing will give you an edge over your opponents like great gaming peripherals to work with. By purchasing the top-notch Razer Naga Trinity, as a gamer, you would be in a league of your own.
It has swappable side panels held in place by very strong magnets that ensure it doesn't wiggle while gaming. The panels will help you adjust the button settings to what will suit your gaming style.
Depending on your settings, you can have anything from 2 to 12 buttons at your command.
The Razer Naga Trinity features three interchangeable thumb grips in button arrays ideal for first-person shooting games, MOBAs, MMOs (multiplayer games), and general use.
The mouse has a high-quality ultra-sensitive 16,000 DPI sensor that delivers incredible tracking. It also has an ergonomically designed palm grip with a pinky rest to place your pinky finger.
Overall, Razer did an incredible job with the Naga Trinity, from aesthetics to capabilities. It would be great for FPS gamers, making it perfectly fit in our best fps mouse list.
Pros:-
A wide range of programmable buttons
It comes with interchangeable side panels
100 – 16,000 DPI 5G sensor
Razer Chroma RGB lighting
Customizable thumb grip with three different button arrays
It comes in a compact and comfortable design
Cons:-
It is a bit pricey
Not suitable for left-handed users
A design may not be suitable for users with large brands
Check Price on Amazon
8. HyperX Pulsefire Surge
They are excellently designed. Responsibly priced. Versatile. Whatever you may need from an FPS gaming mouse, the  HyperX Pulsefire Surge is sure to tick most, if not all, of the boxes.
The Pulsefire Surge is specially designed for FPS gaming. The mouse is fitted with the Pixart 3310 sensor, which provides unparalleled gaming precision. However, HyperX doesn't compromise on acceleration and speed, providing the Pulsefire with a DPI of up to 16,000.
It is built with Omron switches which are very responsive and provide a remarkable level of tactile feedback.
The mouse comes with six programmable buttons, enough for gamers competing in first-person shooting games. While the Pulsefire is, first and foremost, an FPS mouse, it can also be used for several genres of games, including MOBAs and MMOs.
About the ergonomics and design of the mouse, weighing just 95g, it is remarkably lightweight, an important feature for gamers who love to glide their mice around while playing.
The sides are textured with large skates to ensure frictionless movement on the mouse pad.
Finally, HyperX is offering the Pulsefire at a reasonable price, especially considering all its features. FPS gamers transitioning into more serious and professional gaming will find this professional-grade gaming mouse very useful.
Pros:-
Responsive and precision focused
Modestly priced
Incredibly lightweight at just 95g
Stunning RGB lighting
Features four DPI settings
Ergonomically designed
It comes with Pixart 3310 sensors
Ideal for competitive FPS gaming
Cons:-
Check Price on Amazon
9. BenQ Zowie EC2-A
Suppose you are after a professional-grade gaming mouse that can deliver top-notch performance without compromising on ergonomics. In that case, you should get something popular among the pros – the EC2-A.
BenQ offers the EC2-A as a serious gaming plug and plays mouse 100 percent focused on performance. Essentially, the gaming mouse is specifically designed to provide excellent performance, and if you are after extra features like the software and RGB lighting, you might want to look elsewhere.
The EC2-A is fitted with the Pixart 3310 sensor, guaranteeing inch-perfect precision and tracking while gaming. It features 4 DPI presets of 400, 800, and 1600, and the highest is 3200.
Contrary to popular belief, you do not need a high DPI for a gaming mouse and what is fitted in the EC2-A is enough.
Regarding the design, the gaming mouse has five buttons and is fitted with Huano blue mechanical switches, which are great for precision and tactile feedback. The EC2-A is versatile and can be used with a palm or claw grip.
Although it is lightweight, it is also sturdy for gamers' durability. In all, if you place more importance on the performance of your gaming mouse over other extra features, or you are into professional gaming, then this is the mouse you should get.
Below are some of the Pros and Cons of The BenQ Zowie EC2-A that earned it a spot in our list of Best FPS Mouse to get in 2022.
Pros:-
Impressive tracking and precision
Features an ideal lift-off distance
It comes fitted with mechanical switches on the side buttons
It is 100% performance focused
Cons:-
Check Price on Amazon
10. Steel Series Rival 700
SteelSeries has been at the front and center of gaming mouse innovations for several years and is a favorite among pro online gamers.
The Rival 700, an FPS mouse from the SteelSeries Rival series, is a phenomenal mouse for shooters. It comes with full RGB lighting and an OLED screen fitted on the side of the mouse.
The screen can display various information, such as settings and real-time meters of your health or ammo in the game. The DPI settings can be adjusted, and they max out at 16,000.
It has a very accurate optical sensor which can also be replaced. Beyond the sensor, several parts of the mouse are replaceable, so if something develops a fault or breaks, you can easily swap it for a new one.
To top it off, the Rival 700 vibrates. The mouse will vibrate to bring your attention to an ignored part of your game.
For example, during an intense gaming session, you may lose track of the progress of your health or ammo bar.
If you take a horrible blow in the middle of the game, especially one that badly affects your health bar, the mouse will vibrate to draw your attention to the damage so you can plan better how to step up the game.
The drawback to the Rival 700 is that the gaming pad is strictly designed for right-handed people meaning left-handed FPS gamers may have to make do with the inconvenient design to find something else.
Regardless of the lack of an ambidextrous option, the Rival 700 is an excellent gaming mouse fitting for all sorts of gamers, whether you are playing an FPS or not.
Below are some of the Pros and Cons of The Steel Series Rival 700 that earned it a spot in our list of Best FPS Mouse to get in 2022.
Pros:-
Industry-standard RGB lighting
It can vibrate
Innovative design with replaceable body parts
Features an OLED screen on the side capable of displaying real-time stats.
Programmable tactile alerts notifying players of in-game events
Ergonomically designed for every type of grip.
Cons:-
No ambidextrous option is available
It is a bit expensive
Check Price on Amazon
Things to Know Before Finding a Best FPS Mouse
Gaming mice are built on advanced technology that equips them with an extensive range of features not available on the standard mice. That being said, gamers know how important it is to go for a gaming mouse with excellent features that will help to give them a competitive edge over their opponents.
For hard-core gamers, pointing out these features may be no problem. However, for gamers just getting into FPS gaming, below are some of the features you should look out for when choosing an FPS mouse, especially if you want something that will simultaneously offer incredible precision and accuracy.
🎏DPI:-
DPI is an abbreviation for dots per inch and is used to measure the sensitivity of a mouse. A higher DPI means a wider range of sensitivity, and a sensitive mouse can be a great advantage for first-person shooting games.
Some mice also feature adjustable DPI settings to help you configure your mouse to your preferred level of sensitivity. Go for mice with higher DPI, and those with adjustable settings are a bonus.
🎃Mouse Buttons:-
The standard mice have regular left and right buttons with the center scroll wheel. However, gaming mice can have so much more than that.
From thumb buttons to buttons on any other place your fingers can reach, the more versatile your mouse is, the better.
Nevertheless, some gamers may still prefer mice with fewer buttons; the important thing is to figure out which one you can work with and how you can use it for your first-person shooting game.
👔Polling Rate:-
This refers to the time it takes for the mouse to interact with the computer and how often the mouse position is reported on the screen.
The polling rate is measured in Hz a higher polling rate which means faster response time is generally preferred in the gaming community.
🎎Grip Style:-
There are three mouse grip styles – palm, claw, and fingertip grips. It's important to pay attention to the type of grip your mouse has before making a purchase.
The palm grip is more natural and convenient as the whole palm is allowed to rest on the mouse. In claw grip, the fingers are slightly arched to look like claws, and in fingertip grip, only the tips of the fingers and thumb touch handle the mouse. The best grip is one that fits your personal preference and gaming style.
🎪Lift-off Distance:-
Lift-off distance describes the maximum height the mouse can be raised off a surface before the sensor stops tracking movement. Competitive FPS gamers typically prefer a low lift-off distance.
This is because they usually play at low sensitivity and may need to lift their mouse to take it back to its original position (usually when the mouse pad ends).
The last thing any gamer wants is the sensor tracking unpredictable movement when the mouse is lifted.
📗 FAQs on Best FPS Mouse
Below are a couple of queries everyone expects to answer, and I did include the same for my readers.
Is g502 good for FPS?
The major thing that really makes the Logitech G502 stand out, is the ergonomic design.
Is higher DPI better?
A higher DPI isn't always better. On the other hand, a higher DPI setting helps your mouse detect and respond to smaller movements so you can point at things more accurately.
What DPI do pro gamers use?
Most pro players use a DPI setting in the range of 400-to-800.
Conclusion
While an FPS mouse will not automatically develop your skills overnight and turn you into a pro gamer, it can make the gaming experience much more enjoyable.
Hopefully, this list and the buying guide will provide insight into the best FPS gaming mouse to purchase to help you improve your playing style.
Moreover, with a good FPS mouse, as you get more comfortable playing the game, your skills keep sharpening until you are playing on an extremely new level.