World of Warcraft is possibly the most popular massively multiplayer online role-playing game, or MMORPG for short, out there. Whether you play it yourself or not, you have probably heard the name, even if just in passing in a television series or a miscellaneous thread on the internet.
World of Warcraft is possibly the most popular massively multiplayer online role-playing game, or MMORPG for short, out there. Whether you play it yourself or not, you have probably heard the name, even if just in passing in a television series or a miscellaneous thread on the internet.
Of course, it is the most long-running and most popular MMORPGs. It has had millions of users in its lifetime. To further add to this, Blizzard Entertainment, the creators of WoW, has gone as far as adding queues to enter certain realms – because that's how far the reach of the game is.
However, what if you want to try out something new or different? Maybe you'd like to try out a game like WoW, but not something that is just like it. Well, here's a short guide for you to help you with just that.
Down below, we have mentioned a few games like WoW that you will like. Be sure to read through the list well, and pick the one you think is best suited for you!
Some Features of WoW
Before we dive into the list of games like WoW, we should first examine the features of World of Warcraft to see what we are looking for in the first place. So, here are some features of the Blizzard Entertainment game World of Warcraft.
Being one of the oldest MMORPGs, after having been first released in 2004, it has a massive virtual map with constantly updating quests. Hearthstones allow you to teleport, flight path networks, boats, goblin zeppelins, and portals take you wherever you want.

There is a comprehensive guide up and available on WoW's official website, for both new as well as returning players.

WoW is such that you can completely customize your character.

You can choose a race out of a highly wide variety of races, depending upon which path you choose. Different races exist of the Alliance, the Horde, and another category called the Allied Races.

Post-choosing a race, you select a class, out of the Classes Warrior, Hunter, Priest, Mage, Monk, Demon Hunter, Paladin, Rogue, Shaman, Warlock, Druid, and Death Knight.
There is a spellbook, which will allow you to keep track of your abilities and skills. You can use these skills as and when you need to. Throughout the course of the game, you will learn how to use your skills and abilities better and better.
The game is subscription-based. Even after getting a subscription, several features, including the Allied Races, are available after you avail the Battle for Azeroth expansion.
While these are the most basic features, they will help you figure out the similarities and differences between WoW and the games, which are like WoW that we have listed here.
Best Games Like World Of Warcraft (WOW)
Read on to find a list of the eight best games like WoW, in no particular order. All of these games have their own brilliant features, so it's ultimately up to you to decide which is the best MMORPG for you.
1. TERA
Before we go into the details of the game, you must know that TERA is an acronym for The Exiled Realm of Arborea. The name itself sounds exciting that you get to live out a character and play a game in an exiled world.
The game was created by Bluehole Studio Inc., published by En Masse Entertainment, and was massively inspired by World of Warcraft, which explains many of the similarities in the two games.
However, it must be known that although the creators of TERA have used their creativity inspired by WoW, they have, at the same time, created a game that is very much their own.
The game is set in The Exiled Realm of Arborea, or just Arborea, as the name blatantly suggests. This virtual world has some brilliant graphics and beautiful views, as can be corroborated by anybody who has played the game before.
Here are some of the features of The Exiled Realm of Arborea, or TERA:-
TERA has seven character races and ten playable classes, which adds for a highly customizable character and a highly vast fantasy world.

You can team up with friends and other users to take down virtual monsters on the game. There are thousands of quests from which you can choose and play

The game has over 80 zones and no restrictions – meaning that you can access all the zones and other features of the game limitlessly. Adding to this, the visuals on the game are absolutely gorgeous, and it is a delight to play.

The game has some great, dynamic soundtracks, and this really adds to an immersive form of gameplay. The music encompasses you while you are playing the game, and it feels as though all of you is in it – it is a very thrilling gameplay experience.

TERA has a PvP mode, which, if you are into MMORPGs, is one of the best game modes in the MMO world.

TERA is absolutely free of cost!

The game holds an advantage over WoW in terms of accessibility, since it's available to download on gaming consoles like the Playstation and Xbox, and of course, for the PC.
Click here to download TERA for the PC, here for the Playstation, and here for Xbox.
2. Blade & Soul
Blade & Soul (Download Here) is a game like WoW, which is SO much like WoW that many a time, people have even called it the Korean version of World of Warcraft.
Rise. Strike. Avenge. is the tagline of the game Blade & Soul, and it makes for a perfect description of the game, where, as its creators describe it, the martial arts and mythology meet war and warcraft.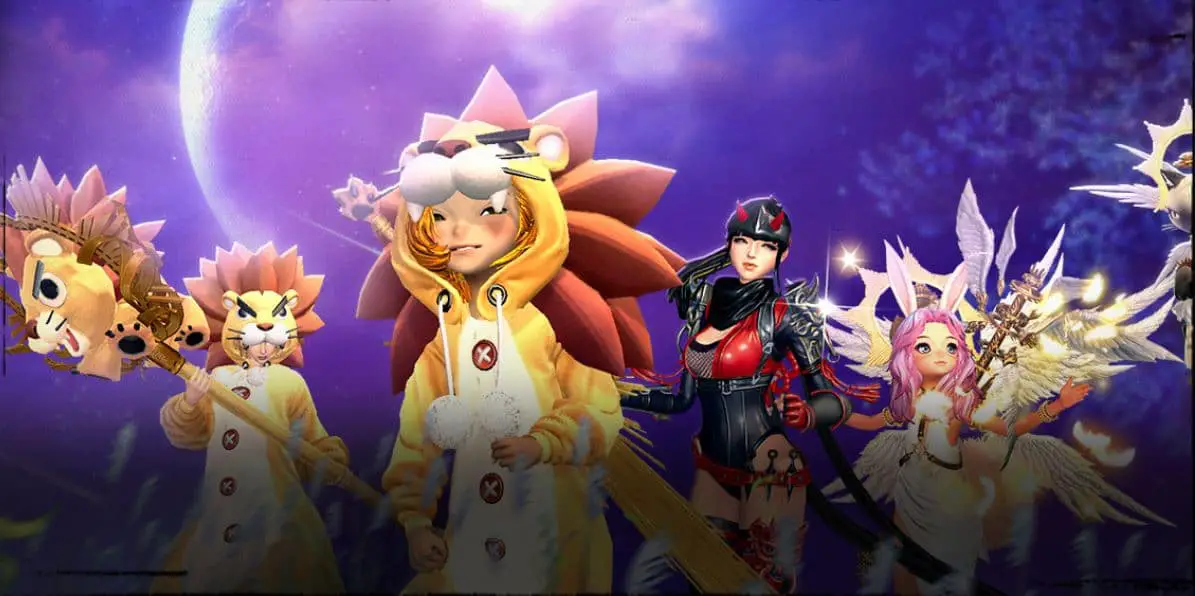 Veterans of Blade & Soul will tell you that the name of the game meets the perception it creates in the mind – it is a game that is based on attaining revenge as you go through it. Ironically, although this game is all about revenge and warfare, it is also a great place to meet like-minded people online and make friends.
Yes, it sounds a lot like WoW, but check out the other features of Blade & Soul.
You can select one out of four unique races in Blade & Soul.

The character development in this game is such that the possibilities of customization that exist are infinite.

Designed by a lovely artist Hyung Tae Kim, the visuals in the game are definitely a sight for sore eyes.

Blade & Soul offers the PvP mode for duels, and also offers you the chance to explore Dungeons with your friends and better your combat skills for PvP.

You can train as one of 12 classes in the game to further become a master in your form.
Blade & Soul is a game that is over ten years old. Thus it already has tons of available content, which has also been updated a lot over the years. It can be confusing as to what to do first, where to go, or how to go about it.
However, there being so many things to do on the game also means that you will always have something to do on it and very rarely find yourself getting bored with it.
The game is free of cost, although if you would like to buy additional features, they are available. It is important to note that there is not much alteration to your gameplay experience if you do not purchase additional features – and this only adds more to the magic of the game.
3. Dungeons & Dragons
I know what you must be thinking – isn't Dungeons & Dragons (Download Here) a board game? Of course, it is, but it has also been adapted into an MMORPG by the developer Turbine, which is rather exciting for the people who love to play D&D and are also into online gaming.
It is like the 2-in-1 game experience for the ultimate Dungeons & Dragons fans that exist out there.
The Dungeons & Dragons online game is slightly different from a lot of other MMORPGs because it provides users with real-time combat mechanics in the game compared to virtual time combat.
One of the best parts about D&D online is that while the game started out as a paid MMORPG game, back in the year 2009, its developers converted it into a free-to-play game.
Here are a few more features of the D&D online MMORPG.
A real-time combat mechanism, as mentioned before, adds for a fun and exciting gaming experience.

There is an option in the game to play in either first person or third person. In this way, you can personalize your gameplay more, or have a more birds-eye-view type gameplay experience both.

You can make teams (also called joining parties) and participate in quests to earn Experience Points (XP). You can team up with members of different levels as well.

The quests you can play are based on your skill level, which means that the quests you play are relatively customized to your level.

The rules for quests and levels:

If you play a quest for a lower level, you earn less XP upon completion of the quest.

If you wish to play a quest, which is two or more levels higher than yours, you must have a teammate of that level to initiate the game.

There is something called 'power leveling' on the game that many players use to gain more XP upon completing certain quests. To prompt fairness in the game, you may be punished for power leveling in the game itself.

Dungeons & Dragons Online is free-to-play as of September 2009.

There is a paid version of D&D Online available as well, where you can avail of a monthly subscription for the game in exchange for VIP status with several privileges and perks.
4. Star Wars: The Old Republic
Here is yet another game like WoW (Download Here), except that we are again combining one more fandom with the love for online gaming, like D&D Online. That's right – the Star Wars series has an online game that is available to one and all.
Star Wars: The Old Republic – Onslaught Expansion Launch Trailer
The game developer for Star Wars TOR was Bioware, who joined hands with the popular game developing company EA to publish it. Star Wars TOR may arguably be one of the most expensive games ever to be published.
However, the creators changed the monthly subscription model to a free-to-play model when it was clear that it wasn't accessible to everyone who wanted to play it, for the high price.
Read on here for a few features of the MMORPG Star Wars: The Old Republic.
You can join either the Sith Empire or the Galactic Republic – Star Wars fans need no further explanations. Your gameplay will build up according to the world that you choose to join.
You can also choose one of eight iconic roles and live your dream of becoming the hero in your very own Star Wars Saga. If this is not inviting enough for a Star War fan, nothing could be.
The game has a super interactive storyline, cinematic dialogues, and voiceovers that sound strikingly exactly like the real thing, adding a fairly realistic approach.
In the game, there is the avenue for you to pilot your own Starship – you have to earn this ship in the game to make it the base of your operations and your explorations.
You can connect and play with your friends on SWTOR. This brilliant game has various modes which make gameplay more fun and keep you hooked. These include PvP combat Warzones, multiplayer Flashpoints, multiplayer Operations, and more.
SWTOR is free-to-play for all users up to level 50. To advance further, you need to purchase a monthly subscription. With this paid subscription, not only will you get access to levels beyond 50, but you will also get to enjoy unlimited game access.
Unlimited access is fully inclusive of the Reward Points program, which gets you virtual currency coins (Cartel Coins) to buy exciting things in the game's virtual market.
5. Star Trek Online
Did you think that we had reached the end of cinema- and entertainment-inspired MMORPGs? Here's another game like WoW, and is based on yet another popular saga: Star Trek Online. And here, we once again combine fanaticism with the world of online gaming.
Star Trek Online is a product of the game developer Cryptic Studios, which is set in the Star Trek universe. The game draws a lot from the Star Trek TV series, and if you are someone who loves Star Trek, there is no doubt that this MMORPG up is right up your alley.
Here are some of the awesome features of Star Trek Online that you will love.
The game features content from many episodes from the Star Trek television franchise. The game has a realistic Star Trek experience. In the game, you can interact with other players and different characters from the show. The voiceovers in the game are by the real actors who played the character.

 You can spend your time on the game exploring all the new worlds and alien species. You can visit all four quadrants in the game, with over a hundred locations to explore.

The game provides for an immersive experience, where you can create a Captain and lead a team into combat and for explorations. You can command on the ground, as well as in a starship in space. You can also build your avatar and other things for an all-inclusive Star Trek gameplay experience.

There are regular updates on the game, in which the developers constantly add new locations and characters for you to explore.

There is a lot of featured downloadable content available for the game, which includes several different packs for gameplay. Such downloadable content always enhances gameplay and allows for an experience that is personalized to the extent that it can be done so.

This game is like heaven for Star Trek lovers and excellently fun experience for even those who have not watched Star Trek before.

The game is free-to-play and available for download for the PC, Playstation, as well as the Xbox.
Click here to download Star Trek Online for the PC, here for the Playstation, and here for the Xbox.
6. Runes of Magic
Yet another massively multiplayer online game, with yet another mystical name that even mentions the word 'magic' in it, Runes of Magic (Download Here) is one of the best games like WoW out there.
The mention of the word 'magic' does more than just tell us its name – it helps us get a sneak peek into what the game is like. Having been developed by a Taiwanese developer by the name of Runewaker Entertainment, this is yet another Asian MMORPG on our list today.
Runes of Magic is a game that is a lot like World of Warcraft because it was created with the intention to compete with it.
However, it could never gain as much popularity, mainly because World of Warcraft has its own loyal base of users who would rather stick to it than try a different game, no matter how good the game may be.
May you here be the exception to play this exceptional game after reading about some of the features of Runes of Magic down below?
Runes of Magic has ten different classes, out of which you can choose. These classes are, namely, Warden, Warlock, Rogue, Scout, Knight, Warrior, Priest, Mage, Champion, and Druid. The game provides the flexibility to be able to mix and match between all these different classes, which come up to about 66 possibilities.

When you reach level 10 in the Runes of Magic, you can choose another one of the classes if you'd like.

At reaching level 20 in the game, you can select the third class, if you wish to do so.

There are three different races in the game, out of which you can choose – the three races are human, elf, and dwarf. According to the race you select, some of the classes in the game can be race-locked. However, as mentioned before, there are 66 classes from which to choose, so it is not much of a problem.

There are thousands of available quests, over twenty challenge instants, raids, and a brilliant quest series. In simpler words, this means that there are tons of things to do in the game, and you will not bore off easily.

The game has several PvP modes, including cross-server Arenas, guild Siege Wars, etc.
Runes of Magic provides you with an ultimately customized and personalized experience by giving you the freedom to create and personalize lots of things.
You can obtain things like houses, build castles, take on guild quests, mini-games, etc. You can also create your own objects in this game after choosing one of the game's nine professions – Weaponsmith, Cook, Armorsmith, Tailor, Alchemist, Herbalist, Woodcutter, Miner, and Carpenter.
7. Aion
Aion (Download Here) is yet another game like WoW that followed the monthly subscription model, but soon after ended up switching over to the free-to-play version, like SWTOR.
Aion: Shadows Over Balaurea (Official Trailer)
In the game, the world of Atreia is divided into two battling factions, namely the Elyos and Asmodians. Each of the factions battles each other for ultimate control over the land of Atreia, and have their own distinctive features in the game.
The Asmodians are brave and loyal to their own, and just as ferocious and brave in the battle against their enemies, the Elyos.
On the other hand, the Elyos have their own values and feel entitled to the lands of Atreia, and are thus on the attacking end when it comes to conquering more lands they want to be their own. Your journey in the game Aion begins when you choose either side
Here are a few features of the game Aion:-
In the game, you must choose one out of four classes after you choose aside. The class you choose directly affects your character's roles and responsibilities in the game, especially during combat.

 The four classes out of which you can choose at the beginning of the game are Warrior, Scout, Mage, or Priest. Each of them has two subclasses, which you can select from once you attain level 10.
You can participate in three different kinds of quests on Aion, namely Work Orders, Campaign Quests, and Ordinary Quests, which are quite like the quests available on WoW. You can help other players finish these thousands of quests, except in the case of Campaign Quests.
Combat in Aion is not restricted to only PvP or PvE during battle – they can both be present at the same time, and you can fight in whichever mode you'd like. This is a distinctive feature of Aion, quite different from a lot of other MMORPGs.
During the battle, you can use various tactics and weapons to fight your enemies. The game also enables you to have wings and fly, which is a fun experience.
There are many personalizable experiences in-game. You can keep pets, form legions, become a master crafter in weapons for yourself, make style statements by customizing your character to how you'd like it, etc.
8. RuneScape
RuneScape (Download Here) is one of the best games like WoW, in the sense that it is an MMORPG, but it has its own super unique and brilliant features. It is based in Gielinor, on the island of Ashdale.
The RuneScape world is massive, as its classification as an MMORPG suggests, of course. However, the virtual world's largeness feels even larger for the amount of freedom given to each player that joins.
As the game creators put themselves, "The joy of RuneScape is the freedom it offers," and this, you understand when you play the game.
Read on to find out about some of the great features of RuneScape:
In this game, the quests are not monotonous or like the regular kinds of quests on other games. No, the quests in this game are crafted carefully by the developers of the game to be made more and more interesting as the story of the game unfolds.

This game does not necessarily need a download, which means, in simple words, is that you can play it online, on the RuneScape website itself. A download is, however, available if you wish to have it saved on your computer device.

In combat, you use various skills to do better. You must learn skills and spend some time honing these skills to a mastery level so that you can best use them during battles.

The map is vast, and you can explore either on foot, through magic spells, or in ships (which are relatively harder to obtain). You can travel through different kingdoms and cities, where you will find various kinds of quests.
The game RuneScape is free-to-play for all and is an incredibly good fit even for beginners. There are tutorials available for beginners, and also a comprehensive guide of the game for the same.
Click here to play RuneScape for free online, and here to download RuneScape for free.
FAQs
Q1. What is an MMORPG? Are they any different from regular games we can play?
A1. When we think of regular games, we often think of games like Temple Run and Subway Surfer that are easily downloadable, single-player games.
MMORPGs are Massively Multiplayer Online Role-Playing Games, where you get a character to customize and make entirely your own. You can discover this online world through the eyes of your character, and by partaking in combats, quests, and much more.
Q2. What's the difference between a subscription model and a free-to-play version of a game?
A2. Many online games follow the concept of a subscription model, where you buy the game and pay for it on a monthly or even an annual basis. On the other hand, many games are free-to-play games, which are free to download straight off of the internet.
Q3. Why do we have to pay even for some free-to-play games?
A3. Most free-to-play games are games that were previously subscription-based but later converted to the free version. Some of these are even mentioned in the above list. 
A lot of free-to-play games are also free up to certain levels, after which there is the requirement of a subscription. Other games offer subscriptions for more perks and privileges in the game, alongside the free version of the game.
Q4. What is the PvP mode of gaming in MMORPGs?
A4. PvP, or Player vs. Player mode refers to when we are playing in real-time against another player. In contrast to PvP mode, there is a PvE, or Player vs. Environment mode.
In the PvE mode, you play against computer-generated enemies. For example, we can play chess in person on board, against someone else in real-time; this would be PvP. On the other hand, if you play chess offline on an app on your computer, you are playing against the computer, and this would be the PvE mode of a game. The same concepts of PvP and PvE are applied to MMORPGs too.
In Conclusion.
In conclusion, this list has hopefully broadened your horizons as to which games like WoW exist. There are many, many MMORPGs and games like WoW that are available in the game market, free-to-play, and also subscription-based. You should figure out the game which you would like the most and download and play that game.
We have mentioned film and television-based MMORPGs, as well as games that are purely original – now, the pick of yours, for whichever you'd like to choose.