Do you have the curiosity to know about the Best Hidden Dash Cam To Buy in 2022? 🤔
Don't worry; this definitive buyer's guide will help you find the best one.
Let's explore this awesome detailed guide. 🐱‍🐉
If you have been around YouTube, you must have seen a few cool videos covered by dash cameras. But hidden dash cameras are more than just suitable for capturing cool videos.
You can get proof for your insurance claim in case of an encounter with a reckless driver, capture unexpected events, and so much more. To enjoy this, you must have the best dash camera installed in your vehicle.
The dash cameras to buy are classified using the most important features anyone should be looking for in a hidden dash camera.
This includes providing good quality footage, the ability to be installed and stay in place discreetly, and its overall performance in the form of battery runtime and charges.
A hidden dash camera is not a gadget you want to buy with your eyes closed because when it comes in handy, it gives no prior warning.
And you do not want to find out that your only source of proof for an insurance claim barely shows the details you want. Because of that, we have reviewed all the necessary qualities of a dash camera and selected the top 10 you will be comfortable choosing from.
When you are looking for a hidden dash camera, you want something that not only records good quality footage but also comes with some extra features that will make your usage a lot easier.
The best pics here are selected carefully considering the sizes, the image quality, the ease of installation, additional features, and the manufacturer's support. With all of these, if you are in a hurry, the Garmin dash cam 55 is arguably the best.
To ensure you get what you are looking for, check out these top 10 hidden dash cameras.
Best Hidden Dash Cam – Our Top Picks 👌👌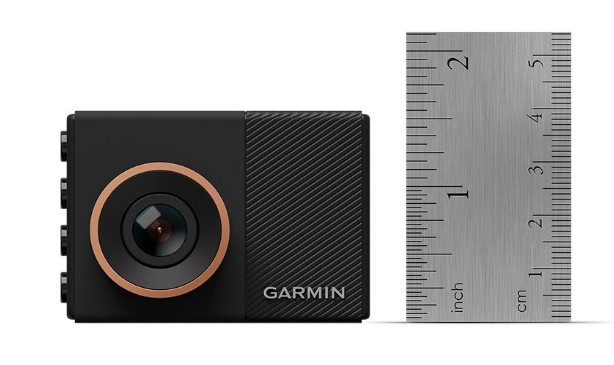 Since we are looking through dash cameras, getting one that isn't just a camera but also helps the vehicle's driver is great. The extra features included in the Garmin das Cam 55 design make it stand out as one of the dash cameras.
Not only is this camera great when it comes to viewing, but it also comes in a small size, making it perfectly discreet when installed in a vehicle.
A G-sensor, a voice control, a GPS sensor, and driver assistant features make this camera very attractive. Easily mountable and of great value for its price; if you are already interested, you should look at more information about the Garmin dash cam 55 below.
Features:-
It has 2 inches LCD screen.
It can capture 1440p videos with a shutter speed of 60 frames per second
It has a VIRB mobile App from which you can get access to some controls on the camera
Voice command to make it easier to select controls
There is an 8MP SSD card where all images captured are saved and rewritten in real time.
Traffic sensors assist drivers to be aware of the traffic ahead of drivers.
Automatic activation of an incident recording in case of an accident.
It has a magnetic mount for the windscreen
It has inbuilt Wi-Fi connectivity
Its field of view angle is 106o
Pros:-
The size of the camera is compact, making it perfect for discreet viewing
Mounting the Garmin 55 is easy with the help of a metal plate that sticks to the windscreen and attaches to the camera through magnetic attraction.
The voice commands make it easy to operate without taking much of the driver's attention.
Driver assistance features like the G-sensor, a traffic sensor that notifies the driver of red light changes and incoming traffic, and a way to notify the driver when they leave their lane.
You get your money's worth in features and durability
The 1440p video resolution is of great quality for this small-sized device.
Cons:-
The battery runtime is just 30 minutes on a full charge
The access you can get through the mobile App is limited.
The SSD card is small.
Notes:- This is a great camera with many positive reviews. In addition, with its high performance, the camera is so compact that you can install it in a couple of minutes and even forget it is there.
The problem of small storage space can be upgraded, and the voice commands can make up for the mobile app's limits. As long as you can take the time to understand the menu and how to navigate it, you are in for a good time.
Check Price on Amazon
Garmin 55 Dash Cam Review/Walkthrough! BUDGET DASH CAM
Note:-
I have written a post for people looking for the
Best Dual Dash Cam
to buy?, do read it If you are interested.
2. Street Guardian SG9665GC
If your motive for getting a hidden dash camera is to have some pictorial proof in case of an accident, then you will be impressed by the Street Guardian SG9665GC camera.
This camera is not only compact but also designed to include features that will help you make a case when you need to claim your insurance if there is an accident.
To reinforce how handy this camera can be, it has a G-sensor and can record 1080p quality videos that are clear even in bright and dark places.
This means that the videos captured by this camera will come out in good clear image quality day and night with the right features to cater to that. To find out more about this camera, more information has been included below.
Features:-
The maximum resolution of videos on this camera is 1080p, with a shutter speed of 30 frames per second.
Easy set-up with an adhesive pad
To provide coverage at night, it uses a wide dynamic range processor.
It is wedge-shaped
The Camera uses the SONY Exmor IMX322 CMOS sensor for improved performance.
It has a G-sensor that automatically locks a video if there is a collision.
It uses a 1.5 inches LCD screen display
It has an inbuilt GPS and audio system
It weighs 3.04 ounces.
It can have up to 250 GB of memory cards for storage.
Pros:-
It can easily be hidden by mounting it on the windshield
The GPS takes account of the location and time of every footage
The G-sensor function is useful when there is a collision to automatically save the footage and lock it away from being overwritten.
It only takes minutes to mount the camera and get it working.
With the help of the G-sensor, details like the vehicle's speed are also saved as video coverage.
Cons:-
Notes: This Australian-made camera boasts superb quality and ease of installation, making it the perfect hidden camera to use.
It has a large memory space and, therefore, can take a lot of time; in addition, the G-sensor helps to secure video proof in case of an accident.
Check Price on Amazon
Street Guardian SG9665GC Dashcam Review
3. Accfly

Mini Dash Cam Dash
Accfly is known to produce a very affordable dash camera, and this mini version comes at less than $30.
Even though it is highly affordable, this camera also works very well to provide clear footage; however, compared to other more expensive ones on this list, it may fall short of impressive.
Nonetheless, when considering the price of the Accfly, the performance is nothing short of what is expected.
However, beware that a little luck may play a role in getting an Accfly camera, as some complaint about it not working properly while others get theirs in perfect condition. More information about the Accfly mini camera is listed below.
Features:-
The camera records a panoramic image at 120o full view range
It is held in place with a suction cup
It can record video quality up to 1080p, adjustable to 720p, depending on your preferred settings.
It has a G-sensor that works in the case of a sudden collision, saving the video of the event.
Power for the camera comes from the ignition
It has a 1.5 LCD screen
It has an inbuilt speaker and microphone to help with sound covered in videos.
Pros:-
The Accfly mini-dash camera is highly affordable for anyone.
The G-sensor is great in case of an accident.
The camera is compact and easy to install in your vehicle.
Cons:-
It doesn't use a memory card, and the 32 Gb space is small
The power for the camera comes from the ignition; hence it doesn't record when the car isn't on
Notes:- With the Accfly camera, you have to forget the chance of your camera picking up something cool that can make you famous while the car is off because of its power source.
However, if you can look beyond being YouTube famous, the camera can come in handy, especially as proof of a collision.
At the time of our research on "discreet dash cam front and rear," we found a video about "If You See This In a Public Bathroom, Call the Police Immediately!" which is worth watching. 🏆📗
If You See This In a Public Bathroom, Call the Police Immediately!
4. Aukey DR02 Dash Cam
 With the market filled with impressive cams with amazing features, it is impressive to see that a dash cam can get into the list as one of the best without having any special features.
The Aukey DR02 dashcam is great as a dashcam because it gives you more than just the option of viewing what happens in front of you; you can video what happens in the car as well. Talk about full surveillance.
Even without the special features, you might not miss it so much, especially if your vehicle already has some impressive features. As long as you want your dashcam to perform the basic function of taking video, you will love to know more about the details of the Aukey DR02 dashcam.
Features:-
It has a full view range of 170oon on the rear camera and 152o on the front.
It records 1080p-quality videos
It has a 1.5" screen
It uses a Sony Exmor IMX323 sensor
It has a two years warranty from the manufacturer and a 48-day money-back guarantee.
The G-sensor is motion-sensitive and works in the case of a collision.
Pros:-
It uses adhesive pads to stay in place on the windscreen, and this gives it a stronghold through all the movement.
It is easy to set up even if you have not used a dashcam.
It records videos from two sides of the camera, so you can also get footage of what is happening inside the car.
Impressive manufacturer's support can be seen through the warranty given.
It has good night vision viewing.
The combination of both front and rear lenses allows you to have almost 360o
Cons:-
It has no Wi-Fi; hence all transfers and access to the media have to be via a USB cord.
No inbuilt GPS; hence videos and images generated are not mapped to location and time, hence making it weaker evidence when compared to other dash cameras in this list.
Notes:- If you are worried about the lack of an inbuilt GPS, you can purchase the Aukey GPS antenna and connect to it to have more data on your footage.
The video quality of the Aukey DR02 is too good to miss out on when you can use a GPS adapter to make up for all the missing information.
Check Price on Amazon
AUKEY Dash Cam Review and Install Guide - DR02
5.

Pruveeo F5 1080P Dash Cam with WiFi
 If you are one for a really attractive design, then you will love the Pruvee F5; it looks great straight out of the box and when installed on your windscreen. Think about a dash cam you can proudly brag about and have people admire it when they spot it.
However, the size of this dash cam is still small enough to keep it discreet, so you may have to announce it when you want to show it off.
Moving on from the looks, the Pruveeo F5 dash cam is more than just dashy looks; it also has peak performance and durability.
With a wide-angle viewing technology that will help you capture 1080p video quality, you can easily view from your mobile device thanks to the added features. Are you already interested in buying the Pruveeo F5? You should check out more details about the Pruveeo F5.
Features:-
It records video quality of 720p that can be adjusted to 1080p
140o viewing angle for the camera.
It has a 1.5 inches screen for an interaction of the camera's menu
It has a motion detector that can trigger the auto-on feature of the camera.
It has an available g-sensor.
It has night-vision features to ensure clear images even in dark places.
It has an automatic memory lock sensor to preserve sensitive footage
It has a maximum memory of 32Gb
Pros:-
The Pruveeo F5 has a sleek design that is attractive even when mounted
The adhesive mount makes for a strong mount to the windscreen that remains strong even with vehicle vibration and motion.
The motion detector can start a recording automatically, protecting you against thieves.
It comes as one of the affordable dash cams.
Cons:-
It has no inbuilt GPS sensor, which could be a spoiler in terms of location, time, and speed mapping.
No special feature is included.
Notes:- The Pruveeo F5 dash cam is an aesthetically pleasing dash cam that simultaneously has an impressive performance that lives up to its price.
If you are not looking for something with special features, you will be happy to have this dashcam installed in your vehicle.
Check Price on Amazon
Pruveeo F5 Dash Cam Review - 1080 HD Video Test
6.

Rexing V1 3rd Generation 4K UHD WiFi Car Dash Cam
The Rexing V1 camera provides the basic function of a dash cam you would want; clear image recording, good light settings, and a compact size to be discreet when installed.
Like the Aukey DR02 dash cam, this Rexing V1 is also very functional in capturing images, as long as you can without the special functions.
However, unlike the Aukey, the Rexing only has one camera and not two, which is not a huge loss considering that not many people use the front camera in the first place.
However, Rexing V1 3rd generation has a lot more than the Aukey, including the video quality and available inbuilt Wi-Fi.
Features:-
It costs a little under $140
It has a wide viewing range of 170o for full viewing
The camera produces a commendable video quality of 2160p with a shutter speed of 24 frames per second
The camera has inbuilt Wi-Fi that allows easy connectivity to mobile devices.
The camera supports up to 256GB of class 10 memory card capacity.
The G-sensor available helps to lock memory in times of an accident.
Below is the summary of the main Pros and Cons of The Rexing V1 3rd Generation 4K UHD WiFi Car Dash Cam.
Pros:-
The 3rd generation camera is an improvement from the initial Rexing V1 camera.
The wide-angle view is amazing for covering a large area in front of the vehicle.
The video and image quality captured by the camera is great for you to identify plate numbers captured.
The camera size is compact enough to make for a hidden dashcam.
The higher video quality is greatly better than that of a lot of dash cams.
Cons:-
Notes:- Even though it still doesn't have the best-advanced features that come with some other dash cams, the 3rd generation Rexing V1 camera still comes improved from the first version. You can enjoy the video quality if your device can view the improved quality.
7. Garmin Dash Cam 65
After Garmin 55 made such a great impression, it is no wonder that Garmin 65 will enter this list again. The Garmin 65W comes with different improvements with a wider viewing range (now up to 180o), which means that you can now see even more than you could and more than you might have spotted with your eyes.
The Garmin 65W maintains the special features contained in the Garmin 55 that give some aid to the drivers.
Things like an automatic lane detector that lets you know when you are moving out of your lane and a sensor that tells you when you are getting too close to another vehicle. Simply put, if you were already a fan of Garmin from the Garmin 55 review, then you will be impressed by the 65W.
Features:-
The full viewing range of the camera is 180o.
It can be synched with a VIRB mobile app that allows you to access files without needing a chord.
It has voice control features available that make it easier to select commands.
The two-inch LCD screen display can navigate the menu and view the captured media.
It can support up to a 64GB memory card of class 10 and above.
It has a dark discreet body making it perfect for a hidden camera
It uses an adhesive and a magnet mount
It comes with an inbuilt GPS
Pros:-
Including a magnet, the mount allows you more flexibility as you can transfer the camera to another vehicle that already has the metal plate installed.
The clear video quality of up to 1080p allows you to see the vehicle plate of cars in front of you.
Easy access to files with the help of the mobile app and the 2" LCD screen
Great driver assistant features that make it stand out from other Dashcam
Good image performance with both bright and dark places.
Cons:-
The upgrade isn't so much from the Gamin 55
Notes: Gamin is a top brand regarding surveillance and GPS technology, and it shows through the 65W and the 55. The Gemini 65W improves the angle of viewing image clarity, making it a great buy.
Check Price on Amazon
Other hidden dash cams worth spending money on because of their performance are the YI Mirror Dash Cam, the Rexing Dashcam V1Pand the Mini Spy Hidden Dash Cam.
Just like the ones above, all of these have been able to combine a discreet design with good performance to be able to rank among the top 10 hidden dash cameras you can buy.
Best Hidden Dash Cam: What To Consider
Selecting the above ten cameras was done carefully by considering the necessary qualities in a dash camera. Qualities will land you great worth for your money if you use them as your buying guides for getting a dashcam. These qualities are listed below:
Added features:-
A dash camera was introduced to make driving and keeping an eye on your eye surroundings a lot easier. When it can do this, it can increase the value of the vehicle when you decide to resell.
However, what makes a dashcam more useful to you is the presence of added functions like a vehicle lane sensor that lets you know when you are leaving your lane. The more added features on a hidden dash cam, the more useful it will be to you.
The size:-
basically, the size separates a regular dashcam from a hidden dashcam. A hidden dash cam is supposed to be small enough to be discreet, mainly so that you capture videos of the environment undisturbed.
Therefore, all the dash cams on this list are small (although some are smaller than others). However, remember that you will not have the luxury of the LCD screen with a small size; that is where added features come to play.
The image quality produced:-
A higher-quality image will always be ranked as the most important quality of a dash cam, which is why some of the dash cams on the list can forfeit special features. Go for high-quality images first.
Easy setup:-
Technology is supposed to make life easier, not complicate things. With an easy setup, you will avoid getting frustrated before you even start enjoying your dashcam.
Warranty:- Good company support often shows in the warranty. It is important to pay attention to the details of the warranty.
📗 FAQs
Below are a few queries on Best Hidden Dash Cam that everyone is expecting to answer and I did include the same for my readers.
Do you remove dash cam when parked?
It is a good idea to remove your dash cam once you have left the vehicle to avoid your car being broken into.
Do car cameras record all the time?
Dashboard cameras are typically designed to record continuously whenever they are powered up.
Where are dash cameras illegal?
Unfortunately, not all states in the US allow dash cams to be mounted onto the windshield.
Is there a 360 dash cam?
Vezo 360 is a dual-lens 4K dash cam which records all around your car in 360˚.
Conclusion
In conclusion, Gamin is one of the best companies for hidden dash cameras and the Gamin 55 is very attractive because of its special features and the fact that it ticked the right boxes.
However, the Aukey DR02 Dash Cam is the best pick if you are not one for special features. If you don't mind the size, you can go for larger dash cameras; however, take it from a dashcam user. "it is always better to get footage of the environment undisturbed when they don't know you are watching".