This is a list of Best Men's Watches Under 100 $ in 2022. 🤴
Our goal?
Bring the best product to our readers.
Without any further delay, let's explore this guide. 📗
A wristwatch is necessary for a man regardless of job description or status; a watch just completes the look and adds a little swag to your persona. 
However, the amount of watches in the market is a story for another day; At the same time, some involve you paying with a check leaflet, and others in their thousands; getting a watch that speaks quality and finesse and matches your personality under a hundred dollars is a long shot.
So if budget is a problem, but you need a good watch, we have something for you, and you might have some cents remaining for your favorite drink at a local bar, don't be late; see you later.
Best Men's Watches Under 100 $ – Our Pick👌
1. Biden Men's Chronograph Fashion Watch
This is a businessman's watch, elegant, stylish, and masculine with so many minute details, and it looks more than a 100-dollar watch.
This analog, jagged edges bezel is a 43mm stainless steel with a 20mm bracelet band with a butterfly clasp to lock closure that ensures the watch stays on when needed. It is sleek and smooth, with a brushed, polished interior that sits elegantly around your wrist.
The individual bracelet pieces are spaced adequately to allow airflow, preventing sweat build-up and irritation after a long time of wear.
At 10mm thick, this watch is super light, and has three dial controls seated at the right-hand side of the case; they control the chronograph, the date and day, and the watch's setting.
The watch sports an envious green dial that matches the silver and white dial tips. It has two-second representations, the outer second counter at intervals of 10 with Arabic numerals in the outer bezel, the inner counter represented with silver strokes, the minute, second, and hour handle that also glows in the dark, all of which are encased with a flat scratch-proof glass covering.
Below are some of the Pros and Cons of The Biden Men's Watch that earned it a spot in our list of Best Men's Watches Under 100 $.
Pros:-
Well-designed, durable, and high-quality watch

Waterproof and water-resistant up to 30 meters

A rotating external bezel for some fun and class

Chronograph, date, and a day window located between the 4 and 5 o'clock position

Employs the Japanese quartz movement for accuracy

Large easy to read dials with a stopwatch, date, and calendar

Great for sports or water activity with a durable, anti-fade stainless steel bracelet
Cons:-
Overall, the Biden Men's watch is beautiful, and with the ability to adjust the links to your size, it is a great gift for that timekeeper with a smaller wrist. Enjoy quality craftsmanship without breaking the bank.
2. LIGE Men's Fashion Watch
This is a watch for men that love numbers; the watch is so busy but elegant, filled with textures, geometry, and a design like no other. The LIGE men's watch is designed for the man on the road that wants to look good.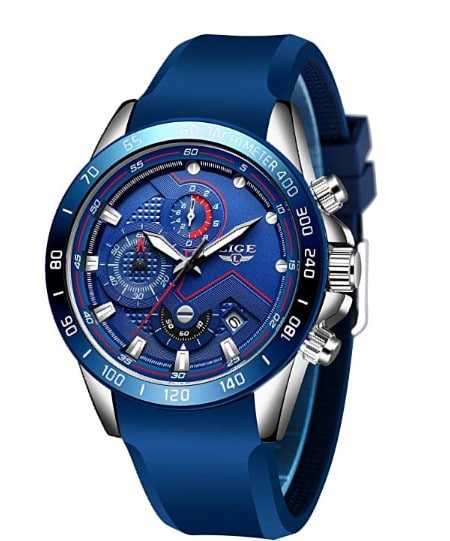 This monochromatic military-grade watch is stylish, elegant, and well-crafted, and will satisfy your every need. It is a timepiece or a companion as you perform your daily activities.   
Despite the single-color overload, this elegant ocean-blue watch is beautiful. It will work in any scenario, work, business meetings, lounging at some seaside resort, or playing with the kids.
It is a tough 44mm stainless steel blue casing and a reliable blue silicon strap with tang closure. The three silver dials break the blue color at the side of the casing. The watch sports the Japanese Quartz movement for accuracy and finesse and a battery life span of 24 months.
The three-dial performs the following functions – the upper dial controls the stopwatch. This button will start, pause, or stop the stopwatch if you are trying to record your time for an activity.
The middle button is bigger and controls the pointer, adjusts the time, adjusts the calendar, and the date window seated between the 4 and 5 o'clock position. The last and lower control dial handles the second hand and the second dial on the dial surface.
The beautiful red color on the dial cuts through the blue to add a touch of color. The surface has three small sub-dials – the hour display at the 9 o'clock position, the minute display at the 6 o'clock position, and a dial that calculates one-one thousandth of a second at the noon position. We told you it was a busy watch but all for good.
This watch is a 44mm across, 12mm thick, 22mm wide strap with an overall length of 24cm long. The LIGE watch is waterproof to a depth of 30 meters, but not great for diving or being immersed in water for a long period.
All the watch's innards are encased with a hardlex mineral glass that is scratch-proof, shockproof, and strong enough to withstand an everyday beating.
As with all chronograph watches, this watch has a luminous green glow that lets you tell the time in any light condition.
Below are some of the Pros and Cons of The LIGE Men's Fashion Watch that earned it a spot in our list of Best Men's Watches Under 100 $.
Pros:-
A soft, comfortable silicone strap

Great for swimming, showering, and doing other water activities

A clean and clear glass surface with bold pointers aids a better understanding of the watch

An incredible timepiece that tells more than time

Gold-plated, fade-proof casing

Three-year warranty
Cons:-
Overall, this watch has it all; believe it or not; it will take some time to get fully acquainted with all the details and functions of this watch. However, for a watch under $100, it offers more than the price on it. Get it today or as a gift for the man in your life.
3. Timex

Unisex

Weekender Watch
Fashion is about the freedom to choose, and Timex gives you that option in an elegant timepiece for the everyday gentleman. This watch comes in different sizes with varying case diameters and is a great gift for the lady of your heart.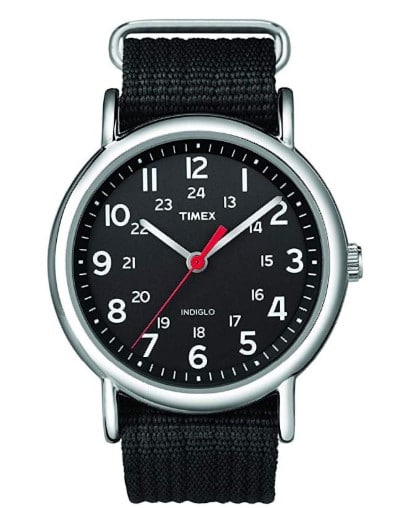 The Timex weekender is an unusual, simple, minimal watch but elegant and beautiful. The watch is a 38mm diameter stainless steel rounded edge casing with a 20mm width closely knitted fabric strap with a pin-hole strap that is adjustable.
However, the unique feature of this watch is the ability to change the strap any day and how you want. All you need is to slip the old strap off and insert the new one – it is that simple.
The watch is a full analog quartz watch with a black dial. The dial has the regular 1 through 12 Arabic numerals around the outer edge, and the military GMT 24-hour timer on the insert is still in Arabic numerals.
The minute and hour marker hands are in silver tone, but the second hand is red for some contrast. The extreme edges of the dial consist of silver strokes representing the 60 seconds on a watch.
Below are some of the Pros and Cons of The Timex Unisex Watch that earned it a spot in our Best Men's Watches Under 100 $ in 2022.
Pros:-
Simple, durable, easy-to-read bold design

Adjusted and removable straps

Indigo backlight for night viewing

Bold numbering with a strong scratchproof mineral glass cover

12-month duration on battery life

Water-resistant up to depths of 30 meters

Available in different size diameter

Strap is washable
Cons:-
Too simple

No date or day window on the dial
Overall, this Timex watch is not busy and overwhelming. Its simple design allows your personality to shine through at any event and occasion. It is available for females too and worth the price.
Timex Weekender: An HONEST Review (2019)
Note:-
I have written a post for people looking for the 
Best Watches For Rowing
To Buy, do read it If you are interested.
4. Casio Forrester FT500WVB-5BV Men's Watch
Casio is known for exquisite watches, and the Forrester is no different. This ruggedly built watch is made for the man who likes strong and fine but is not interested in details.
This quartz movement full analog display watch has a 41mm diameter brown resin material with 11mm thickness and is the best watch for the outdoor guy. The surface has four screws at the corners, giving it a mechanical look that enhances its ruggedness.
The metallic surface is a two-tone color to add some contrast to the overall look. The outer edges are plastic and hold the single control dial on the watch's lower right-hand side. 
The watch has a thin bezel that separates the reliable, scratch-proof mineral glass that houses the brown dial-based. The dial consists of the regular numeral representation on the outside and a 24-hour timer inserted with a date window at the 3 o'clock position.
This watch allows you to tell the time in two ways, depending on where you are. The makers are the usual hour, minute, and second-hand luminous in the dark for easy readability.
The strap on this watch consists of a brown leather tip and knitted middle for comfort around the wrist. It is an 8 inches long strap, a 20mm wide beige color that matches the watch and your outfit.
Below are some of the Pros and Cons of The Casio Forrester FT500WVB-5BV that earned it a spot in our Best Men's Watches Under 100 $.
Pros:-
Lightweight, well-designed, durable everyday watch

It is water-resistant up to 300 feet
It has a simple, easy-to-use screw-down control dial at the outer side of the case
Three-year battery with Velcro fastener and hook and loop closure for secure lock
A large light button at the side for switching on the light to see the time in the dark
Cons:-
Overall, this is a basic watch; if you are looking to get some astounding comments for a watch, you will probably not get it with the Casio Forrester; you will not.
However, if you want a durable, reliable, strong, affordable, and easy-to-read watch, this one checks the boxes for less than $100.
CASIO brown FT500WVB-5BV Forester Sport Watch with backlight review
At the time of our research on Best Men's Watches Under 100 $, we found a video about "Why Are Rolex Watches So Expensive?" worth watching. 🏆🤴
Why Are Rolex Watches So Expensive?
5. Invicta 89260B Pro Diver Automatic watch
If you are looking for an elegant, business/everyday watch that will make you look like a million bucks, find it. The Invicta pro is a sophisticated watch that will enhance all the qualities that the man of the class will desire.
At 40mm wide across the surface, the Invicta is a stainless steel automatic watch designed for durability, style, perfection, and accuracy. The watch, which sports a Japanese quartz movement, has an analog display that is simple and easy to read.
It matches your style and person fluidly without a problem. The dial is covered with a scratch-proof mineral glass window to keep the all-black, and white insert pristine and clean. 
The dial has an outer counter in the 10s imprinted in Arabic numerals; white dots mark the inner watch number except for the noon, which is marked by a triangle, and a rectangle represents the 9 and 6. The 3 o'clock window houses the date window.
The dial hands are luminous and glow in the dark for easy reading. To complete the look, the watch has a rugged edge bezel around the circumference with a transparent back case that allows you to view the working of your watch. 
The strap is stainless steel interlock bracelet with a fold-over clasp closure and a single dial control at the side of the case.
The watch uses the energy produced by the body to work and combines Japanese quartz movement technology for accurate time.
However, be aware that the watch will likely go off after a long time of no use.
Below are some of the Pros and Cons of The Invicta 89260B Pro watch that earned it a spot in our Best Men's Watches Under 100 $.
Pros:-
Fade-resistant, scratch-resistant stainless steel surface

Waterproof watch up to 200 meters deep

Automatic quartz movement

Durable, reasonable priced, reliable, and comfortable wristwatch
Cons:-
Overall, Invicta combines functionality, style, personality, and durability to produce an excellent masterpiece in this well-crafted piece worth every cent and dollar spent on it.
6. Citizen BM8180-03E Men's Casual Watch
For those days when you dress down, you need a watch that will blend with the look and not look out of place. Citizen watches are well-made watches with a modern and clean look for casual days.
Their watch style combines textures and simplicity to enhance the comfort and wearability of the wearer. Perhaps the unique features of this watch are its minimalist design that goes well with every outfit and the ECO-DRIVE feature; this watch can convert natural light into energy that it uses to function, thus eliminating the use of a battery or worry about when to change it when it is spoilt.
There is no additional bling, no complicated dials, but a simple Japanese Quartz movement that does an excellent job of ensuring you are never late.
The watch is a 37.2mm circumference and 9.7mm thick stainless steel frame unto which a 7.5 inches long and 18mm wide canvas strap is attached with a tang buckle to keep the watch tied on your wrist securely.
The black dial consists of an Arabic numeral representing the numbers on the dial but a large silver triangle at noon; it has a second counter with intervals of 5, also in Arabic numerals, for easy time-telling.
The markers are bold and luminous with a red secondhand for effect and a day/date window at the 3 o'clock position.
Below are some of the Pros and Cons of The Citizen BM8180-03E Men's Watch that earned it a spot in our Best Men's Watches Under 100 $.
Pros:-
Well-stitched canvas band adds texture and style.

Dials are made with self-illuminating material that allows them to shine in dark or low-light areas.

Amazing design and construction

The band can be stiff when dried after being wet, but it will loosen up

Water-resistant up to 330 feet with a solid scratch-resistant glass cover

Classic, simple, lightweight, and easy to set the time, date, or day

Accurate quartz movement
Cons:-
The canvas strap gets heavy when wet
Overall, Citizen is an excellent brand that is great for the price. It is available on Amazon, and although it is tagged a man's watch, it is a fabulous piece for a female who loves a softer touch of masculinity on their accessories.
7. Casio GA-700UC-8ACR XL – Men's sport watches under $100
This is a watch out of the movie G.I Jones. This military-grade watch is built for the toughness in you. It is rugged, big, and ready to tackle the day's events.
Not your average dress watch, this is for an active person who loves a superb watch that will withstand the elements without breaking the bank.
This 5.3-centimeter watch is an analog-digital model with an all-black, sleek casing 16.7mm thick and a bandwidth of 25.8mm.  This powerfully designed watch is water-resistant up to 200 meters, making it great for most water activities.
However, Casio has taken the G-shock up a notch; this watch is impact resistant up to 10 meters and shock-resistant up to 10 meters.
The number of markers is symbolized by big plastic tips around the edge of the watch, with a big date and day window extending from 8 o'clock to 4 o'clock.
The white dial pointers of the hour and minute hand contrast the all-black composition of the watch, giving it some dimension and depth.
The G-shock employs anti-magnetic features that allow the watch to remain functional in areas where there is magnetic influence without any effect. Furthermore, you get to enjoy time from 31 different time zones.
Below are some of the Pros and Cons of The Casio GA-700UC-8ACR XL  that earned it a spot in our Best Men's Watches Under 100 $.
Pros:-
Fours dials control all the features on the watch surface

200-meter water-resistant depth

Super sharp glow with the ability to adjust the brightness

Four alarms settings are available

Lightweight, comfortable, and durable fit
Cons:-
The Casio G-shock is known for its durability, toughness, and ruggedness. Although it will not blend with all outfits, if you are an outdoorsy person looking for a style to fit your daily routine without stress, the Casio Men's G-shock GA-700UC-8ACR XL Series is one to beat for under $100.
8. Tamlee Luxury Men Watch
If your budget is tighter than $100, but you need a classic, well-crafted watch that looks like it cost a couple of thousand, then the Tamlee watch is.
This watch has everything, you name it, and it has it. Overall, the Tamlee is the best under-budget, high-quality watch that is durable, sturdy, versatile, and fully adjustable.
First, this watch is big; if you don't like big, this is not for you. However, with all the features this watch possesses, you will enjoy wearing it any day.
The bulk of the watch lies in the 4.6 centimeters diameter stainless steel case with five dial buttons around the edge that control different functions, including the set time, week, day, date, stopwatch, and alarm, respectively.
It has an all-black dial interior with a step-up design by the edge, with the second stroke aligned around the circumference.
The dial has three sub-dials: the one-hundredth of a second stopwatch at the 9 o'clock position, the date/alarm dial at the 6 o'clock position, and the days of the week dial at the noon position. 
However, this watch is a digital-analog combined watch; the digital clock is located at the 3 o'clock position, and the analog takes the whole surface of the dial with three-pointers of which the hour and minute hand have the same shape. Still, it is differentiated by the length and the second marker is thinner with a red tip.
The stainless steel strap is 25.5 centimeters long and 2.14 centimeters wide of 5 pattern interlock pieces that are individually linked together using a pin holder.
This makes the strap adjustable to fit the size of your wrist. Now the movement on this clock is the Japanese Quartz for impeccable accuracy and efficiency.
Below are some of the Pros and Cons of The Tamlee Luxury Men Watch that earned it a spot in our Best Men's Watches Under 100 $ in 2022.
Pros:-
Water-resistant up to 99 feet but not for showering and diving

Super bright and adjustable LED backlight for dark days

Markers are luminous

A fairly heavy wristwatch that is durable, reliable, and well crafted
Cons:-
Overall, the watch is marvelous and exceptional for a techie guy. If you are into the simpler things of life, this watch might be too complicated for you. However, it is a good watch and one that you will enjoy for a long time.
Conclusion
Since budget is not a question, other factors that should be considered when buying a watch are durability, style, purpose, personality, and taste.
We have touched on various styles and designs; hopefully, we have helped you narrow down the choices for your next under $100 watch.