Discord is a communication service/platform for friends and communities to virtual hang out via video and audio calls. It is a very important tool highly endorsed by the gamers community. One can also send pictures, videos, and text messages.
Discord is a popular application that helps to connect with the team while playing games. One can build their own Discord servers and can add automation and a lot more services to it.
In addition, there are also some impressive voice effects, and therefore one might require a soundboard app to modulate their voice. Thus, if you want to explore some of the soundboards for Discord, the following article will help you understand which soundboards would be the most suitable ones for you. 
To get an idea about the best soundboards for Discord, one needs to understand what exactly a soundboard app means and why it is important. Soundboard apps is an excellent app for making a group of goofy little sound bytes at a moment's notice when we need them.
The soundboard can be used to designate keys for producing sounds and sound effects that are easily playable as and when required. In addition, these apps are used to modulate any voice or play effects on various applications.
Soundboard apps might not be very useful, but having the right music at the right moment can create a perfect anecdote. Most soundboard apps are free to use, but some of the apps might need some credit.
The list that we have curated includes both free and paid soundboards that can be accessed as per the user's needs and demands.
Best Soundboards For Discord: Our Top Pick 👌👌
1. Soundpad
The Soundpad app (Visit Here) is one of the best soundboards for Discord. This app has many notable features that extend one of the best sounds on the microphones. Soundpad is an easy and simple app that makes instant beats and music.
One can also set up hotkeys to execute sound effects instantly to easily create their own sessions. It is compatible with any voice-related application. It can be paired with other applications to enhance its usability; some of them are Skype, Dota2, Teamspeak, Battle.net, and many others.
The app also promotes normalization, which guarantees all sounds play at an equal amplification. Furthermore, the sound pad also supports recording sounds and mic toggling. It also offers a free demo. 
2. Voicemod
Voicemod is a free audio application that enables people to change their voice and benefits from having a new and revamped selection of sounds for their Discord servers.
This app is useful and is one of the best soundboards for Discord and has a rich library of sounds, effects, and melodies. Voicemod adds instant voice altering and custom sound effects to various games and applications, that includes Discord, Minecraft, Rust, WhatsApp Desktop, Fortnite, Valorant, CS: GO, League of Legends, Skype, TeamSpeak, and many more.
Voicemod | Change is in our DNA
It can allow you to be anyone that you want, be it the devil, a cyborg, change your voice from masculine to feminine and vice versa or even replicate the voice artist of your choice. This app has everything one demands. It can also turn simple gaming moments with teammates or in neighborhood chat into funny memories.
3. Resanance
Resanance is a free soundboard software that operates with any application that accepts audio input. It has multiple features, including hotkeys or buttons.
It also supports files, such as mp3, FLAC, Wav, and Ogg. It plays on various devices and controls device volumes separately. Resanance is beneficial to use with Discord as it was the first software available for Discord.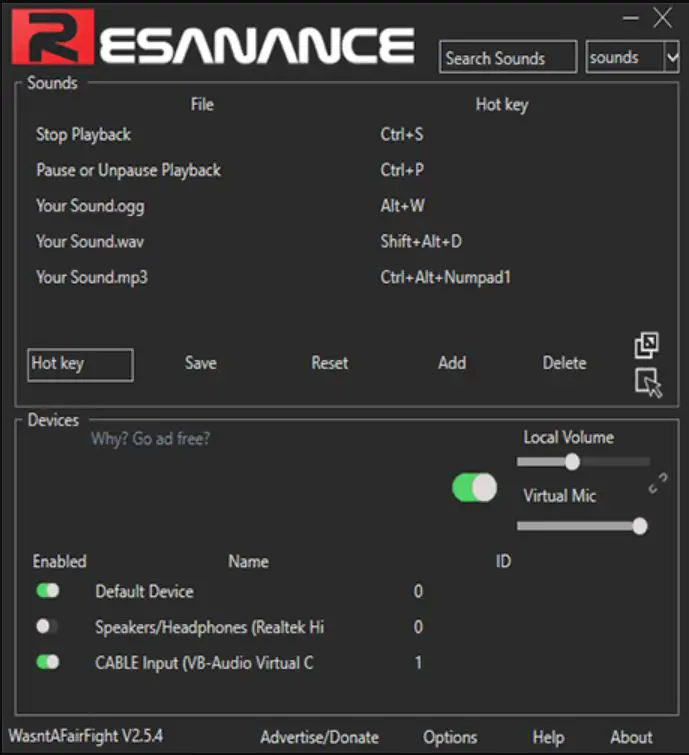 It is one of the free soundboards for Discord, is user-friendly, and allows a fast set-up. It is also a game-friendly tool that works with Curse, Teamspeak, Skype, and several different audio apps. The app is constantly being updated as per user's opinions. 
4. AV Voice Changer
The AV Voice changer (Download Here) is one of the most prominent software that allows transforming a voice into any comic or celebrity voice. The app is one of the best soundboards for Discord and can be applied for web chat applications or role-playing games.
It has a thesaurus of voice effects and voice preferences. The AV Voice Changer obtains its compatibility with most VoIP programs with the help of virtual driver technology. It designs a complete home audio workstation that will help to produce great recordings.
The AV Voice Changer can also be used with a voice recorder, Morpher, voice editor, and a file Morpher. The only drawback of the software is that it is quite expensive and requires $99.95 to purchase the app; although, it can still be worth trying with all those features. 
5. Morphvox Pro
Morphovox (Visit Here) is another expensive yet powerful app that falls under the category of best soundboards for discords. It has many useful features that make it stand above many soundboard applications; for example, the Morphvox Pro has a huge museum of sound effects and free sounds that can be used in Discord.
Introducing MorphVOX Pro 5 Voice Changer
In addition, one can also apply its super quiet background removal feature and explore great voice-changing algorithms. Furthermore, the software is thoroughly enhanced for online games, offering extra entertainment while playing games.
Morphvox has the ability to process noise with its state-of-the-art smart digital modes. One interesting, smart attribute of Morphvox Pro is that it can be used to tune voice, composition analysis, and comparing voice.
6. Clownfish Voice Changer
As the name suggests, the Clownfish voice changer is a tool that has the ability to change/modulate voice and is useful in addition to any audio input accepting application.
It's placed on the system level; therefore, applications with the microphone or other audio capture devices are affected. By using Clownfish Voice Changer, one can even change its voice in different applications such as Viber, Hangouts, Steam, Skype, ooVoo, Ekiga, Jitsi, Ventrilo, etc.
The app is a great soundboard app and also has VST (Virtual Studio Technology) plugin support. This application gives you an upper-level music player with an intensified playlist and audio commands supporting different media set-ups.
The app also offers constitutional management and vibrations. Clownfish Voice Changer has a horde of voice effects covering Clone, Alien, Atari, Fast and slow mutation, silence, radio, robot, etc. Installing Clownfish Voice Changer should be a manageable task as it is free and available in Windows Vista 7, 8, 8.1, and 10. 
7. JN Soundboard
If you are looking for a useful and completely free app, then JN Soundboard (Visit Here) is the perfect one for you. Again, it is one of the most reliable soundboards for Discord that enables you to execute sound files into a device of your choice.
JN Soundboard is a feature-loaded soundboard that is open-source in its origin. It includes many useful and interesting features and even consists of the switching and editing custom hotkeys option. It also has the ability to run foreground applications if one assigns certain hotkeys.
The app supports audio playback within any sound device and provides assistance for microphone loopholes and much more. The app also allows adding a collection of tones to a single hotkey so that when JN Soundboard uses a hotkey, it will play a random song.
It supports the following audio files that include WAV, MP3, AC3, WMA, and MP4A. The app also has keyboard flexibility and can append, extract, edit or remove any key combinations. One can also utilize the text-to-speech feature if the app is attached with an audio cable. 
8. Voxal Voice Changer
If one is looking for a free soundboard app, then a voxal voice changer is a great option. This software operates seamlessly with other apps and doesn't require any configurations or settings to work in other applications.
This app comes with multiple voice effects that can be implemented on real-time sound recordings via the microphone and also on existing files. The app switches transform and alter the voice in any game or application that works with a mic to add an extra dimension of creativity.
From 'man' to 'robot', the voice-changing choices of Voxal Voice Changer is unlimited. It can also make voices for online video games and podcasts and switch voices for audio projects and voiceovers. 
It also works on a system level which is quite similar to Clownfish, and therefore one can apply it on any app on the computer. Voxal voice changer has a very low processing power consumption, and as a result, their developers are able to make the claim of no or nonexistent issue of frame rate failure while gaming.
Being open-source, the application is free for all purposes that are non-commercial; however, by purchasing a license, non-personal use of the application is possible.
Just like the previous soundboards, it also supports files like the .m4a, mp3, .wma, .aac, .wav, .flac, and .ogg and is compatible with the following programs Rainbow Six Siege, CSGO, Steam games, TeamSpeak, and many more.
9. Voice Changer Plus App
Voice Changer App (Download Here) is an amazing software that allows people to change their voice and benefits from having a new and revised selection of sounds for their Discord servers. It has a spectrum of sound effects and vocals.
In addition, this software allows us to play voice backward, and users can also select sounds from various sound effects and voices. Voice changer plus app is feature-rich and will enable users to record voices with a single press/tap.
It also allows the registration of multiple voices with the help of the new voice feature. Furthermore, it is free software that has the skill to uphold a voiceover as a whole.
10. EXP Soundboard
The EXP Soundboard (Visit Here) is a manageable soundboard app with hotkeys and is a product of Expenosa. EXP Soundboard is versatile in the way that it supports both MP3 and WAV formats of audio alongside playing hotkeys that are custom created.
Also, when one enables the Mic Injector, there is the option of virtual audio cable crossing. The EXP soundboard also has a save feature to store the records at any time.
This software also incorporates a converter tool that allows converting any audio file and transforms it into an accurate one. The EXP Soundboard is one of the free soundboards for Discord, is user-friendly, and allows a fast set-up. 
11. RoboVox Voice Changer
RoboVox Voice Changer, the android device app, might not seamlessly be the best soundboards for Discord, but it has adequate sound effects that can transform your voice with ease.
It has more than 32 different vocal sounds with pitch intonation settings. In addition, this app allows you to store your recording. The features of RoboVox Voice Changer are it provides real-time modes like recording etc.
and also has the feature to share your result on SoundCloud. The application also assists in composing ringtones and offers a vocoder with real-time Fast Fourier Transform spectral interpretation. 
12. Podcast Soundboard
Podcast Sound is a very simple and easy-to-use board supported on both iOS and Windows platforms. Also, it is versatile as it can support different formats such as MP3, MP4, FLAC, WEBM, and WAV.
Podcast soundboards are not the usual soundboards for Discord, but it has all the important features one needs to have to make instant sound and music. In addition, the soundboard is more engaging with its easy and simple network and has a simple interface and smart display, making it an excellent choice to use.
This Nerdy soundboard comes with a clean interface and also supports MIDI devices. Its other features are multi-shot and loop eccentric sound keys and can change the speed of sounds. It also has a duck button or an editable key that instantly decreases the sound.
13. Jingle Palette
Jingle Palette was originally created for the purpose of playing jingles on radio stations. However, it is an outstanding device for a telecast studio. Jingle Palette is known as one of the interesting soundboards for Discord as it offers an unending number of songs, sound effects at a single click.
Each palette can accommodate up to 30 jingles that can be played with a single snap in various ways. One can also employ this software for multiple streams or formats such as MPA, MP2, MP3, MP1, OGG, or WAV.
It also sustains compressed WAV files if the relevant codec is established on the system. Jingle Palette also has a time announce function, to record a signal once per hour + a jingle.
The palette has a high accuracy VU meter and also displays the date, time, and day. Jingle Palette also brings assistance for standard mixing and auto-mixing as well as touch play and auto-repeat mode. Construct astounding sounds for Discord adopting this software's functions such as Automixing, Touch Play, and Auto Repeating.
14. Voice Changer with Effects
The voice Changer app (Download Here) is available on the GPlay Store, and this app allows people to alter their voice and benefits from having a unique and updated selection of sounds for their Discord servers. One can even transform their voice while recording.
This app is similar to an audio mixer with multiple sound effects and includes more than 40 voice effects. Some of them are Atari, Fast and slow mutation, silence, Robotic, heavy voice, Helium, Backwards, Monster, Extra-terrestrial, Alien, Squirrel, and many more.
The app also offers some astounding features like image creation with a sound and creating a sound from the text. You can also set the transformed voice as your ringtone.
15. Mixere
Mixere is a free-to-use, open-source software for merging audio files. It operates in Windows XP/2000/N and supports AIFF, MP3, WAV, Ogg Vorbis, Flac, and Mod audio files. Mixere is perfect for live performance and particularly for multi-layered music collages.
It delivers many features that can make it one of the best discord soundboards. The app provides countless tracks, and these tracks can be played at the same time. However, Mixere's user Interface is quite complicated, and it doesn't support hotkeys.
Accordingly, it is profitable for live performers, such as video Jockeys. The features of Mixeres are dynamic triggering or looping of audio, automatic volume and sound sliders, smooth (soft) mute/solo, snapshots, crossfading, and endless undo.
16. Discord Voice Changer
The Discord voice changer (Visit Here) is a free soundboard app used to transform voice modulations. This app is not very beneficial as it has a limited number of sound effects and can only be used in android apps.
Discord Voice Changer Tutorial with Voicemod!
It is single-use in the app and can create and pick among multiple accounts. Unfortunately, the app doesn't own its personal site, so different sites appear to operate it, yet they are complex sites to create.
Steps to set up Soundboard 
As we have discussed some of the best soundboards for Discord, it is very important to understand how to set up or install the soundboards for Discord. Below are the steps that one needs to follow when setting a soundboard for Discord purposes. 
Step 1: The first step is the installation of virtual devices with audio capabilities, like the VB-cable.   
Step 2: After installing, go to the downloaded software and open the app. Then go to the User settings and click on the icon named 'cog', which rests beside the user's name at the bottom left. 
Step 3: The third step involves clicking the voice and video tab, followed by getting the input device menu and finally selecting the option of cable output.
Step 4:  In the fourth step, the system option in the settings is needed to be selected. Here, one needs to click the 'sound' option followed by 'microphone' and finally select the device properties.
Step 5: The device properties will have the option of clicking ADP (Additional device properties); one needs to click on ADP.
Step 6: A pop-up tab appears; click the 'Listen' button and select the 'Cable Input' under the 'Play from device' tab. 
These are a few steps that will help you start the soundboard app for Discord and help you add effects to your voice. 
Conclusion on Soundboards for discord
Soundboards for Discord are beneficial and offer loads of enjoyment. One very interesting and useful option for Discord soundboards is to ensure anonymity while being on the internet, especially while doing online audio streams.
You can even use many effective soundboard apps to modulate or change your voice while playing games. The different soundboards mentioned here have their own pros and cons, which can be seen.
Therefore, it is one the user to ensure the correct soundboard for themselves by reading this article and further exploring their soundboard of choice, one that merits their usage. But, mostly, it is about experimenting and playing with the different soundboards and finding out the one or few of the soundboards that best fit the usage.