Sound plays a major role in our system usage. It could be for films, games, songs. Getting a good Windows 10 Equalizer app can help enhance that experience.
There are normal equalizer system settings you could use but trust me, the apps below will give you something more. 
It could be enhanced bass for rockers, eating more background sounds for gamers, or just improving the all-round sound for movie watchers.
Listing The Best Windows 10 Equalizer Apps
Everybody will get what they want using one of the Windows 10 Equalizer Apps below. I have listed the apps below in no particular order. 
You can scroll through the features and choose the one that most satisfies your needs. 
There are some apps below that are free, some you might need to shell out a bit of cash for them.
1. EqualizerAPO
If you want an easy-to-use equalizer app that won't use a lot of your system resources, this is your app. 
The interface is pretty simple to use too. Another plus is the fact that it is open-source so you won't need to make cash commitments to use it. 
Pros:-
Really fast response times

The interface isn't complicated at all

Filters are unlimited
Cons:-
Some of the other apps below offer more
2. Boom3D
The name pretty much says it all about this equalizer app. You'll get improved audio quality and you'll also be able to calibrate your audios easily.
You can also use default equalizer settings that match the genre of the type of songs you listen to.
This app works for Windows but Mac users have their own version too.
Pros:-
Audio effects are powerful with this equalizer app

Normal volume limits can be surpassed 

Easily fine-tuning your audio by sliding your finger

Filters unnecessary background noises
Cons:-
Users more CPU resources than some other equalizer apps due to the heavy features

The noise can sometimes be too much for conservative listeners 
3. EqualizerPro
This equalizer app is the best at making games or sounds that have low volume go higher. 
Gaming sessions can be enhanced by this equalizer a lot because you will now be able to hear every single background action that normally was too low to pick up.
Pros:-
You can create your own sound settings for different programs or apps

It is best at enhancing low sounds and uniquely making sounds clearer than usual
Cons:-
If you're looking for something that will bring the house down, this equalizer is not for you
4. FxSound
This is a well-known equalizer app that offers quality across all settings. 
Even when you're playing low-quality audio, FxSound enhances the quality and makes it come out better than usual.
You can also get your gaming, movies, songs, and all audios boosted.
Pros:-
You will get to increase your system sound without investing in speakers while still maintaining the quality of the audio or even enhancing it using a 32-bit floating-point processing

Increases the volume of your system past the normal ceiling
Cons:-
It is not open-source, you will have to open up your wallet to get it.
5. Voicemeeter Banana 
Apart from the eccentric name, this equalizer app offers a satisfactory performance in enhancing audio on your system. 
It is more than just an equalizer app though, it can also be used in mixing audios and it is quite easy to figure out with a nice interface.
Pros:-
Added bonus features

Easy to use interface
Cons:-
There are other equalizer apps on this list that might offer more to users.
6. Bongiovi DPS 
Another exciting equalizer that can make your gaming sessions more realistic in terms of audio output. 
You should also watch movies using this equalizer app, you will hear every bit of the screams, the scrapes, the yells, and the conversation.
Pros:-
The user interface is quite interesting and fascinating. Probably one of the best interfaces on this list.

You can make more adjustments with the Bass and Treble equalizers.
Cons:-
Some other equalizer apps on this list use fewer CPU resources and offer similar features.
7. Graphic Equalizer Studio
You will need to know a little bit about using studio apps to effectively use this equalizer app. This app has a little bit of everything.
If you're just looking for an equalizer that will make your audio output better, then this could be the app that helps you out.
Pros:-
Could be used to make some more advanced audio settings like calculating band frequencies

Whenever you play any audio on your system, the equalizer will immediately make it better as long as it is installed and running on your system
Cons:-
Interface and usage might not be for novices or for people looking for just simple equalizer apps

The process can take a bit more CPU resources than other equalizer apps on this list
8. EQ-Audio Equalizer 
It offers something interesting by even making sure to affect the sound output from videos on websites you're playing. 
It is a simple yet effective equalizer app. All it promises is better sound across the board and it delivers on that promise.
Pros:-
Enhances the audio quality of online videos. YouTube lovers will enjoy this a lot. As will folks who live stream movies or sporting events

 The system audio output is really fantastic, You can hear just about everything clearly
Cons:-
Online equalizer. That just about sums it all up. It is fantastic if you're always online but if you're looking for an app to use after online sessions, then look further on this list
9. Breakaway Audio Enhancer
Control is the keyword with this equalizer and that is what it gives to users. 
You will get control over the audio output of gaming sessions, binge-watching movies, watching videos online, and other system processes that will require sound output.
Enhancing the quality of the output is also something that this equalizer does to great effect.
Pros:-
Enhanced controls overall system processes with audio outputs

Preset features that help equalize automatically your audios. Your volume can also be automatically adjusted to ensure the best audio experience possible
Cons:-
So many features in the interface can come across as confusing

You might need to have basic knowledge of this app before effectively using it
10. EarTrumpet
What this offers is advanced controls over the volume of your system's audio output.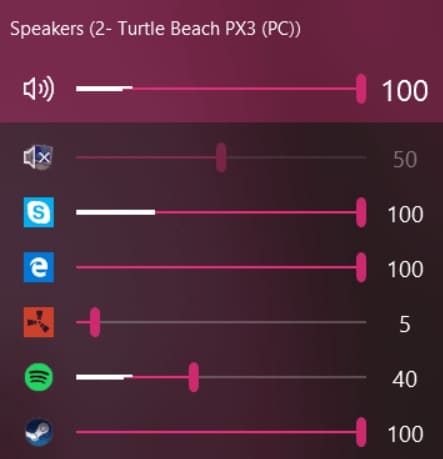 This can be a huge help for users who want a little bit more oomph from their audio output.
Like I pointed out above, this app's emphasis on volume shows again by offering both classic controls and more modern controls over volume.
Pros:-
It integrates well with Windows 10 so much that you might even feel it is an inbuilt app

Advanced options for controlling the volume of your system's audio output

Free software, you won't have to pay a dime to use this equalizer app
Cons:-
Not much is wrong with this equalizer app but maybe some other apps in this list have other extra features that the EarTrumpet app does not have
11. Room EQ
What this equalizer offers is quite different from most of the apps on this list. 
You will be able to optimize your room's acoustics to ensure that your audio output is perfect for the room.
Quite different, right? Well, there are other features that might interest somebody looking to turn their place into a recording studio.
Pros:-
Offers something different from the normal equalizer apps above

Optimizing a room's acoustics to ensure the best output that matches your surroundings

Free software
Cons:-
Not for folks who just want a simple equalizer
12. PC Equalizer
Now, this equalizer app is something that can be described in three words – simple, effective, loud. The three best features an equalizer app can offer.
You won't get any thrills and frills with this app, you will get an audio filtering feature that's easy to use and it can be launched at startup normally.
Pros:-
Easy to use interface

Offers easy to use basic equalizer features that improve audio quality
Cons:-
Simplistic

Some other features available on apps on this list is missing
13. WavePad Audio
A software that primarily is used for audio editing. You can use it for recording or modifying audio. 
But why it is on this list is because it also offers features like amplifying sound, increasing bass, and other changes that can enhance your sound output.
Pros:-
Works well with just about any music file format

Reduces noise in audio thereby enhancing the overall quality
Cons:-
Primarily not an equalizer app. More specialized in editing audio files
Conclusion 
Finding a solid Windows 10 Equalizer app is not really that hard. The options above will surely increase audio output considerably more than what is being produced now by your normal audio settings.
You can use any of the options below based on personal preference, so it is important you read through to be able to determine the best equalizer app for your system.
Do you know of any Windows 10 Equalizer app not included here that should be?
Please use the comments section below to share it with everybody.