Dave is an app for advanced cash. The app usually is said to be the best it does, saving people's time and giving them an amazing offer to get a loan easily and fast, from your mobile phone.
Now if you liked working with Dave, then you should also check out Apps like Dave that help you overcome your financial barriers. You get great benefits with these apps, sit back and get a loan of your choice.
With less rate of interest. For important functionalities like paycheck advances and budgeting, you can use one of the apps that are mentioned below and keep track of them. 
Most of these apps provide small cash advances like Dave but they also hand you personal loans if your cash requirement is substantial. 
Best Alternative Apps like Dave: Our Top Pick👌
1. Affirm
Pay at your own pace at any store. Sounds good, doesn't it? Apps Like Dave include Affirm, With Affirm you can start saying yes.
Get your personalized deals like 0%APR, Manage your account and make payments from the palm of your hand, open a high-yield savings account, and request loans with less rate of interest.
With Affirm you can shop stress-free and you can pay them back at your own pace, it includes no penalties, no late fees, or no hidden fees.
Don't miss out on what you want to buy, buy now and pay later. Affirm's savings accounts are held with the Cross River Bank, a Member of FDIC. 
Features:-
You can use the app either online or at a physical store.

 

The app is available for both Android users and iOS users.

 

Pay with either Apple Pay or Google Pay.

 
The app will check your eligibility and then you're all set to make your payments.

 

You can make payments as well as manage your payments.

 

Your high-yield savings account will have no minimums and no fees that you have to pay.

 

The rates range from 0% to 30% APR 

 

The loans given by Affirm are arranged from a California Finance Lender Licence. 

 
Download App on Google Play Store
Download App on Apple App Store
2. MoneyLion:

Bank, Borrow, Invest, Grow
Banking that gives you more, the app is trusted by millions of people. 'Here we Roar' is their motto, as adorable as their motto might be, they succeed at what they do by roaring their way to the top.
When you think of apps like dave, MoneyLion has proved to be on the top 10, they have options like bank, borrowing, invest and grow with them. They give you up to 1'000 dollars in interest-free cash advances.
When you use MoneyLion you and banking with a Safety net. MoneyLion is an award-winning financial station for mobile banking, finance, and other banking-related things that you can do on your mobile.
It's a finance company with a sprinkle of technology. With MoneyLion you can borrow and pay at your own pace, and you can also invest and grow. 
Features:-
MoneyLion promises you the safety net you will need for an impulse buy. They give up to 1000 dollars cash advances that get deposited into RoarMoney.

 

You get a promised payment from the companies which would be given to you two days in advance.

 

You can get up to 250 dollars, with no interest or monthly fee.

 

They give a Round up option where you can automatically invest the change you get from your purchases into your investment section on MoneyLion.

 

They provide a 0% APR cash advance for in cash options. In case you want to know how much cash money is left for you, the MoneyLion app displays your limit.

 

This limit will be proportional to your transactions, deposits, and a few other factors needed for MoneyLion.

 

Download MoneyLion and bank with control and confidence.

 
Download App on Google Play Store
Download App on Apple App Store
3. DailyPay:

On-Demand Pay
DailyPay is one of the Apps like Dave, with which you can get your loan when you are in need. DailyPay like the other apps mentioned above, give you a loan that will be given to you two days in advance of your payday.
It is the easiest and most secure access to your pay before payday. The app helps with all your financial goals, all of it done in one place and with the help of one app.
With Dailypay it is like using your own money but you can get it even when you don't have any, take a loan with no rate of interest.  
Features:-
You have the benefit of wanting your money when you want it. You can transfer the balance to your bank account, prepaid card, or debit card.

 

When you have DailyPay you can get early access to your earning wages.

 

When you work throughout the week you automatically build up a pay balance. This amount can be withdrawn from your account at any time.

 

You have a feature where you get instant notifications of your pay balance status.

 

Since DailyPay works on 256-bit encryption the network channels and secure and thoroughly audited.

 
Download App on Google Play Store
Download App on Apple App Store
4: Even:

It's your pay, your way
Customers say it is basically like texting a person, Even has extraordinary customer service that can help you get through the instructions on how to use the app.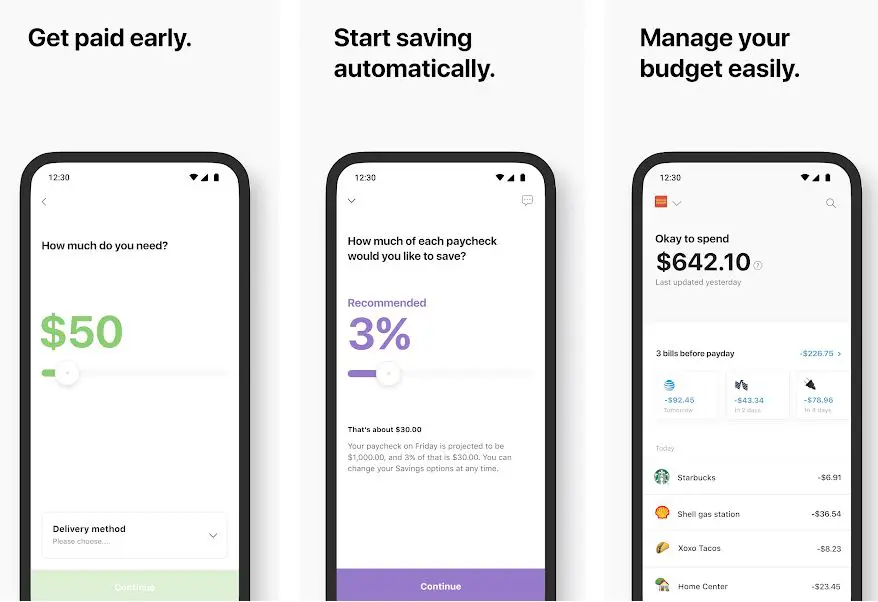 This belongs on the top ten list on Apps like Dave. The app will help you with your bank problems and makes them worthwhile, it also puts you at ease on trusting a random app.
As they say, it's your pay, your way. This is a great tool to manage your money. The benefits of this app are available to those who have a configured feature, by their employer. They are usually given as an employee benefit for those who work under the partnership of Even. 
Features:-
When you have Even you can get paid early, you also get the benefit of asking for up to 50% of your future paycheck. 

 

There are no hidden fees that are going to make you go broke.

 

The funds are transferred to you within seconds through instapay.

 

You can manage your savings automatically. You can simply choose how much percentage of your pay you want to save and Even take care of the rest for you.

 

You can also change your save percentage and deposit cash into your savings when you want.

 

You also get a national rate of 2x interest on your savings.

 

The app gives you a loan when you need it and charges you with almost no interest rate.

 

There is an option that shows you how you can budget your monthly expenses.

 
Download App on Google Play Store
Download App on Apple App Store
5: Empower

: Instant Cash Advance. Get up to $250
Ever wanted someone to give you an advance of 250 dollars? Then download Empower and get your money through instant cash and a chance to get your payment earlier.
Empower provides you with a debit card, the only card you will ever need. This is one of the few apps that provide you with a card even though they are not a bank, although they are powered by NBKC bank members of the FDIC.
just like apps like dave Empower help people to live for what they deserve. They lend you an advance of up to 250 dollars with no interest and with this app you don't even have to pay an overdue. 
Features:-
Empower helps people thrive, no matter what lies in their future.

 

You earn up to 10% cashback with every transaction done using Empower.

 

You get a two-day headstart with your payment through Empower than any other bank. Sometimes Empower makes you feel like it's a bank with more easy-to-access facilities. 

 

You get free ATM convenient withdrawals, with 20000+ ATM locations all over the US. 

 

These ATM transactions cost you no money. Withdraw wherever, whenever and how many ever times you want. 

 

They have a fast service feature, when you need something to be done, there is always a standby team available for you and they instantly fix your money-related problems. 

 

You can always track your spending and if you are an uncontrollable impulse shopper like me, this app makes you take control of your spending.

 

Empower also helps you save your Payments, it automatically saves  Your money by setting a percentage of your salary/income aside. 

 
Download App on Google Play Store
Download App on Apple App Store
You may like to read our guide on 9 Best
Apps Like Empower
For Instant Cash In Advance.
6. Chime:

Save, Spend, Build Credit
Like most other apps like Dave, Chime loans you money when you need it and lets you pay at your own pace or when you get your salary on your payday.
It is a financial technology company, and its bank services are provided by The Bancorp Bank or The Stride Bank. Chime banking has your back, it is a visa-based debit card, which has no hidden fees for any of the transactions.
Chime is a 0% APR credit card that lets you build your credit.  The cards are issued by Stride Bank. Third-party, Out-of-network, and cash deposit fees may apply. Even if you have your card stolen, you can block them with one small tap from your phone. 
Features:-
You can pay anyone even if they don't have the chime app, which will not include any fees.

 
There are No Overdraft fees, No minimum balance, and No Monthly Fees.

 

They have options to enable transaction alerts and daily bank balances.

 

There are double factors for authentication including a FaceID or a TouchID.

 

You get an overdraft of up to 200 dollars, with no fee.

 

You have no monthly maintenance fee or a minimum balance fee. 

 

You also have no fees to transact money to a foreign country.

 

With Chime, you can reach your money goals.

 

Pay a friend or a family member without paying an extra fee.

 

This app is most useful for a student who works part-time and wants to splurge a little on something they love.

 
Download App on Google Play Store
Download App on Apple App Store
7: Brigit

: Get $250. When Needed
With Brigit, you can get your finances back on track. Brigit by Forbes is one of the apps like Dave that is used by more than 3 million users. You can build your credit along with a better budget.
You can get up to 250 dollars credit and pay it back in installments. You can build your score on the app which results in you getting free points for purchase or cashback.
Brigit works harder every day to make the life of Americans brighter and easier by helping them with their financial future.  
Features:-
With the 250 dollars loan, you don't have to suffer the late payment of overdue, you can simply pay them back with no fee.

 
The app helps you build credit, with which you can earn about 60 points. 

 

There is never an upfront deposit or interest on the credit.

 

On building more credit you can swipe access to more credit cards, personal loans car loans, and many more benefits.

 

There is an option to track your credit score and get a report on your score gathering process.

 

With Brigit, it is an easy sign-up and you get access to fast money.

 
The app saves you hundreds of overdraft fees you pay to normal banks. 

 

Since there is no interest or hidden fees, the savings part of your life becomes easier.

 

You can request money at any time and the money is sent to you with auto advances. Helps when your balance nears zero.

 

You can plan a budget for your account and save us the remaining money for something fun or important. 

 

There is flexibility on the repayment option, early payment or late, you have no fees to look out for.

 

Brigit uses the same encryption that is about 256-bit safety, the same safety that a bank uses.

 
Download App on Google Play Store
Download App on Apple App Store
9. Earnin

: Get Cash Before Payday – Instant Money
When you are tired of spending all your money and having to wait for 2 weeks, with Earnin you can access your hard-earned money anytime you want.
The app gives you up to 100 dollars loan per day, it also lets you pay once your salary kicks in. the app asks for no fees and has no credit check. So many deals for no cost.
When you have your rent coming up or you have a few bills to pay, Earnin is always here for you, help it help you.  You can just grab 100 dollars from Earnin per day, the money that you have already earned. 
Earnin works with banks like Wells Fargo, Capital One, Bank of America, PNC, and many more.  
Features:-
You get instant deposits into your bank, getting a debit is now easy with Earnin.

 

When you save with Earnin it's tipping yourself, with an Earnin account you get a chance to win up to ten billion cash prizes with the weWin option.

 

You can set yourself alert notifications to avoid overdrafts.

 

There is a new feature on the app that lets you plan smarter, you can now track your recurring payments.

 

You get a 24/7 live chat with the Earnin app, they provide service support throughout the day.

 

As you can see Earnin is not a loan app or payday loan app, it simply accesses your money with no interest.

 

 You have a tipping option in the app, ie. if you want to tip the app then you are free to do so, else you can go on going nothing too.

 

When you are trying to cash out the money you borrowers, you may not get light speed credit to all community members, depends on your bank connection.

 

There is a Balance Shield option that will deposit money which will be available for your earnings.

 

There might be charges applied when a third-party transaction.

 
Download App on Google Play Store
Download App on Apple App Store
10. FloatMe

: Instant Payday Cash Advance
FloatMe is a small platform created to help employees get their pay earlier. FloatMe is off of the apps like Dave but has a small lending advance.
You can create an account by just connecting your back with FloatMe, they support many organizations like the USAA, Chase, and so on. As of 2022, FloatMe does not support Varo, prepaid cards, or Chime.
With FloatMe you have tools in their apps to manage your finances, there is an option to prevent over wages using the access your wage early option.
You can set it up in two simple steps. Download the app, next you have to connect your bank account to it. 
Features:-
You can immediately access your bank account on setting up your account.

 
You can get paid early with FloatMe.

 

You can access the money that you have already earned.

 

You get notification alerts when you are spending more than your pay, just to make sure you are staying on track.

 

With FloatMe you can manage the finances that have always been difficult to take care of.

 

There are constant updates and 24/7 service that you can access whenever.

 

You get free articles from their own library, which can teach you about your taxes, emergency funds, budgeting, and how to save your money without a problem.

 

Like any other Apps like Dave, the float has the data security of a bank. 256-bit encryption, which makes sure that your bank account info is not leaked to any other source.

 

 FloatMe is not officially connected with any organization, but it does support up to 9000+ banks.

 
Download App on Google Play Store
Download App on Apple App Store
11: Speedy Cash
Using the Speedy Cash app to access your account wherever and anywhere you want. You can make payments using Speedy, at a faster pace. It's like a cash transaction app, where your account details are protected.
With this app, you can keep track of your loans, like the loan balance. When you upload all the details to the app, the app keeps track of payments that have to be made for an open loan, or it also has all the information ready for you to apply for the next loan.
No lines or constantly providing the same info. You get Instant funding for a debit card (make sure you choose that option). With Speedy, you can request a loan in a breeze. 
Features:-
You can find out your balance, the total payoff of the current loan, and the minimum payment that you can pay for the loan.

 

You get notifications to remind you to pay your monthly installments.

 

You can keep all your information safe with this app, and get the information when you need it all in one place. 

 

You can get the loan on their website and then keep track of it with the phone app.

 

 Fast, upfront with less hassle than anybody else or any other loan app.

 
Download App on Google Play Store
Download App on Apple App Store
12. FlexWage
FlexWage is one of the apps like Dave that is available only to employees who have the offer on FlexWage on their demand pay. You can access your earned wage with the official iOS or Android app.
The app lets you perform transfers onDemand, and you can also check the transfer history. You will need to download the app and register your account through employee participation.
FlexWage for Unexpected Expenses
The use of this app is subject to the end-user. It's easy, affordable, and guilt-free, not getting tied up in payday loans is a major benefit.  
Features:-
 You have great customer service available when you even need help with issues. 

 

There will be taxes and withholdings from your paycheck just as any standard pay would.

 

There are improvements to the app's user interface.

 

Great for liquidation of your money and access to your money through the app, with safe and secure measures taken before a transaction.

 
Download App on Google Play Store
Download App on Apple App Store
13. PayActiv
With PayActiv you get paid as and when you earn with the employee participation. You can get your money for the hours you have already worked for, earlier than your payday. The money is directly transferred into your account with the PayActiv credit card.
You can use PayActiv to pay your bills, get an uber using the app when you have no money on you, and if you decide to want cash instead of the card, then walk or drive to your nearest Walmart and collect the cash. PayActiv feels like Banking and is available for everyone.  
Features:-
With PayActiv you can enjoy a faster way of transaction through the app and you also get a Visa card to use in your Walmart ATM's

 

They promise a high level of security so that you can do your banking at your fingertips.

 

They have a guide that teaches and keeps you on track for the saving you have always wanted to do.

 

With PayActiv you can be in control of your savings, spendings, and your earnings all in one app.

 
The app gives you faster access to the money in your account.

 

 You get your paychecks up to 2 days in advance and for a government payment 4 days.

 

You can send and receive funds to your friends and family with the PayActiv app, becoming a PayActive family.

 

The loan you ask for is free and easy to get, and you can pay on your own time, all this can be done with your phone. 

 

You always get tips on the app to show you where it is safe to spend and when it is good to save. You can set your goals and keep up with them.

 
The option to show your transactions is available.

 

The app alerts you when your bank has a low balance so that you can avoid the fee for your bank.

 

When you get paid, the auto-transfer option takes care of transferring your money directly to your bank account.

 

You can grow your savings with real-time insights from a one on one service from a financial coach.

 

Your banking is easier with PayActiv since there are no hidden charges or minimum balance required.

 

You can use the card with Google Pay and Apple Wallets, as the app is insured by FDIC.

 

You also get a fun plus with PayActiv, where you can choose the color of your card from the three available colors.

 
Download App on Google Play Store
Download App on Apple App Store
To conclude on the Apps that make people life easier
As you can see from plenty of examples given above, Dave is not the only app that can solve all your financial management issues and lend you money when you need it. Since these apps follow the date of your payment, they expect you to have a sustainable job.
Full background checks are done on you, to make sure of their users. They are always tied with a bank and a few apps might be explicit for employees whose organizations have adopted the app. Before you download one of these Apps like Dave, make sure your work's finance group is tied to the app's organization.  
These apps always tend to help employees who are in need of money, with almost most of the apps having a 'No Hidden Fee' policy. They also have a zero balance policy.
The app helps in managing your money on your own terms and conditions. Choose an app that fits your description of how a financial institution should be and Download it to enjoy its benefits.