In the modern era, the digital marketplace is overgrowing in popularity due to the higher convenience they offer and bypassing other more complex face-to-face transactions.
Mercari is thus also referred to as a modern department store. This is an online marketplace, and thus it need not own anything put up on its site/ application before selling the products.
Online marketplaces offer higher flexibility for payments and eliminate any upcoming geographical challenges and obstacles between the sellers and the consumers.
Mercari is among the leading online marketplaces which facilitate selling and buying items quickly and seamlessly. Furthermore, the buyers can get almost everything from this online marketplace.
Mercari is a widely popular online marketplace for severe entrepreneurs and side hustlers for numerous reasons. Firstly, as it is not mandatory that all the app users may be technical and familiar with the platform, its user-friendly UI and more straightforward setup are helpful.
Mercari charges 10% of the sales fee. Next, Mercari is also familiar to buyers, and its app acquired around 40 million global downloads and has hundreds of thousands of active users making transactions on it.
This article contains 21 alternative sites and apps like Mercari that you must give a shot.
More facts about Mercari –
There are numerous apps like Mercari, but it always manages to stand above all due to various factors. Mercari does not require any meetups and is highly safe and legal. Furthermore, it also makes it easier for the users to earn using the platform, and consumers can also get unique items online via it.
Mercari also allows the sellers to decide how they wish to deal with shipping matters, and the sellers can choose to offer either free shipping for their customers by paying for it themselves or can also choose to have the buyers pay for them.
Furthermore, they can also divide the shipping cost between themselves and the buyers. Furthermore, sellers can provide the shipping cost by either calculating an approximate charge themselves or using a weight-based market rate.
Still, Mercari is not the only option, and there are various other ones available for global shoppers to experiment with. Here are top sites and apps like Mercari that are worth giving a shot.
Best Sites and Apps like Mercari – Our Top Pick 
1. Etsy: Buy Custom, Handmade, and Unique Goods
This application has a Google play store rating of 4.9 stars. It appears as a modest online marketplace and supports several individual sellers. Thus the users might not find many more prominent brands and designer catalogs over here.
This platform (Visit Website) is mainly about handmade decors, vintage items and beautiful candles, cake decorations, and other similar stuff.
Buy on Etsy App Promotional Video for the Google Play Store
Etsy also supports clothing, toys, shoes, crafts, and other supplies over its platform. If a consumer is looking for some essential daily items made with extra passion and care, Etsy is the one-stop destination. This is the perfect online marketplace for small businesses, budding entrepreneurs, and side hustlers.
2. Shein -Fashion Shopping Online
Even though banned from India currently, Shein has a Google play store rating of 4.8 stars. This online marketplace offers men and women clothing products of various types.
The platform offers a catalog of clothing for women, including dresses, tops, bottoms, beachwear, shoes, accessories, jewelry, and much more. Similarly, it also has a broad category of products for men, including shirts, jeans, trousers, swimwear, shoes, and various accessories.
Users can visit Shein to buy clothes, and it also offers various discounts and rewards for various items. Moreover, it also offers a free shopping option for buying for or above a certain amount. This platform also includes beauty products apart from clothing items and accessories for women.
Shein widely offers shopping to all the corners of the world and offers a higher quality of products according to the modern trend. Shein offers self-designing and manufacturing of all the products for global consumers and matches the quality of international standards.
Furthermore, users can track the booked orders from the website and the platform and use the return policy whenever necessary.
3. Carousell: Fashion, Services, Automotive, Property
This platform has a Google Play Store rating of 4.7 stars and is a buying and selling platform allowing the global people to access the pre-loved items.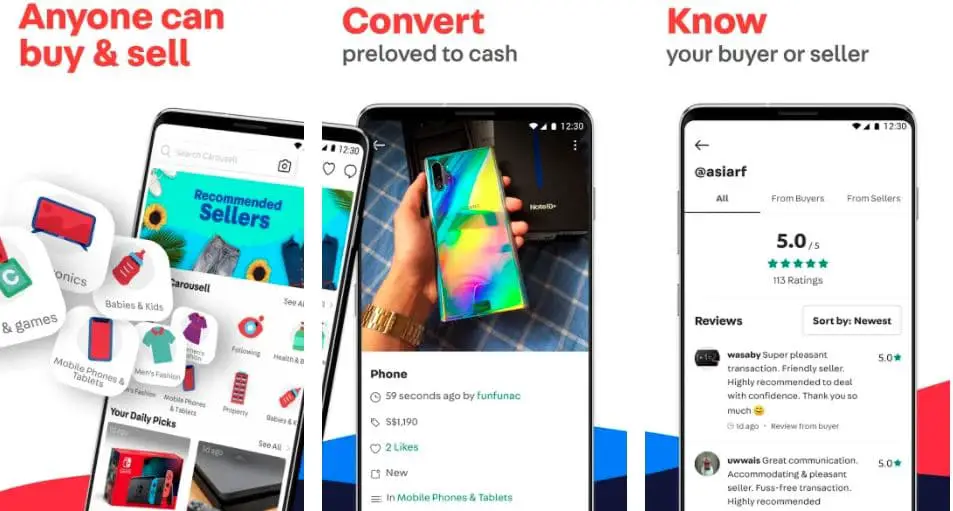 It offers everything that consumers might be looking for, including books, cars, furniture, antiques, bikes, and many more. They do not have any unique model but use the easily understandable business model for its online marketplace. Carousell also offers no extra charges, listing fees, or commission charges.
Carousell has a user-friendly UI that helps users reach the desired and right item quickly and easily. This platform is perfect, fluid, and easier for both buyers and sellers.
Carousell currently operates in Canada, Taiwan, Australia, New Zealand, Hong Kong, Indonesia, Malaysia, the Philippines, and Singapore.
4. eBay – Buy and sell on your favorite marketplace
eBay has a Google Play Store rating of 4.7 stars. Invented in 1995, this platform has significantly grown and has risen to be one of the leading online marketplaces across the world.
This is the platform where buyers can get anything that they want. eBay also recently won the latest Sellers Choice Award and acquired the Most Recommendable and Most Profitable marketplace awards.
From eBay, the users can get a broader range of products and also get a chance to choose from various sellers and look closely at each of the products.
Furthermore, eBay acts as a go-to platform for sellers as it offers the freedom to sell brand-new and second-hand products. Sometimes the transaction charges might be higher, but this is always worth it.
5. ASOS
ASOS has a Google Play Store rating of 4.7 stars and is widely popular as the English online fashion and beauty mobile application that mainly targets young adults.
ASOS sells more than 850 brands and also provides a broader range of clothes and accessories. Using this platform, the buyers can easily save and find whatever they like. The buyers can also discover and shop multiple items from the platform.
ASOS provides a powerful search bar, allowing the buyers to find items via type, title, brand, price, color, or other categories. This is one of the best alternative sites and apps like Mercari, and it also has been upgraded to make it a better choice.
The platform has a push notification feature to alert the users whenever any sale starts and reminds them when it is about to end so that the buyers do not miss any opportunities.
ASOS has millions of users and is available for use in around 242 popular nations, including Sweden, America, Singapore, Denmark, Netherlands, etc.
6. Christmas Gift List
Christmas gift list is one of the best apps like Mercari and is rated 4.7 stars on Google Play Store. It is an advanced shopping application that allows buyers to easily and quickly create a shopping list of their choice.
It also offers an opportunity to track various gift ideas and set a gift budget for every user. The platform also allows the users to mark the lists as purchased when the shopping completes. engApps created and published this shopping application, and it allows all the users to access it on their android devices.
One of the best things about the application is that it offers password protection to hide their shopping lists. Furthermore, the shopping list can also be shared using Twitter, email, or any other platform.
As the new year rolls around, the Christmas Gift List app automatically archives the gift. The customers must download and install the app to create their shopping list, and then they can also enjoy all the features without any interruptions.
The app also includes some prominent features like adding and editing people to the created list, removing gifts, providing payments for every person, adding personalized notes, supporting multiple currencies and payment modes, etc.
7. Christmas Gifts and Budget
Christmas Gifts and Budget is rated 4.6 stars in Google Play Store and is a classy application for the people who want to create a Christmas gift list or track some latest and trendy gift ideas.
It also allows the users to track and create some comprehensive gift ideas and set their budget as they do the shopping. This platform is the one-stop solution that allows the users to quickly enter all the gift ideas, associate the gifts, set the budget, track all expenses, mark the gift as purchased, etc.
The application also allows protecting the created list via password. Furthermore, it also automatically creates a new list with every new year.
Available on both iOS and Android, Christmas Gift and Budget application have thousands of active users worldwide who use it to create and share gift lists and ideas.
Furthermore, to avoid getting caught at the last moment, it also allows the users to record all the gift ideas and offers a good list of existing features making it better than other apps like Mercari.
8. StockX – Buy & Sell Sneakers, Streetwear + More
Rated 4.5 stars in Google Play Store, StockX is the ultimate heaven for all sneaker lovers. It is among the safest and the fastest way for buying or selling authentic shoes and sneakers from top brands, including Jordan Brand, Adidas, Nike, etc.
Furthermore, this platform also allows the users to buy and sell watches, streetwear, handbags, and various other collectible goods.
StockX has a broader team of trusted authenticators who help ensure that everything uploaded on the application has a real deal.
The app has also been featured by some trusted publications, including Forbes, New York Times, or WSJ, and thus the consumers can trust its legitimacy. Moreover, everyone searching for luxury items must try StockX for some change.
9. Tophatter: Fun Deals, Shopping Offers & Savings
Tophatter acquired a rating of 4.5 stars on Google Play Store and is widely popular for the 90-second auctions that allow bidding for fun.
It has more than 3 million products, and all the items listed here are from various categories, like electronics, jewelry, house goods, clothes, and many more.
This application also ensures the thrill of competing to win the auction with fun shopping at a lower price. The users here can discover various newer items for themselves and their families, and this list is more comprehensive than everyone can ever imagine.
For enjoying the services, the user must install the application on the iOS or Android device, then signup and verify after filling in all the required details.
As the registration completes, the users can easily spot the items they were looking for or discover some best deals while getting everything at a lower cost.
There are other fascinating features of Tophatter that make it better than all the apps like Mercari. It ensures daily updates with the latest products, and every item starts at 1 USD with free bidding. The user must only pay when they win.
10. PLNDR
Plndr acquired the Google Play Store rating of 4.5 stars and is a free mobile application provided by Karmaloop. Karmaloop is a flash sale web platform with some best streetwear and fashion collections from various cutting-edge brands, with up to 80% of discounts.
It is effortless and easily understandable that global users can access it on iOS or Android devices. The best characteristic of this platform is that it allows users to share their gear and invite friends. It also allows people to earn credits as each friend joins after their referrals.
Plndr application contains numerous best brands from across the world with fascinating features like shop your way, faster checkouts, unlocking multiple deals, sharing products, and finding any nearby store, etc.;
it has more than a million users and is available for use across more than 200 nations. For using Plndr, a user must register and verify his/her email address and then fill in all the required details. It is a more straightforward and one of the best alternative apps like Mercari.
11. Idealo: Online Shopping Product & Price Comparison
Idealo is widely popular and has acquired a Google Play Store rating of 4.5 stars. This is a free mobile application that helps global users find products, compare their prices, and make precise shopping decisions.
This app is compelling and lets the users compare more than 110 million products and find the right-suited one. Furthermore, it allows comparisons from top online stores, including Currys, eBay, Amazon, and various others.
This application is made specifically for people wishing to find the lowest-priced goods from some top-rated stores using intuitive search suggestions and a more comprehensive range of filters for narrowing the search.
Idealo is a free-to-download application that can be accessed anywhere across the world. For comparing the offers, one must first start with launching the app on a mobile device and then complete the registration process to enjoy all the features without any restrictions.
The fascinating features of this application include product searching through the web, detailed information of each product, a more comprehensive range of advanced filters, accessing the previous search, email alters, sharing search results, and a lot more.
It is one of the best alternative apps like Mercari to find the desired products, compare their prices, and fascinatingly enjoy them.
12. Tradesy: Buy and Sell Fashion
Rated 4.4 stars in Google Play Store, Tradesy is perfect for people searching for designer clothes, accessories, and bags with some discount offers. It is also considered a go-to online marketplace, mainly for women, for designer goods.
Tradesy is among the perfect alternative apps for Mercari that lets the user shop designer items from top-notch designer brands, including Louis Vuitton and Zara. This is still available with various discounts.
The platform also sends its users a free shipping kit to ship almost everything with no added hassles. Tradesy also ensures that it only includes 100% authentic items on its platform.
13. ThredUp
ThredUp is rated 4.3 in Google Play Store and is known to be the fastest, easiest, and one of the best solutions for reselling all the pre-loved clothes across the world.
Whether it is women's wear or maternity wear, or accessories, ThredUp is perfect for all needs. The platform considers the reselling process as upcycling and aims at upcycling millions of clothes globally.
Furthermore, ThredUp is more fascinating for global users due to the crazy discounts that it offers. They also provide up to 90% off on some items.
Moreover, starting to sell is very easy with it, and the user is only required to order a cleanout kit and free shipping label from it. As the bag is filled, ThredUp inspects the stuff, and then the user is all set to get started with the earnings. This is also perfect for the side hustlers and the upstarts.
14. Letgo: Buy & Sell Used Stuff
Letgo has a rating of 4.3 stars in Google Play Store. There is a lot of valuable clutter in the houses, and people don't know how to get rid of it. Some clutter also has sentimental values, but as the person decides to reorganize his/her home, Letgo is the right option for him/her.
Letgo is an online marketplace that offers an exclusive chance for people to earn some money out of second-hand goods.
This is a popular application that allows users to upload and send anything. It is also the one-stop destination for potential buyers for shopping valuable items at reasonable prices. The app also has a fun and straightforward UI, and it grows at a faster rate.
15. VarageSale: Sell simply, buy safely.
Rated 4.2 stars, VarageSale is a free mobile application for shopping that allows users to sell/ buy uniquely. It is a virtual buy/sell application.
It is also the only one based on 100% real identity in which everyone manually goes through the review process before getting permission to trade. It also allows the users to view average member responses, read reviews and check the ratings for every product.
VarageSale is a highly trusted shopping app and is also one of the best apps like Mercari. It also allows the users to browse the local classified listings seamlessly for the discovery categories or feed that the user might be interested in and thus ensures a customized shopping experience.
To find the right product, the user must explore the category with numerous options or use the search engine by placing some tag, product name, or category. This app also supports multiple languages like Chinese, English, French, Spanish, etc.
16. Depop – Streetwear & Vintage Fashion Marketplace
Depop acquired a Google Play Store rating of 4.2 stars and is another prominent fashion online marketplace in the list of best apps like Mercari. It is a perfect platform for buying or selling some unique fashionable items.
It also covers various pre-loved, designer, streetwear, vintage, and other types of products and sneakers. The platform gives every user access to prominent sellers or the bigger brands of the fashion industry.
Therefore, Depop seamlessly ensures offering brand new and unique clothing items and accessories to online users from across the globe. Furthermore, its easier working fascinates the users, and it manages to acquire massive traffic due to its user-friendly UI, engaging business model, ease, and fun of operation.
17. 5miles: Buy and Sell Used Stuff Locally
Rated 4.2 stars in Google Play Store, 5miles application is one of the best apps like Mercari, which allows the users to buy/sell the used stuff locally.
It is a top-rated mobile shopping platform that enhances the local shopping experience uniquely. The app allows all the users to discover some best classifieds in the area or even far away.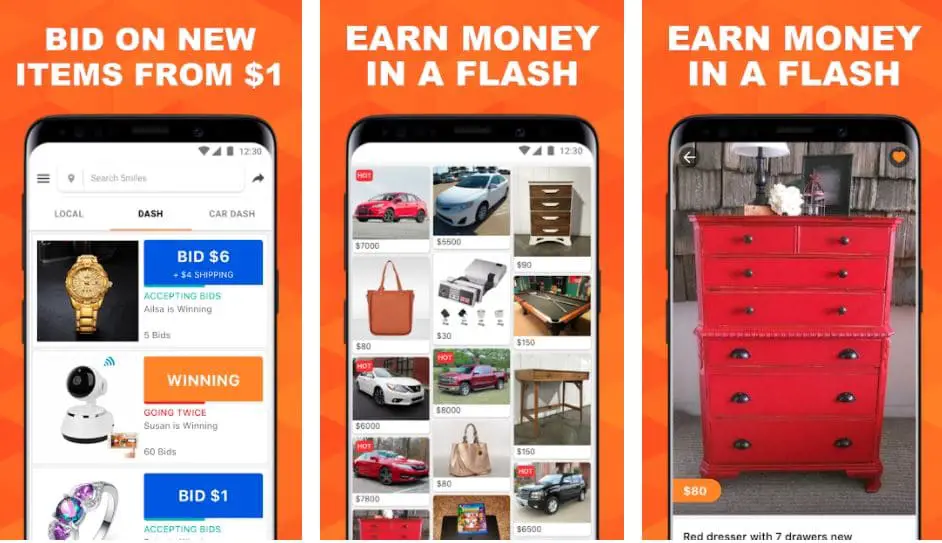 The users can then shop or sell the desired items, find a living place, hire any local service, or discover some new jobs with just the comfort of their mobile devices. The app is entirely free to use and allows users to enjoy numerous lists and fascinating discovery scenarios.
As the name suggests, buying and selling allow the users for a maximum of 5 miles. This is also safer as it involves verification of name, phone number, email, and social media handle.
A fascinating thing about this application is that it permits the users to read reviews and provide reviews about any specific buyer/seller. For listing any item on 5miles, the users must complete some minor tasks like taking the image, adding details, and then listing the goods.
The application also allows sharing the listed items on various social accounts, including Twitter, Facebook, and others. Furthermore, this platform also provides a chatting option to allow the users to get a better experience.
18. Poshmark – Buy & Sell Fashion
Rated 4.1 stars in Google Play Store, Poshmark is the best online market and one of the most preferred apps like Mercari for dealing with fashion items including clothes, accessories, makeup products, etc. This is the one-stop destination for fashionistas looking to buy/sell pre-loved products.
With Poshmark, quality is never compromised as it ensures that the users will get the best out of the bucket. The community is entirely made of millions of seller stylists.
These seller stylists not only sell their personal belongings but also help in curating looks for the shoppers. It can be used widely and safely, and it ensures makes earnings easier.
19. Fashion Nova
Fashion Nova is rated 4.0 in Google Play Store, and it is among the fastest-growing and top-rated eCommerce apps like Mercari. The platform offers some casual fashion products for all demographics.
It is also highly dedicated to offering the hottest and latest trends and caters to the people who always want to stay updated with the fashion world. More than hundreds of the latest styles are regularly added to the platform to provide higher exposure to the latest fashion and ensure that the users get everything to express their authentic self.
Like the other eCommerce applications and fashion apps like Mercari, this application offers a broader category of bottoms, jeans, tops, jackets, activewear, accessories, and other products.
Each category has numerous options for the users to choose from, and the kit gets regularly updated with the latest trends. Fashion Nova also offers some exciting promo codes and deals, making it more preferable.
Furthermore, to be a comprehensive fashion solution, this platform offers the most prominent fashion community globally, with numerous professional designers and fashion enthusiasts.
This platform also includes some core features like an interactive interface, various exciting deals, millions of products, daily updates, faster deliveries, etc. Its mobile application also ensures better service and ease of usage at any time and anywhere.
20. Vinted – Sell Buy Swap Fashion
Rated 4 stars, Vinted is one of the best websites like Mercari that ensures buying/ selling some pre-loved fashionable items. This service also lets global users buy/ sell second-hand products in some simple steps.
For the sellers, it is necessary to capture some pictures of the item and upload them along with its description, and then set a price to make it go live on Vinted.
After making the listing, the seller must wait until some potential buyers want to buy it. Then the seller must box the item and then ship it with the provided instructions within five days of order confirmation.
A significant benefit of using Vinted is that it does not involve any selling fee, and everything earned by a seller is his/her to keep. Payment is also made as soon as the buyer confirms the purchase. The buyers can get a broader range of products and get them within the estimated delivery period.
Conclusion on Shopping apps like mercari
Even though Mercari is widely popular and usable by various demographics, some security concerns still lie with it. However, the above-mentioned apps like Mercari can be used for getting a more secure and reliable buying or selling experience via an online marketplace.