Looking for the Best Bluetooth Headset For Truckers To Buy in 2022? 🤔
Then look no further.
Let's delve deeper into each of these headsets. ✔
Truck driving is not an easy thing to do. It comes with its challenges. Truckers must face challenges like staying aware of the surroundings and staying awake while taking up the monotonous job of driving on the road throughout the day and at night.
Highway driving is not just boring but dangerous. Truckers need to face extreme conditions of driving in different types of weather while constantly looking for careless drivers on the road.
Besides, there are the added risks of attending phone calls. US driving regulations prohibit drivers from talking on the phone without using Bluetooth or hands-free features. These regulations have made it mandatory for individuals to look out for the best Bluetooth headset for truckers available in the market.
Fortunately, all thanks to advancements in the field of technology, the market is jam-packed with some of the best Bluetooth headsets that make perfect companions for truckers on the road.
Why Is It Important to Choose the Best Bluetooth Headset for Truckers?
The best Bluetooth headset for truckers helps eliminate the need to make stopovers to pick up phone calls while driving and can also be used for listening to podcasts, music, and radio stations.
Time is a crucial asset for truck drivers, and therefore the fewer stopovers they make, the faster it would get for them to reach their destinations. Hence, going for the right Bluetooth headsets would be a good idea for truckers.
Average truckers are in charge of driving trucks with 80 000 lbs of cargo included. Truckers know they need to be highly attentive, and their eyes should always be on the road.
One moment of eye flickering and all that cargo on the truck could drive onto another vehicle, or the truck would even go off the highway. This is one of the most important reasons truckers must possess Bluetooth headsets to answer phone calls.
Admittedly, driving can be great fun but also comes with some difficulties and risks. Drivers cannot just sit idle, continuing with the boring task of driving on the road.
They need to listen to good music to fight boredom, and this is yet another reason why they should look out for the best Bluetooth headset for truckers.
Choosing the best Bluetooth headset for truckers comes down to considering some significant features. Strong Bluetooth connectivity, hands-free usage, and noise reduction are necessary attributes. This article will give you a detailed idea of the other factors worth considering later.
So, for all the truck drivers who are currently going through this content and are finding it quite difficult to choose the best Bluetooth headset, here is a complete list of the most feature-rich and user-friendly wireless headsets for truckers. 
Best Bluetooth Headset For Truckers👌
1. Phaiser Fusion Dynamic Drivers Wireless Earbuds
Have you ever imagined a true Bluetooth headphone boating of a sound quality that is even better than a wired one?
If not, then the Phaiser Fusion One Dual Dynamic Drivers Bluetooth Headset would be perfect for you.
Available at $49.99, this headphone offers the perfect comfortable fit every time the truckers put it on. Also, it will hit them with the right bass amount for powering their next long haul or drive.
These earbuds feature dual 8mm graphene speakers that are known for delivering HD quality, fine-tuned audio for a clear and crisp listening experience.
Also, you could play this earphone loud as it has been specifically designed to offer more volume and pump out bass without distortion.
The original Comply memory foam tips of these earbuds are an ideal complement to their overall design. Coming to perfection in connection offered by this headphone, users can expect at least thirty to forty feet of flawless and undisturbed sound based on their surroundings.
Since truckers are busy individuals, these headphones can be perfect for them when it comes to attending calls and listening to music. It would not disturb their routine by enabling them to switch between calls and music at the click of a button.
The specifically designed Fusion One mic helps reduce noise and makes conversing easier even on noisy streets.
The headphone offers an extended playback time of 40 hours and works for at least six to seven hours with every charge.
It offers users the ability to withstand the environment with its IPX5 water protection. The weight of this product is just 0.18oz, which means you will hardly feel the earphones in your ears.
This ergonomically designed and durable earpiece will be the perfect partner for truckers looking for music and family fun while taking up their responsibilities.
Pros:-
Sweatproof

Graphene drivers

Ultra bass

Compact design

Lightweight

Good battery life

Noise cancellation support
Cons:-
Low Bluetooth range

Uncomfortable when used for listening to music.
2. Aminy Bluetooth Headset – Best headset for truckers 2022
This UFO headset from the house of Aminy is probably one of the best Bluetooth headsets truckers can use for their long journeys on the road. It not only offers a hi-fi music experience but even a super clear voice while attending calls.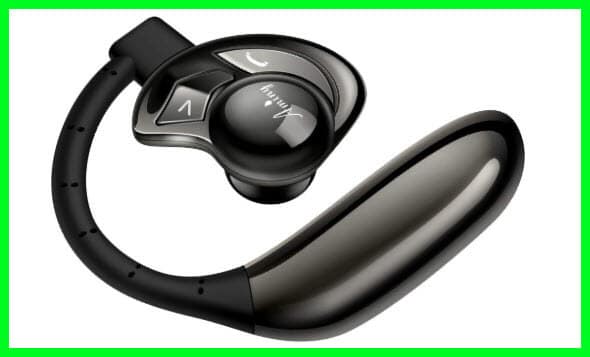 The headphone comes with two batteries, each capable of supporting at least eight hours of talk time. The product supports almost all Bluetooth equipment, like tablets, laptops, and smartphones.
The interior, splash-proof covering of this headphone ensures it would not get affected by light rain or sweat. Available for $23.99, this is one of the most affordable Bluetooth headsets for truckers currently available in the market.
The 3-point backed principle of this ergonomically designed headset will allow the product to fit into the ears of the users firmly. Also, it is made of lightweight material, which means safe wearing for the users without pain or discomfort.
The wireless range offered by this headphone is around 300 feet, and it can even be used for streaming music and GPS directions.
The product provides a one-touch pairing experience and a good-quality padded headband.
Pros:-
Lightweight

Comfortable fit

Sleek design
Cons:-
Check Price on Amazon
World's 1st Wireless Stereo Earbuds with Replaceable Batteries by Aminy (Unboxing)
3. BlueParrott B450-XT – Best noise cancelling Bluetooth headset for truckers
Specifically designed for top-quality calls in super noisy environments, the BlueParrott B450-XT headphone is one of the must-have products for truckers. It blocks out background noise through 96% noise cancellation.
It offers a talk time of 24 hours and a wireless range of around 300 feet from all paired devices. Also, it comes loaded with some of the most advanced features and is highly comfortable.
Plus, truckers can wear it throughout the day as lit features a cushier and bigger ear cushion and a more durable and comfortable padded headband than what you get from the other headsets available in the same category.
Also, truckers can have conversations with their near and dear ones all day as the headphone offers 24+ hours of talk time and 500 hours of standby time with every charge.
Thanks to the advanced features of this headphone, like Voice Control, the users can fully focus on their jobs. You can get these headphones for $99.43 which will be a good deal if you have long been looking for a Bluetooth headset with advanced features.
Pros:-
Top-quality sound

Comfortable

It can be used very easily
Cons:-
Average battery life

Expensive
Check Price on Amazon
My headset- Blueparrot B450 XT
4. Conambo aptX HD – Best Bluetooth headset for truckers 2022
This headphone/e from the house of Conambo will make it easier for truckers to take noise-free calls almost anywhere and at any time.
Available for an affordable $38.99, this product features CVC8.0 dual-mic noise-canceling technology that provides a natural sound and crystal-clear audio.
It even reduces disturbing background noise and the sound of wind while in traffic, in crowds, or while driving. The headphone is perfectly suited for truckers who need to drive from crowded metros to bustling streets in the cities.
There is not a single place while driving that you will find unfit for using these headphones. In other words, you can use it almost anywhere to take calls and listen to music.
Two hundred forty hours of power-saving mode assists in keeping the headphone ready even if the truckers forget them in their trucks or at home. The product comes in a beautiful carrying case that protects it from losses and damages. It even comes with a USB charging wire.
The headset boasts Bluetooth 5.0 technology, aptX HD calling audio, rain-proof and sweatproof design, and aptX low latency in transmission.
Another noteworthy feature of this headphone is that it offers 16 hours of uninterrupted talk time, which is quite impressive. Dual noise reduction goes a long way in enhancing voice clarity during calls.
Users get the flexibility of connecting two Bluetooth devices with this headphone and answering calls from any one of them. Also, they can hear their music, calls, podcasts, and GPS directions streamed right from their Smartphones.
The lightweight design of this headset fits all kinds of small and large ears while the ear tip rotates and swivels to grant a stable fit. Users will find the button controls for volume, mute, and power quite easy to operate.
So, truckers can remain assured of sheer fun and music while driving without going through any inconvenience. The headphone also features mute button-activated voice controls for Google Assistant, Smartphone, and Siri.
Below are some of the Pros and Cons of The Conambo aptX HD  that earned it a spot in our list of Best Bluetooth Headset For Truckers.
Pros:-
Ergonomically designed

Top-quality noise-cancellation

It comes with an elegant case
Cons:-
 

Swiveling and rotating motion of the ear tips can be a bit uncomfortable
5. ICOMTOFIT Bluetooth Headset

with Noise Cancellation Mic for Driving
This headset from Icomtofit offers top-quality voice calls and excellent sound with its highly advanced 4X noise-canceling technology.
This feature helps eliminate background noise, making way for crystal clear and undisturbed conversations and audio.
With this headset, truckers can have their whole focus on their jobs while attending to calls and listening to music in great style and comfort. The headphone offers eight to ten hours of talk time and a standby time of 7.5 days.
It gives users the flexibility of making dependable Bluetooth calls. Users can even stream media and music daily and on one single charge. A USB cable comes included with this headset making way for simple recharging.
Another great feature of this headphone is it offers top-quality comfort because of its lightweight design. It weighs just 0.5 OZ and is durable enough to last very long.
The compatibility feature of this product is something not to miss out on. Users can easily connect two Bluetooth devices to these headphones simultaneously. It supports Bluetooth devices like smartphones, tablets, and laptops.
Separate volume, mute, and power buttons allow easy control and access. Users can press the end or answer button centrally located for directing incoming calls. Then there are audio alerts about the level of the battery, mute status, connection status, and more.
This headset, available at $44.99, offers stable and fast pairing with almost any Android and iOS device. The in-built HD microphone of this product blocks out noise like crowds, traffic, and wind and lets the users enjoy top-quality calls and music.
The easy-to-reach buttons of these headphones allow the users to enjoy everything hands-free. Its flip-boom arm and retractable ear strap rotate and swivel, offering a very secure and comfortable fit.
This is considered the best Bluetooth headset for truckers because it is comfortable and portable enough to be worn for several hours.
The ultimate comfort ear gels come in three sizes to offer a secure and snug fit. Exclusive hand-carrying protection case prevents loss and damage.
Below are some of the Pros and Cons of The ICOMTOFIT that earned it a spot in our Best Bluetooth Headset For Truckers list.
Pros:-
Great battery life

Compact

Lightweight
Cons:-
6.

TaoTronics Trucker Bluetooth Headset with Microphone
This is the first AI noise-canceling headphone in the world, and thus, it would be right to consider it the best Bluetooth headset for truckers.
TaoTronics' microphone boasts AI noise cancellation technology that filters out all external noises by around 40dB.
At $47.99, this headset enables its users to attend hands-free calls and has impeccable voice clarity, which even works in noisy environments such as construction sites and call centers.
The mute button enables users to mute their voices as and when required. There is a multi-function button for answering, redialing, transferring, and ending calls. The total playtime of the headset is 34 hours, while the total charging time is 2 hours.
The battery potential of this headset is 400 mAh which means it will offer users long sessions of listening to music or attending calls without hassle.
Featuring ESD and overvoltage protection, this headset can be fully charged through a USB port within a few hours.
This Bluetooth headphone featuring QCC3020 chipset offers stable and fast signal transmission and even the flexibility of pairing it up with two Bluetooth tools simultaneously.
The weight of this product is 2.8 OZ which means it is sufficiently light to be used throughout the day without any discomfort.
Also, it comes with an adjustable band that fits almost any head shape. This product's anti-slip pad and soft ear pad stay in place securely, rendering comfort throughout the day.
Below are some of the Pros and Cons of The TaoTronics Trucker Headset that earned it a spot in our list of Best Bluetooth Headset For Truckers.
Pros:-
Cons:-
Bluetooth driver requires constant upgradation

Bulky

Low volume
7. Conambo M91 Noise Cancelling Bluetooth Headset
This is the right headset for truckers looking to turn down the noise and turn up their talking sessions. Starting from the corner cafes to the city's bustling streets, users will be clearly heard with this high-quality Bluetooth headset from the house of Conambo.
It allows you to talk all day with 24+ hours of talk time and micro-USB charging convenience. These exclusive features make this product more reliable than the other Bluetooth headsets available in the market.
The solid structure of this item ensures durability and superb performance at the same time. One press of the mute button on its microphone, and users can stop all noises and voices as and when required.
This headset from Conambo has been specifically designed for days of non-stop talking and music sessions.
The padded headband can easily be adjusted to the right width per the user's head size. The headphone is easy on the ears, and their ergonomic design ensures comfort throughout the day, right from the very first call to the last one.
The control buttons are easy to use as separate ones are available for volume, call, and power adjustments.
Highly advanced and top-quality noise reduction microphones minimize noise due to movement and wind and optimize the user's voice so that it sounds clear indoors and outdoors.
The Conambo Bluetooth headset can easily be connected to two smartphones simultaneously. It lets users enjoy Bluetooth calls while streaming GPS directions and music hands-free.
Available at $54.99, the smart IC of this Bluetooth 5.0 headset offers stable and reliable pairing with all Bluetooth devices. It makes way for strong signals and low power consumption.
Below are some of the Pros and Cons of The Conambo M91 Noise Cancelling Bluetooth Headset that earned it a spot in our list of Best Bluetooth Headset For Truckers in 2022.
Pros:-
Impressive noise reduction technology

Extended battery life

Comfortable and lightweight construction
Cons:-
It comes with just basic features
Best Bluetooth Headset For Truckers: What To Consider 🤷‍♂️
Nowadays, Bluetooth headsets have become a must-have for professional truckers. There are guidelines barring hand-held mobile phone usage when driving commercial vehicles.
In addition to legal problems, distracted and inattentive driving can also be a major problem for drivers because they might be the victims of accidents that can also ruin their scope of occupation.
Choosing the best Bluetooth headset for truckers is easy, but only if you know the most important factors that need to be considered.
First, you must know that you will be presented with two variations: the over-the-ear headsets and the in-ear headphones.
Choosing between these two variations will depend on individual preference and which one the trucker is more comfortable with.
No matter which variation you are going for, make sure your choice offers the best of these attributes.
Sound Quality:-
There is nothing more important to consider in a Bluetooth headset than its sound quality. Truck drivers need to choose headphones that give them the flexibility of holding conversations very clearly.
There are different varieties of Bluetooth headsets available in the market. You will find some with good noise-canceling technology that helps in enhancing audio quality while attending calls. Make it a point to go for only these headsets.
Weight or Comfort:-
So, you are a trucker thinking of turning your boring driving task into something more interesting. For this, you will have to use Bluetooth headphones that can offer you several hours of constant music and sheer conversations without causing any discomfort to the ears.
You will have to choose headphones that you can wear on your ears throughout the day without causing pain or discomfort. In this context, it would be better to go for an in-ear headset instead of an over-the-head item because such products place a lot of pressure on the ears.
Also, make sure that the headphone is secure and stable. Obviously, you will not like to re-adjust the headphones repeatedly. Poor-quality headphones tend to be heavy and bulky mainly because they are made of heavier and cheaper parts.
Considering the overall weight of a headphone is very important because only lightweight items will offer complete wearing comfort. Heavy headphones will quickly become uncomfortable and force you to take them off.
Easy and Convenient Hands-Free Usage:-
Yet another important feature truckers need to consider when going for the best Bluetooth headset is its ease of usage regarding hands-free operation.
Hands-free operation is probably the most important reason for using Bluetooth headphones. So, you cannot make any compromises on this feature. 
Also, make sure to choose headsets that come with voice commands, as they help in eliminating the need to remove one of the hands from the truck's steering wheel.
Battery Life:-
Professional truckers looking for the best headsets should make it a point to go for headphones with an extended battery life guarantee. Going for the best headset for truckers with six hours of talk time can be the right choice.
Such headsets can last throughout the day, but only if they are used for listening to music. Truckers who attend many long-duration calls need to go for headsets offering at least 12 hours of talk time on a single charge.
Noise Cancellation:-
The best headset for truckers will likely be used while driving. Hence it means that you will be using it amidst a lot of noise from the background in traffic, crowd, and even wind.
Therefore, considering headphones' noise reduction or cancellation technology is very important when making the right choice. The technology helps block out the noise, which is crucial for driving conversations.
Warranty:-
Going for Bluetooth headsets with multi-year warranties is always a good idea since you will use the headphones while driving. Chances are that the users of such headsets will generally be away from repair specialists if the products suddenly break down.
Therefore, buying products with a manufacturer warranty and an easy-to-contact and solid customer support helpdesk always comes in handy.
Voice Command:-
Going for headsets with voice command features is a wise step for truckers. Headsets with top-quality command features are always considered the best products for extreme driving conditions.
When driving, it would be difficult for truckers to keep their hands off the steering wheels. This is why it becomes necessary to get hold of the best Bluetooth headset for truckers that can easily be controlled using voice commands.
Such headsets offer users the freedom to ask the assistant to notify them of rejecting calls, answering calls, and understanding battery level status.
Durability:-
The headset is likely to be used throughout the day and even at night if your job calls for such sincerity. Also, truckers are in the habit of taking their headsets off and outing them over and over again.
Therefore, they must choose products that do not get damaged very easily through a few jerks or a little mishandling, tossing, throwing or frequent use.
Of course, you will not want your hard-earned money wasted, right? Also, you will not like your headset damaged in the middle of the long journey you have taken up. It would be the worst nightmare. So, going for a headphone that is durable enough is always a good choice.
Affordability and Connectivity:-
The main idea behind using the best Bluetooth headset is to avoid tangled cables and wires. Thus, your headset needs to offer great connectivity or Bluetooth range. The range should be such that if you step out of your truck for a small snack session, the device and its features should not get disconnected.
Affordability is also one of the most important features when using a Bluetooth headset. Since these headphones come loaded with some of the best and the most exclusive features, it is hard to find them at reasonable rates. noise cancelling bluetooth headset headphone with mic for trucker,truck driver.
But with a bit of research and study, you will be able to find headphones that offer you unique features at affordable rates.
📗 FAQs on Best Bluetooth Headset For Truckers
Below are a few queries on the Best Bluetooth Headset For Truckers that everyone expects to answer, and I did include the same for my readers.
Is it safe to use Bluetooth headphones while driving?
Yes, it is safe to use Bluetooth headphones while driving, especially when using a phone. Headsets are safer in comparison to making calls and texting on the phone while driving.
It is considered a better option than using a phone because it reduces the chances of accidents.
Since such headsets can easily be controlled using voice commands, truckers do not need to keep their hands off the steering wheels.
Will it work for me to use any other audio device instead of Bluetooth headphones?
It is completely upon you. If you think using any other audio device is not going against the driving laws and regulations, then you can use them.
But, it is better to use Bluetooth headphones than any other sound device to be safer.
Is a Bluetooth headset bad for health?
No, not. Many users are worried about Bluetooth radiation. Nevertheless, it is wrong to think Bluetooth headsets are bad for health.
Major studies on this topic have come up with results showing no connection between the use of Bluetooth headsets and health problems.
Conclusion
Going for the best Bluetooth headset for truckers is a matter of personal preference, as many products are available from varied brands that are jam-packing the market.
You will surely like your pick if it offers the amazing sound quality, decent battery life, and responsive voice command.