Over the last decade, In-Ear Monitors, or IEMs, have gained much popularity for professional use and as a generic audio device for an average person.
In-Ear Monitors are audio monitors initially designed for musicians, live performers, and audiophiles.
These devices are traditionally intended for such professionals because they aid them in simultaneously monitoring audio content from different sources, such as multiple instruments, vocals, etc.
Let us take the following example to shed more light on how IEMs function for professionals.
Suppose you go to a concert featuring Drake. As you may know, Drake is a vocalist who does not perform with instruments.
You will generally see him wearing an In-Ear Monitor during the live performance. He can easily hear the beats, instruments, and other audio sources generally attached to his music through this device.
Due to this particular reason, he can synchronize his vocals with the beats playing in the background and provide optimum performance.
These audio devices provide an in-depth, isolated, and enhanced music experience with exceptional and need-basis adjustment features. 
These days even ordinary people with non-professional capacities easily understand the quality of music through different audio devices. Due to this reason, a plethora of In-Ear Monitors is now available in the market for generic day-to-day use by ordinary people.
These devices come in several shapes, designs, and sound profiles, allowing consumers to opt for audio devices per their specific and divergent needs.
Traditionally, when professionals only utilized these In-Ear monitors, they used to be priced at excessive amounts; however, nowadays, you can easily buy an amazing  In-Ear Monitor from a local audio store at minimal rates.
This article includes some of the best IEM under 200 dollars for you to choose from.
What makes IEM unique? 🧐
It is obvious that nowadays, most music listeners own audio devices, whether wireless/ wired earphones like the apple air-buds or large over-ear headsets such as Bose.
These devices provide exceedingly well-quality music for your ears with excellent active noise cancellation and other features. Then this leads to a basic question: why should you consider an IEM?
In contradiction to terminologies like 'Bluetooth' and 'huge bass response' used by many companies designing headphones, In-Ear Monitors have small built-in processor components that create efficient and professionally engineered sound.
These devices provide maximum proficiency by converting electrical signals into audio waves using a driver leading to high-tech and enhanced sound quality.
Another diverging feature of IEM is that these devices come in a shape that is almost the shape of your year, including materials like foam, silicon, rubber, etc.
Some of these also include short bent wires that hook onto your ears easily. This helps the user to be able to wear such devices for a very long duration without any ear strain.
The shape of In-Ear Monitors also helps cover the ears perfectly so that no ambient noise enters your ears from your surroundings.
Unlike other noise-canceling headphones, this feature works exceedingly well even if you are listening to music or any other audio content with high, medium, or low volume and sound profiles.
In-Ear Monitor audio devices also include an ergonomic feature uniquely specific to them. This feature refers to the availability of detachable cables and earpieces for IEMs.
The cables and earpieces also have easy compatibility with cables and earpieces of other brands and models, making In-Ear Monitors tremendously effective for any work regarding the sound profession. You can attach long cables during a live performance or braided ones in case you want an additional protective layer.
These devices include multiple drivers through which you can easily analyze and sync multiple audio sources with different frequencies and create a custom mix according to your liking.
Most headphones available in the market also block all airflow to your ears, leading to sweating and discomfort around the ears and ear lobes.
However, IEMs fit perfectly inside your ears, allowing air to flow through, preventing encumbrances, and making you feel like you are not even wearing additional equipment. 
Best IEM Under 200 $ With Exceptional Sound Quality👌
Choosing the perfect IEM for you on a budget can be overwhelming. Understanding terminologies when you don't have a music background can be a tedious process.
In addition, many certain In-Ear Monitors that include specifications some people require may be too expensive.
But there is no need to worry; this article will sort all that out for you so you can choose the perfect IEM adhering to your needs.
Following is a list of the 9 Best IEM under 200 dollars available in the market.
1. Shure SE 215- CL – Best IEM under 200 for musicians
If you are searching for an IEM to convert your commute into a concert or make your daily workout more boosting, this In-Ear Monitor is perfect for you.
With a stable and sturdy design and amazing performance, the Shure SE 215- CL is one of the best choices for many. It comes at a swooping price of $99, which is extremely appealing to customers.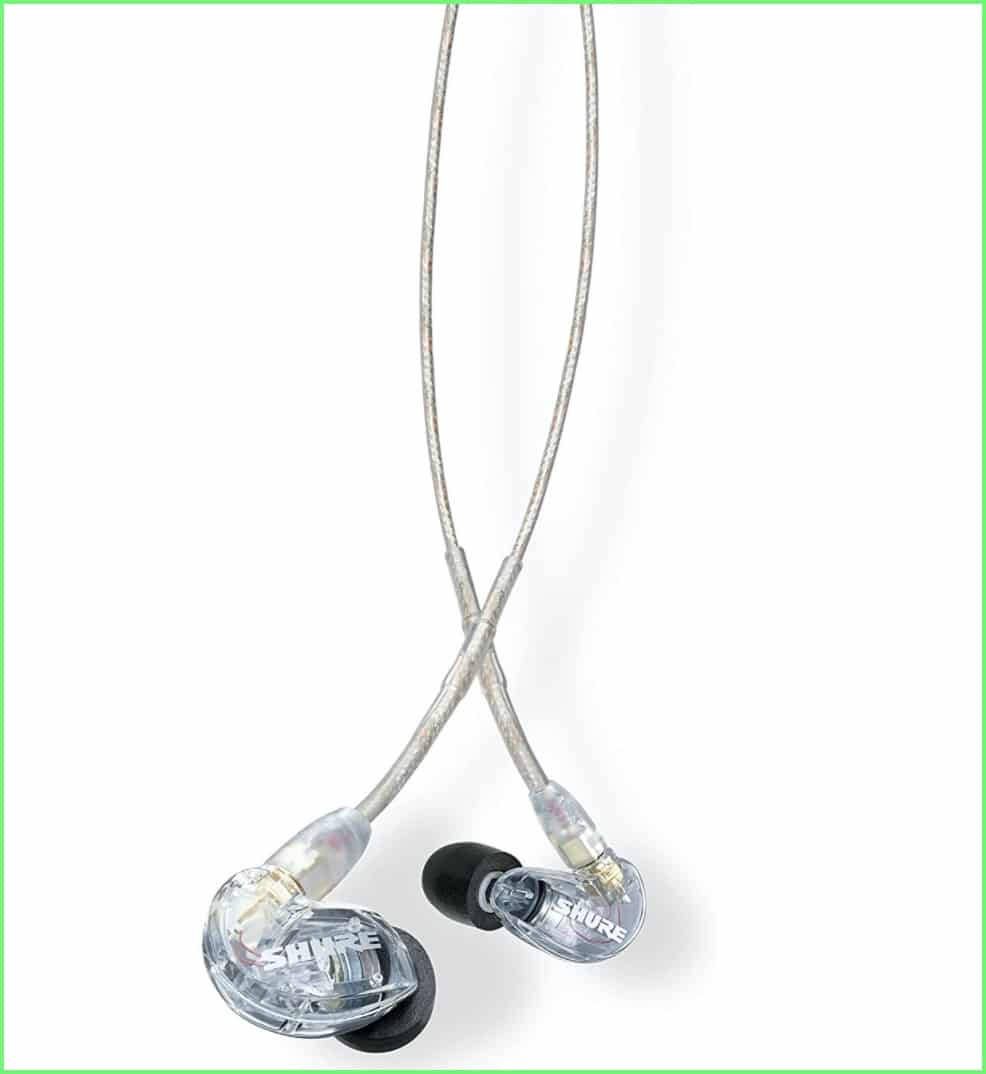 Shure has built this IEM with exceptional and exceedingly better qualities than any other traditional earphones.
It fits perfectly in your ear canal to distort ambient noise, providing maximum noise cancellation of about 37dB without discomforting your ears. These audio devices even include specific design adjustments so that you fit additional hardware inside them.
The IEM is available in four color schemes and provides wireless options, unlike many other IEMs available at such a low price. The sturdy design of the monitors comes in a translucent design making it very appealing to customers. 
Although the earpieces may seem bigger than others on this list, the Shure SE 215- CL includes a dynamic driver, providing you with the most mesmerizing sound quality.
The driver is capacitated to provide exceptional bass for any music and will make it sound more calming and soothing to your ears.
This In-Ear Monitor includes a battery life of around 10 hours, a 30-feet range for wireless connectivity, a very compact zip case, and inline and mic control.
With so many variegated features, this IEM can be easily considered one of the best IEM under 200 dollars available in the market.
Pros:-
This IEM comes with detachable cords providing easy accessibility for swapping with other models or using wireless features. In addition to this, the cord provided along with the earpieces is very long, making it easier for you to access music or for professional performers.

The Hi-Def driver inside the In-Ear Monitor provides stunning music quality and gives space for additional equipment for a comfortable and mesmerizing audio experience.

This IEM provides maximum adjustability through six silicone earpieces fitting various ear sizes.

The Shure SE 215- CL is very lightweight and provides comfortable portability.
Cons:-
It may not be easy to adjust the design due to the wires facing upwards to hook properly to your ears.

The bass might be a little too bloomy and loud for some users.
Shure SE215 IEMs in 2019! Review after 2.5 years! Still worth it?
2. Sennheiser IE60
The Sennheiser IE 40 PRO is one of the most recommended In-Ear Monitors you can purchase. It comes with a very good build quality, and the bass effectiveness of this iem is fantastic. It's ideal for on-stage use, as it has incredible tuning.
If you have ever owned a pair of Sennheiser, you would probably know that this company produces some of the world's most user-friendly and high-tech audio technology. These In-Ear Monitors are no exception to the Sennheiser quality.
Featuring adjustable and comfortable earpieces along with a robust design, it can be easily said that these IEMs are exceedingly simple with zero strain and can last for a very long period.
The Sennheiser IE60 comes with extremely powerful neodymium magnets in the driver to provide the user with enhanced sound quality and an on-point bass system without much kicks to it, which Electronic Music lovers especially prefer.
Other features include easy portability through a compact case, powerful resistance to ambient noise up to 20 dB, a sleek ergonomic design that is appealing and robust, and an excellent frequency response of 18000 Hertz.
The Sennheiser IE60 also comes with a 2-year warranty, which appeals to customers.
Pros:-
The earpieces are durable and long-lasting, even through rough usage.

In addition to amazing sound quality, these IEMs provide amazing performance on low volumes.

These In-Ear monitors provide a very good mid-range and excellent bass profile.

They are extremely comfortable for long durations and come with adjustable features.
Cons:-
A few complaints have been made against these IEMs regarding the occasional muddling of sounds.

This IEM provides various qualitative features at very affordable and competitive pricing. 
3. SIMGOT EN700 PRO
With an increasing number of people opting for In-Ear Monitors over traditional headphones, more and more new and upcoming companies are designing upgraded and optimally effective IEMs at low prices.
Simgot is one of these companies providing exceedingly well and value-for-money products.
It's also regarded highly when it comes to audio. This is because of the capacity of earpieces with a 10mm dynamic driver to deliver balanced audio.
These In-Ear Monitors provide amazing levels of music synchronization from your device and bass profiles through high energy output. With these sound characteristics, you can be confident they would fit well with all genres.
The Simgot EN700 Pro comes in a premium leather box and aluminum earbud casing, making it extremely appealing to customers.
In addition to this, it also includes fabric-covered and detachable cables, which can be easily customizable to your needs. The sturdy and durable design of the earbuds is also very comfortable to use for long durations.
In addition to those above, these In-Ear Monitors also provide exceptional vocal quality with detailed bass, decent noise cancellation, a 30-day repair, replacement policy, a One year warranty, and amazingly responsive customer service, making it a perfect choice for customers on a budget.
Pros:-
The design of the earbuds and the casing looks very classy and attractive.

The sound quality is one of the main focuses of these IEMs providing detailed and clear music that can be noticeable and easily set apart from headphones.

The bass quality is punchy, creating an enhanced experience for music lovers.

There is a high level of trustworthiness amongst customers regarding its customer service and 30-day repair and replacement policy.
Cons:-
The body of the earpieces is very wide, which may be slightly big for some people.

These IEMs do not provide a very good mid-range.
Beauty And A Beast! : Simgot EN700 Pro In-Ear Monitors
4. 1MORE Quad Driver 
The 1MORE Quad Driver In-Ear Monitors are one of the best IEM under 200 dollars having high-resolution audio and checking most of the boxes regarding sound quality.
These In-Ear Monitors contain a total of 4 dynamic drivers and are equivalent to having two mini speakers on each side. If you are considering getting a new pair of In-Ear Monitors under a $200 budget, then the 1MORE Quad Driver should easily be one of the best options.
In addition to the drivers above, this IEM includes three armature drivers to provide high-tech power and definition to your music.
Featuring ultimate design and comfort, these IEMs include aerodynamic characteristics inside the sound chambers similar to a jet engine, providing a feeling of spaciousness between you and the music, somewhat similar to what 8D audio sounds like.
These are among the most popular and trustworthy IEMS in the market, designed by the Grammy award winner Luca Bignardi who has engineered unrealistic sound quality with proper noise cancellation in real-time.
These IEMs include inline controls for volume and call management, a leather traveling case, airline adapters, 9 ear tip sizes, matching shirt clips, and many other premium features.
Pros:-
The earpieces have a perfect ergonomic design to provide a secure, relaxing fit and are comfortable for long durations.

The IEM provides superior sound quality with high-definition bass and crystal-clear vocals.

It includes an oxygen-free copper cable that is durable and provides desirable quality.

Amazing case design and wireless properties.

It includes Controls compatible with both ios and android.
Cons:-
These IEMs may not have a perfect fit for some ear types.

These come with a bit too much packaging.
5. MEE Audio Pinnacle P1
MEE Audio is a very excellent choice when it comes to In-Ear Monitors. It is popularly known in the market for its affordable products.
However, this brand has started aiming to compete against high-end brands, improving and adding to their product's features. The MEE Audio Pinnacle P1 is one of the most recent examples of this new strategy.
The sturdy metal body design comes with interchangeable cables and other shell accessories. The IEM includes earpieces that fit every size and type comfortably without any strain for long durations, and its metal structure does not cause any pressure in or around your ears.
This IEM features various ergonomic and internal characteristics generally found in expensive IEM products making MEE Audio Pinnacle P1 one of the best IEM under 200 dollars.
This IEM provides performance similar to the Apple AirPods at a fraction of the price using only a 10mm dynamic driver.
The P1 uses an advanced high-input impedance moving coil transducer and a patented acoustic diffuser to achieve improved frequency response, accuracy, and resolution.
The effect, smooth and natural tone, is well balanced. The low end packs a punch, the mids are warm, and the tops are clear and smooth.
Pros:-
The P1 provides an amazing level of comfort without any strain.

It actively cancels any ambient noise from the surroundings.

This IEM gives a rich and smooth audio experience and a balanced synchronization of audio sources leading to enhanced quality of music.

It includes an excellent soundstage through a stereo speaker system allowing listeners to perceive music through their auditory organs efficiently.
Cons:-
The IEM does not provide very much space for enhanced bass profiles.

Although this IEM costs under $200, it is inclined on the more expensive side compared to the other products designed by MEE Audio.
6. KZ AS10 Pure 5
KZ is popularly known for its dynamic drivers. However, the new AS10 model has focused on balanced armature responsiveness from high to low frequencies giving you a stable sound function through 5 drivers.
KZ AS10 works best in live shows and studio situations. It is made for sound designers, performers, and audiophiles with completely upgraded bass and rich sound quality.
Clients can tune in to their embedded vocals and tunes smoothly with the dynamic drivers committed independently to each side of the earphones.
Its featherweight makes it an ideal headset to haul around. You can utilize it for calling functions or tune in to music throughout the day without feeling any burden because of its lightweight.
From its light body configuration to delicate ear tips, this brand of In-Ear Monitors is agreeable to the ear. It gives great active noise cancelation, leaving a smooth sound through your ears. This guarantees that you don't get any strain on your eardrums.
The KZ AS10 includes an improved level of damping regarding extended highs along with balanced and controlled mids and lows.
Pros:-
The KZ AS10 comes with detachable cables for easy accessibility.

It provides excellent music features for balanced and sharp audio.

It includes a 1-year warranty, a 30-day vendor warranty, and 24/7, creating exceedingly well trustworthiness.

This IEM is extremely proficient for professional musicians.

Comfortable for all types of ears with amazing noise cancellation.
Cons:-
It does not provide enough capacity for in-depth bass.

The transparent cover that this IEM comes in is not that attractive for some customers.
7. BASN Professional IEM
BASN has been releasing efficient audio tech ever since 2009. Although this IEM includes the word 'professional' in its name, it is similar to a hybrid between professional and personal use.
The IEMs are made with double unique dynamic drivers alongside PET and copper stomach for the greatest ambient noise cancellation and upgraded sound profiling.
The sound quality is first-rate with fastidious designed ear tips made of silicon and supporting liquids with a frequency rate of about 20-20000Hz.
The IEM includes sound back monitoring, a feature specifically designed for professionals. Every internal part of the earpieces are designed to align with the audio sources providing accurate and soothing sound output. 
The BASN Professional IEM is known for its deep and satisfying bass output without compromising definition in mids highs. This feature aids in providing smooth audio quality throughout various music genres.
In addition to this, it also comes with nine triple-layered ear tips for you to choose from, providing excellent isolation, all of which can be easily controlled through the buttons on the earpieces.
Featuring an ergonomic design, BASN includes a 130 cm rigid cable which is detachable for easy accessibility as well.
Pros:-
It provides wired as well as wireless connectivity.

It is highly comfortable and lightweight and prevents any inconveniences.

These IEMs are available at affordable rates with a variety of features.

It has a punchy and deep bass.
Cons:-
The mids and highs are not that great.

The body design is a bit bulky and wide.
8. RHA T10i
RHA is one of the leading brands in the world which produces exceptional quality headphones. The RHA T10i is a model specifically for bass lovers.
The bass from this IEM provides a real punch and includes features such as a strong build, long durability, and a three-year warranty.
The IEM includes dynamic armature drivers, silicone ear hooks for noise isolation, and foam cushions inside the earpieces to provide detailed music for a prolonged period. 
In addition to its dynamic sound-enhancing qualities, the RHA T10i includes many other features like 10 different sweat and splash-proof ear tips, a patented ear guide system, and a tuning filter system that you can use to customize frequency response.
Pros:-
High comfort and enhanced audio experience for professionals as well as ordinary people.

Extremely powerful, with in-depth bass output.

It provides excellent noise cancellation with amazingly intense lows.

It has a highly ergonomic body and comes with a 3-year warranty.
Cons:-
Due to its bulky design, it may not be suitable for some ear types.

Costlier than many other IEMs on this list with similar features.
Factors to consider while buying an IEM under $200
Drivers
The built-in dynamic drivers in an IEM function towards armature responsiveness to provide smooth and balanced sound quality.
IEMs generally have a limited capacity of 8 drivers, but they vary greatly depending on the IEM you use.
It is wrongly understood that a higher number of drivers provide an enhanced sound experience. An IEM with three drivers performing well toward properly managing highs, mids, and lows can be better than some IEMs with 10 dysfunctional drivers.
Therefore, always consider the delivery of these profiles and the sensitivity range while buying IEM.
Cables
Many people ignore cables as one of the factors while considering the best IEM under 200, which is not very wise.
The availability of detachable cables means you can change the cables if the old ones get damaged and will not have to dispose of the whole IEM.
In addition, wireless customization can also prove to be an exceptional aid to users.
Ear tips
A silicone ear tip is very useful in providing a better grip and stability to the earpieces, along with resistance to sweat. These can also be very useful if you require to use the IEM for long periods.
On the other hand, ear tips made out of foam provide better isolation than silicone. However, these do not give equal comfort and are unsuitable for long durations at a stretch.
Therefore, selecting IEMs based on your ear tip needs is advisable after due consideration to research.
User Reviews
User reviews are one of the most important factors to be considered when buying a set of In-Ear Monitors. 
Before buying a particular product, always consider viewing buyer ratings and comments through either google or amazon. Check out the ratings and views of happy as well as dissatisfied customers.
You can also check out unboxing videos or reviews on YouTube, giving you a certain perspective about the product you want to purchase.
Budget
Everyone tries to consider the value of the product they want to purchase. IEMs that provide a value-for-money job by giving a variety of features and overall good sound quality at affordable prices are considered optimum by many people.
This list above contains some of the best IEM under 200 dollars available.
📗FAQs
What are the best budget IEMs?
You can opt for the best budget IEMs like Linsoul KZ ZAX IEM of 24 ohms, Linsoul TIN T2 Pro IEM of 16 ohms, MEE Audio M6 Pro IEM of 16 ohms, and Shure SE215 earphones of 17 ohms as they are under $200.
Do IEMs sound better than earbuds?
If you are looking for portability and style, IEMs are great for you. However, over-ear headphones are comfortable with accurate sound quality. Generally, earbuds have better sound, imaging, and resolution than IEMs.
Which earphones are best under 200?
Suppose you are looking for the best earphones under 200. In that case, you can opt for Timeless 7Hz Planar Magnetic IEMs, Shure Aonic 3, Tin Hifi P1, Shuoer Tape Pro, and Sennheiser IE80S for a great audio experience.
Are IEMs louder than headphones?
Yes. The volume is the major benefit of an IEM. Once you get used to the volume, you will realize that IEMs sound better without exposing your ears to high decibels.
How long does an IEM last?
An IEM can last you more than 5 years with proper care and usage. You should go through the user guide effectively to understand the best care for your IEM.
What makes a good IEM?
The fit of an IEM should be optimal to make it great. With a great fit, an IEM can provide better sound, noise isolation, soundstage, tonal clarity, and improved bass. Your IEM should also include extra tips for a better fit.
Are IEMs worth it?
IEMs are worth your money if you are interested in quality audio. An IEM with a proper fit can be worth your money as they last longer, come with various configurations, and have better sound quality.
Is it better to buy a curved-shaped or straight-shaped IEM?
Generally, curved-shaped IEMs are more useful as they wrap around your ears, providing support and stability. Still, some people find discomfort in using such IEMs due to their level of appeal and covering their ears with cables.
Therefore, it depends upon the customer as to what characteristics they would prefer.
What is better: universal fit or customizable fit?
Customized earplugs will consider your ear size and shape, providing maximum comfort. They will also have enhanced spacing of drivers providing a better sound definition.
What are some of the best IEMs containing more than 3 drivers?
As was mentioned before, more drivers do not necessarily lead to better performance. However, many of these may indeed provide a much better sound definition.
Some of the best IEMs with more than 3 drivers are 1MORE QUAD DRIVER and KZ AS10 PURE 5 IEMs.
Conclusion
I hope this guide solves all your worries regarding In-Ear Monitors and an idea of which IEM will be best for you.
The above list contains some of the best IEM under 200 dollars which can be considered by professionals or other people looking for an upgrade along with ordinary people trying out In-Ear Monitors for the first time.