iPhone wallpapers are much more than just a mere display on the screen. Any user sets and changes their wallpapers according to their wishes, likes, and favorites.
Since this is the image or display that the user would see every time they would switch on their devices, it has to be something that is visually appealing to them.
New background images and wallpapers are created and launched almost every day these days. All of these wallpapers have their own themes, features, and characteristics. Each of them is unique in its own manner.
Wallpapers are one of the easiest ways to customize a device according to the user's tastes. It is a manner of personalizing the device and a way of ejecting one's personality into the device. This not only gives a personal touch to the device but also makes it aesthetically and visually appealing as well as stunning to the user.
Giving one's mobile phone a makeover is another way of starting afresh and getting the feeling of starting something new. Any image can make a great wallpaper.
It may be the photos of the user's friends and family members, their pets, their likes, natural and scenic landscapes, sunsets or sunrises, memes, cartoons, cute animals, and possibly anything else.
The iPhones already provide numerous wallpapers to choose from. These belong to different categories, themes, colors, and designs. It is extremely easy to switch the wallpapers on iPhone devices.
How to Switch iPhone Wallpapers?
This can be done in 2 separate ways
1. Through the Settings option
Go to Settings on the iPhone.

Click on Wallpaper.

Tap on the Choose a New Wallpaper option.
Choose an image. The built-in wallpapers of the device would include a lot of different options. Some of them are Dynamic, Stills, Live, or just the regular ones. The user can also choose any photo from their gallery as well.
Once an image has been chosen, it can be adjusted to fit the screen of the device by the user.
The final step is to specify whether the image would be used as the wallpaper for only Home Screen, only Lock Screen, or for both.
2. Through the Photos option
The user has to select the image they want to use as the wallpaper from the folders in their mobile phones.

Click on the Share option at the bottom left side of the screen.

Choose the Set as Wallpaper option Street scrolling down.

Adjust the chosen image to fit the screen of the device.

Choose and specify whether the image would be used as the wallpaper for only Home Screen, only Lock Screen, or for both.
How to use a Live Photo as your wallpaper on your iPhone — Apple Support
Wallpaper is not just a decorative item or setting. It can also affect as well as reflect the mood of the user. The Wallpaper application in the App Store offers a highly impressive collection of images and scenes to be used as wallpapers.
But if an individual wish to get access to more wallpapers, they would have to resort to using third-party applications.
Here are listed some of the best applications to get wallpapers for iPhones and iPads.
Best iPhone Wallpapers Website & App 👌👌
1. Pinterest
Pinterest is an extremely popular and well-known platform to get attractive iPhone wallpapers. It is available as both an application as well as a website, both of which are completely free for use. The application can be downloaded for free.
The user can further create an account on the platform. They can then search for and save or 'pin' the images and wallpapers that they like. They can also download them.
And the website is the best place for those who do not want to use the application. By simply searching for Pinterest through their browser, they can find the images and wallpapers of their choice.
They can further visit the parent site of those particular images and then download them. The website is also completely free and easy to use.
And for those who do not want to visit the website either, images on Pinterest can be easily found through any web browser by simply searching for any particular wallpaper that the user wants and adding Pinterest to the search term.
The images that would be shown as the result would all be the ones that can be found on the Pinterest application and website.
Download the App on Apple App Store
2. Tumblr
Tumblr is also another incredibly popular platform. While it is mainly used for blogging, discussions, and chatting, it can also be the source for finding beautiful and attractive iPhone wallpapers for your smartphones.
While it is quite surprising that an actual blogging platform can have great wallpapers, it is actually true and the images found on this platform can be quite the hidden gems of the site.
Tumblr is available both as a website and an application. Both are completely free for use and for downloading wallpapers. For the application, the user would have to create an account on the platform, which is also completely free to do.
They can then search for any theme-related or topic-related images and wallpapers, and proceed to download their favorite images.
Similarly, the images on the website, which are only the same ones as the application, can also be downloaded. Just like the case with Pinterest, the user can go to the Tumblr website by using any browser, look for and find their favorite images to use as wallpapers, and download them.
For those who simply wish to use neither the application nor the website, using any web browser, searching for a particular theme or subject and adding Tumblr to the search term will show them all the related images available on Tumblr.
Download the App on Apple App Store
3. Reddit Wallpapers for iPhone and iPad
Reddit is also a social media platform that is incredibly popular and it is extensively used by millions of individuals from across the globe. While it is mainly used for asking questions, replying to them, and blogging, it also has quite a few amazing wallpapers for iPhones and iPads.
Reddit is available as an application as well as a website. The application is completely free for use. The user has to create an account on the platform to use it. They can look for their images and wallpapers by searching for them and then downloading them. 
If they do not have any particular images in mind and only want to go through the general iPhone and iPad wallpapers available on the platform, they could go to the subreddits like r/ipadwallpapers as well r/iphonewallpapers (Visit Here) where they can find the best wallpapers for their devices.
The Reddit website can be easily accessed through any web browser where the user can find their preferred images and wallpapers, download them, and set them as their Home Screen or Lock Screen wallpapers.
Similarly, by using any web browser, any individual can search for multiple images and iPhone wallpapers related to any particular subject or theme, add Reddit to the search then and select and download their favorite wallpapers.
Download the App on Apple App Store
4. Unsplash
Unsplash is another highly impressive platform for finding iPhone wallpapers as well as for iPads. This website has over a thousand beautiful wallpapers for users to choose from. The wallpapers on this website have been categorized according to their themes and color schemes.
This platform is quite similar to Instagram. It allows the users to like, follow or save their favorite artists and photographers, as well as stay updated about their latest creations, photos, images, and posts.
It has the feel of a social media platform where any user can collect, save and share images and wallpapers.
The wallpapers from Unsplash can be downloaded for free. There are no subscription or payment requirements. All the user needs to do is choose their favorite image, click on the Download option and the image will be saved in the storage of their device.
Download the App on Apple App Store
5. Pixabay
Pixabay is another wonderful website to get iPad and iPhone wallpapers from. It has a highly impressive and exhaustive collection of wallpapers and images which vary in themes, designs, colors, patterns, sceneries, etc.
This platform offers a large variety of wallpapers in different formats including filter photos, vector graphics, illustrations, and many more.
It is a completely free-of-cost platform. The website shows the user to download any image or wallpaper for free by simply choosing the image and clicking on the Free Download option. The wallpaper would then be stored in the specific folder on the device of the user.
An account can also be created on the website, which also does not require any sort of charges, though it is by no means a prerequisite for accessing the wallpapers of this platform. But doing so would allow the user to save their favorite images and wallpapers on the home page of their account.
Download the App on Apple App Store
6. Pexels
Pexels is one of the best platforms to get wallpapers for iPhones and iPads from. It is only available as a website but offers an incredibly impressive collection of wallpapers to choose from to the users.
Currently, it has more than one thousand unique and beautiful wallpapers and new ones are being launched every day. Every person can find their favorite image or wallpaper on this platform.
Pexels is completely free of cost. Any individual can get any wallpaper on this website by simply choosing a particular one and then clicking on the 'Free Download' option.
The wallpaper will be stored in the storage of the device and can be further accessed easily enough. In order to save or collect images and wallpapers, the user would be required to create an account on the website. But not to worry, creating the account is completely free of any costs.
This platform offers a wide variety of wallpapers based on different themes, subjects, and color schemes. The extensive wallpaper choices offered by Pexels are truly impressive and praiseworthy.
Download the App on Apple App Store
7. Jetson Creative
If the user wishes to use dynamic wallpapers, then Jetson Creative is the best platform to find some. Jetson Creative offers highly attractive dynamic wallpapers at great prices and is equipped with great facilities for the user.
This platform is available as a website as well as a MacOS application. Both of them only slightly differ in their names, the rest of the features including rates, options, and wallpapers are completely the same.
The application is mainly known for and popular for its 24-hour wallpapers and their varieties. The user will be able to get almost 83 different dynamic 24 hours wallpapers for only $9.99.
Each of these wallpapers has around 28 to 36 attractive and distinct images. Each and every one of these wallpapers is of premium quality and with beautiful visuals.
The website offers about 32 wallpapers to the users, each with 16 distinct images. The best thing is that almost all of these wallpapers are of 5K resolution.
A single wallpaper costs around $1.29, which is quite a good price. All 32 of the dynamic wallpapers can be bought at a meagre price of $14.99.
The wallpapers provided by this platform are incredibly beautiful and appealing. They contain shots of beautiful natural sceneries and attractive city viewers from across the world including some places like San Francisco, Paris, Tokyo, Glacier National Park, and many more.
The platform sometimes offers both day and night scenes of the same location to the users to choose from.
Download the App on Apple App Store
8. New Evolution
New Evolution is another great website to get free wallpapers for iPhones and iPads. It is well known for its excellent and efficient categorization of wallpapers.
Each of them has a proper theme, color scheme, or subject matter, all of which make it incredibly easy to find the wallpapers that would best suit the user's needs and wants.
The categories on this website are clear and concise. Some of these categories are based on colors like red, blue, yellow, green, orange, black, and white.
Others are based on famous brands like Volkswagen, Nikon, The Beatles, cassettes, etc. The most popular section of the website is the Retro one as it mainly contains all the above-mentioned categories and themes.
There is a single downside of New Evolutions though. There are only a handful of categories that are presized for iPhones and iPads. Most of them are of a single size that can be adjusted to be used with any other device.
9. Heroscreen
Heroscreen is another platform that is known for its excellent categorization. It is also the best website to get high-definition wallpapers.
Heroscreen is known for its HD, 4K, and even 8K wallpapers. It has separate categories that are dedicated to a single theme, color scheme, or subject matter and contains all the wallpapers related to them.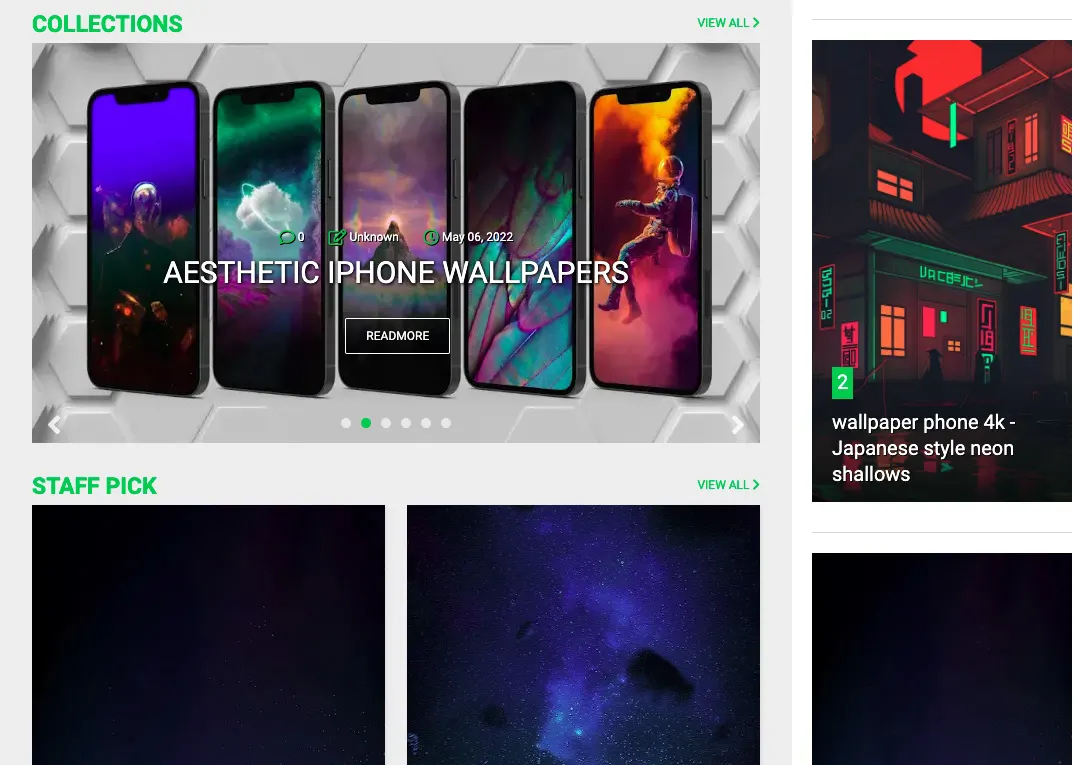 These categories are further divided into subcategories that have random iPhone wallpapers. These wallpapers are available in amazing resolutions, from HD to up to 8K.
They are completely free for downloading and do not require the user to get any subscription or make an account on the website. The only downside with this website is that there is no option to choose the download size of the wallpapers that are required by the device of the user.
10. Miniwallist
Miniwallist is the best place for people looking for minimal wallpapers. This website is well-known for its excellent aesthetically designed wallpapers as well as the total number of wallpapers available for the users to choose from.
The designs, themes, color schemes, and layout of the wallpapers are diverse as well as incredibly beautiful.
A slight problem with Miniwallist is that it does not have any categorization feature for the user. Therefore, the user will probably take some in finding and choose the wallpapers of their choice. But such is to be expected by a platform that only offers minimal wallpapers.
Although not specified, this website contains wallpapers belonging to different themes like animals, birds, flowers, cartoons, nature, and many more.
Another great feature of this website is that it offers wallpapers that will be compatible with any version of the iOS platform, the very early ones as well as the latest ones. This is quite unlike some of the other websites on this list.
11. Fone Walls
Fone Walls is another amazing website to get minimal wallpapers from. This platform offers highly attractive, enchanting as well as adorable minimal wallpapers to its users.
Similar to Miniwallist, there is no categorization feature available on the website, so the user will have to spend a little more time on it to find the wallpapers that they are looking for.
Fone Walls has an incredibly expensive collection of minimal wallpapers for the users to choose from. It offers unique and beautiful wallpapers for iPhones.
The color schemes, designs, and selection are very diverse and the user can choose any wallpapers that suit their likes and requirements.
The only problem with this website is that the wallpapers available here are available only in a handful of sizes and they are only available for iPhones and not iPads.
12. HDQWalls
HDQWalls is another platform known for its high-definition wallpapers. Not unlike Heroscreen, HDQWalls also has categorized its wallpapers to make it easy and convenient for the user to find the wallpapers that they are looking for.
It also has an impressive collection of wallpapers that runs well over three thousand unique and attractive images.
The resolution for the wallpapers as provided by the website is quite diverse as well. In fact, it has a list of resolution options with different wallpapers that allow the users to choose the resolution and subsequent wallpapers that would be compatible with the devices of the user.
There are also further categories that are based on the themes instead of resolutions. Some of these themes are nature, animals, followers, birds, superheroes, games, characters, and many more. 
The website is completely free for use and the wallpapers can be downloaded with any chosen resolution.
13. Deviant Art
Deviant Art is one of the oldest and most popular websites for creating and sharing one's art and creations. Users from all over the world make, create and post their photos, images, and creations that can be viewed, liked, and shared by other users and viewers.
This platform has a wallpapers section that contains the best images and photographs of the website that can be used as wallpapers by the users.
Deviant Art is available both as an application and as a website. The collection and selection of wallpapers available on this platform are incredibly impressive and extensive. The themes, colors schemes, and designs of these wallpapers are varied as well as diverse.
While most of these wallpapers are completely free of cost, some may require a little amount of payment. The wallpapers can be easily downloaded and used by any user and are compatible with any and all devices.
14. NASA
NASA is another great website to get wallpapers for iPhones and iPads. It specializes in a variety of space wallpapers, and is thus, the best platform for all those who love and want space wallpapers. It has hundreds of different, unique, and beautiful space shots as well as natural shots.
The website is updated almost regularly with new and wondrous images that can be used as wallpapers. Most of them are available in high-definition resolutions. These wallpapers are completely free and can be easily downloaded and set as wallpaper by the users.
Frequently Asked Questions
1. How to change the wallpapers of iPhone and iPad devices?
Ans. Changing the wallpaper of an iPhone or iPad is extremely easy. It can be easily done through the Settings of the device or by directly going to the image that the user wishes to set as their wallpaper.
2. Are wallpapers for iPhone and iPad from third-party platforms free?
Ans. Most of the wallpapers from third-party platforms are completely free for use. But some platforms require a small amount as a subscription with it or as a payment fee for buying any particular wallpaper.
3. Is it possible to use different images such as Home Screen and Lock Screen wallpapers?
Ans. Yes, it is completely possible to use different images as Home Screen and Lock Screen wallpapers. While setting the wallpaper, the user just needs to clarify whether the image is to be used as only Home Screen wallpaper, only Lock Screen wallpaper, or both.