This probably could be the most comprehensive guide about the best monitor for eye strain. As you know, the eyes are the most important and sensitive among the human parts. We must ensure that we do not misuse it lest it fails us. 
Hence, you must give it the attention and care that it deserves. That is why you want to use the best monitor for eye strain. Well, you have many monitors on the market that can take good care of your eyes. 
Technology is moving ahead, and there is no reason why you cannot find the right kind of monitor that soothes your eyes and mind. We have come up with a review of some of the best monitors in the market in 2022 that is exclusively produced for less eye stress. 
So here in this post, we'll discuss some of the best monitors for eyes that do not harm your eyes. There are technologies embedded in monitors to reduce eye strain. We will talk about them briefly before going ahead. Then we will see some of the best monitor for eye strain. 
Monitor with flicker-free technology 
Flicker-free technology is highly recommended for any screen. You may consider using them whether you are a senior citizen or have kids. Besides, the number of hours you plan to watch the screen also matters. 
Most of the monitors a few years ago produced a flickering or wavering light. It can be harmful to the eyes. Hence, a monitor with no flicker is crucial to ensure your eyes are not fatigued. 
Monitor with low blue light technology
These days, college and university students sit up late because of exams and project deadlines. They use the monitors and sometimes work 12-14 hours daily. These times, it is vital for the monitor to have blue light technology infused in it. 
With the help of technology, the eyes are cooled and not strained. You can be productive in your work. You may also be a programmer, gamer, or stockbroker who needs to be seated in front of the monitor for extended hours. 
Monitor having brightness intelligence technology.
As the blue light technology, there is brightness intelligence technology. This is suitable for you if you work for more than 14 hours in front of the monitor. You could be a gamer, coder, or graphic designer. 
The brightness of intelligence technology comes with the smart sensor. The smart sensor can find the lighting in the surroundings and provide the required amount. You can use it inside or outside under the sunlight; there is no issue. 
The monitor can adjust depending on the brightness in the surrounding. This provides users with optimum comfort and extraordinary viewing capabilities. But we suggest you decrease the light brightness and color in your monitor to ensure that your eyes are safe. 
Besides, you might want to wash your eyes frequently with water. This will help in keeping it cool and safe. If you have any eye problems or constant discomfort, you should consider making an appointment with a doctor. 
Best Monitor for Eye Strain – Our Top Pick👌
These days it is common to see people sitting in front of monitors. They use it to watch movies, see videos and do their work. You could be a programmer, gamer, writer, designer, and browser. 
Since your eyes are focused intensely on your monitor, you may face eye issues that can cause stress. That is why we have come up with a list just for you. Based on our research, we have prepared a list of the best eye strain monitors in 2022. 
In this review, you will find that we have briefly described top-notch market monitors that are worthy of your consideration. We know that you will find what you are looking for. Without wasting any more time, let us dive into them. 
1. Asus MZ27AQ Designo
Asus MZ27AQ Designo is an exceptional product from the stable of Asus. It is a massive 27″ screen designed ultra-slim for exquisite looks and image quality. We were stunned by the intense quality of the pictures and the fair visual clarity offered. 
We recommend it for office work because of the lack of need to zoom and scroll. It has a resolution of 2560×1440 with 178 degrees offered on both planes, giving you a comprehensive view of both sides. 
Being an ASUS product, it comes infused with eye care technology. This immensely helps in eradicating the strain that is caused by your eyes. You can sit in front of the monitor for prolonged hours seamlessly. 
It comes with renowned eye care technology. It helps in preventing harmful blue light from penetrating your eyes. This is a TUV-certified product; the ultra-low blue light technology comes with four types of blue light filters.
You would also find this screen useful for gaming purposes. It comes with an exclusive hotkey that offers you features like a frames-per-second counter, an onscreen timer, and a crosshair overlay.
The audio quality is sublime, to say. You can listen to music, play games, or watch movies and experience the sound mode. Thanks to the splendid video feature, you are offered an intense natural experience that enables you to feel and hear the sound effects.
It has an ergonomic design that lets you tilt or swivel effortlessly. Finally, it comes with several options for connectivity. It is priced at less than $650 and is slightly more expensive when compared to other monitors. 
The makers have offered you a replacement policy for three years. 
Pros:-
It is exceptionally light and portable. 

The monitor comes with a thin bezel. 

It has ASUS Eye Care and no flicker technology embedded in it. 

The audio mode is superlative, having four modes. 

The monitor has three years with rapid replacement.
Cons:-
Sadly, it comes with no wall-mount capability. 
Asus MZ27AQ Designo can be expensive when compared to most of the best monitor for eye strain. But, when you genuinely want a screen that can protect your eyes, comes with top-notch features, and a replacement scheme, then it is this product. 
Unboxing Video - Designo MZ27AQ
2. BenQ GW2765HT
BenQ GW2765HT is the right product from the producers of BenQ. They are known for making some of the best monitor for eye strain. Any list of monitors cannot be complete without the mention of BenQ. 
They are that good. The GW2765HT comes with the elements that make it sublime in its way. This is a 2K QHD 27″ monitor that offers you outstanding home entertainment. You can also consider using the monitor for office work too. 
You could be a broker, stock analyst, or trader. You will find the screen useful in making productive decisions for your trade. We felt that the design is stunning and attractive. The monitor comes with an ergonomic structure offering easy adjustment. 
Importantly it comes with low-blue light technology that ensures your eyes are stress-free. You can be assured that your eyes are safe using this monitor. We also found that the experience was natural and sublime. 
It has a resolution of 2560×1440 with an aspect ratio of 16:9. The monitor has an exceptional view of 8 million pixels. We liked the viewing angles provided at 178 degrees. There are extra smooth color gradations and color transitions. 
Just like Asus, BenQ is committed to providing exceptional eye care. Most monitors have a flicker-free display and low blue light filter technology. You can perform a barrage of settings like stroke, tilt, swivel, and pivot. 
You will love the immense connectivity features on it too. On the whole, the monitor is excellent in its way. 
Pros:-
The display on the monitor is good. 

It is slim and light, ideal for moving. 

The colors on the monitor are substantial. 

There is no flicker, and it comes with low blue light technology. 

Users loved the height adjustment system (HAS) present in it. 
Cons:-
A few users complained that it comes with no USB port. 
BenQ GW2765HT should be yours if you are planning on upgrading your monitor or wanting to get a new one for your work or entertainment purpose. However, you may not be delighted with its price, which is worth the product's features. 
3. ASUS VN279Q
ASUS VN279Q is a colossal 27″ monitor with ergonomic features and an ultra-narrow bezel of just 0.8cm. Most of the screens in our review are close to 27″, which is the standard size for ensuring that your eyes stay safe.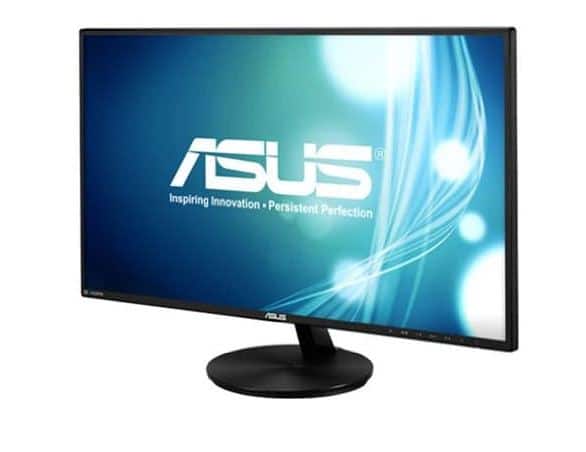 However, you can choose smaller or larger ones depending on your preference. Asus makes some sublime monitors infused with eye care technology and blue light technology. In this product, there is the VividPixel technology. 
Gamers especially like the monitor because of the accurate color combinations provided. Besides, the thin bezel is ideal for several monitor viewing. The screen has a resolution of 1920×1080. The ultra-wide viewing angle comes at 178 degrees, which is suitable for a pleasant experience. 
We also liked the audio quality of the monitor. You can also tilt the screen depending on your needs. You can also make use of the wall mount feature on it. Close to 6 exceptional video modes make the viewing experience staggering. 
It is designed to keep your eyes safe from damage with a flicker-free. The monitor also comes with intense connectivity, including four ports. It is priced at less than $200, which makes it reasonably cheap. 
Pros:-
The monitor offers powerful images. 

It provides you with a thin bezel. 

It comes with no flicker on the monitor. 

There is a wall mount feature on it. 

The monitor is priced cheaply. 
Cons:-
Unfortunately, there is no blue light filter. 
ASUS VN279Q could be your ideal monitor when you are concerned about your eyes. It is large, comes with sublime features, and is priced cheap. What more could you want besides the fact that it is from a reliable producer? 
4. ViewSonic VA2855SMH
ViewSonic VA2855SMH is a staggering 28″ monitor. You can avail of the 27″ screen the maker provides. However, we will see the largest option. The features are suitable for work purposes because of their size. 
The monitor is useful because you save time without scrolling, and there is no need to zoom in. Undoubtedly, it is the best monitor for eye strain, offering you intense color reproduction and sharp details for the images. 
It comes infused with SuperClear Pro MVA technology for stunning images and pictures. Users have commended the screen for its breathtaking views. The monitor comes with a resolution of 1902×1080. 
You will be happy to know that it comes with flicker-free technology and a blue light filter. Those who have to sit in front of the monitor for long hours can do so now without worry. 
Be it for entertainment or office work; you can now sit in front of the screen without worries. Besides, it has a large viewing angle of 178 degrees, offering flexibility. There is also the VESA mount feature letting you set the monitor likewise. 
As it has many ergonomic features, you can move it backward or forward, depending on your requirement. It also has a dual speaker that is integrated into the monitor.
The monitor can be set to the kind of color, temperature, brightness, and shade you want. 
Pros:-
The visuals are stunning on the monitor. 

It has a bright and sharp screen. 

The unit has no flicker. 

There is an HDMI port available.

It has VESA mount capability.
Cons:-
You have to work with no USB. 
ViewSonic VA2855SMH is the ideal product for working and entertaining. You can use the immense features that come along with it for an affordable price. The only thing that you have to do is place an order today. 
5. BenQ BL2711U 
BenQ BL2711U is a 27″ ultra-high-resolution monitor. That simply means it comes with a stunning resolution of 3840×2160. You know that the image quality would be eloquent. The unit can craft every detail to provide a fantastic viewing experience. 
It comes with the AQCOLOR technology that offers you the latest color standard. You would be astounded to know that the unit was designed by engineers using 3D modeling and CAD/CAM.
You guessed right; the monitor also has eye care technology with flicker-free technology to enable you to view images without flickering. Besides, the monitor comes with low blue light technology decreasing any harmful blue light.
It also has an animation mode that allows you to view opulent images at 100% sRGB and Rec. The animation mode enhances brightness in dark regions. If you are a designer, you would prefer using the monitor to work with accurate details to precision. 
As far as the adjustment goes, you can tilt, swivel, stroke, and pivot the monitor. It means that you can set it as you want. It has the VESA mount capability to ensure it is firmly on your wall. 
The connectivity is top-notch, offering you a wide range of ports. So, you know that you will not miss out on any vital presentation, conference, or visual. The audio is also quite prodigious. 
Pros:-
The monitor is lightweight. 

It is compatible with MacBook. 

It comes with no flicker. 

The unit has an animation mode for students. 

It is VESA mount capable. 
Cons:-
Few users noted the controls on the screen are clunky. 
BenQ BL2711U is the best computer monitors for eye strain because it comes with those features that anybody would look for, reducing eye stress. The resolution, color combination, and VESA mount feature make it an attractive prospect for students and professional workers. 
At the time of our research on the best curved monitor for eye strain, we found a video about "10 Great Exercises to Improve Your Eyesight" worth watching. 🤴🤩
10 Great Exercises to Improve Your Eyesight
6. ViewSonic VX2457-MHD
ViewSonic VX2457-MHD is the best monitor for eye strain and comes in a 24″ size. You can purchase the unit in 22″ and 27″. Most of the monitors on the list come in 2-3 sizes. Depending on your requirement, you can purchase it. 
We liked the quality of the video that was presented to us. It came with a fast response time. Besides, the razor-sharp graphics offered you special gaming hotkeys. Users will also comfortably use it because of the tilt and wall-mount capability.
Importantly, it has eyecare technology providing a flicker-free technology. The unit comes with a low blue light filter that decreases eye stress. Dark images on the monitor are brightened because of black stabilization.
The unit weighs just 9 pounds making it extremely portable, unlike most of the products here. With the tilt adjust the setting, you can enjoy maximum comfort when viewing the monitor. It is priced at less than $150, making it relatively affordable. 
Pros:-
The unit is effortless to carry around with you. 

You can work with it using your MacBook. 

It has no flicker on it. 

The product has the VESA mount feature. 

You would benefit from the flicker-free technology. 
Cons:-
Sadly, the product has no USB port. 
ViewSonic VX2457-MHD is your ideal product for working and gaming as well. 
7. ASUS ROG SWIFT PG279Q – Best gaming monitor for eye strain
ASUS ROG SWIFT PG279Q is another remarkable product from ASUS. The Taiwanese manufacturer has produced some exceptional products, which is one of them.
This one comes with a 165Hz refresh rate, and users are offered lag-free and smooth play.
It has flicker-free and low-blue light technology, ensuring your eyes are protected in front of the monitor. Users have commended the monitor on the lack of irritation to the eyes. 
The monitor has a resolution of 2560×1440 and is infused with ultra-wide viewing angles. It comes with different types of blue light filters that you can choose for use. You will also appreciate the ergonomic design offering you adjustment options. 
Users also liked the smart cable management system at the rear of the unit. This ensures that your cables are neatly kept aside. The connectivity was good but could have been better. Additionally, the monitor comes heavily priced at $1200. 
Pros:-
The unit has a height adjustment setting. 

Its USB port provides ample connectivity. 

It also comes with VESA mount capability.

This can be used as a gaming monitor. 

The product has a smart cable management system.
Cons:-
It is quite more expensive than similar products in the market. 
ASUS ROG SWIFT PG279Q is one of the best monitor for eye strain in 2022. But it is expensive. But when you search for a sublime unit with splendid features, you must consider it. 
📗FAQs on the best monitor for eye strain
What type of screen is best for eye strain?
Best picks of monitors for eye strain include LG 29WN600-W 29″, SAMSUNG Odyssey G7 Series 32-Inch WQHD, ASUS Designo 27″ MZ27AQL, ASUS VY279HE 27", ViewSonic VX2257-MHD, ASUS ROG Strix 27", etc.
What type of monitor is easiest on the eyes?
Curved monitors are an excellent option. They offer less distortion and a broader view. The better viewing angles prevent your eyes from getting tired. Consider getting a curved monitor if your eyes get hurt from working long hours.
Do bigger monitors reduce eye strain?
One may think that more extensive viewing angles will make things easier. However, science says that using very big or multiple screens can make things uncomfortable for the eyes.
Is LED or LCD monitor better for eyes?
If you are confused about LED or LCD, opt for LED. Go for LED, irrespective of considerations like better viewing angles, anti-eye fatigue features, or picture quality.
Do 4K monitors reduce eye strain?
You will not get blind with 4K. The increased sharpness can be advantageous for you. Experts say that when you increase the screen resolution, the discrimination ability of the eye will exceed, and it will be less likely to strain your eyes.
What display color is suitable for the eyes? 
The display color suitable for your eyes is black on a white or sepia background. Besides, users must always maintain a distance from 20 to 30″ from the monitor. When you do that, you will not have any eye strain sitting for prolonged hours.
What kind of monitors should you consider using for less eye strain, LCD, or LED?
LED monitors are ideal for ensuring that your eye stress is lessened. Additionally, the monitor comes with ergonomics, color accuracy, and image clarity. When you compare them with LCD monitors, they come with dimming features, helping you adjust the settings and decreasing the strain on your eyes effortlessly. 
What mainly causes eye strain?
The main reason for eye stress is the UV rays that emit from the monitor. Hence, you may want to ensure that you have a proper distance from the monitor. This way, you reduce the growth of pterygia and the photokeratitis that can damage the eyes. 
Do you want a monitor with automatic brightness to reduce eye strain? 
An automatic brightness monitor is undoubtedly beneficial for your cause. If you are a coder, broker, gamer, or browser, it dramatically enhances your monitor's visibility depending on the lighting. The monitor can change the brightness automatically indoors as well as outdoors. 
What should be the price for the best monitor for eye strain?
The price range for the best monitor for eye strain can vary from $100 to $500 or more. This depends entirely on your requirements and personal preference. If you are somebody who spends more time in front of the monitor, you might want to use a quality screen. 
Conclusion 
That concludes the review on the best monitor for eye strain. You must take time before purchasing your monitor to reduce eye strain. We can assure you that there is something for you in this review. 
Henceforth, you can work seamlessly without worrying about causing stress to your eyes. We highly recommend the Asus MZ27AQ Designo, BenQ GW2765HT, and ASUS VN279Q. Navigating the market with endless options will not be as overwhelming before.