If you enjoy to zone the world out and just live in your own world, this educated list on the best noise canceling headphones under 100 USD in 2020 is just for you.
Every music lover, audio engineer or disc jockey, knows how irritating it is to hear outside noises through their earplugs or headphones.
Sometimes, you might want to listen to music while out in public, but the din caused by people talking, shouting or conversing in loud voices, will keep interfering with your music, despite the fact that you have headphones on.
Also, while flying in an airplane, the engine noise can be annoying and could even prevent you from sleeping, despite you having headphones over your ears. This is the reason why you need headphones that effectively cancel out external noise.
However, the big names that make noise-canceling headphones – like Bose, do not come cheap. You will have to spend a lot of money to get those ones. But, not to worry. We have the situation covered for those on a budget.
Thanks to our research, you do not have to resign yourself to the fate of listening to music with baby cries, shouting voices or plane engine noise, distracting you. In this article, we would review the best over ear Bluetooth headphones under 100.
That is to say that by the time you get to the end of this buying guide, you would see that you do not have to break a bank or clear your savings, in order to purchase a pair of noise-canceling headphones.
We have gone the extra mile to find out which headphones actually cancel out noise like they claim to do. So, read on to find out the specifications of the headphones we have chosen and then decide which one you would be getting.
Here is The List of Best Noise Canceling Headphones Under 100 $ in 2020
1. Philips SHB9850NC/27 
First on the list, is this wireless noise-canceling headphone from the Philps brand. These headphones cancel out 99% percent of background noise, so, suffice to say that with them plugged over your ears, you can comfortably sleep through an earthquake.
Okay, maybe that's too much, but you should get the picture. Simply put, you can listen to music anywhere, with these headphones on, without being distracted by the noise around you.
This beauty offers 40mm neodymium drivers, which gives clear and precise audio quality.
It has a 4.0 Bluetooth packed with an aptX codec support and an in-built AAC, so you do not need wires and plugins, to listen to the songs on your playlist.
There is the provision of a hands-free mic too, hence, you can make and receive phone calls with these headphones on. The ear cushions are ergonomic, offering optimum comfort and they are tight, effectively sealing out interference.
To pair these headphones with NFC enabled devices, you only have to tap a button once and you are good to go – no stress at all.
There is a multi-pairing option, in case you want to pair your headphones to more than one device at the same time. The frequency range is 8 – 23 500Hz and these headphones can go through your playlist for up to 16 hours before you would need to charge them.
When they get low, a cable which is 1.2 mm long, is included in the pack, for the purpose of charging it. The earcups can be folded on both sides and the headphones kept away, when not in use. These headphones weigh only 0.507 pounds.
Pros
The sound precision is impressive.
They are easy to use.
The price is under 100 dollars.
Cons
There is no case included, so, you would have to make do with just folding it.
Check Price on Amazon
2. Paww WaveSound 3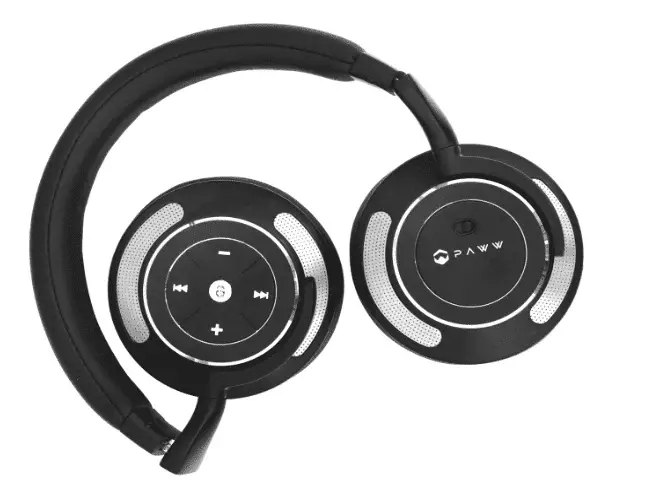 Next, we will look at these beautifully crafted headphones from Paww. These headphones could easily pass off as a cheaper version of a Bose brand, and it is under 100.
The active noise cancellation of these headphones is superb – it cancels out more than eighty percent of sounds, at low frequency. While flying with them over your ears, you would not be distracted by the plane engine noise or any other external noise for that matter.
In fact, Paww claims that they made these headphones for individuals who are always on the go. We agree with their claim; these headphones do the job that they were built for.
Bluetooth is enabled on these headphones, so you can simply connect and listen to music, without plugging into your device.
The Bluetooth also has a range of 33 feet – you can leave your phone, laptop or iPod to charge in the bedroom, while you load the washing machine in another room, for example.
One earcup has the ANC control, and the other has the navigation and playback control. The controls are easy to use too. These headphones have earpads that are deep with snug fits.
The body is made of metal. You can play countless songs for up to 16 hours before you would need to charge them. Finally, a cable measuring 3.5 mm long is included for charging this device. The headphones weigh 12.8 ounces.
Pros
The headphones come with in-built Bluetooth.
Its Active Noise Cancellation is impressive.
For under 100, you can purchase these headphones.
There is an ANC button included.
Audio quality is sharp.
Headphones come with a carry case for packing or storing them.
Cons
When worn for too long at a stretch, these headphones might be uncomfortable, because of the weight.
Check Price on Amazon
3. Sony MDRZX110NC 
These noise-canceling Sony headphones eliminate background noise by an incredible 95 percent. Very few headphones come close to that, at under 100 dollars. With a frequency between 12 to 22,000 Hz, these headphones pick up the tiniest sound that can be detected by the human ears.
One very spectacular thing about these headphones is the battery life. These headphones can go for up to 80 hours – that is, more than three days, before charging will be required. This device weighs 8.5 ounces.
Pros
These headphones effectively cancel out ambient noise and external disturbance.
The battery life is very amazing, at eighty hours per use.
Cons
These headphones are not wireless, therefore, the wires can prove to be obstacles sometimes. Unfortunately, the Sony MDRZX110NC headphones do not come with controls for audio.
Check Price on Amazon
4. BÖHM B66 Wireless Bluetooth Headphones
These wireless headphones are decent and affordable, at under 100. They cancel out up to sixty percent ambient noise and background disturbances, thanks to a decent ANC.
This means that though a bit of very loud noise might be heard occasionally, it cancels off most of them. You can comfortably listen to your songs in an airplane while using these headphones.
The 4.0 Bluetooth allows for pairing – you can play the songs on your playlist, without have to plug the headphones to your device.
While still on the subject, the Bluetooth holds up to a range of 33 feet while its pairing range holds up to about 20 feet.
Now, coming to aesthetics, these BÖHM headphones are beautiful and sleek. The finishing of the earcups are made of chrome and the buttons on them look like properly placed studs. They are hands-free, so you can take calls with them on, and afterward, your music will automatically continue.
When the battery is charged for approximately three hours, these headphones can function for up to eighteen hours (talk time) and sixteen hours (playtime) before another charge is needed. These headphones weigh 1.95 pounds.
Pros
They have effective ANC.
The headphones are pleasing to the eye.
They come with a carry case for storage.
Battery life of this device is decent.
Cons
Some people might find these headphones to be too tight a fit.
Check Price on Amazon
5. EFOSHM Active Battery Noise 
These EFOSHM headphones do not just look good- the device is also a great choice when talking about noise canceling headphones under 100. Their driver speakers are 40 mm wide and make the headphones' bass audio more precise.
The Active Noise Cancellation eliminates 85% of the external noise and background distractions. These headphones have a frequency range of 30-20,000Hz, good enough to pick up low audio sounds and transmit them.
The headbands can be adjusted as one likes and the earcups are built to rotate in and out, to fit snugly on different head sizes. The cable which measures 1.5 m in length can be detached and reattached at will, which makes these headphones okay for individuals who do not care for Bluetooth.
As you can see in the photo above, these headphones come in a case, for easy packing when not in use. They run on two AAA batteries.
The EFOSHM Active Battery Noise Canceling Headphones weigh 175g when batteries are not included. If you include batteries, they would have a weight of 196g.
Pros
The ANC guarantees significant noise elimination when in use.
The headbands are adjustable.
Cons
There are no batteries included by the manufacturer of these headphones. You will have to buy those separately.
Check Price on Amazon
6. TaoTronics Active Noise 
The TaoTronics headphones are a great choice when talking about best noise canceling headphones under 100. These headphones come with Bluetooth and can also work with an included cable. Active Noise Cancellation, filters ambient noise of over 50%.
A cVc 6.0 Noise Cancelling Technology mic finetunes audio quality and prevents sound interference during calls. You can pair the headphones with more than one device and use them simultaneously.
There is an ANC switch on one earcup, to filter noise when you want some quiet while listening to music.
The navigation and volume keys are on the other earcup. The headphones have a 3.5 mm cable, which can be used to listen to music alternatively or when the headphones battery becomes too low.
Once charged, the battery can go for approximately 25 hours. A case for carrying them is included. They weigh 8.8 ounces.
Pros
These headphones are very cheap and have a lot to offer at the same time.
An ANC switch is included.
Cons
Most of the parts are made of plastic, so the durability could be questioned.
Check Price on Amazon
7. Sennheiser HD 280 PRO Headphones
These sturdy headphones are one of the best bets for professional disc jockeys and musicians who are looking for the best noise canceling headphones under 100.
They filter out ambient noise to a high degree, especially as the earcups have a snug circumaural structure.
Not only do the earcups block outside interference, but audio also cannot leak out from them, so, you would not have to wonder if other people around can hear what you are listening to.
Note that these headphones might not be a bass head's best choice because though they offer bass, the bass sounds are not that intense.
One of the earcups is wired with a coiled cable, which significantly makes the weight of the headphones. Thankfully, the cable can be detached and fixed back at will. The earcups are made to rotate and collapse, making it easier to pack the headphones into your bag.
What's more, the audio cable, headband pad and ear pads can be changed when they get worn out, thus, you can enjoy your headphones for many years. This product weighs 1.28 pounds.
Pros
These headphones eliminate outside noise to a significant degree.
The audio quality is great and well blended.
The earpads are very soft and comfortable.
Cons
A carry case is not included.
The headphones are snug and so, individuals with large heads will probably find them too tight.
Check Price on Amazon
8. AKG K490NC Active Noise-Cancelling Headphones
AKG has been manufacturing headphones for more than half a decade now. The company has been known to make durable and long-lasting headphones over the years.
Hence, these high-performance headphones are no exception. We can confidently say that they are one of the best noise canceling headphones under 100. If you are wondering why keep reading to find out.
The AKG K490NC headphones offer ANC and in addition to that, their earcups are designed to close back and fit snugly over the ears, effectively filtering background noise.
Anyone who knows about AKG would expect the sound quality of these headphones to be impressive and it is so.
This pair has a frequency range of 20 – 20,000 Hz, which is strong enough to pick up even the littlest sounds from your songs while listening to them.
The ear pads are made of very soft and light leather, offering optimum comfort. Also, the pair is lightweight, so rest assured that you would not experience strain with prolonged use of these headphones.
One very unique thing about the AKG K490NC is that when the battery gets low, you can simply take out the cable and passively continue listening to your music. Active Noise Cancelling headphones do not usually have this feature.
These headphones have a 3D-folding axis, where the earcups fold into the headpads, in a compact manner. The battery is inbuilt, rechargeable and long-lasting. When the headphones are charged, the battery can power them for 40 hours before it runs out of juice.
These headphones weigh 10.4 ounces. A flight adapter is also included and that is a plus for those who fly regularly.
Pros
These headphones have ANC, which effectively gets rid of interference.
The pair comes with a carry case for easy packing and storage.
Cons
The hinge mechanism is fragile.
Check Price on Amazon
9. Bitzen Wireless Active Noise Cancelling Headphones
Another impressive pair of headphones that is easily one of the best headphones under 100 dollars, is the Bitzen ANC wireless headphones. First off, they boast drivers of 40mm to give you a blended and clear sound quality.
Their 4.0 version of Bluetooth has a decent range as far as 33 feet. The active noise cancellation of these headphones eliminates about 85 % of ambient sounds and background noise.
Also, there is no mobile device that these headphones are not compatible with, so, you can use them to listen to songs on your iPods, Android/Windows/ Apple mobile phones or any kind of personal computer. Bizten offers an inbuilt mic, so, you can take or make calls with your headphones on.
Now, let's talk about the external features of these headphones. The headband does not leave prints when you touch it, because of its matte finish. The earcups are not thin, which means that they would last longer.
In spite of their thickness, they are plush, ensuring comfort during use. Another thing you should know is that the earcups rotate and the headband can be expanded or reduced, to fit different head sizes.
When it comes to battery life, the battery can go for about half a day – approximately twelve hours, before it runs flat.
These headphones are similar to the AKG K490NC in the sense that when the battery runs out of juice, and there is nowhere to plug them or you want to continue listening to your songs in the meantime, you can simply plug out the cable and do your thing.
One earcup has the power button, the volume buttons, and the Bluetooth pairing button.
The other has the port for charging with USB, an in-line slot and the ANC button. The good thing about the inclusion of an ANC button is that you can put it on and off.
When you are in a quiet place, for instance, you can decide to listen to music without noise cancellation. There is a carry case included for storing this pair of headphones and accompanying accessories.
Pros
These headphones have superb audio quality.
The ANC does a powerful job of blocking noise.
This pair gives good value for money spent.
Cons
The ear cups are not very big, hence, if you have big ears, they might not cover your ears completely.
Check Price on Amazon
Conclusion
So, that is all for the best noise canceling headphones under 100 dollars in 2020. As you can see from the buying guide, these headphones are not perfect- almost all of them have one or two flaws.
However, for noise cancellation, they do the job just fine. If you decide you get any of these best headphones under 100 in 2020, we assure you that you would say goodbye to external distractions by the littlest noise.
Also, consider the fact that none of these noise-canceling headphones cost up to a hundred dollars when making a choice. None of them can totally compete with Bose or their other high-end counterparts, but for their prices, they do a lot. So, if you are on a budget, anyone of them would suffice.
Again, they are all durable, going by our research and reading from verified buyers. So, go ahead and get one. It is time to toss ambient noise and background interference out of your music life. All the reviewed products above, are available for purchase on Amazon.