It may seem an easy feat to buy or pick an earbud, but in reality, it is not. It is even more of a task when considering the best earbuds for small ears to buy in 2022.
This is because when considering a small ear, you want to be sure the earbud you pick fits just right. Especially if you are considering buying one for a friend or relative, you must ensure you are getting the right gifts for these people.
This article is just what you will need before stepping into the market. Our editors have gone to great lengths to research and study the different earbuds. They have developed a very educated analysis that will help you acquire the perfect one for you or your friends.
We have compiled a list comprising both the premium and the budget-friendly acquisitions. Please note that this list has been made in no particular order, and we advise readers to go through the entire list before concluding.
Without any further ado, let's welcome you to our list.
Best Earbuds For Small Ears – Our Top Picks 👌
1. 

Sennheiser IE 800 Audiophile
In our list of best sports earbuds for small ears, it may not be surprising that the Sennheiser IE 800 Audiophile Ear Canal Headphones are cut. It does for good enough reasons.
These are about the most expensive headphones you will get. But they are a very special pair as they come rich in features and advantages. If you have a budget that will accommodate a +700 USD pair, this may be just the pick for you.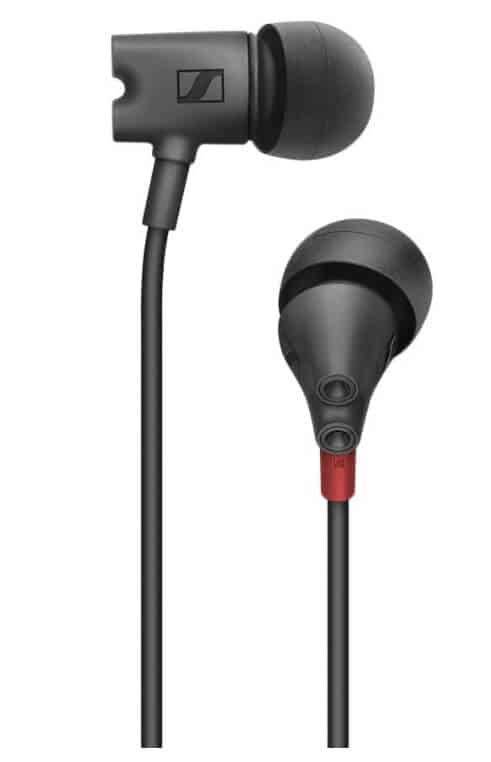 The Sennheiser IE 800 Audiophile Ear Canal Headphones combine excitement and finesse in a neat package. They were undoubtedly one of the best earbuds for small ears.
On the first encounter, you should notice that these Sennheiser IE800 earphones are lightweight and extremely compact. They have adopted ceramic for creating earpieces.
At 8g and small aperture, these just fit in seamlessly into small ears. Along with this buy, you will also have a range of ear tips in different sizes. Another great point is that this pair will not sit deep inside the ear canal.
This implies for someone who does not appreciate earphones jammed right into the ear; this will be great. You will notice that at the back of the earpieces, there are twin rear openings. These are put in place to boost bass performance.
Interestingly this pair is tiny enough to allow you to sleep on the side with the earpieces in your ears and not have great discomfort. Even though they are glossy, they are also scratch-resistant.
The cable is also a point to note, as it seems the manufacturers have applied some trickery with these. With earphones in this price range, it is normal to expect that the cables are all removable.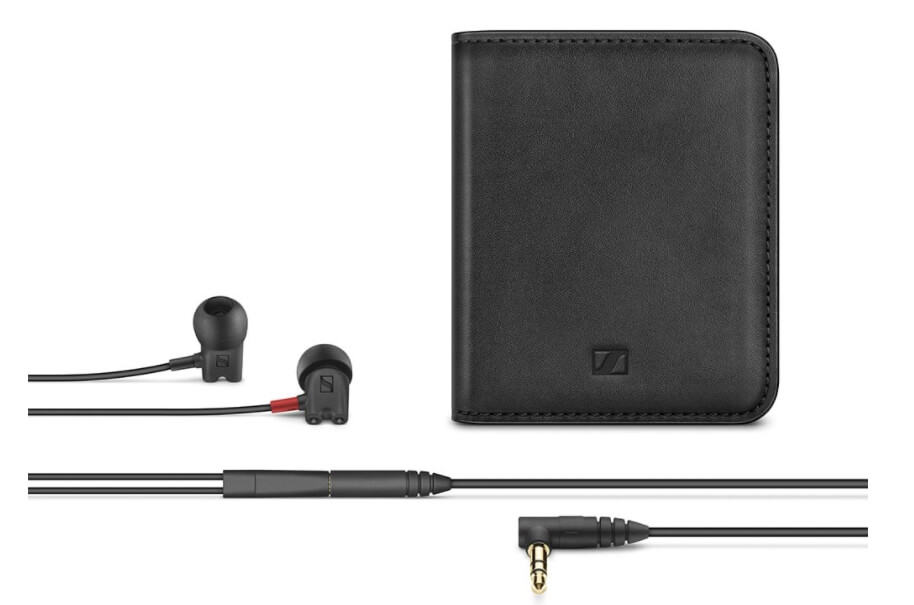 In IE800, the cable is permanently attached to the earpieces. The only silver lining is that it connects to an extension cable right below the Y-junction, which ensures it is against damage in the lower half.
This is great because you could get a replacement cable if the jack gets damaged. This is not likely to occur, especially because. the cable is sheathed in Kevlar protection against regular use.
In contrast with other devices of this price range that will try to pack as many drivers as possible into their earpieces, this [air packs just a single dynamic driver. The expansive dynamic range, however, shows how much it is sufficient to produce each frequency with precision.
Coupled with back exhausts, they produce a deep pronounced bass that makes it just so much worth its price. Unsurprisingly, the bass's depth, quality, and definition beat that of full-sized headphones.
The midrange is just as intricate and textured as the price tag demands. It is quick and supported by an agile bass. There is no interference from the bass frequencies, but the full force of lower registers supports the midrange.
The treble is, in comparison to its bass, equally clear. Because it picks on every sound, it is better to use good-quality audio files with these earbuds.
This premium earbud for small ears should give you a good taste of your money's worth. As stated before, if you have a budget, you may find it well worth the price.
Pros:-
Superb audio performance through the frequency range, with rich lows and clear, vibrant mids and highs.
Thoughtfully designed ear tips are easy to swap out and clean. Protective filters keep outside elements away from drivers.
Very lightweight
Exceptionally deep bass
Exciting, balanced audio
Modular cable
Durable, strong design and build
Cons:-
Extremely pricey
Cable is not fully detachable as it is mainly hardwired to earpieces
Check Price on Amazon
Sennheiser IE800 Review - $800 earphones??
2. Mpow Cheetah Bluetooth Headphones
With the package, there may be nothing special. it comes with three ear tip sizes out of the box. But these tips ensure that you have stable and secure sealing.
The biggest tips of the pack are suitable for noise-canceling. This means you will be able to use this piece to cut off a lot of external distractions.
The behind-ear design of the Mpow Cheetah is interesting. It has ear hooks, and resilient wire automatically rolled up for carrying in a pocket or bag without entanglement.
Interestingly, this wire also snugs against the neck or your head and allows for comfortable and safe wearing. These are the features that make it a great activity earbud. Your jogging, running, cycling, etc., are smooth on these earbuds.
It has a battery strength of 8 hours of playing time. This is not the best in the market, but good enough to ensure you are not preoccupied with constant charging.
These Earbuds work with Bluetooth 4.1 technology and are powered by the AptX codec. This is great because they additionally increase sound quality. It is also good to know that getting one of these offers an 18-month guarantee.
Pros:-
Very comfortable
Great for multi-purposes
Good sound quality
Wireless
Cons:-
The battery is not the best at its price
Check Price on Amazon
At the time of our research on "what are the best wireless earbuds for small ears", we found a video about "Cool Hearing Test: Are You a Superhuman?" which is worth watching. 🥉
Cool Hearing Test: Are You a Superhuman?
3. 

Etymotic Research HF5
Etymotic Research has been a leader since 1983 in making in-ear products. They have a line of products that have made a name for themselves. Known for great sound quality and ergonomics, the Etymotic Research HF5 Noise-Isolating In-Ear Earphones are no exemption.
Consistent with many of their designs, the Etymotic Research HF5 Noise-Isolating In-Ear Earphones share the same standard look.
This product comes packaged with a few eye-catchers. In the box, you will find the hf5 earphones, an assortment of ear tips, filter removal tools, and replacement filters, as well as a carrying pouch.
This earpiece is said to be designed for comfort. It has an iconic look in earphones these days, all credit to the small, low-profile design of the Etymotic hf5.
In the market, just a few other companies have come out with designs this small. It has a fragile outward look, but that is not the case. It is built to be sturdy, and the cable is built to last a long time. This durability is obvious with the 2-year warranty on the hf5 to show their confidence in the product.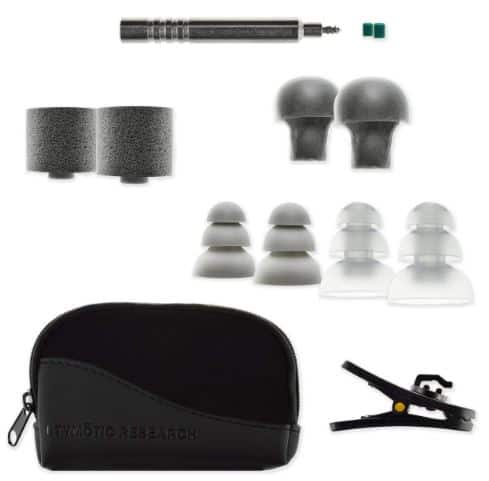 An omission in these earphones is inline smartphone controls. This audiophile quality earphone is designed for pure listening enjoyment. They are not the most appropriate for phone calls.
You will find the perfect and most comfortable seal using this earbud; this is credit for the different ear tips. It has triple flange tips that give perfect noise isolation. It also has the foam tips option, providing a different fit together.
Generally speaking, this hf5 earphone is comfortable once you find the right ear tips and has a quality build that should last you quite a long time.
With this pair, you get a balanced bass, about as much as you can ask for in an earbud. Once you pick out the right in-ear seal, you will find the bass well-balanced and punchy in the right places. Even low bass frequencies in electronic music hit hard without overpowering the mix.
The mids are not left out in the overall sound production of this great piece. The Etymotic hf5 helps pronounce the mid frequencies' clarity and detail. As usual, the balanced armature rules the mid-range.
And finally, the Highs. We found them to be brilliant on this earbud. The balanced armature is kept from hitting too hard in the top end.
This is not a premium earbud, but it will greatly value your money. A good buy any day. Once you think inline controls are not top of your preference while searching for earbuds for small ears, you may have found your product.
Below are some of the Pros and Cons of The Etymotic Research HF5 that earned it a spot in our list of best wireless earbuds for small ears 2022.
Pros:-
Slim earpieces
Neutral and natural-sounding
Great noise isolations
A perfect haul of accessories
Cons:-
Check Price on Amazon
Etymotic Research HF5 Earphone Quick Review by dentReviews
4. Sennheiser Ocx 684I Sports Earbuds
You may not be surprised by this inclusion. The Sennheiser Ocx 684I Sports Earbuds is one of the best gym audio devices for smaller ears.
This device brings the best-sounding music to your ears while you focus on your sets and reps. This is one reason why it is a good feat for our list.
The well-thought-out design ensures it will not fall off when exercising. The ear tips seal the ear canal; this ensures that noise is well reduced. This makes this pair perfect for maintaining concentration.
It comes with an in-line smart remote. This is very important as it allows you to skip songs and adjust the volume without needing to touch your phone. Pretty cool, I would say.
Apart from that, you can also take calls hands-free and in clear HD audio. This is because the Sennheiser Ocx 684I Sports Earbuds have a built-in microphone.
If you have slippery hands and tend to drop things a lot, this is the one earpiece you must consider owning. It comes with a whopping two-year warranty that covers most of the damage.
You will not likely need the warranty as the earbuds are built to last using durable, high-quality materials that protect the drivers.
To enjoy the experience and maximize the quality of the products, you will have to use the correct-sized ear tips and wings when wearing the earbuds. If not, you won't enjoy the musical experience to the fullest.
If you use the wrong size, you will have some discomfort and will not experience the nice sound-canceling this product offers. The microphone is also unsuitable for noisy outdoor environments as it will not reduce the ambient sounds and noise.
They are amongst one of the better gym audio devices on the market and will offer to a great extent, most of the features you will need. The ear wings keep the earbuds in place during fast movements, and the ear tips deliver a total noise-isolating experience.
Below are some of the Pros and Cons of The Sennheiser Ocx 684I that earned it a spot in our Best Earbuds For Small Ears list.
Pros:-
Ear wings keep the earbuds in place
Anti-bacterial ear adapters
It has a convenient built-in button pad
Cons:-
Microphones can't pick up clear voices in loud areas
The cable can get in the way during workouts
Check Price on Amazon
Note:-
I have written a post for people looking for the
Best Earphones Under 500
$ To Buy, do read it If you are interested.
5. 

Bose QuietComfort 20 Acoustic
These earbuds are a comfortable and business-like set to try on.  It has a great non-invasive in-ear design that makes it perfect for this list.
Consistent with the Bose band, the audio is classic and will be great across all genres. It is supported with long battery life to cap up its great performance.
About their design, they are simply very beautifully made to justify their price. This compact set is mounted with StayHear+ ear tips. These in-ear pieces are ideal for noise cancelation.
They will not fall off the ear easily because of the curved earful that secures the ears' buds. Using this requires very little ear penetration, which makes it great for folks with small ears.
It has a battery pack that is integrated into line with the cord. The battery pack of these small earbuds is integrated into line with the cord. This pack is a small, lightweight box. The coat may, however, peel off with regular use.
As expected, it is equipped with power and ANC off/on controls. It also has another button for activating the Aware Mode. This cuts off the ANC to allow you to hear the ambient sounds. This is great for allowing awareness of your surroundings.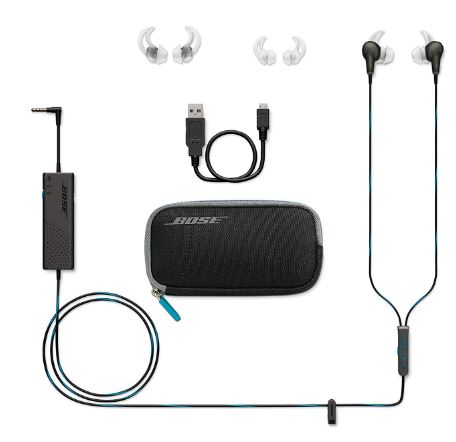 You should note that these QC20 earphones also come in an alternate model; the QC20i. There is, however, just one real difference between the two. The former has Android-friendly inline control, and the latter has Apple-friendly controls.
One instant effect it has is great noise isolation. It is almost magical, considering its size. The QC20 is equipped with under-the-hood technology.
This is what makes their ANC as efficient as the full-size QC25s. The low-frequency noise is almost eliminated. This takes care of the AC hum and airplane engine droning on, making this pair perfect for travel.
Listening to a loosely or badly formatted audio is not so horrible on this, as the design allows it to treat every genre evenly. A downside is that they are not as revealing as other earphones of the same price.
You will notice subtle audio sculpting because of the digital signal processing involved in ANC. immediately you get used to the calm background of the songs and the loose-fit convenience of the QC25; they quickly become your go-to earphones. This will always be a great fit for someone with smaller ears.
Below are some of the Pros and Cons of The Bose QuietComfort 20 that earned it a spot in our Best Earbuds For Small Ears list.
Pros:-
Customized Active Noise Cancellation from Bose
Great and balanced audio
Fitted Apple or Android inline control
About 16-hour battery backup life
Cons:-
Fewer details for price range than other non-ANC headphones
Check Price on Amazon
Note:-
I have written a post for people looking for the
Best Gaming Earbuds
To Buy, do read it If you are interested.
6. 

FiiO EX1 Aerospace Nanotech Titanium
Fiio is a more popular brand with headphones amps. But also they have a feel-great earphone. The Fiio EX1 Aerospace Nanotech Titanium Diaphragm In-Ear Monitors are one of such.
The EX1 Aerospace is a metal-made unit that is a complete steal for its price. Their very moderate pricing made them a great choice of earbuds for small ears.
Fiio EX1 Aerospace Nanotech Titanium earbuds come with metal construction. So they may feel a tad heavier than the plastic buds on this list.
They are made partly of lightweight duralumin and partly of steel. But the ear tips project far out from the driver housings, so the latter never rub against the ears.
There are vents in the earpieces, which lend an airy quality to the audio. The ear tips angle away from the driver's casings for an ergonomic fit.
These earbuds come with nine pairs of ear tips. This gives you enough to choose from. These come in three types of silicone material and three sizes each.
You may be disappointed not to see foam ear tips, but you will find the right sizes for tiny ears. For regular use, you should not fear damage because the cable is intertwined with Kevlar strands, which lend the needed reinforcement.
The cord terminates in an L-shaped plug covered in a metal case. These are purely musical headphones, so you don't see any inline controls.
The Fiio Ex1 Aerospace Nanotech earbuds are neutral but fun, a rare combination. The bass is punchy and extends deep into the sub-bass. The lower-end excels in both quality and quantity. There's a hint of warmth to the audio, but Fiio tries to stay balanced.
The midrange is startlingly smooth for the price. They have many details and an airy character that complements all genres. The vocals ring clear against solid bass.
The treble is revealing and sparkles in good quality formats. People used to rolled-off treble may find it a bit edgy, but they only made the audio sound crisp to us.
Thanks to the vents, these have an ultra-large soundstage for the price. This gives the audio a spacious and airy quality. But the vents also prevent proper noise isolation, so the ambient noises flow in.
Below are some of the Pros and Cons of The FiiO EX1 that earned it a spot in our Best Earbuds For Small Ears list.
Pros:-
Full and rich audio
Neutral and natural sounding
Wide soundstage
Exceptional build quality
9 sets of ear tips
Cons:-
Metal earpieces might be heavy
Check Price on Amazon
Fiio EX1 2nd generation review
📗FAQ's on Best Earbuds For Small Ears
Below are a few queries on Best Earbuds For Small Ears that everyone is expecting to answer, and I did include the same for my readers.
Are AirPods good for small ears?
Do Apple EarPods fit in small ears?
AirPods should fit more ears than EarPods.
Are AirPods bad for your ears?
Headphones and ear buds can fill your ears with satisfying sounds — but they could also damage your hearing.
Conclusion
My ears are too small for earbuds list should guide you while buying earbuds for small ears. We know all the items revealed meet a certain standard of quality.
The main differentiator will be your personal preferences. Once you have sorted out what matters most in buying an earbud, one of these should come in handy.