This is a complete buyer's guide to Best Gaming Earbuds For PS4 and Xbox One in 2022. 🤴
Let me clear the most important point:
We bought the 17 Gaming Earbuds in the current market. We reviewed them based on the pricing, What drivers are being utilized, whether it comes with a Bluetooth infrastructure, and Product durability and makeup materials.
And, finally, came to 7 Of The Best Gaming Earbuds for our readers. 📗
So without further ado, Let's dive right in. 🎭
Most game lovers like to catch every glimpse of whatever makes a game worth playing. This is especially true for games produced with accompanying top-notch sound quality.
In contemporary gaming times, every knowledgeable video game developer knows that good sounds are a vintage feature for any game that seeks to gain high market adoption.
Note that game sounds are not just some form of trademark infrastructure on a video game but also a provision meant to immerse the player reasonably in each gaming session.
Some say that the game sounds sometimes provide some unknown motivation that spurs the players to ultimate victory.
This consequently emphasizes why many gamers would always want to ensure that the sounds are very much okay before they embark on their favorite games.
Given this, game developers, small electronics manufacturers, etcetera, have discovered the relevance of earbuds for delivering optimum gaming sound quality.
With the earbuds on your game, you can get more involved in the game since it makes the games feel more real to you.
It increases your chances of performing better while you play, and most importantly, it helps you enjoy all the time you've to spend gaming.
Nowadays, using earbuds to ensure quality games' sound output is the easier option to help you get more practical and productive with whatever game you're on to.
Furthermore, earbuds have become the preferred option over headphones because they are more modern- with some seeming increased use advantages than you would have when using regular headphones.
For instance, one of the most pronounced sets of merits for earbud use is that they are generally less expensive and more portable than the big and less portable over-the-ear headphones devices.
However, not all earbuds in the market would do just right for your gaming. Some specific products and brands have been specially designed to deliver all the sound effects- like those you would readily have in your video games.
With this type of earbuds, you're sure to have the best gaming sessions that are convenient and pleasant for hours unending.
The best gaming earbuds for ps4, are those products that can reproduce the same sounds and effects as those originally in the game- as produced and added by the game developers.
Below is a list of some of the best gaming earbuds (arranged in no specific order of rating and importance), with their specifications, function tendencies, pros, and cons.
Best Gaming Earbuds – Our Top Pick👌
1. Bowers and Wilkins C5 – Best gaming earbuds for Xbox series x
Suppose you're not new to quality headphone speakers, earbuds, and dedicated sound output products. In that case, you should be familiar with The Bowers and Wilkins company- and their impressive track records over the years.
Now, the C5 Series In-Ear earbud is one of the most relevant gaming earbuds you can find on the market now. Consequently, it has risen between the ranks to become one of the first-choice products among several options.
This product assures users of durability combined with optimum output quality. The earbud has an adjustable secured loop design- that holds the earbud in place.
The product can also act effectively as a noise-canceling device with this structure.
Hence, allowing you to concentrate on the game without external noise, distractions, or interference. However, know that the product's microporous sound filter is anything you wish for in an earbud- if you want the best of premium sounds.
This earbud is probably as priced because of its reputation as a top premium sound-producing headphone.
The Bowers and Wilkins C5 Series 2 earbud's dynamic sound output is facilitated via the inbuilt bespoke driver, while the soft interchangeable silicone earbuds of varied sizes provide good noise-canceling traits.
Another feature of the headphone is the inline remote that enables the user to pick calls between games. With this product, you're getting immersed in your gaming adventures like never before.
Pros:-
Product guarantees users of premium sound quality that is next to none
The Bowers and Wilkins C5 Series 2 has a right-handed design
It comes with an adjustable loop for holding earbuds in place
Made of quality durable materials
The noise-canceling tendency allows a user to block out external distractions.
Cons:-
This product is relatively expensive; one of the most expensive on the markets
Prolonged use may lead to discomfort for some types of users.
2. Shure SE215-K – Best gaming earbuds for Xbox one
This is another the best wireless earbuds for gaming product with spectacular quality and performance. The Shure SE215-K Uni earphones are a stylish type of earphone with a design that you'll love.
It supports multiple device types- including Android and Apple devices and many other gaming-inclined devices.
Even if you're gaming in a pretty noisy environment and you need to hear the game sounds, this earphone sufficiently directs the sounds into your ears, isolating the noise interference.
This does not mean you have to turn up the volumes to their maximum before enjoying this benefit. The Shure SE215-K Uni earphones are designed to concentrate output sound in a singular direction- where they are intended.
All versions of this earphone have been fashioned to work- both wired earbuds and a wireless piece with the cables being detached.
Consequently, you don't have to worry about getting entangled by the cables while you game, as you may either use the cables or remove them- depending on which is more convenient for you per time.
This function is top-notch and may be why more users prefer the product over others readily.
When using the earbuds without the cables, you would be required to connect the earphone device to the gaming device via the earphones accompanied by 4.1 connectivity Bluetooth.
Since this is the case, the earbud comes with a powering battery- which can last up to eight hours of active use.
Pros:-
Top sound-isolating infrastructure; this earbud can isolate sounds of up to 37 decibels of surrounding noise.
User's ability to decide on using either the wired or wireless Bluetooth structure
Highly durable product that can withstand pretty rough use
The sound output quality is remarkable and, thus, one of the best you can get.
Long battery life for Bluetooth use
Cons:-
This product is relatively expensive and may not be ideal for people on a low budget.
The rather simple design makes it look cheap and common
Check Price on Amazon
3. Vogek E-Sports Bluetooth gaming Earbud
Without exaggerating, the Vogek e-sports earbud is a product in a quality class of its own.
This earbud can immerse you fully in the game, such that it feels like you were actually inside the game scene.
Its sound output is greatly commendable, and you'll be glad you invested. This earphone is one of the best things to buy if you want to enjoy quality time gaming on your laptop or mobile phone as you travel.
Its ability to stay right in the ear is remarkable. Hence you don't need to worry about them falling off- as some other products would.
The manufacturer has made the product come in three size variants; small, medium, and large; hence you can decide which size best suits you.
Now, irrespective of your size, the earbuds come with ear hooks– which are the ingenious components that hold the device in place.
Another tendency of the Vogek E-sports earbud is its water-resistance property- with a level6 IPX rating.
Hence, it can remain viable even if this product gets wetted by rain or dipped in water. However, it is not completely water-proved, and some care must still be taken to keep it away from water or any other fluid.
The Bluetooth provision is backed up by a battery that can last for a maximum of eight hours- depending on how much use it is subjected to.
Pros:-
Top performance earbud with great sound outputs for any type of gaming
Very much cheap and affordable- especially compared to some other products of the same category
Ear hooks to hold the earbuds in your ears while you tackle the opponent on your gamepad.
It comes with a noise-canceling microphone.
Rich tone outputs courtesy of the earbud's contouring structure
Cons:-
The design is quite simple and looks very undetailed.
At the time of our research on Best Gaming Earbuds, we found a video about "Why Video Games Are Good for Your Brain and Body," which is worth watching. 🤴🏆
16 Little-Known Benefits Video Games Have
4. Taotronics Sound Cancelling Earbud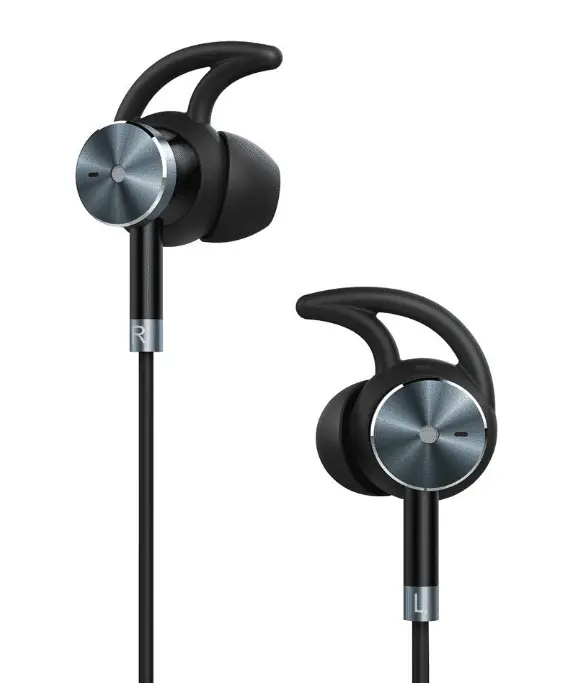 The Taotronics earbuds are another product with good traits as ideal gaming earbuds. Their aesthetic presentation is impressive, just as their manufacturing materials are something worth paying for.
If you're going to be gaming for long durations, and you need an earbud that balances sound quality with essential comfort for the user, this product should possibly top your list of considered options.
The noise-canceling ability of this earbud is good enough to make you forget your physical environment. It makes you feel well immersed in your gaming, and hence, could be said to facilitate a good gaming experience.
Its noise-canceling abilities would block out unwanted surrounding noise of up to 30 decibels- which is good enough to allow you to play your game even amid loud playing kids.
Asides from these, the earbuds come in different sizes also. Thus, you don't need to manage a piece to fit into your ear- when you can get the size that enters well.
Just like a good number of products within the best gaming earbuds category, this product also comes with ear hooks that would attach to your outer earlobes while you play your video games.
The earbud is 55 inches wide, and an accompanying 145mAh battery can last for over twelve hours of use. The product's aluminum alloy craft is said to be pivotal for the reduction in the device's power use.
Pros:-
Great product design and aesthetic appeal
Top-notch active noise canceling ability for all time
Long-duration battery life
High durability traits of the most times
Cons:-
There is no color variation for intending users to choose from
The cost of procurement is quite high compared to those of other options.
TaoTronics ANC Earbuds Review (TT-EP002)
5. Betron DC950 Gaming Earbuds
The Betron earbuds are one of the best on the market because they come with a top-quality provision in every feature you may require or think of in a gaming earbud.
They would support almost every device, from iPods to laptops with different types of OS, Android, and iPhone mobile phones. If you're looking for that earbud that would be personal and cherished, then this one may pass as qualified.
Firstly, this product comes with a sufficient input of portability. This means that it has what it takes to easily stay in the smallest space within your bag as you travel, while it can be used for hours without the user feeling any discomfort.
The Betron earbuds come with neodymium drivers to guarantee proven sound circulation. These drivers are one of the best audio infrastructures that can guarantee your money's worth.
Each earbud has been fitted with a rubber laying that goes gently on the user's ears. Note that the mouth-to Jack connector has been gold plated to enhance durability and sound disseminating output.
This earbud is affordable and also truly functional at all times. There are built-in microphone and speaker that enables intended communication between gamers.
This earbud has a frequency response range of between 20Hz to 20KHz, which is a good frequency range- as far as such earbuds for gaming purposes are concerned.
Pros:-
The product is relatively cheap and not on the high-price side
Performance output is top-notch and impressive for an earbud of its price trait.
Comfortable insertion and use within the ear- thanks to the product's rubber-coated buds.
Great bass output quality
Made of strong, durable construction materials.
Cons:-
There are no color varieties for intending users to make a choice from
6. Razer Hammerhead Pro V2 Earbud
The Razer Hammerhead Pro V2 has maintained significantly good ratings and reviews as a good gaming earbud product.
It comes with a sleek, portable design that is not failing to execute an acknowledged quality-sound output- irrespective of what the original game sound ingredients and inputs are.
The Razer Hammerhead would play out the game's music and sound without removing or adding unnecessary elements to what gets to the user's ear.
If you're able to spend a fair price on an earbud- with the intent of having it for a pretty long time, then you should add this product to the list of proven durable gaming earbuds.
According to the design, this product has been prepped to last for as long as possible.
Now, although it would mean that you'll be spending relatively more than you would spend if you were buying some other products, this earbud is an advantage because you'll still be using it after a long time.
This product has been fitted with bigger 10mm thick dynamic drivers to provide quality acoustic output and bass power.
Other features are a communication Omni-directed mic that facilitates easy communication- whether a phone call or communication between connected players as you play.
Pros:-
Sleek, beautiful, and portable for any type of user
A high-quality sound output that you'll be happy with
Top connection functionality for the Bluetooth provision
It hinted to have been specially formulated for gamers, hence depicting its relevance for gaming
Provides top value for all the money spent on buying
Cons:-
The price is relatively expensive, as there are other products with lessening ways.
Razer Hammerhead V2 Pro Review
7. GranVela G10 – Best budget earbuds for gaming
The GranVelaG10 is another product you should also consider before hitting the buy button for just anyone yet.
This product is the gamer's choice because it incorporates an awesome aesthetic feel, with a good enough music and sound display.
One reason why this earbud would not drop from rating amongst the best earbud product is partly because of its affordable pricing, then its top functionality.
Note that you'll have an earphone with two drivers, a communication microphone, and an adapter if you buy this product.
Now, although this product is one of the low-priced ones, it doesn't even seem to show a supposed corresponding low output and productivity levels.
On the other hand, the noise-canceling abilities have been put at an estimated 93%- which is not bad at all. According to design, it has been made so that gamers can use it for long hours without feeling the pain of the buds in their ears.
The expected frequency response for this product is put at about 15Hz to 21,000 Hz. Its sensitivity can function at about 118 decibels and with a distortion of 0.1%.
The cable length is an estimated 5.5 feet, made of aluminum- as against a common rubber found on several other competing products. The GranVela G10 is a modest product with exciting features and function delivery.
Pros:-
High performance; able to perform virtually all of the functions that the everyday gamer requires in an earbud
Sleek, beautiful aesthetic design and appearance
Soft rubber padding at the buds provides comfortable use for many hours
Cons:-
There is no Bluetooth provision on this product.
Best Gaming Earbuds: What To Consider
Now, if you want to enjoy a gaming earbud as much as you should, you must not just jump onto the market to buy just any product you see.
If you do that, you most likely buy a product that does not produce the sounds and effects you want, or you may end up giving up on many benefits, yet for an unreasonable price.
This is why it is consequently important to put the options on some scale and make your buying decisions based on certain factors.
These factors are germane, and they usually affect intending users differently. Hence, the way they affect Mr. Robinson may be different from how they affect you.
Hence, when considering them, ensure the analysis is made specifically for the user.
Some of The Most Important Factors To Consider are:-
The pricing of the earbuds
There are several gaming-suitable earbuds on the market, and there's hardly a price category you can think of that you wouldn't find different products within.
However, remember you're only interested in quality products; hence irrespective of what price category you're buying from, make sure you have quality in mind.
Now, as much as it is easier to assume that the low-priced earbuds would most likely be of lower quality, it is also very much possible to find higher-priced products with low output deliveries- one way or the other.
Ideally, you should remember that there'll always be a good model to choose from for every price category.
After you've decided on a price category that fits well into your budget, begin to pick out the products with the most useful features and put them on a list of preferences. Doing this helps you buy the best products on a high, moderate, or low budget.
What are drivers being utilized on the products?
The drivers in an earbud are responsible for the output sounds you receive from the utilizing earphone product.
This component of the earbud also determines the product's compatibility with gaming devices like your mobile phone, iPod, laptop, game boy, etcetera.
An earbud that has compatibility with multiple devices could imply a well-inbuilt earbud. When checking which product would be right for your gaming, check to see if the options you're considering have been hinted to support use with a good number of devices.
If your chosen earphone device only supports a few gaming devices, you may have to check for another one that performs better.
Another trait you may check for is if the earbud comes with a single or multiple drivers. An earphone with multiple drivers would perform better than one with a single driver.
On earbuds of this category, you're most likely to find only a maximum of two drivers in any product. However, this does not mean that some earbuds, with one driver, would not perform well either.
Whether it comes with a Bluetooth infrastructure or not
Since there are variants of earbud products, you'll also fundamentally expect variants in specifications. One of those possible feature variants is the addition or not of a connectivity Bluetooth.
While some products would come with a wired and wireless use option, others may come with a wired use option.
Depending on your budget and use tendencies, you should decide whether you mandatorily require an earbud that has a Bluetooth provision or if you can cope well with another that only has a wired cable operation model.
Note that it does not necessarily follow that a Bluetooth-enabled earbud would be ultimately more functional than another without it. Sometimes, one product may have sacrificed one feature for another.
Hence, while product A has Bluetooth connection as its vantage trait over product B, product B, in turn, may have a more quality sound output than product A.
This means you must make your choice carefully and make sure you're making the right feature sacrifice- if you have to.
Product durability and makeup materials
Ideally, everyone wants to buy a product that can be of use to them for as long as possible. You can only achieve this if you carefully source for the earbud product that has adequately matched durability qualities with its functionality.
While some earbuds are fragile, others are of increased quality and durability. Finding a durable product is one of the most important features you need to consider, which can almost not be sacrificed for another.
Usually, aluminum-made earbuds are considered more durable than rubber-made ones. However, this is not a definite standard, and you must be on the lookout.
📗 FAQs
Below are a few queries on Best Gaming Earbuds that everyone is expecting to answer, and I did include the same for my readers.
Why do pro gamers wear earbuds and headphones?
To block out external noises from the surrounding environmentto listen the commentary.
Are SkullCandy earbuds good for gaming?
Yes, All the skull candy earbuds promise the isolation one needs from the world while listening to the music.
Can I use AirPods for gaming?
You might not be able to use AirPods with your Xbox to game, but they're still a remarkable pair of headphones, particularly if you use an iPhone or iPad.
Do earbuds have surround sound?
Earbuds are essentially designed to shoot sound directly at your eardrums.
Conclusion on the what are the best gaming earbuds list
Every gamer has their reasons for using an earbud when they use one. Every user mustn't necessarily buy the products that cancel out noise or use a microphone, etcetera.
If you've determined your requirements, you may go ahead to pick from the several best gaming earbuds that come with those specifications.