This is a Buyer's Guide to Best Cheap Gaming Monitor Under 100 $ in 2022. 🤴
Let me clear the most important point:
We reviewed the monitor mentioned in this buyer's guide based on Screen Size, Screen Resolution, Response Time, Display Technology, and Refresh Rate, and used Adaptive Refresh Rate Technology.
And, finally came to 9 Of The Best Cheap Gaming Monitor Under 100 $ for our readers. 📗
So without further ado, Let's dive right in. 🎭
Over the years, computer gaming has evolved drastically. From the days of games like Doom and Wolfenstein, we've come to find ourselves with games like Grand Theft Auto V and Rise of the Tomb Raider.
During the times of older games, they were considered graphically intensive when put against the hardware that was available then, and the games of nowadays remain graphically intensive.
The games have gotten much more detailed and faster-paced, and to truly appreciate the detail and keep up with the action; you need to have a good display to view everything.
Gaming monitors are computer displays that are built with the main purpose of gaming in mind. They are built with features to improve the gaming experience over what a standard monitor would provide.
Gaming monitors are typically built with quicker response times, faster refresh rates, brighter displays, and higher resolutions. And to fit with the whole gaming aesthetic, they usually have sharp, angular designs that breathe 'futuristic'.
However, dedicated gaming gear usually comes at a price premium. It is expensive to produce gaming hardware, which shows in the price. When you spot the 'gaming' tag on a product, you can expect its price to be above its competitors in the same category.
However, did you know that many 'regular' computer hardware, such as monitors and pack specs appropriate for gaming purposes? 🤔 That's right, you can find perfectly suitable monitors for gaming purposes at prices under $100.
They won't have the gaming tag, but they will still give you a competitive edge over any other monitor in the same price range.
At the sub-$100 price bracket, you won't find features on the highest-end gaming displays, such as 144Hz refresh rates, 4K resolution, or displays with Nvidia's G-Sync technology for adaptive refresh rates. Still, you can find very gaming-capable monitors with that price tag.
Your gaming setup isn't complete without the monitor, and if you spent most of your cash on the other hardware, we've got a list of budget gaming monitors you can get under $100.
Best Cheap Gaming Monitor Under 100 $👌👌
1. Philips 221S8LDSB 22" LED Monitor
This monitor from Philips doesn't come with RGB lighting, angular designs, or a brushed aluminum finish, but it lets its performance speak for it.
The Philips 221S8LDSB 22-inch monitor is ready for business with its all-black finish and thin bezels. The monitor stand is small and inoffensive, but if it doesn't fit your taste, you can remove it and wall mount the display instead.
The monitor's display is a Full High Definition (1920 x 1080) display, which is, unfortunately, the highest obtainable in this price range. The response rate is the average 60Hz, but that is the bare minimum required for a gaming setup.
The monitor has a TN (Twisted Nematic) display which gives the benefit of faster response times, evident from the 1ms response of this monitor, perfect for games and other fast-paced applications.
This display brings all the connectivity options expected of a monitor, with VGA, DVI, and HDMI input.
Such a wide range of inputs stops this monitor from being restricted to solely PC uses, letting you use it for your set-top box, DVD player, and even video game console, as long as they all have HDMI support which makes it put in our cheap gaming monitor under 100 $ list.
The display can swivel into portrait orientation without much hassle and is fantastic for gaming as a second display.
Pros:-
The stand is versatile: it can swivel into portrait mode or detach to wall-mount the display.
Class-leading response time for fast-paced action games.
Good array of inputs.
Adaptive-Sync is capable.
Cons:-
The refresh rate is standard at 60Hz.
Check Price on Amazon
2. Spectre E248W-19203R 24" LED Monitor
Spectre brings the heat with this monitor, with top-end specs despite the low price. It has a metallic black exterior, and the bezels stay as slim as achievable. The monitor is super thin, with an appearance that betrays its price point.
The monitor is ready for wall mounting and will make the operation as easy as possible. The Spectre E248W-19203R looks like a monitor more expensive than it truly is.
Its appearance is excellent, and it keeps that energy with the specifications. The monitor holds a Full HD display with a 75Hz refresh rate, which is fantastic for gaming purposes.
Despite their fast-paced action, racing games and first-person shooters won't have any issues. And you need not worry about the display size as this monitor has a large 24-inch diagonal, which is amazing for the price.
Spectre still wasn't done with crafting this gem, as they managed to add two built-in speakers to the monitor.
The speakers are only 2-watt units, and considering the monitor's size and thin profile, they may not be of the best quality, but they'll get the job done.
The connectivity options on this monitor include a VGA port and 2 HDMI ports, which are appreciated. With 2 HDMI ports, you can permanently connect your PC and another device, such as a game console, and switch dynamically with a button on the monitor. This removes all the hassle of switching the input on the back.
Pros:-
The 75Hz refresh rate is the best in the price bracket.
The 24-inch display is large.
A classy slim design will appeal to gamers.
Multiple HDMI ports make switching input very easy.
Cons:-
No DVI input.
No adaptive refresh rate.
Check Price on Amazon
3. BenQ GW2270 21.5" LED Monitor
BenQ's GW2270 monitor is a minimalist gamer's dream. With thin bezels and a stylish metallic stand, it complements anything else on your desk.
It doesn't have glowing lights like most gamer hardware, but it has its special appeal with a dark black finish. This monitor is compatible with VESA mounts, making the wall mounting process much easier.
The GW2270 comes with a 21.5" display at Full HD resolution. The refresh rate is the typical 60Hz, but it brings stunning color reproduction and contrasts to make up for that.
Response rate tops off at 5ms, which isn't the best but should prove sufficient for gamers playing calmer games which makes it perfectly fit in our cheap gaming monitor under 100 $ list.
Unfortunately, when it comes to the connectivity options, BenQ decided to skip HDMI input and rely solely on DVI-D and VGA.
There shouldn't be any issues if you plan to use this monitor with a PC alone, as VGA will suffice, but DVD players, video game consoles, and other electronics may have a harder time without VGA.
Pros:-
The sleek design will appeal to gamers.
Great color reproduction and contrast.
Cons:-
No HDMI input.
5ms response rate is relatively slow.
Check Price on Amazon
4. Sceptre E225W-1920RR 22" Monitor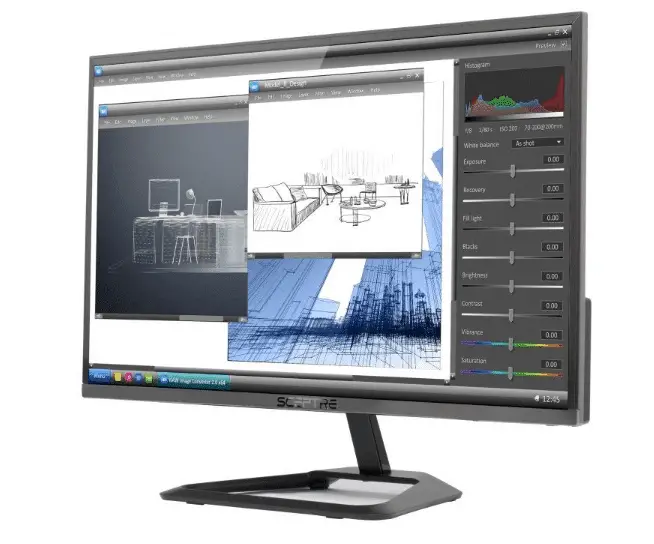 Spectre knows how to play a great value game with another fantastic offering. The Spectre E225W-1920RR is a stylishly built monitor with a solid metallic build. The profile is super thin and quite premium, and the black finish is stunningly stealthy.
The bezels are very thin to keep up with the modern look of the monitor. The monitor is built-ready for VESA wall mounts, so you won't have any issues if you plan to hang it up.
With this monitor, you get a 22-inch Full HD display with a 75Hz refresh rate. Among computer monitors in the sub-$100 bracket, a 75Hz refresh rate is a steal.
Costs have to be cut somewhere, and this Spectre monitor only manages a 5ms response rate, which isn't fantastic for gaming-oriented users.
Connectivity options are nothing to complain about, with an HDMI and VGA input, which should be sufficient for most uses.
In addition, it has a 3.5mm jack to make connecting your headphones much easier while playing a game. You don't need to reach around the back of the PC tower to connect your audio, which is very convenient.
Pros:-
The 75Hz refresh rate is excellent for gaming purposes.
5mm jack saves a lot of stress when connecting audio.
The design is quite modern and looks beyond its price.
Cons:-
5ms response rate is slow for a gaming monitor.
Check Price on Amazon
At the time of our research on Best Cheap Gaming Monitor Under 100 $, we found a video about "What Happens in Real Life But Not in Video Games?" worth watching. 🤴🏆
What Happens in Real Life But Not in Video Games
5. LG 24M47VQ 24" Monitor
LG is a South Korean electronics giant and having spent so many years in the business, they've garnered a wealth of experience that newcomers can't match.
This LG monitor isn't quite as sleek or modern as the others on the cheap gaming monitor under 100 $ list, but it makes up for all that where it matters. The all-black design is nice to look at, but the bezels aren't as slim as the alternatives in the price segment,
The 24M47VQ is a 24-inch display with 1920 by 1080 pixels, Full HD. Despite not coming with the gaming looks, the display is capable of 2ms response times, which is fantastic for games with quick action happening. The panel is a TN panel, which is why it can achieve such quick fast response times.
The connectivity options aren't slacking; they bring in the full team, with HDMI, VGA, and DVI-D input available. No matter what video device you try to connect to this monitor, you will find a port that fits it.
This display has a unique feature called Screen Split, which simulates up to 4 different displays to make multitasking easy as ever. Although this might not prove super useful in gaming, it is an appreciated feature to have for other computing purposes.
Below are some of the Pros and Cons of The LG 24M47VQ that earned it a spot in our list of Best Cheap Gaming Monitor Under 100 $.
Pros:-
The monitor comes with a full set of connectivity options.
2ms response time is top-end for the price bracket.
The 24-inch display is quite large.
Cons:-
The design looks quite outdated.
Check Price on Amazon
6. Acer SB220Q 21.5" Monitor
Acer is established when it comes to computer hardware. With the SB220Q monitor, they continue their streak.
This monitor has an ultra-slim frame, only 0.24 inches thick, and impressively small bezels. This gives the illusion that the screen is even bigger than it is, which is excellent as it is on a smaller size at 21.5 inches.
This monitor brings the finest display technology to the table with an IPS display. IPS stands for In-plane Switching, giving much better colors, wider viewing angles with no color shift, and a generally improved viewing experience over a TN display.
Unfortunately, IPS displays suffer when it comes to response times and max out at 4ms as this display does. However, they tend to be more expensive, so it is excellent that Acer managed to fit one in this budget monitor option.
In addition to the Full HD IPS display, Acer gives you a 75Hz refresh rate, which is very gamer-worthy. And even with all this, they still have AMD's adaptive refresh technology, AMD Radeon FreeSync, with the whole package.
The excellent display on this monitor can forgive the limited connectivity options. If you're looking to connect any devices, you only have the HDMI and VGA options available, which should be sufficient in typical use cases.
Below are some of the Pros and Cons of The Acer SB220Q that earned it a spot in our list of Best Cheap Gaming Monitor Under 100 $.
Pros:-
IPS display provides superior color reproduction and viewing angles.
The thin frame and slim profile fit well into a gaming setup.
The 75Hz refresh rate is top of the sub-$100 brackets.
Adaptive refresh rate technology is rare at this price.
Cons:-
No DVI input.
4ms response time is somewhat slow, but it is a tradeoff for the IPS display.
Check Price on Amazon
Acer SB220Q Review, UNDER 100$ Monitor
7. Asus VS228T-P 21.5" Monitor
The Taiwanese company has a huge following with its Republic of Gamers sub-brand, which specializes in making all sorts of computer gaming hardware.
This product by Asus doesn't carry the Republic of Gamers stamp, but it manages to pull its weight as a budget gaming alternative. The monitor has a slim build, but the bezels are rather generous, unlike other monitors in this price range.
This monitor has a 21.5" Full HD panel with enough pixels to let you appreciate the detail in those new games. This monitor's contrast ratio is excellent, giving you the deepest blacks and bright whites.
The display isn't quite impressed with the response time, only 5ms. Knowing Asus' pedigree regarding gaming hardware, you would expect a much faster response time from this display. The refresh rate is 60Hz, which is expected but doesn't rate as exceptional.
Connectivity on this monitor skips out on one of the ports, which should be considered essential nowadays. The Asus VS228T-P has only a DVI and VGA port. HDMI gets no love on this monitor, and many devices will miss out on being connected to it.
Below are some of the Pros and Cons of The Asus VS228T-P that earned it a spot in our list of Best Cheap Gaming Monitor Under 100 $ to get in 2022.
Pros:-
Excellent contrast ratio.
Cons:-
Response time is slow at 5ms.
No HDMI port.
Monitor design isn't quite gamer-centered.
Check Price on Amazon
8. HP Pavilion 21.5" Monitor
This monitor by HP is a good-looking one. Small bezels, a glossy-black build, and a stand that resembles something out of modern architecture make this a monitor that is very pleasing to the eyes. This monitor has a thin profile which keeps it looking classy all around.
The display has a 21.5" diagonal and is an IPS panel. With the IPS panel, you're guaranteed wonderful color reproduction and very wide viewing angles with little color shift.
Of course, with the IPS display, you should be ready to take a hit on the response time, and this monitor takes that hit with a response time of 7ms. As expected, it is a Full HD display, and the IPS benefits outweigh its disadvantages.
This monitor has no DVI connectivity, so you'll have to do all your input with HDMI and VGA. But if you're going to let go of any of those three inputs, it's best to let DVI loose, as the other two are more common standards.
Below are some of the Pros and Cons of The HP Pavilion 21.5" Monitor that earned it a spot in our list of Best Cheap Gaming Monitor Under 100 $ to get in 2022.
Pros:-
IPS display provides vibrant colors and great viewing angles.
The monitor design is appropriate for a gaming setup.
Cons:-
Response time is poor for a gaming monitor and even for an IPS display.
Check Price on Amazon
HP Pavilion 21.5-Inch IPS LED HDMI VGA Monitor Unboxing/Review
What Do These Monitor Terms Mean?
If you read in-depth about any technology, you'll begin to uncover specifications and other terms that typically aren't the concern of the average user. However, some of these specifications can be important when searching for fitting a specific use scenario, for instance, gaming.
Let's discuss and explain some of the various terms used in display technology.
Screen Size:-
 Screen size isn't a hard variable to understand, but a few things about it may need clarification. Screens have what is known as an aspect ratio, which is the ratio of width to height.
In the earlier days of commercial displays, they were more square-ish and had an aspect ratio of 4:3 most of the time. Nowadays, screens have moved to the widescreen aspect ratio, which is 16:9.
The fact that screens can differ in aspect ratio makes it hard to calculate their size purely from one dimension or even area. As a result, it was reported to using the length from one corner of the screen to the opposite corner; in other words, the diagonal length. So when next you see a screen size of 22", you know it refers to the diagonal length.
Screen Resolution:-
 Screen resolution consists of two numbers in the format 'A x B'. The first number refers to the number of pixels along the screen's width, and the second refers to the number of pixels along with the height.
The more pixels a screen has, the more detailed its images can be. 1920 x 1080 is the resolution known as Full HD.
When it comes to gaming, 4K is a resolution commonly being mentioned, and it refers to a screen resolution that contains 4 times the pixels of a Full HD display, hence 4K. A 4K display has a resolution of 3840 x 2160.
Response Time:-
 The simplest way to define response time is when it takes a pixel on display to change color, although official definitions specify changing from black to white.
Lower response times are better as they indicate that a display can change the image on screen much faster. This is beneficial to gamers playing fast-paced games as it means they won't suffer any lag due to the display.
Response time of 1 ms means it takes the display just one millisecond to change its image after receiving the signal.
Display Technology:-
 The two most common displays used in computer monitors are TN and IPS. Without going too much into the intricacies, TN stands for Twisted Nematic, and TN screens have much faster response times than IPS screens, going as low as 1 ms.
IPS displays, however, while having poor response times, which can only go as low as 4ms, benefit from much better color reproduction, brighter displays, and superior viewing angles.
Refresh Rate:-
 A monitor's refresh rate is measured in Hertz and refers to how many times a display updates its image in a second.
A refresh rate is very important for achieving smooth images, as a higher refresh rate allows for more frames to be shown every second, which smoothens out movements and other actions happening on screen.
The average display has a refresh rate of 60Hz, which is fine for most applications, including games. However, gamers with serious setups will appreciate higher refresh rates.
Gamers typically target 60 frames per second refresh rate for most games they play to give a satisfying gaming experience.
Still, with a powerful enough gaming rig, you can push frame rate even higher than that, and that's where the appeal of higher refresh rate displays comes in. 144Hz is seen as the perfect mark for display refresh rates amongst gamers.
Adaptive Refresh Rate Technology:-
 It's essentially a must for a serious gaming monitor to have some form of adaptive refresh rate technology in it. The foremost versions of this are AMD's FreeSync and Nvidia's G-Sync. To understand the benefit of these technologies, we have to talk briefly about V-Sync.
V-Sync essentially puts your game's frame rate in sync with your monitor's refresh rate. The refresh rate is a constant value on the average monitor, so it pushes the graphics card to output frames with each screen refresh; on a 60Hz monitor, that would be 60 times a second.
However, forcing a less-than-capable card to push 60 frames every second can cause serious performance hiccups. If you opt to turn V-Sync off, you suffer from 'screen-tearing', which occurs when your frame rate is higher than your refresh rate.
Adaptive Refresh Rate aims to eliminate this problem and make V-Sync less troublesome. What technology like FreeSync or G-Sync does is to sync your game's frame rate with your monitor's refresh rate, just like V-Sync.
But here's the difference: the monitor is built to switch up its refresh rate when needed. No longer a constant value, the display can now lower its refresh rate to perfectly match the frame rate of the game you're playing.
So you won't experience any slow-downs or lagging when you turn V-Sync on, because your monitor and graphics card are perfectly in tune with one another. Monitors with G-Sync are significantly more expensive than displays with FreeSync.
It should be noted though that displays with FreeSync only work with AMD graphics cards, and displays with G-Sync only work with Nvidia graphics cards.
What is The Ideal Gaming Monitor?
There are many options on the market for gaming displays, but regardless of which brand you're going for, some things remain constant. Some specifications are considered the sweet spot for a gaming-oriented monitor.
A display resolution of 1080p is on the lower end, and anything north of QHD (2560 x 1440) is considered great. A refresh rate of 144Hz is very good, but there are displays with refresh rates of 240Hz available if you have the cash to shell out.
Any adaptive refresh rate technology should be on a serious gaming monitor. Response times lower than 4ms are ideal, but 1ms is the pinnacle.
When it comes to display technology, each comes with its pros and cons, but most gamers would opt for an IPS display with a 4ms response time.
Monitors are usually very close to the gamer's face, so there's a sensible limit to how large they can get before you have to start moving back. Sizes anywhere between 20 inches and 26 are considered ideal. Finally, when it comes to connectivity options, HDMI is perhaps the best option due to its ubiquitous nature these days.
Good gaming monitors are expensive, some priced at enough to buy a decent PC. But if you don't have the money to afford a top-end gaming display, you can find one for ridiculously low prices if you know what you're looking for in this cheap gaming monitor under 100 $ list.
Knowing what specifications and numbers to look for can be immensely helpful in grabbing a deal that will elevate your gaming experience.