Do you have the curiosity to know about the Best Bass Headphones in 2021? 🤔 You can easily Find out now in this definitive list with our detailed review.
Without any further delay let's find out. 👓👓
Thick basslines and loud beats. This is basically what makes up the bass, an essential component in songs. The bass notes can either make or break a song and if you are an audiophile into bass-heavy music, you would definitely want to pick out the best type of headphones that will help enhance your listening experience. This is where bass headphones come in.
You're probably wondering why general headphones won't do. Well here's why; bass headphones are specifically designed to enhance the bass and give you that musical depth a general headphone won't.
Unique features like noise isolation technology and inline remotes are integrated to ensure that the bass is amplified for optimum sound quality. Picking out the right bass headphones can be tedious, especially as most manufacturers often confuse "loud bass" with "good bass".
While loudness is great, a good bass headphone should be able to deliver not just loud but rich and clear sounds without distorting the bass. This article will provide an analysis of some of the best bass headphones in 2021 currently available that will redefine everything you know about music.
Best Bass Headphones: Our Top Pick 👌👌
1. Skullcandy Crusher Bass Headphones
The Skullcandy Crusher is without a doubt one of the best bass headphones on the market currently. It produces an incredible amount of bass, especially when compared to the bass output of other bass headphones.
If you enjoy bass-heavy music genres like rock, hip-hop, and electronica then you will love the Skullcandy Crushers. About its features, it has two 40mm audio drivers and two extra subwoofers for the most impressive bass experience.
The Skullcandy Crusher comes with intuitive ear buttons and a built-in microphone to help you take hands-free calls, adjust the volume, and pause or play the track all on the ear cup.
It also features Bluetooth wireless streaming which comes with an impressive range. When fully charged, the battery can last for as long as 40 hours even with nonstop music play, before it would need to be recharged.
The Crushers also come with plush soft memory foam ear cups. The padding is aerated and really comfortable, however, beyond the comfort, they also help to block out external noises by serving as a noise-isolating seal so you can enjoy your music all you want without external distractions.
This headphone also comes with adjustable haptic bass to enable you to fine-tune the sound to fit whatever your personal musical preferences may be. You can adjust the bass settings to a maximum for what may be the deepest and most powerful bass response you might ever hear.
The Crushers come packaged with a micro USB cable for charging the product, an auxiliary cable, and a storage bag for the wiring cords as well as a user manual. If ear-thumping rich and refined bass sounds are all you want to hear, the Skullcandy Crusher will not disappoint you.
Specifications:-
Type: Over-the-ear
Enclosure: Closed-Back
Noise isolating: Yes
Wireless: Yes
Below are some of the Pros and Cons of the Skullcandy Crusher Bass Headphones that earned it a spot in our list of Best Bass Headphones to get in 2021.
Pros:-
Capable of producing crisp and refined sounds.
Premium build quality
Wireless Bluetooth streaming
Comfortable leather memory foam ear padding
Intuitive ear buttons with an inbuilt microphone
Adjustable haptic bass
Great at handling midrange and high-frequency ranges
Cons:-
2. V-MODA Crossfade LP2 Bass Headphone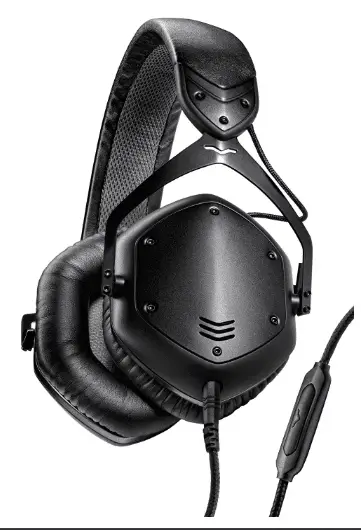 The V-MODA Crossfade LP2 absolutely nails it when it comes to audio performance. 😎
Imagine the depth of bass response you could get if you had a front-row seat at a rock concert, these headphones were specifically designed to provide such extremely deep lows.
When adequately amped, you can rest assured of getting incredible audiophile music quality with its 50mm dual-diaphragm drivers. The full glory of the V-MODA Crossfade LP2 will be most felt in genres like rock and electronic dance music as well as on any track with heavy bass response.
When it comes to musicality, the ability of the V-MODA Crossfade LP2 to produce completely distortion-free, low-end frequency bass is nothing short of thrilling. You will be able to hear the details of every piece of music you listen to with these headphones.
The sound quality is incredibly crisp and smooth, you will literally feel the beats in your head. The V-MODA Crossfade LP2 has a stylish matte black color, like gunmetal.
About the size, it is pretty standard and you can comfortably use it in public without worrying about drawing too much attention to yourself. Build wise, the headphone has a very solid and high-quality design.
It features a special ergonomic headband designed to reduce tension such that you can use the headphone for hours without feeling the strain on your head and ears.
The headband has aluminum padding to ensure that the headband remains fastened to the head once you wear it. The memory foam ear padding is also pretty warm and comfortable, it can easily fit around the ears without any problem.
Thanks to the closed-ear design, these are noise isolating headphones and they are very efficient at canceling external noise and distraction.
With the V-MODA Crossfade LP2, you can be fully immersed in your music without any outside disturbance. The Crossfade LP2comeswith in a fine hard case to keep the headphones when it is not in use.
Packaged along with it are two extra outer shell covers, an adapter, a 6 inches cord for the main device/computer, a 4 inches cord with a built-in microphone and volume controls to enable you to connect the product to your smartphone along with essentials for cleaning and fixing the headphones like polishing cloth and a set of shield screws.
The V-MODA Crossfade LP2 is specially built for bass lovers and you surely be impressed.
Specifications:-
Type: Over-the-ear
Enclosure: Closed-Back
Noise isolating: Yes
Wireless: No
Below are some of the Pros and Cons of the V-MODA Crossfade LP2 Bass Headphone that earned it a spot in our list of Best Bass Headphones to get in 2021.
Pros:-
Great clarity in sound production
Capable of producing very low and impactful bass
Stylish matte black design
Ergonomically designed headband
Comfortable and noise isolating ear padding
Noise-isolating headphones
Cons:-
Must be properly amped for great sound quality.
Might get uncomfortable for people with larger ears.
3. Audio-Technica ATH-M50x Bass Headphone
With a very powerful deep bass output delivered with sonic precision and great sound separation, the Audio-Technica ATH-M50x makes music come alive.
The headphone comes with unique 45mm large-aperture true motion drivers to produce deep low-end bass while keeping the highs and mids crisp and clear. When paired with a portable headphone amp, the low ends become even better, all without distortion on the sound.
The bass really goes deep without flooding into the mids, you will be able to hear every single minute detail in an audio recording. Whatever your expectations may be for a bass headphone, the ATH-M50x is sure to surpass it.
The headphone also looks quite nice and it is equally comfortable to wear. It features soft and nice plush ear pads. The ear cups can also be swiveled at an angle of 90 degrees to enhance portability and handling.
The headband itself is adjustable so you can also switch things up if you feel fatigued. Nonetheless, you would wear the headphones for at least two hours before you get the first hint of ear fatigue.
The earpads along with the closed-back enclosure give the headphones an amazing noise isolation feature.
It also minimizes sound leakage so you can enjoy your music without being disturbed by external noises or disturbing others around with the leaking sounds. Electronica, pop, and rock are some of the popular music genres with bass-heavy tracks you can enjoy with these headphones.
However, you should be aware that this headphone will carefully pick out every detail and uncover all the flaws in a song – it that great. Altogether, Audio-Technica ATH-M50x has great sound performance and it is something every bass-loving audiophile will come to appreciate.
Specifications:-
Type: Over-the-ear
Enclosure: Closed-Back
Noise isolating: Yes
Wireless: No
Below are some of the Pros and Cons of the Audio-Technica ATH-M50x Bass Headphone that earned it a spot in our list of Best Bass Headphones to get in 2021.
Pros:-
Amazing sound quality
Earpads are comfortable and are great at minimizing noise leakage
Sturdy casing for packaging
It is noise canceling
Cons:-
Needs an amplifier to boost the audio quality
Check Price on Amazon
At the time of our research on "Best Bass Headphones", we found a video about "How to Improve Your Hearing at Home" which is worth watching. 🏆
4. Sony MDR-XB950/B Extra Bass Headphone
With extreme detail and crisp highs and mids, the Sony MDR-XB950 is every bass-loving audiophile dream come true. 🤴
These headphones are capable of delivering solid and impactful bass that will leave you blown away. If you want to go for the full thing, listen to music genres like electronic, pop, rock, and any other genre that features lots of deep lows punchy beats in songs.
The headphones come with a 40mm driver unit made with neodymium magnets to produce the audio quality that will leave you rattled. About the sound quality, this headphone produces nothing short of deep and impactful bass.
The bass is really solid, with is no trace of distortion, muddiness, or bass bloating in the sound produced.
If you listen to a piece of music with these headphones, you should be able to hear the highs, mids, and lows very clearly. Even at very high volumes, the bass just becomes louder and more impactful but still without distortion.
It remains just where it should be as bass. It is highly recommended that you pair the headphones with a portable amp to enhance the sound quality. On the build quality, the headphones have a solid build with a stylistic and sleek finish.
The ear padding is made of soft and comfortable memory foam allowing you to wear the headphones for extended periods of time without feeling uncomfortable. Overall, MDR-XB950 has a modern aesthetic design and the plastic body is pretty durable as well.
It is aesthetically pleasing and its bass output is phenomenal. You could wear it to the gym, to the store and anywhere else you can wear headphones too, they are just effortlessly stylish like that.
Moreover, at just 245g, they are very lightweight so portability is not a problem. The Sony MDR-XB950 is the go-to bass headphones if you need that booming bass. 🎏
Specifications:-
Type: Over-the-ear
Enclosure: Closed-Back
Noise isolating: Yes
Wireless: No
Below are some of the Pros and Cons of the Sony MDR-XB950/B Extra Bass Headphone that earned it a spot in our list of Best Bass Headphones to get in 2021.
Pros:-
An aesthetically appealing design
Capable of delivering the refined and solid bass response
Produces very crisp sound with no distortion
It is lightweight
Comfortable ear cups with soft padding
Cons:-
May require headphones amp to improve the sound quality
5. Cowin E7 Pro Bass Headphone
If you need a great bass headphone you can use for an extended period of time while continuously delivering an exceptional bass response, the Cowin E7 Pro is exactly what you need.
With these headphones, you will be able to hear the powerful bass notes loud and clear. The highs and mids are also pretty strong without bleeding into the other.
The sound quality is crisp enough allowing you to hear all those tiny details you might have missed otherwise. It comes at a great price and once you use it for the first time, you will come to understand why bass heads all over the world are crazy about this one.
About the design and build quality of the headphones, the E7 Pro has a really solid body construction that will serve you well all through its lifetime.
The headband is well cushioned to provide adequate padding for the metal frame. This way, the headband remains sturdy and rigid without causing discomfort to the wearer. The ear cups, with a beautiful metallic finish, have soft foam padding that is really comfy and warm.
The only drawback with the body build is that the body material may not be so strong, however, it's not like it will be breaking if you accidentally drop it. Nonetheless, everything comes together perfectly to give the E7 a nice premium look with a sleek feel.
It also comes in a variety of colors; red, black, and silver to match individual preferences. When it comes to features, the E7 Pro is packed. It comes with an active noise isolation feature that creates a reverse signal to block any external noise.
If you need a sense of isolation while enjoying your music, these headphones is what you need. However, they are specifically designed for medium noise environments, so you may still hear the train and other very loud noises.
They are also motion-sensitive so you may want to avoid quick and sudden movements with this one. It comes with a built-in microphone and a powerful Bluetooth connectivity feature to enhance the wireless connection.
The headphones also feature an impressive 600mAh battery. Although it may take about 4 hours to get a full charge in the battery, the 30 hours of continuous music playtime it offers is totally worth it.
In all, with the overall superb performance of the E7 Pro, Cowin also gives an 18-month warranty on the product so you have something to fall back on if something goes wrong, which is still very unlikely by the way.
Specifications:-
Type: Over-the-ear
Enclosure: Closed-Back
Noise isolating: Yes (active noise cancellation)
Wireless: Yes (can also be wired)
Below are some of the Pros and Cons of the Cowin E7 Pro Bass Headphone that earned it a spot in our list of Best Bass Headphones to get in 2021.
Pros:-
Great active noise cancellation
Long-lasting battery life
Well-balanced sound
Great value for the money
Swiveling ear cups to enhance portability
Cons:-
Lacks the thump in low frequencies
Cheap build quality
Noise cancellation is motion-sensitive
Check Price on Amazon
6. JVC HA-SZ2000 Bass Headphones
The JVC HA-SZ2000 is an absolute monster when it comes to bass response and if you are after a surreal listening experience, this is definitely what you need.
There are actually very few headphones that would match the SZ2000 when it comes to performance. From the texture of the sound to its impact, there is nothing you could need out of a bass headphone that you would not find here.
These headphones are particularly great when used for musical pieces featuring a lot of low-frequency sounds. Rock, electronica, pop, and even dubstep are some of the musical genres with bass-heavy music that would be great to listen to with these headphones.
SZ2000s features two drivers; a 50mm carbon plate driver which is largely responsible for the extremely low and deep bass it produces while the 33mm carbon nanotube driver takes care of the high pitches.
Each feature works efficiently to produce crisp and clear sound without the highs bleeding into the mids or the bass into the mids. The headphones also feature a brass cylinder designed to inhibit vibrations so you can enjoy a rich and clear audio quality with great spatial separation.
For body construction, the SZ2000 has a well constructed and solid build. The headband, cushioned with synthetic leather, is quite sturdy to ensure that the headphones don't slip off your head when you put them on.
You will find the soft padding extremely comfortable such that you can wear them for hours at a stretch without ear fatigue. The headphones also have a noise-canceling feature to allow you to enjoy your music without interference from sounds outside.
If you want to boost the sound quality then you can pair the headphones with a portable amp. The sound produced may be distorted if the headphones run short of power and in cases like that, an amp will be great.
Very few bass headphones come even remotely close to producing the bass of the SZ2000 and it would make a great purchase if you care about the bass.
Specifications:-
Type: Over-the-ear
Enclosure: Closed-Back
Noise isolating: Yes
Wireless: No