Do you have the curiosity to know about the Best Stethoscope for Medical Students to buy in 2022? 🤔 You can easily Find out now in this definitive list with our detailed review.
Without any further delay, let's find out. 👓
If you are a medical or nursing student on the market for a telescope, you will agree that finding the right one raises your heartbeat. The process is challenging even with brand names with good reputations on the market.
Suppose you are reading this; congratulations, as we have sorted it out. In the article below, we have brought some of the best sought-after stethoscopes on the market that will do the job – no matter what they use it and a guide on buying, maintaining, and frequently asked questions on stethoscopes.
Whatever your choice is for a stethoscope, it is better to spend money getting a good one with multiple functions that are easy to use than a cheap one that will get damaged after fewer uses.
The following is our take on the best stethoscope hope you can make up your mind afterward.
Best Stethoscope for Medical Students: Our Pick
1. 3M™ Littmann® CORE Digital Stethoscope
Stethoscopes are a sacred tool for healthcare providers that are often first purchased while attending school, and in collaboration with Eko, 3M™ Littmann® has released the 3M™ Littmann® CORE Digital Stethoscope.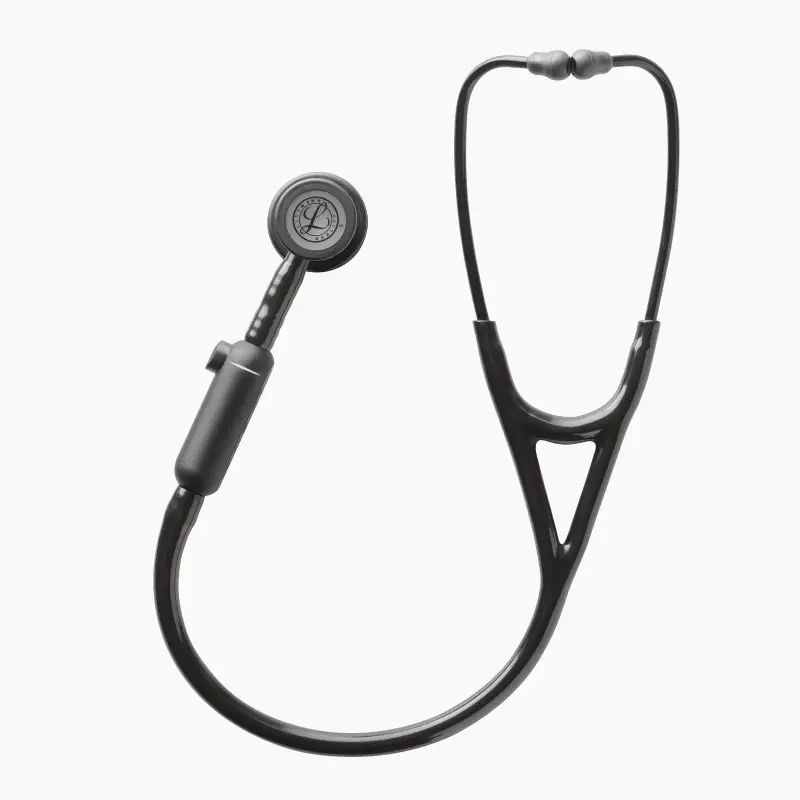 The Littmann® CORE features the outstanding acoustics, comfort, and quality of a Littmann cardiology-grade stethoscope enhanced by powerful digital technology.
Features up to 40x amplification and active noise cancellation can help you auscultate with greater confidence. The Littmann® CORE connects with Eko software on a smart device to visualize, record, and share data.
Features:
Active noise cancellation technology, 40X amplification, 7 volume settings, and an 8-hour battery life

Provides wireless functionality utilizing Bluetooth technology:

Supports wireless auscultation using the Eko App and headphones

Pairs with select Bluetooth-enabled hearing aids when using the Eko App

Wirelessly connect to the free Eko App to visualize, record, and save sounds for further analysis or securely share them for a second opinion.

Available as the

CORE Attachment

, which attaches to your existing analog stethoscope and enhances auscultation with all of the technology features of the CORE
Pros:-
Cardiology-grade. Trusted 3M™ Littmann® quality 

Adult and pediatric diaphragms (for adult and pediatric patients)

Toggle between analog and amplified listening modes

FDA-cleared, HIPAA Compliant

Free Eko App to visualize, record, and save sounds. Build a heart and lung sounds library – perfect for the learning environment!

Save money with the

CORE Attachment

30-day money-back guarantee

Two-year warranty 
Cons:-
Price when compared to an analog-only stethoscope
Our Opinion
Eko stethoscopes are built for medical students, nursing students, veterinary students, and all practitioners working in the field. The 3M™ Littmann® CORE Digital Stethoscope, with its robust technology features and the complimentary app, is a powerful tool that can give students an advantage in the classroom and practice. 
How to Auscultate with a Bluetooth Wireless Stethoscope
2. 3M Littmann Stethoscope Classic II S.E
Although a pricier version than most stethoscopes on the market, the 3M Littmann Classic II S.E is top-notch in design, craftsmanship, and performance.
Every material used in the design is well picked out, and the manufacturing makes it a durable and sturdy piece of equipment to hang around your neck proudly.
Below are some of the features of the 3M Classic II S.E littmann stethoscope that earned it a spot in our list of Best Stethoscope for Medical Students.
Features:-
The Littmann II S.E has a 28-inch strong tube that allows for a super-sensitive acoustic response with clear auscultation that medical personnel can rely on.
It is a two-sided chest piece head allowing you to listen from both ends of the stethoscope.
A very dependable tunable diaphragm allows clinicians to listen to sounds at different frequencies by adjusting the pressure piece over the chest.
A comfortable and adjustable headset with ear tubes allows you to hear soft or loud by fiddling a bit with the tube.
Pros:-
Products are made with latex-free material for people allergic to it
The rim on the chest piece is non-chill to prevent the patient from getting that initial shock when it touches the skin
Well-designed headset curved to sit properly in the ear canal
Single and durable tube for better sound clarity
It comes in 6 different colors
The tube is flexible enough to take up any shape you fold it into
Cons:-
The green color tube shows bend marks and is not as durable as other colors
Our Opinion:-
If you are searching for which Littmann stethoscope is best for medical students, then 3M Littmann Classic is the power to learn in your palm with a simple but strong design; this stethoscope prepares you for the day's workload. With all its features, you can never be disappointed not to hear a heartbeat any day.
3. Stemoscope – The Most Affordable Bluetooth Digital Stethoscope
The world is evolving every second of the day, and so are science and technology. Every day, something or the other is being introduced in the market, changing our ways and making us more advanced than our previous generations.
A marked invention that has made its rounds in the medical world is expected to aid medical students and medical professionals to a great extent. This invention is called the 'Stemoscope.'
The Stemoscope is a kind of digital stethoscope that complements a regular stethoscope. It comprises a small circular dial, almost the same size as the chest piece of a regular stethoscope.
How it works might be a game-changer for every medical student, nurse, and health care professional.
How it works
How the Stemoscope works are innovative. It comes with an application that can easily be downloaded on any android or apple phone. After its installation is complete, one must scan the QR code from the back of the Stemoscope to register, and it is good to go.
It consists of a bell and a diaphragm, much like regular stethoscopes. This device can be put on any object on the chest, on your pet, or even on a tree; it catches every sound or buzz, which can ultimately be listened to through the phone.
It is preferred to use headsets to ensure all external noise is blocked, so you can easily listen to anything you put the Stemoscope to.
The best feature of this device is that it works by Bluetooth, so whatever you are listening to, you can save it on your phone and share it with whoever you wish to share it with.
A portable device that can be carried anywhere
The biggest advantage of having a Stemoscope is its small size, which means that it can be carried anywhere.
It is never easy to have a bag on your shoulders to carry all of your essentials wherever you go. Stemoscope can travel with you anywhere you wish to take it. It can snuggle right inside your pocket, ready to be used at any time of the day.
Builds a stronger bond with patients
Doctors can effectively use this device to communicate well with their patients. This device is a great way for doctors to earn their patients' confidence, as doctors can use it to tell their patients what their heart sounds like.
This device can serve as a great ice-breaker for doctors who deal with kids, as most kids are quite hesitant to get their medical checkups done, whereas most of them cry at the sight of a doctor.
This can be managed by making them listen to the lub-dub of their heart when the doctor can easily examine the kid.
This method will make patients more comfortable and help doctors build a great bond with them.
A great tool for nurses
Nurses play a crucial role in ensuring that all patients receive the right amount of medication, checking their vitals every chance.
For them, the Stemoscope can be a great tool to carry around and listen to the heart sounds of their patients; they can also use the Stemoscope during blood pressure recording, as Korotkoff sounds can be heard through this device.
It brings you closer to nature and can help you meditate
The Stemoscope's use is not just limited to the medical world. It can also be used by anyone who wants to record the sounds of nature and later listen to them, reminiscing their experience while sitting at home.
People who love nature and love listening to the birds chirping and the rustling of the leaves can record them in real-time and listen to them while meditating and letting the mind be at peace.
Studying medicine in a fun way with the Stemoscope
Stemoscope is sure to make learning medicine a lot more fun and easier. With the help of a Stemoscope, professors can teach their students about the heart sounds that exist normally.
For most medical students, it is difficult to understand how the heart beats and how it can be listened to through a stethoscope.
It becomes hard to distinguish if they are listening to someone's heartbeat, that is, physiological or pathological. To know, they should be aware of how normal heartbeats.
Suppose they use the Stemoscope and record what a normal heart sounds like. In that case, they'll easily be able to distinguish someone with an actual pathology once they start with their medical rotations, they'll easily be able to distinguish the difference.
Every medical student may be equipped with a Stemoscope to complement their regular stethoscope so that they can learn independently and share their learning experience with their friends.
This device is an amazing invention; it will help many people better understand all that is happening inside the human body and allow them to differentiate and memorize the patterns that will help them lead to a diagnosis.
The Stemoscope's application also shows the sound waveforms, helping interpret the difference between S1 and S2 sounds.
Our Opinion:-
Stemoscope is a great device that will help many medical students, nurses, health care professionals, and even doctors. It can certainly be gifted to anyone interested in pursuing medicine.
This device is not just great for listening to the heartbeat, but one can also listen to Korotkoff's sounds while taking blood pressure. It can also be used to listen to the lungs and make out if the lungs are congested or not.
All in all, the Stemoscope is a great device that complements a regular stethoscope. All the sound waves it catches can be heard through the phone is one of its best features, as one can easily record, save, and share all in a matter of minutes.
Check Price on Amazon
Introducing Stemoscope, how to redefine electronic stethoscope and digital stethoscope
4. R.A Bock Cardiology Dual Head Stethoscope
Another beautiful stethoscope with excellent features for medical students on a budget. While it might look like the traditional stethoscope, it has all the modern and innovative features of all stethoscopes.
Features:-
It has a stainless steel dual-head chest piece that lets you listen from both sides.
The tunable diaphragm has a double-leaf binaural spring that allows for easy chest piece adjustment, making it put in our best stethoscope for medical students 2022 lists.
The stethoscope is a single tube for excellent clarity and minimal acoustic intrusion.
Pros:-
Non-chill stainless steel rim to prevent shock when it touches a patient skin
Excellent device for high and low frequency
It comes with a lifetime warranty
Cons:-
Our Opinion:-
Even though it is not a Littman brand, this stethoscope holds its own among medical stethoscopes for medical practitioners. Whether you are listening to your heart or lungs or catching a faint sound from a patient, the R.A Bock stethoscope is one to have around your collar.
At the time of our research, we found a video about "10 First Aid Mistakes Explained by a Professional" worth watching. 🤴🏆
10 First Aid Mistakes Explained by a Professional
5. ADC Adscope All-Black 600 Platinum Cardiology Stethoscope
ADC Stethoscopes in this series is the biggest rival to the Littman brand. It has well-thought-out engineering to produce the best stethoscope for medical students and clinicians that performs excellently but at an affordable price.
Features:-
The chest piece is a clean surgical stainless steel that has been well polished to allow you to hear clearly.
The combination of a dual, bi-lumen headset with the anodized aluminum binaural produces clear transmission of all sounds from the chest piece at any frequency.
A comfortable soft ear tip allows you to listen without making mistakes.
Pros:-
A good value stethoscope with great acoustic sounds
Lifetime warranty
It comes in 9 different colors and three metal finishes for the chest piece – stainless steel, titanium gold plating, and tactical.
Excellent craftsmanship and comfort
The pack comes with an extra accessory – an id tag and extra earplugs
Medical people that use the ADC 600 stethoscope have a lifetime supply of ear tips and diaphragms from the company
Create a customer service agent to handle any trouble with your stethoscope
Made in the USA
Cons:-
The stethoscope is heavier and not great hanging around the neck
Some find the tubing short at 27 inches long
The ear tips wear out very easily
Our Opinion:-
The ADC Adscope 600 Platinum Series stethoscope is a keeper. Aside from the design, model, and performance, it is durable and sound-sensitive, ensuring you never miss a sound during diagnosis.
6. MDF Acoustica Deluxe Lightweight Stethoscope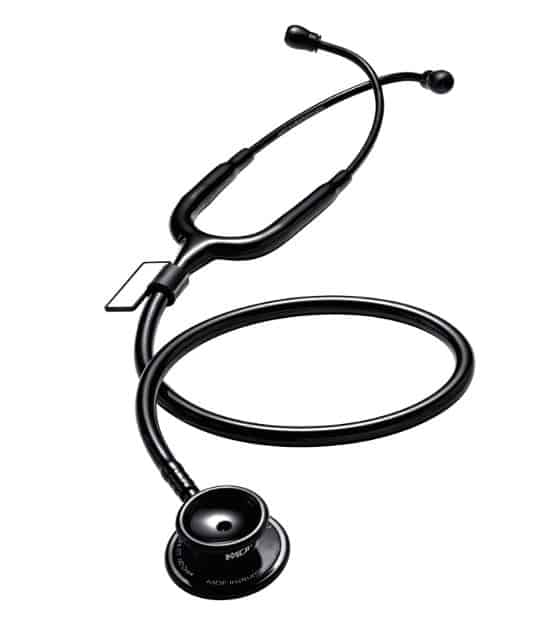 The MDF lightweight stethoscope is another medical tool that will deliver the same as the best but with lesser features. However, you will hear important sounds like the heart beating, lungs,s or other bodily sounds.
Features:-
The MDF Acoustica aluminum material makes this stethoscope light and gives it an incredible auscultation property with impeccable clarity during every use.
Its ergonomic design makes it super comfortable for medical practitioners. The Acoustica stethoscope's unmatched clarity makes it one of the most durable medical devices on the market.
The dual-sided chest piece comes with an ultrasensitive diaphragm with a non-chill stainless steel head to securely transfer sounds it picks up in the body.
Pros:-
It is lightweight and very comfortable.
Durable with a lifetime warranty and extra parts such as the ear tip in the package for the first purchase
Has the ability to amplify and isolate sound at a very low frequency to the human ears
Ear tips are phthalate-free material and easy to clean
The interior Y-shape non-stick tubing provides excellent insulation for great sound clarity
Cons:-
The acoustic property is not as powerful as other stethoscopes
The comfort is on the average
Our Opinion:-
Although the acoustic quality is low on the MDF stethoscope, it works great for the basic function of listening to the heart, lungs, and stomach.
It is an everyday tool for a medical student without breaking the bank.
Check Price on Amazon
MDF® Instruments Acoustica® Deluxe Lightweight Dual Head Stethoscope
7. 3M Littmann Classic II S.E Black N' Burgundy Stethoscope
This stethoscope is one of our lists as the best teaching stethoscope for medical students and teachers who want their students to relate well with the class and understand what auscultation is all about.
The ability for two listeners to use one stethoscope gives this stethoscope some impressive and advanced features to boost it.
Features:-
To comfortability, clarity, and ability to distinguish sounds, the Littmann 2-1 classic II teaching stethoscope delivers high pitch sound and has superior performance for teachers and students.
It also features a dual-side chest piece with a non-chill stainless steel rim and a tunable diaphragm for a deeper acoustic sound that is iconic to any Littmann brand.
Below are some of the Pros and Cons of the 3M Littmann Classic II S.E Black N' Burgundy that earned it a spot in our littmann stethoscope for medical students list.
Pros:-
Come with a three-year warranty.
Angled headset for a comfortable anatomical fit and excellent hearing
Latex-free tubes for people or medical personnel with allergy
40 inches long in black and burgundy color
Cons:-
Two heads controlling on stethoscope can be awkward and cumbersome
It can be difficult for some people to understand and use
The length is not long enough for two people
Our Opinion:-
Despite all these setbacks, the 3M Littmann Classic II S.E  2-1 stethoscope still remains the best teaching medical tools to listen to clear auscultation for both teacher and student.
The 3M Littman classic II is recommended for educational facilities for one experience you will enjoy as a medical student.
Check Price on Amazon
8. Bojing Multifunctional All-Purpose Stethoscope
The Bojing Stethoscope is a very affordable medical tool with just above-average features and qualities to get you through medical school. It is on our list for many reasons, including the chic and durable design, functionality, lightweight, and other features listed below.
Features:-
Like all stethoscopes, the Bojing tunable diaphragm can distinguish sound in any frequency range. The tunable is divided into two parts, the flat part for high frequency and the bell shape part for low frequencies.
The teardrop chest piece shape allows you to fit it comfortably under blood pressure cuffs and listen to the heartbeat. This limits time wastage in dealing with adult patients since their heart rates can be read during a BP test.
Pros:-
Comfortable angled headset for precision listening
The tubing is comfortable, durable, and easy to maintain, and never gets old
The entire stethoscope can be separated for easy cleaning or carrying after a long day at work
Ability to adjust the ear tip to increase or minimize the volume of the sound
The earpiece is made with eco-friendly materials
Non-chill stainless steel rim for patient comfort
A good starting stethoscope for students
Cons:-
Good acoustics but not great when compared to high-end brands
The listening can be difficult but work okay
Our Opinion:-
Many disagree with the capacity of Bojing to be a good stethoscope for a medical student, but overall it has proven to be quite efficient regardless of the price and shortcomings.
Regardless of the entire negative talks, Bojing is a good starting scope for medical students all over the world.
9. 3M Littman Cardiology IV Diagnostic Stethoscope
This is another Littmann brand, and the 6152 cardiology IV is an excellent choice for medical students and professional doctors in the field.
For medical and aspiring doctors, the Littman 6152 will provide great sound, durability, an excellent learning curve, and an all-around quality stethoscope that will hang proudly around your neck.
Features:-
This stethoscope has dual diaphragms to capture high and low-frequency sounds. This quality gives it excellent acoustic making it an excellent scope for anyone in the medical line.
It also comes with double-lumen tubing to reduce external noise to the barest minimum from the tubes rubbing together during use.
The ear tubes are well angled for all ear canals and can be adjusted for all ear sizes and shapes. Furthermore, they fit snuggly into the ears eliminating all background noise and allowing the doctor to hear and distinguish sounds in the body.
Pros:-
Durable, sturdy, and excellent material that will serve you for a long time
The tubes are strong and flexible and show no cracks or tears even after years of usage.
The tubing is easy to clean and resistant to water damage
Cons:-
It is very pricey but worth it
it takes some mastering to use it efficiently
Our Opinion:-
The Littmann 6152 is among the best stethoscope if you can afford the hefty price tag attached to them. At a standard tube length of 27 inches, this stethoscope will deliver a precise reading at every usage without failure.
10. Dual Head Stethoscope for Medical Students
FriCARE is a brand that has been making a stethoscope for ages, and this one delivers on all the promises by the manufacturer. All stethoscopes are clinically tested, tried, and certified before they can be used by anyone in the medical line, not only medical students.
Features:-
A FriCARE stethoscope is known for its acoustic qualities as they allow you to recognize all sounds inside the body from the heart, lungs, or other body organs without obtrusion.
It is a two-sided chest piece with thick, flexible tubing and a soft earpiece that fits comfortably inside the ears for clear and distinguished sound performance.
The FriCARE stethoscope comes with 28-inch thick tubing that seals stainless steel ends to prevent the interference of outside noise and also cracks due to wear and tear.
It also has a dual-side chest piece with a flexible diaphragm and bell that allows you to listen for auscultation at all frequencies with improved clarity.
Pros:-
Non-chill stainless steel rim avoids patients complaining that it is too cold for their skin.
A good stethoscope and a great gift for nurses, doctors, paramedics, and medical students
Matte finish that is resistant to stain and dirt
Durable and strong tubing
Affordable and well designed
Soft tight, comfortable ear tips that sit in your ears without pain
Cons:-
Our Opinion:-
With a two-year warranty and a risk-free promise, FriCARE is a stethoscope that deserves to be around your collar as you pass through medical school.
It is affordable, comfortable, has great sound clarity, and is durable. Whether you are just starting in medical school or looking to replace an old stethoscope, FriCARE is the one for you.
11. White Coat Dual Stethoscope with Protective Case
Whitecoat professional stethoscope is a complete medical kit for any medical student or professional who wants the best addition to their medical career. This stethoscope is a good choice as it delivers all the features of a good medical listening tool at an affordable price.
Features:-
The all-black stethoscope is completely handmade with thick-walled single tubing for more clarity and less outside noise.
The earpiece is silicone to ease the normal discomfort experienced by doctors and people in the medical profession.
The dual head is stainless steel and designed to pick up sounds at a frequency lower than most stethoscopes to pick up with clarity.
Pros:-
Durable but flexible tubing ceremony
It has a lifetime warranty
Very clear acoustic performance
Latex-free tubing
It comes with four extra silicone ear tips
Cons:-
Our Opinion:-
White Coat Stethoscope might not have all the features the best brands have; it certainly delivers on what is important – delivery clarity to low and high-frequency sounds coming from the body.
12. Omron Sprague Rappaport – Best stethoscope for nursing students
The Omron Sprague is the cheapest stethoscope in the bunch, and before you rule it out, this stethoscope stands shoulder length with the best on the market. The Omron will make medical school a breeze at less than a pound, ensuring you never miss a beat.
Features:-
The Rappaport stethoscope is made of a chrome chest piece with three different bell sizes and two diaphragms for excellent clarity and acoustic sound range on different frequencies. The tubing is made with natural latex tubing with modest durability.
Below are some of the Pros and Cons of the Omron Sprague that earned it a spot in our list of Best Stethoscope for Medical Students.
Pros:-
Affordable and lightweight
Cons:-
Not good for professional or intense medical training
It wears out easily and needs constant replacement
The sound quality is poor but allows you to hear with rapt attention
Our Opinion:-
Even though the Omron Rappaport is nowhere near other stethoscopes like the Littmann in quality and design, it is not a bad as a starting stethoscope for a medical student.
 Best Stethoscope for Medical Students:- Buying Guide
There are varieties of a stethoscope on the market, below are some key features to consider when choosing a stethoscope
The diaphragm – does it deliver great acoustic, and is it adjustable
Tubing – is it made of natural material, latex, or synthetic
The earpiece – what material is it made off with, are they comfortable, can it be replaced
The weight – how heavy is it and how long will it be in use
Maintenance – how easy is it to clean
Customized – medical students love personalizing their tools, and a stethoscope is one of those special medical school items.
Choosing The Best stethoscope for medical students:-
When choosing the right stethoscope for medical school, you will notice that there are a lot of brands and designs, some of which are functional and others, well, not up to stat, but all serve a purpose.
Some factors have to be taken into consideration when choosing a stethoscope – the weight, the design, the material that makes the stethoscope, the sound quality, and of course, the price.
Suppose you want to go for high-end brands. In that case, brands like Littmann have excellent designs and meet the requirement of medical personnel, whether doctors or student doctors, but they are durable. You might not need another one after medical school.
Determine the purpose and duration of use:-
When picking out the stethoscope for you, weight and how long it stays in your ears or around your neck should be factors worth considering.
If you work in a busy hospital setting, you should go for one with improved clarity or that can minimize external noises or amplify the sound at different frequencies for your eardrums.
For a medical student working with a host of patients, consider a multipurpose stethoscope that will not involve replacing worn-out parts too often.
Budget:-
Set a budget – stethoscope ranges in price from as little as below 10 dollars to a couple of hundreds. As a medical student, instinct will want you to go for the expensive brands which are not bad but consider your budget.
Suppose you decide to go for cheap or affordable brands. In that case, you might end up sacrificing some qualities that can simplify your work, such as sound clarity, durability, and material, even if you use it without worries.
As a student, a stethoscope for fewer than 50 dollars will do all the work you need but if you have the finances, by all means, splurge on a good one.
Ask your colleagues or teachers which is best – their opinion matters too
If you are new to using a stethoscope, the opinions of your mates and instructors should count in making a choice.
They are in a position to give you insights on what is good and where to get quality ones that can be refunded if you have a problem.
Read Reviews before choosing one Online:-
Chances are you will end up paying for one online. So whatever your choice is, read other buyers' reviews before putting money down for one.
Remember to check the customer return policy on the product and brand in case anything happens during or after delivery.
How to take care of my Stethoscope?
Usually, the cleaning method for a stethoscope is in a manual that comes with the product on a purchase. In most cases, alcohol or solvents of that caliber are best to clean it.
Do not submerge your stethoscope in any liquid, all in the name of cleaning it; you will damage it. However, you should not use harmful chemicals; they might dry out the tubes.
Secondly, stethoscopes should not be placed in a place that is too cold or hot, and always remove the earpieces when cleaning and clean them separately.
Note – Earpieces are cheaper and easily replaced to change the old ones instead of cleaning them.
📗 FAQs on Best Stethoscope for Medical Students
Below are a few queries on Best Stethoscope for Medical Students that everyone is expecting to answer, and I did include the same for my readers.
Which type of stethoscope is best for medical students?
3M™ Littmann® Stethoscopes are among the top options for both students and professionals. The professors advise using these for both their classroom and practice.
Do First-year medical students need a stethoscope?
A stethoscope is usually needed from the second year. However, having one basic stethoscope for your first year is no harm. You can buy the high-end ones for later.
Which stethoscope is best for 1st-year students?
MICROTONE Stethoscope is an ideal choice for first-year medical students.
Which stethoscope is used by doctors?
Most students and doctors use Classic III stethoscopes. It is used to listen to the heart, lungs, and other bodily sounds to assess physical conditions. It is vital for monitoring and diagnosing patients.
Do MBBS students use stethoscopes?
A stethoscope is one of the most basic yet significant devices used by a doctor or a medical student.
What is so special about the Littmann stethoscope?
The Littmann stethoscope is built with precision and has quality controls. It offers a high-quality sound and consistent performance.
What should I buy before MBBS?
The MBBS first-year requirements for students include textbooks, an apron, a bone set, a stethoscope, colored pencils for histology, a dissection set, a thermometer, and a pen torch.
What part of a stethoscope should be checked when buying one?
as a student, the following parts must be checked; The Binaural – the stainless steel part that extends from the tubing to the earpiece.
The ear tips – either plastic, silicone, or other material that covers the metallic part that goes into the ear. The tubing – the rubber part that runs from the binaural to the diaphragm.
The chest piece – is the part that holds the diaphragm or bell for a two-sided head. The stem- is the metal part that attaches the tube to the chest piece. The ball bearing – allows for switching between frequencies
What does a dual-headed stethoscope mean?
Traditionally, stethoscopes had only one side, but thanks to technology, they now have two working sides. Each side has a different function. One side for high-frequency and the other for low-frequency sounds
How much is a stethoscope?
The prices vary and range from 20 dollars to 300 dollars. However, some stethoscopes cost more depending on their use, material, and brands.
Where can I buy a good stethoscope?
If your medical school doesn't have a shop or place where they sell; you can buy from certified online stores like Amazon or other e-commerce stores.
The tubing on my stethoscope is hard; why is it so?
Most tubing is made with PVC, which hardens when the oils on the human skin touch it repeatedly. So to avoid this, wear your stethoscope on the collar of your doctor's coat than on your collar.
can a stethoscope be returned if I don't like it?
Yes, you can. Before buying a stethoscope, always take your time to read through the company's return policy. If they have one, ensure you return it within the due date stated on the product.
Conclusion
Finally, we hope we have covered all the choices and types of stethoscopes on the market to ease your burden when choosing one.
Stethoscopes are saving lives daily, and having a good one will be the tool needed around your collar as you grow your career to be a professional doctor.