In the times being, Ubuntu has developed into a well-functioning and enhancing operating system that serves the purpose of a major number of users without any glitches or defaults. The operating system can be brought into both personal and professional use. 
Ubuntu is an important Linux-based distro that simplifies your experience with Linux. Linux is complicated, but Ubuntu has made it easier to operate.
Ubuntu supports a sorted hardware compilation, resulting in its popularity over time. Moreover, customer support is reliable too! 
Ubuntu ensures the best open-source developers prevent malware or bugs from entering your system. Plus, the convenience of working with Ubuntu, even for beginners, has made it a user-friendly platform. 
With such development and success, Ubuntu has come up with certain modified Ubuntu-based distros that are worth a try for a user.
Mostly, these distributions are quite similar in terms of their features, but many have specific qualities, making them different from the others. Each distro is developed with its pros and cons. 
For instance, some might be suitable for professional purposes like storing files or maintaining privacy, while others might be credible for gamers, ensuring efficient RAM. 
Here, we will provide an in-hand review of some of the Ubuntu-based distros you can consider using for any of your work!
Best Ubuntu Based Distros – Our Pick👌
1. Lubuntu – Ubuntu based distros with an easy-to-use user interface
If you have old PCs that support conventional hardware and the least storage, then Lubuntu is the distro for you! This requires almost minimum to no preset hardware to function. 
Lubuntu supports an LXDE or LXQT desktop environment, working on many applications. All the applications running here are lightweight and moderate, but that does not mean any compromise with the speed.
Lubuntu is a fast-working and super easy-to-use operating system. The user interface supported by the distros is efficient and convenient. As a user, you do not have to be bothered while using such Ubuntu based Distros. 
It functions smoothly in the long term, the only condition being that your device must not be modified. Apart from this, Lubuntu is super efficient in gaming aspects. 
The graphical appearance offered by the platform is considerable. No issues can be experienced on Lubuntu as a gaming platform.
Lubuntu is well-packed with several applications such as Firefox, MPlayer, and LightLocker, along with other word processors and a calculator. All the applications on Lubuntu can be installed easily in no time. 
Moreover, these applications are handy to operate. There is no problem with the functioning of these applications.
Other prominent applications supported by Lubuntu include file manager, note taker, audio controller, PDF viewer, partition manager, etc. 
For those wanting a classic and simple look on their device, Lubuntu accounts for being a promising distro. Moreover, Lubuntu is customizable, conveying that any changes can be made instantly per the user's needs and preferences. 
Lubuntu 20.04 | Installation and First Impressions
2. Zorin OS – Ubuntu based distros to make your computer faster
Security and privacy could be the major points of concern for several users. If you fall into that category, Zorin is the operating system that best suits your requirements.
Zorin comes into the list of operating systems to give the users operating Windows and Linux-based alternatives.
Being simple and clean, Zorin can easily be managed by those new to Linux. Zorin OS is fast and efficient in its functioning.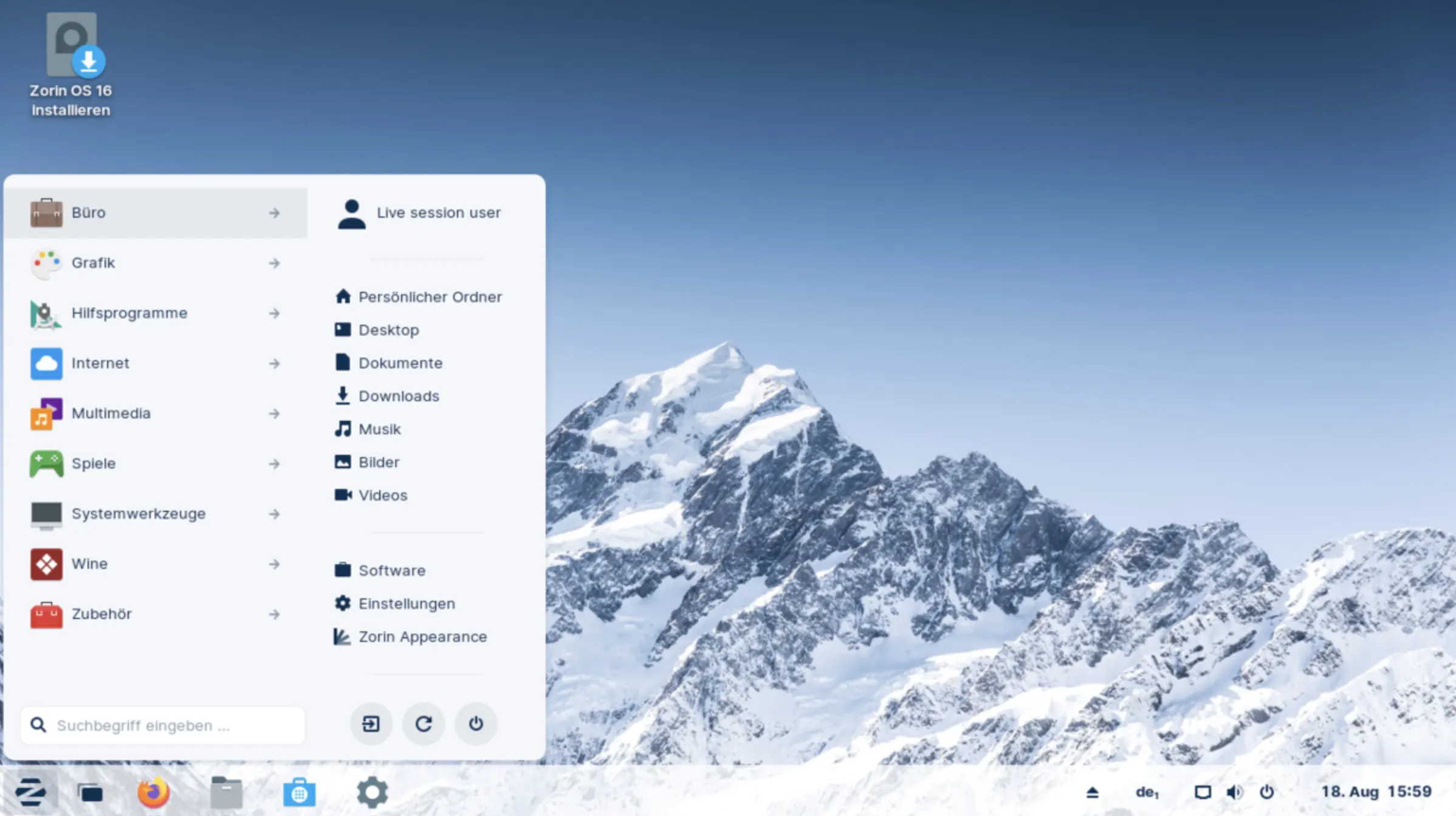 This ensures that all your important and major tasks are done in no time; plus, if you have to work on something urgently, you can do that too! This Ubuntu-based distro is secure. It does not track any of the activities of its users. Hence, you can rely on the system for your data.
An interesting aspect of Zorin OS is that it also offers the user a range of layouts for macOS. As a user, you can customize any layout that you like! This makes the operating system a well-functioning one. 
For Windows users, Zorin OS has a Windows and Windows Classic layout for you! All in all, Zorin OS is stuck to the point of making the users feel no less at home! You will feel comfortable while operating here. Installations and updates are conveniently done on the distros. 
With the easiest steps to follow, you can get in hand any necessary application. As a gaming platform, Zorin OS is commendable. You can install and play all your favorite games smoothly on the system. No kind of lag is faced by the operating system ever.
Connections with your android phone can also be established on the distros. The photos or videos of your phone can be accessed on your device easily.
Zorin OS is a free-to-use operating system compatible with moderately working computers or laptops.
Zorin OS 16: Windows Alternative Linux Distro
3. Elementary OS – Ubuntu based distros For New users
elementary OS, also known as Odin, is a well-functioning operating system. Primarily, the operating system provides its users with a macOS heel. In terms of flexibility, elementary OS is appreciable.
No serious problem is being faced by these Ubuntu based distros. Everything about the elementary OS is attractive. 
The operating system provides a detailed description of almost everything, paving a better understandable environment for the user.
This makes the platform a user-friendly one. Elementary OS holds its glamour. The operating system is well-designed and seamless in its outlook and work. 
Moreover, installing the operating system is a handy task. This ensures that no confusion is created at the user's end. The user is helped with a complete guide to installing online accounts on elementary OS. 
Along with this, a modified feature includes the "dark mode" option that can be applied through a timer for a particular period. elementary OS is customizable up to an extent. You can choose variant color options, themes etc, on the operating system. 
elementary OS 6.1 Jolnir - What's new?
The operating system is recommendable even for beginners as it is easy to operate and doesn't require knowledge beforehand. The interface and user's experience are satisfactory while operating an elementary OS. 
Adding onto this, elementary's Photo App is quite complex compared to the easy installation setup. Overall, elementary OS is an attractive operating system to work on!
4. LXLE – Ubuntu based distros that are Light on resources
LXLE is one of the fastest and smoothest operating systems and Ubuntu's most desirable one! Surfing the net and accessing videos on various platforms is easily possible with LXLE.
The operating system supports certain basic games, making it a choice for gamers who do not want to play modified games. 
Other than being fast-paced, LXLE is lightweight. Therefore, you can be sure to preserve most of the storage on your device. This adds to the benefactor factor for a user as otherwise, the laptop might result in slow working or logging. 
And lightweight and fast working are two of the most hand-in-hand factors a user expects from an operating system.
No additional hardware or setups are required for the operating system to function. It is compatible with your old hardware as well. 
Various applications such as FBReader, Arista, HomeBank, and many more are preinstalled on the operating system. LXLE comes with a Btrfs file system, i.e., built completely from scratch. Btrfs can support larger hard drives, making the operating system a considerable choice for professionals. 
The operating system can also work with various drives, making users painless. Moreover, apart from the usual Firefox search engine, LXLE works on the search engine SeaMonkey. It features an HTML editor. 
As a user, you'll be offered a range of wallpapers and backgrounds that can be customized anytime, according to your preferences. 
5. Linux Mint – Ubuntu based distros For Desktop and Laptop Computers
The best one on the list of Ubuntu based distros is Linux Mint. With Linux Mint, you get a compilation of everything you might be looking for in an operating system. You are offered speed, flexibility, excellence, and whatnot! 
The operating system is clean to use and simple to work on. The desktop menu provided by the user within Linux Mint is sorted and shows the utmost simplicity.
The most captivating feature that brings up all the fame for this distro is its speed. And believe me, ever since it was released, it has never experienced a lag behind in terms of speed. 
Linux Mint works appropriately well and is super paced no matter the load on the operating system. Linux Mint is palpable for the speed that it provides to the user. This ensures that all your important tasks get done timely without any delay. 
Moreover, the distros are customizable as well. On the desktop, you get a series of themes to choose from. You can effortlessly add or remove tabs from the desktop as well. 
Additionally, Mint includes an appealing application known as "Hypnotix". This application allows you to enjoy watching television from anywhere, making the distros one of their kind.
But all you can watch on the platform are live episodes of whatever is being shown on a particular channel. You do not get to customize your channels accordingly. 
Sometimes, working with these channels might be clumsy, but overall the experience on Linux Mint is worth it. 
Ubuntu vs Linux Mint - Which is right for you?
6. Xubuntu – ubuntu based linux distros
Xubuntu is a seamless functioning ubuntu based distro. Installations on the distros are smooth and super fast! However, larger files will take more time to install and vice versa.
Xubuntu has excellent boot times, thereby being favorable to operate for the users. There seems to be no glitch or lag in the functioning of the operating system.
Adding to this, it is a lightweight distro, being an element of support for its users. Apart from this, the desktop one gets to acknowledge with Xubuntu is conventional. You do not get to experience many modifications there. 
Functioning with the applications and windows border is rather clumsy. The Whisker Menu of this distribution is the same as that provided by Ubuntu MATE. This portion of the operating system is simple yet sleek. 
By default, the super key of the system is non-functional, which can be updated in the settings easily. Like others, Xubuntu does not have a range of themes and icons to pick from! This accounts for the drawback of the operating system. 
For music, Xubuntu supports a Parole Media Player, which works fine; there's not too much to boast about. This distro is responsive to the users. The experience of working with the distros is fine. 
There are certain drawbacks that the operating system holds, apart from which the distros are well-working. If you are looking for a distro that doesn't take up much of the storage memory on your device, then Xubuntu can be an option. 
7. Kubuntu
Kubuntu accounts for being a friendly distro for almost everyone. Supporting a KDE user interface, it has established itself as one of the prominent operating systems for Linux.
In its outlook, Kubuntu is pleasing and graced. It is as easy to teach as it is to learn and use! 
As a user, you need no prerequisite knowledge to operate Kubuntu. It works seamlessly without lagging; you do not need to worry about your work getting delayed!
Over time, Kubuntu has brought up many changes and advancements, becoming a more user-friendly platform than ever before. 
Besides this, this distro is free to use, adding to the operating system's list of features. The distros are customizable, making the user's experience lively and better enhanced. 
The desktop one gets to have with Kubuntu is nominal. There isn't much to appreciate about it apart from the fact that it gives you a Windows 10-like feel. 
So far, Kubuntu's best feature is the ability to switch graphic cards in no time. This makes it easy for gamers or editors to work with the operating system. 
Kubuntu works best for those looking for an alternative to macOS and Windows. The documentation and files support provided by this make it a recommendable operating system for professionals, businessmen, and those who have to store larger files.
Concluding, Kubuntu is a moderate yet efficient Ubuntu based distro.
8. Feren OS – Best ubuntu distro for developers
For a change from Windows to Linux, Feren OS can be brought into use. The operating system promises a clean and flexible working environment to the user.
Hardly are any issues faced by the operating system. No lags are expected or experienced by the user on the distro. 
Feren OS is one of the best replacements for any other distro, be it Linux itself. It is a platform with future growth, considering its consistent performance since its launch.
Being free and open-source, it is a prime choice for users. Almost all your work can be done easily and effortlessly with Feren OS. 
Setting up the operating system is painless and does not require the user to be troubled about it. Once installed, you can take advantage of it anytime! Feren OS has user-friendly features such as a task manager and applications menu. 
This is undoubtedly among the best Ubuntu Based Distros and is rich in features, including games, internet browsers, media playback, and much more!
Not only this, but with its lightweight, Feren OS becomes an operating system allowing its users to open multiple tags at once without slowing down their device! 
The most enhancing feature of the operating system is the security it has to offer to its users! All the updates that have to be made will be done automatically on the operating system. 
Moreover, Feren OS protects your device from threats and unlawful access. Just a stable internet connection and anyone can enjoy and benefit from the operating system's performance. 
9. Ubuntu Studio
Another one on the list of Ubuntu-based distros is Ubuntu Studio. Primarily focused on creating content, Ubuntu Studio is a Linux-based operating system. It has a simple layout, creating no kind of confusion for the users. 
Being another lightweight operating system, the functionality offered by the distros is unmatchable and seamless.
Ubuntu Studio gives life to your old hardware system. If you have started developing content any time soon, then Ubuntu Studio can be one of your biggest support. 
The distro is clean and powerful. And the fact that makes the operating system even more appealing is that everything perfect that you do is done for free! Installing Ubuntu is super easy and handy. 
Ubuntu Studio feels like a compilation of the features of both Windows and Mac. Therefore, those looking for a blend of both can go for this operating system! Ubuntu Studio supports the KDE plasma user interface with beautiful graphics and interactive features. 
Earlier, Ubuntu Studio used to lag while working with a mouse pad, but now no such problem can be seen.
It has specialized software developed only to create content, so if you are willing to create something extraordinary from the ordinary, you must go for this.
Ubuntu Studio on Pentium Gold PC
10. Ubuntu Budgie – Ubuntu based distros that are adaptable to any device
Ubuntu Bridge works a lot like GNOME, an operating system with all the good-to-go things, the difference being that it is better customizable.
A multiple numbers of features can be changed as per the user's preference. 
On the system, you can choose between themes according to your liking. Comparing budgie and GNOME, Budgie is well-designed and better functional. It seems like an upgraded version of the former. 
The desktop environment offered by the operating system is considerable. As a Ubuntu-based distro, Budgie is clean and smooth.
It supports several features that you, as a user, might look for in a distro. 
It is recommendable for those who wish to experience GNOME in the first place. The user interface provided by Budgie is KDE Plasma, no wonder why it does perform seamlessly. 
Considering its drawbacks, Budgie offers only a limited experience to a few users. It is not prominently accessible, making it hard for users to get their hands on it. 
Overall, Budgie can be used as one of the best Ubuntu Based Distros.
📗FAQs on ubuntu based distros
What distros are based on Ubuntu?
Ubuntu is a Debian-based Linux distribution, primarily free and open-source software. You can use a virtual machine or the PC alone to execute any editions: Desktop, Server, or Core.
Some of the best Ubuntu-based Linux distributions are Linux Mint Desktop, Elementary OS Desktop, Zorin OS Desktop, Pop!_OS Desktop, LXLE Linux, Kubuntu Linux, Lubuntu Linux, Xubuntu Linux Desktop, etc. 
Is Debian faster than Ubuntu?
Both distributions provide outstanding performance for Linux-based systems. The gear and software you employ will determine the small variation in performance. The preinstalled software that comes with the basic Debian installation is incredibly light and quick.  
Can Linux be used for Programming?
When developers created, Linux was preferred by developers; a lot has changed since then, but many developers are big fans of Linux and recommend it for development purposes.
Some of the best Linux distros available for programming are- Ubuntu, OpenSuse, Fedora, Pop!_ Os, elementary OS, Manjaro, Arch Linux, Debian, Raspbian, Nitrux, etc. 
What are some features of Linux Mint?
It is open-source, free software, quite easy to use, and provides full multimedia support. It is based on Debian and Ubuntu and is considered a good option for software management.
It requires much less maintenance and works on a feedback-based system; users can send feedback to improve it. 
How is Linux different from windows?
Linux is not an operating system; it's a kernel. The kernel has around 27.8 million lines of code. Windows is a fully-fledged operating system with better manufacturer driver support than MacOs and Linux. Windows is also easily available everywhere and is extremely easy to use compared to Linux. 
Which is better: Ubuntu or Kubuntu? 
While Kubuntu and Ubuntu are free and open-sourced, they differ in their graphical user interfaces since Kubuntu uses KDE and Ubuntu GNOME.
There is no denying that Ubuntu is a fantastic operating system, but Kubuntu is superior in terms of both performance and user interface. 
What cost do I have to incur to have these distros of Ubuntu? 
Initial installation of any of the distributions of Ubuntu is free of cost. You do not have to be bothered about payments to be made.
But, if you are willing to switch to premium support, you might be charged an additional fee. The fee charged will be minimal. 
Which is the most lightweight distro based on Ubuntu? 
Device storage has become a prime concern for a user. I was considering that the most lightweight Ubuntu-based distro is LXLE.
It ensures that most of the space is free on your device, which can be used well! If you are looking for the same, go for LXLE. 
Which Linux distro is better than Ubuntu?
If you're looking for an alternative to Ubuntu, you might want to think about several other well-known Linux distributions.
These choices comprise, among others:-
Fedora:- a widely used distribution that Red Hat sponsors and is renowned for its cutting-edge technologies and quick release cycle.
Debian:– a reputable distribution with a huge library of software packages and lengthy history.
Arch Linux:– a lightweight, highly customizable distribution intended for experienced users.
Mint:– a user-friendly Ubuntu-based distribution made to be simple for anyone switching from Windows.
Solus:- A distribution that is simple to use and is optimized for current hardware
Which Ubuntu version is best for developers?
Here are some options to think about based on your requirements:-
Ubuntu Desktop:– Ubuntu comes in this standard version for use on desktop PCs. Compilers, debuggers, and version control systems are part of the development tools it offers.
Ubuntu Server:– There is no graphical user interface in this version of Ubuntu because it is intended for usage on servers. It comes with various development tools and may be used to create server- and web-based applications.
Ubuntu Studio:- This version of Ubuntu was created for use by creative professionals, such as developers working on multimedia projects. It has various development tools and specialized tools for editing audio, video, and graphics.
What is the oldest Linux distro?
Slackware was first made available in 1992 and is one of the older Linux distributions.
One of the first Linux versions created specifically for personal computers was Slackware, which is still well-liked today for its simplicity and emphasis on stability.
Debian, which debuted in 1993, is another vintage Linux distribution. Debian has impacted the creation of several other well-known distributions and is renowned for its reliability and sizable software package library.
SuSE Linux and Red Hat Linux, both of which debuted in 1994, are further vintage Linux distributions (first released in 1996).
Although these distributions are no longer actively developed, their code has been the foundation for numerous other widely used distributions.
Is KDE Ubuntu based?
Although KDE isn't based on Ubuntu, it may be installed on Ubuntu to provide a different desktop environment.
You must install the plasma-desktop package and add the KDE Plasma repository to your system to install KDE on Ubuntu. Afterward, after logging in, you can choose KDE as your desktop environment.
It's important to note that while Ubuntu ships with the GNOME desktop experience by default, other desktop environments, like KDE, can be installed and used on the operating system.
Users can now select the desktop environment that most closely matches their requirements and preferences.
Is Ubuntu still the best distro?
A well-liked and widely-used Linux distribution, Ubuntu is renowned for its feature-richness and user-friendliness.
Beginners, developers, and system administrators are among the many types of users it is appropriate for.
Which is faster Ubuntu or Mint?
Generally speaking, both Ubuntu and Mint are known for their relatively quick performance. However, there may be a few minute variations in pace depending on the situation.
Installing both systems on the same hardware and running the same tasks on each will help you compare how well these two distributions perform. You can then compare the two distributions' results in the same situations.
It's important to keep in mind that several other elements, including the desktop environment, the active programs and services, and the overall setup of the computer, can affect how quickly a Linux distribution operates.
As a result, when assessing the performance of any Linux distribution, it is crucial to consider these elements.
Do hackers use Ubuntu?
Indeed, hackers may utilize Ubuntu as their operating system. Because it is a free, open-source operating system built on the Linux kernel, hackers frequently use Ubuntu.
This indicates that it may be easily modified and customized to suit the user's demands. Additionally, it has a sizable user and developer community that contributes to the operating system's development, enhancing its dependability and security.
However, it's crucial to remember that merely using a certain operating system does not automatically qualify one as a hacker. Hackers utilize their skills and experience to obtain unauthorized access to networks or systems and can use any operating system.
It is not necessary to utilize Ubuntu or any other operating system to be a hacker, and hacker behaviors are not made possible by the operating system itself.
Why is Ubuntu criticized?
Among the frequent critiques of Ubuntu are the following:-
Performance issues:- Some users have complained that Ubuntu can be resource-intensive or slow, especially on older or lower-spec systems.
Lack of customization:- Some users may feel that Ubuntu does not provide as many customization choices or that the customization options are not as user-friendly as those offered by rival operating systems.
User interface:- The user interface of Ubuntu may be overwhelming or perplexing to some users, or they may prefer the user interface of another operating system.
Lack of proprietary software:– Ubuntu's lack of numerous software programs by default is because it is a free and open-source operating system. This may be a disadvantage for consumers who depend on particular proprietary applications.
The subjective nature of these concerns and the fact that various users would view Ubuntu's advantages and disadvantages differently should be noted.
It's also important to remember that many of Ubuntu's detractors can be persuaded to adjust the configuration of the operating system or install new software.
Is it possible to run a Windows app in Ubuntu?
It is possible to run a Windows app on your Ubuntu PC. This can be easily done by installing and accessing the "Wine App".Wine App allows you to create compatibility between Windows and Linux. Hence, combining Windows and Ubuntu is a handy task nowadays.
Which is the fastest and the most preferred Ubuntu-based distro?
All the distributions are equipped with features and advantages that outshine the others. But, if I consider the users' speed and choice, then "Linux Mint" is the most suitable choice. It is the oldest Ubuntu-based distro. No wonders why it is so popular!
Conclusion on lightweight ubuntu-based distro
Concluding, you can conveniently choose amongst any of the above-listed Ubuntu Based Distros. Every operating system serves its purpose well. With better-enhanced features, these platforms become simple and seamless to work with!